The Best and Worst Items at Hooters, According to Dietitians
These items at the popular wing chain will keep your diet on track—or set you back!
When a wing craving strikes or you just need a fried chicken sandwich, Hooters immediately seems like the obvious choice. While this fast-casual eatery serves up something for anyone who wants to dig into a plate of fried food, trying to stick to a controlled diet at this restaurant can be a different story. Navigating Hooters' menu feels like walking through a minefield if you need to eat healthily, but luckily, there are a few good options out there for anyone who wants a wholesome meal at this time-tested restaurant. 
Eat This, Not That! consulted a handful of leading registered dietitians to find out the very best and worst Hooters menu items in each category that can fit any eating plan. If you need to stay on the lookout for the right meals next time you hit up this eatery, add these choices to your list and steer clear of some of the worst options that can leave your diet wrecked for the day. 
If all else fails, make an extra point to skip the ​​7 Things You Should Never Order at Hooters next time you visit the restaurant to keep your diet truly on track.
Appetizers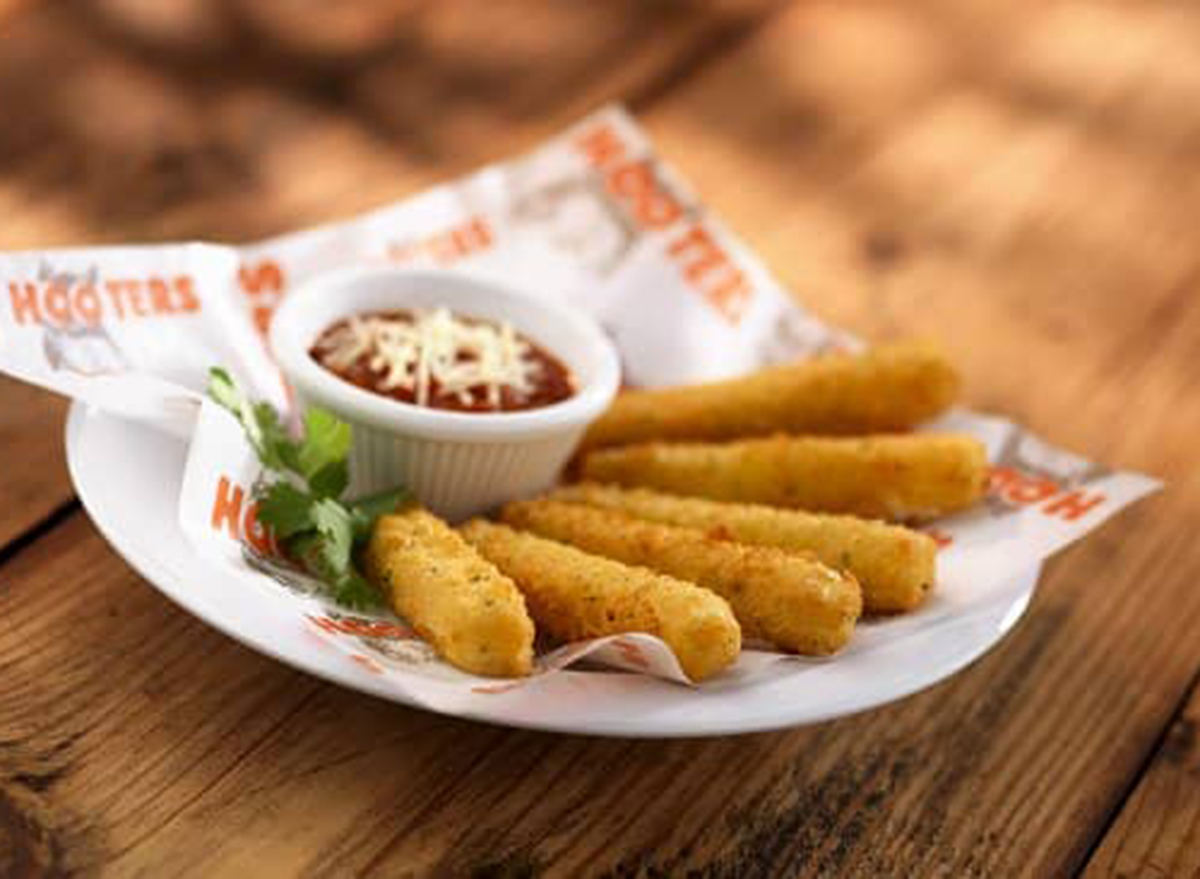 520 calories, 25 g fat (10 g saturated fat), 1,140 mg sodium, 48 g carbs, 3 g fiber, 5 g sugar), 24 g protein
This choice is "not only the lowest calorie option, but the cheese will keep you full for hours with its protein and fat," says Rachel Paul, PhD, RD from CollegeNutritionist.com. "Because it's still over 600 calories, either split [this item] with a friend or you could even have this app as a main meal."
While this appetizer may be the best option out of a plethora of junk food, you could also bypass appetizers altogether if you want to spare your waistline.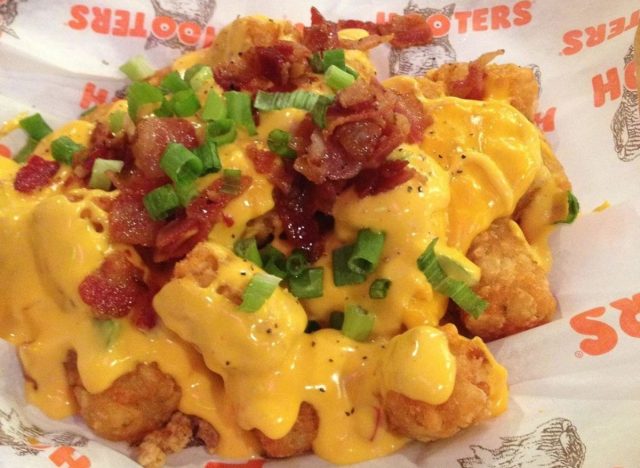 1,430calories, 99 g fat (23 g saturated fat), 3,050 mg sodium, 110 g carbs, 10 g fiber, 4 g sugar), 25 g protein
"When ordering an appetizer and wanting to go the healthy route you'll want to avoid anything that is fried," Trista Best, RDN at Balance One said. "Many appetizers are fried or loaded with cheese and bacon, these are a red flag to those wanting to eat healthy."
The Lots-A-Tots appetizer at Hooters easily fits the bill and ranks as one of the most unhealthy options that could start your meal. If you need to go easy on your body, pass over this plate of fried, loaded tater tots.
Wings
Best: Roasted Wings, 6 piece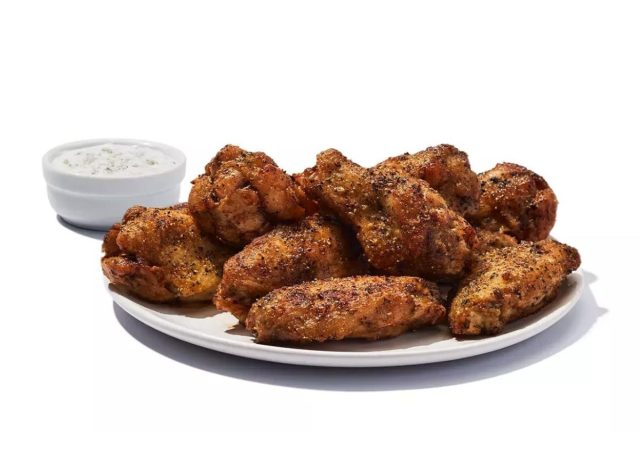 360 calories, 21 g fat (6 g saturated fat), 2,100 mg sodium, 6 g carbs, 0 g fiber, 6 g sugar), 30 g protein
Choosing healthy wings seems next to impossible, but carefully selecting a type that doesn't get breaded and deep fried can do a world of wonder.
"A healthy wing order will skip the flash-frying process," Best said. "Many restaurants smoke their wings and only flash fry them at the time of ordering. Simply ask the restaurant manager if this is the case with their wings and request that the flash-frying be bypassed. You can also improve your wing's nutrition quality by opting for a lower calorie or added sugar wing sauce and be mindful of the type and quantity of dip you use."
Worst:
Daytona Beach Style Wings, 6 piece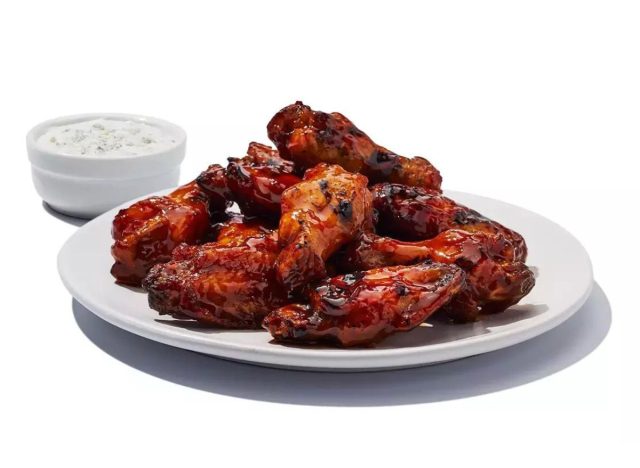 660 calories, 45 g fat (11 g saturated fat), 1,400 mg sodium, 65 g carbs, 4 g fiber, 15 g sugar), 41 g protein
"When it comes to ordering wings at a restaurant there are a few tweaks we can make to get a healthier alternative to traditional battered, fried, and/or sauce-drenched wings," Best said. 
"An unhealthy wing order is fried and coated in high fat and added sugar sauces. They are also served with calorie-dense dipping sauces and some orders go as far as to add additional toppings like bacon and cheese crumbles which will increase the calorie density of the wings."
The Daytona Beach Style Wings not only get fried, but then get coated in sauce and served up in all of their unhealthy glory. Factor in a huge serving of sodium, and you're looking at one of the worst kinds of wings out there.
Burgers
Best:
Build-Your-Own Burger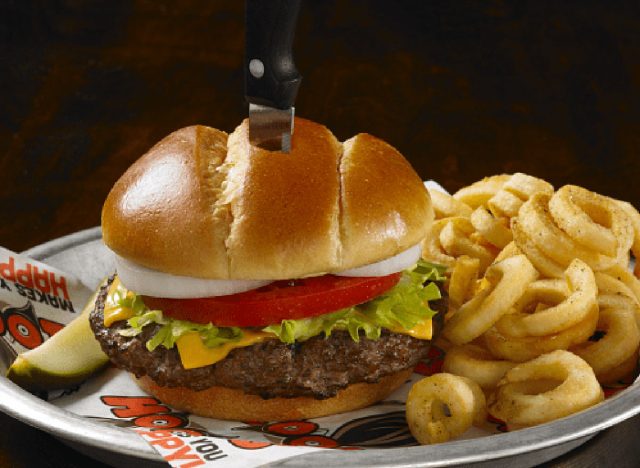 1,180 calories, 60 g fat (21 g saturated fat), 2,770 mg sodium, 107 g carbs, 9 g fiber, 10 g sugar), 51 g protein
"Instead of ordering [a burger] off the menu, build your own burger with sauteed green peppers, mushrooms, lettuce, onion, and tomato," says Paul. "There's enough fat in the burger patty itself, so we don't need to add cheese or bacon."
With a whopping 1180 calories, this sandwich still contains the least amount of calories out of all the choices if you crave a burger at this restaurant. Make sure to back off on any extra toppings, and even opt to skip an included side to make sure you don't overload on one meal alone.
Worst:
Western BBQ Burger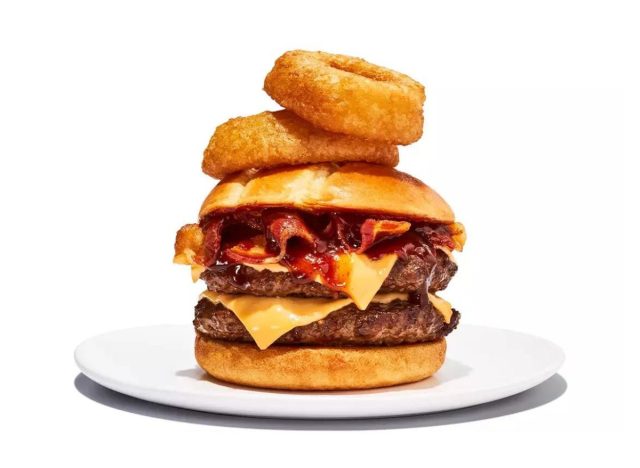 1,510 calories, 82 g fat (29 g saturated fat), 3,500 mg sodium, 125 g carbs, 10 g fiber, 19 g sugar), 65 g protein
If you ever wanted a burger to send you to the emergency room for cardiac arrest, this might be a prime contender. If you eat a whole Western BBQ Burger from Hooters, not only will you consume more calories present in a standard tub of vanilla ice cream, but you also intake more than 1.5 times the daily recommended amount of sodium in one sitting. Do your body a favor and pass this option over.
Sandwiches
Best:
Smothered Chicken Sandwich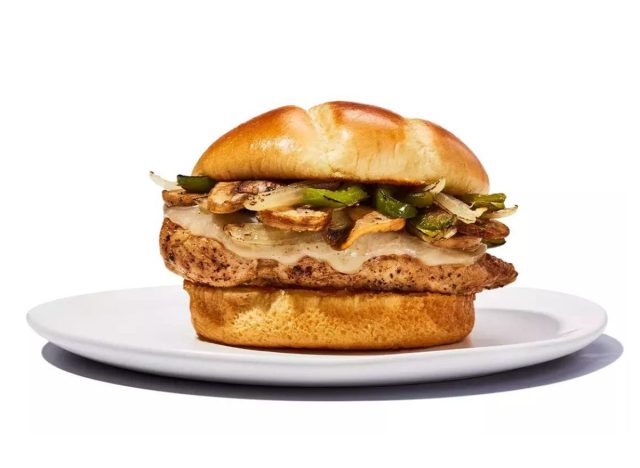 760 calories, 33 g fat (15 g saturated fat), 4,260 mg sodium, 46 g carbs, 3 g fiber, 7 g sugar), 70 g protein
You might never expect a sandwich covered in sauce to rank as the healthiest option out there, but this smothered chicken sandwich could make you see a chicken sandwich in a new light.
"This sandwich, while high in calories at 760, has some redeeming qualities," Best explained. "Primarily, the fact that it is piled high with peppers, onions, and mushrooms which helps with the nutrient density. It can also be easily changed to be lower in calories and fat by opting out of the cheese and going bunless."
Worst:
Hooters Original Chicken Strip Sandwich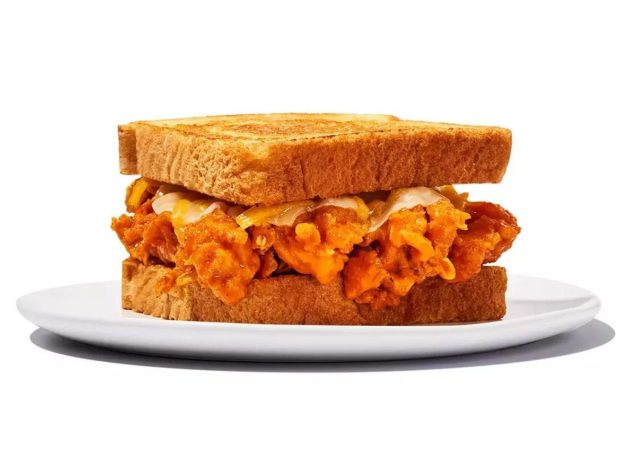 1,020 calories, 50 g fat (21 g saturated fat), 2,250 mg sodium, 64 g carbs, 3 g fiber, 5 g sugar), 80 g protein
Fried chicken sandwiches have a reputation for packing in salt and fat, and this Hooters' menu selection proves no different.
"This sandwich doesn't have much going for it in the way of nutrition", Best said. "For one, the chicken is battered and deep fried, which significantly increases the saturated fat content. This sandwich provides the consumer with 50 grams of fat and 2,250 milligrams of sodium, which is only 50 milligrams of sodium away from the recommended daily value of 2,300 milligrams."
Seafood
530 calories, 48 g fat (29 g saturated fat), 4,360 mg sodium, 2 g carbs, 0 g fiber, 1 g sugar), 25 g protein
Whenever you see fresh snow crab legs on the menu, there is a good bet that they will fill you up and preserve your diet. Most of the fat content comes from added butter, and this element can easily be limited or rejected altogether. With 22 grams of protein, the crab legs can also keep you full.
"This can make a good meal with a sufficient amount of calories and a good amount of protein," Paul said. Just watch out for the sodium content, and these crab legs will be one of your best bets at Hooters.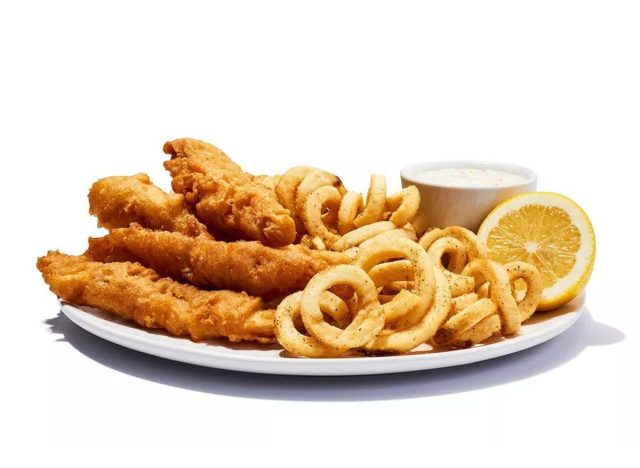 720 calories, 52 g fat (9 g saturated fat), 950 mg sodium, 33 g carbs, 2 g fiber, 6 g sugar), 31 g protein
It might seem obvious, but ordering a seafood option that has been batter-fried and served with french fries not only overloads your body with processed fat, but probably also weighs you down with salt. If you were to knock out this whole dish by yourself, you would eat over 200 percent of your daily recommended intake of fat, an equivalent of eating about seven packages of Reese's Cups.
Paul says it best. "Let's skip this whole day's worth of calories and refined carbohydrates in one meal."
Salad
Best:
Hooters Original Buffalo Chicken Salad, Grilled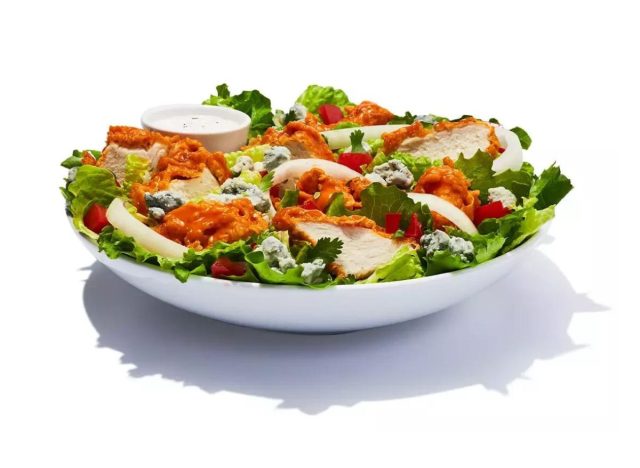 350 calories, 20 g fat (7 g saturated fat), 3,980 mg sodium, 11 g carbs, 3 g fiber, 5 g sugar), 32 g protein
"The great thing about Hooters salads is the fact that they can be modified to avoid the fried chicken fingers," Best said. "The consumer can substitute any salad with grilled chicken, grilled shrimp, or no animal protein at all. However, with this particular Hooters salad, the consumer can choose to order it as it comes with fried chicken fingers and they are still only consuming 530 calories, not including the dressing."
"By adding either grilled chicken or shrimp these calories go down to 350 or 230 respectively. Interestingly, those wanting to cut down on their sodium should consider the fried chicken fingers or grilled shrimp, as the grilled chicken's sodium count is very high at 3980 mg."
Worst: Chicken Caesar Salad—Fried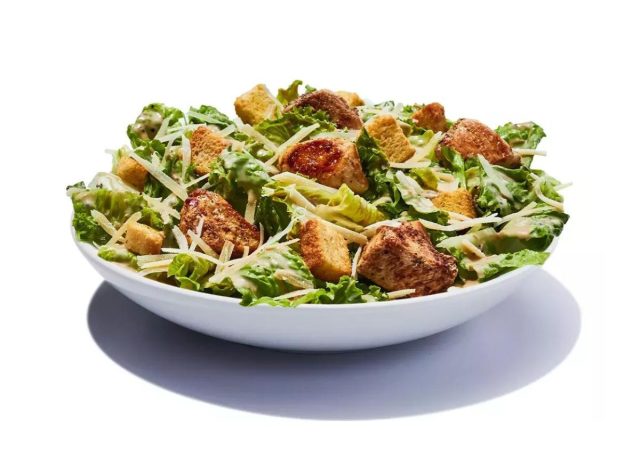 770 calories, 47 g fat (9 g saturated fat), 2,190 mg sodium, 45 g carbs, 5 g fiber, 6 g sugar), 46 g protein

6254a4d1642c605c54bf1cab17d50f1e

"The Chicken Caesar and Chicken Garden salads are nearly identical in terms of calories," Best said. 

"However, the Caesar gets listed as the worst because there are few modifications that can be made to improve its health quality, unlike the Chicken Garden which can be. The Chicken Caesar is also higher in sodium and fat, regardless of what form of animal protein the consumer chooses."
Sides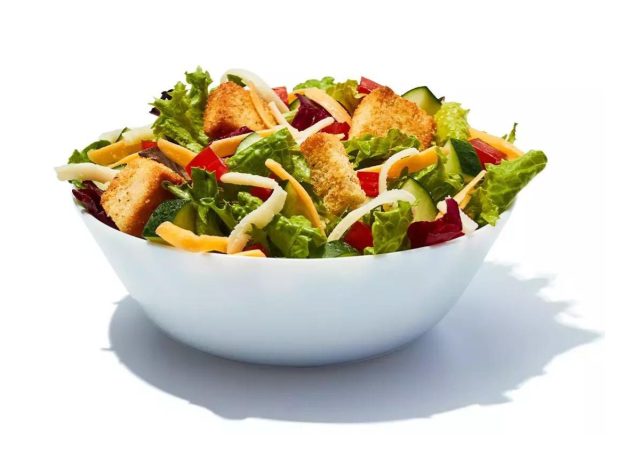 160 calories, 10 g fat (5 g saturated fat), 270 mg sodium, 9 g carbs, 2 g fiber, 3 g sugar), 8 g protein
"Get in some veggies while you're there!" says Paul.
This salad will do just that, as it is a pared-down version of the healthiest standard salad option at Hooters. Just as with the entree portion, request the salad dressing on the side and you can pare down the fat content while enjoying a side that won't offset the rest of your day.
Worst:
Waffle Fries with Cheese Sauce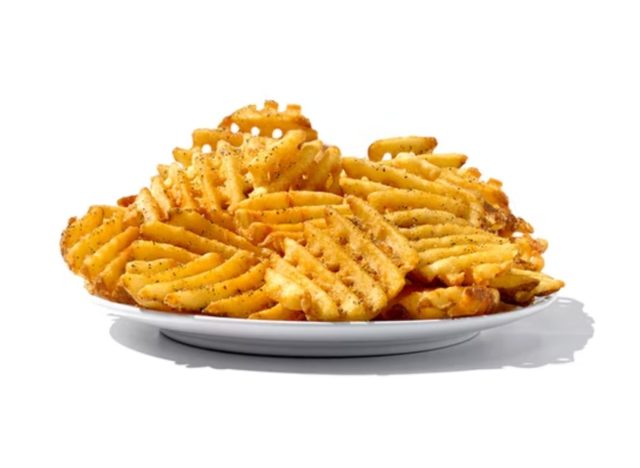 1310 calories, 93 g fat (22 g saturated fat), 3,140 mg sodium, 95 g carbs (8 g fiber, 1 g sugar), 23 g protein
Many types of side items have the potential to load on extra calories to a meal, and Hooters' waffle fries with cheese sauce proves no different.
"These are high in calories, sodium, and fat, and offer little in the way of nutrients," Dr. Lisa Young, PhD, RDN, and Author of Finally Full, Finally Slim and The Portion Teller Plan said. "I'd skip them."
Desserts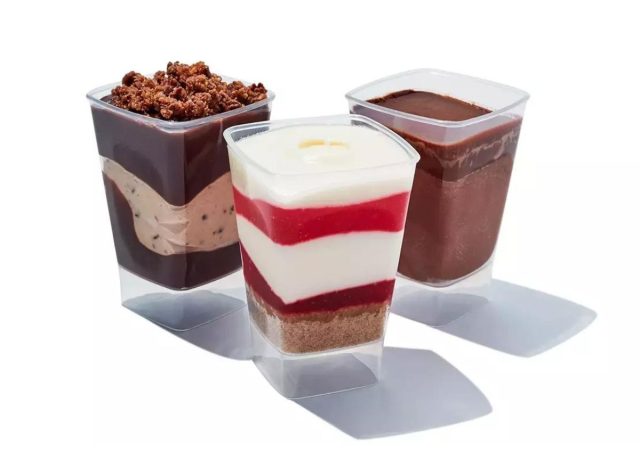 1,110 calories, 71 g fat (41 g saturated fat), 710 mg sodium, 145 g carbs, 2 g fiber, 105 g sugar), 13 g protein
"These are good if you're in a group," says Paul. "They're just a little bite of dessert to satisfy that sweet tooth, but still come in around 200 calories each."
As Paul explains, a selection of bite-sized morsels in tiny cups are brought to your table. With each smaller item containing fewer calories than your standard restaurant dessert, these mini treats should be shared with a group, or else you are looking at a fat-packed dessert option.
"These are good to share with a group as they are portion controlled so you don't eat too much," Dr. Young agreed.
Worst: Chocolate Mousse Cake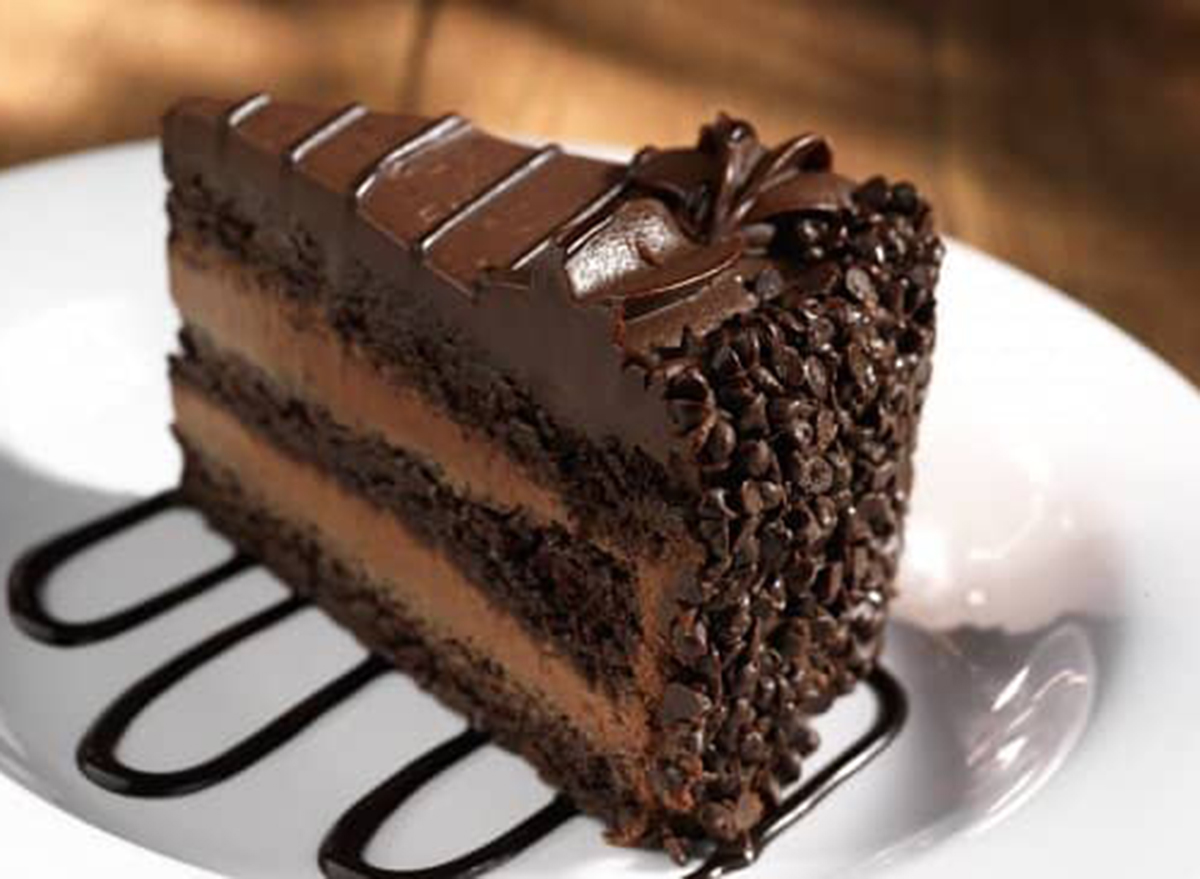 910 calories, 45 g fat (28 g saturated fat), 390 mg sodium, 128 g carbs, 4 g fiber, 100 g sugar), 10 g protein
If you have eaten any of the above selections at Hooters and still feel like you have room for dessert, avoid this final offering at all costs. With 151 carbs packed in, eating all of this chocolate mousse cake would be the equivalent of consuming almost half a bag of frozen french fries.
"[It is] nearly 1000 calories and contains lots of added sugar, fat, and saturated fat," Dr. Young said. "It's better to eat meals and save your calories for a small treat under 200 calories."