How David Harbour From 'Stranger Things' Lost Over 75 Pounds
Intense does not quite describe David Harbour's weight loss journey.
If you're a fan of "Stranger Things," you'll be curious to learn how character Jim Hopper, played by David Harbour in the beloved Netflix series, lost an incredible amount of weight prior to the last season—a whopping 75+ pounds. Read on to learn exactly how the actor accomplished this huge weight loss.
David Harbour dropped more than 75 pounds for "Stranger Things" Season 4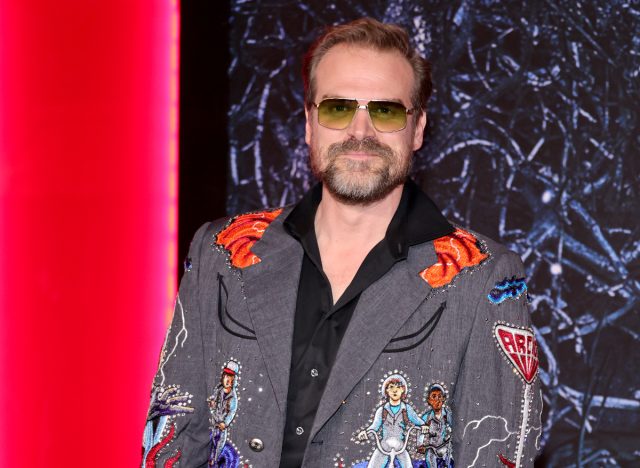 Harbour has played many supporting roles, including CIA agent Gregg Beam in "Quantum of Solace," Van Hauser in "End of Watch," Shep Campbell in "Revolutionary Road," and Dexter Tolliver in "Suicide Squad." In Season 4 of "Stranger Things," Harbour's character Hopper is imprisoned in a Soviet work camp. In order to make the script appear as realistic as possible, the actor dropped 75+ pounds. Talk about hard work and dedication! Harbour went from 265-270 pounds all the way down to 190 pounds. A loss of over 75 pounds.
How did the actor do it? Lots of hard work, tons of determination, an updated fitness regimen, and much less food. Keep reading to learn more about how he dropped this much weight.6254a4d1642c605c54bf1cab17d50f1e
Related: Keanu Reeves, 57, Lives by These Healthy, Fit Habits
The star did intermittent fasting, Pilates, cardio, and resistance training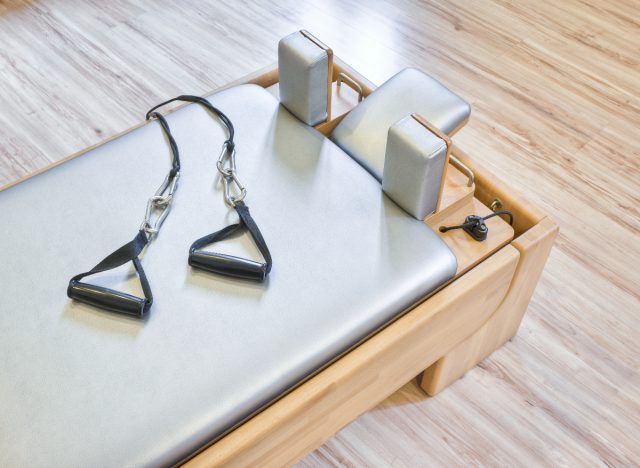 Losing a great amount of weight is a huge transformation that involves many changes in routine. It's important to focus on your end game, and take encouragement with the losses along the way. You may wonder just how many sizes you go down by shedding the kind of weight that David Harbour dropped, and it's difficult to tell. According to Livestrong, sizes aren't based on weight; they're really based on other elements such as body type and height. But make no bones about it, losing 75+ pounds means losing several sizes for sure.
How did Harbour do it? The "Stranger Things" star did intermittent fasting for six-hour blocks of time, in addition to two days of 24-hour fasts each week to help move the process along. His workouts included Pilates, in addition to a combination of cardio and resistance work. Harbour's overall goal was to lean down, and Pilates was extremely helpful in lengthening, strengthening, and stretching those muscles.
According to GQ, Harbour ran quite a bit at a low intensity for an hour to an hour and a half. His running goal was to build his heart rate to around 165. This cardio element was a perfect step to cut down his anxiety, help with his breathing, and keep the extra pounds off. He tells GQ that running "gave me this freedom from the phone and this freedom from constant stimulation and activity. You're just out there and your breathing slows down. There's just this meditative quality to it. I've never been a good sit-down mediator but there's something about it, where you push yourself and just let yourself go."
Related: Jason Momoa, 43, Swears by These Workouts and Healthy Habits
The start of Harbour's weight loss journey felt quite "liberating"
The overall grueling course afforded Harbour the opportunity to form a new connection with both his mind and body, making the start of his weight loss journey feel quite "liberating." The star posted on his Instagram a photo carousel of his transformation, captioning the post, "Many of you have asked about Hopper's physical transformation from season 3 to season 4. My trainer @davidhigginslondon worked with me for 8months to make the transformation, and then another year to keep it through the pandemic. All told it was a difficult and exciting ride, changing diet and exercise plans (or lack thereof) … All told I lost over 75lbs. 265-270 in season 3 and all the way down to 190 when we shot."
He consumed more veggies and cut down on sugar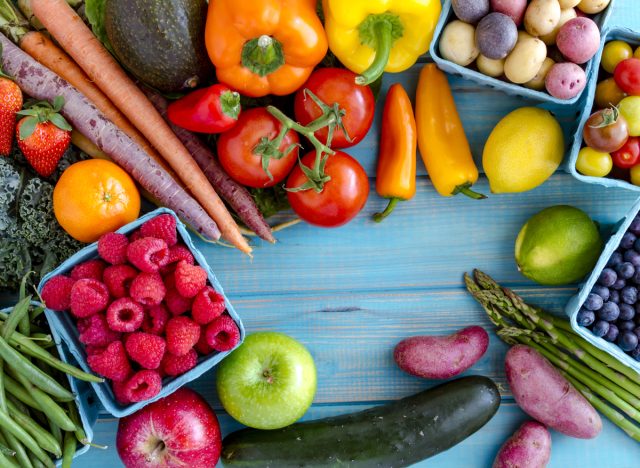 As far as what the celeb included in his diet, he consumed more veggies and cut down on sugar (via GQ). Now that he's dropped all of the weight, he still attempts to fast intermittently. He tries to skip breakfast and hold off eating food until 1 or 2 pm. He also tries to maintain more veggies than protein. And there are always cheat days that include Nutella.
The great news? David Harbour admits he feels "younger," his heart is much stronger, and he's enjoying a new self that he has not seen in quite some time.
Alexa Mellardo
Alexa is the Mind + Body Deputy Editor of Eat This, Not That!, overseeing the M+B channel and delivering compelling fitness, wellness, and self-care topics to readers.
Read more about Alexa