Jason Momoa, 43, Swears by These Workouts and Healthy Habits
Jason Momoa consistently maintains the look of a superhero.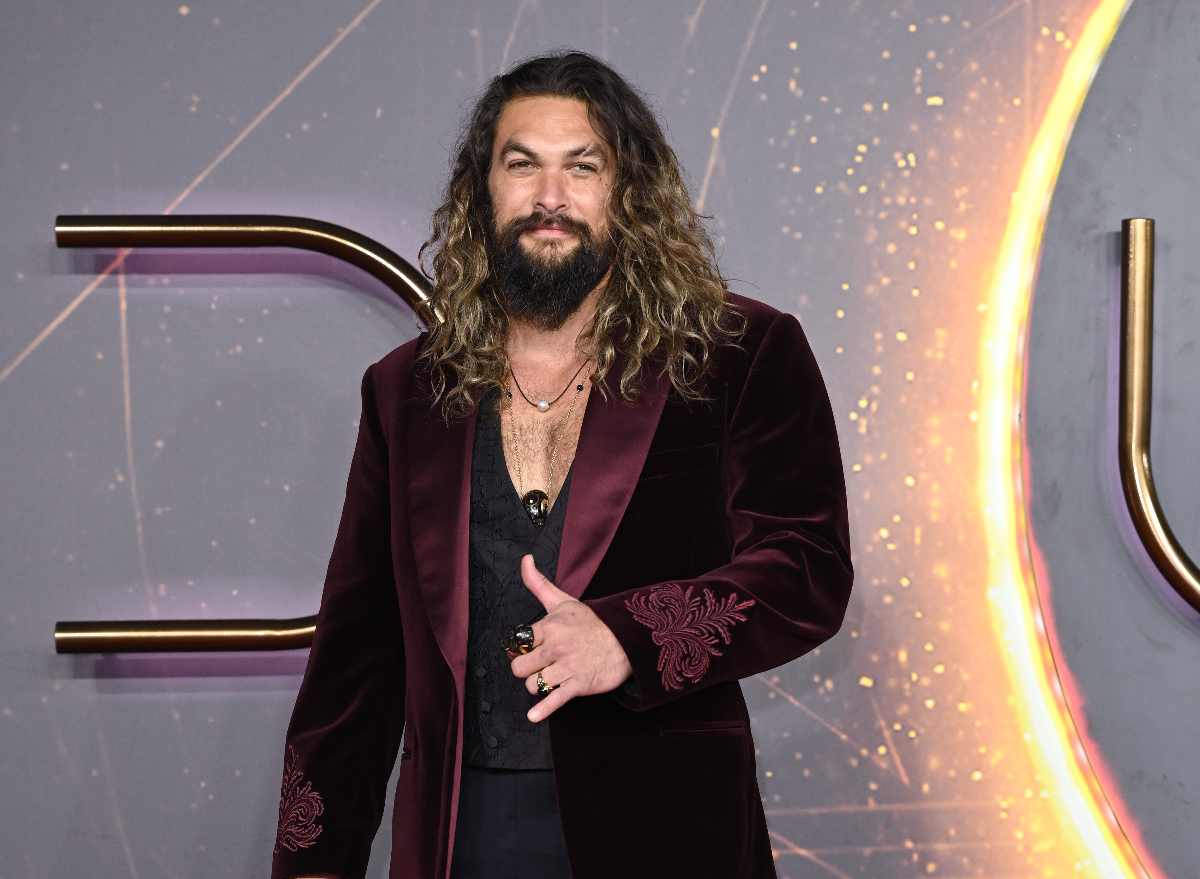 There are so many ways to describe Jason Momoa's incredibly fit physique, and we're here for them all. The term "superhero" comes to mind, quite possibly because of the many impressive roles he's portrayed. From the fearless chieftain Khal Drogo in "Game of Thrones" to the DC superhero Aquaman, the 43-year-old actor is doing something very right. We're here to deliver the healthy habits Jason Momoa lives by and are exhausted just reporting his impressive workout techniques!
Fans simply cannot get enough of the star—and for good reason. Momoa recently went viral for being called "Aguaman" as he served up water and 10,000 Hawaiian Airlines miles to every passenger aboard a flight. (Boy do we wish we were on that plane!) Read on to learn more about the star's healthy habits and how he consistently maintains the look of a superhero. And next, check out The 6 Best Exercises for Strong and Toned Arms in 2022, Trainer Says.
Jason Momoa trains vigorously for his roles by being body-ready for stunts
Momoa brought his fans serious #workout goals running on the beach scenes on "Baywatch" as dreamy lifeguard Jason Ioane. The muscle-toned star has not stopped getting attention on and off the screen. How does he look so remarkably muscular?
Well, for one thing, according to Damian Viera, a dynamic movement and recovery therapist who has worked with the celeb to prepare for several movies, Momoa trains vigorously for his roles—not only to look just right for the parts, but to also prevent injuries by being body-ready for each and every stunt. Viera tells Men's Journal, "It's a matter of deconstructing the stunts and putting the body into that space, that framework. The more often you put the body in that space, with that stress, the more comfortable it becomes—the body itself evolves."
Related: The Fitness Habits Arnold Schwarzenegger Lives by Still Work at 74
His workouts are super intense, complete with kettlebells, medicine balls, and a weighted vest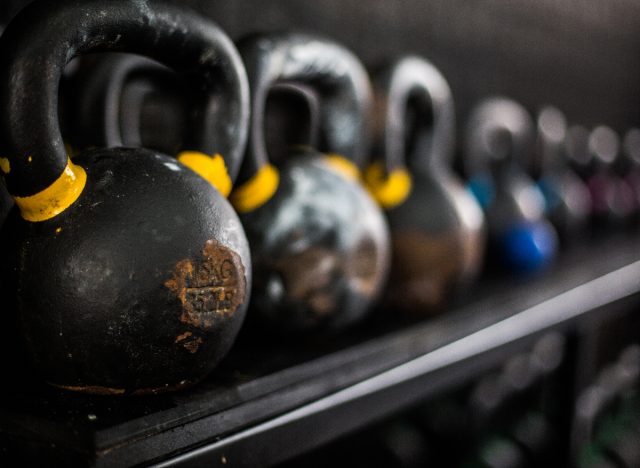 Momoa's intense training varies from wearing a weighted vest while performing some serious kettlebell workouts to Bulgarian split squats. "We blast legs," says Viera, adding, "The split squats are also good for hip rotation. We'll run six sets of split squats for each leg, with 10 to 12 reps for each size of kettlebell. Right now, we have 53-, 61-, 70-, 88-, 97-, and 106-lb kettlebells" (via Men's Journal). Why kettlebells? They offer unilateral training, along with more changeability than working with dumbbells. It's important you caught the weighty tail end of Viera's quote, though: "106-lb kettlebells."
Momoa also performs a "kettlebell workout ladder," which includes a 6-set sequence of 10 to 12 reps for each kettlebell size, as follows: double-kettlebell deadlifts, double-kettlebell squats, double-kettlebell swings, one-kettlebell cleans, and one-kettlebell swings.
Of course, the intensity does not stop there. The star has trained with Dynamax medicine balls ranging from 10 to 20 pounds, performing hammer rotations, chest passes, bilateral passes, and more, along with pushups, dips, and resistance band work, according to Viera. Viera also notes, "Jason is an excellent climber and constantly tests himself with hard problems and difficult routes," adding, "A rock-climbing wall serves as his primary movement therapy. This helps keep his body pliable so when we go into dynamic movements, injury is prevented."
Related: The Fitness Habits Tom Cruise Follows To Stay Young and in Shape at 59
Momoa's healthy eating includes an at-home greenhouse for fresh veggies
You're about to get even more impressed when you learn of Jason Momoa's healthy food habits, which go hand-in-hand with working out. According to Men's Journal, he has a greenhouse at home, and in it, he grows collard greens, arugula, basil, kale, eggplants, carrots, and squash. He also loves to eat red meat. Along with training hard, Momoa focuses on precise nutrition prior to and while he's doing a movie, consuming portions of macros at breakfast, lunch, and dinner.6254a4d1642c605c54bf1cab17d50f1e
Viera tells Men's Journal, "Carbs are a very important part of the nutrition used for fuel. Jason couldn't do something like a ketogenic diet, because he needs readily charged energy from carbs to be explosive. And when I say carbs, I'm not talking about breads and pastas—those are long gone. I'm talking about cruciferous vegetables and fruits. You can't train the way we do with fat for fuel; you need the carbs for explosive movements."
Living peacefully is good for the soul—and everyone involved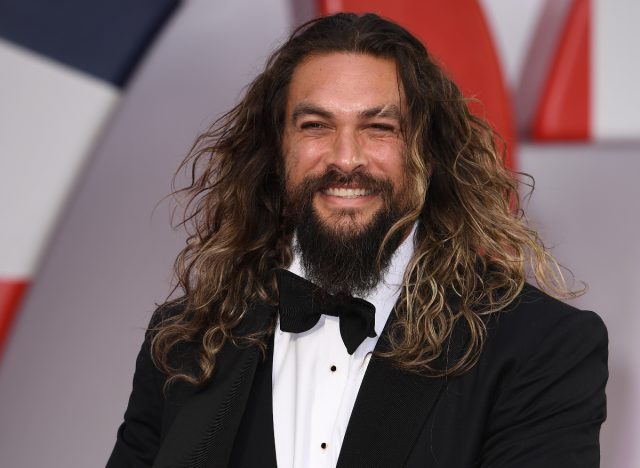 Jason Momoa also seems to be an all-around very peaceful man. He and Lisa Bonet split earlier this year, but according to a source quoted in Extra, the two are "both very spiritual and believe in a higher power." They reportedly plan to divorce peacefully and respectfully.
And as far as what's next for Momoa? The "Aquaman" team finished up filming "Aquaman and the Lost Kingdom," the highly-anticipated sequel to the first film, which came out in 2018. Expect to see Momoa appear as the incredibly ripped Aquaman when the new movie hits theaters in December.
Alexa Mellardo
Alexa is the Mind + Body Deputy Editor of Eat This, Not That!, overseeing the M+B channel and delivering compelling fitness, wellness, and self-care topics to readers.
Read more about Alexa