What Should You Look for When Choosing a CBD Product?
Testing standards are key when it comes to this cannabis-derived compound.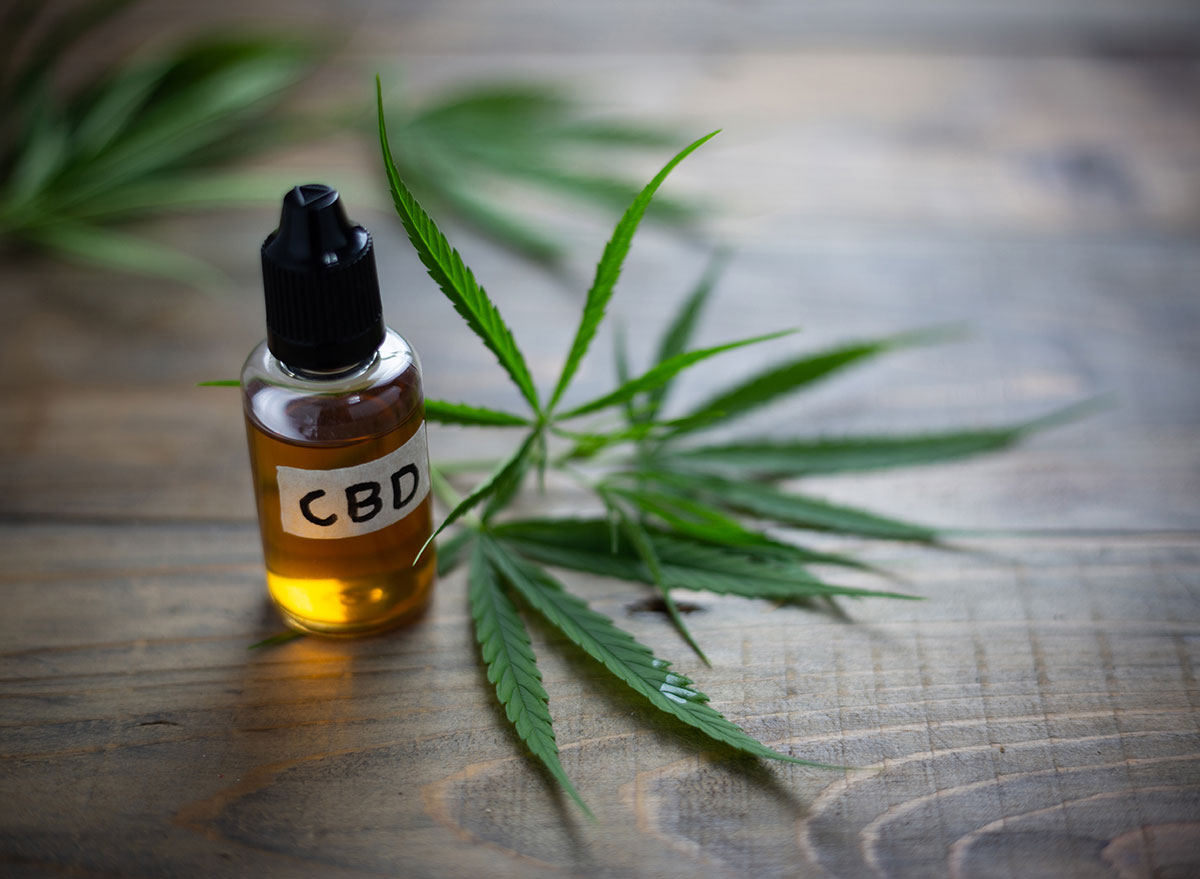 These days, you've probably been hearing a lot about CBD, which stands for cannabidiol. The cannabis-derived compound has been gaining tons of traction in America recently, and it's popped up in all kinds of products, from sparkling water and chocolates to tinctures and teas. But there's still so much mystery surrounding CBD that even if you are interested in giving it a go, knowing where to start can be tricky. Here, we've talked to some experts for tips on what you should look for when choosing CBD products, and they've cleared up a couple of myths about CBD as well.
First things first: will CBD products make me high?
When many people hear "CBD," they immediately think of the stigmas associated with marijuana, because both are products of cannabis. However, CBD is lacking the psychoactive element of marijuana—THC, which stands for tetrahydrocannabinol. Because the "high" feeling marijuana provides is brought on by THC, not cannabis itself, CBD products will not produce the same psychedelic effect.
Is it legal?
In late 2018, President Trump signed off on the Agricultural Improvement Act of 2018 (aka the 2018 Farm Bill), which means that the federal government now fully recognizes hemp as a legal agricultural product. Hemp is a variety of the cannabis plant that's grown specifically for industrial purposes.
So, now that that's out of the way, what is CBD used for?
CBD offers a non-toxic, typically side-effect-free, natural alternative to many pharmaceutical drugs. In some cases, CBD might even be more affordable than pharmaceuticals.
"CBD is used for many things," explains Aaron Riley, the CEO of CannaSafe, a full-service testing laboratory for cannabis cultivators and distributors to ensure that they are in full compliance with all regulatory requirements. "Personally, it helps me relax and reduces anxiety. Others may use it for pain relief and general wellness, among other things."
CBD is often used to help with pain and inflammation, IBS, anxiety, depression, nausea, migraines, and high blood pressure. It's also been scientifically proven to benefit those who suffer from seizures, according to a 2017 study published in the Journal of Epilepsy Research.
"While it's not a miracle drug or a cure-all for anything and everything that ails you, it can provide safe therapeutic benefits without the side effects that can occur with some pharmaceuticals," Colorado-based dietitian Donna Shields, MS, RDN, who's the co-founder of the Holistic Cannabis Academy, previously told us. "It does not have the side effects of pain relievers such as opioids and NSAIDs."
On top of that, the World Health Organization notes that, "In humans, CBD exhibits no effects indicative of any abuse or dependence potential … To date, there is no evidence of public health related problems associated with the use of pure CBD."
How do I know if a CBD product is safe?
There are several ways a consumer can know if a product is safe or top of the line, and the first is to be sure it's been tested.
"There isn't a lot of transparency of quality control in the CBD market, so it's about finding a brand that is trustworthy and actually tests their products, which is few and far between," says Riley.
When looking at labeling, Riley suggests looking for potency claims and indicators that a safety test was performed for pesticides, solvents, and heavy metals."The best way is if a producer uses a QR code [aka a barcode] with lab results for that product's batch," he notes.
The other thing to look for is where the company sources their hemp from, says Tim Moxey, the co-founder of Botanica Global, a cannabis edibles company.
"A good CBD company will communicate where the hemp is grown, under what conditions it was grown, and how they extract the CBD," he notes. "We recommend looking into brands that have a proven record in cannabis."6254a4d1642c605c54bf1cab17d50f1e
What are the red flags when it comes to CBD products?
According to Riley, you want to find a brand of CBD products with positive reviews from credible sources and avoid those that have no online footprint.
Moxey also suggests avoiding products that don't list a potency or per milligram dosing for their products. "This is important for people who are looking to understand how their body will react to CBD and for them to find a potency or dose that works best for them," he notes.
Any specific CBD product recommendations?
"Kushy Punch is a good one, so is KOI. Both brands have high product integrity and test at a higher frequency than most CBD brands," said Riley.
Moxey is, of course, proud of his own Mr. Moxey's Mints, calling it "one of the most trusted brands."
"Our focus is on how to best capture differing CBD experiences dependent on what people want," he notes. That said, Moxey also suggests the California-based Papa & Barkley for CBD tinctures and capsules. "Their approach to infusion and respect for the whole plant really stands out at a time when people are rushing to get to market with products that might cut corners," he adds.
And don't forget about your furry friends, too! "The pet wellness brand Austin and Kat is also another great company that makes CBD wellness products for animals," Moxey says. "They are always expanding their catalog of CBD biscuits and pet oils based on customer feedback."