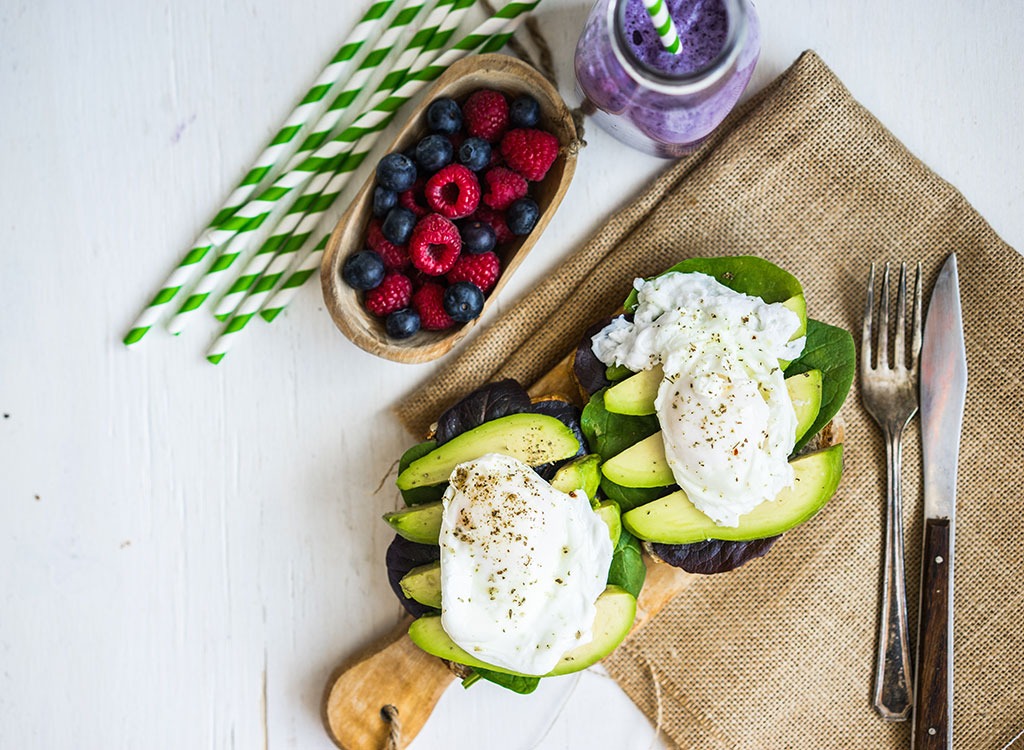 Instagram's #EatClean isn't your typical foodporn hashtag. It's actually a great way to boost your kitchen inspiration. Because, let's face it, eating clean 24/7 requires some creativity.
Instead of solely honing in on calorie counts, clean eaters make it a priority to consume wholesome foods that are free of chemicals, additives and dyes. But in today's world, this is no easy feat, especially when cravings for indulgences like pizza or candy strike.
To help you eat clean — without solely living off fruit, nuts and salad — we've collected some of the most mouthwatering snaps from Instagramers who've already jumped on the trend. Let their creativity inspire you and fuel your weight loss.
These sinful-looking pizzas are anything but. The crust comprises cauliflower, eggs, shredded cheese and spices — a far cry from the long list of ingredients you'd find on a box of pizza bagels. For some added fat-burning power, top your pizzas with some steamed broccoli. The veggie is filled with phytochemicals that fight off body fat storage.
Studded with antioxidant-rich cacao powder and filling black beans, these gluten-free vegan truffles have all the makings of a clean snack or dessert. The addition of buckwheat provides a complete source of protein, meaning it supplies all nine essential amino acids the body can't produce on its own. No standard box of chocolate can claim that!
In a recent Centers for Disease Control report that ranked 47 "powerhouse fruits and vegetables," watercress was the unrivaled champion of the cutting board. That's why we're huge fans of this salad — the nutrient-filled green plays a leading role. The meal is made complete with the addition of various fruits and veggies and topped with a sprinkling of chili pepper flakes. The spice gets its fiery flavor from a compound called capsaicin, which has also been shown to reduce belly fat and suppress appetite.
Traditional store-bought crust is primarily composed of nutrient-void flour and countless additives. We're fans of this dairy-free pie because the crust is made with oats, almonds, dates and coconut oil, a fat that's teeming with lauric acid. The body uses this type of fat for energy more easily than other varieties, ultimately aiding weight loss. To amp up the weight-loss power of this dessert further, top it with extra berries. Raspberries, strawberries and blueberries are all packed with polyphenols, which have been shown to burn flab and stop new fat cells from forming.
KALE AND EGG BREAKFAST SALAD
While you may not consider salad a traditional breakfast food, we think you might want to reconsider your stance. Everything about this dish is on point: The eggs and avocados both contribute healthy, waist-whittling fat and the runny yolk eliminates the need for a caloric dressing. It's a win-win! Pair it with your favorite coffee for a complete, energizing breakfast.
If you want to whip up a satisfying, low-carb meal that tastes anything but, zoodles, or zucchini noodles, are the answer. The best part: the dish can go from the spiralizer to your belly in less 20 minutes. This Instagrammer tops her bowl with pesto, pine nuts and tomatoes, a veggie that's packed with the cancer-fighting antioxidant lycopene.
Though candy shouldn't be your go-to snack, sometimes you need something sweet to get you through the day. And if you're a nut butter fan looking to indulge, these raw, vegan treats are a solid choice. Coconut oil gives them an ultra-creamy texture and provides cancer-fighting conjugated linoleic acid.
HEIRLOOM & HEMP SEED TOAST
Move over avocado, a new toast topper has come to town — and it's juicy and delicious! Super-simple to make, this anytime snack aids total health and weight loss thanks to the addition of omega-3-rich hemp seeds. This mighty seed has been shown to ward off heart disease and obesity, and because it carries all nine essential amino acids, it's also a stellar vegan source of protein.
The fruit foundation of a smoothie bowl makes added sugars unnecessary, which is just one of the many reasons we're such big fans of this dish. This Instagrammer adds vegan protein powder to boost the muscle-building and staying power of her bowl and uses dried mulberries, coconut and some of her favorite fruits to top it all off — looks delish!6254a4d1642c605c54bf1cab17d50f1e
CHICKEN CAULIFLOWER RICE BURRITO BOWL
This Mexican-inspired meal is a flat-belly superstar. The black beans and chicken are super-satiating and provide muscle-building protein, and the cauliflower rice eliminates the need for the empty carbs typically used in standard burritos and bowls.
CACAO, OAT & BRAZIL NUT SMOOTHIE
Kick your day off right with this nutrient-filled sip. Although many grab-and-go smoothies are overflowing with sugar, this drink by Instagrammer Jen, is ideal for those looking to eat clean and trim down. She uses Brazil nuts for protein and healthy fat, oats and flax seeds for satiating fiber, and various fruits for energy-boosting carbs.
GRILLED VEGGIE & QUINOA SALAD
Sometimes all you want is a simple salad, and we're loving this Instagram snap for inspiration. The addition of quinoa and hummus adds a Mediterranean twist and a major hit of belly-filling fiber and protein, a nutrient that can boost post-meal calorie burn. If weight loss is your goal, it doesn't get much better than that.