These Hummus Brands Could Be Making You Seriously Ill, According to Science
In a new report, the Environmental Working Group uncovered hummus brands that contain high levels of the carcinogenic herbicide glyphosate.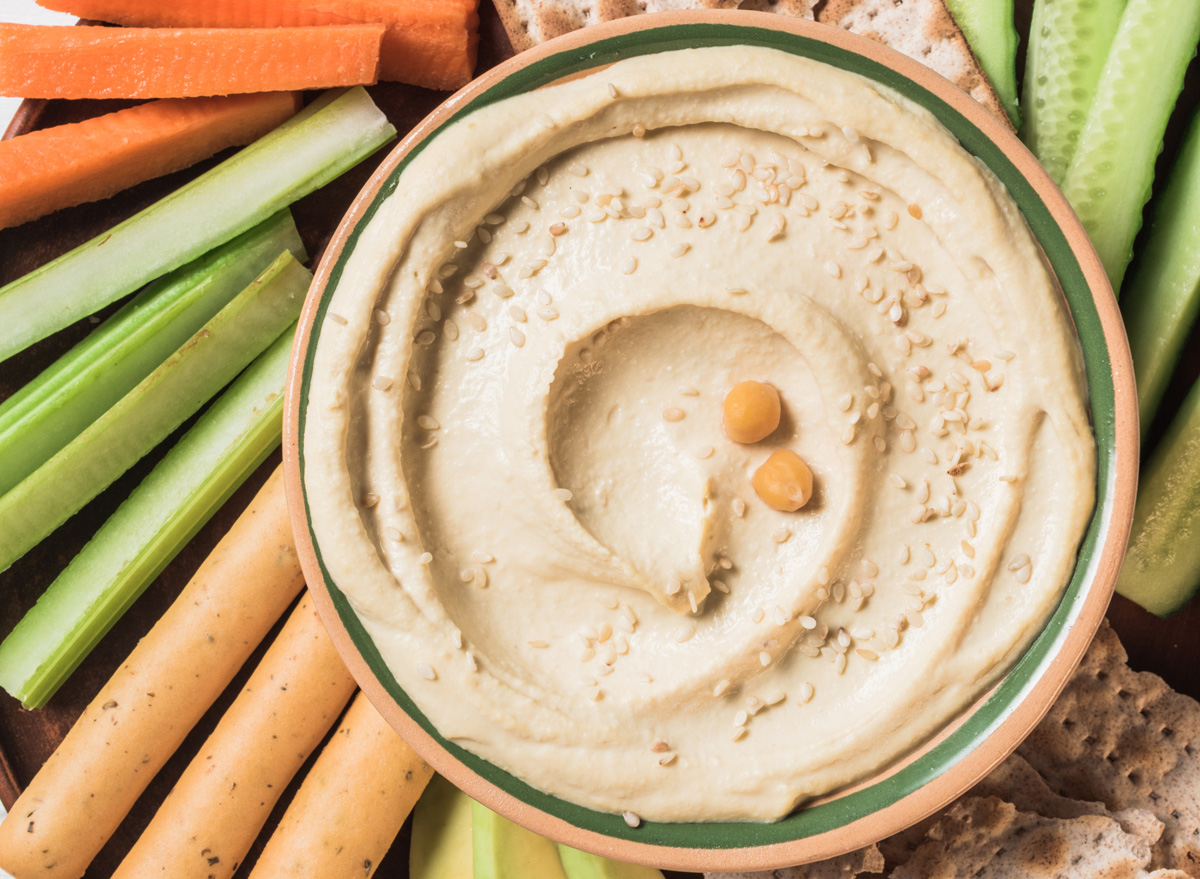 If you thought 2020 couldn't get any worse, you were wrong. Today, the Environmental Working Group (EWG) released a new report that tested samples of popular hummus brands for glyphosate, an herbicide that has been linked to cancer, and the results are not what we expected.
You may have assumed that no-name brands would be the tubs of hummus that had the highest levels of the cancer-causing compound, but you'd be wrong. In fact, not only did some of the most popular hummus brands test positive for glyphosate, but many of these samples exceeded EWG's health-based benchmark for daily glyphosate consumption.
Before we get into the specific brands that flunked EWG's test, let's briefly discuss exactly why these test results are so concerning:
What is glyphosate?
Glyphosate is the infamous herbicide produced by Monsanto (which was recently acquired by Bayer) under the brand name Roundup. Farmers spray the chemical on crops, like chickpeas, during harvest to protect plants from pests as well as to promote the drying of beans for packaging.
But what's good for harvest isn't good for your health. Based on an increasing body of evidence, the International Agency for Research on Cancer deemed glyphosate a probable human carcinogen back in 2015. However, because the Environmental Protection Agency hasn't updated their glyphosate guidance in over two decades, and The Food and Drug Administration doesn't bother to test food for glyphosate residues, this herbicide has largely gone unnoticed in our food supply—until now.6254a4d1642c605c54bf1cab17d50f1e
That's why EWG, a nonprofit organization, commissioned an independent laboratory to test 49 samples of hummus for glyphosate.
STAY INFORMED: Sign up for our newsletter to get the latest food news delivered straight to your inbox.
Hummus brands with high levels of glyphosate
These are the top 6 hummus brands that the EWG found high levels of glyphosate, sorted by concentration in parts per billion (ppb):
Whole Foods Original Hummus: 442-2,379 ppb
Harris Teeter Traditional Artisan Hummus: 1,290-1,618 ppb
Sabra Classic Hummus: 285-743 ppb
Whole Foods Organic Original Hummus: 419 ppb
Sabra Roasted Pine Nut Hummus: 349 ppb
Cava Traditional Hummus: 224 ppb
EWG's recommended maximum concentration of glyphosate is 160 ppb per four-tablespoon serving. If someone were to eat eight tablespoons of hummus per day, a chickpea-based spread with just 80 ppb would reach EWG's daily limit.
Keep in mind that the EWG's recommendation is much lower than the EPA's legal standard for glyphosate in chickpeas. In fact, the EPA's benchmark is more than 30 times that of the EWG's: 5,000 ppb.
You'll see that there's a range for a few of the brands listed above. That's because EWG bought samples from a variety of regions and times of year. "The same product may have been purchased from stores located in different parts of the country and at different times between January and June," report co-author Alexis Temkin, PhD, a toxicologist at EWG, tells us.
"Depending on the supply chain, sourcing, and processing of chickpeas that are used to make hummus, the levels of glyphosate can vary as shown by our testing," she adds, noting that "this is also encouraging because it appears that you can source chickpeas without glyphosate."
Hummus brands with the lowest levels of glyphosate
Here are the 6 safest popular hummus brands that the EWG found contained the lowest levels of glyphosate:
The Perfect Pita Traditional Hummus: 0 ppb
O Organics Traditional Hummus (Albertsons store brand): 0 ppb
Asmar's Original Hommus: 0 ppb
Park Street Deli Hummus Classic (Aldi exclusive): 7 ppb
Simple Truth Organic Garlic Hummus (Kroger brand): 8 ppb
Good & Gather Roasted Garlic Hummus (Target store brand): 8 ppb
Store brand hummus for the win! Brands from Albertsons, Aldi, Kroger, and Target all ranked among the hummus brands with the lowest amount of glyphosate.
How to pick a safe hummus
Just because the EWG uncovered trace levels of glyphosate in many store-bought hummus brands doesn't mean you shouldn't eat hummus anymore.
"Consumers should continue to eat chickpeas and hummus, but can opt for organic varieties to reduce glyphosate exposure," Temkin tells us. "On average, levels of glyphosate in organic hummus were much lower than in non-organic, conventional hummus." Specifically, the EWG report found that the average levels of glyphosate in conventional hummus hovered around 323 ppb whereas organic was under 86 ppb.
What's so special about organic? According to USDA regulations, synthetic herbicides are prohibited in organic production. However, that doesn't prevent glyphosate from contaminating organic products: "The presence of glyphosate in organic samples may be caused by drift from nearby fields or contamination during processing or packaging," explains Temkin.
Should you be concerned about glyphosate in food?
It may be disheartening to see how rampant glyphosate contamination is in our food supply, but you don't need to switch to a completely homegrown diet to keep yourself safe and healthy.
According to Tempkin, it's ok to continue to eat store-bought chickpeas and other beans as they "offer several nutritional benefits." That being said, "EWG is concerned about health harms associated with glyphosate in food that may come from long term daily exposure."
The good news? "As EWG's testing has shown, it is possible to produce chickpeas and hummus without glyphosate," Tempkin shares. So let's be grateful that consumer protection organizations like EWG are looking out for our health. By bringing these issues to light, the non-profit will hopefully make a difference in these hummus brands' sourcing practices so that the average levels of glyphosate go down.
On a much lighter note, if you want to grab a brand of canned chickpeas that showed no levels of glyphosate, like Simple Truth Organic Canned Chickpeas, you can use them to make The Only Authentic Hummus Recipe You'll Ever Need.
Olivia Tarantino
Olivia Tarantino is the Managing Editor of Eat This, Not That!, specializing in nutrition, health, and food product coverage.
Read more about Olivia