The Best Healthy Foods to Buy at Target, According to Dietitians
Need help shopping for healthy food at Target? We've got you covered.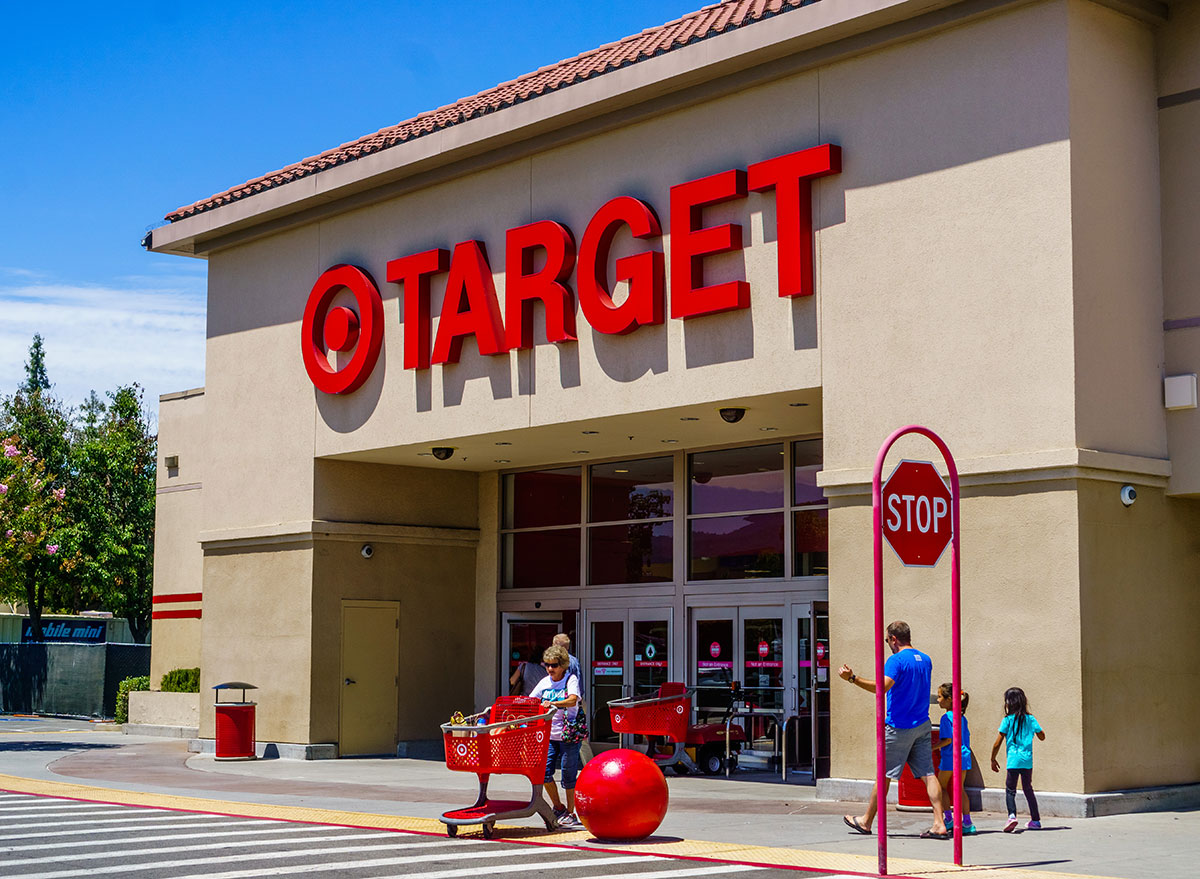 The product recommendations in this post are recommendations by the writer and/or expert(s) interviewed and do not contain affiliate links. Meaning: If you use these links to buy something, we will not earn a commission.
While stocking up on toothpaste, deodorant, and affordable underwear, you may as well push your cart a few aisles over and pick up fixings for dinner. Target, your go-to big box store for clothing and household goods, rivals the grocery store for quality food at reasonable prices—and it's not all processed junk, canned and shelf-stable boxed stuff. In fact, Target carries a bountiful assortment of healthy food options that even dietitians enjoy.
"Target is loaded with many nutritious and healthy foods for the health-minded," says registered dietitian Mary Wirtz, RD, a certified sports dietitian, and consultant for Mom Loves Best. "You can get fresh and frozen fruits and vegetables, lean proteins like chicken tenderloin, lean beef, eggs, tofu, ground turkey, pork tenderloin, whole grains, Greek yogurt, cottage cheese, and lots of plant-based alternatives, like soy milk, oat milk coffee creamer, even plant-based cheese."
Many registered dietitians agree and frequent Target for their grocery shopping. Here are 25 of their favorite healthy foods they shop for at Targé. And while you're stocking up, keep an eye out for these Best Snacks to Buy at Target for Weight Loss.
Canned Beans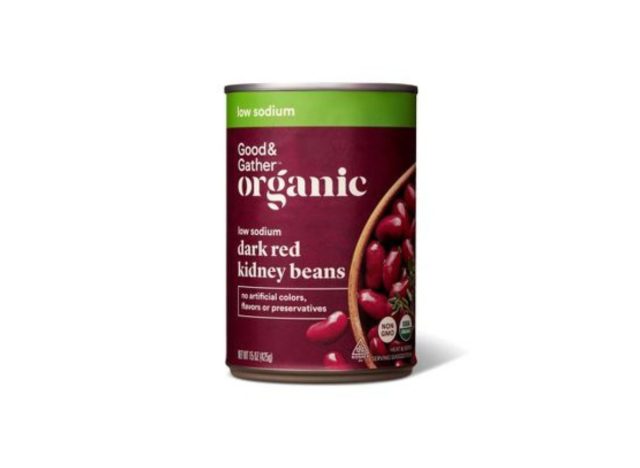 "The healthiest foods I often buy at Target are no different from the healthy foods I purchase at other grocery stores," says Johna Burdeos, RD, owner of Dietitian Johna. "I usually buy store brands since it's cheaper and especially with the rising costs of groceries these days. Can't go wrong with cheap plant protein like canned beans."
Canned beans are nutrient-rich with protein, fiber, folate, magnesium, and iron. What's more, they're versatile, shelf-stable and make a great last-minute meal option when cooked with healthy grains like brown rice and quinoa, or with pasta.
"I like to mash canned beans with seasonings, herbs, and spices to make a dip," says Burdeos. "Serve it with veggie sticks, whole grain crackers or toast, or pita bread."
Saffron Road Chicken Tikka Masala
Dietitians typically shun frozen dinners like this because they are highly processed, but this meal doesn't contain the preservatives and unpronounceable chemicals of other heat-and-serve meals.
"This certified Halal, gluten-free chicken tikka masala is simmered with tandoori spices and packed with authentic flavor," says Mia Syn, MS, RD. "The chicken was raised without antibiotics; the meal provides 17 grams of satisfying protein and only 2 grams of saturated fat out of 9 total grams of fat."
Bob's Red Mill Gluten Free Organic Quick Cooking Rolled Oats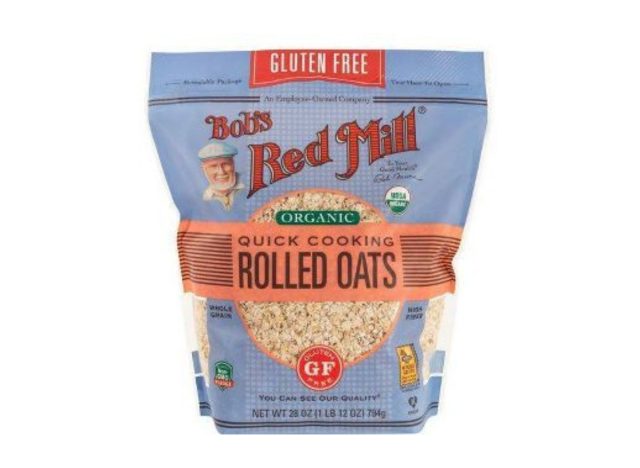 Oatmeal is a great source of soluble fiber and a versatile and nutrient dense ingredient.
"Bob's Red Mill Quick Oats are a staple in my pantry and I use them for everything from a classic oatmeal bowl to baked goods or in smoothies," says Kristen Nicolai, MS RD, owner of Nutrition By Kristen. "While oats are naturally gluten-free, Bob's Red Mill oatmeal is ensured gluten-free through their rigorous reviews and testing, making it a safe choice for those with celiac disease or gluten intolerances."
Nature's Path Heritage Flakes Breakfast Cereal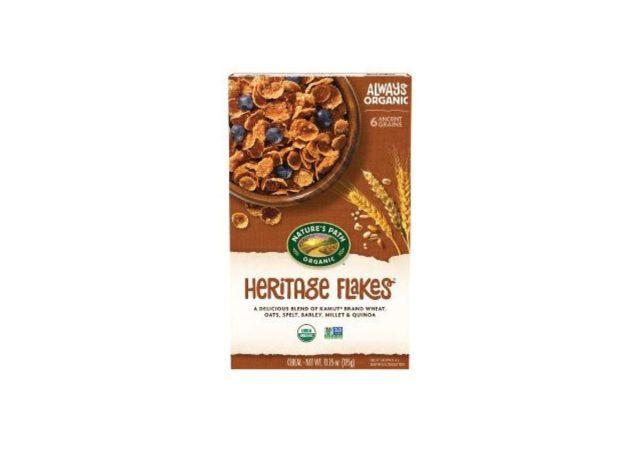 Cereals are generally a good deal at Target, and you can occasionally find them on sale. Just don't get distracted by all the sugary cereals.
"Look for cereals with less than 10 grams sugar and more than 3 grams fiber per serving," advises registered dietitian nutritionist Elisa Bremner, MS, RDN, CDN, founder of Green Bites. "Heritage flakes are so delicious, and they really stay crunchy in milk.  For a quick breakfast, I'll have some Heritage Flakes with Ripple (pea milk, also available at Target) and sliced banana."
Good & Gather Frozen Steam-in-Bag Edamame
Good & Gather replaced Target's largest owned food and beverage grand Archer Farms in 2019. Wirtz enjoys eating the brand's edamame with its whole grain brown rice.
"I microwave the edamame and rice serve it alongside the air-fried chicken breast for a well-balanced meal that is ready in less than 15 minutes," says Wirtz. "The edamame is a tasty snack or high-protein, plant-based addition to any meal."
Good & Gather Gluten Free Red Lentil Rotini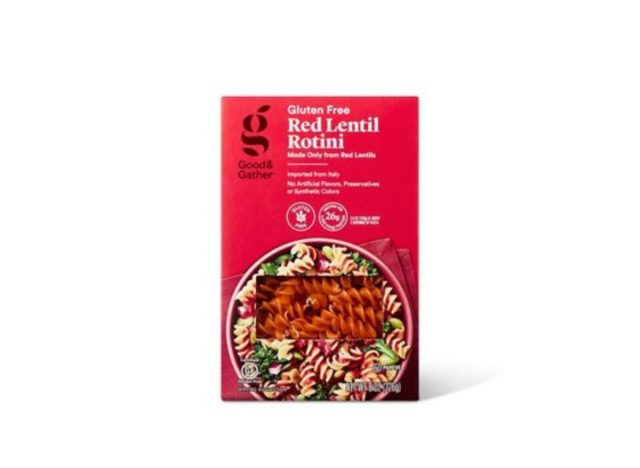 If you are looking for a healthier swap for your regular pasta, lentil pasta is a great option. It's an excellent source of protein and fiber. One serving has 15 grams of protein and 10 grams of fiber.
"This will help with improved blood sugar balance and keep you feeling fuller longer," says Nicolai. "It's a great option for those who are unable to eat gluten and are looking to enjoy a bowl of pasta."
Grillo's Pickles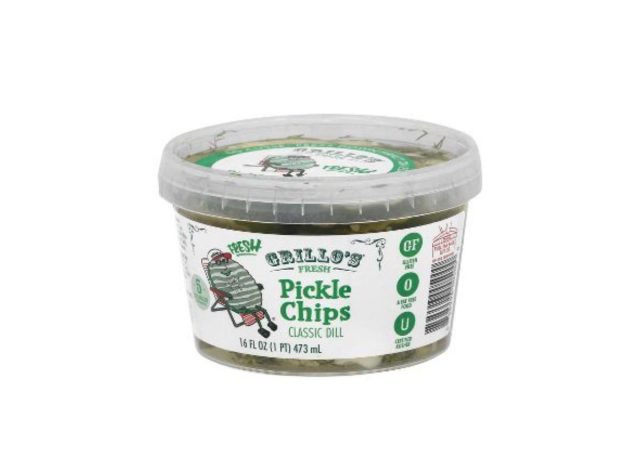 In addition to being a condiment on burgers, pickles are also a great low-calorie healthy snack to keep on hand in the fridge. "Look for these pickles that are made with just a few simple ingredients and no added sugars," says Nicolai. "Each serving has just 5 calories, and makes a great addition to salads, sandwiches, and dips. Or if you are like me, you can eat them straight out of the jar!"
OLIPOP Sparking Tonics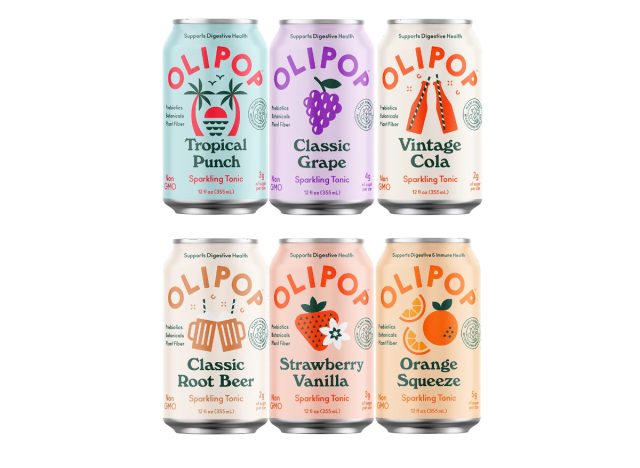 Lauren Manaker, MS, RDN, owner of Nutrition Now Counseling and author of The First Time Mom's Pregnancy Cookbook and Fueling Male Fertility, is a big fan of  OLIPOP, a modern take on old school sodas formulated with "better-for-you" ingredients. Believe it or not, OLIPOP contains 9 grams of fiber, only 2 grams of sugar, and a balance of prebiotics.
"When your meal screams for a root beer as your beverage, but you don't want the loads of empty calories, OLIPOP root beer will give you that 'classic root beer taste,'" Manaker tells Eat This, Not That! "For satisfying root beer float that actually supports gut health, combine OLIPOP root beer with a low-sugar vanilla ice cream," she suggests.
Wonderful No Shell Roasted Salted Pistachios Multipack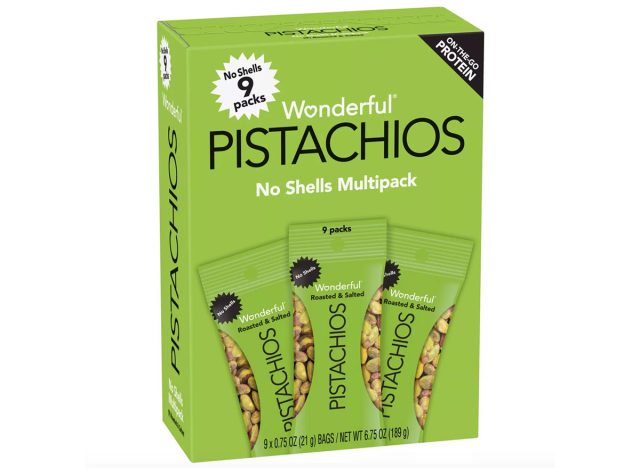 Pistachios are the only good source of protein among popular snack nuts, with more than 10% of the daily value for protein per serving.
"They provide all nine essential amino acids, making them a complete plant protein," says Manaker.
The multipack of bags contains just under an ounce of nuts, making it easy to control portions. "The chili roasted variety offer a major kick that has a perfect combo of red pepper, garlic and vinegar, making them a go-to addition to healthy meals. From using them as a coating for fish (when crushed) to a protein addition to salads, these pistachios are a lifesaver."
Mamma Chia Squeeze Vitality Snack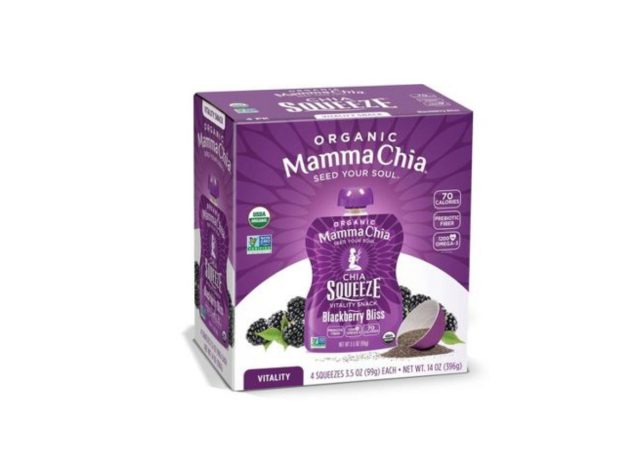 6254a4d1642c605c54bf1cab17d50f1e
"Chia seeds also contain numerous health benefits, including 1,200 mg of omega-3s and filling fibers," says Nicolai. These blueberry and blackberry chia seed squeeze pouches make for easy, on-the-go snacks with no added sugar. Keep them on hand, in your purse, or pack as travel snacks.
Frozen Blueberries
Choosing frozen blueberries over fresh may give you more antioxidant vitamins because the fruit is picked at peak ripeness and frozen quickly, according to Wirtz. Their nutrients don't fade during transportation and while sitting in the grocery store. Blueberries are an excellent source of vitamin C, potassium, and fiber, boasting a whole host of benefits for heart and brain health and cancer prevention.
Whenever Nicolai visits Target, she stocks up on Wyman's Fresh Frozen Wild Blueberries, which she adds to plain Greek yogurt. Packed with 6 grams of fiber per cup, wild blueberries are rich in vitamins, minerals and antioxidants making them a healthy addition to oatmeal, muffins, pancakes and smoothies, she says.
Kevin's Natural Foods Cilantro Lime Chicken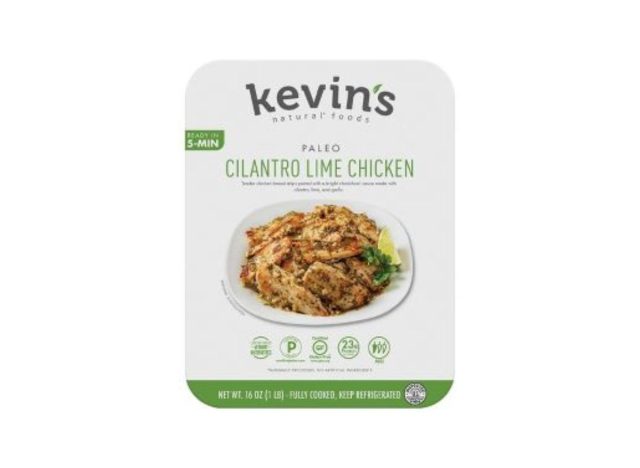 Taco night comes together in a flash with this crazy convenient, fully cooked sous-vide chicken with chimichurri sauce that's ready in five minutes.
"This sous-vide entrée is made with clean ingredients and meets a variety of dietary restrictions including gluten-free, refined sugar-free, dairy-free and soy-free," says Syn. "Pair this flavorful protein with whole grain flour tortillas and coleslaw tossed with lime juice and seasonings, to build a complete meal."
Kevin's Natural Foods Korean BBQ-Style Chicken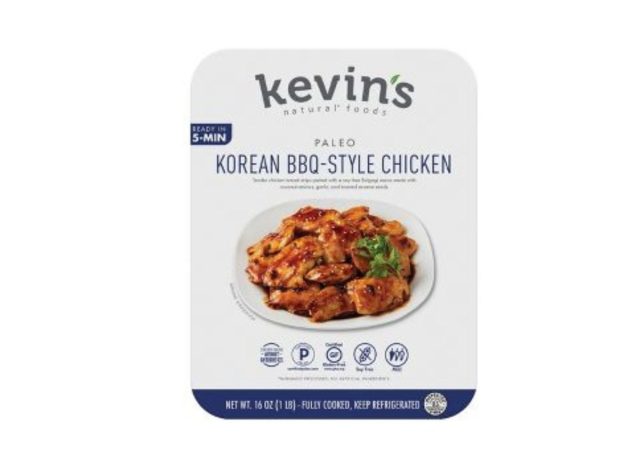 Manaker likes the Korean BBQ flavor of this paleo-friendly chicken dish that's ready in just five minutes because it's fully sous-vide cooked.
"On busy nights, this dish allows me to enjoy a balanced meal of tender chicken that was raised without antibiotics with a sweet and spicy sauce that goes well on top of rice, whole grain bread, or a salad," says Manaker.
Primal Kitchen Balsamic Vinaigrette With Avocado Oil
Having condiments on hand that you enjoy can help make healthy meals at home, more exciting. But most condiments are high in unhealthy fat, added sugar and artificial ingredients.
"I like this balsamic vinaigrette because it is made with balsamic vinegar, spices and avocado oil which is a source of better-for-you monounsaturated and polyunsaturated fats," says Syn. "I use as a marinade for chicken and salmon, roasted sweet potato wedges and in salads."
Skippy Natural Peanut Butter
"I like to buy the large, 40-ounce size of Skippy Natural because it lasts longer and requires less plastic," says Bremner. "I use it in smoothies, dressings and my favorite snack: apples with peanut butter."
Primal Kitchen No Soy Teriyaki Sauce & Marinade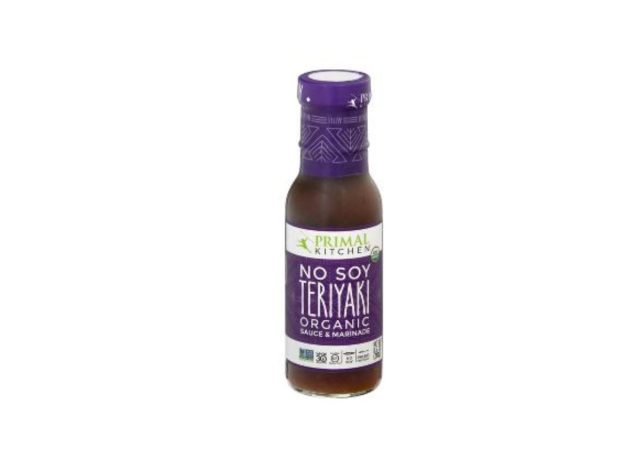 Many people think that eating fresh vegetables and lean meats means they have to sacrifice flavor by keeping the heavy sauces and condiments out of the refrigerator. That's not true. You just have to choose the right products and practice portion control. This no soy teriyaki is one of the best, according to Wirtz because it adds flavor to any meal, though it is very low in sugar and sodium compared to most condiments.
Rao's Homemade Basil Pesto
Another flavor enhancer you'll find in Wirtz's refrigerator is this basil pesto from the famed New York restaurant. Made from just a few simple ingredients, it adds a ton of flavor to any meal. "A small portion goes a long way," says Wirtz.
Applegate Natural Sliced Oven Roasted Turkey Breast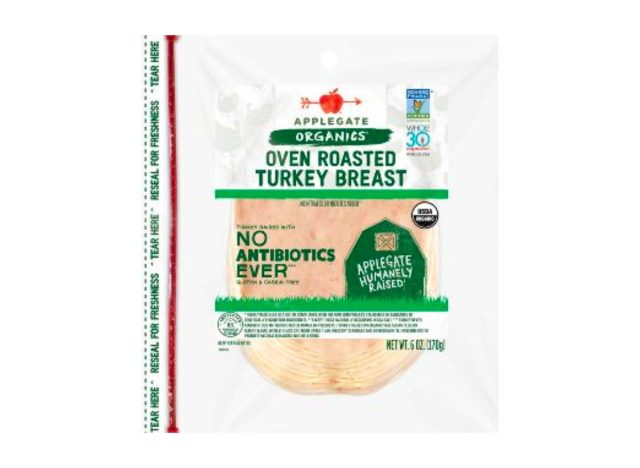 "I am a fan of Applegate's deli meats for their avoidance of antibiotics, nitrates and use of humane practices," says Nicolai. Lean meats like turkey are lower in fat and a good source of protein, 11 grams in just 2 slices. Add a couple slices to your favorite sandwich at lunch or roll up with cheese or fruit for an easy and quick snack.
Honey Mama's Cocoa Truffle Bar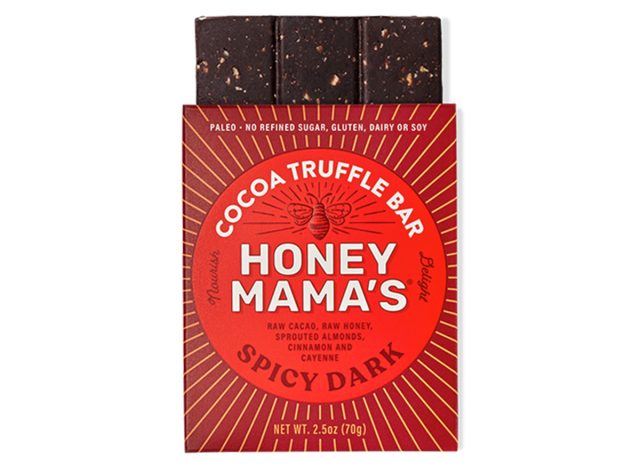 Everyone needs a sweet indulgence now and then. When the craving strikes Nicolai reaches for these "healthier-for-you" truffle bars. "They melt-in-your-mouth delicious, and are made with minimal ingredients, including raw cacao, high in antioxidants and health-boosting compounds, and honey," she says.
Whisps Cheddar Cheese Crisps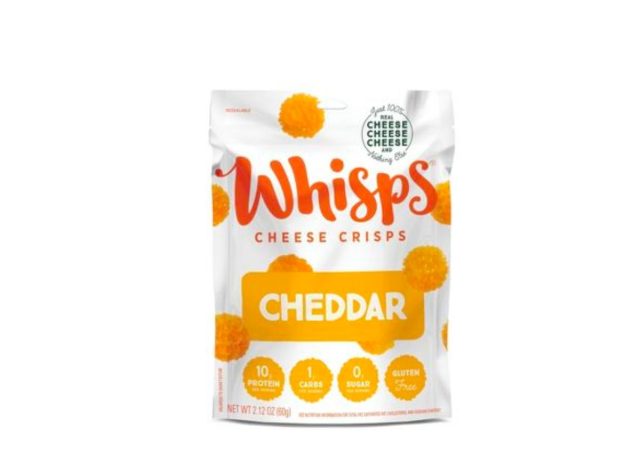 These crispy cheese snacks are 100% over-basked cheddar cheese that pack 10 grams of protein per serving. snacks. "I like to use them as a lunchbox treat or a crispy topping for soups, salads and power bowls or to crumble over chicken or fish," says registered dietitian Katherine Gomez, RD, a medical reviewer for Psychemag.
Eggland's Best Grade-A Large Eggs
Eggs are one of the world's most nutritious foods. Manaker likes Eggland's Best because they contain 6 times more vitamin D, 10 times more vitamin E and 25% less saturated fat compared with ordinary eggs. "Eggs are versatile, not just for breakfast," she says. "Add an egg to your fried rice, top a grain bowl with a poached egg or have a classic hard-boiled egg sandwich–the possibilities are endless."
Popcorn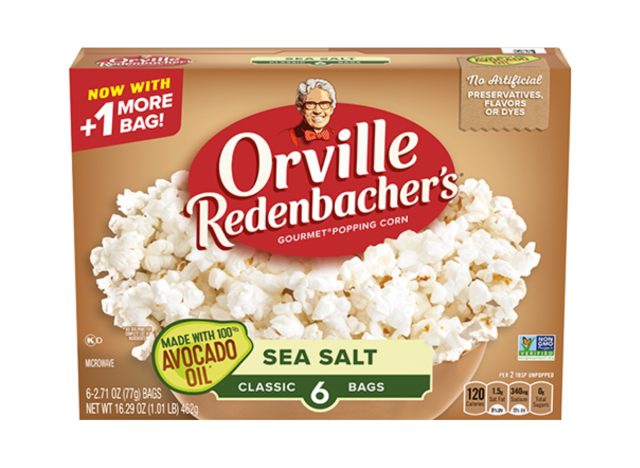 Popcorn is a great source of fiber. The advantage to popping your own at home versus buying it by the bag is that you have total control over the ingredients, including the salt, fat and sugars that are often added to bagged popcorn, says Burdeos. "I usually season them with a drizzle of heart-healthy olive oil, sea salt, garlic powder, and paprika, or chili lime powder. All of these ingredients are available at Target, too."
Favorite Day Monster Trail Mix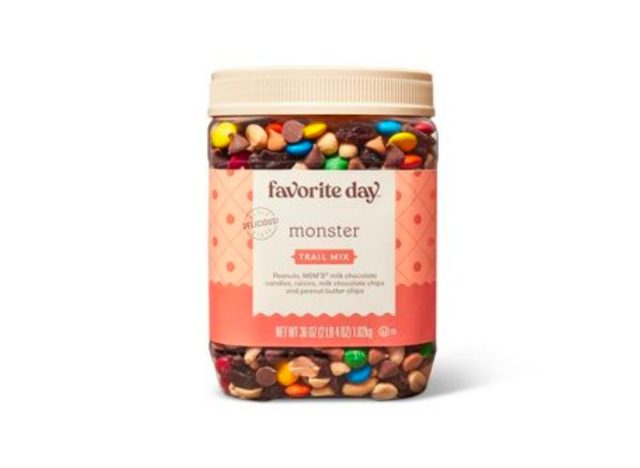 Gomez keeps a 36-ounce jar of this trail mix in her pantry for snacking. It's a sweet and salty combination of treats, including peanuts, M&M's, raisins, chocolate, and peanut butter chips.
"This brand offers dark chocolate espresso, probiotic fruit & yogurt, caramel cashew, and many more tastes," she says.
Jeff Csatari
Jeff Csatari, a contributing writer for Eat This, Not That!, is responsible for editing Galvanized Media books and magazines and for advising journalism students through the Zinczenko New Media Center at Moravian University in Bethlehem, PA.
Read more about Jeff