The Best Healthy Foods to Buy at Target, Dietitians Say
These are the nutrient-dense packaged foods health experts approve.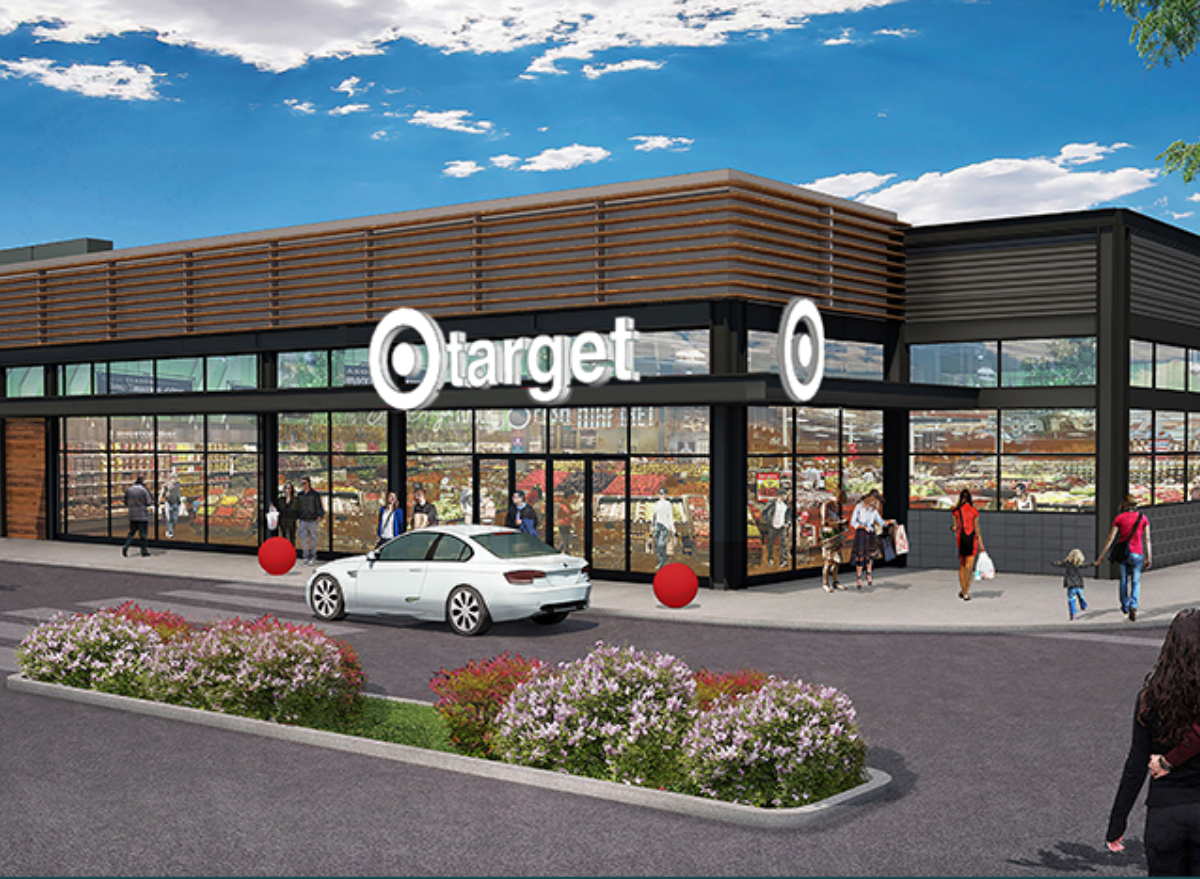 It's pretty difficult to walk out of Target empty-handed. And we're not just talking about home decor or fashion purchases—this also applies to Target's impressive selection of healthy groceries.
And we're not just talking about any Target grocery item that catches your eye. The superstore offers countless healthy options that are exclusive to the shopping chain. For example, Kidfresh nutritionist, Keri Glassman, MS, RD, CDN frequents the frozen foods section for healthy, easy meals.
Here are just 30 Target groceries registered dietitians approve of, then, don't miss 11 Target Grocery Hacks From Expert Shoppers!
Simply Balanced Organic Black Beans Low Sodium
For an excellent source of plant protein, Kajsa Ernestam, registered dietitian for Lifesum, recommends Target's Simply Balanced Organic Black Beans over traditional canned black beans because it's organic, low sodium, and less than two dollars.
"Typically, canned goods contain almost an entire day's recommended daily value of sodium. By lowering the amount of sodium used in a can of beans, you are able to stick to the daily amount of sodium you should be having per day, especially if the beans are being used to cook with and combined with other salty foods," says Ernestam. "[Plus,] beans are a fantastic source of dietary fiber, and can advantageously be included in the daily diet."
Don't miss What Happens to Your Body When You Eat Beans.
Archer Farms Monster Trail Mix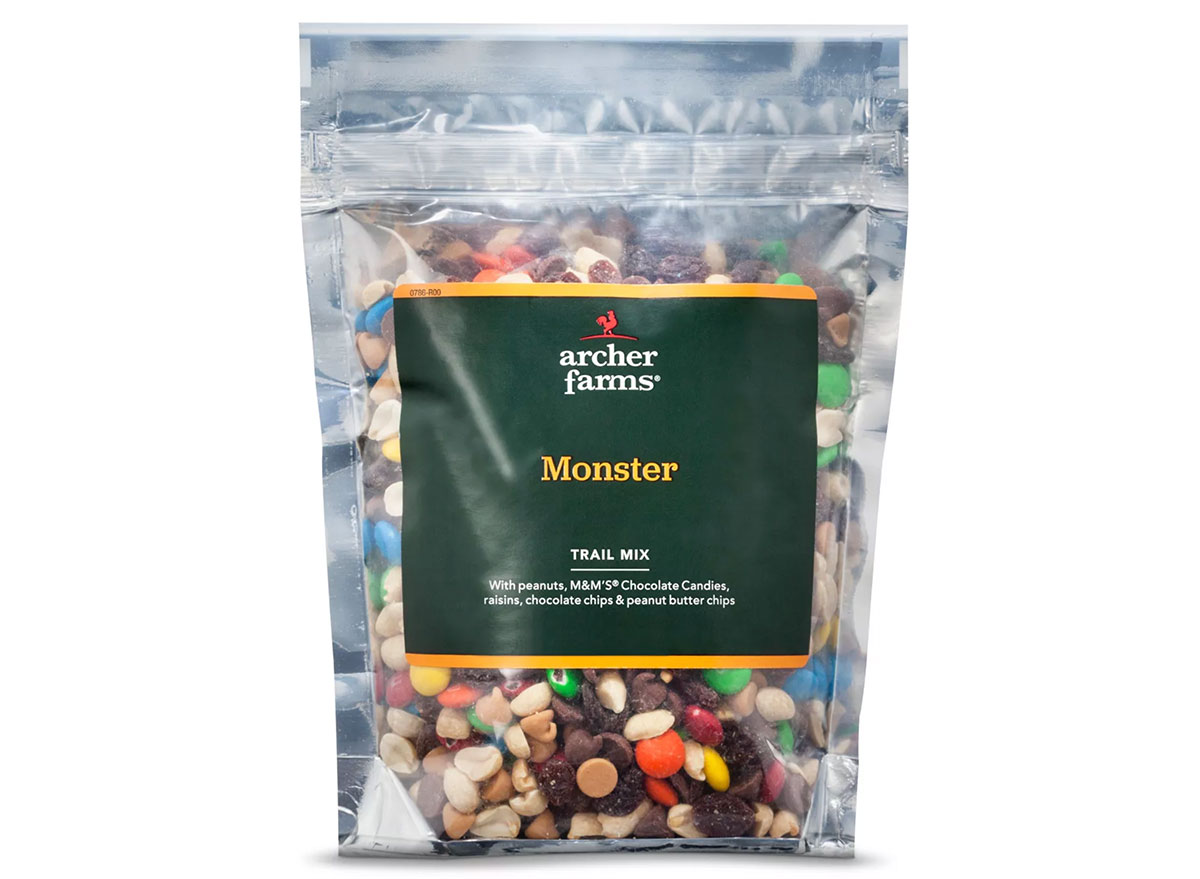 Why choose between salty and sweet, when you could have both? Archer Farms offers a variety of trail mixes, and Ernestam is a fan of such a diversity of flavors.
"This [trail mix] contains peanuts, M&M's, raisins, chocolate & peanut butter chips for a sweet and salty blend. Some other flavors made under this brand are dark chocolate espresso, probiotic fruit & yogurt, caramel cashew and so many more."
Good & Gather Pine Nut Hummus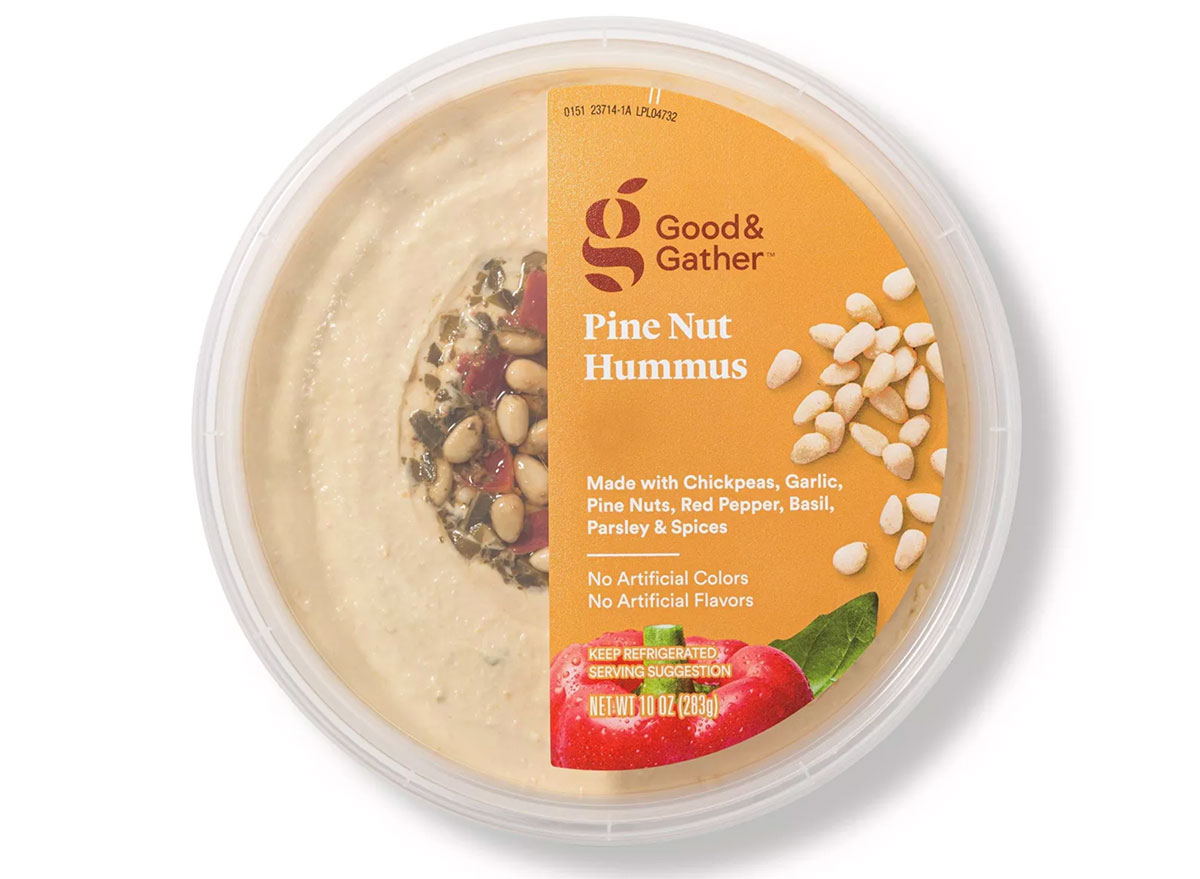 For a healthy item you can use as a dip or spread on sandwiches, go for Good & Gather hummus. "Hummus is made with chickpeas, which makes it a good source of protein and dietary fiber," Ernestam says. "The pine nut flavor is one of my personal favorites."
Quest Snickerdoodle Protein Cookies
Quest products are popular among health and nutrition retailers, but you'll only find these decadent, guilt-free Snickerdoodle Protein Cookies at Target.
"My go-to snack recommendation for many of my patients are Quest Snickerdoodle Protein Cookies, which are found exclusively at Target," says Kristin Kirkpatrick, MS, RDN former lead dietitian, and manager of the Wellness Nutrition Services at the Cleveland Clinic and Quest Nutrition spokesperson. "They are soft-baked and delicious and have the perfect balance of high protein and fiber to keep my patients full without overloading them with sugar or depriving them of flavor."
Good & Gather Almond Butter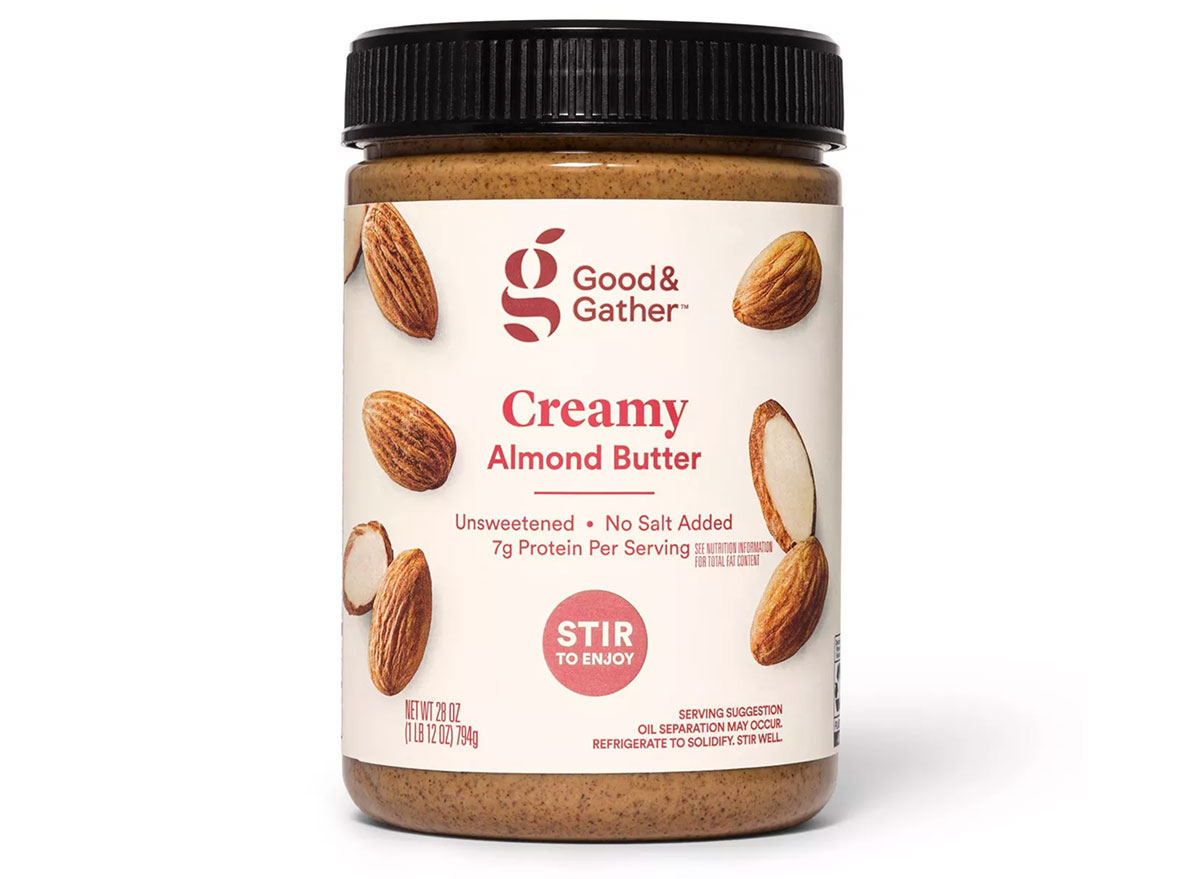 Good & Gather offers a range of natural nut butters like almond and peanut butter which, Joanna Foley, RDN points out, are "an excellent source of healthy unsaturated fats as well as vitamins E, magnesium, potassium, and plant-based protein." And don't be afraid of the need to stir, Foley says, as that indicates the product is less processed.
Be sure to read 10 Nut and Seed Butters—Ranked by Protein.
Good & Gather Almond, Peanuts & Sea Salt Nut Bars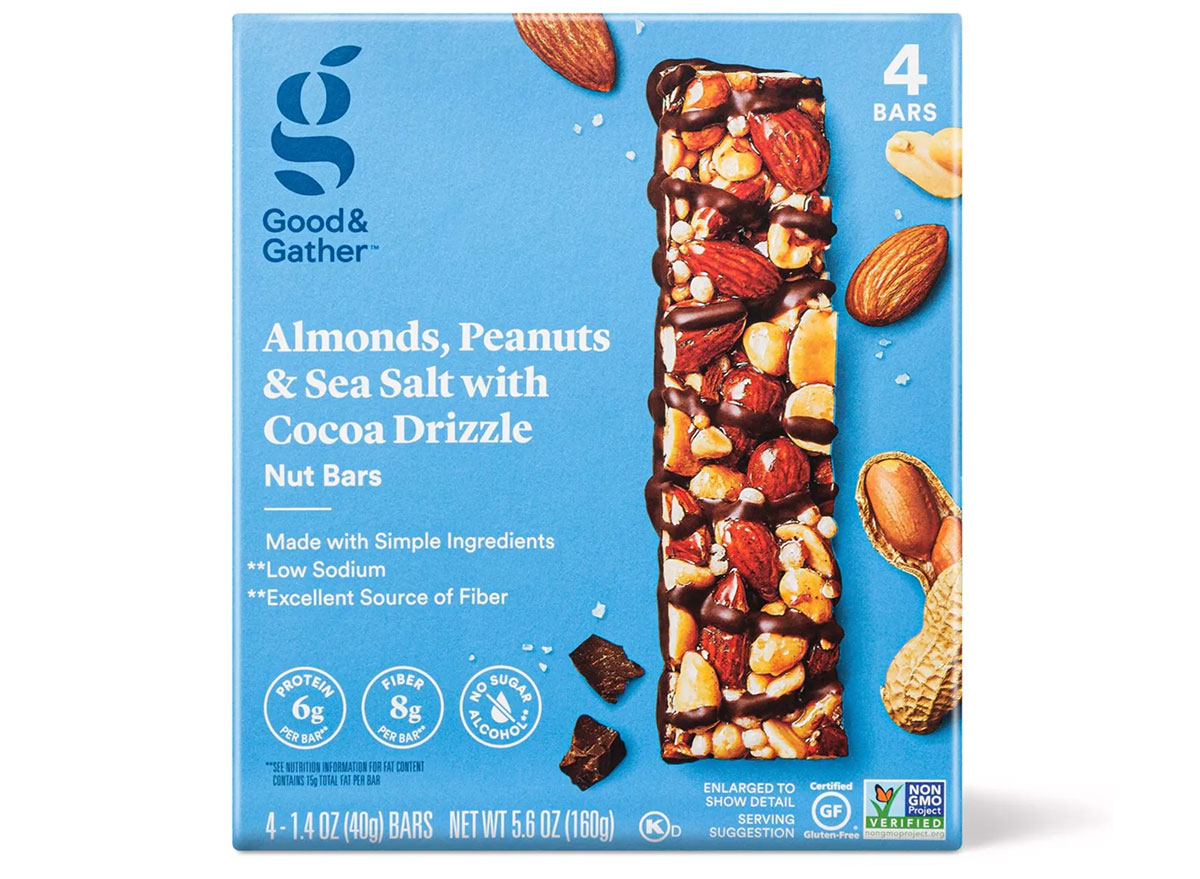 If you're a fan of KIND snacks, you'll love these Target exclusive bars for a quick and healthy snack.6254a4d1642c605c54bf1cab17d50f1e
"[Good & Gather nut bars] are super delicious, convenient, and have a great nutrition profile," says Foley. "They contain minimal ingredients, are low in sugar and are a good source of fiber and protein. Keep some of these Target groceries on hand in the kitchen and in your purse or backpack!"
Good & Gather Sparkling Water
Making sure you're staying well-hydrated throughout the day can be tough, especially if you're only sticking to plain water. For a burst of flavor, Foley suggests sipping on Target's Good & Gather sparkling water. It comes in a variety of flavors and tastes refreshing.
Don't miss 7 Side Effects of Not Drinking Enough Water.
Market Pantry Boneless Skinless Chicken Breast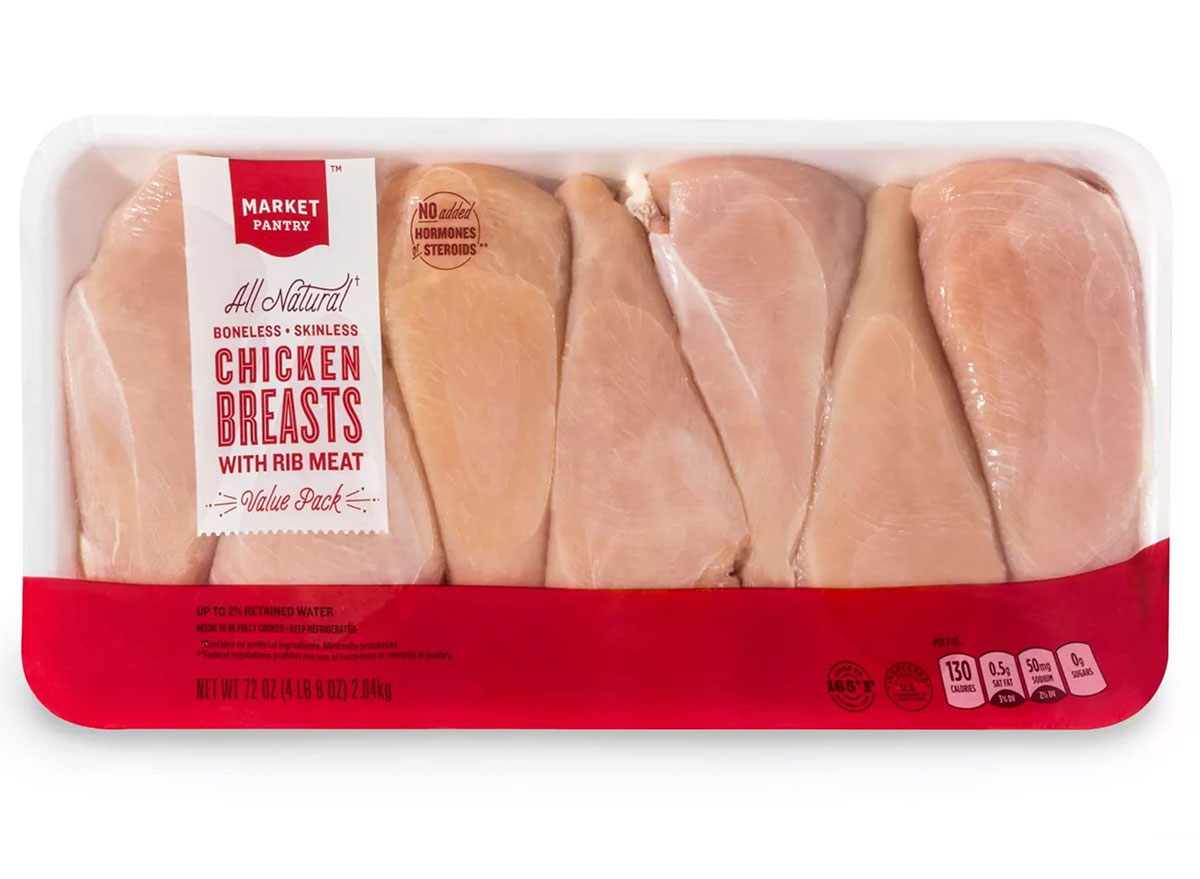 Target isn't just a fantastic snack hub: the retailer also sells protein like frozen fish and packaged chicken. "While you can buy chicken breast at any grocery store, I love Market Pantry brand due to the affordable price of $1.99 per pound," says Leah Forristall, RD, LDN. "Not only is chicken breast a lean protein choice but it is also extremely versatile. Pair it with a vegetable, whole grain, and healthy fat for a balanced meal!"
Good & Gather Baby Cut Carrots
Baby carrots are such a versatile veggie, which is why Forristall always has these Target groceries in her fridge. "[Baby carrots] can be cooked and added to meals or simply eaten on the side raw when you need a quick and easy vegetable," she says. "Carrots have a longer shelf life than most vegetables as well, making them an easy staple. This brand happens to be 99 cents for a one-pound bag!"
Good & Gather Asiago Kale Chopped Salad Mix
"Sometimes you need something quick and easy to make for lunch or dinner. I love this salad kit because the work is already done for you," says Forristall. "You'll reap a ton of micronutrients from the radicchio and brussels sprouts, and if you top it with chicken breast or shrimp, you've got yourself a balanced meal in only a few minutes!"
Check out One Major Effect of Eating Salads Every Day, Says Science.
Market Pantry All Natural Popping Corn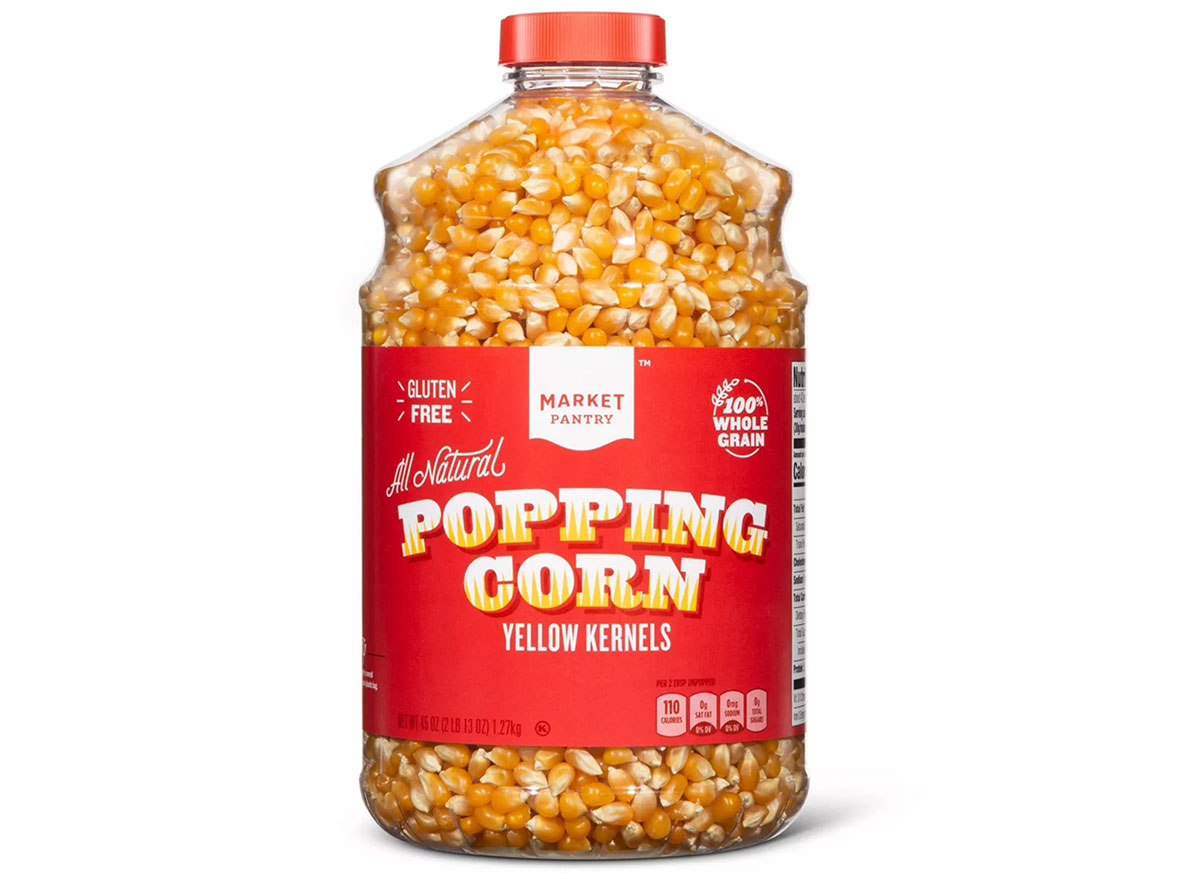 Popcorn is the perfect snack because not only is it a great source of fiber, plain kernels can be customized with toppings to add any flavor(s) you're craving.
"Throw some kernels in the microwave in a brown paper bag or pop them on the stove in a pan with a little olive oil," says Forristall. "Instead of topping with butter and salt, opt for a heart-healthy choice like garlic powder, dill, or other spices!"
Simply Balanced Salt & Vinegar Roasted Chickpeas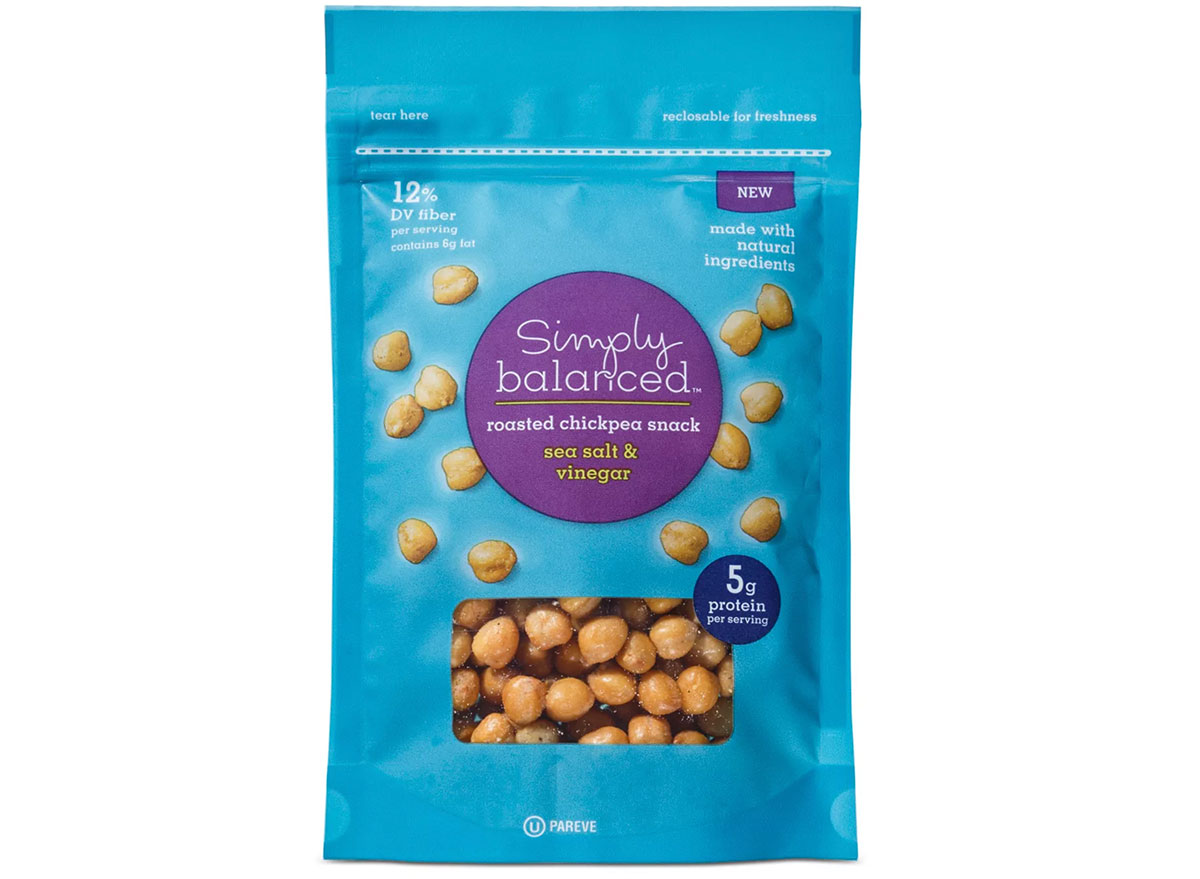 Rather than reach for bags of greasy potato chips, Kristen Carli, RD says these roasted chickpeas from the Target brand Simply Balanced make for an equally satisfying (and way healthier) snack. "Seasoned like the classic potato chip, but packed with fiber and protein, these roasted chickpea snacks will satisfy your salty afternoon craving, but actually hold you over until dinner," Carli says.
Now, make sure you read Secret Side Effects of Eating Chickpeas, Says Science!
Good & Gather Organic Blue Corn Tortilla Chips with Flax Seeds
Not a huge fan of chickpeas? Give Good & Gather's Organic Blue Corn Tortilla Chips with Flax Seeds a shot.
"The flaxseeds in these chips are a great way to bump up your fiber intake. Plus it makes for a great textural crunch," says Carli. "These chips are made with very simple ingredients. Pair these with some healthy fats such as guacamole for a snack that will increase your satiety and keep your blood sugar stable."
Simply Balanced Garlic & Olive Oil Quinoa Microwaveable Pouch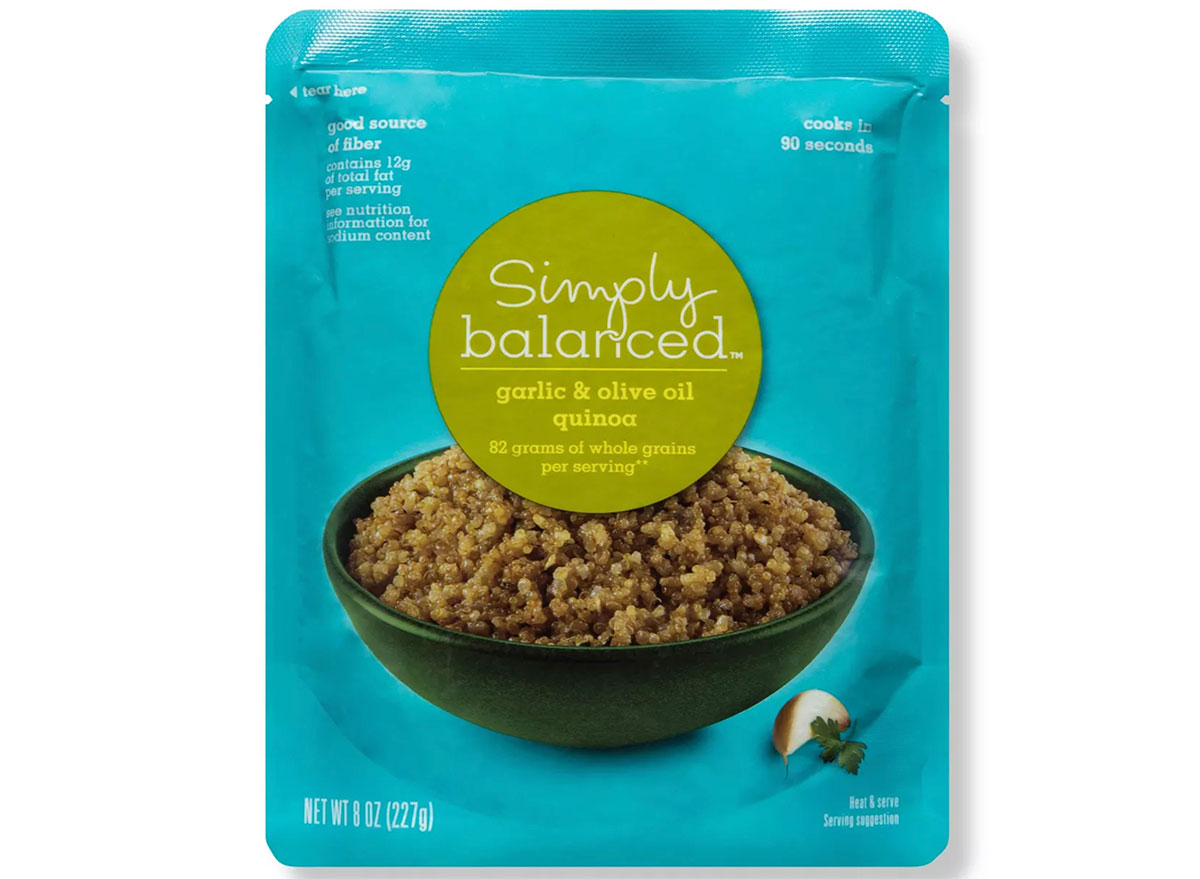 Even though microwaveable foods don't generally have the best reputation, Simply Balanced pouches have Carli's stamp of approval.
"[Microwaveable foods] are often packed with tons of additives to prevent the seasoning mixtures and fat content from oxidizing. But this quinoa is made with minimal ingredients while not compromising on flavor," Carli says.
Good & Gather Wild Blueberries
Michelle Zive, PhD, RD, and co-author of NASM's certified nutrition coach program tells Eat This, Not That! that frozen is just as good as fresh, and these frozen blueberries from Good & Gather are no exception.
"Frozen produce is picked at its peak of ripeness, which means more nutrients for you," Zive says. "Blueberries are a superfood, filled with antioxidants, potassium, and vitamin C, and are high in fiber as well. Eating blueberries regularly helps decrease the risk of heart disease, cancer, brain aging, and more."
Good & Gather Freeze Dried Mango Slices
Fruit, in pretty much any form, is a snacking win. For Allie Gregg, RD at SeniorAdvice.com, these freeze-dried mango slices from Good & Gather are "the best snacks when you are craving something sweet." They're only made with one ingredient—mango—and "taste just like candy except with none of the guilt and all of the vitamins and minerals," says Gregg.
Good & Gather Cage-Free Large Brown Eggs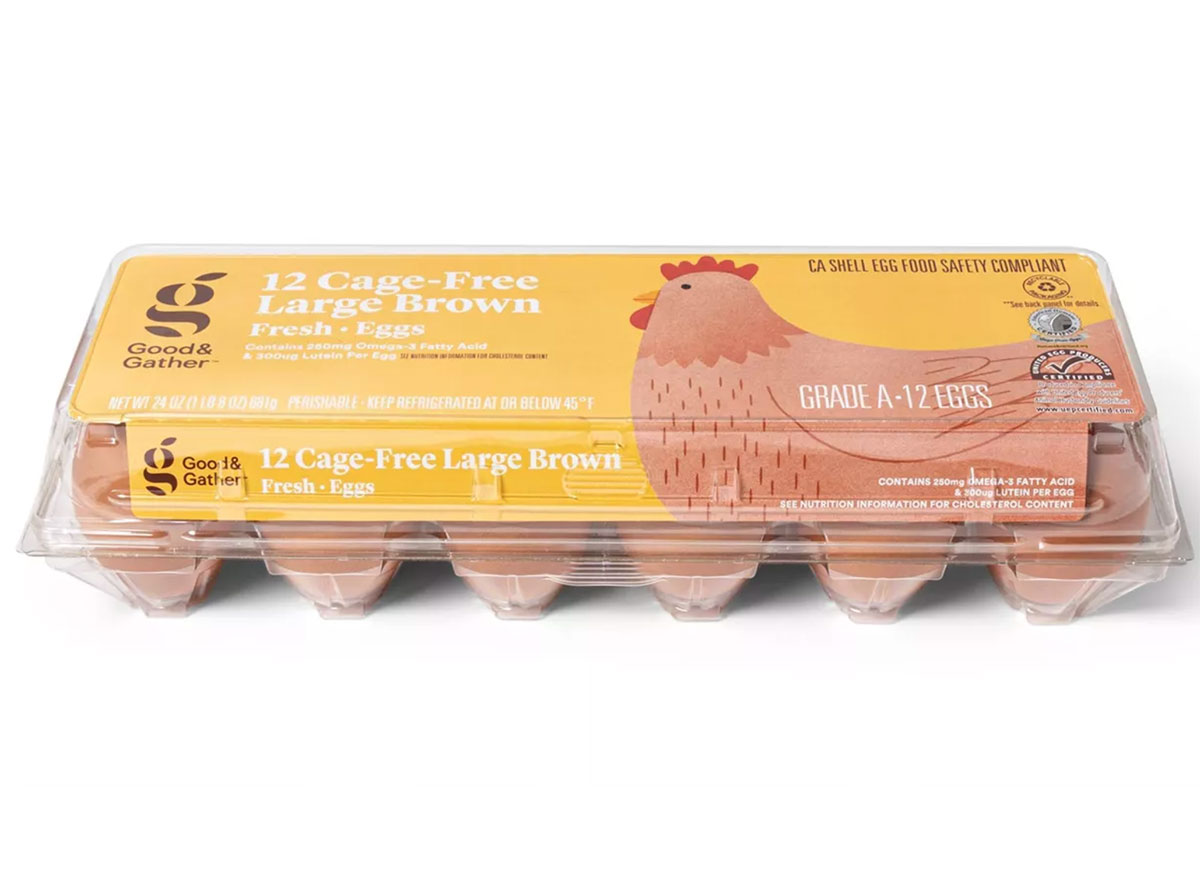 Eggs are one of those refrigerator staples you're probably buying weekly, so you might as well pick up a carton the next time you're in the eggs and dairy section in Target groceries.
"Eggs are not only a good source of protein, but they are also one of the least expensive and more versatile complete proteins available," says New Jersey-based dietitian Erin Palinski-Wade, RD, CDE, and author of Belly Fat Diet For Dummies. "Use eggs to whip up a quick entrée such as a veggie omelet, hard boil them for a snack on the go, or incorporate them into a variety of recipes to have meals ready to go for the week."
Good & Gather Steam-in-Bag Spinach
Leafy greens are a must, and whether you're looking to whip up a quick salad or amp up the micronutrients in your favorite smoothie, Palinski-Wade says you can't go wrong having fresh spinach on hand. Plus, Good & Gather's Steam-in-Bag allows you to enjoy it fresh or quickly steamed, making it the perfect warm side dish or entrée pairing, says Palinski-Wade.
Market Pantry All Natural Steel Cut Oats
Looking to increase your fiber intake? Steel-cut oats are an excellent source of the kind of fiber that helps to reduce unhealthy LDL cholesterol levels, Palinski-Wade says "I recommend having [steel cut oats] on hand for both their versatility and nutritional value. They're perfect for making overnight oats, but can also be incorporated into a variety of recipes such as using them as a replacement for bread crumbs or grinding them into a soft flour for baked goods."
Check out Amazing Benefits of Overnight Oats, According to Science!
Kodiak Cakes Strawberries & Cream Oatmeal Pancakes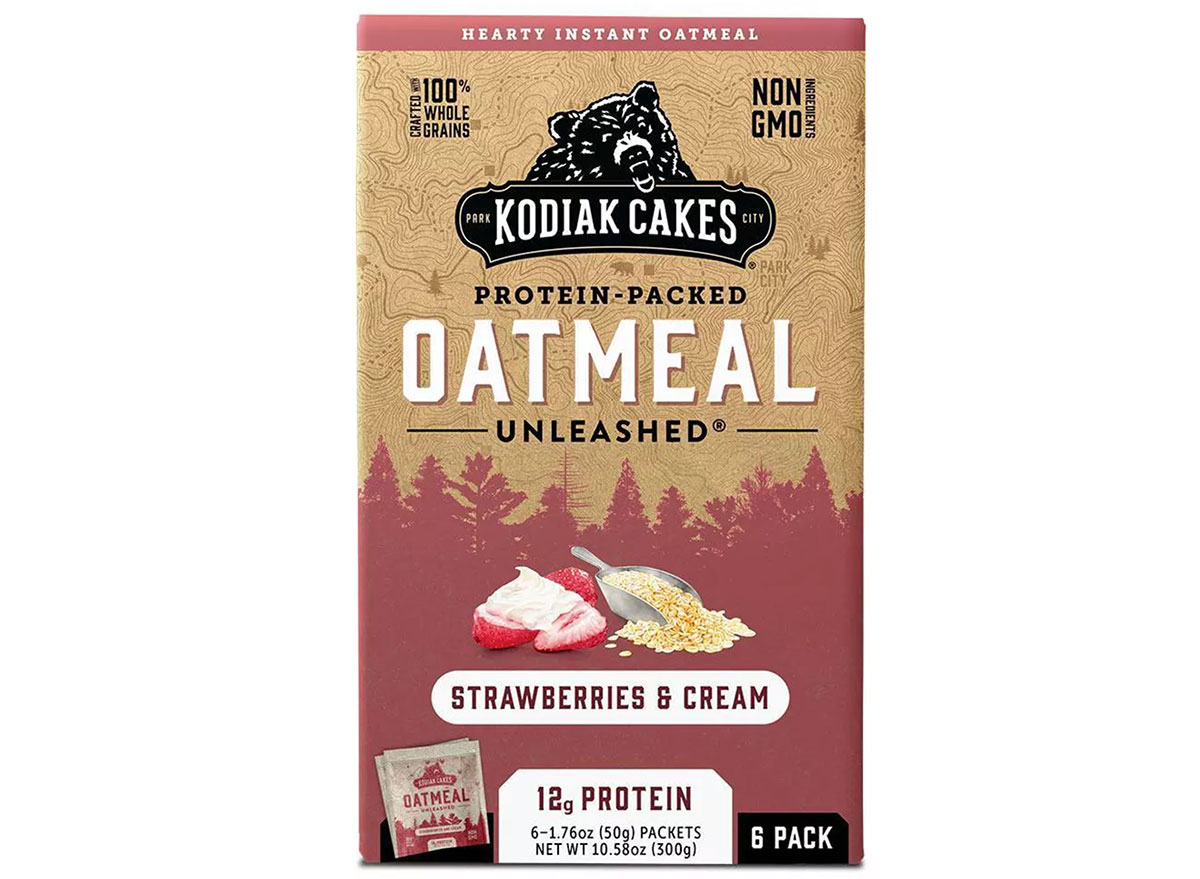 Whether you're in need of an on-the-go breakfast option or just someone who loves pancakes any time of day, this Target exclusive from Kodiak Cakes is a solid choice, Alayna Horvath, RD, CPT tells Eat This, Not That!—just add water or milk, pop it in the microwave, and voila!
"The fiber and protein provided in the oatmeal packets help make it more filling and help stabilize your blood sugars, which I absolutely love," Horvath says. "You can even pair it with fruit and nut butter to easily create a satisfying meal."
Simply Balanced Farro Microwaveable Pouch
In addition to leafy greens, fruits, and proteins, Target also carries microwaveable grains like quinoa and farro to help you create well-balanced meals in minutes.
"Farro is a grain that seems to be under the radar, but is incredibly delicious," says Horvath. "It has a chewy texture, nutty flavor, and is a great source of protein as well. I love how Simply Balanced provides farro in a microwaveable pouch to make cooking easier and more convenient for those with limited time."
Archer Farms Unsalted Raw Mixed Nuts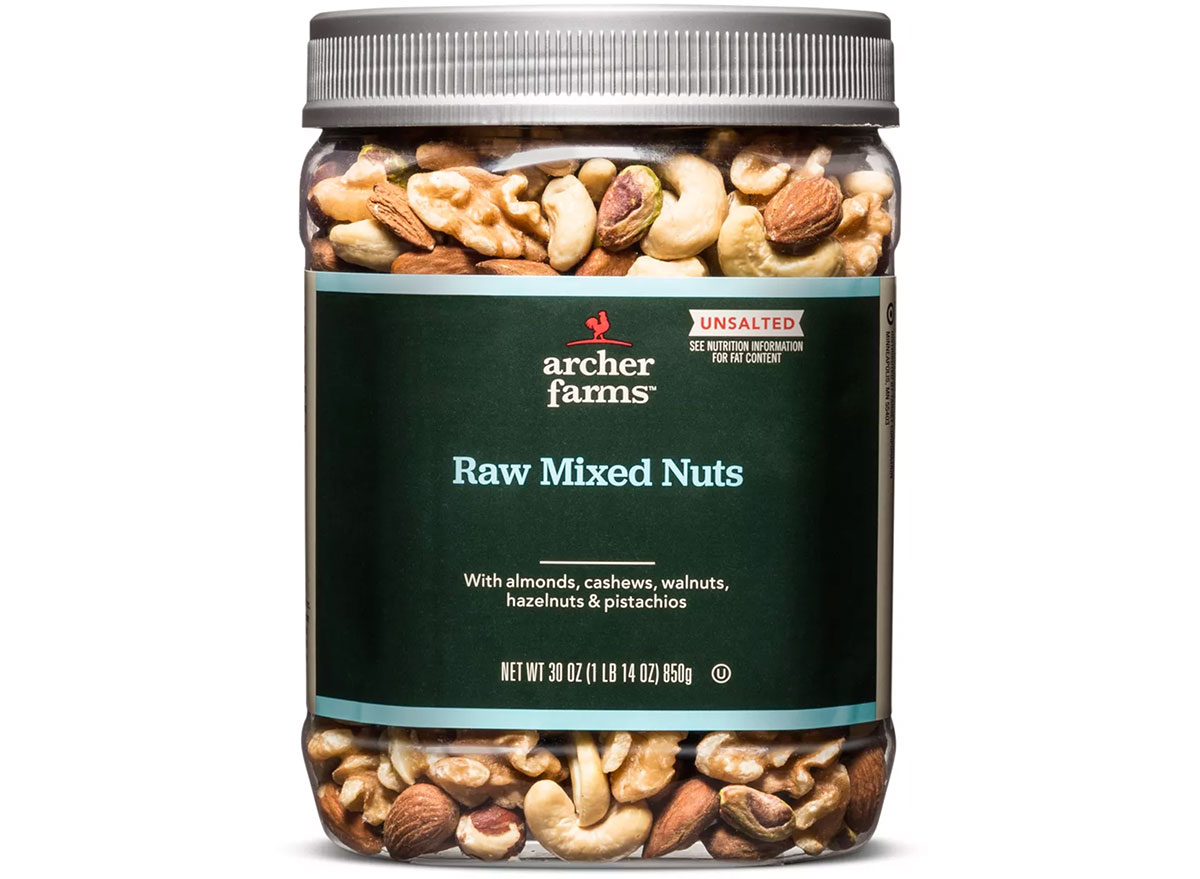 While it can be fairly difficult to find a nut mix where the only thing on the ingredients list is the nuts themselves, that's not the case with Archer Farms.
"There are no added oils, salt, or other ingredients [in this mix]—just almonds, cashews, walnuts, hazelnuts, pistachios," she says. "Nuts are an incredible staple to have in your diet because they provide a mixture of heart-healthy unsaturated fats, protein, fiber, and a variety of vitamins and minerals. Add nuts to your salads, soups, oatmeal, pasta dishes, smoothies, or snack on them plain!"
Market Pantry Chunk Light Tuna Packet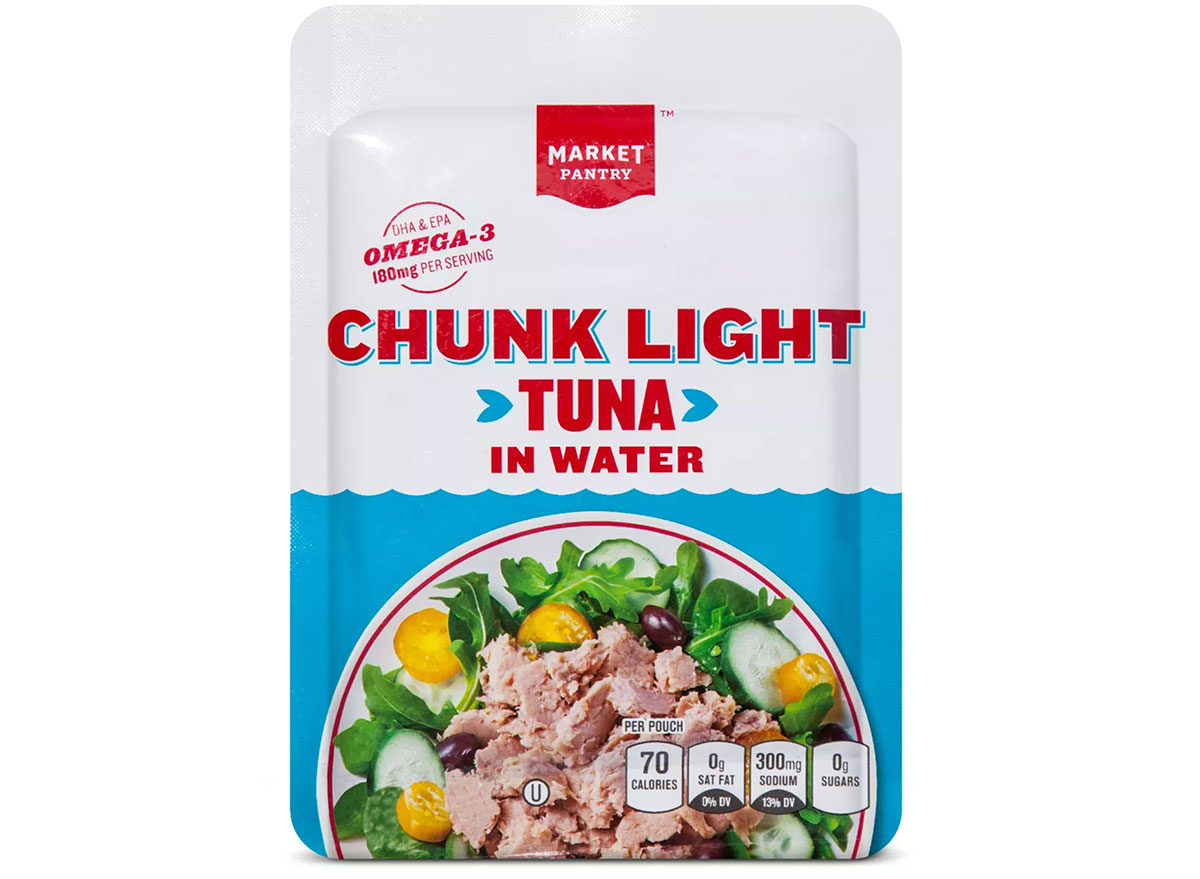 Tuna packets are awesome for a quick snack or easy lunch assembly before work, and Amanda A. Kostro Miller, RD, LDN is all for healthy Target groceries that also boast a convenience factor.
"Tuna has healthy fats, and this Market Pantry version has healthy omega-3s in each pouch. With only 70 calories per serving and 17 grams of protein, this keeps the calories in check while helping you stay full for hours with a protein boost," says Kostro Miller. "Plus, since it comes in a pouch, you don't have to refrigerate it (or drain out stinky tuna juice)."
Don't miss Subway Says"Outrageous" Allegations Are Hurting Sales of Its Tuna Sandwich!
Simply Balanced Organic Frozen Mixed Vegetables
Like frozen fruit, frozen veggies have the experts' stamp of approval. While fresh veggies are wonderful, they go bad quickly and require a few minutes of prep. Frozen veggies, on the other hand, are picked at the peak of ripeness and flash frozen, meaning they contain the same amount of nutrition, but can be prepared faster and last longer, says Palinski-Wade.
Market Pantry Large Raw Shrimp
Chicken or fish? Target has both.
"Another easy lean protein staple, this shrimp has most of the work done for you as it is already peeled, deveined, and has the tails removed," Palinski-Wade says. "Most shrimp you buy in the grocery store has already been frozen, therefore buying frozen shrimp is a more affordable option than heading to the seafood counter."
Uncle Matt's Organic Ultimate Immune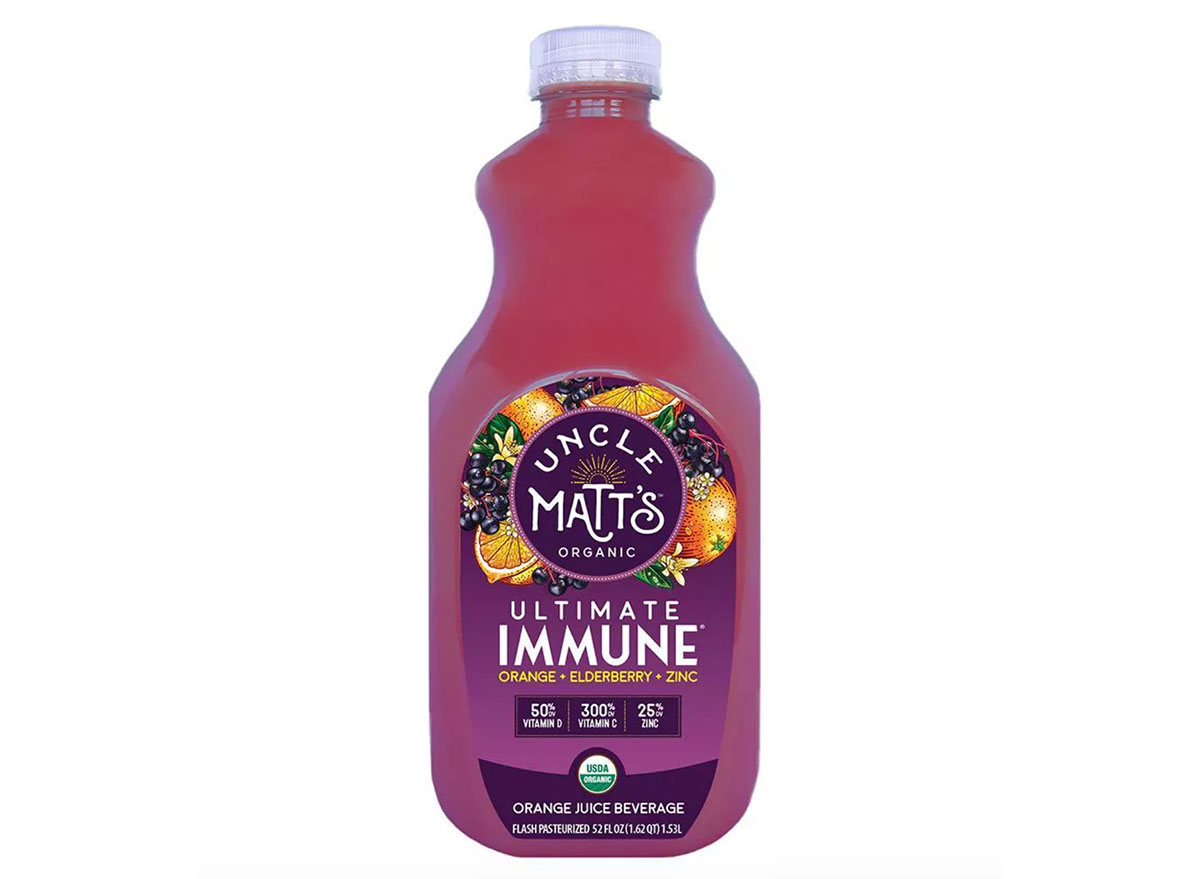 If you're looking for ways to support your immune system this upcoming fall and winter season, look no further than this juice.
"Uncle Matt's Organic Ultimate Immune is a delicious and easy way to get in a boost of vitamin D, zinc, and vitamin C—the immune-supporting trifecta," says Lauren Manaker MS, RD, LD, and member of the Eat This, Not That! Medical Expert Board. "And the addition of organic elderberry gives this juice even more immune enhancement in a natural way. Plus, it is super-tasty."
Applegate Farms Uncured Pepperoni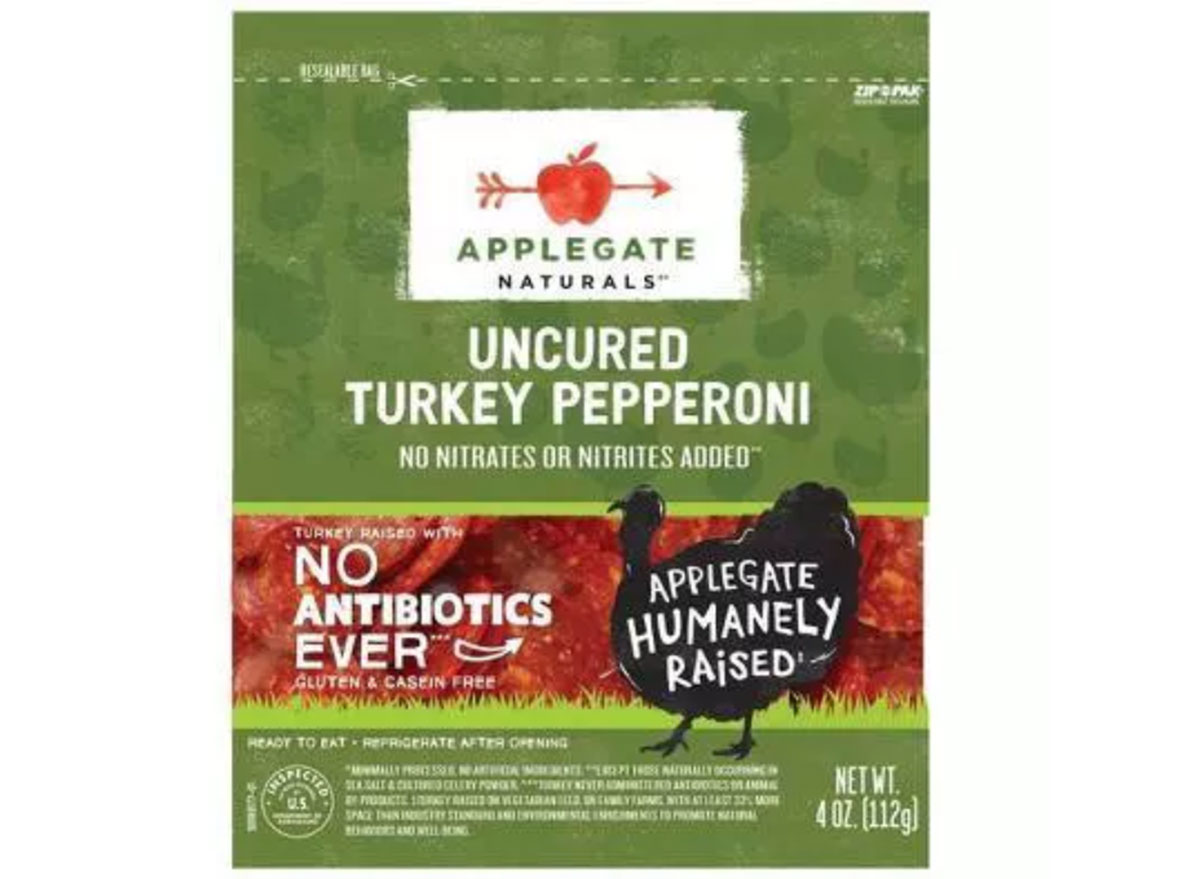 "Made with no antibiotics or GMOs, Applegate Farms Uncured pepperoni is a great addition to homemade pizzas, charcuterie boards, and salads," says Manaker. "On pizza nights, adding this trans-fat-free pepperoni is a much better-for-you choice than what you typically find at restaurants."
Wonderful No Shell Roasted Salted Pistachios Multipack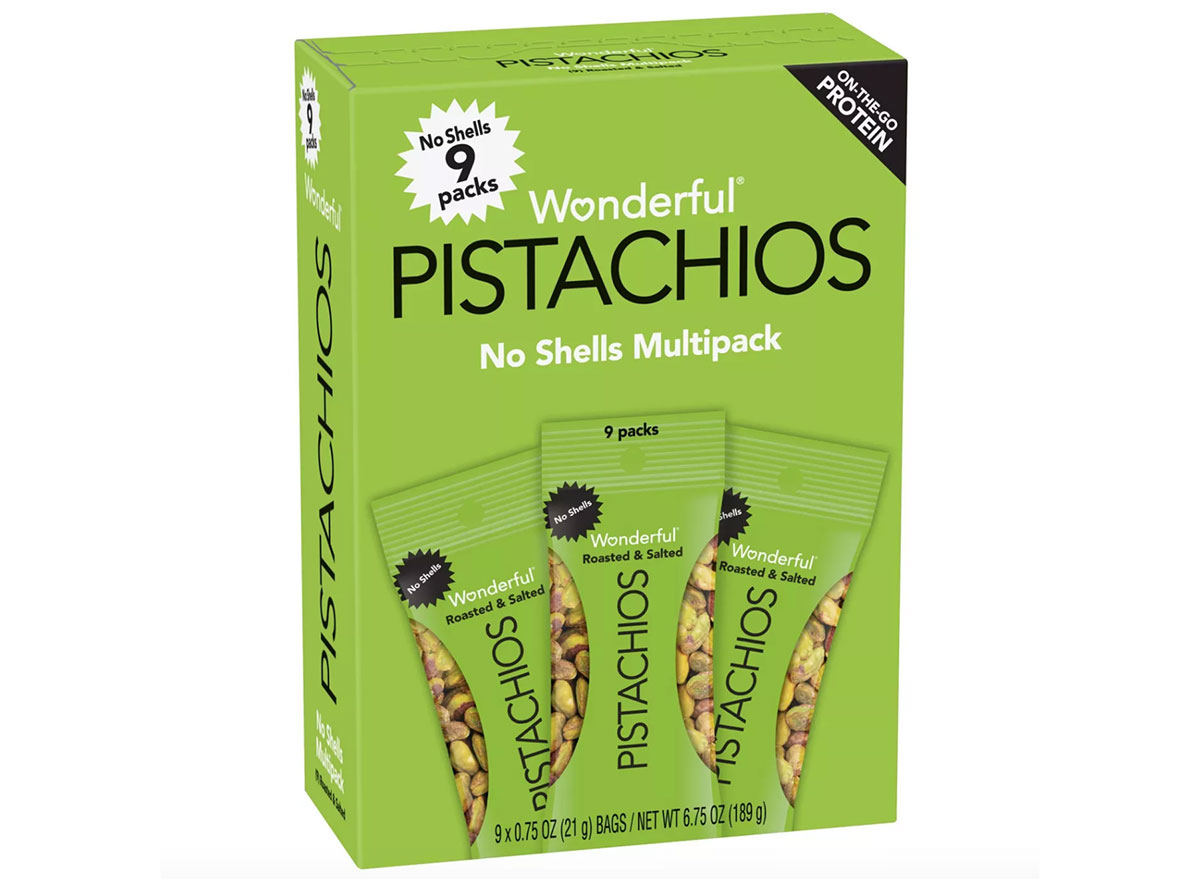 "Wonderful No Shell Roasted Salted Pistachios Multipack makes for a perfect snack, thanks to the portion-controlled 0.75-ounce bag these nuts come in. Pistachios are a source of plant-based proteins, healthy fats, and antioxidants, making them a nutrient-packed and yummy nosh for a mid-day pick me up," says Manaker. "In fact, Wonderful Pistachios are one of the highest protein snack nuts. They offer six grams of plant protein per serving that helps fuel your body with essential amino acids. I keep these little packs in my purse for when hunger pangs strike."
That's It. Mango and Blueberry Fruit Bars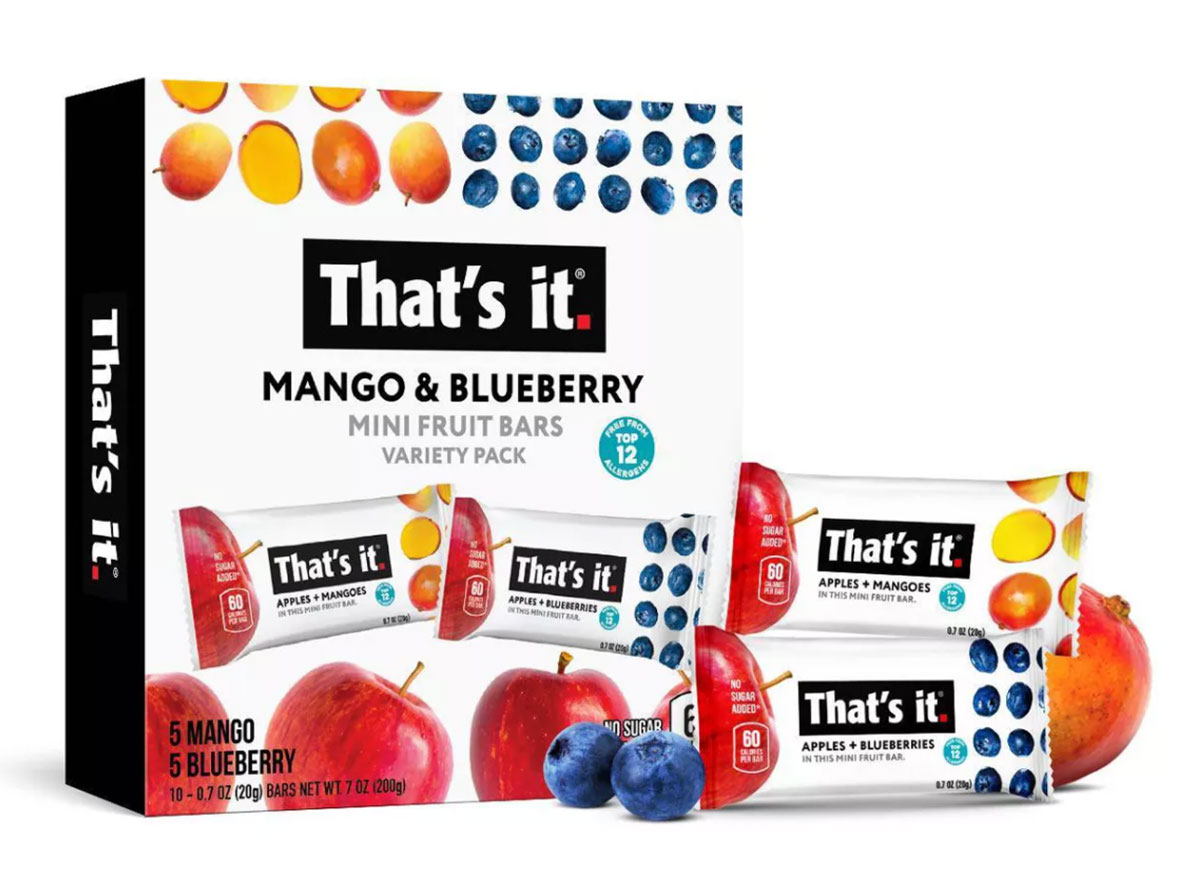 "That's It. Mango and Blueberry Fruit Bars are made with real fruit as the only ingredient. And with no added sugars and only 100 calories per bar, these are an excellent snack that helps people get in good-for-you nutrients with extremely little effort," says Manaker.
Now, be sure to check out 14 Sneaky Sources of Added Sugars.
Wyman's Just Fruit Frozen Wild Blueberries and Greek Yogurt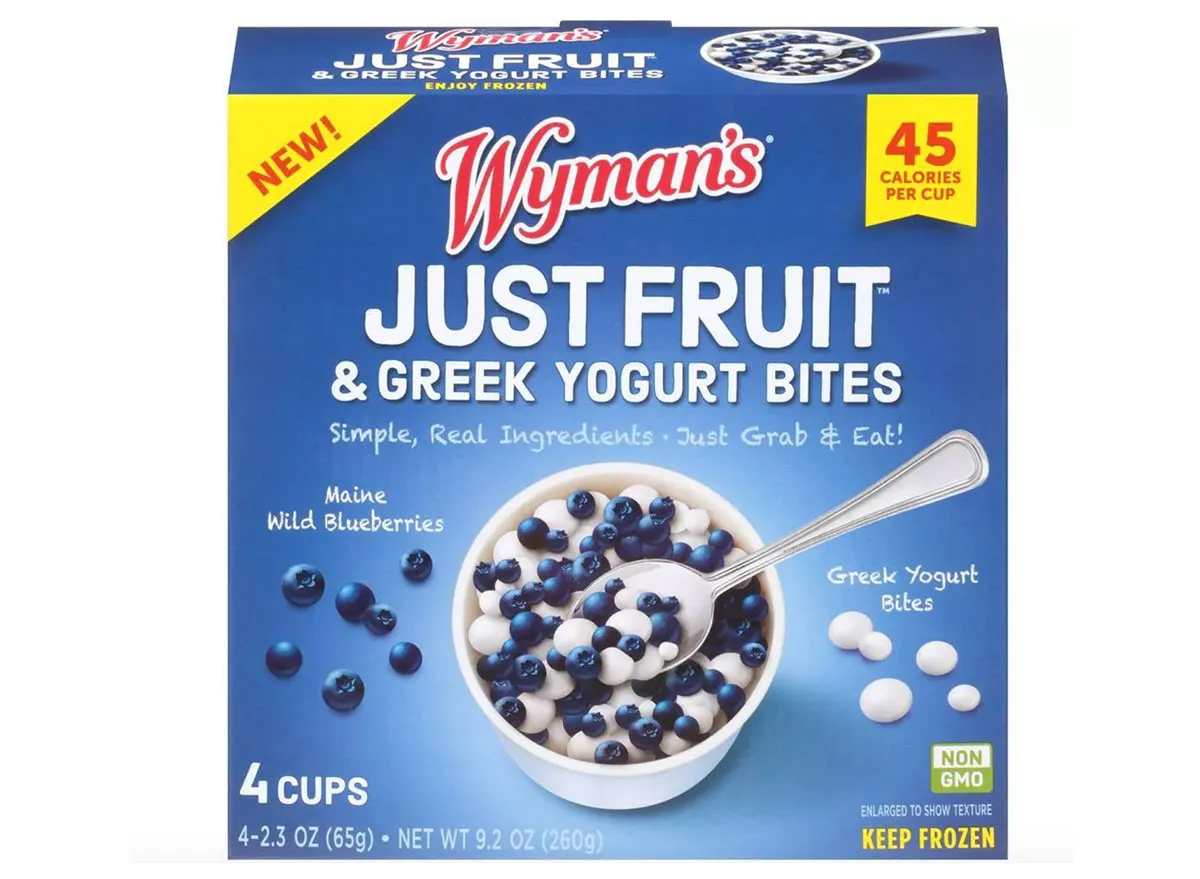 "Wyman's Just Fruit Frozen Wild Blueberries and Greek Yogurt is a good-for-you solution when you are craving a sweet frozen treat. Made with real frozen wild blueberries and Greek frozen yogurt pieces, this snack naturally gives you antioxidants, fiber, and probiotics," says Manaker. "With only 45 calories per serving, this frozen food is a perfect snack that helps people meet their fruit intake quota and satisfy their need for a frozen treat at the same time."
For more, be sure to sign up for our newsletter.