The Most Iconic Food Scenes in Movies
Warning: You just might get hungry after seeing these.
There really is no better way for two people to bond than by watching a movie or eating together. Think about it—a person's favorite film and food both say a lot about them! And there are even plenty of movies out there that feature oh-so-memorable food scenes. If you didn't already have a snack on hand while you were watching, these scenes most likely will be the reason why you hit pause and head to the kitchen.
We decided to take a trip down memory lane and look back on the most iconic food scenes in movies. After you grab your popcorn, be sure to check out these 15 Classic American Desserts That Deserve a Comeback.
Is there any other breakfast scene as legendary as this one? Seeing Audrey Hepburn as Holly Golighty, enjoying her pastry and coffee while browsing inside Tiffany & Co. (while dressed in the best little black dress of all time) is one of the most memorable opening credits sequences. She just so happens to be eating a very classic New York breakfast, too.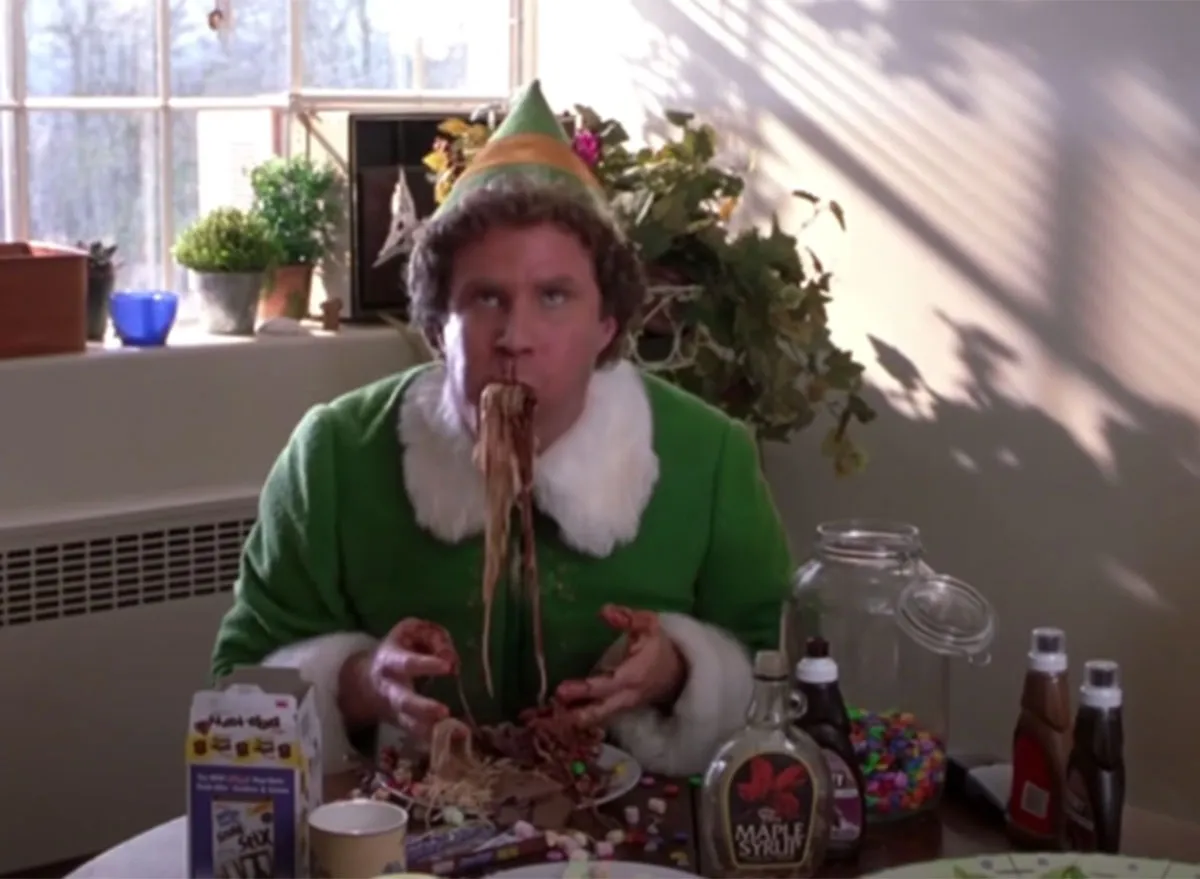 Listen, we just want to preface by saying we don't condone eating a breakfast filled with sugar. But when Buddy the Elf came up with a sugary concoction in Elf to start his morning, we would be lying if we said the thought didn't cross our mind to recreate this dish ourselves. The image of Buddy feasting on spaghetti, maple syrup, chocolate syrup, M&Ms, marshmallows, and a chocolate fudge Pop-Tart is one no one can ever shake.
(Unlike Buddy, if you're looking to cut back on sugar, check out the science-backed way to curb your sweet tooth in 14 days.)6254a4d1642c605c54bf1cab17d50f1e
Again, a cup of raw eggs is not a meal we would recommend. But seeing Rocky Balboa down some in Rocky might just inspire you to get that morning workout in.
Seeing Julia Roberts truly enjoy a slice of Pizza Margherita while in Naples in Eat Pray Love will 100% make you want to hop on a plane to Italy ASAP. Obviously, you can't do that right now, but you can order in a pizza (or make one yourself), as seeing her explain why any woman should just eat a pizza whenever she wants, guilt-free is nothing short of iconic.
One of the most beloved romantic comedies of all time gave us this scene. You can't really think of two people eating sandwiches in a deli without thinking of this moment between Meg Ryan's Sally and Billy Crystal's Harry and, of course, the line, "I'll have what she's having." The power of a sandwich, right? *Wink, wink*
The concept of Julie & Julia is perfect for any foodie. The one and only Meryl Streep completely transforms and became Julia Child, as Amy Adams plays a young woman named Julie, who decides to cook every recipe in Julia's classic cookbook, Mastering the Art of French Cooking. There are tons of yummy food scenes (like when Julie cooks up Julia's beef bourguignon), but for us, this scene in which Julia's husband Paul (played by Stanley Tucci) watches his wife be a true master in the kitchen is one of the most memorable.
Willy Wonka and the Chocolate Factory
No matter how old you are, seeing Willy Wonka and the Chocolate Factory never gets old. Especially when you're treated to those first images of Mr. Wonka's candy land, featuring a river of chocolate and, well, brightly colored candy everywhere. Who doesn't wish this was a real place?
One breakfast scene you easily can recreate in your own kitchen? The one from Spanglish, in which Adam Sandler's character John makes the most mouth-watering egg breakfast sandwich ever. Granted, his character is a chef, but we have faith you can make a sandwich just like this one.
Back to the Future Part II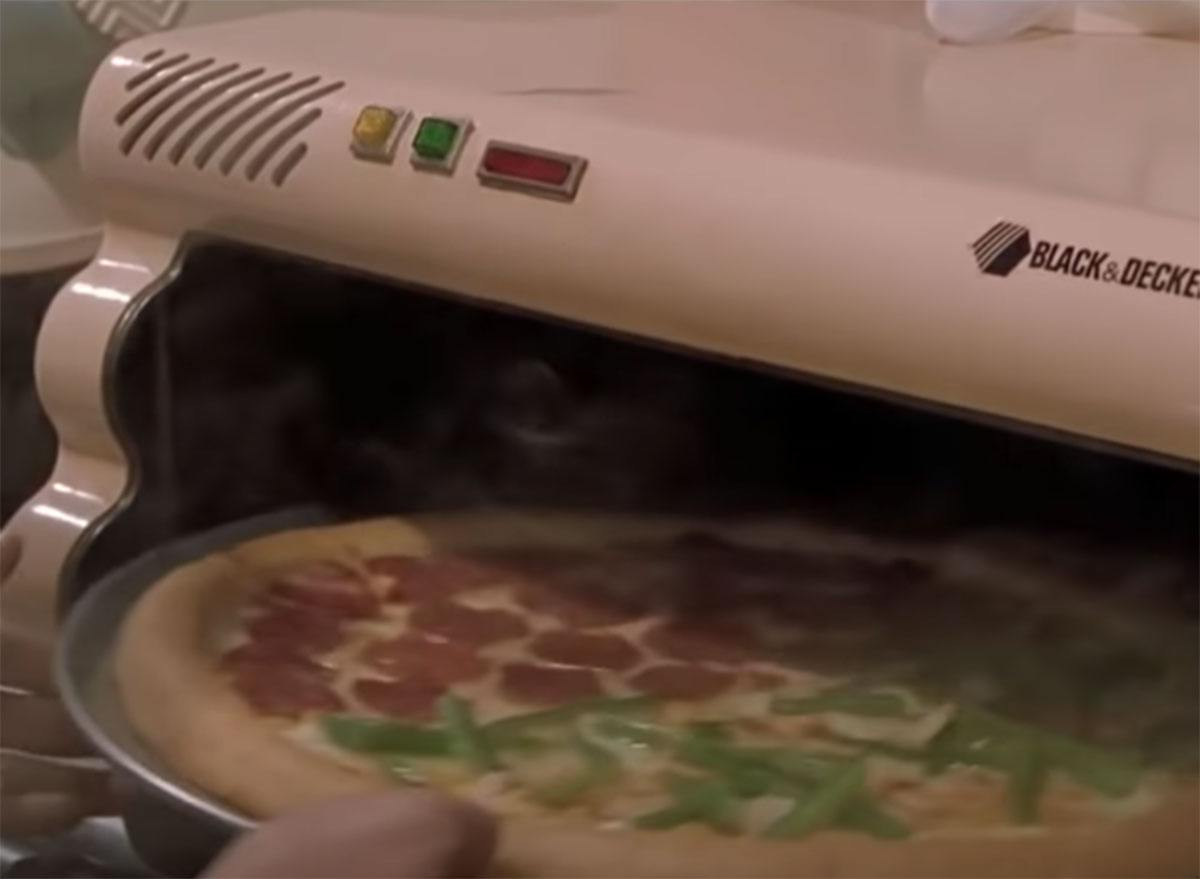 Watching the Back to the Future films now is always a trip, seeing what everyone thought the future would be like. One invention we're still waiting on is the Hydrator. Jaws certainly dropped in 1989 when audiences saw Marty's mom pop in a tiny pizza that seconds later transformed into a full-size pie, and we like to think we'll one day be able to eat a pizza this way.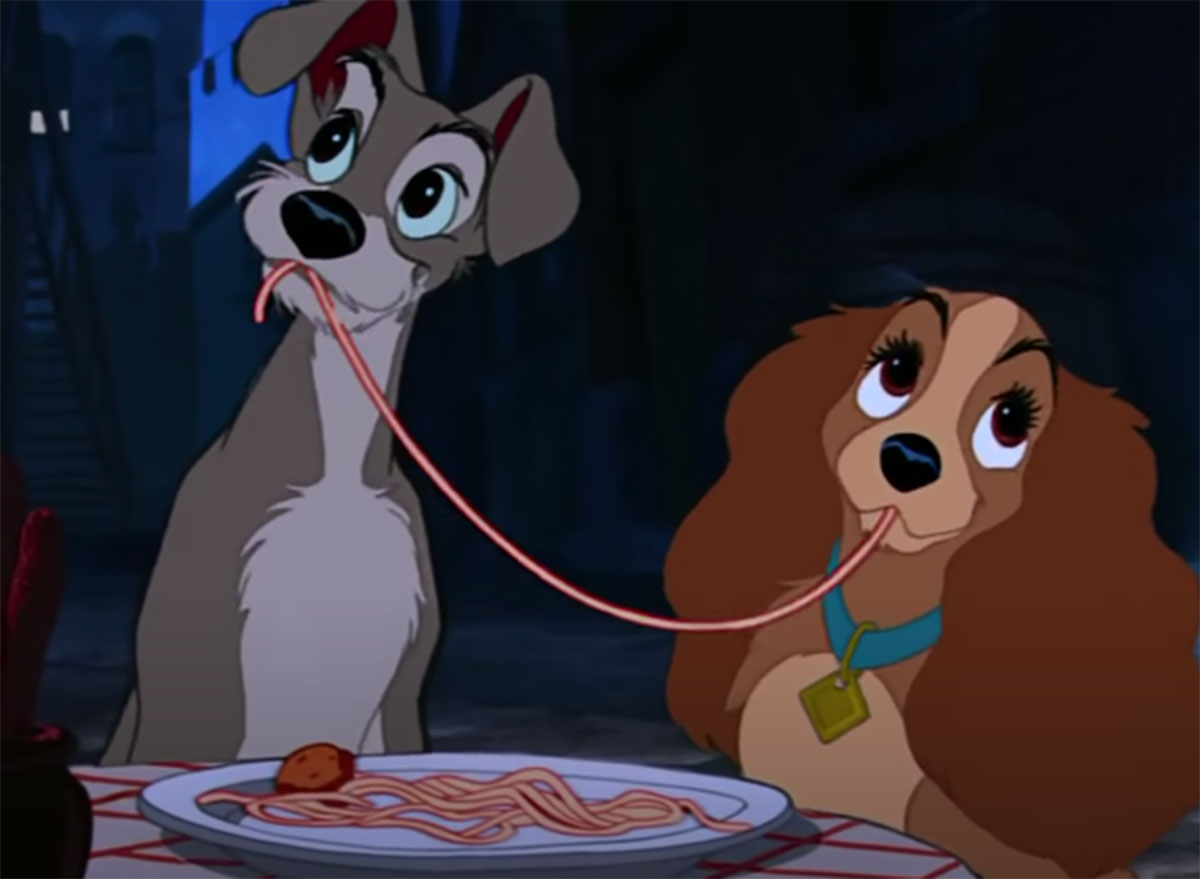 Can't look at a plate of spaghetti without thinking of two dogs? That is all thanks to Lady and the Tramp. Seeing the two pups split a plate of spaghetti and meatballs, and then accidentally share a kiss while a man with an accordion sings "Bella Notte" can warm even the coldest of hearts. Hands down, it's the cutest movie dinner date ever.
Jennifer Maldonado
Jennifer Maldonado is a senior editor at Eat This, Not That!, specializing in food and health content.
Read more about Jennifer