32 Best-Ever Healthy Pizza Recipes for Weight Loss
If you want to lose 10 pounds, pizza isn't usually the answer. But these pizzas break the stigma.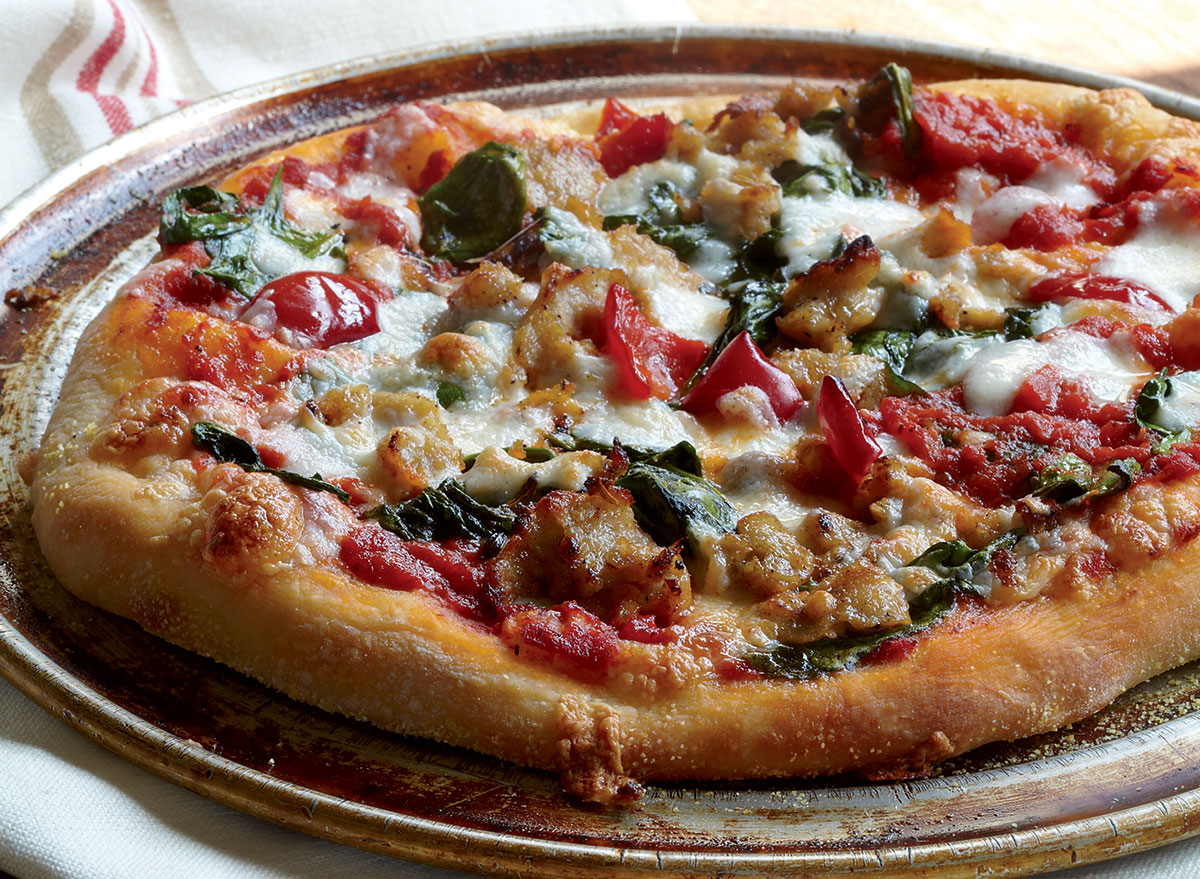 Is there anything more satisfying than pizza? It's a universally beloved food and when you're home spending a night relaxing on the couch, there really is no better meal option. If you want to challenge yourself and improve your cooking skills with all this extra time spent at home, whipping up your own pizza is the way to go. Don't worry—it's much easier than you may think!
Whether you're vegan, a gluten-free eater, or a meat lover, we've dished out a slice of pizza for all sorts of palates and dietary restrictions. Read on to see which healthy pizza recipes grab your tongue by the taste buds! Oh, and did we mention that these are healthy and can help you lose weight? A win all around. Just a warning: You may drool on your smartphone or keyboard while scrolling through these delicious options. (And if you're really looking to step up your healthy cooking game, here are the 22 Meals to Melt Belly Fat in 2022.)
Barbecue Chicken Pizza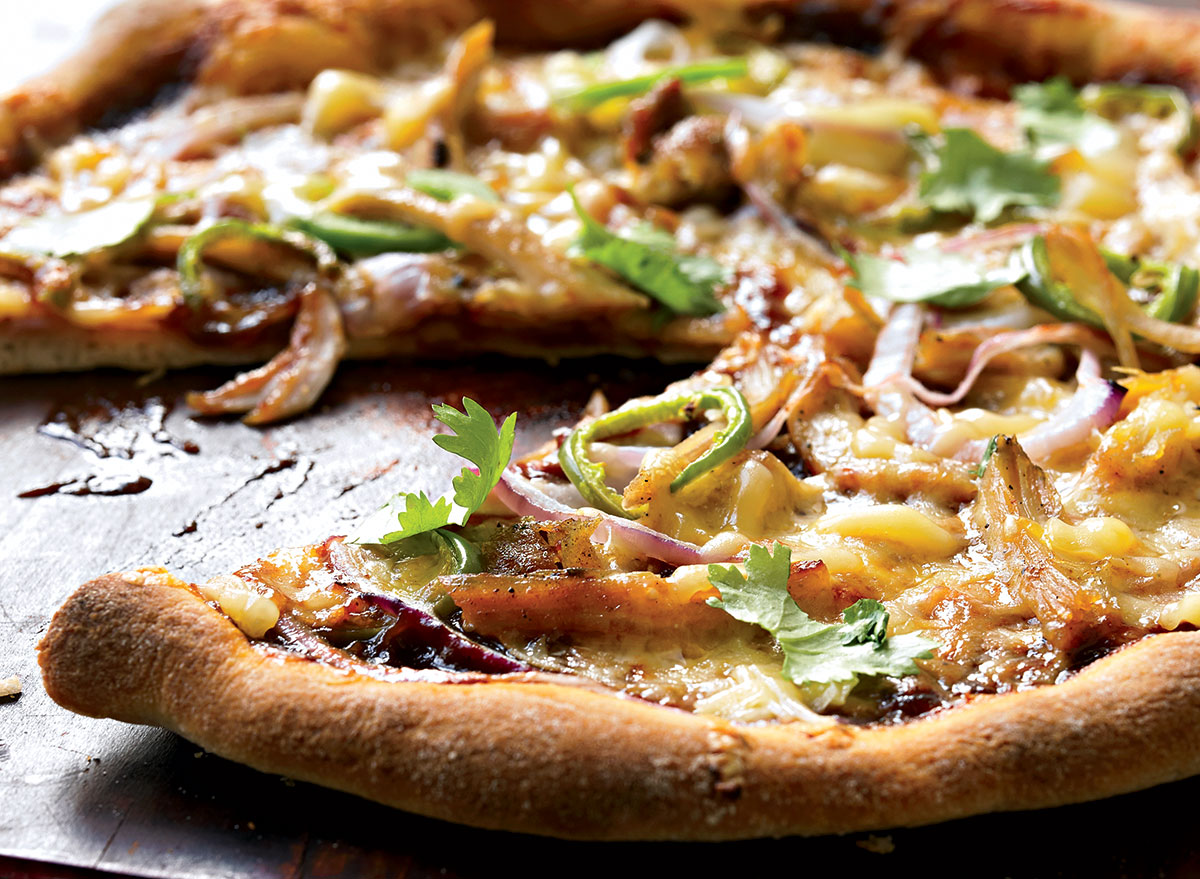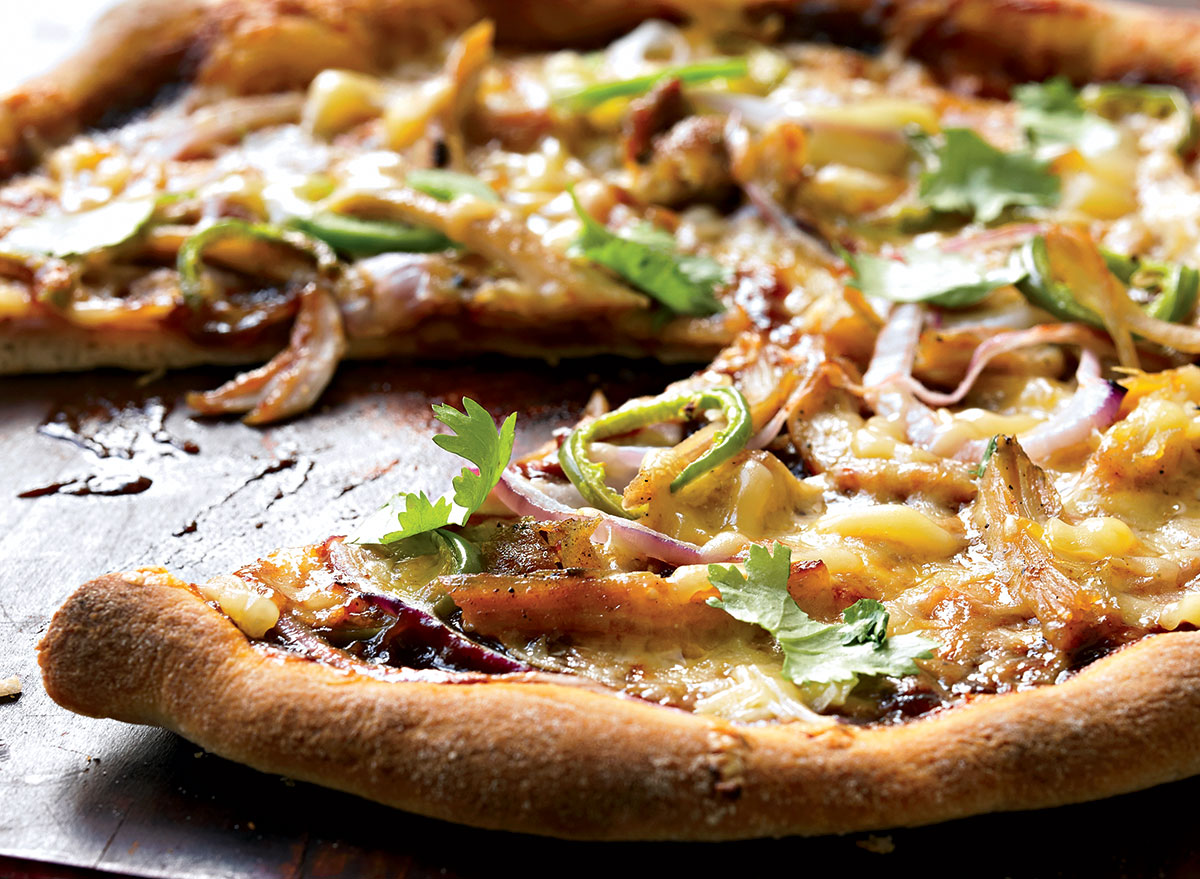 California Pizza Kitchen made its bones slinging unconventional pizzas topped with ingredients like pear and gorgonzola, Jamaican jerk chicken, and even a full-blown salad. But none is more famous, or strangely satisfying, than the Original BBQ Chicken Pizza, which launched CPK into the national conscience in the '80s. As good as theirs is, we're confident our barbecue chicken pizza recipe is even better. Plus, it's cheaper to make at home and has just a third of the calories.
Get our recipe for Barbecue Chicken Pizza.

Mini Pizzas, Three Ways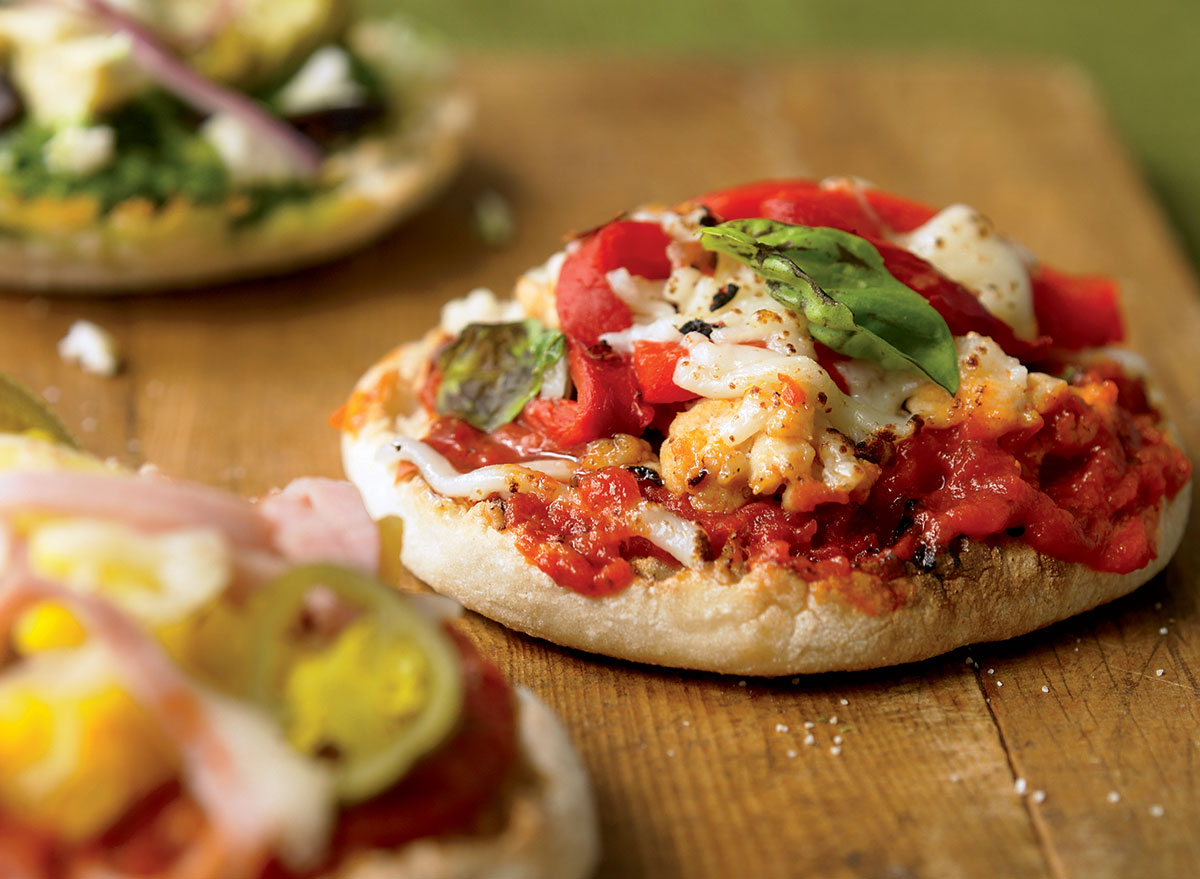 English muffins come with built-in portion control, so no matter how lavishly you adorn them, you won't break the 400-calorie barrier. And that's why they serve as the perfect base for our personal, mini-sized pizza recipe. We even have three different variations, so any and all pizza cravings you may have will be satisfied. (Yes, that includes Hawaiian, too!)
Get our recipe for Mini Pizzas, Three Ways.
Spicy Hawaiian Pizza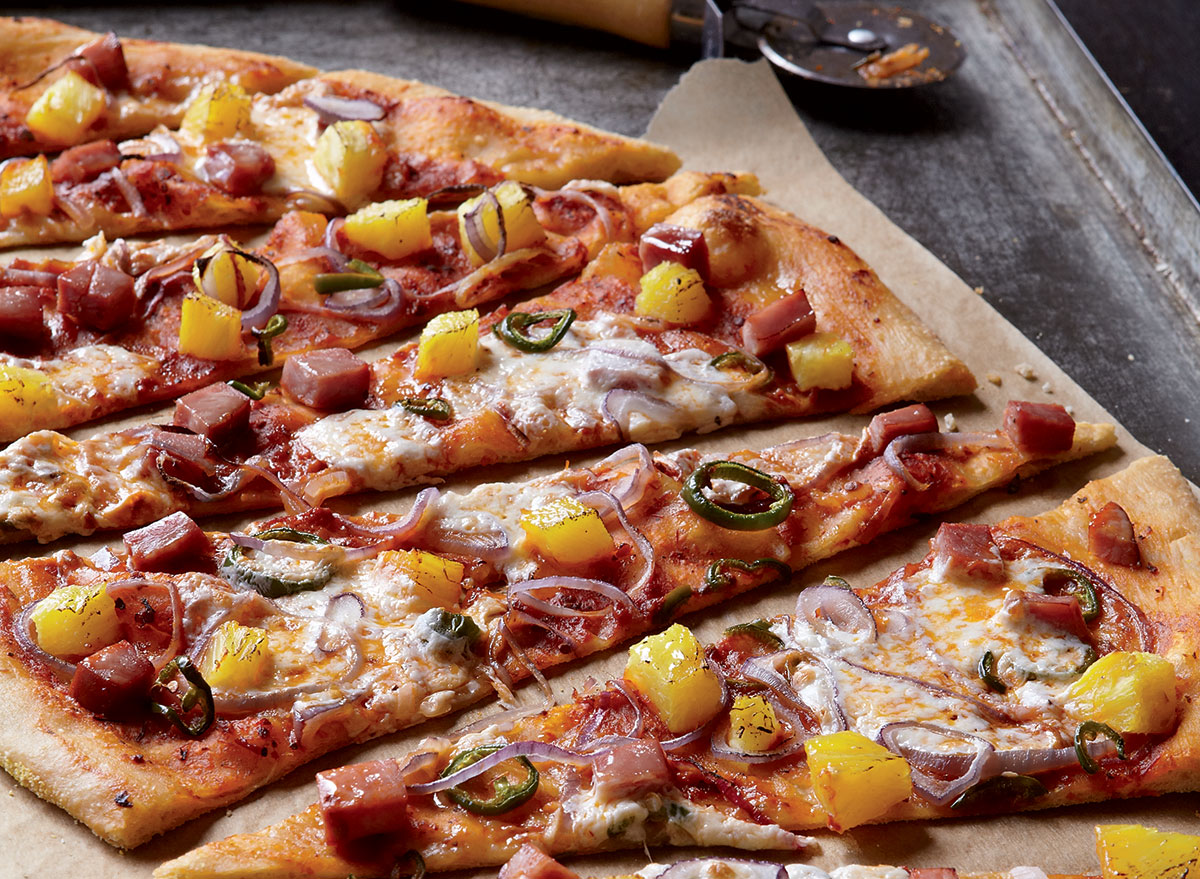 When it comes to funky pies, we've long had a love affair with the Hawaiian, not just for its yin-yang balance of sweetness and smoke, but also because it's one of the best healthy pizza recipes you can eat. It might not be authentic Italian, but it's authentically American.
Get our recipe for Spicy Hawaiian Pizza.
Pizza with Turkey Pepperoni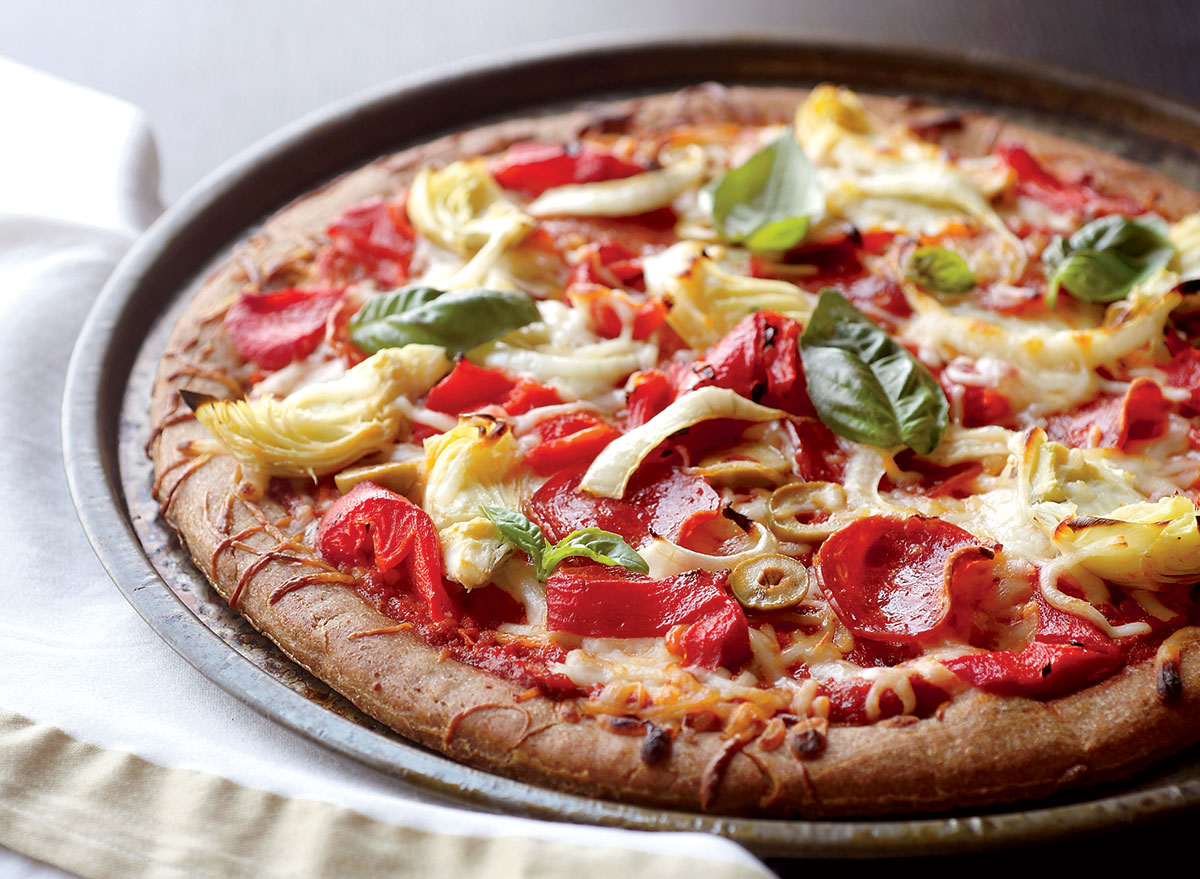 Here, we use Boboli's whole-wheat thin crust shell as a low-calorie, fiber-rich base. We then load the pizza with a team of nutritional all-stars (red peppers, artichokes, fresh basil), and a good amount of turkey pepperoni. Torn deli ham or Canadian bacon would also work great here. You're your own delivery person now!
Get our recipe for Pizza with Turkey Pepperoni.
Arugula, Cherry Tomatoes, and Prosciutto Pizza
The cherry tomatoes roast into sweet little orbs of sauce, the prosciutto adds a salty punch, and the arugula, which wilts gently from the residual heat of the pizza, brings a fresh, peppery note to the pie. Bellisima!
Get our recipe for Arugula, Cherry Tomatoes, and Prosciutto Pizza.
Sunny-Side Up Egg Pizza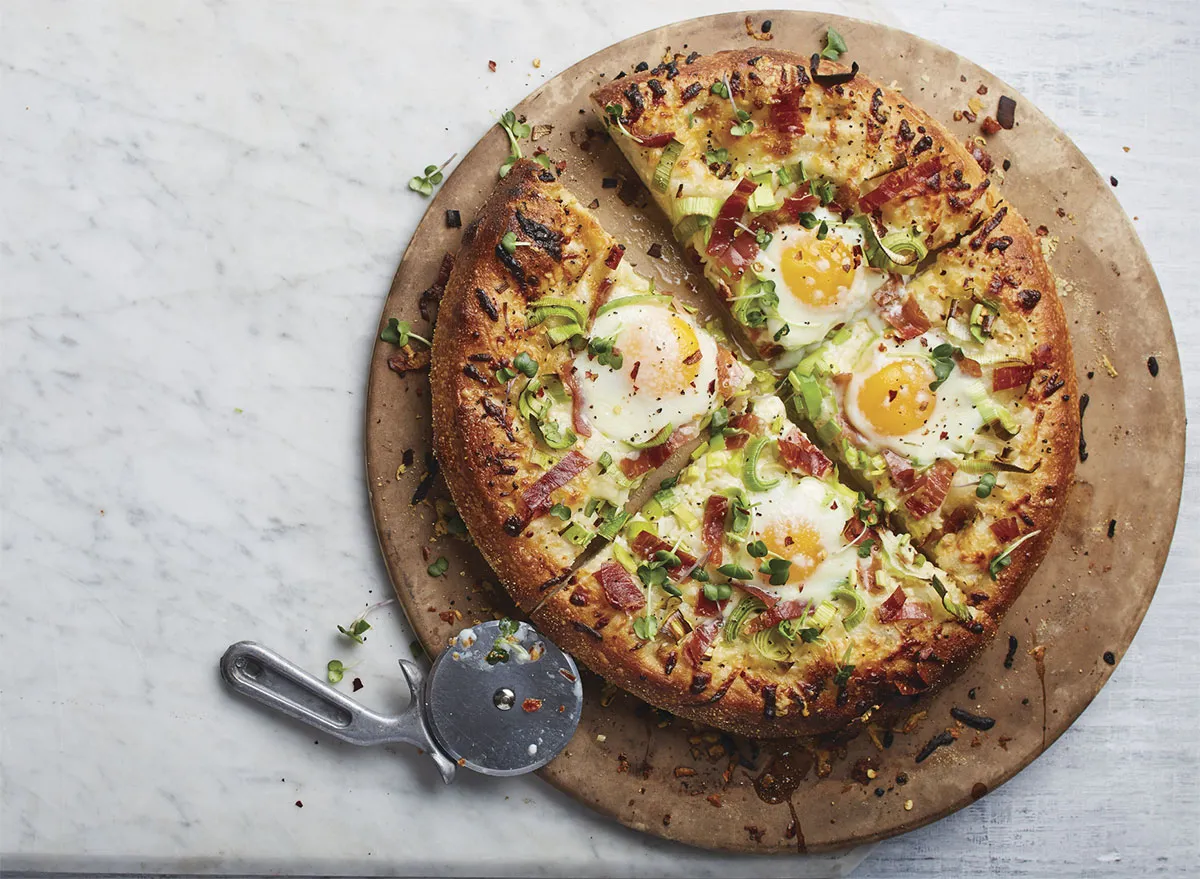 Eggs kind of just make every dish better, so why not jazz up your pizza with some? And we're not talking about tossing scrambled eggs on a slice. This homemade sunny-side up pizza recipe is unlike any pizza you could ever order, so we have a feeling you're going to roll up your sleeves and break out the pizza dough quite often, especially when you taste this artisan-level pie.
Get our recipe for Sunny-Side Up Egg Pizza.
Spinach, Sausage, and Pepper Pizza
Making pizza at home gives you ultimate quality control—over the freshness of the ingredients, the bulk of the crust, and the combination of flavors. With a bit of practice, you'll outgun the best pizzerias in your town with this homemade pizza recipe.
Get our recipe for Spinach, Sausage, and Pepper Pizza.
Bacon Pizza with Caramelized Onions and Goat Cheese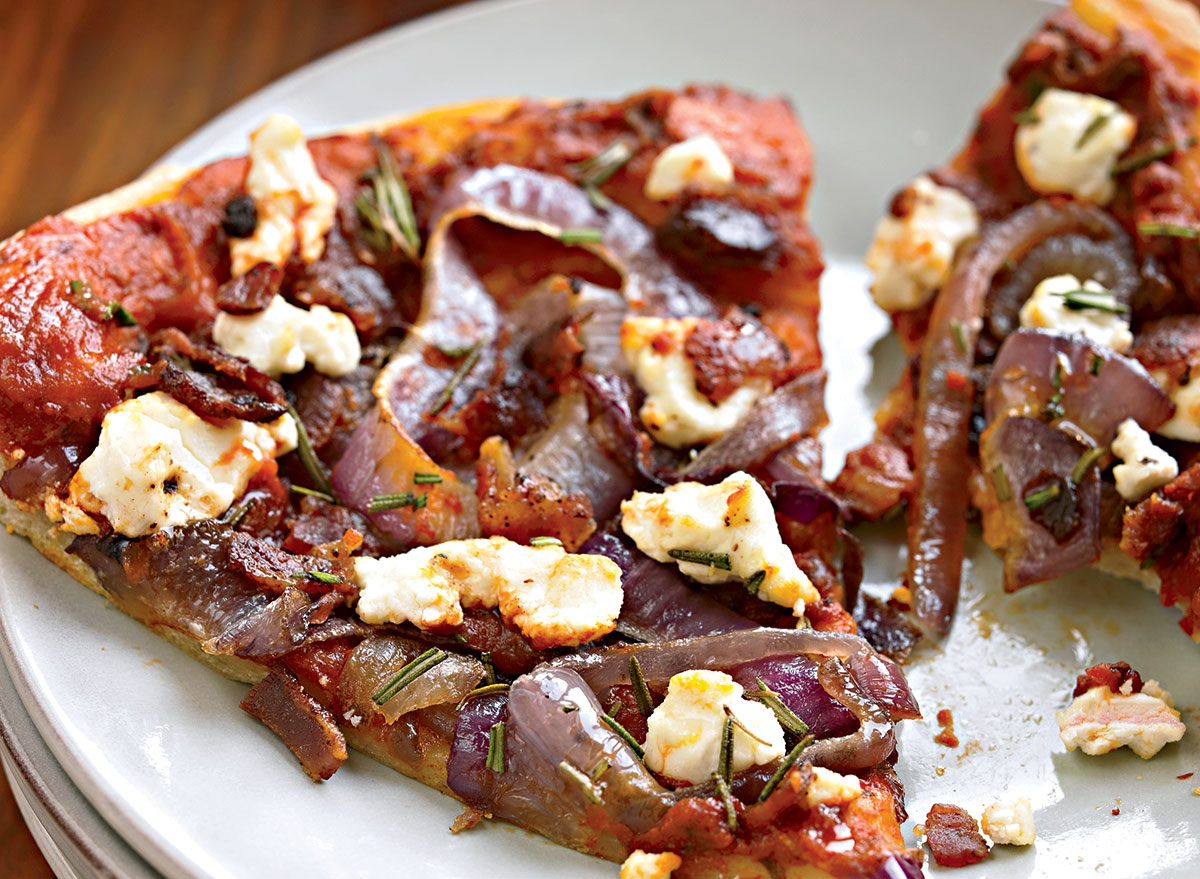 True artisanal pizza eschews floppy, sloppy slices in favor of a thin, delicate crust and a careful balance of sauce and toppings. The result is a pizza with a fraction of the calories and a surplus of flavor, which is exactly what this recipe recreates.
Get our recipe for Bacon Pizza with Caramelized Onions and Goat Cheese.
Breakfast Pizza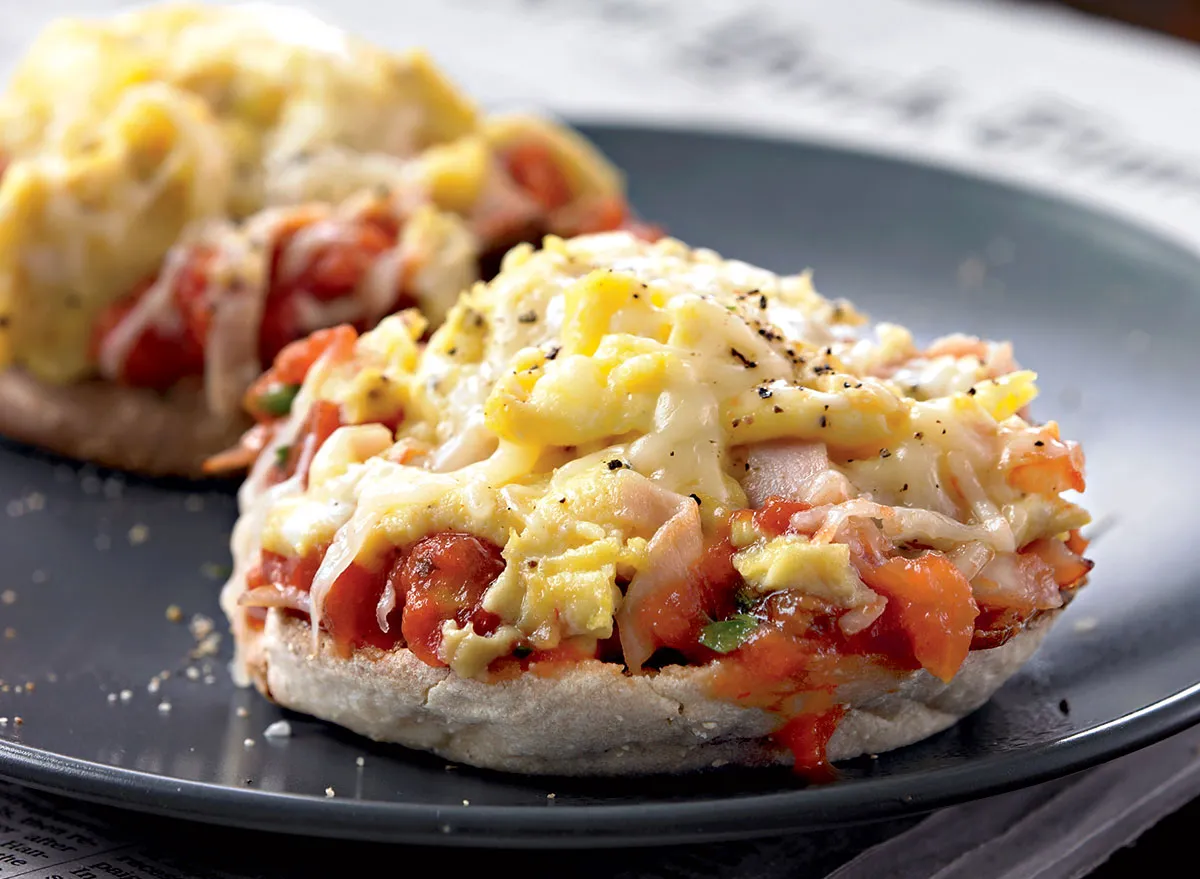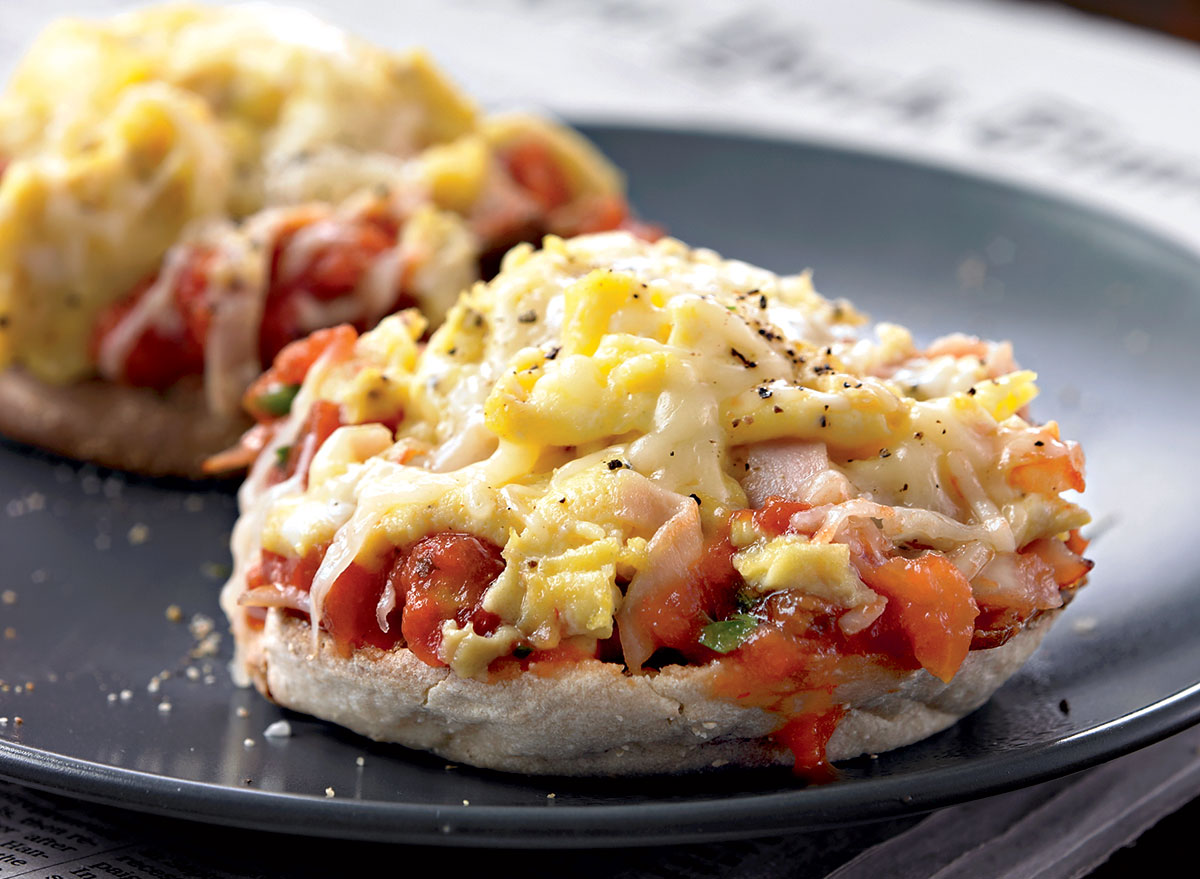 Start with the ultimate breakfast bread—the fiber-dense whole-wheat English muffin—as your base and salsa as your sauce, then add eggs, ham, and cheese for flavor, substance, and plenty of protein. It beats an 800-calorie breakfast sandwich any day, and you get to tell everyone you know that you had pizza for breakfast.
Get our recipe for Breakfast Pizza.
Fruit Pizza
While this fruit pizza cookie recipe is still a dessert, it's one that you can feel good about eating. It's the best fruit pizza recipe we've been able to come up with to date!
Get our recipe for Fruit Pizza.
Pumpkin Marinara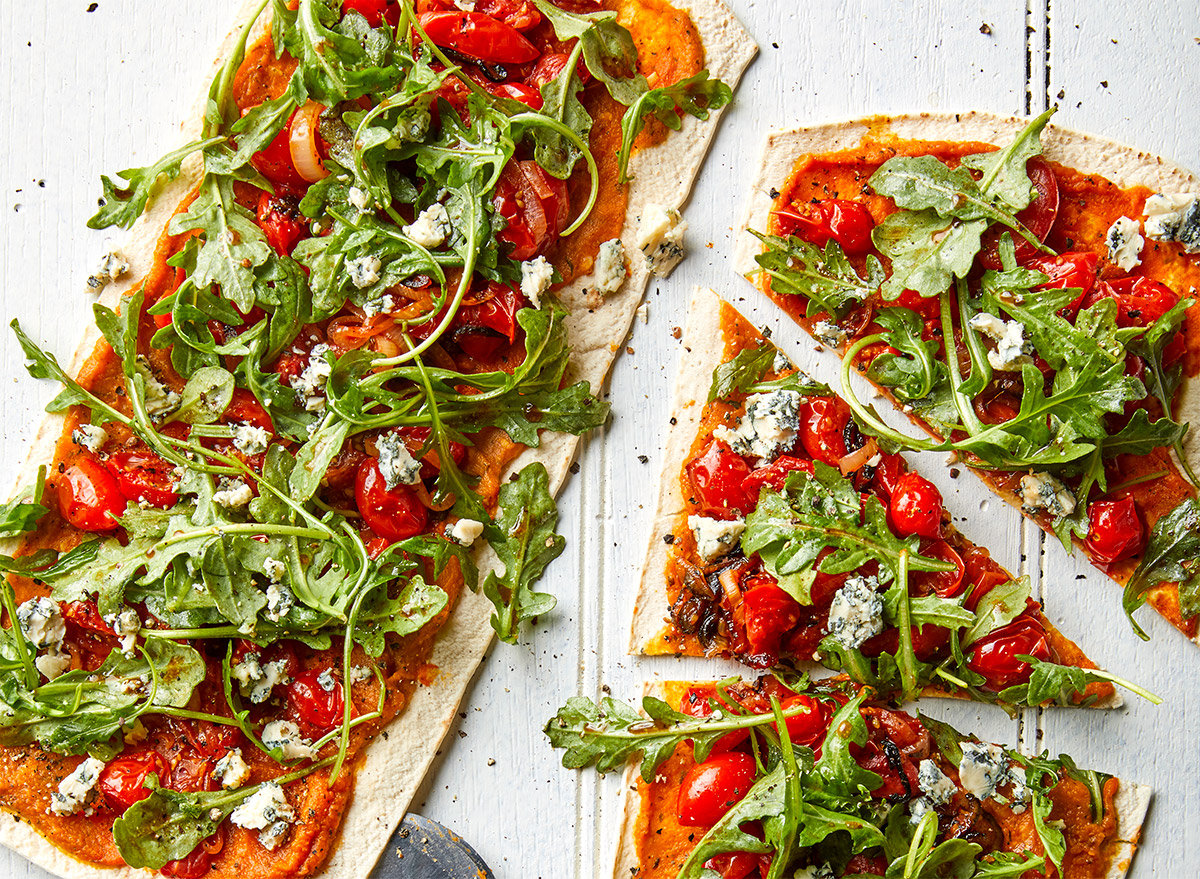 Our pro tip for this recipe? Make sure you get high quality thin pizza crusts for a truly outstanding final product.
Get our recipe for Pumpkin Marinara.
Cheesy Keto Pizza Cups
No matter your dietary denomination, you're going to want to eat pizza. And keto dieters are no exception. Luckily, toppings like cheese and pepperoni are completely approved on keto. But what do you do about the rest of the components? That's where this keto pizza cups recipe comes in handy.
Get our recipe for Cheesy Keto Pizza Cups.
Air Fryer Veggie Calzones
Love pizza night, but want to switch it up? These air fryer calzones take all the fun toppings of pizza and secure them in a crisp, hand-held, delicious bundle. With the help of store-bought pizza dough (find it in the bakery section at the grocery store or ask your local pizza joint if they can sell you some), you can simply focus on the yummy fillings.
Get our recipe for Air Fryer Veggie Calzones.
Grilled Pizza Burger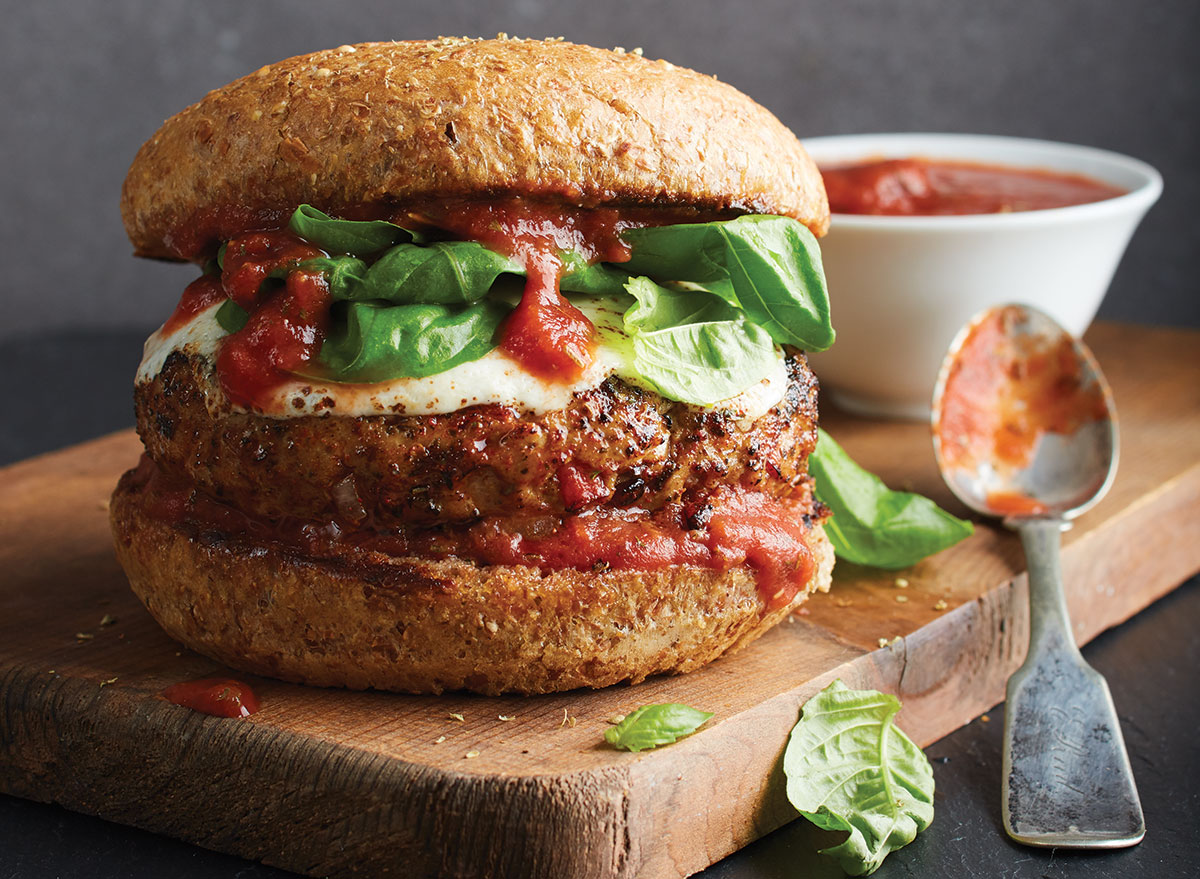 You've had pizza, and you've had burgers. But what about…a pizza burger? Yep, it's a real thing, and it's the best of both worlds. This recipe takes what you love about pizza—the tomato sauce, the mozzarella, and the seasonings like oregano—and adds them to a juicy turkey burger. Bursting with flavor, as well as fiber, this meal is way more nutritious than the average pizza slice.
Get our recipe for Grilled Pizza Burger.
Rainbow Veggie Pizza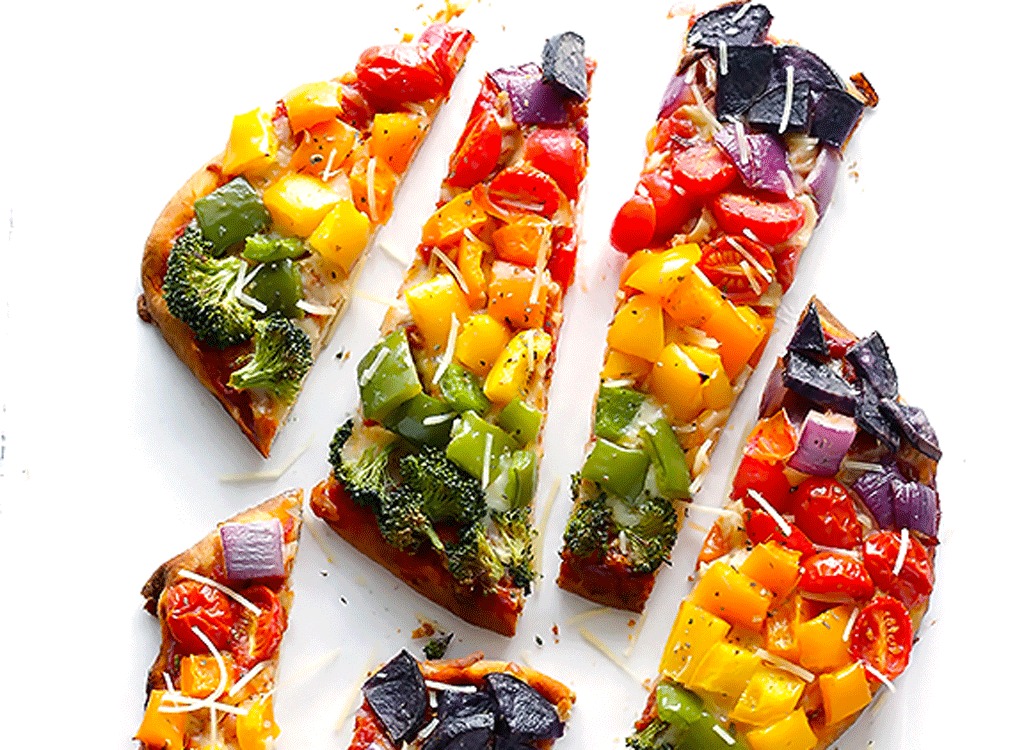 Um, talk about ROYGBIV? This pizza has all the colors you could want to see and eat! Broccoli paired with red bell pepper come together to make the ultimate vitamin C powerhouse, all while the purple potatoes pack a sufficient amount of zinc. According to a study published in the Journal of Agricultural and Food Chemistry, onions enable the body to better absorb the zinc that's provided in grains, which in this case, would be the naan. Vitamin C and zinc are a dynamic duo in preventing the onset of one of the various strains of the common cold.
Get the recipe from Gimme Some Oven.
The Perfect Winter Pizza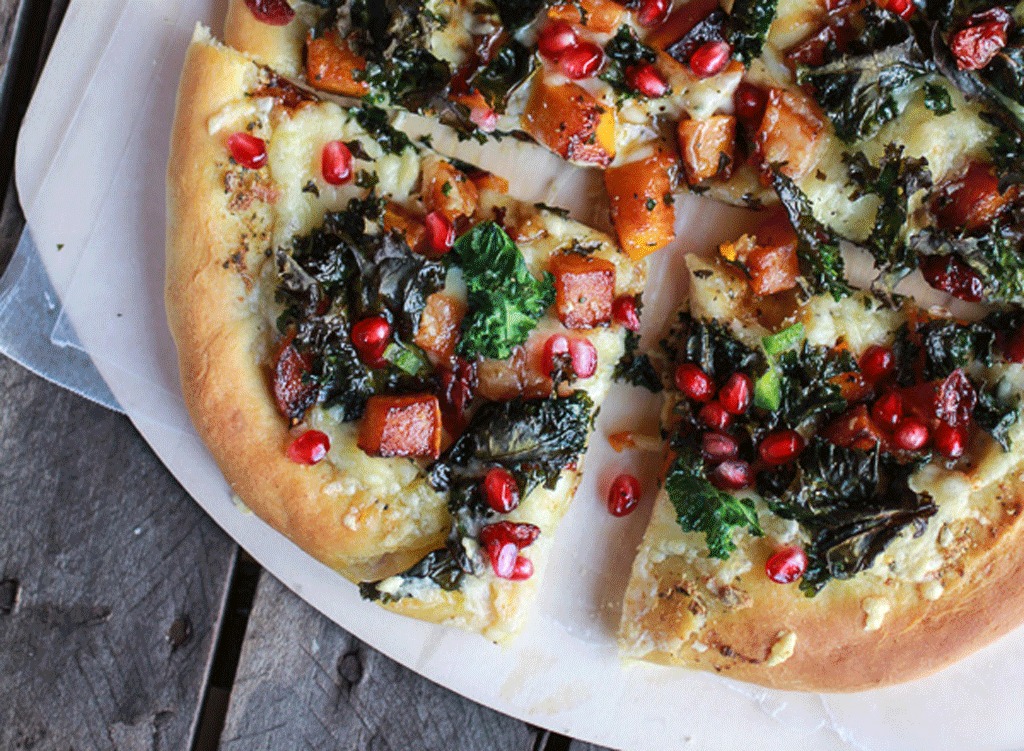 Imagine a healthy, veggie-inspired, Christmas feast spread on the table. Plop that image on top of a bed of soft, fluffy pizza dough and that's basically what this pizza entails. Plump, caramelized butternut squash sits atop a layer of crisp kale and is then sprinkled with ruby red pomegranate arils and dried cranberries. This dish is chock-full of antioxidants, predominantly beta-carotene which is what gives both the squash and pomegranate their orange and red hue. Enjoy these winter-esque pie as these fruits and veggies come into season!
Get the recipe from Half Baked Harvest.
Chickpea Pizza Crust with Shaved Asparagus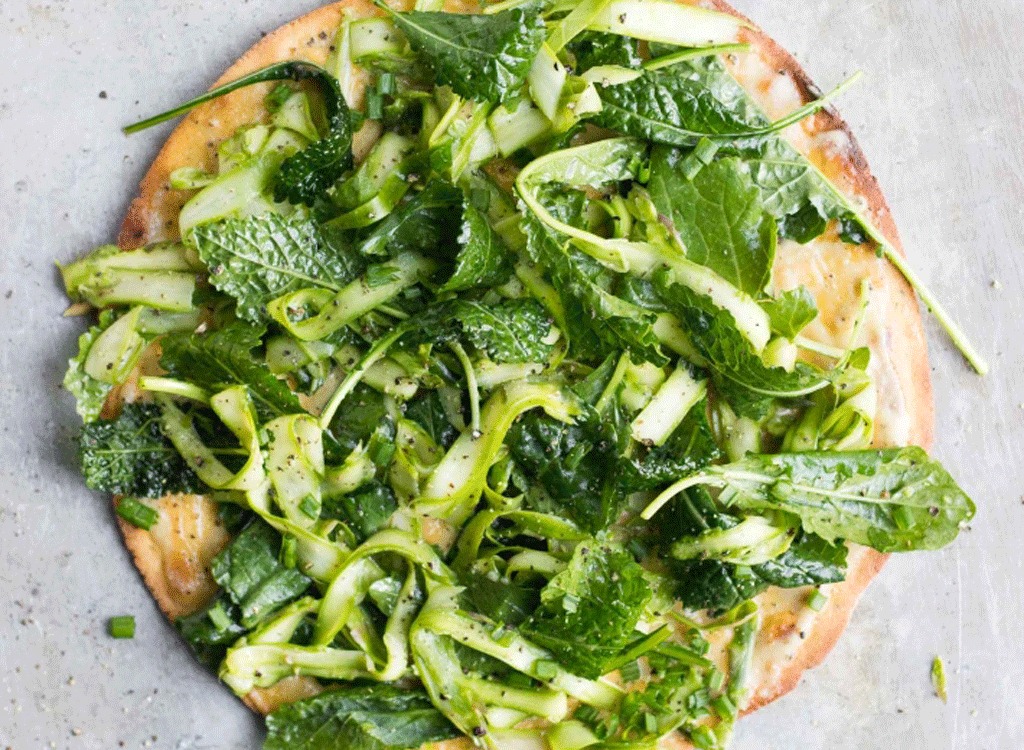 If you have trouble tolerating gluten, then this chickpea solution is for you! Fun fact: If you're not gluten intolerant, but have heard that a gluten-free diet will help you lose belly fat, you're in it for the wrong reason. In most cases, gluten-free products will actually replace gluten, a protein, with unnatural ingredients such as xanthan and guar gums. Something like chickpea flour, however, is a safer bet—especially when made at home!
Get the recipe from With Food and Love.
Healthy Dessert Pizza
Dessert for dinner anyone? This fruit-filled pizza is hard to resist. With strawberries, apricots, figs, raspberries, and bananas decking out this grain-free, almond flour, and ground flaxseed crust, this pizza is one for the books. It's the one time you can nibble on something sweet for dinner and not have to feel an ounce of guilt!
Get the recipe from Nutrtionist in the Kitch.
Savory Breakfast Pizza
Breakfast is the most important meal of the day, right? While this isn't necessarily true anymore, it shouldn't be nixed from your diet if you're an avid morning eater. This breakfast pizza packs as much protein as most protein shakes! Munch on a slice of this bad boy at 8 a.m. and you'll keep the stomach rumbles at bay until lunchtime, no problem.
Get the recipe from Little Spice Jar.
Fig and Prosciutto Pizza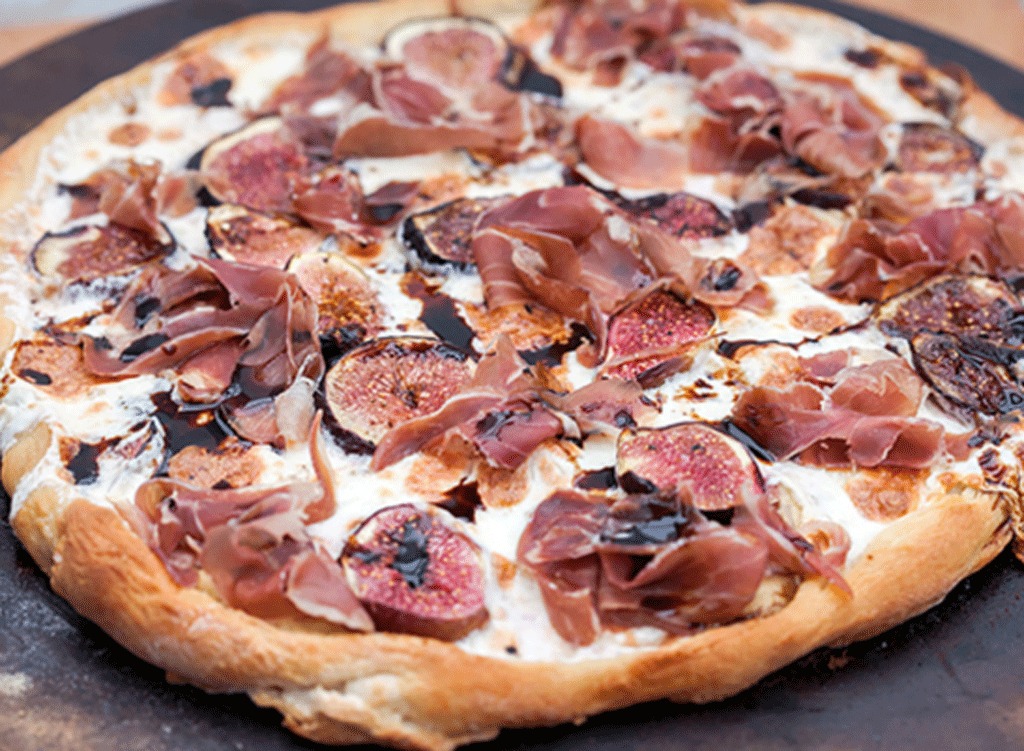 This pizza has the perfect balance of savory and sweet. And just look at it; it looks as if it were just taken straight out of a stone oven at a high-end restaurant! Thanks to this blogger, you can be a pizza extraordinaire with this decadent recipe. Layers of prosciutto, which is simply cured ham which has been delicately seasoned, and the succulent meat pairs harmoniously with the gooey, almost candy-like texture of the rich fig. Try it out for yourself and sip on a warm glass of green tea to relish alongside the meal!
Get the recipe from Spache the Spatula.
The Fall Harvest Pizza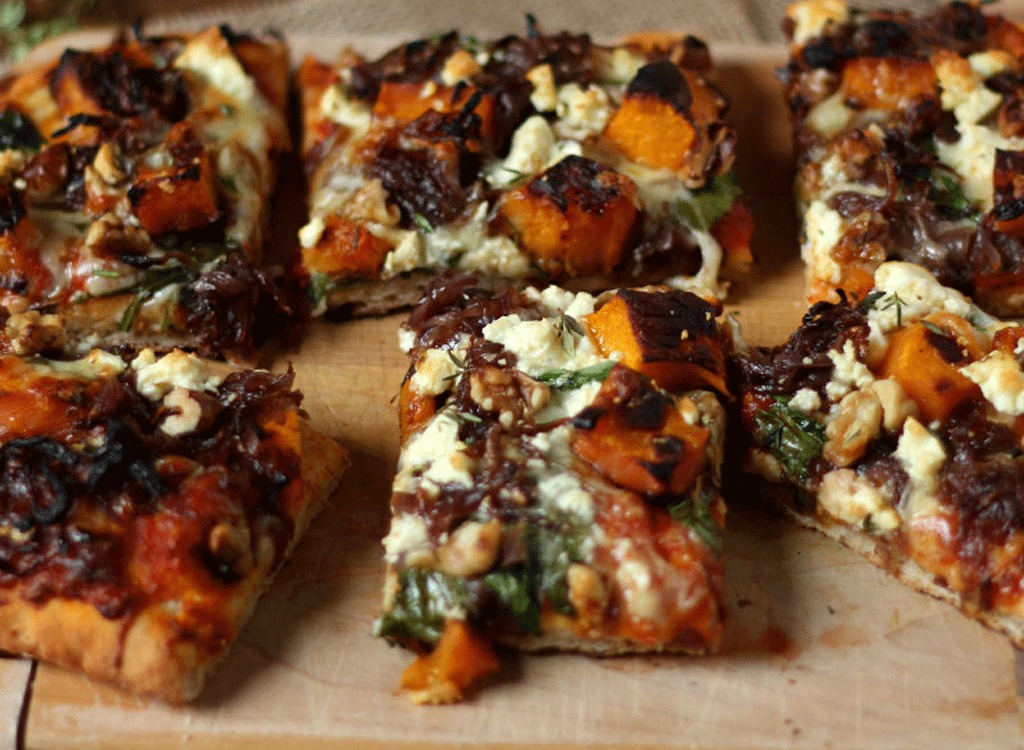 Crave the flavors of fall all years long? Well, this pie is made of a delicious rendition of pumpkin, caramelized onions, feta, and fresh mozzarella. If that description didn't make your mouth salivate, we're not sure what will.
Get the recipe from To Her Core.
A Vegan's Deep Dish Dream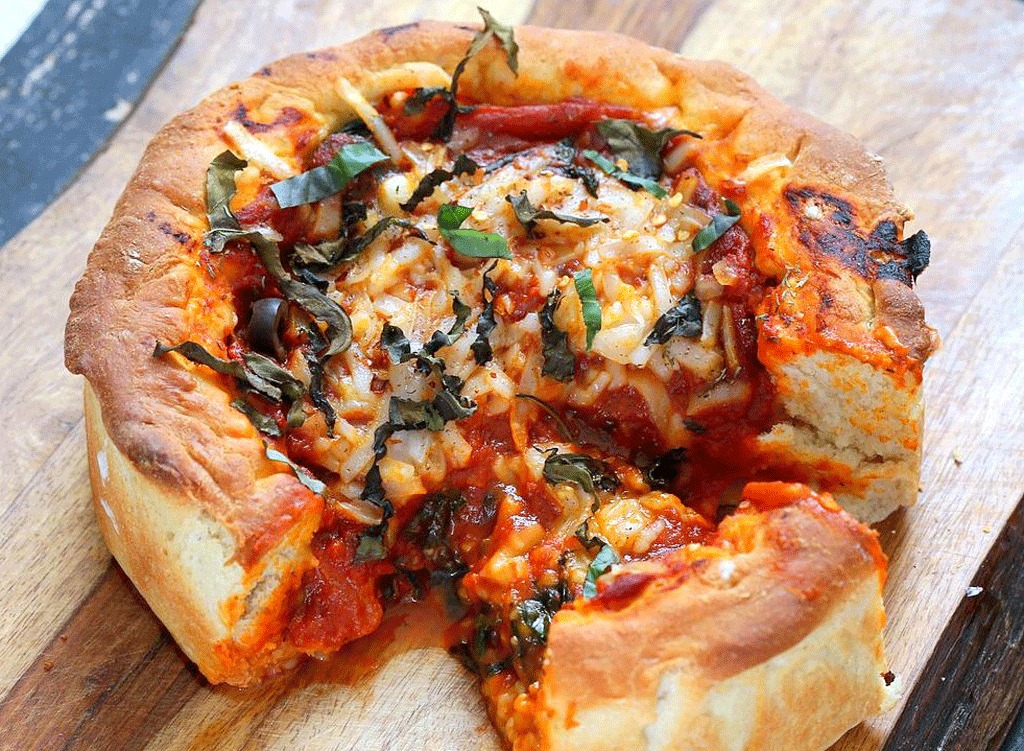 You don't have to be in Chicago to indulge in a deep-dish pizza pie! So, save the money that you would have spent on the meal at a restaurant (and arguably the plane ticket if you're out of state) and make your own in the comforts of home with this recipe. Be careful with your portion size, since deep-dish is higher in carbs per slice than regular pizza.
Get the recipe from Vegan Richa.
The Best Homemade Margherita Pizza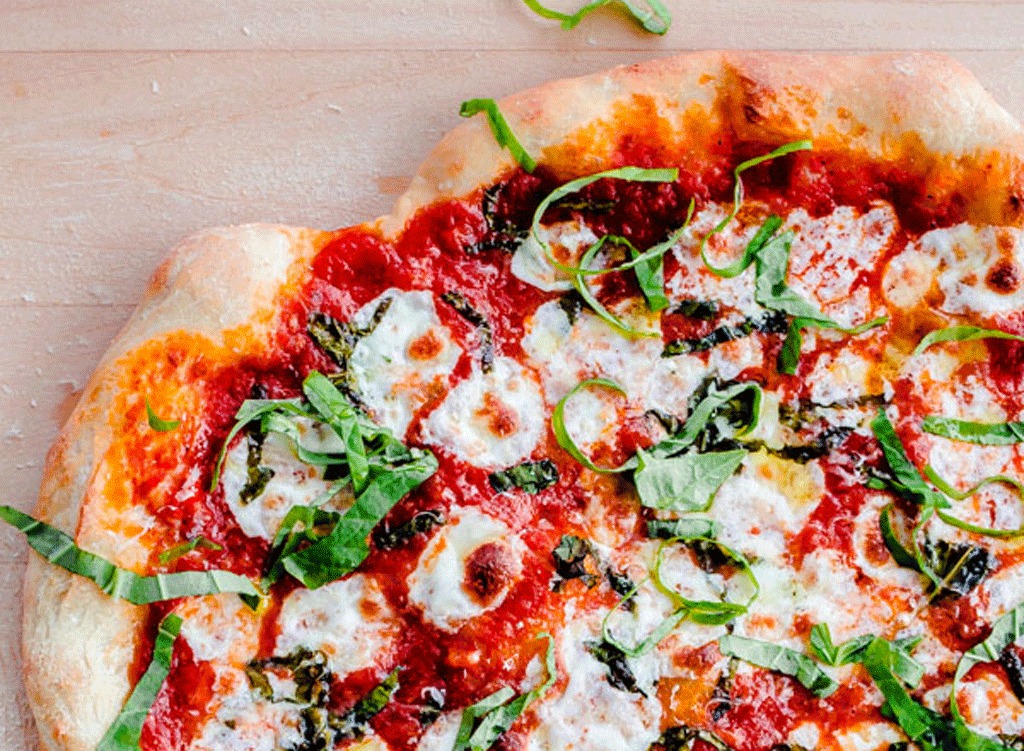 Either this blogger is a professional photographer or her pizza just naturally looks this incredible. We're leaning towards the latter because this pizza dishes out a classic taste that anyone can appreciate. With fresh mozzarella, finely grated Parmigiano Reggiano cheese, and basil leaves drizzled with olive oil, you'll feel like you're in the streets of Italy.
Get the recipe from A Beautiful Plate.
Zucchini Spaghetti Cauliflower Crust Pizza
This blogger stays true to his name with spiralized zucchini spaghetti topping the surface of this crispy cauliflower crust pizza. Talk about a mouthful of alliterations! You'll suffice a few servings of veggies with this light dish. With more meals like this, i.e. where veggies substitute grains, you'll experience rapid weight loss in no time. Enjoy!
Get the recipe from Inspiralized.
Shrimp Pizza
Shrimp may not be as extraordinarily rich in nutrition such as omega-3 fatty acids like salmon, but it still makes for a low-cal, high-protein meal. Just look at that protein content! We'll have to add this pizza to the best-ever proteins for weight loss because there are nearly 30 grams in just a single slice. Astounding and oh so delicious.
Get the recipe from Gimme Some Oven.
Delicata Squash & Gouda Pizza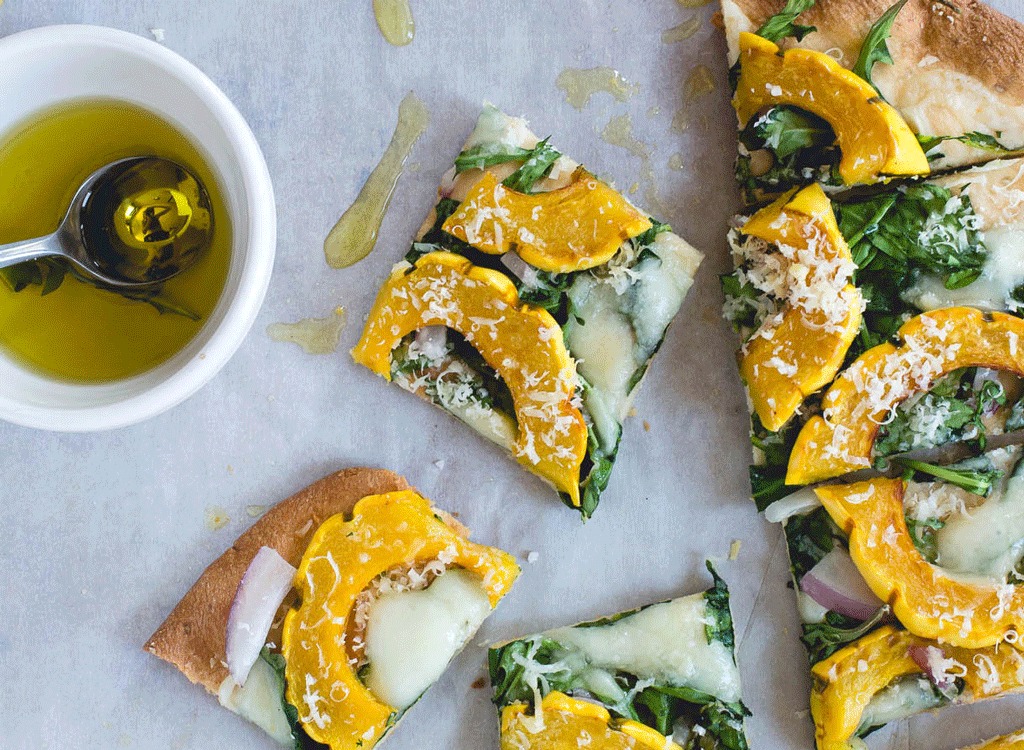 This is also a fall-worthy pizza selection with delicata squash and gouda galore! Sink your teeth into a slice of this plump pizza. Admittedly, it has a rather high saturated fat content, which is fine so long as you only eat one servings worth. After all, fat helps keep us fuller, longer. So, one slice won't do you any damage and skip the dessert.
Get the recipe from Heartbeet Kitchen.
Sweet Potato Crust Pizza
Serves: 6
Nutrition: 291 calories, 6.5 g fat, 0.8 g (saturated fat), 13 mg sodium, 52.7 g carbs, 8.6 g fiber, 0.9 g sugar, 6.7 g protein (calculated with 1 serving of Bob's Red Mill Gluten-Free Whole Grain Oat Flour and without salt)
So far, we have seen chickpea, flaxseed and almond meal, and cauliflower-based pizza crusts. Just when you thought the crust couldn't become anymore obscure, this blogger throws in another twist featuring the sweet potato. This nutrient-filled potato is loaded with vitamin A and also contains a good deal of vitamin C as well. For more traditional ways on how to incorporate these orange tators into your diet, take a look at these sweet potato recipes.
Get the recipe from Blissful Basil.
Veggie Pesto Pizza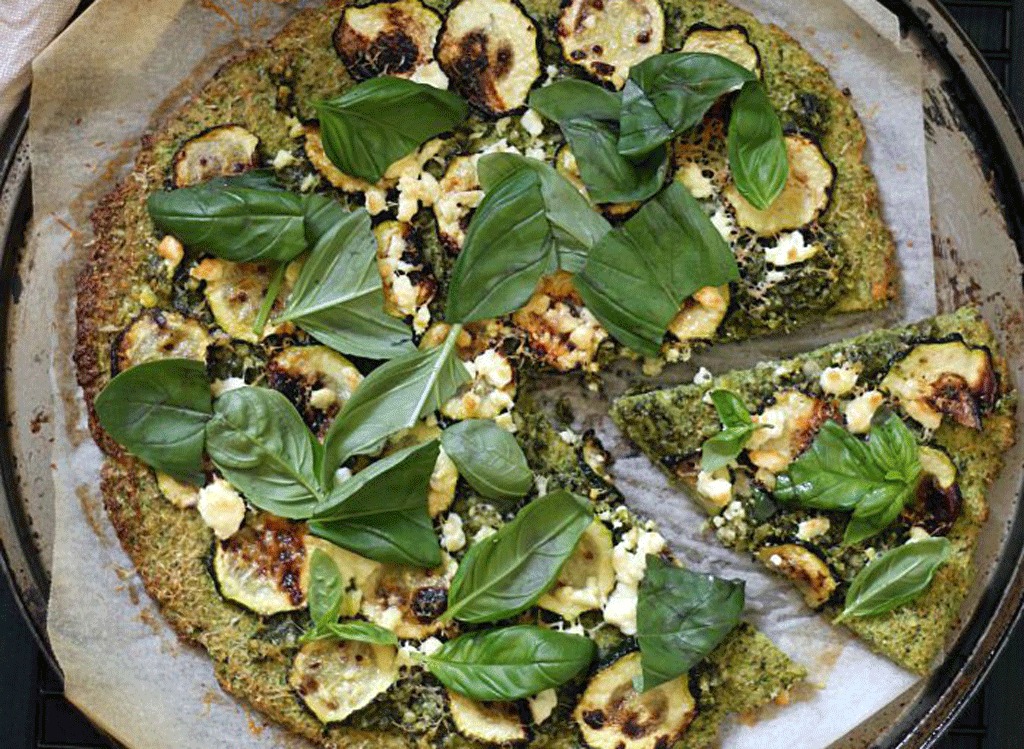 One thing is for sure: You cannot go wrong with a pesto pizza. The picture does the talking for this dish and it's no wonder why it's being featured in a health food publication. The crust receives its green pigment from broccoli, too! Pair this pizza with one of these healthy alcoholic drinks for a soothing, guilt-free evening.
Get the recipe from To Her Core.
The Ultimate Caprese Pizza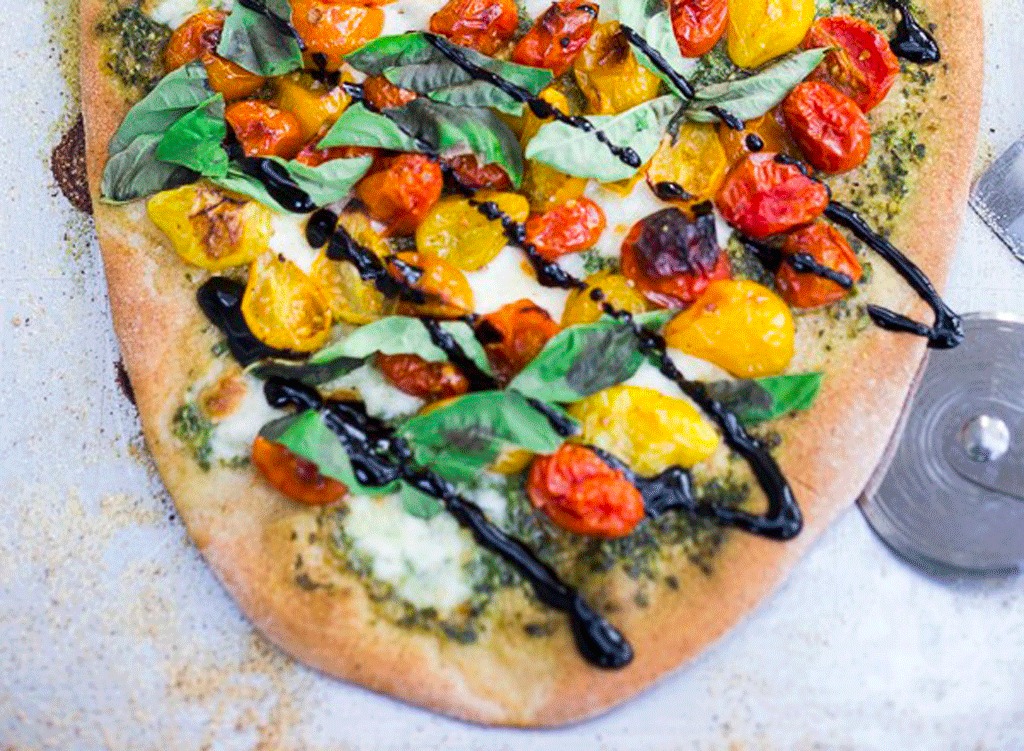 6254a4d1642c605c54bf1cab17d50f1e
If you're in love with the salad, then you'll fall head over heels for this pizza. The best part about this recipe is that it utilizes whole wheat flour as the base as opposed to enriched flour, which is essentially the same thing except for wheat has been stripped from its nutrition. Kudos to the head honcho of Feasting at Home for making this call!
Get the recipe from Feasting at Home.
Quinoa Sloppy Joe with Jalapeno Aioli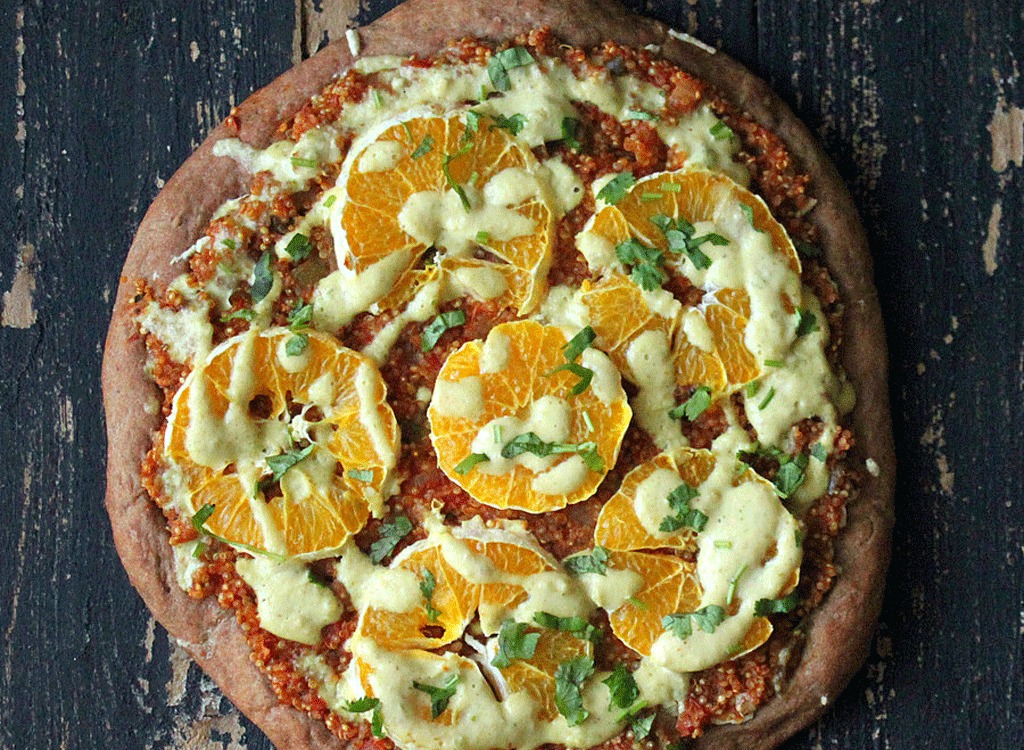 Despite its reputation, there isn't any ground beef in this sloppy joe! In fact, there isn't any trace of dairy, gluten, egg, corn, soy, or nuts in this pizza either. Talk about allergy-free!
Get the recipe from Vegan Richa.
30 Minute Almond Flax Seed Crust Pizza
Not only is this pizza considerably light, it only takes 30 minutes to prepare and cook. The goat cheese is regarded as the sustenance in this dish. Dig in and get your fill of a creamy cheese pizza for only 11 carbs and nearly 11 grams of protein!
Get the recipe from Nutritionist in the Kitch.
Zucchini, Lemon Ricotta with Naan Flatbread Pizza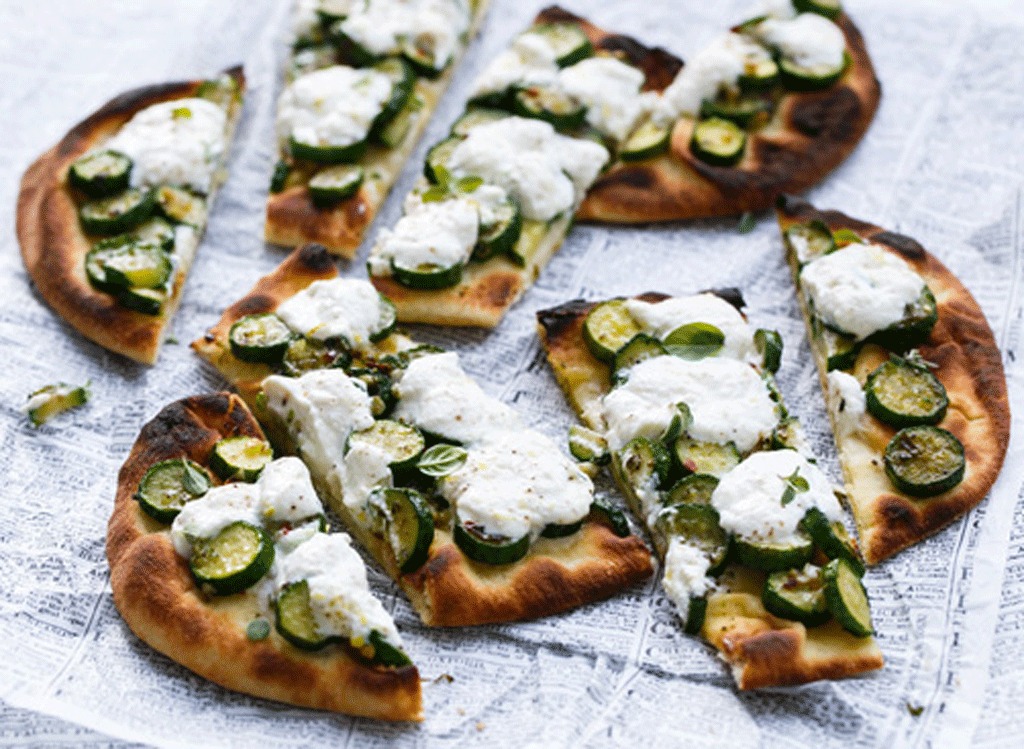 We've saved the fanciest of them all for last! Lemon Ricotta on Naan flatbread? Oh my gosh. No changes had to be made to this recipe; it's just naturally that wholesome for the body, believe it or not. This refreshing, lemony pizza makes your slim-down goals even easier! Lemon is one of the superhero foods on our master list of 42 foods to deflate your belly bloat!
Get the recipe from Love and Olive Oil.