5 Iconic McDonald's Locations That Have Shuttered In Recent Years
Don't worry. You still have over 38,000 locations to choose from.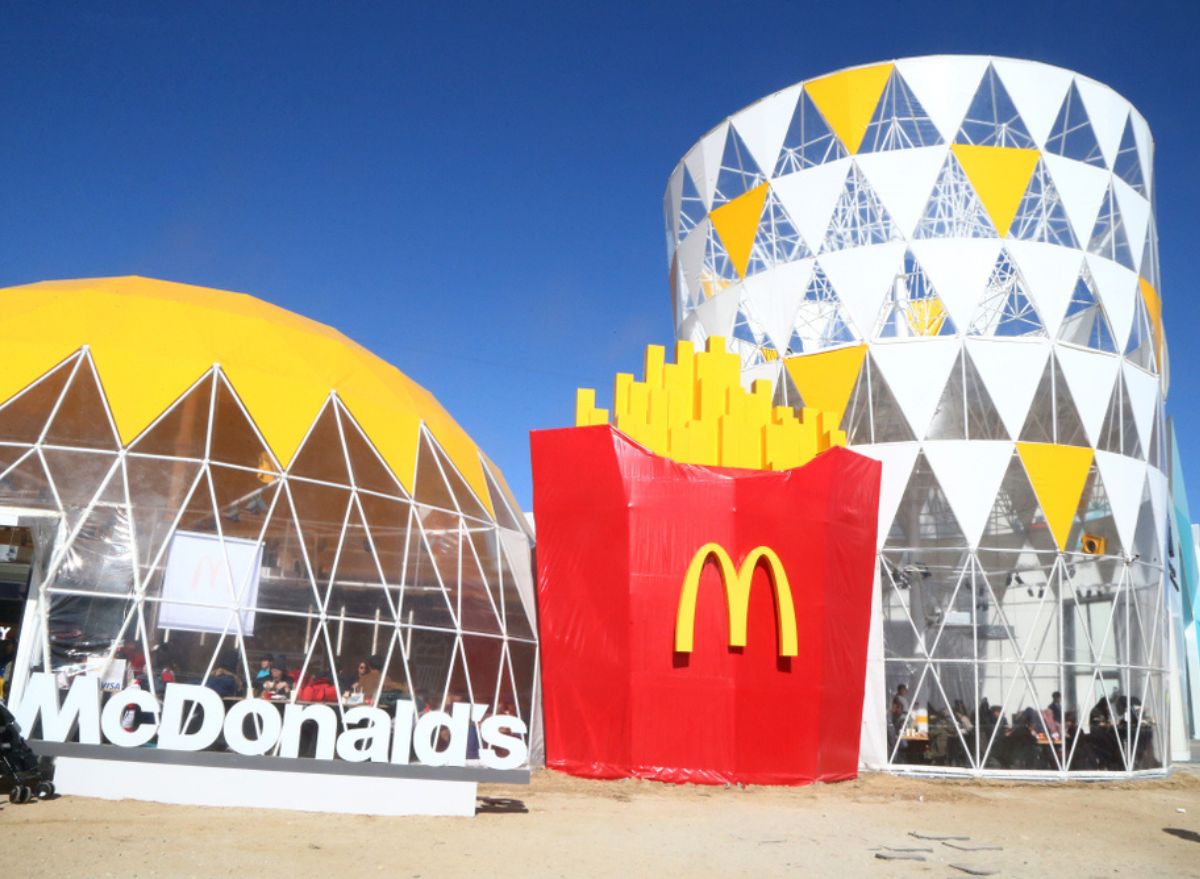 The Golden Arches has spread its burgers, fries, and chicken nuggets all over the world in pursuit of global fast food dominance, and it's hard to argue Mickey D's efforts haven't been a resounding success. Of course, even a behemoth brand like McDonald's isn't immune to restaurant closures. For as many iconic—or downright bizarre—McDonald's locations that remain open today, many others have been closed over the years for various reasons.
Today, McDonald's boasts more than 38,000 locations across over 100 countries, and generates annual revenues north of $20 billion regularly. When a brand operates that many restaurants across such a diverse array of continents, cities, and cultures, a few units are bound to pop up in unusual locations.
Indeed, the McDonald's brand is iconic for a number of reasons, but the company's ability to adapt to different cultures and tastes has always captivated hungry travelers and locals alike.
For instance, did you know that there's a McDonald's in Paris that is actually located inside a UNESCO World Heritage Site? There's even a Mickey D's in New Zealand that operates out of a decommissioned plane. Meanwhile, Sedona, Arizona lays claim to the only McDonald's restaurant to sport a pair of turquoise arches!
If you believe we're not alone in the universe, there's even a McDonald's location for that. Just take a trip to Roswell, New Mexico and stop by the "flying saucer McDonald's." Looking for something more formal? Head over to Independence, Ohio and probably the fanciest McDonald's ever constructed featuring gold chandeliers.
Let's take a look at some of the most notable McDonald's locations to close in recent years.
Fisherman's Wharf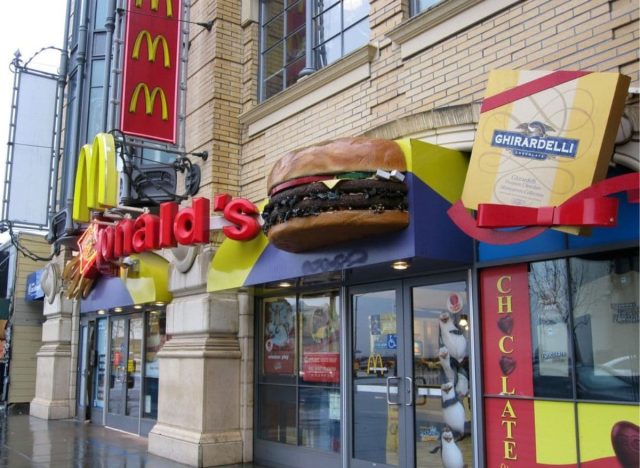 Known for its museums, shopping centers, and plenty of other family-centric activities, Fisherman's Wharf is one of San Francisco's busiest neighborhoods and a major hub for tourists. Unfortunately, locals and visitors alike will have to search a little harder for a happy meal by the pier starting this year.6254a4d1642c605c54bf1cab17d50f1e
The Fisherman's Wharf McDonald's, located at 145 Jefferson Street, shut down for good on December 22, 2022, a McDonald's rep confirmed to SF Gate. A sign has already been posted in the location's window promising a new eatery will soon replace the shuttered Mickey D's.
"Closing a restaurant is a difficult decision in any city, but we look forward to continuing to serve our customers at our other McDonald's restaurants in the greater San Francisco Bay Area," McDonald's said in a statement.
Times Square
McDonald's is synonymous with fast food, and Times Square is synonymous with NYC. The pairing seems like a perfect fit, but Mickey D's opted to close its classic four-story Times Square location on 42nd street in June 2020. Constructed to look like a vintage Broadway marquee and entrance, the restaurant's massive exterior sign featured thousands of flashing lights.
At the time, McDonald's called the closure "a tough decision," with a company rep telling The New York Post,"McDonald's reviews its restaurant portfolio on a regular basis to make the best decisions for our business moving forward."
Don't worry too much about finding a Big Mac in the Big Apple, though. There's another McDonald's location on 45th street.
Rock 'N' Roll Chicago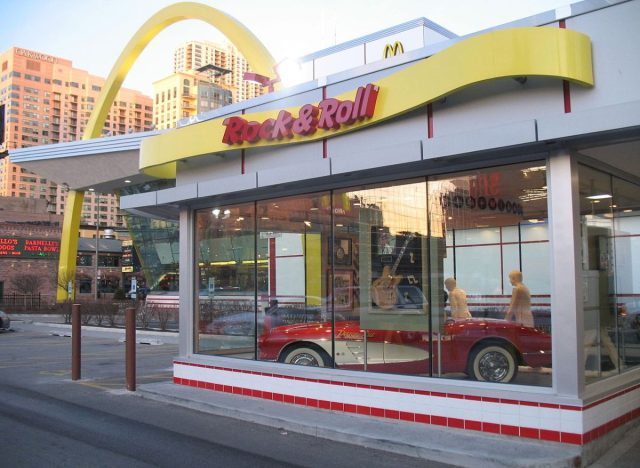 First opened in 1983 in the very heart of Chi-town, the "Rock 'N' Roll McDonald's" was chock full of personality and music/pop culture memorabilia. Once named the busiest McDonald's in the USA, this one-of-a-kind two-floor location featured an entire rock n roll exhibit and a smaller McDonald's museum display.
The original restaurant was demolished and rebuilt in 2005 but still retained its trademark theme. Unfortunately, the music finally died in 2017. There's still a McDonald's in that same location today, but the nostalgia and unique decor have been replaced by touchscreens and kiosks.
At least we'll always have Chicago native Wesley Willis' song inspired by the location to remember it by.
Olympic Park, South Korea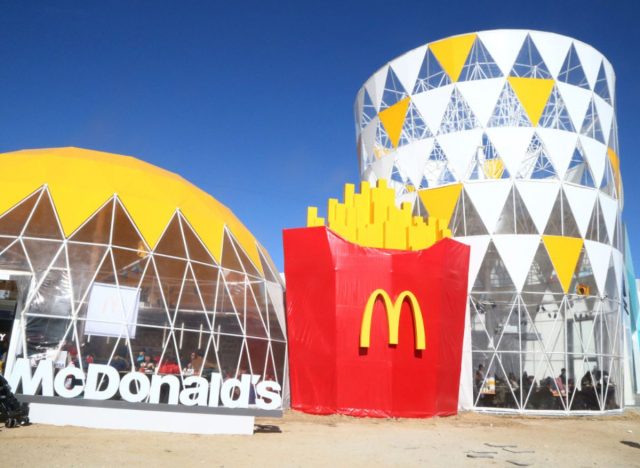 Constructed for the 2018 Winter Olympic Games in South Korea, this McDonald's location was set up to make sure athletes and fans alike were well-fed going into the games.
What made this pop-up restaurant so special? It was constructed so that the exterior resembled a combo meal: A giant burger, drink, and side of fries. While the fries were just for display, patrons would order in the "burger" portion of the restaurant and sit down to eat in the "drink" area.
2018 wasn't Mickey D's first Olympic excursion, either. In 2012, the largest McDonald's in the world at the time was constructed for the Olympic Games in London. While the restaurant was only open for six weeks, 75% of the building's materials were either recycled or reused by other U.K. McDonald's restaurants.
Pushkin Square, Moscow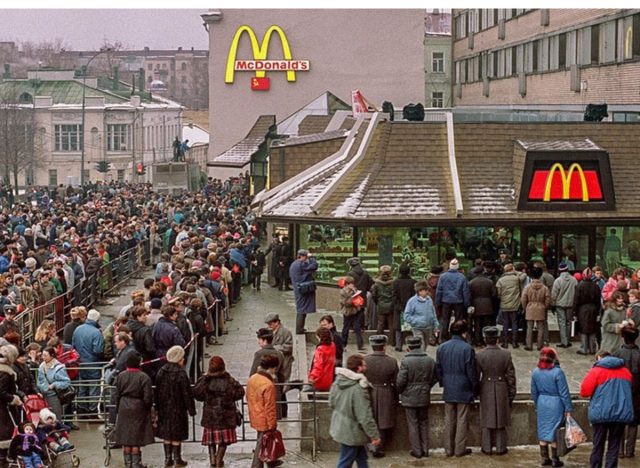 When McDonald's first entered the Russian market in 1990, it represented a major cultural shift for the post-Soviet state. The dissolution of the Soviet Union was a watershed moment in global history and geopolitics, yet somehow something as simple as the opening of a hamburger restaurant was enough to encapsulate the moment perfectly.
When the very first Russian McDonald's opened in the heart of Moscow in Pushkin Square in January 1990, it attracted over 35,000 thousand curious customers in just one day ready to finally try "American food."
That location remained popular and busy up until last year, when Russia's invasion of Ukraine in February 2022 led to McDonald's leaving the Russian market entirely.
Many of the former Russian McDonald's locations, including the restaurant in Pushkin Square, have been rebranded as a faux McDonald's of sorts called Vkusno & Tochka which stands for "Tasty, and that's that." There are already widespread reports of poor food quality, mold, and even bugs at Russia's rebranded McDonald's.
John Anderer
John Anderer is a writer who specializes in science, health, and lifestyle topics.
Read more about John