9 Restaurant Dishes Named After Famous People
Does a famous tie-in help sell burgers or sweet treats?
There's no shortage of classic restaurant dishes named for famous people. You can go way back with the Bloody Mary or a bit less far back with the Arnold Palmer, for examples of beverages named for a specific person. With food, you can go with the Margherita Pizza or the Caesar Salad, named not for a Roman ruler but for an early 20th-century Italian American restauranteur.
As it happens, naming dishes after specific people has become all the more popular in recent years, and the folks for whom dishes are named tend to be quite well-known. Why this uptick in dishes named after famous people? In a word: marketing. By naming new foods after celebrities, popstars, and even royalty, restaurants hope to create quick buzz around the new eats and generate more sales. Does it work? Well, to be fair, we are covering the phenomenon right now, aren't we…
Prince Harry – Wayback Burger's "Royal Silencer"
This burger is a very recent example of the naming trend. Wayback Burgers announced the "Royal Silencer" burger on Jan. 10, 2023, and poked fun at Prince Harry at the same time. The brand says this new promotional menu item is "a one-of-a-kind burger designed to silence the urge to spill family gossip to media outlets, book publishers, and documentarians alike."
This burger chain's extremely large burger features a "spare" patty for a total of three, plus American cheese, lettuce, tomato, pickles, onions, ketchup, and mustard. It was tied to the launch of Prince Harry's record-breaking book, "Spare" and it coincides with the Netflix special. 
Justin Bieber – Tim Hortons Timbiebs Timbits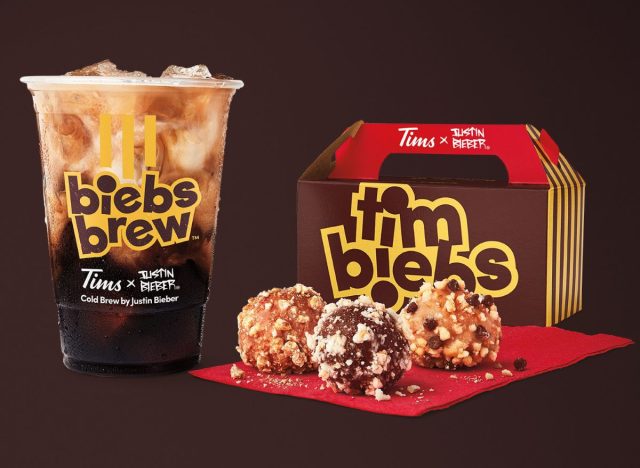 Canadian-born pop star Justin Bieber has always been an avowed fan of Tim Hortons, so it only made sense for him to partner with the chain to develop Timbiebs Timbits, a donut hole treat that was released in 2021, per People. While that was a limited-time release, Biebs came back with Tim Hortons in the form of a 2022 coffee blend called Biebs Brew, and the Timbiebs returned as well.
Saweetie – McDonald's Saweetie Meal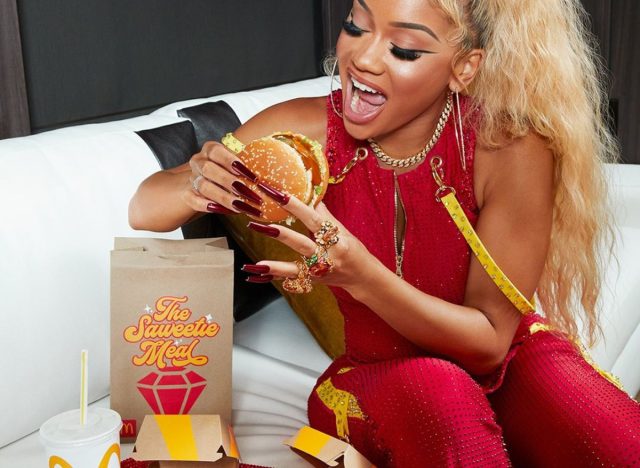 Hip-hop star Saweetie and McDonald's went big with their partnership in 2021, launching, per Business Insider, not just a sauce—aptly named Saweetie n' Sour Sauce—but an OG meal called, you guessed it, the Saweetie Meal. The sauce is actually just the chain's classic sweet and sour sauce rebranded, but the meal is a clever combo: a Big Mac, an order of fries, a four-piece McNuggets, and along with the sweet/sour sauce, you also get BBQ sauce.
Shawn Mendes – Chipotle Shawn Mendes Bowl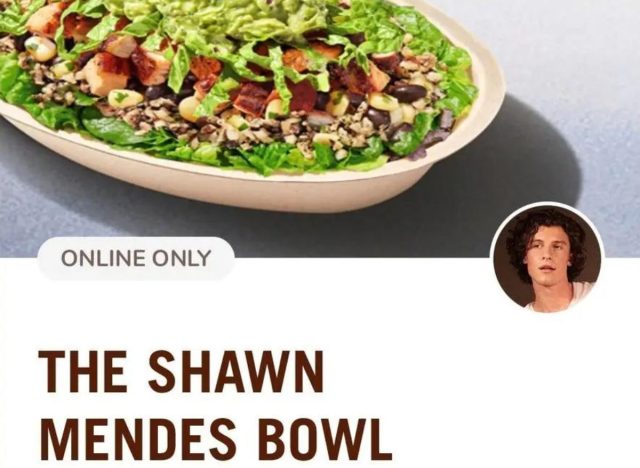 Chipotle went pretty on the nose when it named a menu item after singer Shawn Mendes, calling the bowl released in partnership with Mendes the Shawn Mendes Bowl. But that's okay because, per a 2021 press release about the bowl, Chipotle reported that for every one sold, a dollar would go to the Shawn Mendes Foundation, an organization dedicated to supporting sustainability efforts.
Chase Hudson – Burger King Lil Huddy Meal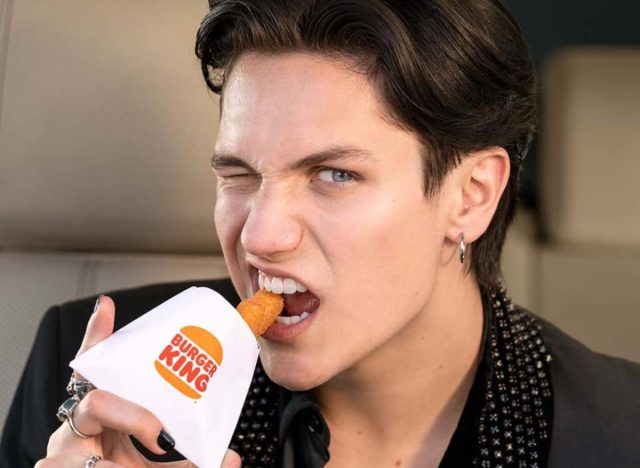 Yet another entrant in the 2021 trend of fast-food meals named for celebrities was the Lil Huddy Meal from Burger King. Named for then-teenaged signer and social media person Chase Hudson, the Lil Huddy meal consisted of, per DBK News, a Spicy Ch'King sandwich, mozzarella sticks, ranch, and a chocolate shake. The meal is no longer available and, in fact, it can't be recreated, as that sandwich is gone from the BK menu, too.
Shaquille O'Neil – Papa John's Shaq-a-Roni Pizza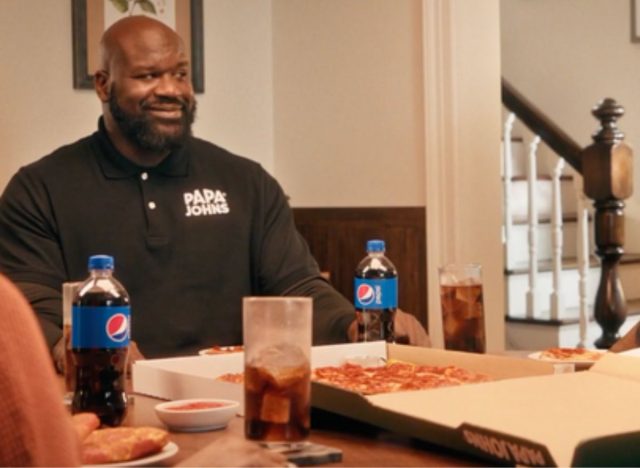 Former NBA star Shaquille O'Neil is a very large man—as in 7'1" and over 325 pounds—so it only makes sense that when Papa John's devised the Shaq-a-Roni pizza, it was a very large pizza, indeed. As in it's an extra-large pizza with extra cheese and extra pepperoni cut into just eight slices, so each slice is, per Brand Eating, extra-large.
Mindy Kaling – Umami Burger's Mindy Burger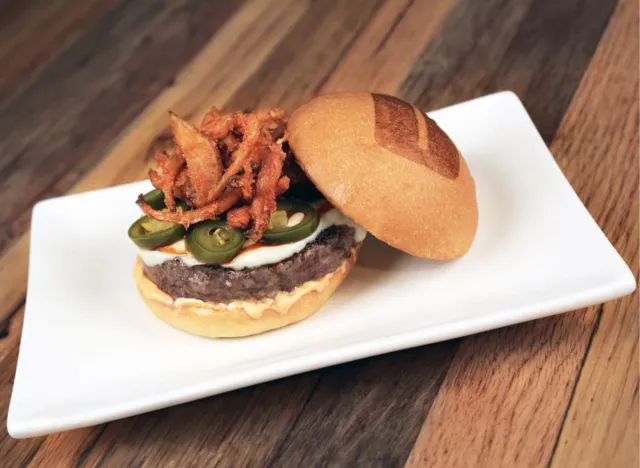 Umami Burger's The Mindy Burger may not be on the menu today, but you may want to recreate this umami-flavored burger via custom order. Per People, it was "a beef patty topped with pickled jalapeños, fried onion strings, white cheddar cheese, and house-made sriracha aioli." Which sounds just excellent, frankly.
Tim Tebow – Carnegie Deli's Jetbow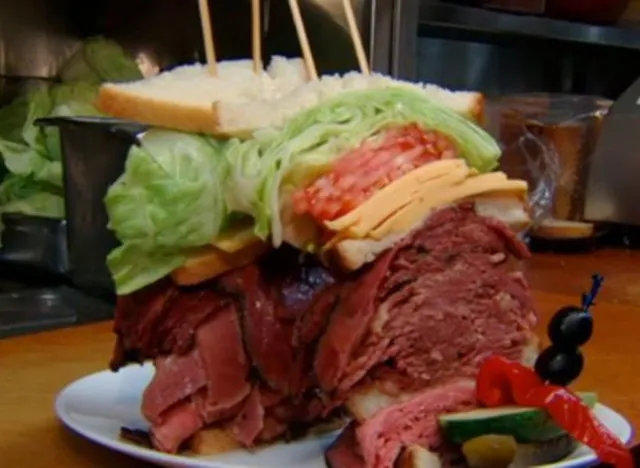 It's probably just as well that this sandwich, honoring then-new (backup) Jets quarterback Tim Tebow, was a limited-time menu item at New York's famed Carnegie Deli. That's because, per TIME, it weighed in at a staggering 3.5 pounds, with most of that weight coming from sliced roast beef.6254a4d1642c605c54bf1cab17d50f1e
Michael Jordan – McDonald's McJordan Special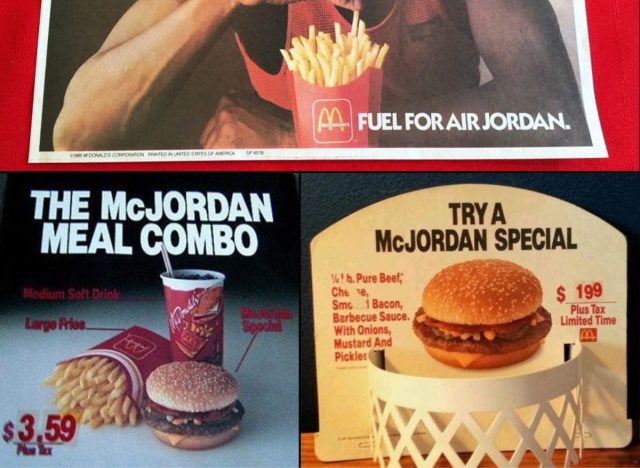 Yes, name-branded meals and menu items are hot right now, but they're nothing new. Remember the McJordan? No? Well, it has been 30 years since 1993 when McDonald's released a variation of the Quarter Pounder burger called the McJordan, which, per Mental Floss, had the NBA superstar's favorite ingredients: barbeque sauce, bacon, cheese, onions, pickles, and mustard, and of course buns and beef.
Steven John
Steven John is a freelancer writer for
Eat This, Not That!
based just outside New York City.
Read more about Steven