I Compared Burgers, Fries, & Shakes at In-N-Out & Shake Shack—and There Was One Clear Winner
Find out which chain has the best overall burger experience.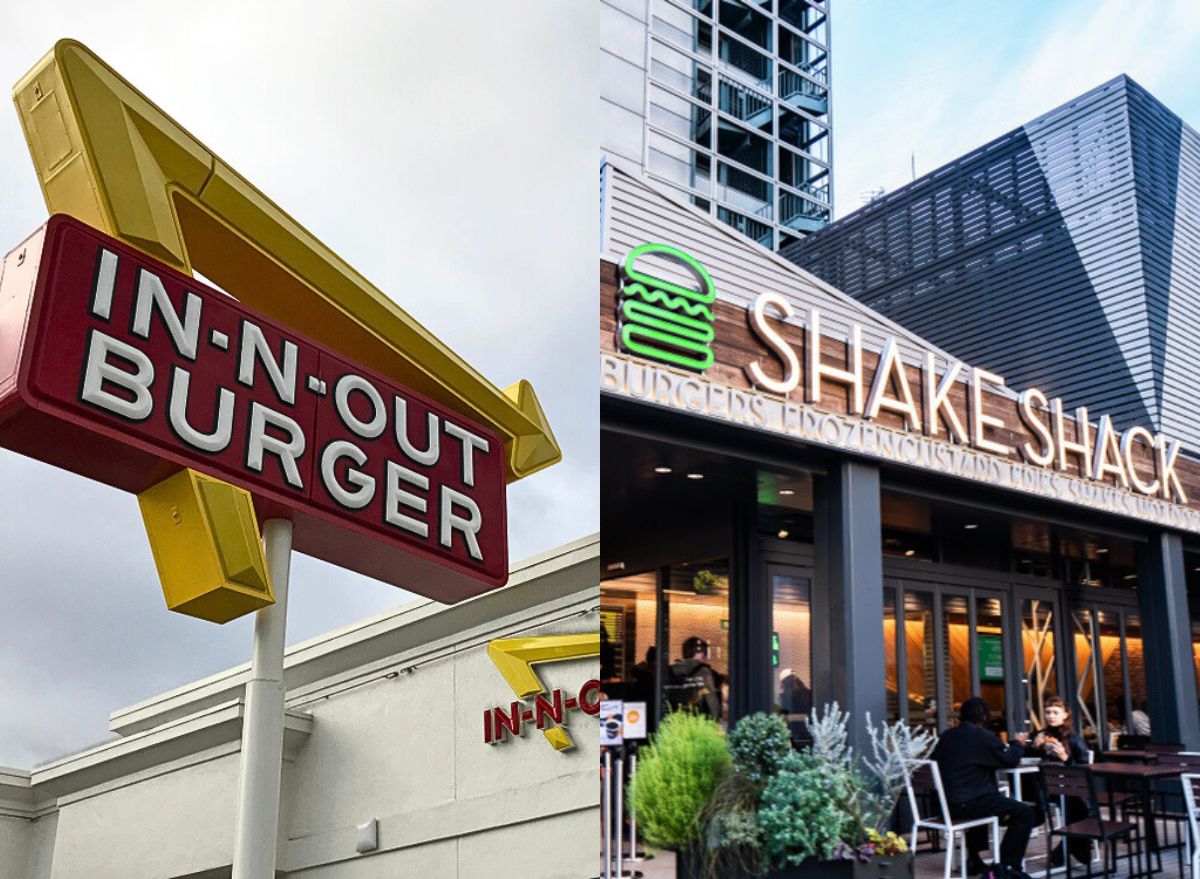 What does it take for a fast-food cheeseburger meal to check off all the boxes? The best, of course, are made with top-quality beef, fresh lettuce and tomato, fluffy buns and a perfect sauce. Ideally, they are also served with crunchy fries and a creamy milkshake is always a nice touch to wash it all down. While there are many burger spots that check off these boxes, only a few across the country really deliver. 
On the West Coast, In-N-Out became the very first drive-thru burger stand in California in 1948 and has long been the chain that fans flock to in order to taste the best of all three elements. 
The neighborhood staple makes classic American-style burgers to order from fresh, hand-shaped patties topped with simple ingredients (cheese, lettuce, tomato, onion, and a secret spread). It also features fresh hand-cut fries and old-fashioned milkshakes made with 100% real ice cream. In-N-Out has about 391 current locations, mainly located on the West Coast, but even though it's forever been a West Coast brand, a few new eastern spots have been projected to open around 2024.
On the East Coast, Shake Shack has grown from a single small hot dog cart in Madison Square Park in NYC to a chain that's almost 300-strong in the U.S. with a huge following in under 25 years. The NYC-based burger joint offers customers a semi-smash burger experience that is customizable, using a 100% Angus beef blend patty and a number of top-quality toppings. Shake Shack is also legendary for its premium custard and thick milkshakes, made in-house on a daily basis. 
I decided to put the most basic elements of each chain—the burgers, fries, and shakes—to the test to figure out which was the best overall chain. In order to create an even playing field, I ordered the same items (even down to the burger toppings!) from each: a double cheeseburger with lettuce, cheese, and ketchup, plus, a side of fries and a chocolate milkshake. While I've lived on both sides of the country—California and New York—I've never had the chance to try these iconic burger spots side by side. Here's what I thought about each item and the ultimate winner.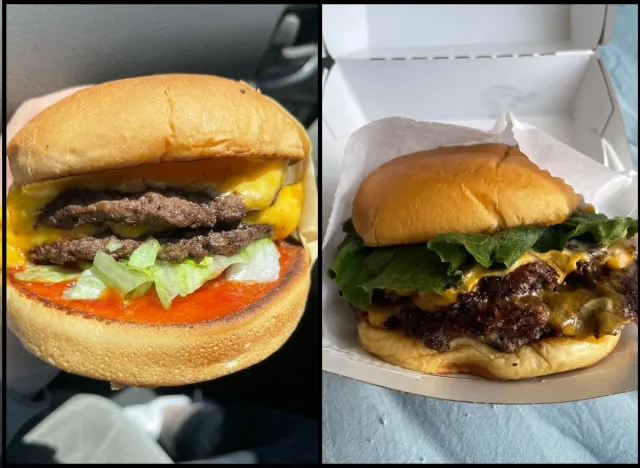 Shake Shack Burger
I ordered a Double Shack Burger plain (aka no Shack sauce), with lettuce, cheese, and ketchup, which came out to $11.09. 6254a4d1642c605c54bf1cab17d50f1e
The look:   Opening up the box to this double Shake Burger, I saw a much bigger burger than I was anticipating. The patties looked thick and juicy, and were covered with melted cheese. I'm not going to lie, it looked like a lot to eat in one sitting, very heavy and greasy at first sight, so I wasn't sure how it was going to taste. However, the potato bun looked appetizing with its shiny and golden brown crust. 
The taste:  After just one bite, I could tell this burger was hand-smashed together and made fresh to order, which I thoroughly enjoyed. There was a creamy, almost cheese-sauce-filled taste taking over the entire burger, but with a little extra bit of ketchup added to the mix I didn't mind it. 
While this may not have been the most flavorful burger I've ever had, it didn't taste bad but it could definitely use some more seasoning to make it great. The beef is tender, juicy, and tasted like it was good quality, although, the multiple patties make for a very greasy burger and I couldn't finish it in one sitting without feeling sick. I've learned my—two patties is far too much! 
The one thing I didn't enjoy were the leaves of lettuce Shake Shack used, since they weren't fresh and looked very wilted. The bun had the potential to be amazing from the look of things, but the sweet potato bread and soft texture gets lost in the meat and cheese, making me wish it was a bit bigger to get more of that bun flavor. Overall, I would still get this burger again, but with one less patty and maybe a different mixture of toppings the chain is more well-known for (i.e. Shack sauce or slices of bacon). 
In-N-Out Burger
At In-N-Out, I ordered a Double Double Burger plain (aka no spread), with lettuce, cheese, and ketchup, which came out to $5.40, about half the total of my Shake Shack burger. 
The look:  The Double-Double from In-N-Out made my mouth water at first glance. The bun had a picture-perfect toasted rim, there was cheese oozing over the edge of each patty, and it had equal portions of each burger component. The wrapper tightly covered the burger kept everything altogether nicely and held any excessive and messy juices from dripping from the bottom. 
The taste:  Even though In-N-Out's burger may lose in terms of size and overall thickness, the flavor that's packed inside makes all the difference. The thin beef patties taste like they came right off the grill and literally melted in my mouth. In comparison to Shake Shack, there was a lot more seasoning on this burger—including flavors like onion, garlic, salt, and pepper. 
I also really appreciated that the chain used shredded, cut-up lettuce instead of a whole leaf because it makes for a good hit of freshness in each bite. In addition to the greens, In-N-Out clearly toasts its burger buns which adds that classic backyard cookout flavor. In the end, I was full and satisfied with my burger, but I loved the taste so much that I wanted to go back for round two. 
The winner: In-N-Out clearly won this burger battle, due to its top-tier ingredients, overall taste, and simple, yet effective, take on the American classic. There's a reason why the drive-thru line is always so long, this burger is one that will hit the spot every time. 
Shake Shack
The NYC-based chain strictly offers a side of crinkle-cut, lightly salted fries that can be ordered plain or layered with a cheese sauce. The price of Shake Shack's fries was $4.69.
The look:  Shake Shack serves up a crispy basket of crinkle-cut french fries. While they weren't quite fried to a golden brown, they did glisten in the sunlight and looked to have a solid sprinkle of salt spread around the bunch. 
The taste:  If you're looking for a simple, crispy fry done right, then head over to Shake Shack. These fries have a perfectly crisp shell on the outside and are soft and light on the inside. Personally, I believe a good side of fries only needs salt or a signature seasoning rub, but they also shouldn't be bland. The Shake Shack fries were salty without being too salty, and, they got a whole lot better after getting dipped in ketchup.
In-N-Out Burger 
In-N-Out also only serves up one type of side dish to sit alongside its burgers: hand-sliced and thin-cut fries made from fresh potatoes each day. You can order them animal-style—with the signature spread sauce, grilled onions, and cheese—or just plain, (my pick) which comes out to the cost of $2.35. 
The look:  In-N-Out's fries come out golden brown. However, the fries do have a greasy look to them, in addition to the tons of salt shimmering on top. The texture also varied widely among the fries, some came out crispy and some came out with a softer, more flimsy-to-the-touch texture. 
The taste:  If you were to chop up potatoes into thin line slices and throw them in a fryer yourself, you would be able to almost identically replicate In-N-Out Burger's fries. They have a very pronounced potato flavor, but the chain does salt them well. They're tiny and airy on the inside. They're a California staple when you're at the burger joint for a meal, but maybe not worth a trip on their own. 
The winner: Shake Shack took the win in the fry category without a doubt.  In-N-Out's fries lack the "wow" factor, while Shake Shack's fries have the idea crispy texture that this side should have.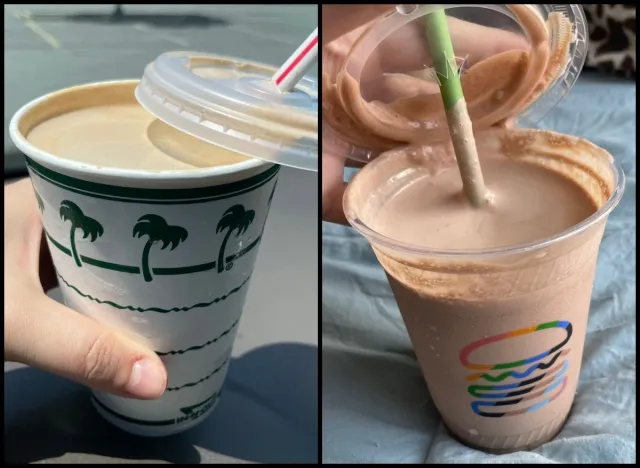 Shake Shack
The chocolate milkshake at Shake Shack is made with the chain's house-made frozen custard (containing both milk and eggs) and can be topped with fluffy whipped cream for an additional charge. The sweet beverage comes in regular or large, but I ordered a regular for $6.89 (without whipped cream). 
The look: Shake Shack's milkshake was very dark brown like the color of an old-school milk chocolate bar. It was a bit difficult to stir at first, due to how thick it was made, but it did look creamy and smooth. 
The taste: Anyone with a HUGE sweet tooth needs one of these milkshakes. The chocolate flavor is sweet, rich, and it tasted as if I was eating that chocolate milk powder straight from a box but in ice cream form. I definitely believe that this chocolate milkshake from Shake Shack should only be for dessert or left as the last thing you touch as part of this meal because of the sugar level. It's super duper chocolatey (which is great for me as a chocolate lover), but I think I would've preferred a scoop of the custard instead of the melted ice cream soup I got in this cup. Shake Shack's custard shake is not for the faint-hearted, as it is very thick, so beware that using a spoon to eat it couldn't hurt.
In-N-Out Burger 
In-N-Out Burger sells three classic milkshake flavors: vanilla, strawberry, and chocolate. The chocolate milkshake from the California-based chain retails for $2.80 and is made with real ice cream, according to the website.
The look:  While In-N-Out's chocolate shake was slightly smaller and far less dark or deep chocolate brown compared to Shake Shack, it looked delicious. It had a hand-spun texture and seemed very velvety when I swirled the straw around. I might even go as far as to say In-N-Out's take reminded me of a Frosty from Wendy's. 
The taste:  Just as I predicted from the look of things, this milkshake had a great consistency and a light and subtle chocolate flavor. One other positive to report, the size of the shake was solid for me; I had enough to drink from the straw and to be able to dip my fries in as well. The chocolate didn't taste artificial, which is a big reason why this milkshake is one of my all-time favorites. It tasted similar to mixing vanilla ice cream and chocolate syrup together. It had a rich flavor without being overpowering. 
In-N-Out does make quite a thick milkshake, but not as thick as Shake Shack's, and definitely not enough to need a spoon (Pro tip: let it sit for a minute or two after getting it and it will come up the straw just fine!)
The winner: In-N-Out gets another gold star for making an amazing milkshake. I enjoyed Shake Shack's frozen drink, but it was way too sweet and thick. While both use real ice cream, In-N-Out's shakes are lighter and creamier.
Overall Winner: In-N-Out Burger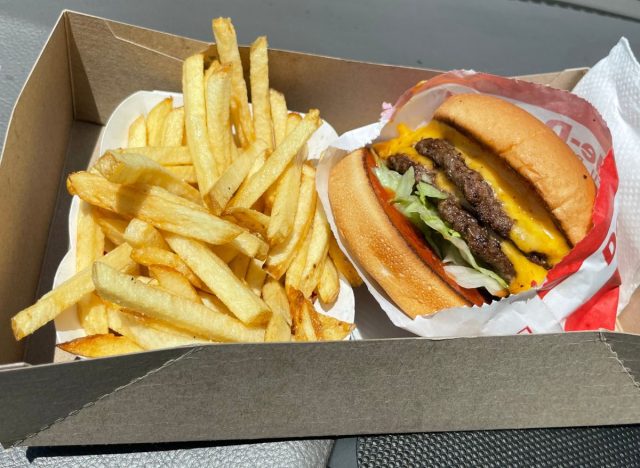 Comparing the burgers, fries, and shakes at these iconic coastal burger chains truly shined a light on who does what better. While I still favored In-N-Out's amazing burger and light and airy shake, I was very impressed with Shake Shack's crispy fries, thick shakes, and cheesy double patty burger. 
I still stand by the popular opinion that In-N-Out serves the ultimate burger. The Double Double brings bold and delicious flavors that Shake Shack cannot stand up to. Every ingredient tastes freshly made and they all come together to create a perfect sandwich. 
However, I would still go back to Shake Shack. Even though Shake Shack's burger didn't live up to In-N-Out's, for this California girl, it's nevertheless still a fabulous burger chain, with crispy fries and divine milkshakes. 
Jordan Summers-Marcouillier
Jordan Summers-Marcouillier was born and raised in San Jose, California and now works as a writer in New York, NY.
Read more about Jordan