We Tried Every Burger at McDonald's & This Is the Best
Find out if the Big Mac or the Quarter Pounder reigned supreme.
If you tend to stop by the drive-thru from time to time, you probably have a go-to order. And while it's good to know what you like, sometimes that can prevent you from discovering what else is out there. (If all you get from McDonald's is a Big Mac, how do you know you wouldn't like Quarter Pounders even more?)
With that in mind, we decided to put eight McDonald's burgers to the test. While we knew the general differences between the various burgers, there were plenty of surprises along the way.
Here are our rankings of McDonald's burger offerings, from the ones we'd pass on to the one we'd definitely order again.
And for more, don't miss 8 Worst Fast-Food Burgers to Stay Away From Right Now.
This burger was very, very dry, from the thin patty to the bun. Part of the dryness came from the fact that I ordered all of these burgers sans ketchup (other than the Big Macs, which don't come with ketchup). But if you're relying on one condiment to keep your burger from becoming as dry as the Sahara, that's not a great sign.
If you're dairy-free and want a McDonald's burger, consider paying a little extra to add vegetables or sauce to this plain hamburger. We liked the pickles but couldn't taste much else.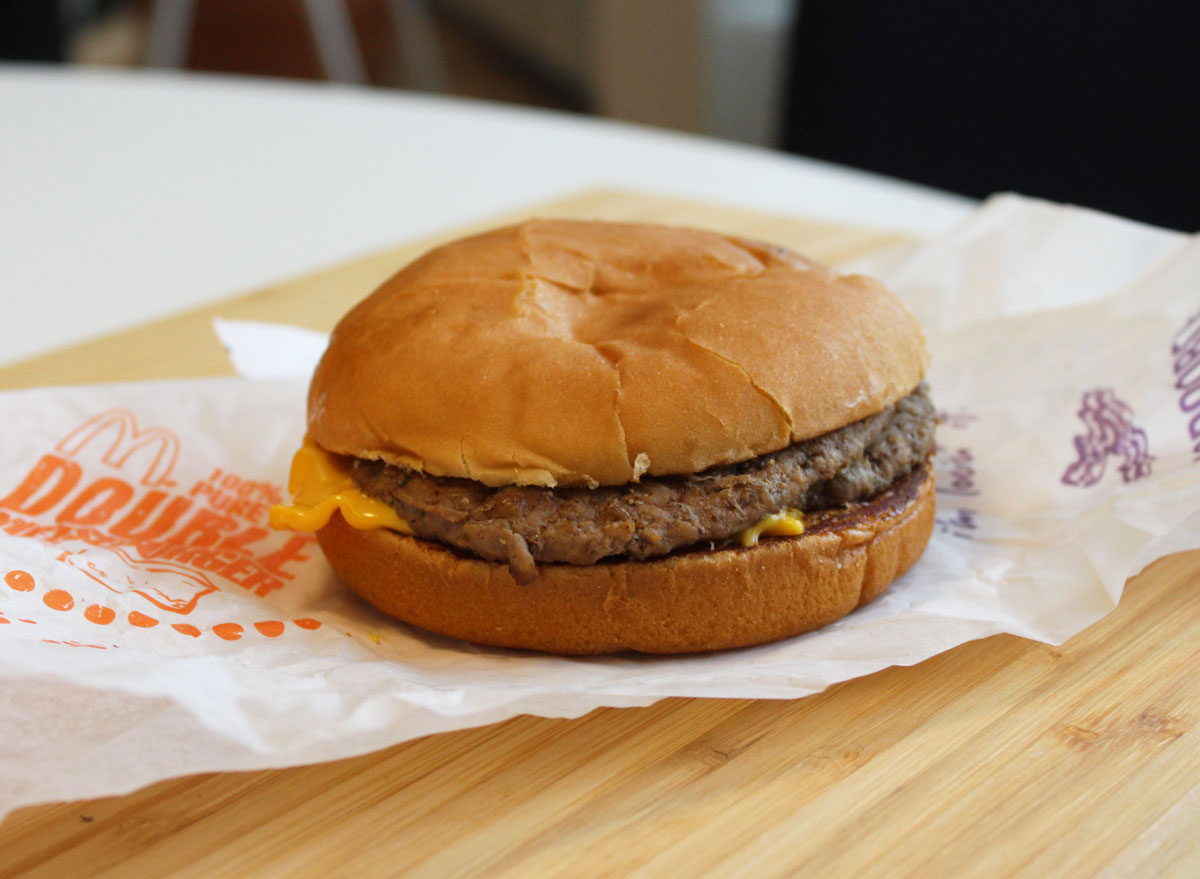 The McDouble uses the same thin patties as the value hamburger and cheeseburger options. It looked so thin, I almost thought it was the single cheeseburger at first. I enjoyed the diced onions, but they could be overwhelming for someone who isn't an onion fan.
If you're on a budget and want to order this instead of the pricier burgers, you can upgrade the McDouble by adding lettuce and tomato, sauce, or bacon. As it comes, it tastes like onion and dry meat, and not much more than that.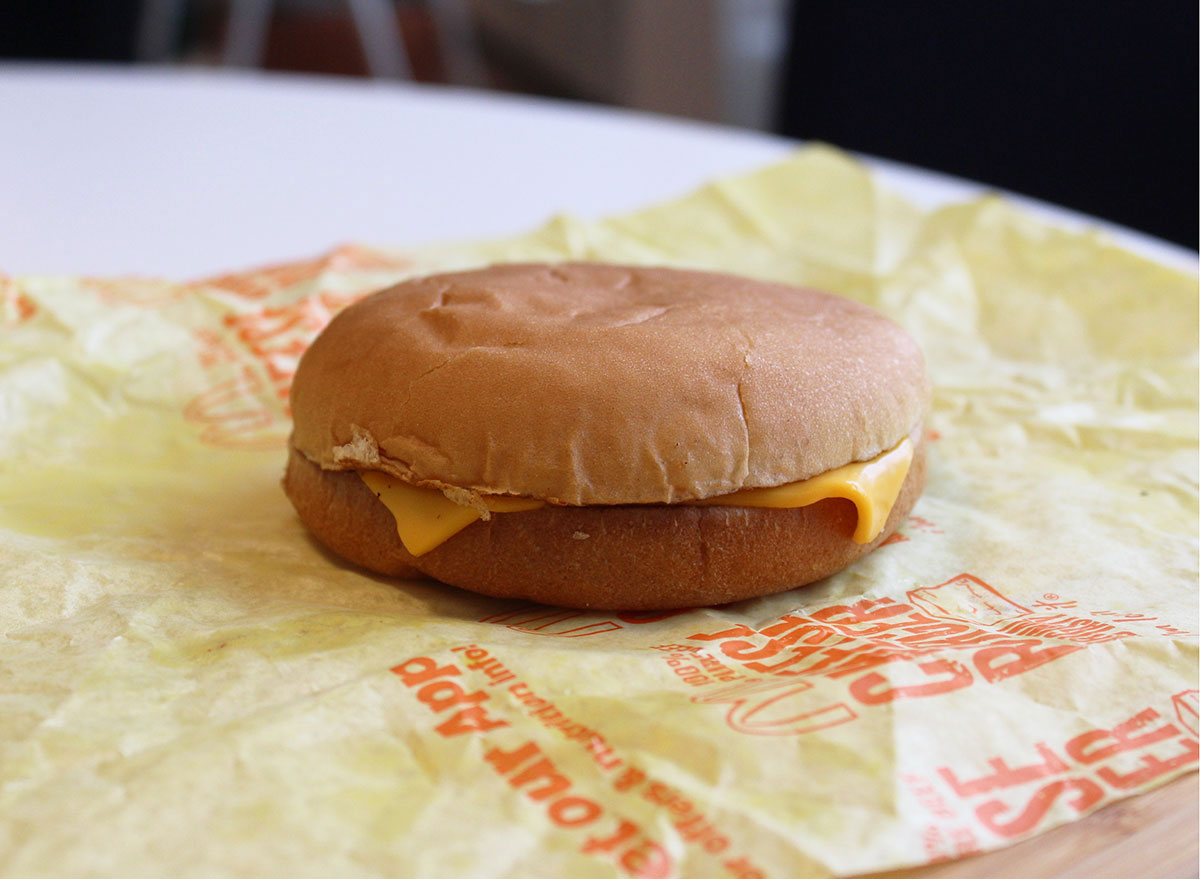 The coworker who tried all of these burgers with me said that the cheeseburger tasted like it had more cheese than the McDouble, which put it higher on the list. A third person said that they liked the contrast between the sharp cheese and the drier bun in McDonald's classic budget offering.6254a4d1642c605c54bf1cab17d50f1e
Still, this is a very thin patty, and there aren't toppings besides the pickle, ketchup, and diced onions.
Bacon Quarter Pounder with Cheese
The bacon was not a welcome addition to this burger. It made the whole thing taste salty, and the bacon was chewy, rather than crispy. You'd think adding bacon to a sandwich would generally be a good thing, but it brought this sandwich further down on the list than the other Quarter Pounder options.
Quarter Pounder with Cheese
This burger was topped with sliced (not diced) onion—a lot of it. If you aren't an onion fan, you'll probably find yourself picking the onion slices off of this sandwich. I liked the onion, but it's something to keep in mind.
We also liked that this sandwich had two cheese slices for one patty, and the larger patty tasted much fresher than the smaller ones that came in the budget-friendly burgers.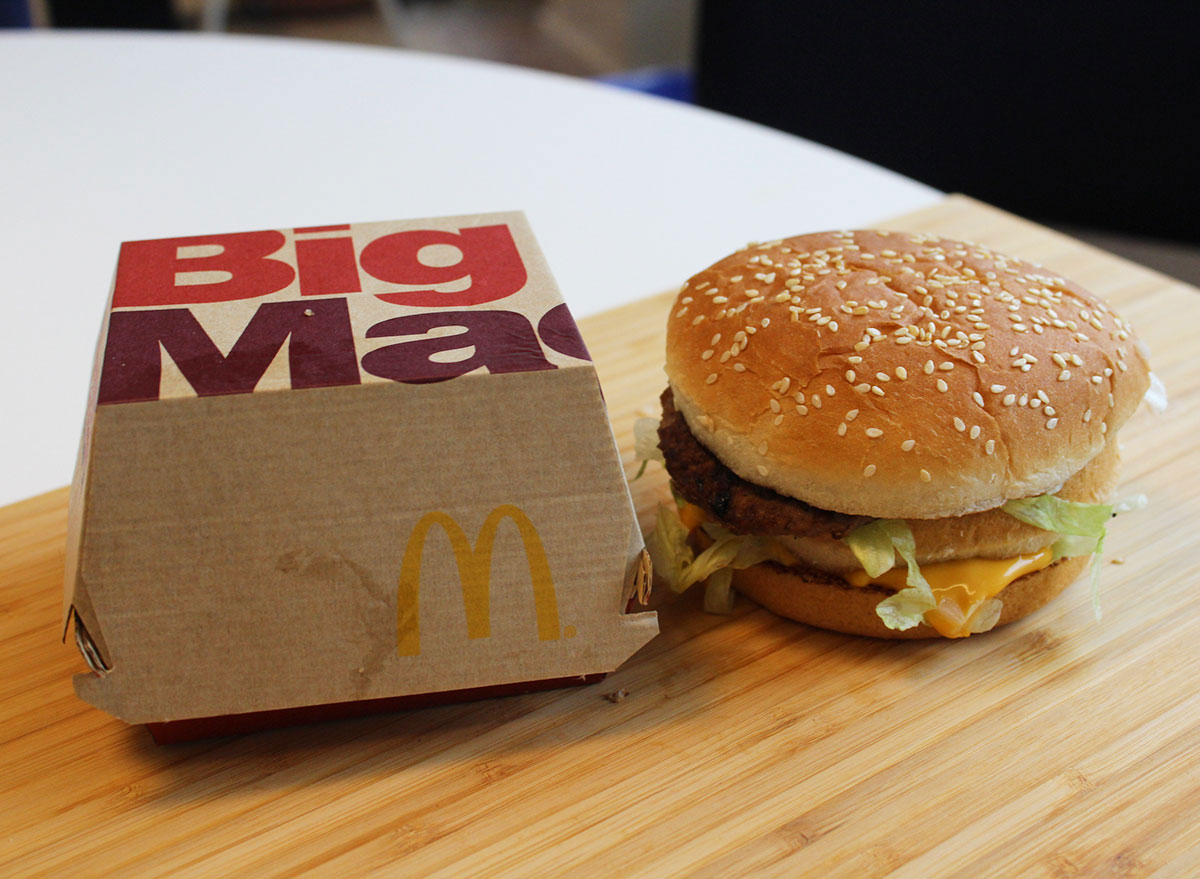 This is McDonald's most famous burger for a reason. You can't beat the Big Mac sauce, which helped this burger make the top three on our list. We also liked the bun on the Big Mac, which tasted less dry than both the Quarter Pounder buns and the budget burgers' buns.
Still, we weren't fans of the thinner, drier patties that come with a Big Mac. If you wanted to get creative, you could add Big Mac Sauce to a Quarter Pounder or to a McDouble for a meatier or more affordable meal.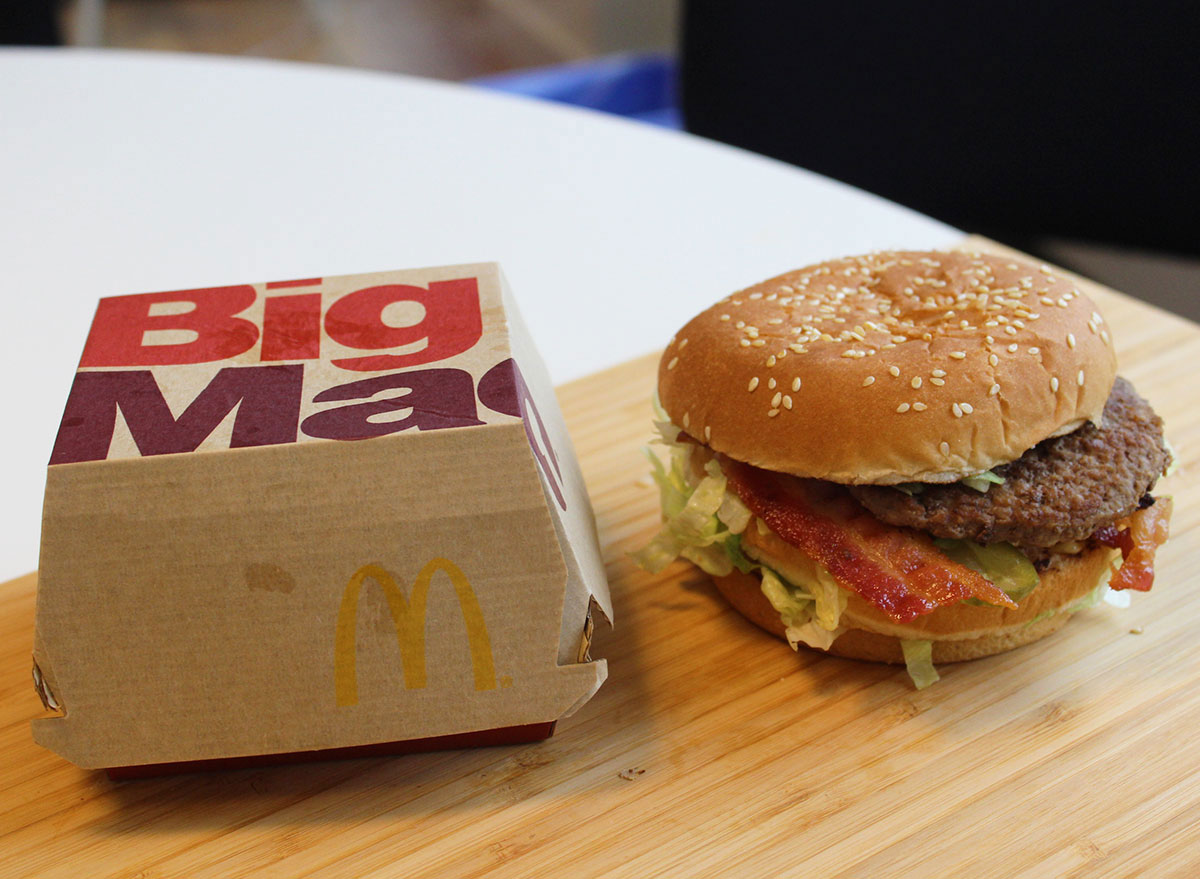 The bacon worked better with the Big Mac than it did with the Quarter Pounder. The extra bun slice in the middle helped cut the saltiness of the bacon, making it a delicious option.
Quarter Pounder with Cheese Deluxe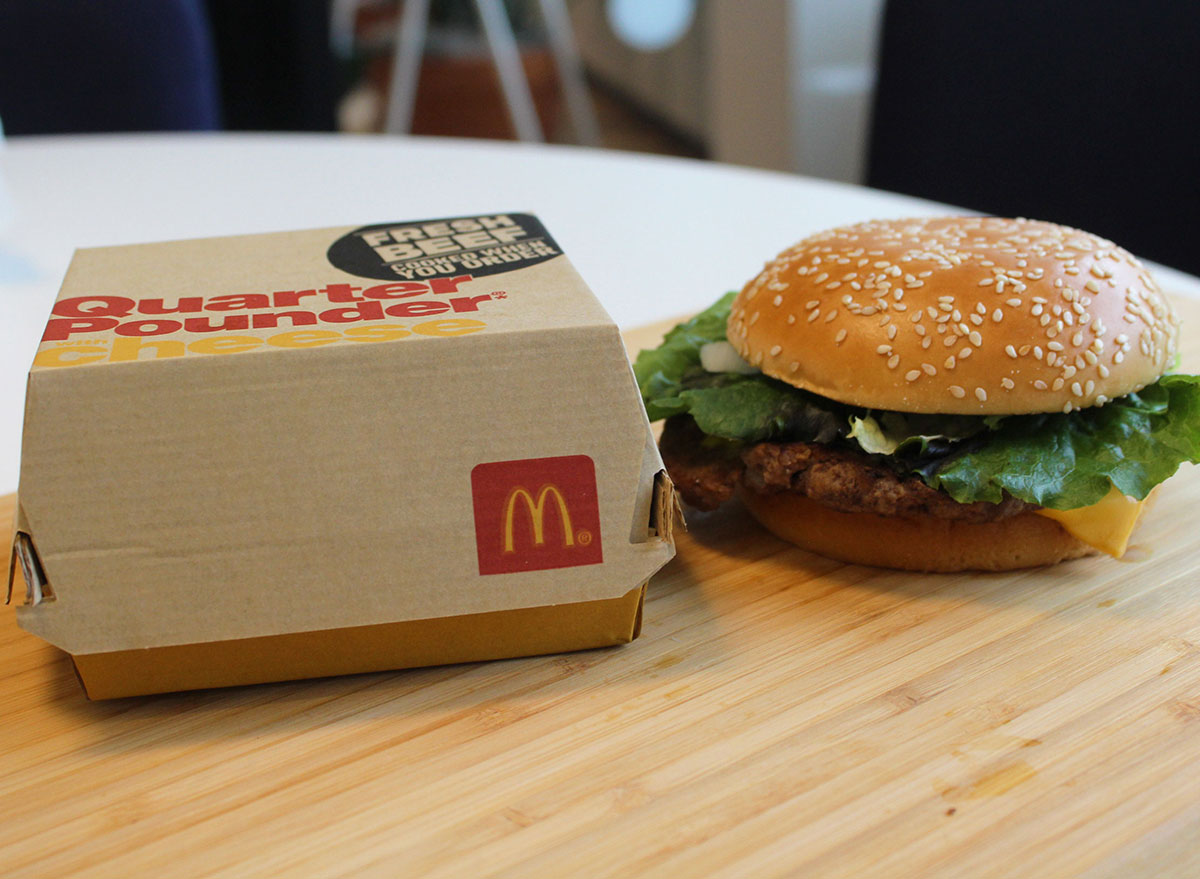 This burger blew us away. The beef patty was juicy and fresh, and the lettuce, tomato, onion, and mayo all worked together in topping harmony. My coworker and I both said "wow" after tasting this one—it was that good. If you've got a few extra dollars to spend at McDonald's, this burger is worth it.
Overall, we found that paying a little more at McDonald's will get you a better burger. But if you'd rather stick to the cheaper options, like the McDouble and the cheeseburger, you can always upgrade them by adding your own toppings.
Read more about the best things to order at McDonald's:
Meghan De Maria
Meghan De Maria is a senior editor at
Eat This, Not That!
, specializing in food, product, and restaurant coverage.
Read more about Meghan