8 Fast-Food Restaurants That Serve the Best Milkshakes
They're thick and packed full of sweet heavenly flavor.
Believe it or not, the milkshake is only a little more than one hundred years old—or at least the milkshake as we know it today, that sweet, frosty treat made with ice cream and flavoring and, of course, milk. According to The Dairy Alliance, if you were to ask for a milkshake before the year 1922, the viscous beverage you would have been served would have contained milk, eggs, syrup, and quite likely, whiskey, as well.
It was in the summer of 1922 that a Chicago-area Walgreens employee named Ivar "Pop" Coulson had the sweet idea of adding ice cream to his soda fountain's malted milk beverage. It was an immediate hit because, well, obviously: it was a milkshake. Milkshakes became such a staple of the American culinary scene that, per Reader's Digest, a "Triple-Thick Shake" was one of but nine items included on the very first McDonald's menu.
And milkshakes would be present on the first Burger King menu, too. When Wendy's first opened, the Frosty arrived. So too with Sonic Drive-In and most other fast-food chains, too. Today, almost every fast-food chain offers a milkshake. But not every fast-food milkshake offered is of a quality deserving of its calories.
We've scooped our way through personal taste tests (and a swirl of internet opinion) to come up with these eight best fast-food milkshakes that deserve your sip, or slurp, or fry dip—you enjoy however you want!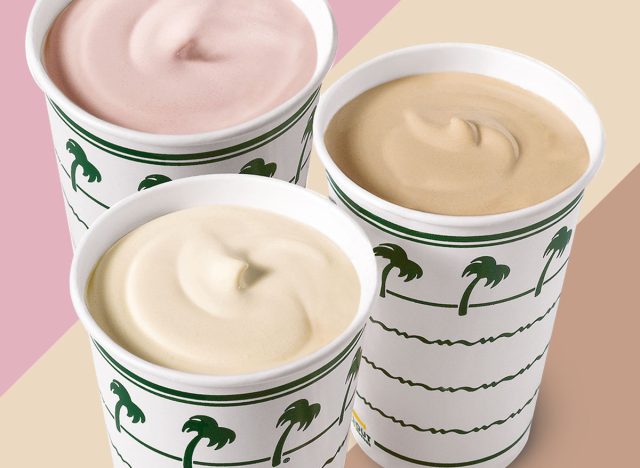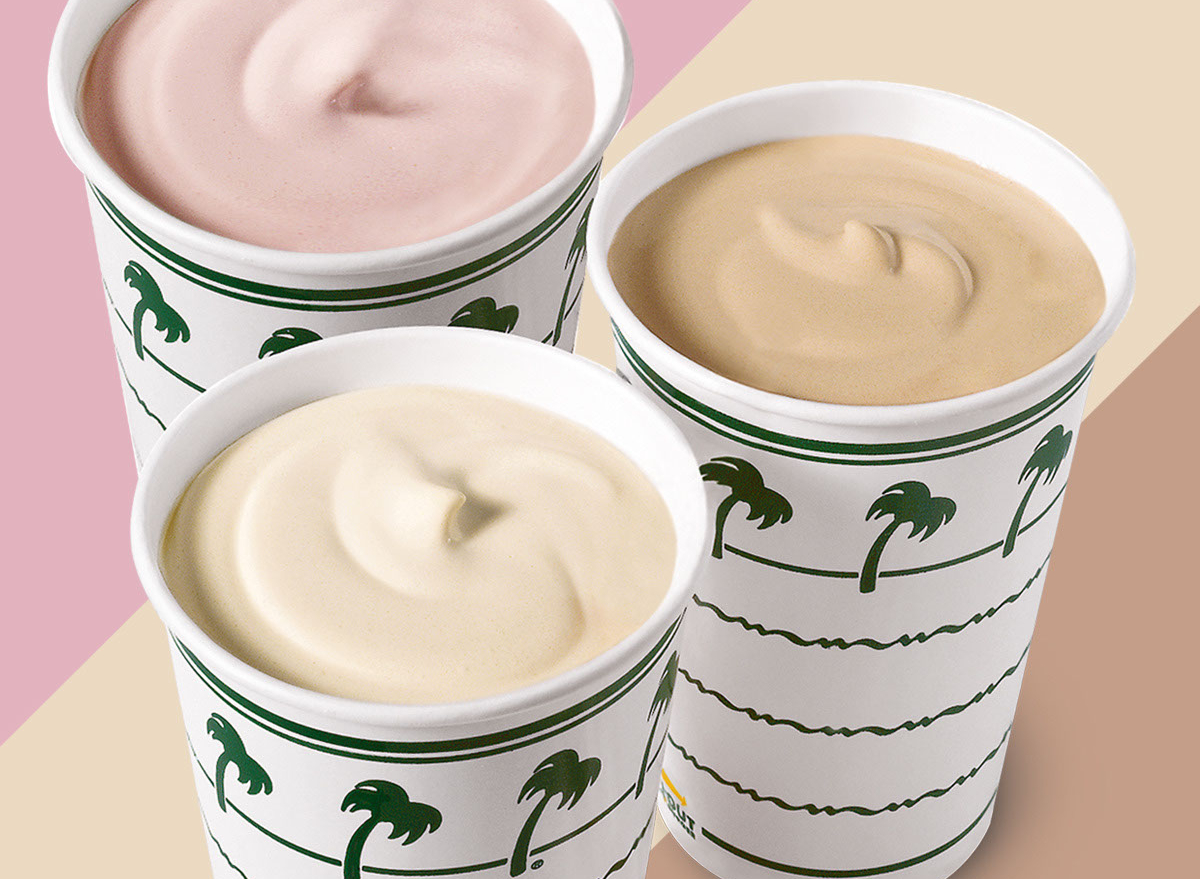 Fair warning that In-N-Out's 100% real ice cream milkshakes are so thick you will either need to employ a spoon or need to wait a bit and let the ice cream melt some. Fans rave about the shakes that are only served in three flavors: vanilla, chocolate, and strawberry. The pro tip? Go for a Neapolitan milkshake, wherein you will get a mix of chocolate, vanilla, and strawberry ice cream.
No surprise that Sonic makes some mighty fine shakes, given how much of this chain's brand identity is wrapped up in its frozen treat offerings. Sonic has slushes, sundaes, cones, blasts, and—last but not least—shakes. And these 100% real ice cream shakes are some interesting shakes at that. A quick check of the current Sonic shake menu turns up options like Strawberry Cheesecake Master Shake, Fresh Banana Classic Shake (a fave with many internet folks), Oreo and Reese's Peanut Butter Master Shake, and many more.6254a4d1642c605c54bf1cab17d50f1e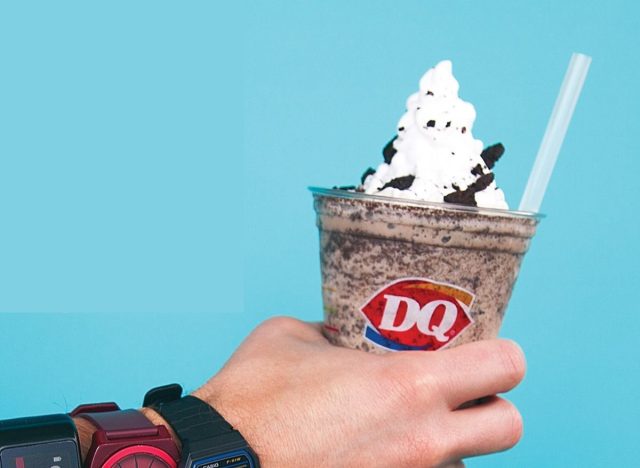 Dairy Queen's burgers may not be at the top ranking of too many "Best Fast-Food Burger" roundups, but the chain has got it going on when it comes to shakes. Like Sonic, Dairy Queen offers a lot of different fancy milkshakes (and Blizzards, but that's a whole other thing) all made with its signature soft serve. Choose from classics like Vanilla, Chocolate, and Strawberry, or try Banana, Caramel Mocha Chip, and Peanut Butter.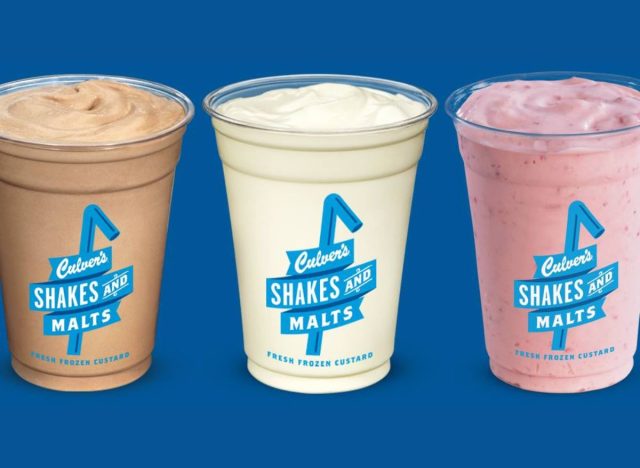 There are more than 925 Culver's locations in America today, but the chain is heavily concentrated in the Midwest, with a number of locations in the South, in Arizona, and in the Rockies states, too. And according to online chatter, those of us living on the West Coast and in the Northeast are missing out, because Culver's has some mighty fine shakes made from the chain's frozen custard.
Frozen custard—which is made with egg yolks, while traditional ice cream is not—is whipped up all day in small batches at Culver's. These could be the freshest fast-food milkshakes you've ever had. Plus,  they come in a variety of exciting flavors like peanut butter, salted caramel, and root beer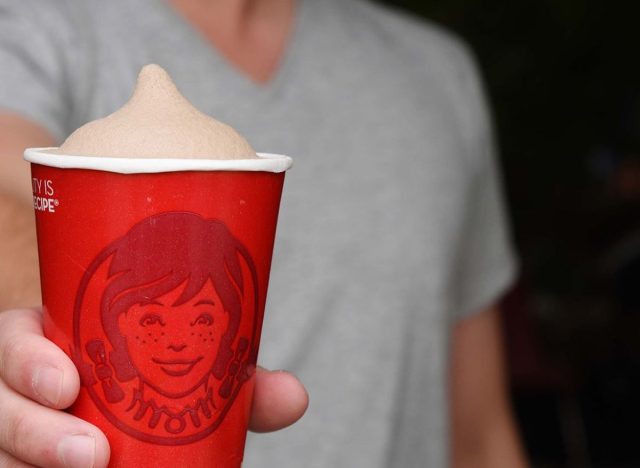 According to Reader's Digest, Wendy's famed Frosty is basically a cross between a milkshake and soft-serve ice cream. But anyone who has ever tried to consume a freshly-served Frosty via a straw could have told you that.
These rich, thick, inimitable frozen treats are a staple of the beloved Wendy's brand that, in stark contrast to the many flavors and mix-ins on offer at other chains, are always available in just two flavors at any given time. And usually, the choices are simply Chocolate or Vanilla. The most recent flavors included Strawberry, during the summertime, and Peppermint, for the holidays.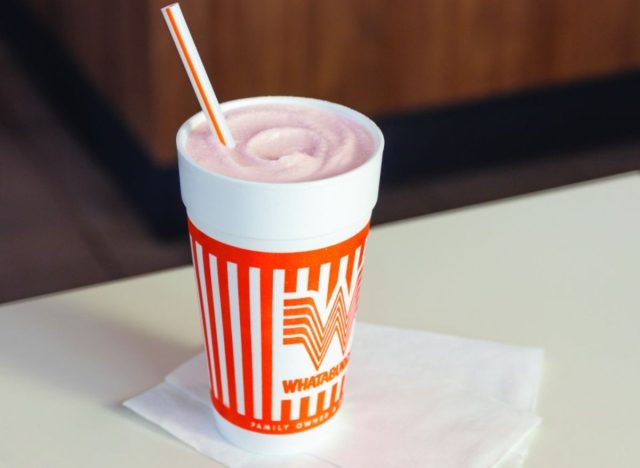 This Texas-centric burger chain might as well call itself Whatamilkshake because this burger joint does indeed have amazing shakes. Whataburger is willing to push the envelope flavor-wise, trying out such offerings as a Dr. Pepper milkshake, a White Chocolate Raspberry shake, and a Banana Pudding shake, a bygone flavor lamented by many in the Reddit community.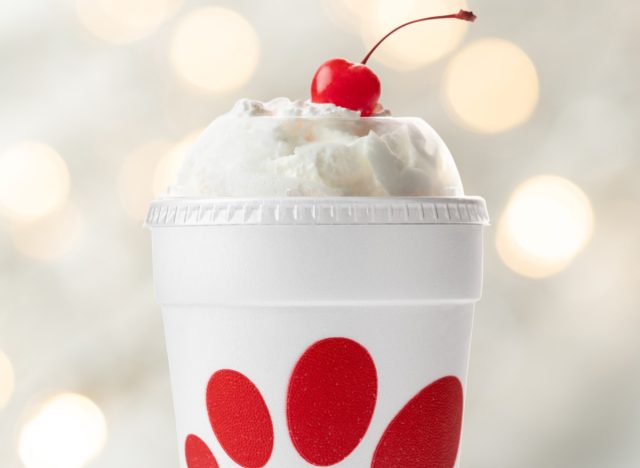 At a quick check of Chick-fil-A locations around America, we found that, on average, the chain's shakes sell for a little over $5. While this is pricey for a frozen fast-food treat, so many people swear by these shakes that they are worth a try. There are no machines churning out these shakes, each one is hand-spun the old-fashioned way.
In a discussion about the best shakes Chick-fil-A offers, the debate rages on, but one flavor usually has the upper hand. A comment reading "cookies n cream all day" had received dozens of upvotes, though past/seasonal flavors like peach and peppermint also get plenty of love.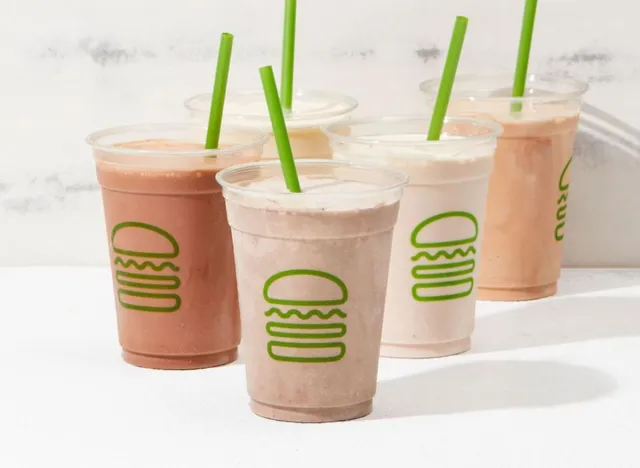 Did you think we were going to leave this one out? No fast-food milkshake list is complete without Shake Shack. The shakes are all made with house-made custard and hand-spun when you order them.
Flavors vary depending on location and the time of year but vanilla and chocolate are always available. One or two seasonal creations rotate on and off the menu with Tiramisu and Dreamsicle appearing right now. Dreamsicle is a creative mixture of vanilla and blood orange frozen custard, topped with whipped cream and crushed orange candies.
Steven John
Steven John is a freelancer writer for
Eat This, Not That!
based just outside New York City.
Read more about Steven