Ina Garten Just Revealed How She Grills a Perfect Steak Every Time
Ina Garten posted a foolproof method for grilling steak to her Instagram, right in time for Memorial Day!
Memorial Day weekend is approaching, which means people are making plans to fire up the grill and cook their favorite burgers, hot dogs, veggies, and for some who really want a treat—their favorite cuts of juicy steak. But steak lovers everywhere know that grilling the perfect steak can be quite the challenge, and one false move may mean wasted time, energy, and money, along with disappointed and hungry guests. Thankfully, famous chef, TV host, and author Ina Garten came to the rescue on Instagram yesterday, sharing a video of her favorite foolproof method for grilling a delicious steak, proving that not all heroes wear capes.
"I used to be terrified to grill," said Garten at the beginning of her Instagram video. "I'd buy these gorgeous steaks, and they're really expensive, and then I was sure I was gonna overcook them."
Her opening line is relatable to many of us, as cooking may come naturally to some, but for others, it can be quite a scary process. But Garten, who worked at the White House in nuclear energy policy before leaving that life behind to become an owner of a small food shop, is now an expert in teaching people how to kick their fear of cooking to the curb. In fact, her Instagram account has almost 4 million followers. Additionally, she's written 13 cookbooks, and she has hosted multiple cooking shows, including Barefoot Contessa on the Food Network. And now, with her video on how to cook the perfect steak for Memorial Day, even something as tricky as grilling your favorite meat can feel much easier.
In the Instagram video, Garten continued to explain that she actually learned the grilling method from "one of the owners of Lobel's Meat Market." On her website, where she lists the full recipe for Grilled New York Strip Steaks, she further specifies that it's Mark Lobel—who she also refers to as "one of the top butchers in the country," who first taught her this steak secret.6254a4d1642c605c54bf1cab17d50f1e
The secret method is actually quite simple. She explained that first, you need thick-cut steaks—about 1.5 inches thick (she uses New York Strip). She also notes that the key here is to only put coals on one side of the grill, leaving the other side completely cool without any coals.
"I put the steaks on the hot side to sear them for two minutes exactly," Garten noted before leaning over to set her timer. "And then I'm gonna turn them over and sear them for two minutes on the other side," she shared with her Instagram followers.
After the steaks cook for two minutes on each side on the hot side of the grill, Garten then moves the steaks to the cool side and puts the lid on top of the grill.
"It's going to cook for exactly 8 minutes if you want it rare and 10 minutes if you want it medium," she explained.
And for those with a gas grill, fear not! Garten has not forgotten you. According to her online recipe for Grilled New York Strip Steaks, "With a gas grill, cook the steaks for 2 minutes on each side, then turn off 1 or 2 burners and place the steaks on the cool side of the grill to cook for 10 to 12 minutes."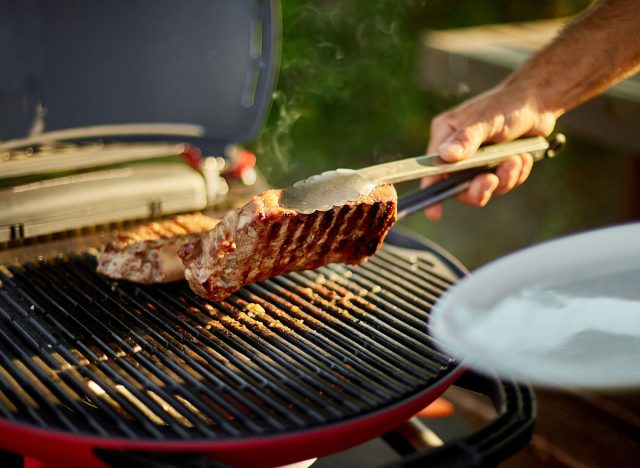 The reactions to Garten's video were mixed. Most of her fans showed their love and appreciation for her easy recipes. "Our Queen," says one user.
"Thank you Ina!! Love all your tricks. You are all over my menu this weekend," says another.
However, some fans had their doubts, with one who commented: "I love the way you cook…and really all that you do, but…there are so many variables to what you just did that it's virtually impossible for anyone to replicate that solely based on time!"
Many Instagram users also asked questions, and America's sweetest chef seemed to respond to as many as she could.
One wrote, "I'm confused. The hot side is where the charcoal is and the cool side has no charcoal. Is that right?"
"Yes! That's right. With lid on, the grill becomes an oven," responded Garten.
"How long to let it rests after take them off the grill?" another person asked.
"Good question! Cover it with foil and let it rest for 10 minutes." Garten replied.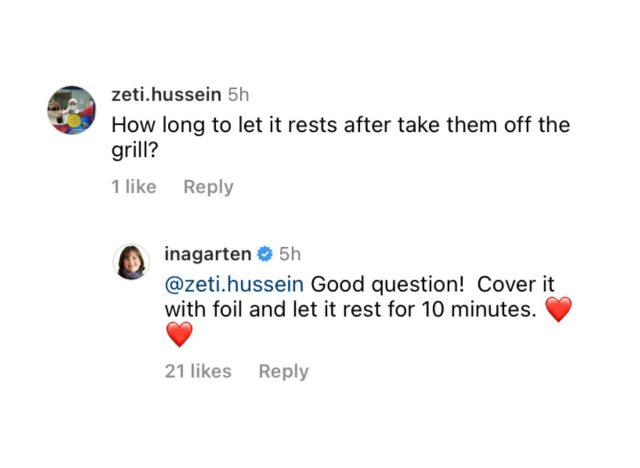 At the end of her video, as she cuts into her freshly grilled steaks, Garten says,
"Perfectly cooked, every time," said Garten toward the end of the video clip. "And what's amazing is, I really trust it, so I'm not nervous when I'm doing this."
'Well, I wish you a really happy happy Memorial Day weekend," concludes Garten. "Have a party with the people that you're with, and have a really good time."