5 Best Instant Oatmeals To Buy for High Blood Sugar
Manage your blood sugar with these deliciously easy instant oatmeals.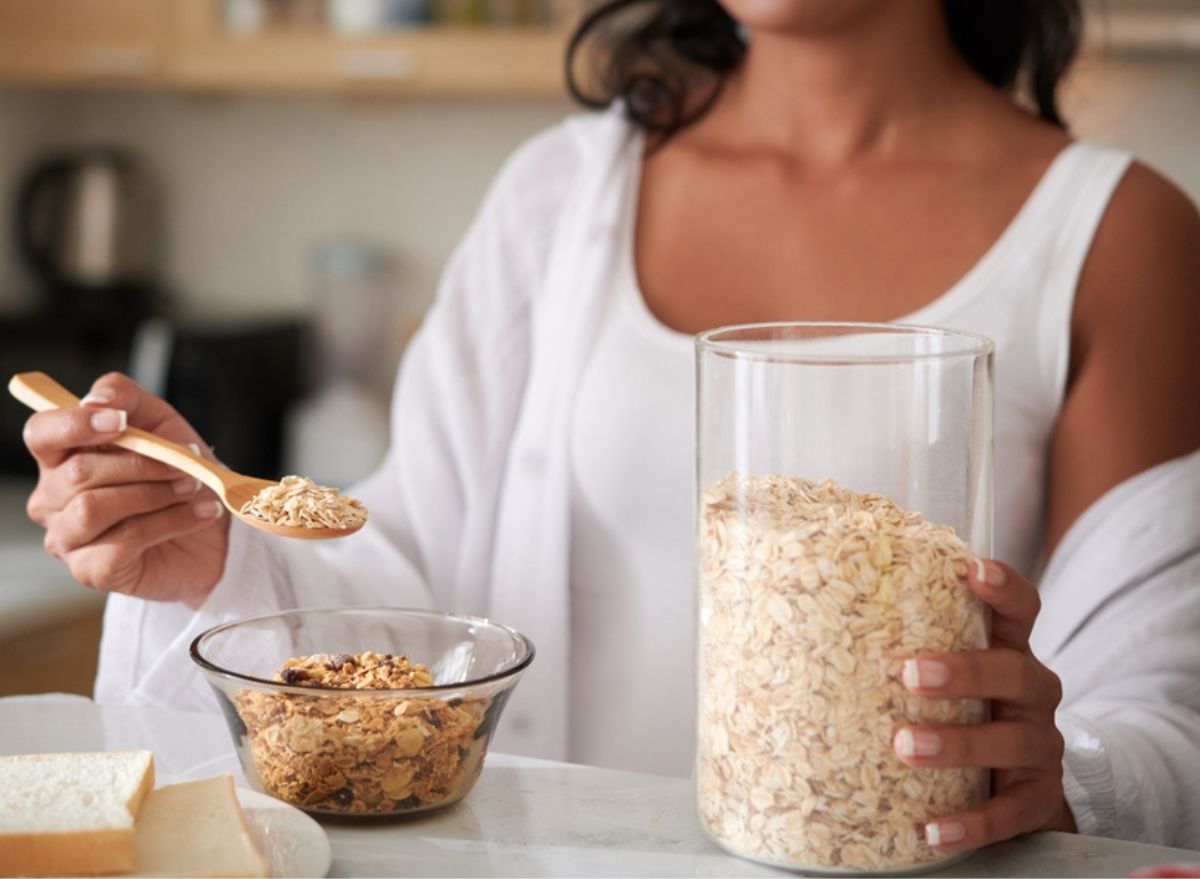 This post contains affiliate links. If you use these links to buy something, we may earn a commission.
If you're concerned about your blood sugar, you might be wondering if having oatmeal for breakfast can still work for you. While it's true that oatmeal is a source of carbohydrates, it also contains plenty of fiber, and some new products on the market also contain added protein.
Fiber and protein work to balance carbs in our diet and keep blood sugar stable throughout the day. Although portion size does matter, there are more factors in helping prevent blood sugar spikes. For example, pairing your carbohydrates with foods that slow down absorption and keep blood sugar from spiking quickly is as equally important as being conscious of carbohydrate portion sizes.
By creating a balanced breakfast, you can make sure that oatmeal works for you and your blood glucose levels. To create balance at any meal, you'll want to focus on three main nutrients on the label:
Protein
Healthy fats
Fiber
These three nutrients help prevent your blood sugar from spiking by taking a long time to digest. Protein, fat, and fiber are sitting in your stomach longer, which prevent the meal from spiking your blood sugar right away. Instead, you end up with a steady stream of energy that keeps your blood sugar stable for hours after eating.
So what products offer this blood sugar balance? Read to learn about the best instant oatmeals for high blood sugar, then check out The 4 Best Coffee Creamers for Blood Sugar.
Purely Elizabeth's Blueberry Flax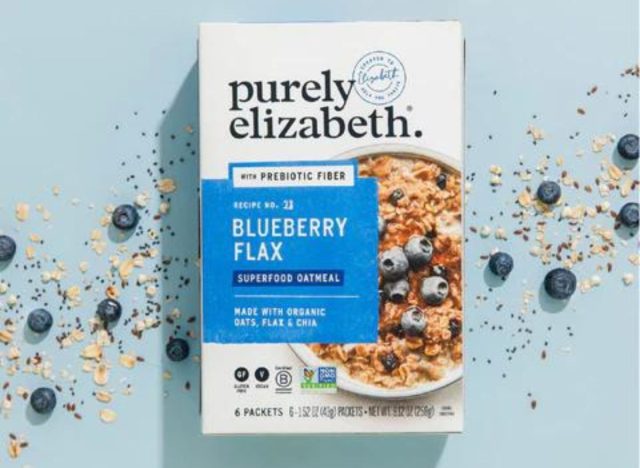 This instant oatmeal comes with prebiotic fiber, flax, and chia seeds for healthy fat, added fiber, and a little protein. Each package contains 160 calories, 30 grams of carbs, 6 grams of fiber, and 4 grams of protein.
If you prepare it with milk, you can increase the protein content to help slow down absorption. If this meal alone is not enough for you, I advise pairing it with a side of protein like eggs, cottage cheese, or Greek yogurt to help increase the staying power of this meal.
Quaker Instant Oatmeal Protein
Quaker has elevated their tried-and-true oatmeal product line with an added protein option. Their instant oatmeal with protein now carries an additional 10 grams of protein from whey protein concentrate to help you regulate your blood sugar while still enjoying your favorite breakfast.
One serving also has 220 calories, 41 grams of carbs, and 5 grams of fiber. Enjoy your favorite flavors like Apples and Cinnamon, Banana Nut, and Maple Brown Sugar.
Kodiak Cakes Instant Oatmeal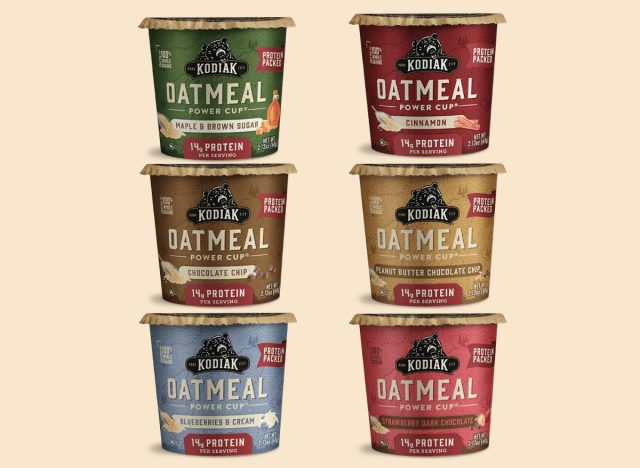 Kodiak Cakes does a great job at creating products that remind us of our favorite comfort breakfast foods, but with more balanced nutrition. Their oatmeal is no exception, with 190 calories per serving, 31 grams of carbs from whole grains, 3 grams of fiber, and 12 grams of protein from a combination of milk protein and whey protein isolate.6254a4d1642c605c54bf1cab17d50f1e
This option is super balanced and can be easily paired with toppings that are high in additional protein, fiber, and fat that help keep blood sugar stable. I love to pair the cinnamon flavor with chia seeds, chopped walnuts, and half a banana sliced on top.
Brave Better Breakfast Bowls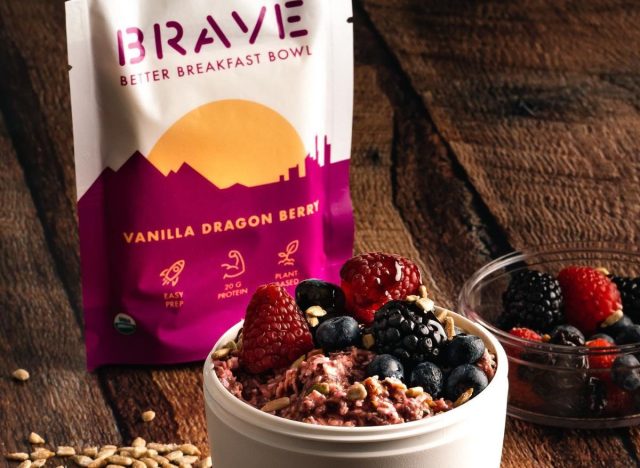 Brave's Better Breakfast Bowls offer more nutrition for a balanced meal than most traditional instant oatmeal. One single serving pack has 460 calories 26 grams of fat, 51 grams of carbs, 14 grams of fiber, and 20 grams of protein. They use a blend of chia seeds, hemp seeds, and pea protein to boost their fiber and protein content.
My favorite flavor is the Vanilla Dragon Berry, and I love that it is high in protein while also being plant-based. These versatile breakfast bowls work great as overnight oats or quickly heated up with hot water.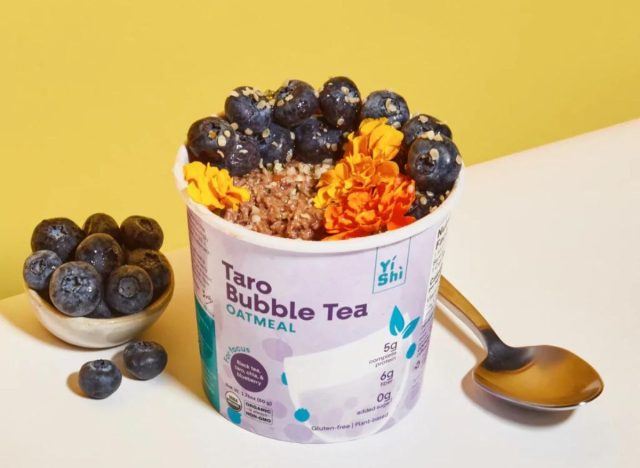 This Chinese-inspired breakfast cuisine brings fun, new flavors to the instant oatmeal world. My favorite flavor is Taro Bubble Tea, which contains a mixture of black tea, taro, chia, and blueberry for a balanced flavor that is creamy and delicious.
One instant cup provides 200 calories, 31 grams of carbs, 6 grams of fiber, and 5 grams of protein. Yishi combines flaxseeds, hemp seeds, and chia seeds to create a high-fiber, high-protein oatmeal cup! Just add water, and you have an easy mid morning pick-me-up or afternoon snack when you need it.
Caroline Thomason, RDN
Caroline is a women's health Registered Dietitian and diabetes educator based in Northern Virginia.
Read more about Caroline