9 Best Oatmeal Recipes for a Longer Life
Oats are already healthy, but you can make them even healthier with these nutrient-dense toppings.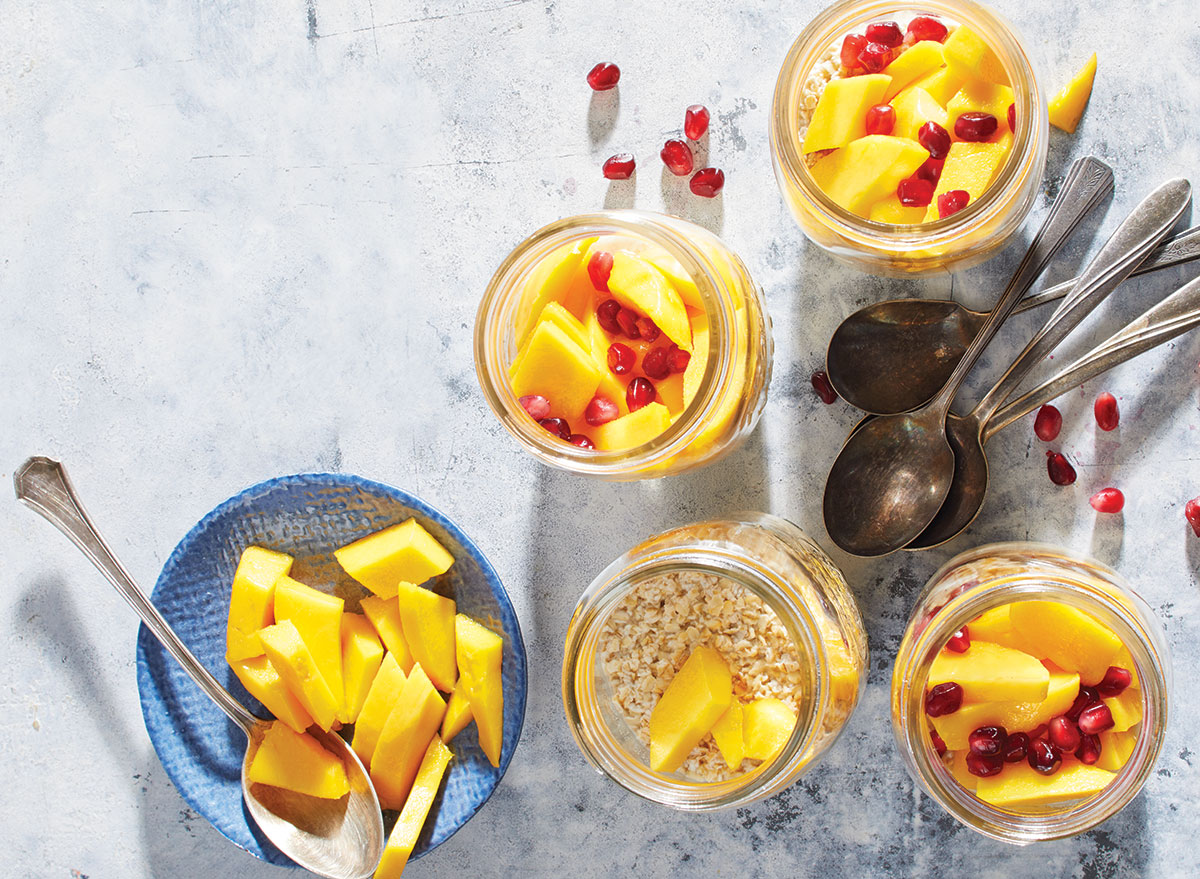 It's no secret that oatmeal is one of the healthiest breakfast foods you can eat. For one, oats are rich in a soluble fiber called beta-glucan, unsaturated fats and healthy fatty acids, vitamin E, and many helpful antioxidants. They can even help you live a longer, healthier life, and according to a report from the Yale University School of Medicine, oats can help reduce four common risk factors of cardiovascular disease: diabetes, obesity, hypertension, and high cholesterol.
We know that oats are healthy, but what you add to your morning oatmeal can make a huge difference. For example, if you use instant oatmeal packets that come with tons of added sugar, or if you add a lot of your own sugary ingredients, you may derail some of the potential health benefits.
But if you add ingredients that are full of healthy fats, natural sugar, antioxidants, or more fiber, you can make your bowl of breakfast oatmeal even healthier.
To help you enjoy the benefits of oatmeal, we gathered a few of our favorite healthy oatmeal recipes. These recipes contain nutrient-dense ingredients without using too many added sugars or unhealthy fats, so you'll be able to fully enjoy the benefits of oats. Then, for more tasty recipes, check out our list of 91+ Best Healthy Breakfast Recipes.
Oatmeal with Peanut Butter and Banana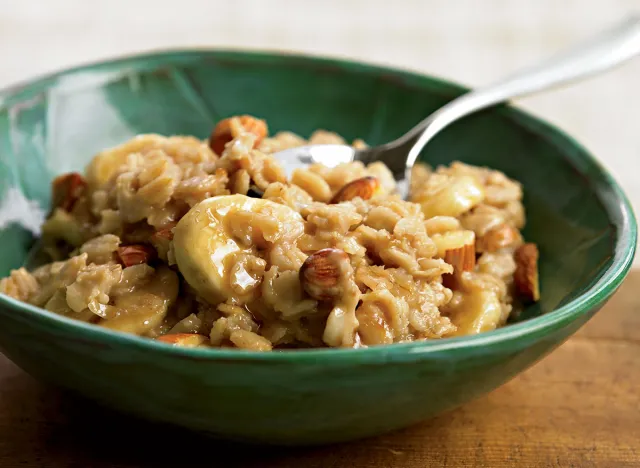 Peanut butter is a popular oatmeal topping, but many people don't realize just how healthy this topping can be. In fact, the monounsaturated fats found in peanut butter have been known to help lower your risk of death from cardiovascular disease while also helping to improve your brain health.
Get our recipe for Peanut Butter Oatmeal.
Whole 30 Grain-Free Oatmeal
While this oatmeal is completely void of oats, it's still packed to the brim with healthy, life-lengthening ingredients like chia seeds, flax seeds, nuts, and ginger.6254a4d1642c605c54bf1cab17d50f1e
Get our recipe for Grain-Free Oatmeal.
Cinnamon Roll Overnight Oats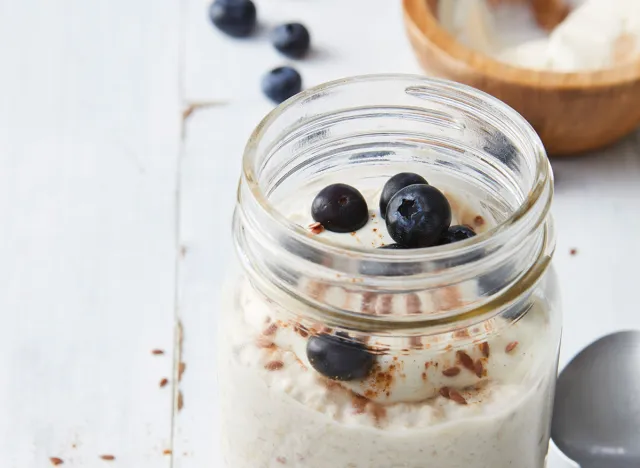 First of all, overnight oats are a great health trick because you get all of the benefits of eating oatmeal without having to wait for them to cook in the morning. This specific recipe also uses cinnamon, which has been found to help lower inflammation, improve gut health, and even help to manage blood sugar levels.
Get our recipe for Cinnamon Overnight Oats.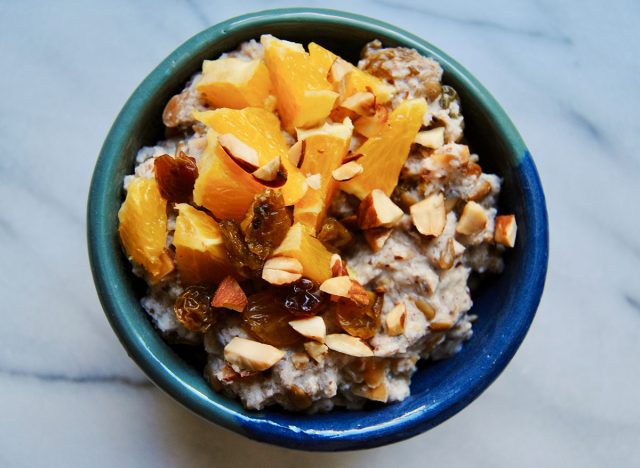 This is another healthy oatmeal recipe that doesn't actually use oats, but the alternative ingredients are too good to pass up. In this recipe, you'll find almonds, sunflower seeds, flaxseed, chia seeds, shredded coconut, cinnamon, and fresh fruit, all of which provide helpful nutrients to include at the start of your day.
Get our recipe for Paleo Oatmeal.
Peanut Butter Overnight Oats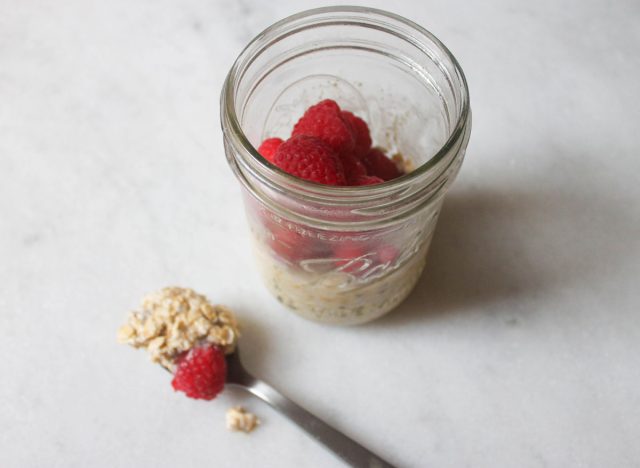 This recipe combines two of our favorite things when it comes to healthy oatmeal: peanut butter and the ability to take it on the go.
Get our recipe for Peanut Butter Overnight Oats.
Mango-Ginger Overnight Oats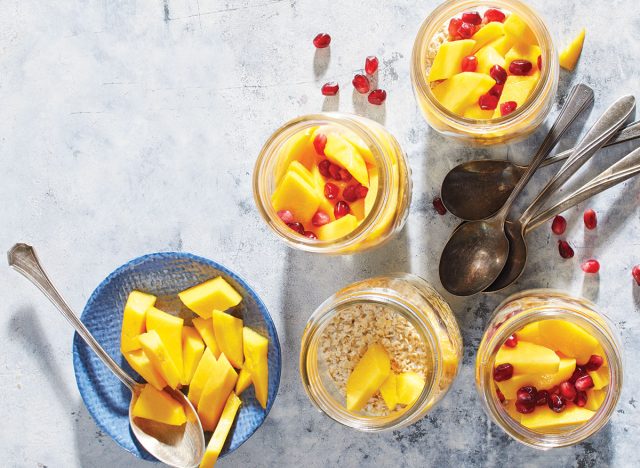 You may not think of mango and ginger as oatmeal toppings, but these two ingredients make for a delicious combination. Not only that, but ginger provides many different health benefits like improving digestion, speeding up metabolism, and even helping to fight against cancer.
Get our recipe for Mango-Ginger Oats.
Insanely Healthy Oatmeal Cookies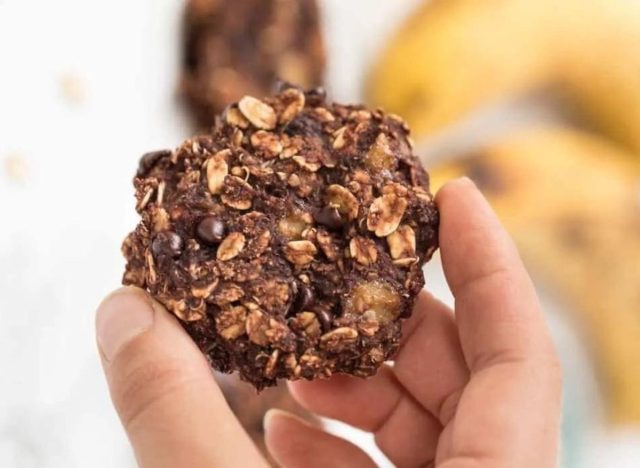 If you're feeling creative, you can bring your oatmeal out of the bowl. These oatmeal cookies are vegan and gluten-free, and they contain nutrient-heavy ingredients like flaxseed, bananas, and quinoa.
Get the recipe from Simply Quinoa.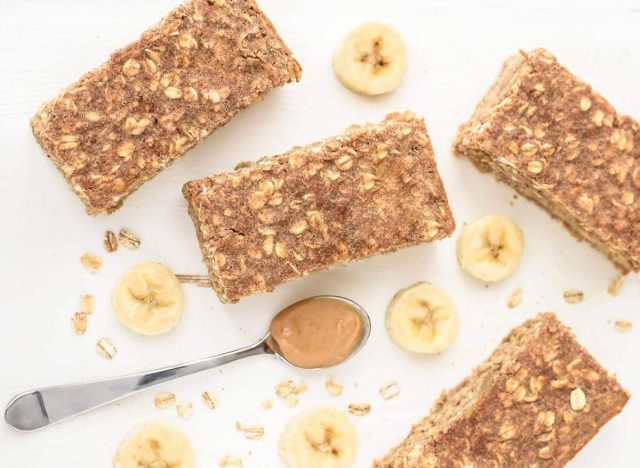 Similar to the oatmeal cookies, these breakfast bars contain all of the healthy ingredients you'd find in a bowl of oatmeal, but in a bar, you can take on the go.
Get the recipe from Well Plated by Erin.
This classic oatmeal recipe comes with berries and almonds-two ingredients that can help contribute to a longer, healthier life. The antioxidants in blueberries can help lower cholesterol, blood sugar, and your risk of heart disease, while the healthy fats found in almonds can help reduce body fat and improve your heart health.
Get the recipe from Eating Bird Food.