The Best Bruschetta Recipe, Two Different Ways
The Italian version of chips and salsa makes for the perfect appetizer.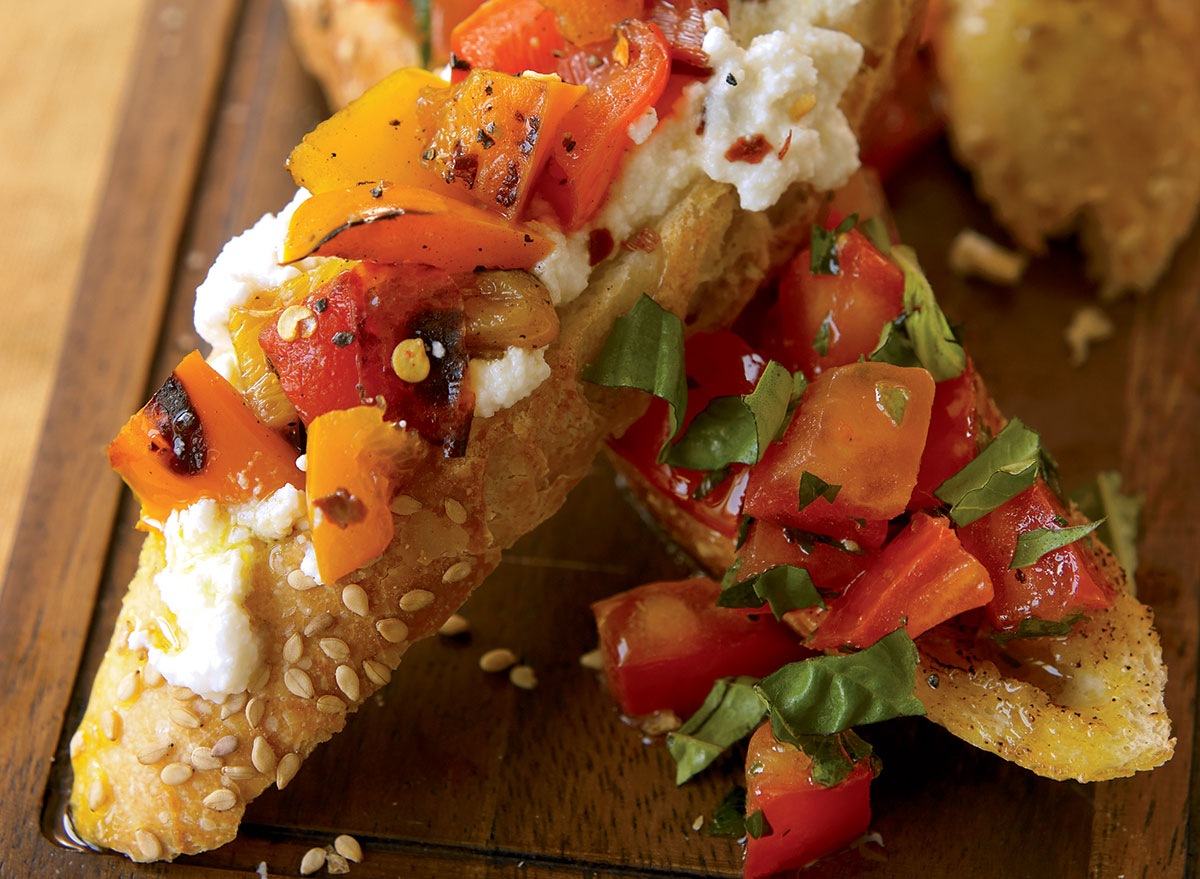 Bruschetta, the Italians' answer to chips and salsa, can make a perfectly healthy beginning to a meal. That's why it's especially shocking to see that restaurants like Carrabba's can turn a simple creation into a full-blown caloric calamity. Start your meal with something like this bruschetta recipe, and you can forget about the rest of dinner (and breakfast the next morning).
Nutrition: 240 calories, 7 g fat (2 g saturated), 410 mg sodium
Serves 4
You'll Need
For both Bruschetta recipes:
1 baguette, cut on the diagonal into 1⁄2" slices
For the Tomato Basil Bruschetta:6254a4d1642c605c54bf1cab17d50f1e
2 large tomatoes, seeded and chopped
2 cloves garlic, minced (Italians don't love raw garlic, so instead they simply cut a clove in half and rub it across the toasted bread. Feel free to follow suit.)
½ cup chopped fresh basil
1 tbsp olive oil
Salt and pepper to taste
For the Pepperonata Bruschetta:
½ cup part-skim ricotta
2 cups Pepperonata, warmed (Make a big batch and save the leftovers to stuff into an omelet or scatter across sandwiches and pizza.)
For making the Pepperonata:
1 Tbsp olive oil
2 cloves garlic
1⁄2 tsp red pepper flakes
3 bell peppers, cut into 1⁄2" chunks
2 Tbsp red wine vinegar
Salt and black pepper to taste
How to Make It
For the Bruschetta:
Preheat the oven to 450°F.
Place the baguette slices on a baking sheet and bake until light brown (but still soft in the middle).
While the bread bakes, mix the tomatoes, garlic, basil, and olive oil.
Season to taste with salt and pepper.
Remove the bread from the oven and arrange on a large serving plate or individual plates.
Top half with the tomato mixture.
Slather the other half with the ricotta, then top with a small scoop of the peppers from the pepperonata (see how-to below).
For the homemade Pepperonata:
Heat the olive oil in a large stainless steel skillet or sauté pan over medium-high heat.
Add the garlic cloves and pepper flakes and cook just long enough to infuse the oil, about 1 minute.
Toss in the peppers and cook, stirring occasionally, until the peppers are soft and lightly blistered (the best way to do this is with a screaming hot pan).
Add the vinegar and cook for a minute. Season with salt and pepper. Store tightly covered in the fridge for up to 1 week.
Eat This Tip
These five flavor combinations also make beautiful bruschetta:
Canned chickpeas sautéed with tomatoes and diced jalapeño
Jarred tapenade and feta
Sautéed spinach and shaved Parmesan
Canned white beans sautéed with jarred artichoke hearts
Pan-roasted mushrooms
This recipe (and hundreds more!) came from one of our Cook This, Not That! books. For more easy cooking ideas, you can also buy the book!