Quick and Easy Italian Tuna Melt Recipe
A new and improved version of the classic sandwich that's ready to eat in minutes.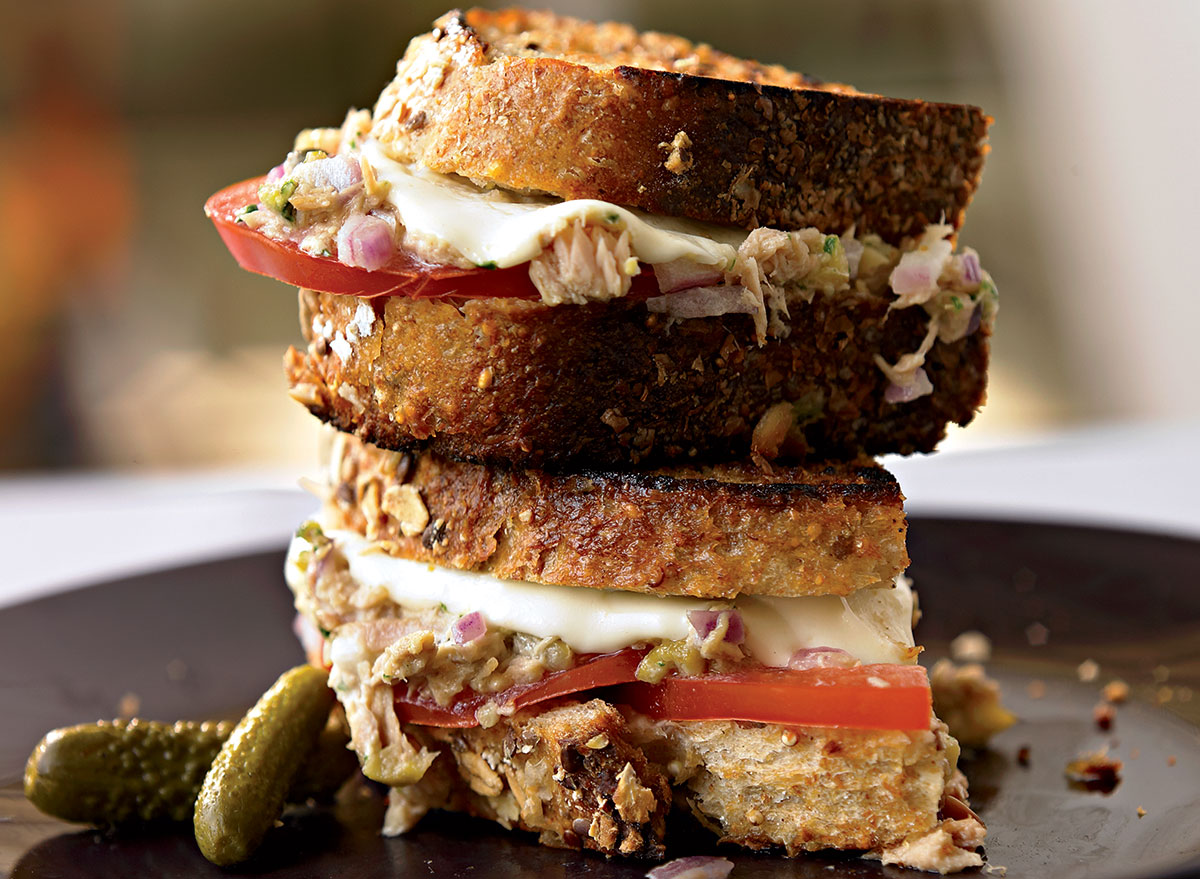 Ahh, the tuna melt: Has any sandwich squandered more potential more consistently than this fishy fiasco? The memories are smelly and visceral, aren't they? Well, they don't have to be. Let's make this quick and easy meal tasty again!
The recipe used by most establishments tells all: They usually use 2 parts mayo to 1 part tuna. Our version replaces the bulk of the mayo with a considerably healthier supporting cast that adds to the flavor without adding extra fat: pesto, lemon juice, olives, and onions. That means you can taste something other than fat when you're eating it and feel something other than fat when you're through.6254a4d1642c605c54bf1cab17d50f1e
A few added bonuses: This recipe is fast and easy, and the ingredients are tasty, yet affordable, and they are even nonperishable, so you can keep extras on hand as a go-to during a particularly packed or stressful day, and your waistline won't suffer a bit. Finally, you can enjoy this diner delight for a tasty lunch or dinner that won't weigh you down.
Nutrition: 340 calories, 13 g fat (2 g saturated), 980 mg sodium
Serves 4
You'll Need
2 cans (5 oz each) tuna, drained
1 small red onion, diced
1⁄4 cup chopped green olives
2 Tbsp olive oil mayonnaise
2 Tbsp bottled pesto
1 Tbsp capers, rinsed and chopped
Juice of 1 lemon
8 slices whole-wheat bread
2 oz fresh mozzarella, sliced (you can use low-fat shredded mozzarella, too)
1 large tomato, sliced
About 1 tsp olive oil
How to Make It
In a mixing bowl, combine the tuna, onion, olives, mayo, pesto, capers, and lemon juice, and stir to combine.
Preheat a cast-iron or nonstick pan over medium heat.
Coat with a thin layer of olive oil, and cook the sandwiches for 2 to 3 minutes per side, until the bread is toasted and the cheese is melted.
Eat This Tip
"Tuna salad" is one of the biggest misnomers in the food world; both "tuna" and "salad" are healthy when on their own, but combined, they're nothing but trouble. Reinvent this troubled tandem with some more clever pairings from your pantry:
Curry powder, shredded carrot, cashews, and golden raisins
Salsa, sliced avocado, and Jack cheese
Artichokes, sun-dried tomatoes, and provolone