Kaley Cuoco's Body Proves the Workout She Just Shared Works
Here are five exercises "Big Bang Theory" star Kaley Cuoco does.
Kaley Cuoco is a self-confessed gym junkie and her hard work shows. From intense circuit and resistance training to cardio, the three-time Emmy award nominee does it all. Her personal trainer, Ryan Sorenson, posted one of her rigorous sessions on Instagram showing the Flight Attendant's various full-body workout moves. "We got one speed  #strongwomen #fitness #summervibes #wework #womenshealth #longevity," Sorenson wrote in the post's caption.
The new mom, who gave birth to her first child, Matilda, with partner and actor Tom Pelphrey, on March 30, jokingly responded in the comments section, "One speed and 17 hairstyles." In the video, Cuoco, 37, wears a black tank top and matching pants and completed a variety of exercises including TRX pull-ups, cable rows, jump roping, and more, set to a Sickmix remix of the track "Running Up That Hill." Here's everything to know about her workout and why it's so effective, according to an expert personal trainer. 
1
Single Lateral Raise While Kneeling on Two Foam Rollers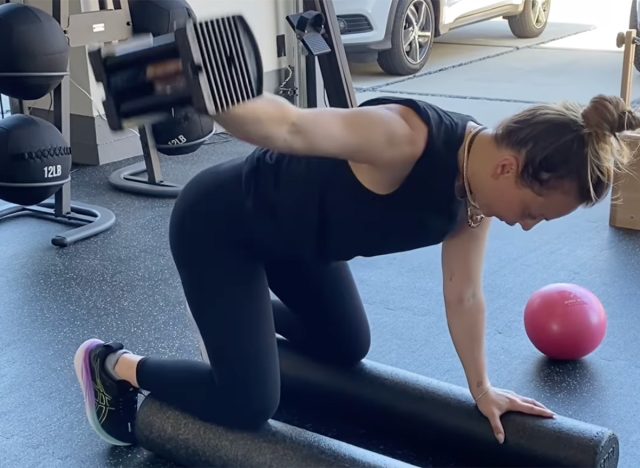 In the video, Cuoco performs single lateral raises while kneeling on two foam rollers. "This exercise targets the deltoids (shoulder muscles) primarily," ACE-certified trainer and nutritionist Mary Sabat, MS, RDN, LD, who does not work with the actress, tells us. "By kneeling on two foam rollers, Kaley engages her core to stabilize her body while performing lateral raises, which helps improve shoulder strength and stability."
2
TRX Pull-Ups While in a Squat Position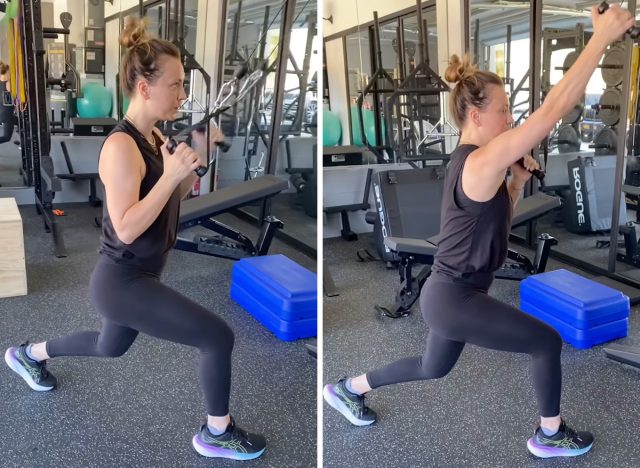 TRX training is a great way to improve strength, tone, and build lean muscle, and Cuoco kicks off her workout with TRX pull-ups while in a squat position. "This exercise mainly focuses on the back muscles, including the latissimus dorsi (lats) and the biceps," Sabat explains. "The squat position engages the lower body, adding an extra challenge to the exercise and requiring overall strength and coordination."
3
Alternating Single Arm Cable Rows While in a Split Lunge
While Cuoco does a complete full-body workout, she focuses a lot on her arms and does alternating single-arm cable rows while in a split lunge. "This exercise targets the upper back, including the rhomboids and trapezius muscles, as well as the biceps," according to Sabat. "The split lunge position works the lower body, particularly the quads, and glutes, enhancing balance and stability."
4
Single Arm Cable Row on One Side With a Lateral Shoulder Raise
Cuoco isn't afraid to take on a challenging move and in the video she does a single-arm cable row on one side with a lateral shoulder raise on the other side while in a split lunge. Sabat explains, "This exercise combines two movements. The single-arm cable row targets the back and biceps, while the lateral raise targets the deltoids. Performing these moves in a split lunge stance further engages the core, legs, and stabilizing muscles."
5
Running While Jump Roping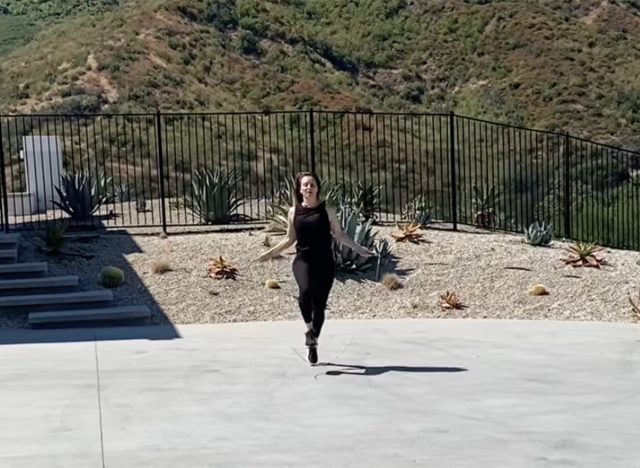 Cuoco switched up her moves a lot in the video and the one time we see her out of the gym was when she ran while jump roping. "This combination exercise is a great cardiovascular workout," Sabat states. "Running helps increase overall endurance and cardiovascular health, while jump roping engages various muscles, including the calves, quads, hamstrings, and shoulders. The combined motion challenges coordination and promotes calorie burn."6254a4d1642c605c54bf1cab17d50f1e
6
Why Cuoco's Workout is Effective
While we just got a glimpse of how the actress stays in shape, the video indicates the intensity of her workouts and Cuoco's level of commitment. "Kaley Cuoco's use of exercises that combine more than one move is beneficial for her fitness for several reasons," Sabat says. "First, combining movements challenges different muscle groups simultaneously, leading to greater overall muscle engagement and increased calorie burn. Second, these compound exercises improve functional fitness by mimicking real-life movements and enhancing coordination and balance." She adds, "Lastly, they can be time-efficient, allowing Kaley to target multiple aspects of her fitness in a single exercise, making her workouts more effective. By incorporating these multi-move exercises into her fitness routine, Kaley Cuoco can achieve a well-rounded and efficient workout, enhancing her strength, endurance, and overall fitness level."
Heather Newgen
Heather Newgen has two decades of experience reporting and writing about health, fitness, entertainment and travel. Heather currently freelances for several publications.
Read more about Heather