10 Revolutionary Workouts to Reveal Your Best Body Ever
Spruce up your routine and surpass your goals with these workouts trainers love.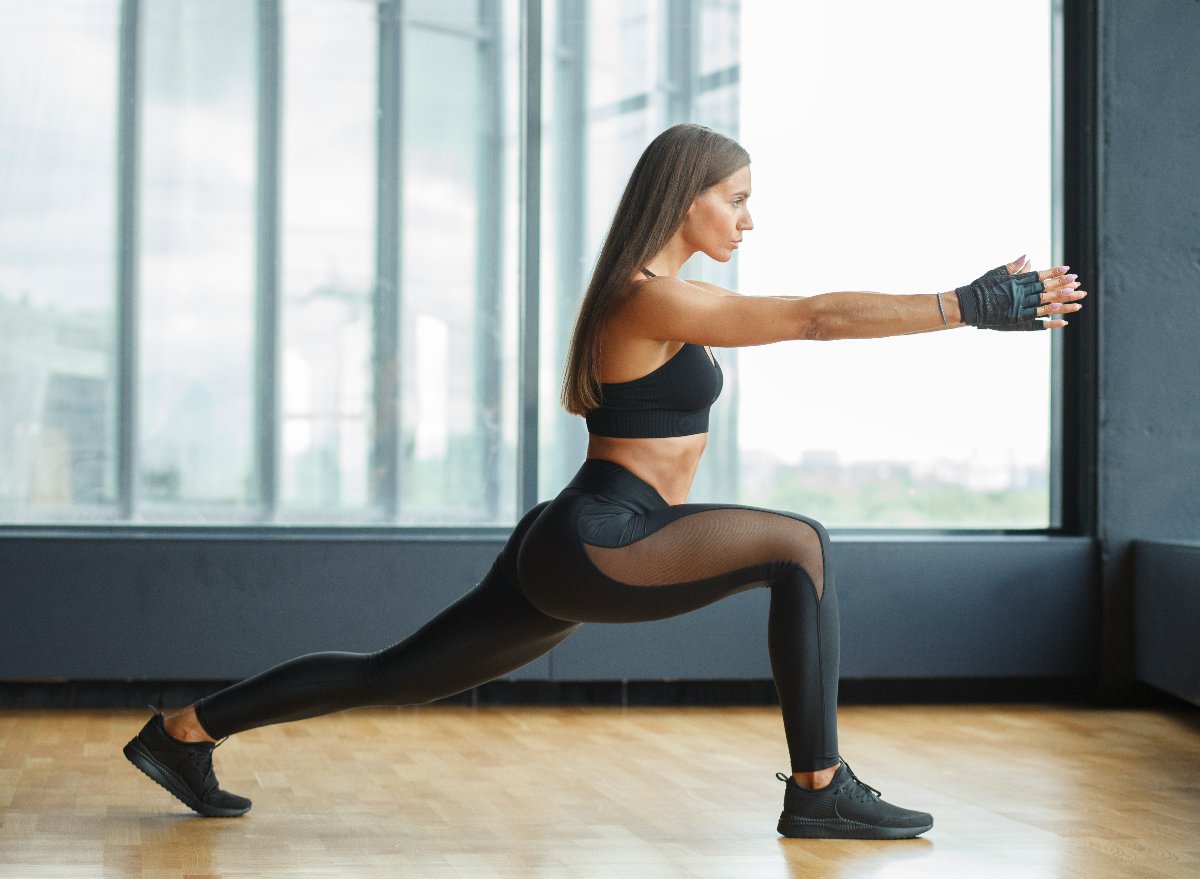 Sometimes, you're stuck in a fitness rut and need a fresh (and enjoyable!) new routine to get you moving again. You want your workout to make you feel excited and energized—it shouldn't be something you dread or a chore to be crossed off your to-do list. Sprucing up your workout is also critical if you're not showing progress. And when you're in need of inspiration, YouTube is an excellent place to find it. You can search by what you're most interested in—for example, strength training, HIIT, a rejuvenating yoga flow, or a 30-minute full-body tone—and then sort by the most popular videos to see how other people are upgrading their own routines. We spoke with the experts, who share 10 revolutionary workouts to reveal your best body ever. And the best part is, they're all completely free to watch on YouTube.
Sculpting the body of your dreams takes hard work and consistency. It's also important to find the right workout for you; what's successful for one person may not work for someone else. If you're ready to get started, keep reading and take a deep dive into these 10 revolutionary workouts to reveal your best body ever. And when you're finished, don't miss the 8 Standing Exercises That Strip Away Belly Flab Fast.
MadFit: 30-Min Full-Body HIIT (No Jumping + No Equipment)
First up is this 30-minute full-body HIIT session from MadFit (real name: Maddie Lymburner), which is recommended by The Nutrition Twins®, Tammy Lakatos Shames, RD, CDN, CFT, and Lyssie Lakatos, RD, CDN, CFT, who sit on our Medical Expert Board. This routine doesn't require any jumping or equipment, so you can do it wherever you happen to be—even when you're on vacation! This way, you won't veer off track from your goals. The video itself is great because Maddie explains exactly how to perform each exercise before moving into the timed version.
"This is a very effective toning and strengthening video for the entire body," The Nutrition Twins explain. "In a half hour, you'll feel like you really challenged yourself. You'll start off training your legs but quickly move to your core and your entire body, and then back to the legs and other body parts. It's perfect if you live in an apartment or house where you don't want anyone below you to hear you, there's no jumping or bouncing!"
Chloe Ting: Full-Body Burn—INTENSE but doable!—Summer Shred Challenge
Next up, we have an "intense but doable" full-body burn summer shred challenge by Chloe Ting, who is one of the most popular fitness influencers on YouTube. You don't need any equipment to perform this workout, and there's a low-impact variation for each exercise. Gear up for four sets of 29 exercises; 30 to 40 seconds on and five to 30 seconds off. Ting walks you through each exercise while you're doing it.
"One of the things we really like about this routine is that this also challenges and improves your coordination and balance, even though you don't realize it while you're doing the routine," The Nutrition Twins say. "The title says it all, since this routine is definitely doable. We also like that there's a high and low-impact version depending on your fitness level."
Nobadaddiction: 50-Min Intense HIIT Workout
If you're looking for a productive workout to reveal your best body ever, check out this one from Nobadaddiction. This 50-minute HIIT session will really challenge your whole body for a "no-nonsense" routine you can easily do at home. You'll be performing some fast-paced cardio such as knee-to-elbow jumps side to side, fast jacks, knee-to-squat jumps, and burpee variations to raise your heart rate. These moves torch a ton of calories and really fire up your muscles for an effective tone.
"This routine mixes these cardio HIIT exercises with fast-moving body sculpting and strengthening exercises like standing criss-cross knee to elbow, squat-holding toe taps, scissor kicks for the abs, and high plank leg-lifts," say The Nutrition Twins. "The pace alone is a great way to work your body to lose fat as you also sculpt your muscles. This is for days when you feel motivated and can't wait to feel the burn!"
Chris & Edi: 30-Min Sweaty High-Energy Workout | Full-Body | No-Equipment | HIIT
This 30-minute HIIT workout with Chris and Edi offers a cardio element that will raise your heart rate and bring on the sweat.
"If you're looking to work your legs then you'll love that you'll start by working your legs, then move to shoulder tap pushups, then on to a little bit of cardio, and then back to legs with kneeling to squat jumps," The Nutrition Twins tell us. "And with each progression, you'll find yourself working to build muscle strength and stamina with variations of exercises that keep things interesting. We also appreciate that some of the movements in this routine, especially in the cardio section, are more rapid movements than many other videos."
Vicky Justiz: Lazy Girl Full-Body Workout—7 Min (No Jumping)
On days when you're feeling low-energy or a bit, well, "lazy," this simple seven-minute workout truly comes in clutch. It's the best way to do something beneficial for your body and get up and active—even if it's just for a few minutes, because doing any movement at all is better than doing nothing.
"Vicky calls this a seven-minute 'lazy girl' workout that doesn't require jumping—and we know that some days you want to boost your mood, do a little self-care but can't push it, and this video is perfect to give your body a little boost," The Nutrition Twins point out. "Even when you just feel like laying around, it feels effortless to muster up seven minutes for this easy workout that will help to sculpt your body and add some toning work." For a bigger challenge, try doing it twice, or combining it with several other short workouts.
Tom Peto Training: 10-Minute Full-Body Foam Roller Routine
This total-body foam rolling routine by Tom Peto Training is a stellar way to kick off your workout. Rolling out any muscle tightness is crucial to ensure your workout is as productive as it can be. If you're unsure of how to work with a foam roller, this video is an awesome place to get started.6254a4d1642c605c54bf1cab17d50f1e
"Before I place any equipment in a client's hands, I toss them a foam roller," says Ellen Thompson, CPT, Blink Fitness. "I want to be sure they aren't experiencing any tightness that could limit their range of motion and the overall effectiveness of the exercises I have lined up for them, which is why I would recommend giving Tom Peto's 10-minute full-body foam roller routine a watch before getting into your own home workout routine. Not only does Tom offer up some really good movements, but he also explains some really helpful techniques throughout."
Sydney Cummings Houdyshell: 10 Minute Full-Body Resistance Band Stretch
Another great tool to incorporate into your workouts is the resistance band. As Thompson points out, nothing can cramp your vibe more than getting injured just when you're getting into the swing of things. But by prepping and warming up properly, you can decrease your injury risk.
"[That's] why I love Sydney Cummings' 10-minute full-body resistance band stretch routine," Thompson tells us. "Grab a band, a towel, or any type of band that can assist your stretches, and before you know it, you're warming up and activating the muscles you'll be hoping to strengthen in your regular workouts."
Redefining Strength: Can't Get Down On The Ground? Try These Core Exercises!
If you're unable to get down on the ground for floor exercises or a core workout, don't let that hold you back from achieving your goals!
"One of my go-to Youtubers when it comes to approachable, research-based, and engaging workouts is Redefining Strength," Thompson says. "This workout takes into consideration individuals who may not be able to get on the ground due to issues such as vertigo, knee injuries, and the such. I also like how this routine can be done in the gym or from the comfort of your own home."
DanaLinnBailey: My Top 5 No-Equipment Exercises | (Home Workout Approved)
If you've ever dreamed about how the pros train or what it would be like to walk in their gym shoes, this video is a great way to find out. The best part is, you can do these exercises right at home! Dana Linn Bailey's favorite no-equipment exercises give you the opportunity to intensely work your back, chest, legs, shoulders, and arms.
"When you're working your way through the plyo pushups, just remember the Dana Linn Bailey who's on your screen was a school teacher before she ever achieved the Ms. Olympia title [in 2013], so who knows where you could find yourself after following her routines with consistency," Thompson adds.
Jeff Nippard: How To Approach Your At-Home Training To Actually Make Gains
If you're concerned about achieving your desired results in a timely manner when working out at home, don't fret. This is a common concern, and it's always helpful to look to the experts for advice—specifically a pro who uses science-based studies to prove his point.
"Let me introduce you to Jeff Nippard. He really is one of the most thorough Youtubers out there when it comes to science-backed fitness information, tips, and techniques," Thompson says. "For instance, in this video, he will explain how from home you can do 1/9 of the training volume needed to build muscle and essentially maintain muscle."
Alexa Mellardo
Alexa is the Mind + Body Deputy Editor of Eat This, Not That!, overseeing the M+B channel and delivering compelling fitness, wellness, and self-care topics to readers.
Read more about Alexa