This Restaurant Is Rude To Its Customers On Purpose—and They Love It!
Karen's Diner serves up great burgers and a very rude staff.
Either through working in the service industry or dining out for a meal, you've probably had the unfortunate experience of hearing a "Karen" yell and scream at employees and repeatedly ask to "speak to the manager." The unhinged stereotype continues to blow up on social media, as the world watches hundreds of videos of angry women who feel the need to dramatically make a scene at a restaurant or other establishment and terrorize customer service workers. What if the roles were allowed to be reversed? What if rude employees treated paying patrons in this same way?
The Australian-based restaurant chain, Karen's Diner, decided it was time to switch up the narrative and give waiters the opportunity to be rude to clientele for a change.
The unique dining experience serves up top-notch burgers, wings, and other American diner-style foods with a side of disrespect, unwanted commentary from the serving staff, and possibly a middle finger shoved in your face here or there while visiting the restaurant.
In the beginning, creators Aden Levin and James Farrell planned to make the experience a temporary pop-up restaurant, but that quickly turned into the real thing as a result of booming popularity. After just four months, the owners took their loose idea and expanded successfully to 15 locations scattered across Australia—from Adelaide to Sydney—and two new locations in the UK.
One thing the owners never saw coming was how much customers would enjoy having rude waiters and downright terrible restaurant service.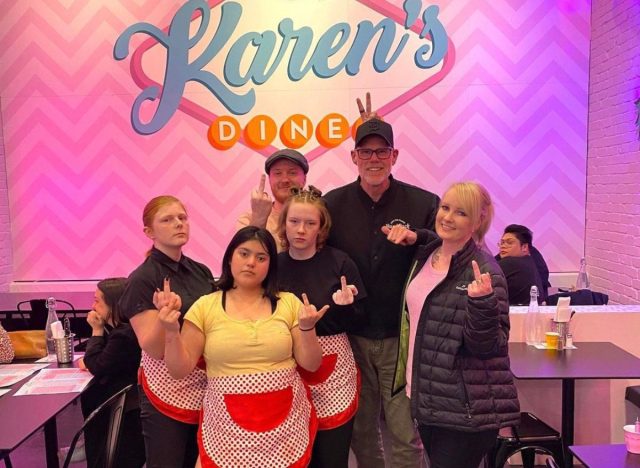 "Absolutely loved the diner as soon as we stepped in, was greeted just how we thought we would be. Was a fantastic experience lots of laughter, banter and swear words," one customer wrote on OpenTable. Another pleased patron said, "Waitresses don't give a damn and that's what people come here for."6254a4d1642c605c54bf1cab17d50f1e
Diner patrons get the pleasure of a disservice, as well as, interactive and entertaining moments with "Karen"-themed games that are constantly popping up throughout the dining experience. Activities made to be awkward like trivia and charades, intentionally embarrassing karaoke, and arm wrestling (possibly to the waiter's advantage), all while an offensive MC makes loud and obscene jokes at the customer's expense.
And those whose name is actually Karen, according to the restaurant site, you can get a free drink if you show an ID to prove it! (And no judgment will commence unless you act like one too.)
To continue poking fun, the menu includes food items such as "The Fiery Karen" or "Karen's American Cousin," alongside quirky cocktails like "You've Just Lost My Business" and "Karen's Aqua Aerobics." And as much mockery and ridicule goes down at this eatery, it remains inclusive by offering vegan food options, including a plant-based burger, a grilled cheese sandwich, and even a hefty salad of greens.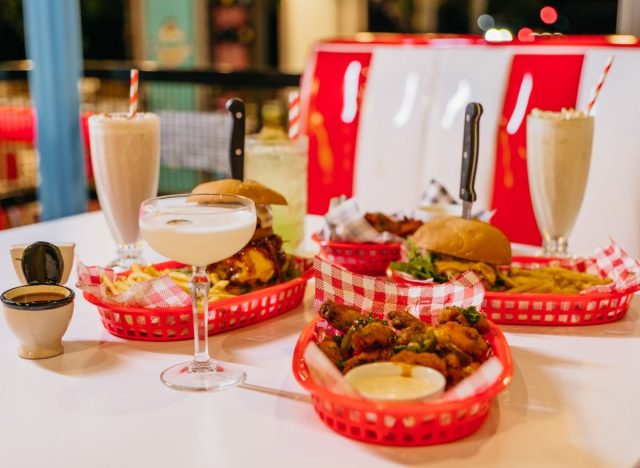 "Food was excellent – loved the burgers, wings and shakes and all served quite fast!" one customer raved on OpenTable. "Can not recommend this place enough! It was as such an enjoyable, awkward, hilarious, mouth-dropping, cry-laughing experience! Will definitely be back!" another happy patron made clear.
For Americans looking to partake in a horrendous dining experience, you can either make a trip across the pond to Karen's or try your luck at a similar establishment that started up in Dallas, TX. Dick's Last Resort, which is also known to have an obnoxious serving staff, forces adults/diners to "wear hand-made, paper hats with insults written on them," and laugh until they drop.
Jordan Summers-Marcouillier
Jordan Summers-Marcouillier was born and raised in San Jose, California and now works as a writer in New York, NY.
Read more about Jordan