This Green Keto Shake Recipe Is Loaded With Superfoods
A plant-based keto shake that'll curb hunger pangs without impacting your blood sugar.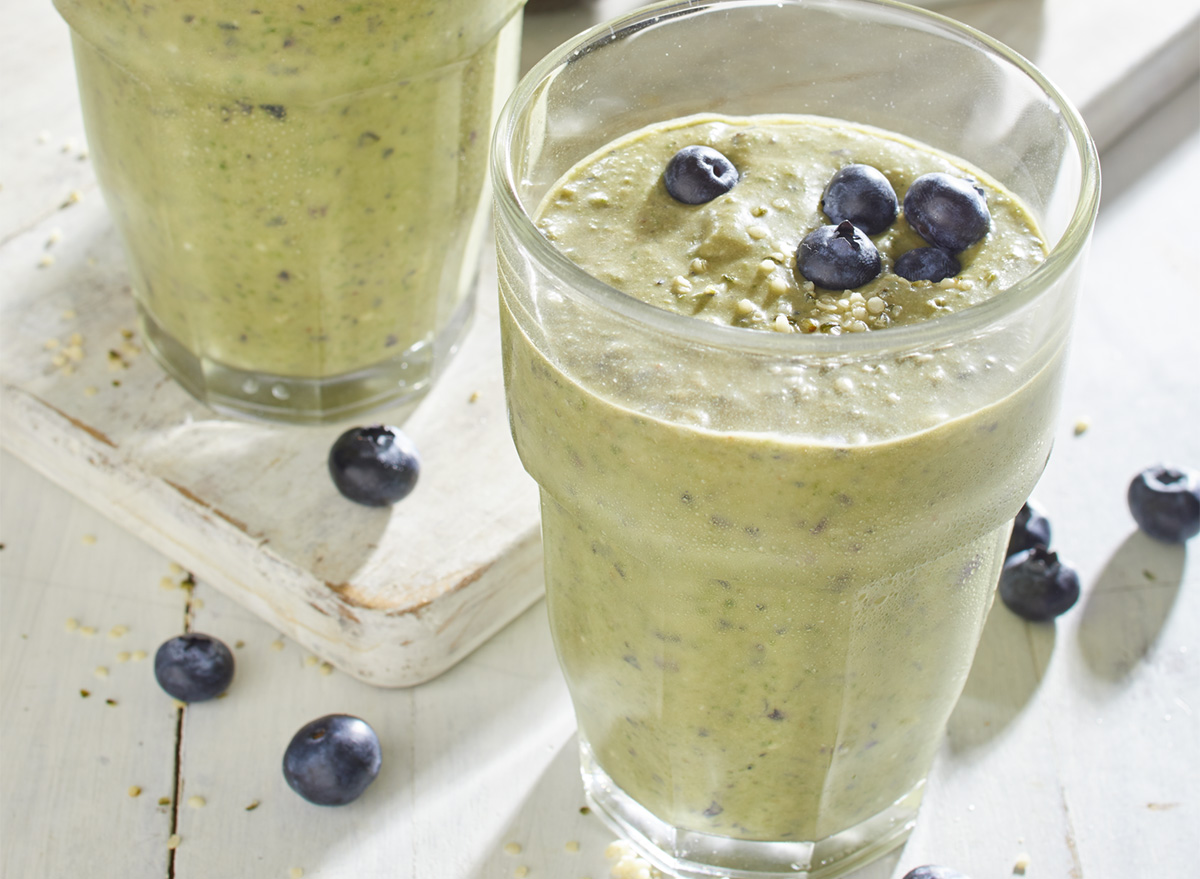 This is a big, satisfying, clean green power keto shake that'll stifle your hunger pangs without impacting your blood sugar. Avocado and coconut milk produce longer-lasting levels of energy because they are both loaded with healthy fats. This is the basic principle behind diets like keto and paleo, which advocate consuming high levels of these types of fats so that you don't need to rely on refined carbs or sugars to power you through the day. Drinking a shake like this in the morning sets you up for making better food choices later in the day—because you're not swayed by monstrous hunger to grab the first mouth-watering thing you see (we're looking at you, pizzas and pastas!). You'll also have an easier time eating less at mealtime.
Avocado also blends in nicely with just about any milk you chose to use in your shakes or smoothies, so adding it in for both the nutritional benefits and the creamy silky texture it provides is a double win.
Hemp seeds are tiny little nutritional powerhouses, too, so it's no wonder their benefits have been lauded by healthy eaters for decades. They are now gaining more prominence as they're used in numerous secondary products like alternative milks, cereals, and even yogurts. Believe it or not, these little seeds are made up of more than 30 percent healthy fat, and more than 25 percent good-quality plant-based protein. They also contain high levels of amino acids, which has been linked to their cardiovascular health benefits, like heart health and lower blood pressure.
Trust us, this shake is an all-around healthy breakfast win.
Nutrition: 297 calories, 24 g fat (16 g saturated), 53 mg sodium, carbs 16 g, fiber 5 g, 10 g sugar, 4 g protein
Makes 2 servings
Ingredients
1 cup full-fat coconut milk
1/2 cup cold water
1 cup fresh baby spinach
1 cup frozen blueberries
1/2 medium avocado, pitted and peeled
2 tsp shelled hemp seeds
6 to 8 drops liquid stevia
Fresh blueberries, optional6254a4d1642c605c54bf1cab17d50f1e
How to Make It
1. In a blender, combine coconut milk, the water, spinach, frozen blueberries, avocado, and hemp seeds. Cover and blend until smooth. Sweeten with stevia and add more to taste if desired. Pour into two glasses. Garnish with additional hemp seeds and fresh blueberries, if using.
Eat This, Not That!
Inspired by The New York Times best-selling book series, Eat This, Not That! is a brand that's comprised of an award-winning team of journalists and board-certified experts, doctors, nutritionists, chefs, personal trainers, and dietitians who work together to bring you accurate, timely, informative, and actionable content on food, nutrition, dieting, weight loss, health, wellness, and more.
Read more about Eat This