10 Keto Candy Ideas to Satisfy Your Sweet Tooth the Low-Carb Way
You don't have to deprive yourself of the joy of candy just because you're keeping it low-carb on the keto diet.
For many dieters—especially those on the keto diet—Halloween is the start of a holiday season that can become a slippery slope of indulgent eating. First, there is the night of candy, then we get to a Thanksgiving feast, and before you know it, you are in a full Christmas binge. The bad habits can roll right through the champagne of New Year's and into the chocolate hearts of Valentine's Day.
Let's face it: If you get off on the wrong foot now, the rest of the year will be an uphill battle. But don't despair: we've rounded up 10 keto candy and keto dessert options that can satisfy your cravings this Halloween while keeping you moving toward your goals.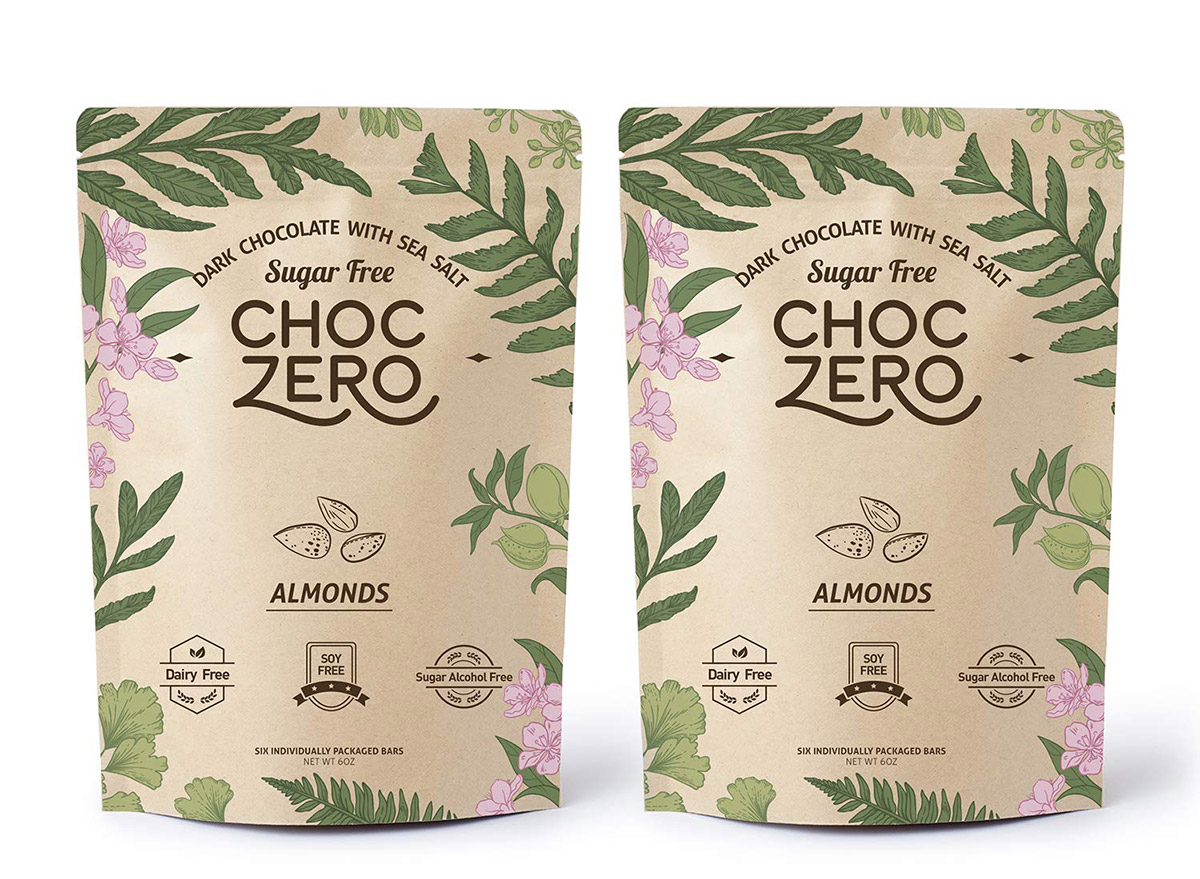 Nutrition
: 120 calories, 10 g total fat (5 g saturated), 120 mg sodium, 15 g carbohydrates (13 g fiber, 0 g sugar), 1 g protein
2 net carbs
With no sugar alcohols or artificial sweeteners, it's easy to fall in love with ChocZero's line of products. For a real treat that feels just like Halloween candy, go for the dark chocolate with almonds and sea salt option. Out of all of the keto candy options out there, this might be the option most likely to trick your carb-eating friends into thinking you are abandoning keto for a little treat.6254a4d1642c605c54bf1cab17d50f1e
Nutrition
: 80 calories, 0 g total fat (0 g saturated), 75 mg sodium, 33 g carbohydrates (28 g fiber, 3 g sugar), 0 g protein
5 net carbs
Would you believe us if we told you that, in addition to being low-carb, this keto candy is also vegan? Well, get ready to be amazed, because it's true. These tangy peach rings taste very similar to their sugar-filled cousins that are a staple of childhood memories from bulk candy bins at the mall, but these come with none of the dreaded sugar crash afterward. Share with your friends at a Halloween party, or keep these all to yourself for a perfect sweet treat.
Nutrition
: 3 calories, 0 g total fat (0 g saturated), 0 mg sodium, 1.5 g carbohydrates (0 g fiber, 0 g sugar), 0 g protein
0 net carbs
These hard candies are the perfect solution for when you are looking for a little something sweet, but don't want to commit to a full keto snack. Instead, you can just pop one of these into your mouth for a quick refreshment that satisfies the candy craving and doesn't need to be factored into your daily calorie or carb count at all. Embrace the magic of the Halloween holiday with these sweet treats that seem almost too good to be true.
Brach's Sugar Free Assorted Gummy Bears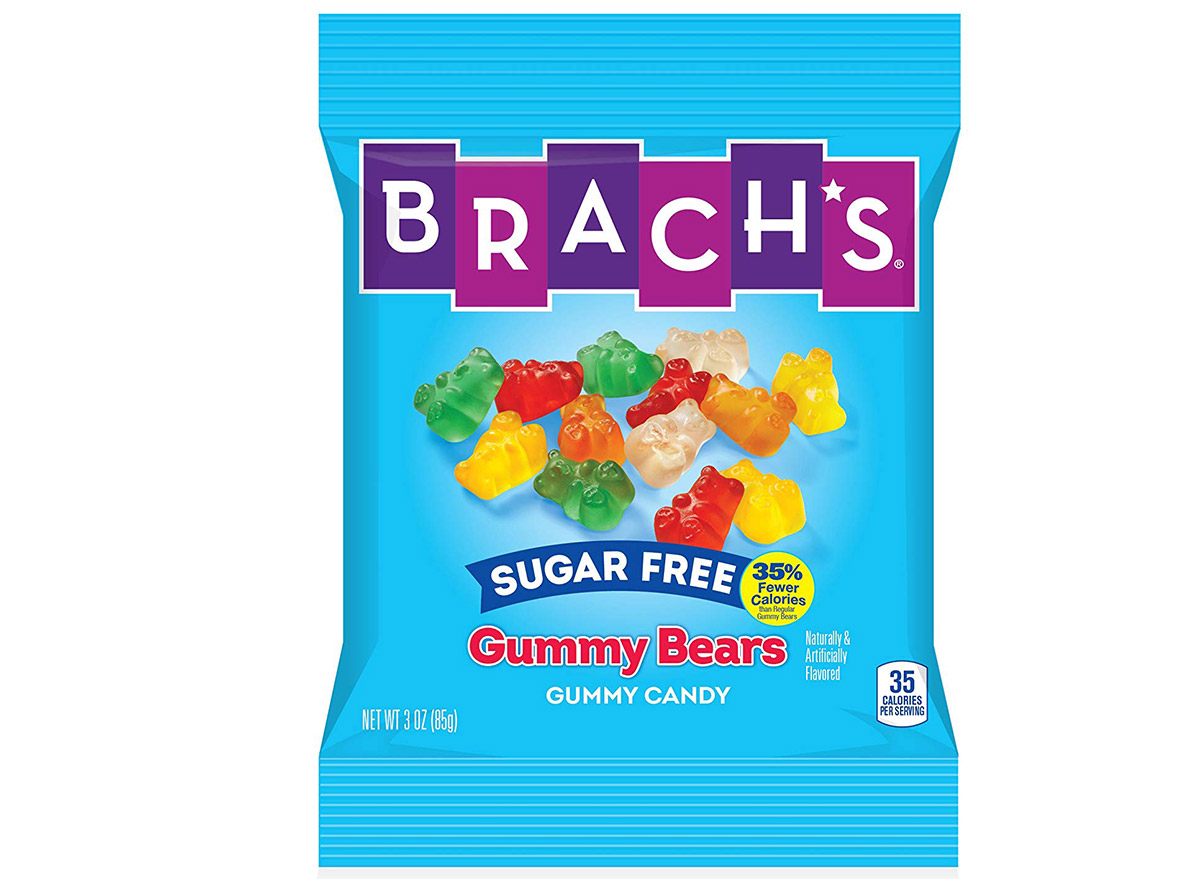 Nutrition
: 80 calories, 0 g total fat (0 g saturated), 20 mg sodium, 30 g carbohydrates (0 g fiber, 0 g sugar), 3 g protein
0 net carbs
Is there any greater joy in life than a good gummy bear? There is only one correct answer to that: sugar-free gummy bears. Seriously, these little guys will remind you of happier times in your childhood and help you get in the Halloween spirit. Brach's' classic flavors are on full display here, and you won't miss the sugar one bit. One word of caution: Try to stick to one serving at a time. While it can be tempting to eat the whole bag in one sitting, some people find that having too many servings at once can cause some stomach troubles later on.
Koochikoo Sugar-Free Organic Lollipops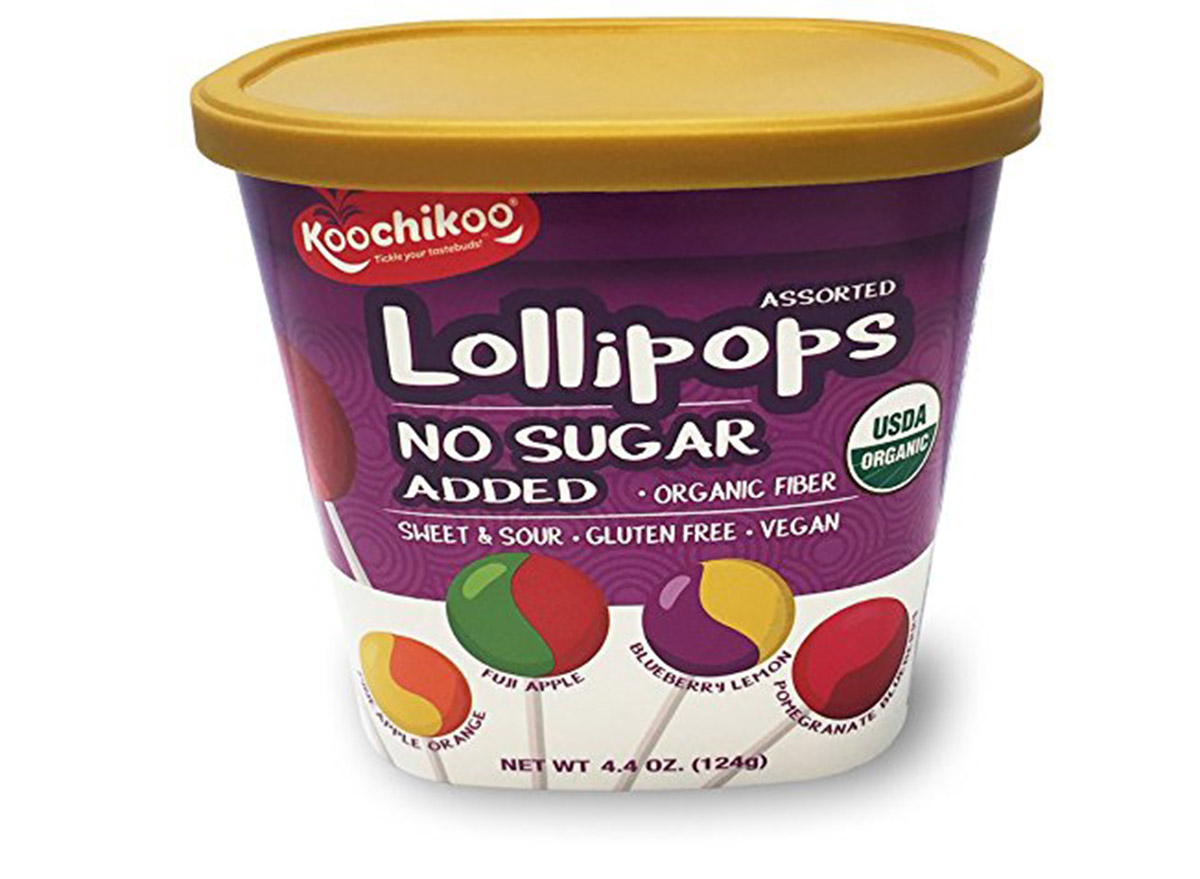 Nutrition
: 10 calories, 0 g total fat (0 g saturated), 0 mg sodium, 6 g carbohydrates (5 g fiber, 0 g sugar), 0 g protein
1 net carbs
Don't let the organic, vegan, low-calorie, and low-carb labels scare you off—these don't sacrifice any of the flavor you'd expect from a classic lollipop. If anything, the unique tart flavor of Koochikoos delivers an unexpected surprise to these keto candies that simultaneously satisfy your sweet tooth and that sour craving you've been trying to ignore since you decided to follow a low-carb diet.
Shrewd Food Strawberries & Cream Protein Crisps
Nutrition
: 90 calories, 3 g total fat (1 g saturated), 95 mg sodium, 4 g carbohydrates (0 g fiber, 4 g sugar), 12 g protein
4 net carbs
There isn't really a non-keto candy option that you can compare these dessert protein crisps to, but that isn't necessarily a bad thing. Sometimes, it's best to start from scratch when it comes to keto snacks rather than to try and reinvent your old favorites, which might never be quite as good as you remember. Crunchy and filling, like a keto Cheeto, but sweet and creamy like strawberry pudding—this keto candy is in a category all its own, and it's worth trying. With 12 grams of protein, this treat packs enough energy to sustain you through a long night of trick-or-treating, or dancing at your favorite Halloween party—whichever is more your style.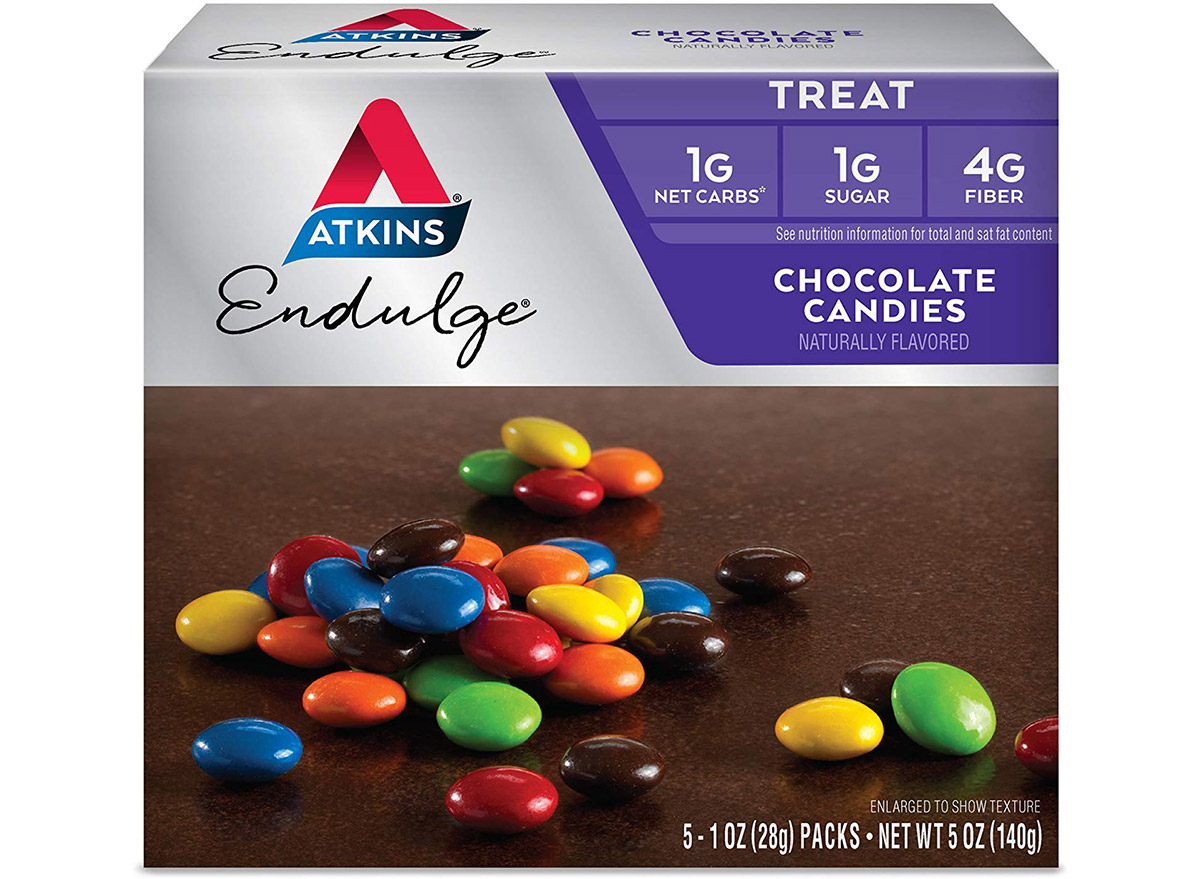 Nutrition
: 110 calories, 7 g total fat (4.5 g saturated), 5 mg sodium, 19 g carbohydrates (4 g fiber, 1 g sugar), 1 g protein
1 net carb
Imagine ripping into a pack of the iconic M&Ms this Halloween…but make it keto-friendly. Now you've imagined the wondrous feat that is the Atkins Chocolate Candy. These could fool even the most seasoned Halloween candy veteran into thinking they are eating a full-sugar treat, but these have all of the flavor with (almost) none of the carbs. These are good enough that you are going to want to share them with all of the trick-or-treaters that come your way, but we won't judge you if you decide to keep them all for yourself instead.
Salted Almond & Milk Chocolate Bar by Lily's Sweets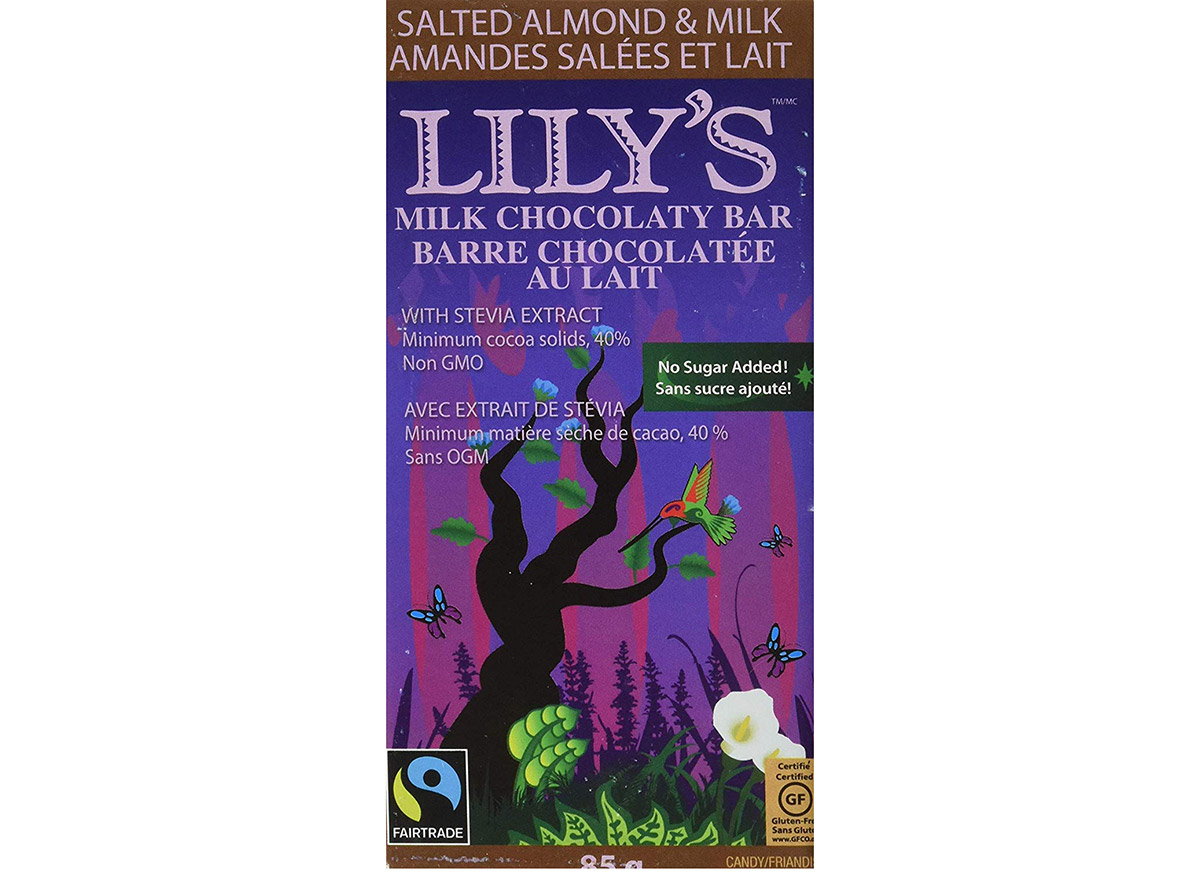 Nutrition
: 180 calories, 14 g total fat (8 g saturated), 120 mg sodium, 21 g carbohydrates (11 g fiber, 1 g sugar), 3 g protein
4 net carbs
It would be nearly impossible to make a list of keto candy without mentioning Lily's at least once. For many people, Lily's is their first exposure to what good candy on a keto diet can be, and for good reason—this chocolate tastes like the artisanal bars you can get at a high-end confectionary, without even a hint that it's carrying a low-carb secret. There are a lot of different flavors to choose from, but if you are looking for something that just about everyone will fall in love with, start with the salted almond and milk chocolate bar. It's a hard-to-beat combination.
Nutrition
: 90 calories, 8 g total fat (3.5 g saturated), 35 mg sodium, 7 g carbohydrates (2 g fiber, 0 g sugar), 2 g protein
2 net carbs
While technically these fall more into the cookie category than candy, Fat Snax makes the perfect Halloween treat for someone who loves their indulgences to take the form of baked goods. Opening a pack of these chewy, delicious cookies will help fight off any temptations that the big bowl of candy for trick-or-treaters might bring. The best part is, even after Halloween is over, these cookies are the perfect dessert to enjoy at the end of the day without putting you over your carb allowance.
Nutrition
: 162 calories, 14 g total fat, 4 g carbohydrates (1 g fiber, 3 g sugar), 4 g protein
3 net carbs
There are so many great recipes out there to make your own keto candy this Halloween. For an easy one to start out with, try these chocolate peanut butter fat bombs by Fit Foodie Finds. They come together in 30 minutes and are the perfect keto-approved snack to bring to a Halloween party to share—or keep all to yourself. Halloween is the perfect time to branch out and try new keto recipes, and you might just learn a few tricks about making your favorite keto candy treats in the process.