The Best Keto Protein Powders You Can Buy
These protein powder options are all low-carb.
The keto diet is one of the most popular diets out there, and many people swear by it. The diet is high in fat, moderate in protein, and low in carbs, so it makes sense that those following the eating plan would want to find keto protein powder options to fit their dietary restrictions.
But if you're new to the keto diet or are considering giving it a try, it's important to know the basics. Also known as the ketogenic diet, this way of eating allows your body to enter a state of ketosis. When a person is in ketosis, stored fat is broken down into molecules called ketones that are released into the bloodstream and flushed out in your urine. Instead of burning sugar and carbohydrates, your body shifts to burning stored fat.
So how exactly does one enter this metabolic state? That's where the keto diet comes in. Maryann Walsh, registered dietitian and owner of Walsh Nutrition Consulting, explains that the keto diet is actually high fat, with fats accounting for between 65 percent and 85 percent of your total caloric intake. Proteins account for between 15 percent and 25 percent of your intake. And this is a seriously low-carb diet, with just five to 10 percent of your calories coming from carbohydrates. "As a result, the keto diet relies on many fresh foods like meats, cheeses, and green leafy vegetables," Walsh says.
This is a fairly strict, rigid diet, and people who follow it can benefit from supplementing their food with protein powders. "Utilizing a keto-friendly protein powder or meal replacement can be extremely helpful for those following a ketogenic diet to have a quick, nutritious meal that simply needs to be mixed with water," Walsh explains.
Not sure which protein powders are keto-friendly and effective? Here are Walsh's recommendations for the 5 best keto protein powders.
KetoLogic Meal Powder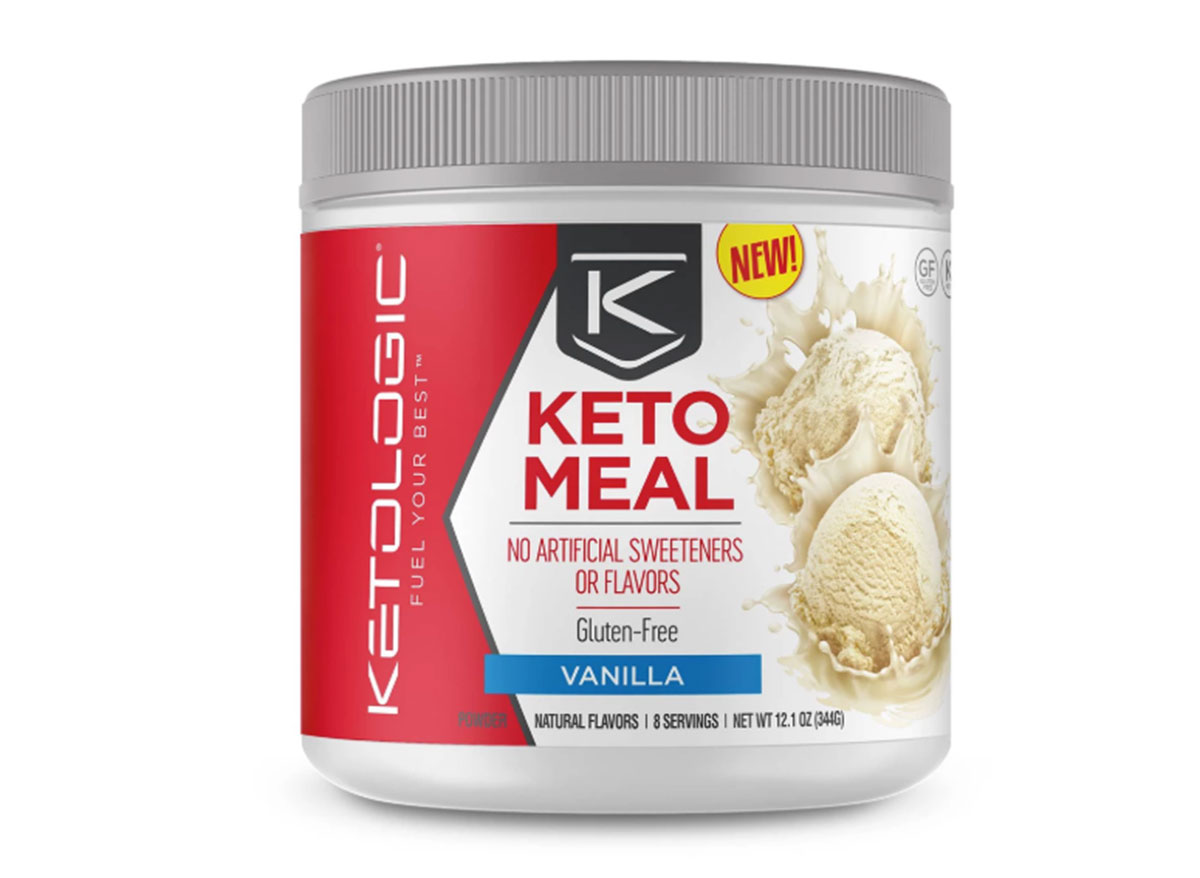 Per 2 scoops of Vanilla
: 280 calories, 22 g fat (20 g saturated fat, 0 g trans fat), 450 mg sodium, 13 g carbs (4 g fiber, 2 g sugar), 11 g protein
"KetoLogic is a widely available keto meal replacement product," Walsh says, explaining that it has keto-friendly macros. "It's a meal replacement, so it has numerous vitamins and minerals as well," she adds.
SlimFast Keto Meal Replacement Shake Powder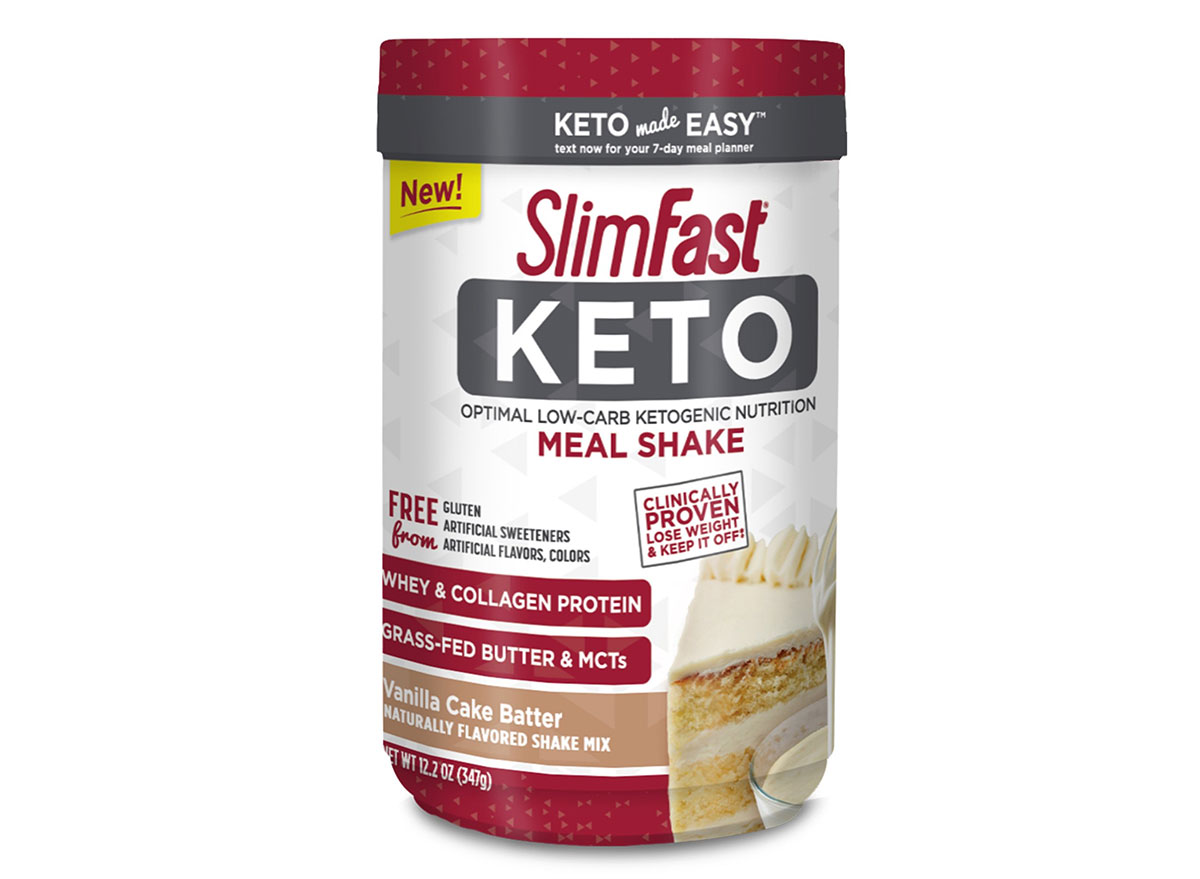 Per 2 scoops of Vanilla Cake Batter
: 190 calories, 15 g fat (8 g saturated fat, 0 g trans fat), 190 mg sodium, 8 g carbs (0 g fiber, <1 g sugar), 8 g protein
In addition to a robust vitamin and mineral profile, this meal replacement shake contains 15 grams of fat and eight grams of protein at 190 calories. "This also has grass-fed collagen, which is an added bonus given that many people choose to supplement their diet with collagen," Walsh says.
SlimFast Keto is widely available at Walmart, Amazon, and most major grocers. "It tends to usually be the most affordable per serving and also has lots of free resources like meal plans and a support group that one can sign up for," Walsh says.
Nature Fuel Keto Meal Replacement
Per 2 scoops of Double Chocolate Milkshake
: 190 calories, 15 g fat (8 g saturated fat, 0 g trans fat), 220 mg sodium, 9 g carbs (2 g fiber, 0 g sugar), 8 g protein
Walsh says this option is very similar to the SlimFast Meal Replacement, containing a strong vitamin and mineral profile, and the same amount of fat, net carbs, and protein. It also has the added bonus of grass-fed collagen.
Orgain Organic Plant-Based Protein Powder
6254a4d1642c605c54bf1cab17d50f1e
Per 2 scoops of Vanilla Bean
: 150 calories, 4 g fat (<0.5 g saturated fat, 0 g trans fat), 180 mg sodium, 15 g carbs (5 g fiber, 0 g sugar, 5 g erythritol), 21 g protein
Walsh notes that, for those seeking a plant-based keto shake, there are very few—if any—available at this time. "Vegan keto-dieters must use non-keto-focused products, such as Orgain," she says. This powder has low net carbs per serving (five grams), along with 21 grams of protein and four grams of fat.
"The focus of the keto diet is to have a high fat intake, moderate protein intake, and minimal carbs," Walsh says. If a keto dieter wants to make this shake "more keto," she suggests using MCT oil to add grams of fat to the shake, which would "[make] the total calories higher and the overall percentage of calories from protein lower."
Perfect Keto Protein Powder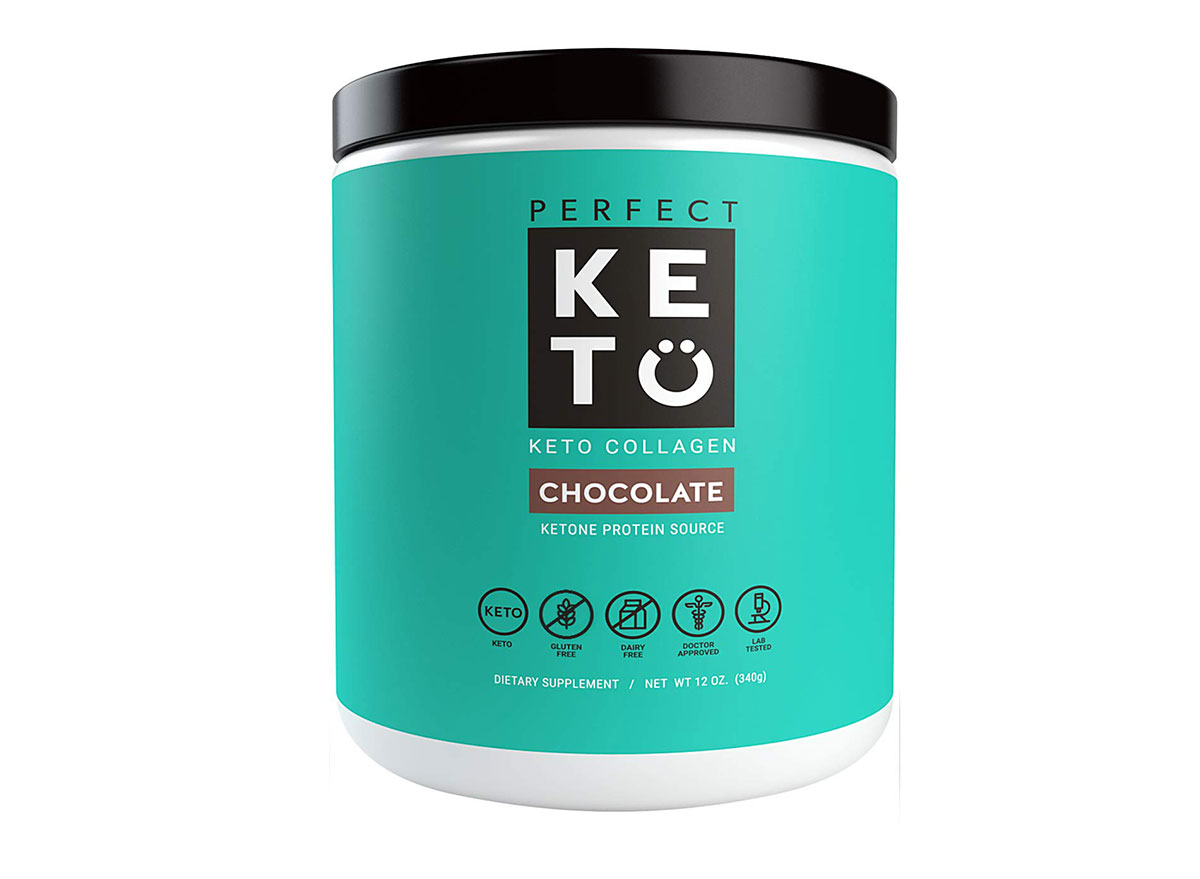 Per scoop of Chocolate
: 80 calories, 4 g fat (4 g saturated fat), 70 mg sodium, 1 g carbs (<1 g fiber), 10 g protein
Diana Gariglio-Clelland, a registered dietitian at Balance One Supplements, recommends this powder for someone following a keto diet. "It contains medium-chain triglycerides (MCTs), which are digested more quickly than regular fats and are beneficial for those following keto because it allows for the quicker breakdown of fats to provide energy in the absence of carbs for fuel," she explains.
Gariglio-Clelland adds that the protein in Perfect Keto powders is from collagen peptides, which have been shown to be beneficial for skin health. Furthermore, the powder uses stevia instead of artificial sweeteners and contains a small amount of fiber, which is an important nutrient that is sometimes lacking on a keto diet.
Following a keto diet can be tricky, but these protein powder options can help make getting those macronutrients a little easier.
Caitlin Flynn
Caitlin Flynn is an award-winning writer and reporter who experienced early age corporate burnout in 2015 and traded New York City for the misty air and superior coffee of Seattle.
Read more about Caitlin