The Best and Worst Protein Powders to Buy in 2019
We sifted through over 100 protein powders to unearth the best and worst ones for your nutritional needs.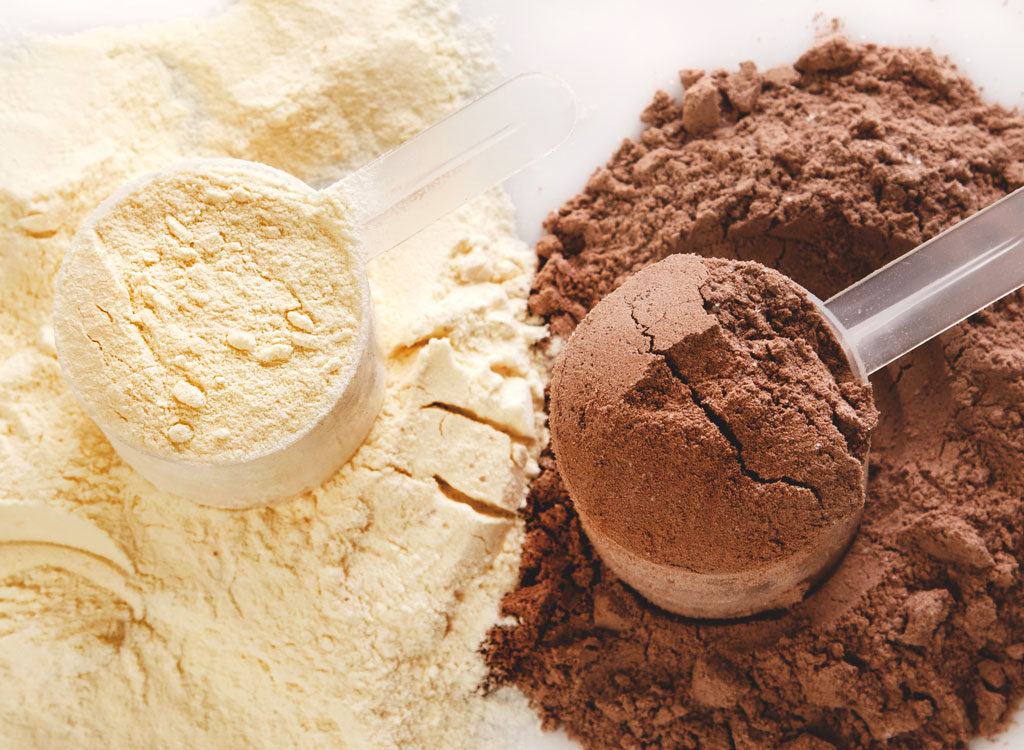 Whether you're an elite athlete or a weekend warrior, a vegan or a plant-based foodie, everyone is getting in on the protein trend—and with good reason. Dieters and strength-trainers alike are opting for protein powder to meet a variety of nutritional needs. Protein powders are concentrated sources of plant and animal protein that can be used to build muscle, repair tissue, help you meet nutritional needs, and add a satiating component to meals and snacks.
What does protein powder do?
Protein is an essential part of a balanced diet. Due to the high concentration of protein in protein powders, this supplement is a low-calorie, low-fat, low-carb way to add more protein to your diet. You may want to add protein powder to your diet for the following reasons:
Muscle gain: Protein is essential to build and maintain muscle mass. Because they are processed, protein powders offer more bioavailable amino acids than protein foods. These amino acids are essential for promoting muscle recovery and aiding growth.
Weight loss: Thanks to the high protein content of powder supplements, adding a scoop or two to your smoothies, pancakes, baked goods, or shakes can aid in rapid weight loss efforts by boosting calorie burn, increasing satiety, and preserving lean muscle mass. It helps that gram-for-gram, protein powders are often lower in calories and fat than protein-rich foods.
Diet supplement: Whether you lead a busy lifestyle, are vegan or vegetarian, or are following a strict workout regimen, you may find you need more protein in your diet. A protein powder shake or smoothie can be a nutritious meal replacement when blended with fruits, vegetables, and healthy fats.
How do I choose the best protein powder?
While feeding your muscles on the fly has never been easier, not all powders are created equal, and choosing which product is best can be a bit of a struggle.
On one hand, there are animal-based supplements like eggs, whey, and casein, and on the other hand is a garden of plant-based and vegan protein powders from pea, hemp, rice, and soy.
Even after you pick the source of the protein, there's still another hurdle to jump: additives. Many powders on the market are loaded with enough scary chemicals and artificial sweeteners to earn them a spot among the unhealthiest foods on the planet. Just because your protein is a powder doesn't mean you have to settle for one with a label that reads like a science experiment.
What is the best protein powder to buy?
These are the best protein powders you can buy in 2019 and their nutritional highlights:
Because which supplement you pick will ultimately depend on your personal body goals—whether you're looking to lose weight, gain muscle, or stop late-night snacking—we created this list of examples of the best and worst protein powder brands to help you understand what to look out for when examining the labels.
We've narrowed the expansive list of protein supplements down to some of the best animal-based and plant-based proteins on the market—as well as some of the worst. Pick your powder below (you can easily order it from the links we've included!) and then add it to any of these delicious Zero Belly smoothie recipes.
The Best Whey, Egg White, Casein, and Animal-Based Protein Powders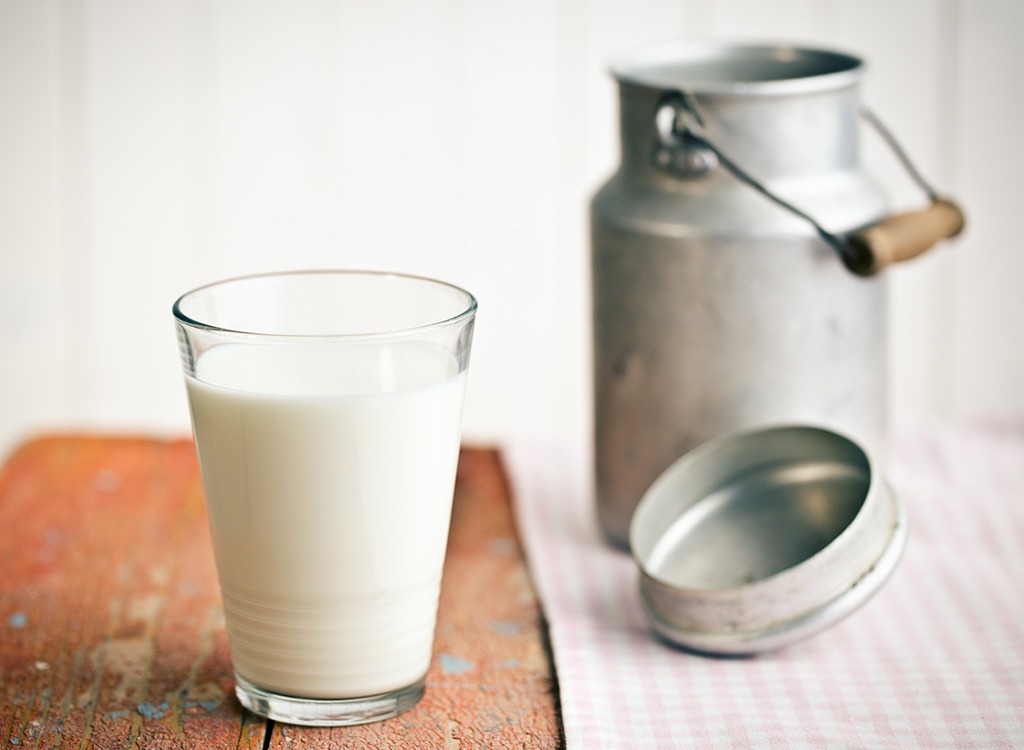 First, know this: Plant protein is more slimming than milk-derived proteins. Because whey is a dairy derivative—and many commercial preparations tend to contain all manner of funky chemicals—protein powders that use this source as a base can lead to bloat and skin conditions. However, if you find you're not terribly lactose intolerant, milk proteins are some of the best sources of amino acids out there. Milk proteins such as whey and casein have the ability to preserve lean muscle mass and improve metabolic health during weight loss, according to research published in the journal Nutrition & Metabolism.
Eat This, Not That! Tip: When you're looking for the proper animal-based powder, look for words like cold-processed, concentrate (isolate only if you're sensitive to lactose), hormone-free, grass-fed, and tested low for heavy metals, and make sure the protein powder does not contain sucralose or any artificial color, flavor, or sweetener.
1. Promix Grass-Fed Whey Protein Powder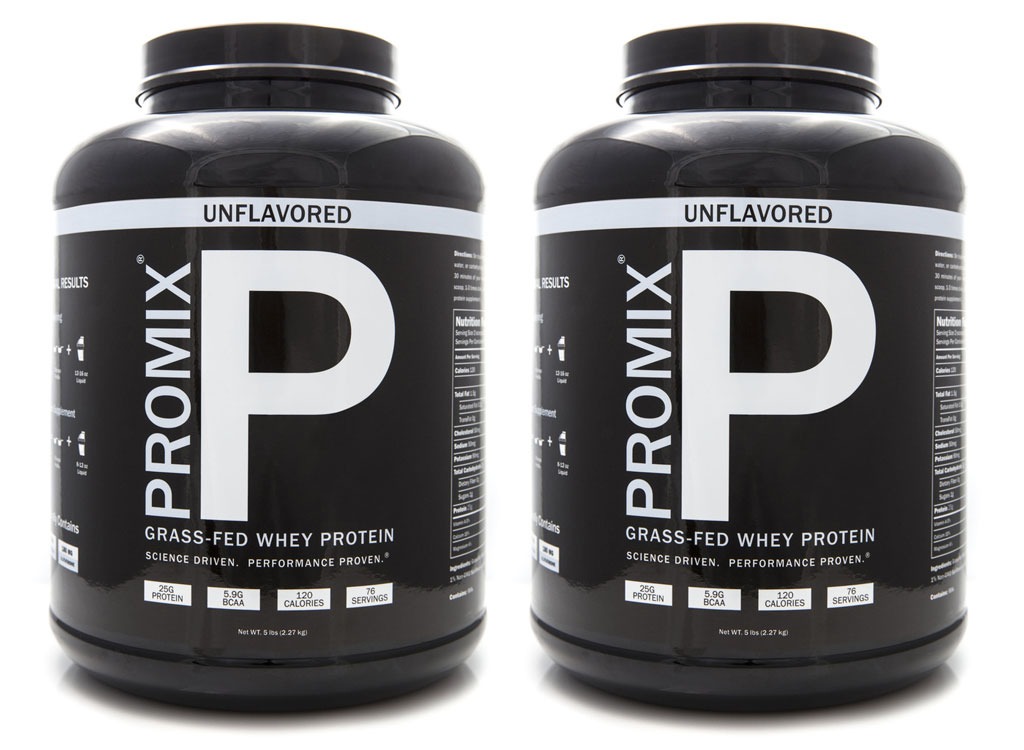 Nutrition per 1 serving, 2 scoops (30 g)
: 120 calories, 1.5 g fat (0.5 g saturated fat), 50 mg sodium, 3 g carbs (0 g fiber, 1 g sugar), 25 g protein
Protein source: Grass-fed whey protein concentrate
If you want a fast-acting best protein powder that will stimulate protein synthesis after a workout, go with whey. While a whey protein concentrate has a lower percentage of protein than whey isolate, it contains more bioactive compounds found in the milk fat that positively influences metabolism and immunity—just make sure it's low-temperature-processed (raw or cold-processed).
Low-temperature-processing methods allow the protein powder to retain many of its fragile immune factors and nutrients, leaving it loaded with the ideal blend of easily-absorbed amino acids, anti-inflammatory compounds, essential fats, energy-replenishing carbs, metabolism-boosting peptides, potent antioxidants, and alkaline minerals.
You'll get even more of these nutrients when your powder is made from pasture-fed cows, which have a higher concentration of inflammation-reducing omega-3 fatty acids and two to five times more CLA (conjugated linoleic acid) than their corn and grain fed counterparts, according to a Nutrition Journal study.
CLA provides a variety of health benefits like burning fat and maintaining lean muscle mass. Besides toning your body, these two sources of dietary fat will also improve the absorption of key vitamins and carotenoids, which are fat-soluble nutrients. Not to mention, most certified 100% grass-fed cows (like American Grassfed) are not treated with antibiotics. (However, this will not apply to all grass-fed products, as the FDA does not regulate the "100% grass-fed" label claim or its definition.) This is a step up from grain-fed cow products, which, although illegal, have been found to contain residual antibiotics.
2. John's Killer Protein Nighttime Blend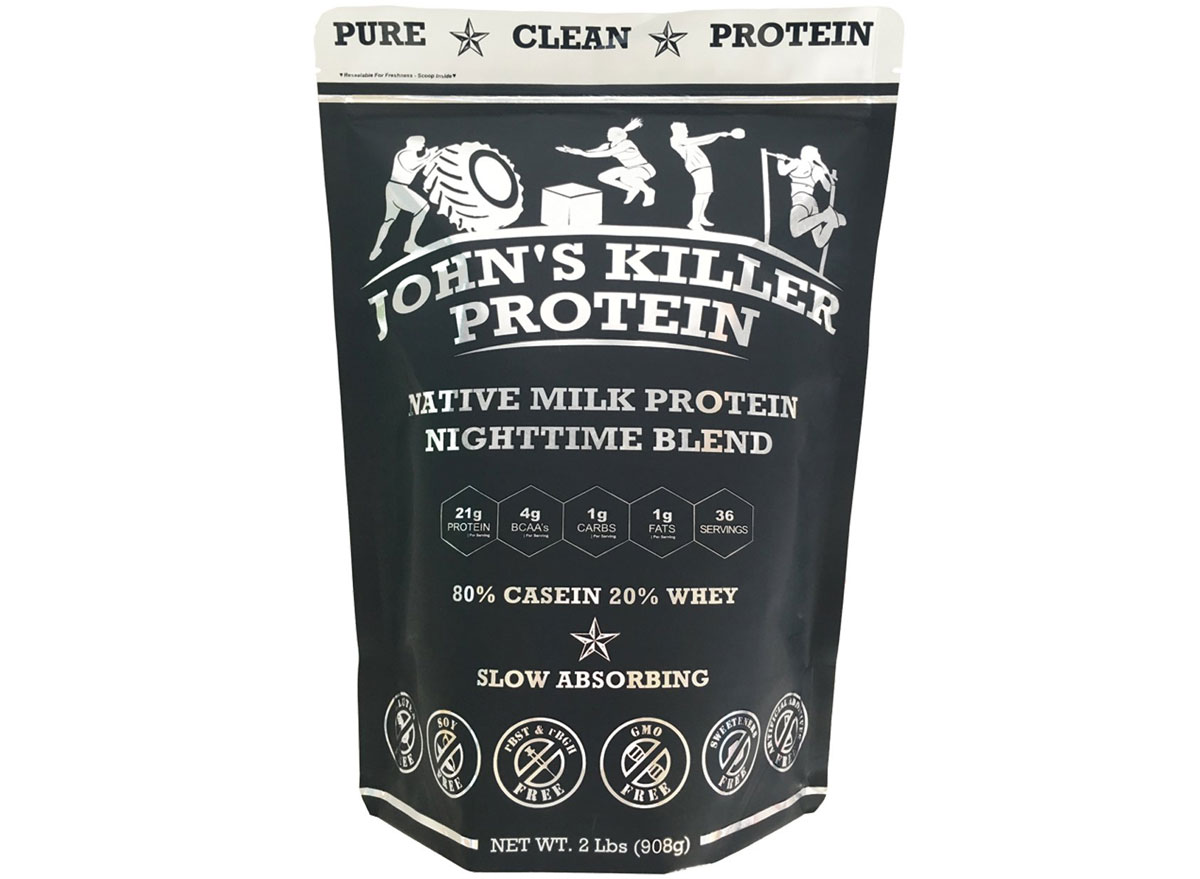 Nutrition per 1 serving, 1 scoop (25 g)
: 92 calories, 1 g fat (0 g saturated fat), 23 mg sodium, 1 g carbs (0 g fiber, 1 g sugar), 21 g protein
Protein source: Grass-fed, minimally-processed milk protein concentrate (80% casein, 20% whey) from U.S. dairy farms
If you're looking to repair and regrow muscle overnight, the best protein powder to take before bed is JKP's Nighttime Blend. The majority of the protein in this blend comes from casein. As opposed to whey, casein digests more slowly (it's the same principle as low-glycemic-index "slow carbs") and stays in the system longer to nourish muscles.
This makes it a good option if you need a nighttime snack on workout days: It'll help kick-start recovery and build fat-burning muscle. A small study published in the British Journal of Nutrition found that active men who consumed either casein or whey protein at night increased their next-morning metabolism by over 5 percent compared to a placebo.
Studies have shown that casein protein also contains various bioactive peptides, which have various health benefits that range from acting as an antimicrobial to providing immune support.
However, because researchers found that whey provides a better rate of protein synthesis than micellar protein alone in both young and older men, we opted for this blend of casein (80%) and whey (20%) rather than a 100% casein blend. We also picked it because JKP is extremely transparent about their protein quality, and has released their heavy metals testing so you can feel confident in purchasing their products.
3. RSP TrueFit Grass Fed Whey Protein Powder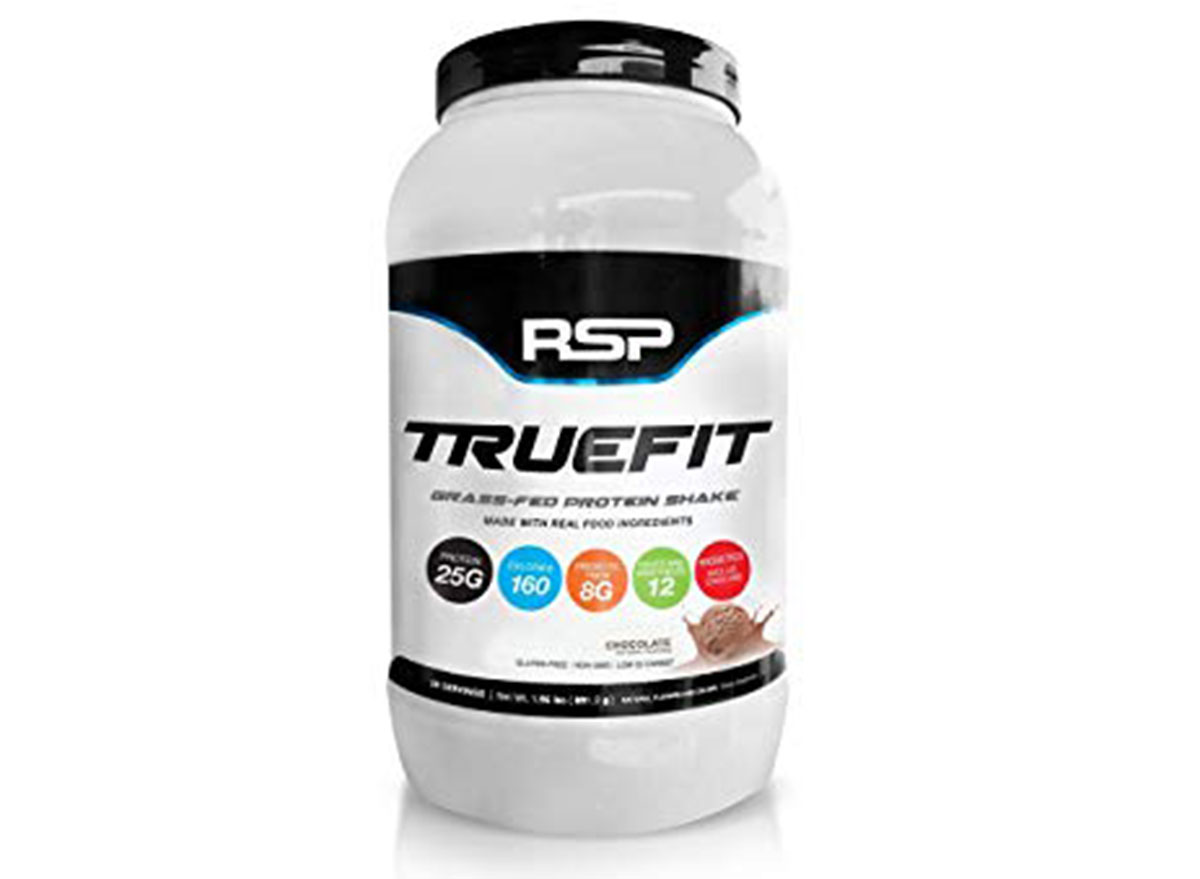 Nutrition per 1 serving, 1 scoop (44 g)
: 160 calories, 3.5 g fat (2 g saturated fat), 75 mg sodium, 11 g carbs (8 g fiber, 2 g sugar), 25 g protein
Protein source: Grass-fed whey protein concentrate
This product is designed to boost both your fitness levels as well as your overall health. It contains a unique blend of high-quality whey protein, muscle-fueling coconut triglycerides (MCT oil powder), prebiotic soluble fiber, a blend of fruit and vegetable extracts, and probiotics.
Not only can probiotics keep your gut healthy, but when they're combined with high-quality whey protein, they can enhance muscle development: A Probiotics and Antimicrobial Proteins study found that probiotics increase protein absorption by helping your body absorb leucine, a particular branched-chain amino acid (BCAA), which you need for building muscle.
4. Julian Bakery Paleo Thin Egg White Protein Powder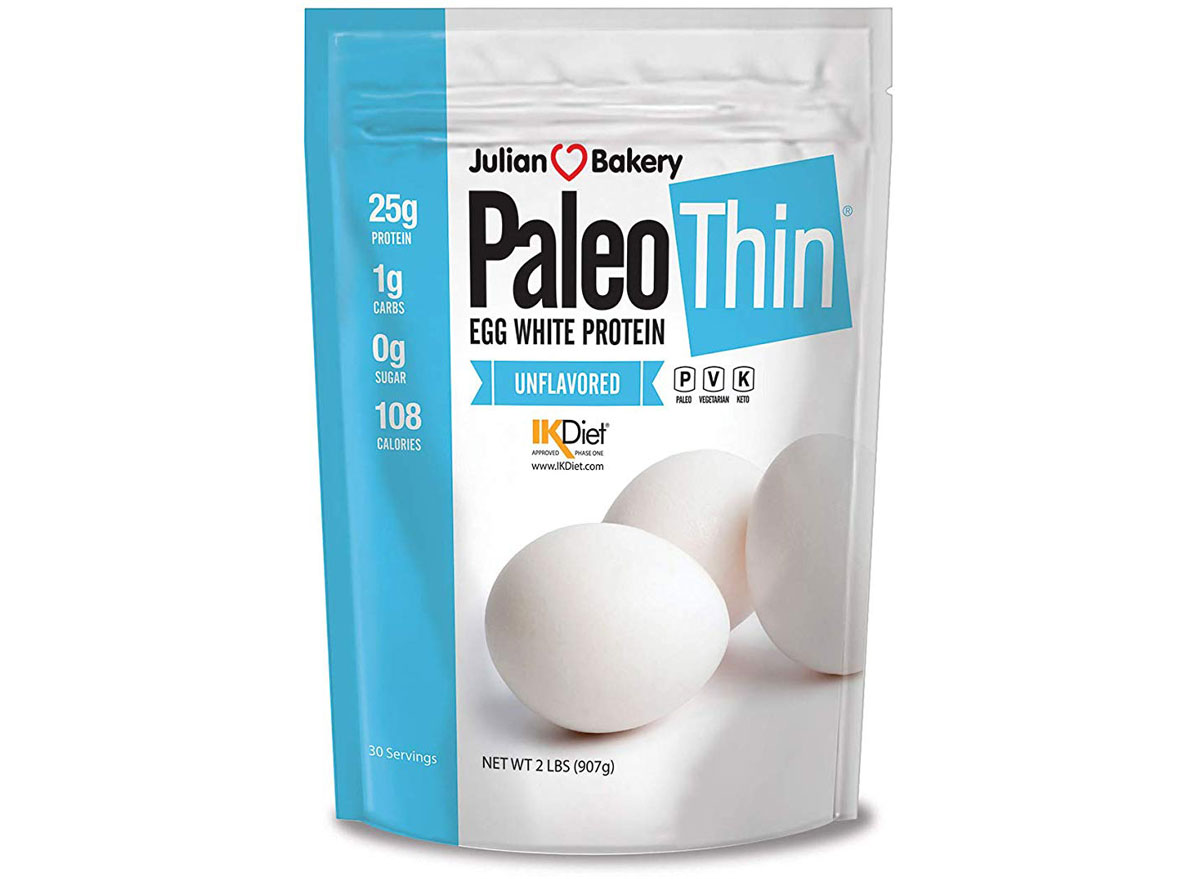 Nutrition per 1 serving, 1 scoop (30 g)
: 108 calories, 0 g fat (0 g saturated fat), 381 mg sodium, 1 g carbs (0 g fiber, 1 g sugar), 25 g protein
Protein source: GMO-free egg whites
Whey tends to be the first word when it comes to protein supplementation, but as we've mentioned before, it can cause belly bloat.
For a better option that'll help you bulk up only in desirable areas, try egg-white protein, which is naturally low-carb and no-fat. Just like whey, egg white protein has a complete essential amino acid profile, which promotes optimal recovery from challenging workouts.
Want to boost the flavor without artificial additives? Paleo Pure provides a blank slate (it's only egg whites and sunflower lecithin) to add a tablespoon of raw cacao powder to boost your intake of brain-boosting flavanoids while curbing your chocolate cravings.
5. Mt. Capra Products Double Bonded Goat Milk Protein Powder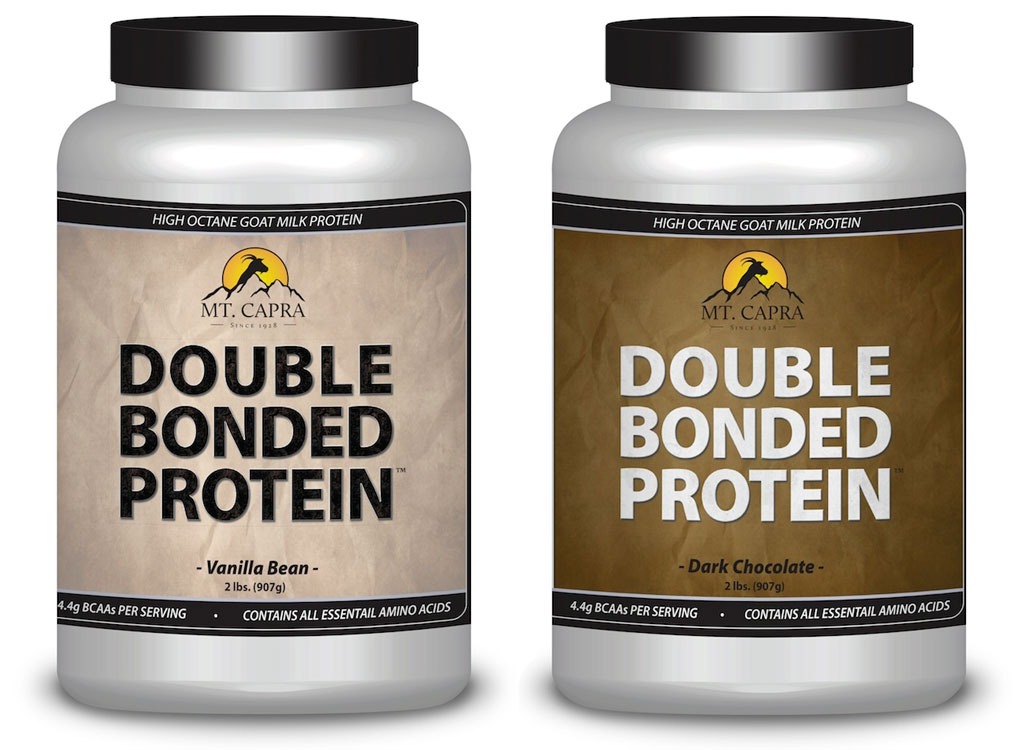 Nutrition per 1 serving, 2 scoops (30 g)
: 110 calories, 1 g fat (0 g saturated fat), 12 mg sodium, 7 g carbs (1 g fiber, 3 g sugar), 20 g protein
Protein source: Grass-fed goat milk protein
This powerful protein combines the best of both worlds in protein supplementation through a natural blend of casein and whey proteins. Using a combination powder allows whey to trigger muscle-building stimulation, while casein inhibits factors that lead to muscle breakdown. Mt. Capra is a small, family-run farm in the Pacific Northwest that uses milk from their own pasture-grazed goat herd in their powders. If your body doesn't agree with cow milk, goat milk is a great alternative. Even though goat milk still has lactose, the goat milk proteins are smaller and are thus absorbed by the human digestive system in a far superior way to that of cow protein, as supported by a Bioinformation study.
6. Designer Whey Natural 100% Whey Protein Powder in French Vanilla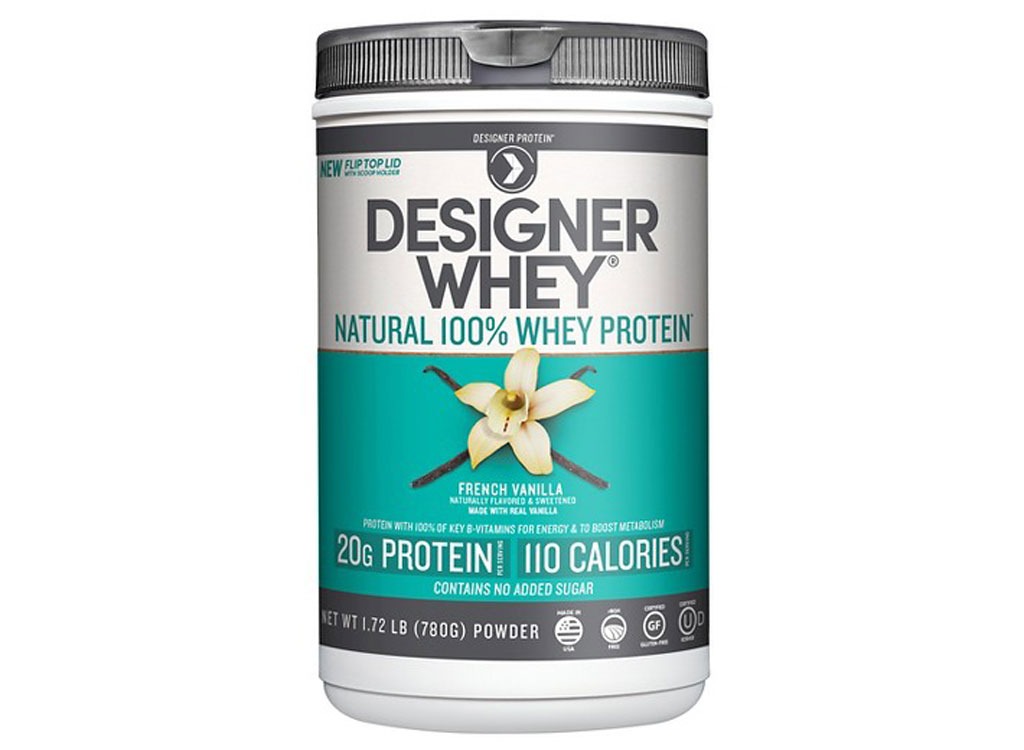 Nutrition per 1 serving, 1 scoop (31 g)
: 110 calories, 1.5 g fat (1 g saturated fat), 90 mg sodium, 6 g carbs (3 g fiber, 2 g sugar), 20 g protein
Protein Source: Whey full spectrum peptides, whey protein concentrate, whey protein isolate
Like a good pair of designer shoes, Designer Whey lives up to its name. The blend is made up of natural GMO-free whey protein concentrate and GMO-free whey protein isolate. All of the whey from milk is made free of artificial growth hormones and antibiotics. Unlike most animal-based protein powders, this option also provides 3 grams of prebiotic veggie fiber, which is beneficial to help suppress any hunger between meals. Although these ingredients are great for you, Designer Whey adds in taurine—an amino acid commonly found in the brain and used in many chemical-crammed energy drinks. According to research by Neil Harrison, PhD, a professor of pharmacology, the additive may operate more like a sedative than a stimulant.6254a4d1642c605c54bf1cab17d50f1e
The Best Vegan and Plant-Based Protein Powders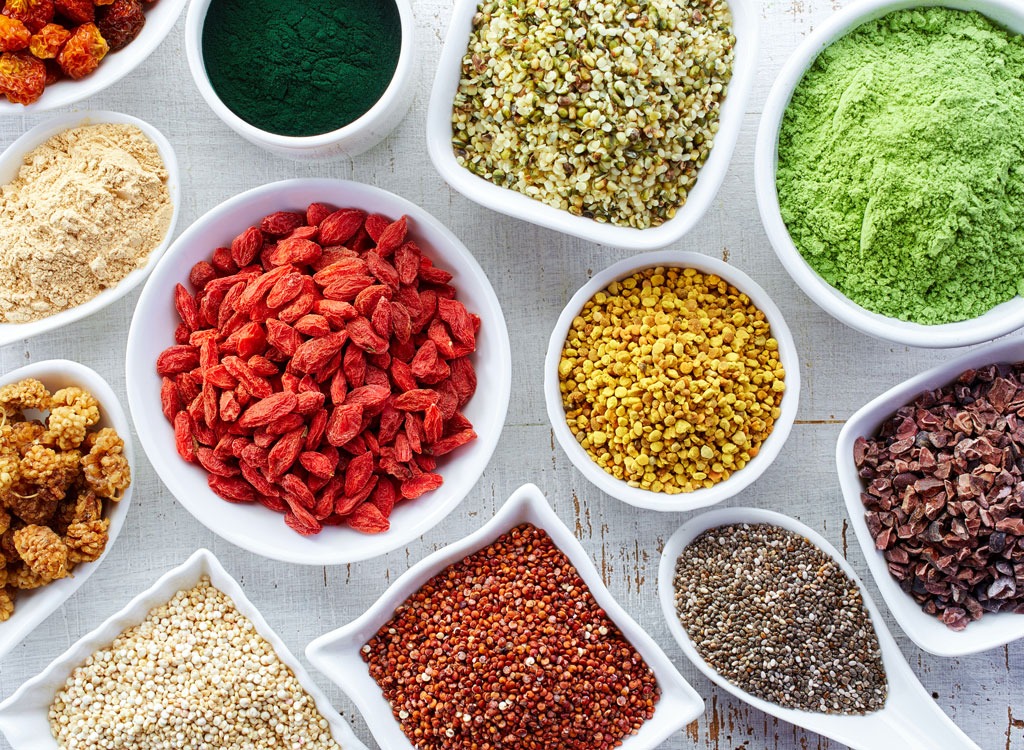 Plant protein powders won't lead to bloat like whey powders will, and they're also less likely to include nasty artificial sweeteners. (Although recent science indicates they're not carcinogenic as feared, artificial sweeteners have been shown to actually increase your appetite.) Those looking to build muscle shouldn't shrink in fear: In a 2013 study published in Nutrition Journal, University of Tampa researchers found that rice protein was just as effective as whey in building muscle and strength among men who worked out frequently.
Eat This, Not That! Tip: Look for pea, hemp, soy, or rice powders, ideally in blends. Because many single plant-based varieties aren't complete proteins, consuming a blended plant-protein powder (like one that contains both pea and rice, along with a variety of sprouts) will ensure you're getting more amino acids and thus the most bang for your supplement buck.
1. Vega One All-In-One Nutritional Shake Protein Powder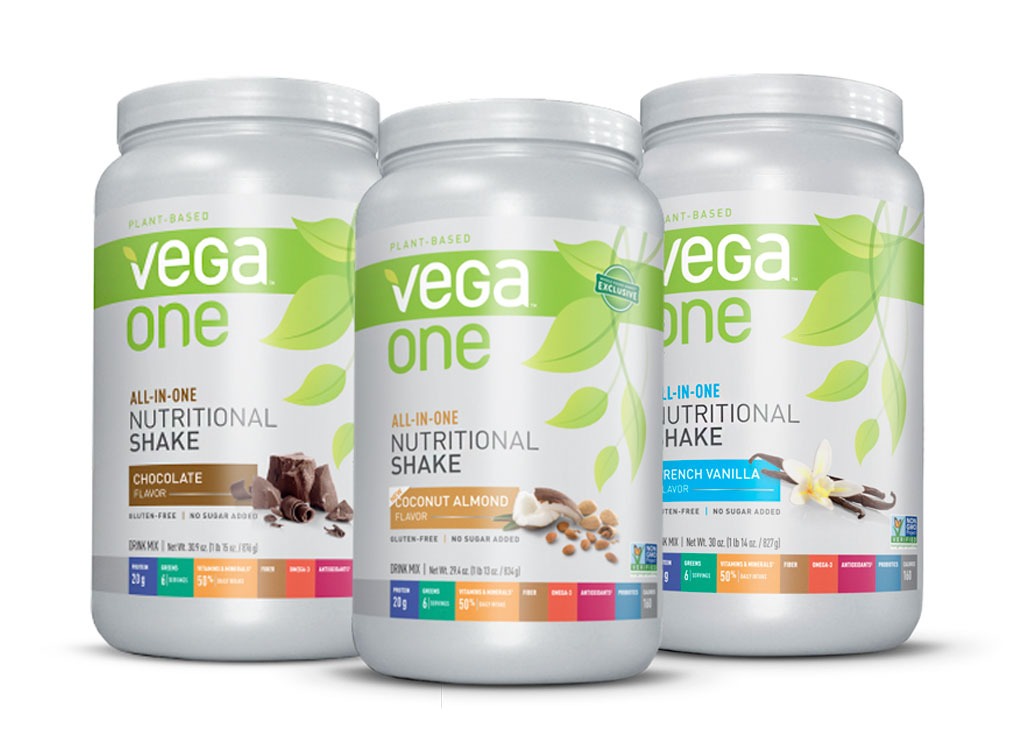 Nutrition per 1 serving, 1 scoops (41 g)
: 160 calories, 5 g fat (0 g saturated fat), 240 mg sodium, 10 g carbs (6 g fiber, 1 g sugar), 20 g protein
Protein source: Pea protein and hemp protein
Loaded with six servings of greens, probiotics, antioxidants, and 50% of your daily intake of food-based vitamins and minerals, this super clean option is difficult to turn down. With tasty flavors like vanilla chai and berry, water alone is enough to create a tasty shake you'll actually like sipping. If you have more time, combine a scoop—which doles out 20 grams of protein—with unsweetened milk alternatives and a frozen banana for an irresistible milkshake-like creation. Created by a former Ironman triathlete, this balanced protein also tastes great in homemade protein muffins as a post-triathlon—or post-regular run—treat.
2. SunWarrior Warrior Blend Raw Protein Powder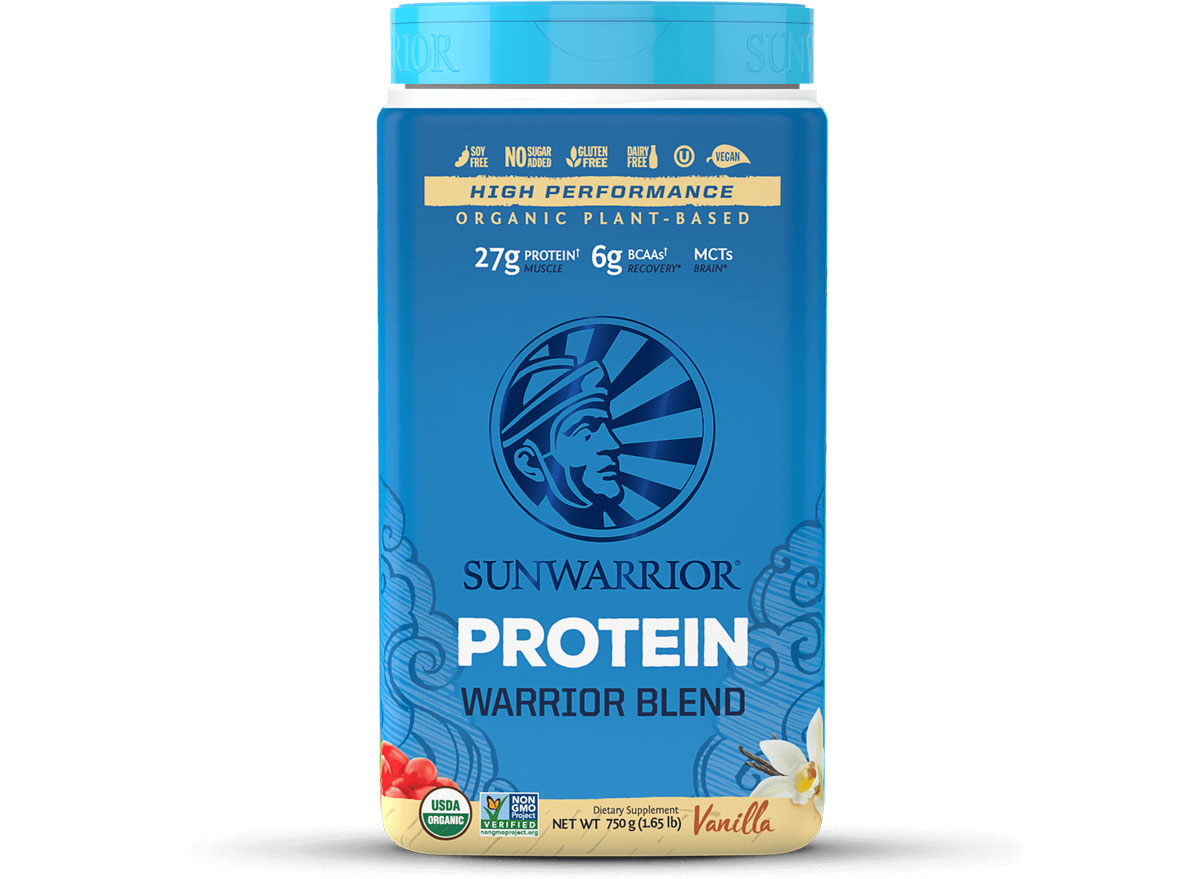 Nutrition per 1 serving, 1 scoop, Vanilla Flavor (25 g)
: 100 calories, 2 g fat (0.5 g saturated fat), 352 mg sodium, 2 g carbs (1 g fiber, 0 g sugar), 18 g protein
Protein source: Pea, hemp, cranberry protein, brown rice and more
A great raw protein option, this GMO-free powder derives its muscle-building power from raw organic pea, cranberry, and hemp seed protein—it's even tasty enough to take on its own! What's more, there are no sugars, gluten, or artificial sweeteners to cause a metabolism-confusing midday crash. If you drink some pre-workout, the branched-chain amino acids can give your gym session a boost by helping to target energy directly to your muscles.
And if you've heard about heavy metals in your protein powder, note that Sunwarrior's Warrior Blend is one of three plant-based protein powders to get a "pass" (with a score of 81) from independent testing company Labdoor.
3. Garden of Life Raw Organic Protein Powder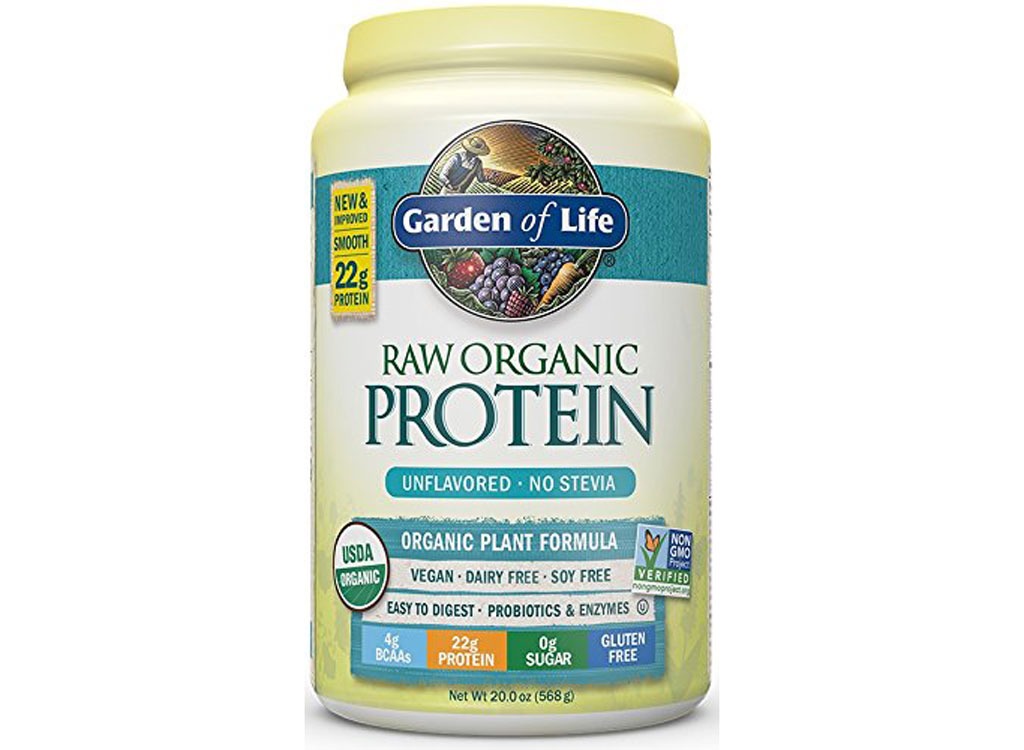 Nutrition per 1 serving, 1 scoop (28 g)
: 110 calories, 2.5 g fat (0 g saturated fat), 150 mg sodium, 2 g carbs (1 g fiber, 0 g sugar), 22 g protein
Protein source: Organic sprouted protein blend (brown rice, amaranth, quinoa, millet and more)
This complete protein showcases 13 raw and organic sprouts, with 17 grams of protein per serving, all the essential amino acids your body needs, plus tea and cinnamon extract. Just make sure you whip up a smoothie using a healthy fat like nut butter or avocado. The makers of this powder load it with fat-soluble vitamins A, D, E, and K, which can only be fully absorbed by your body when paired with a healthy fat. Their original unflavored powder works in any post-workout shake, but we're suckers for slimming, satisfying chocolate versions.
When you're looking for an option with rice, make sure the brand uses sprouted brown rice (like Garden of Life does), not just "rice protein." Sprouting the rice reduces the amount of carbs and heightens the amount of protein, which lowers the glycemic effect (minimizing blood sugar spikes) and increases the nutritional profile. Plus, when rice protein is sprouted, it changes in genetic makeup to make its nutrients more bioavailable to the body, according to the Food and Agriculture Organization of the UN.
4. Nutiva Organic Hemp Protein Powder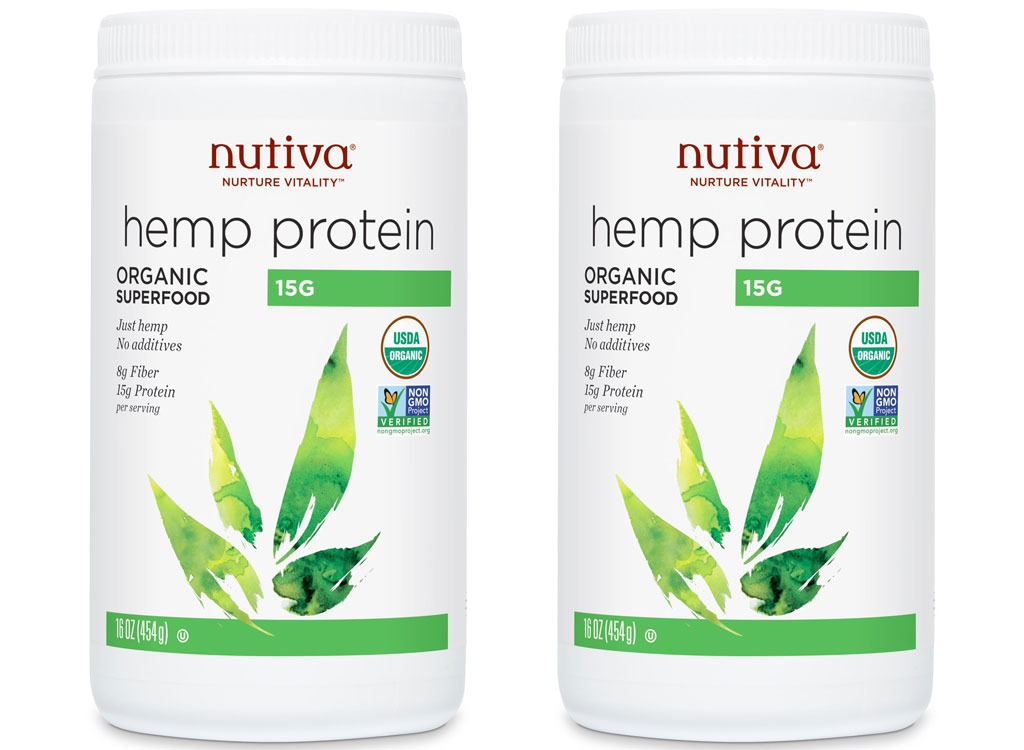 Nutrition per 1 serving, 3 Tbsp (30 g)
: 90 calories, 3 g fat (0 g saturated fat), 0 mg sodium, 9 g carbs (8 g fiber, 1 g sugar), 15 g protein
Protein source: Hemp
We love the post-workout high—no, not that kind of hemp high—we get with this hemp-based, organic protein powder. Hemp protein is derived from the less-fun parts of the hemp plant, offering a substantial amount of fiber (here, 8 grams) that's easy to digest, making it a great pre-workout powder to keep you from cramping up at the gym. On top of 15 grams of complete protein per serving, hemp also boasts heart-healthy doses of anti-inflammatory omega-3s. This option is an ideal mix-in for oatmeal or smoothies (or brownies if that's your thing); the fiber will make you feel fuller longer, and it contains eight essential amino acids to build muscle.
5. Aloha Plant-Based Protein Powder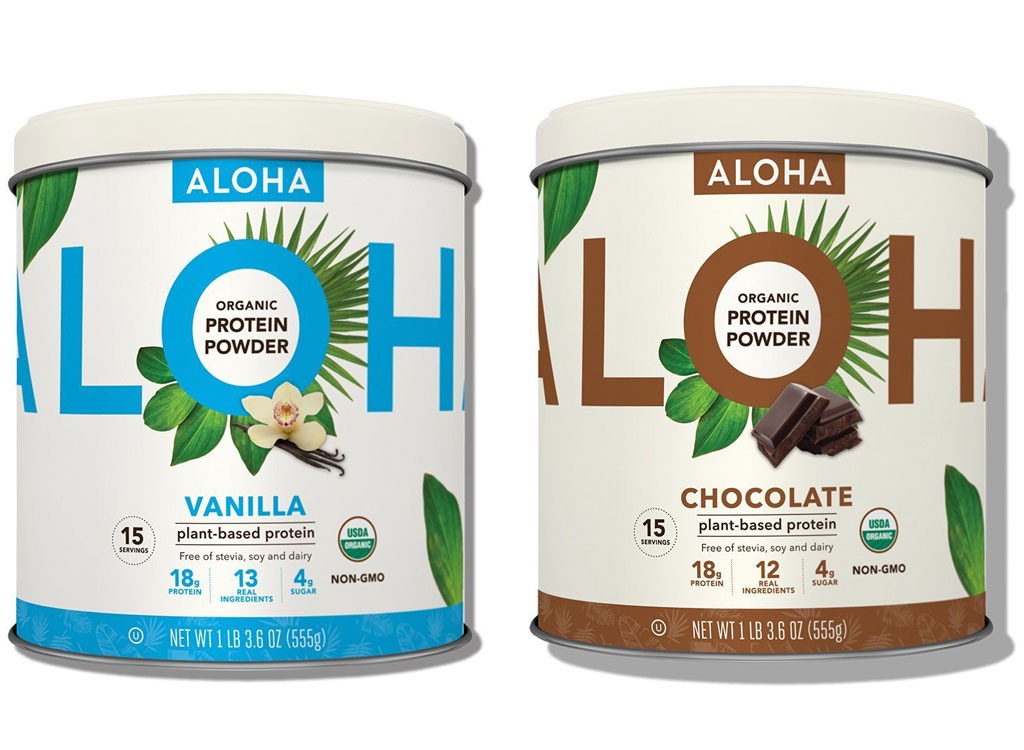 Nutrition per 1 serving, 2 scoops (37 g)
: 150 calories, 4.5 g fat (1.5 g saturated fat), 190 mg sodium, 10 g carbs (3 g fiber, 4 g sugar), 18 g protein
Protein source: Hemp, pumpkin seeds, and peas
Milk the benefits of this tasty, plant-based protein powder by slipping it into one of your quick smoothies or shakes. The organic, vegan powder is made with hemp seeds, pumpkin seeds, and peas for an impressive punch of 18 grams of protein per serving—with no chemicals or artificial fillers. And while it may be gluten-free, soy-free, and dairy-free, it's certainly rich in flavor. When you try this in a shake recipe that is originally dairy-based, you'd swear it was the real thing from its rich texture and flavor. Try their wild harvested vanilla or fair trade organic cacao powder swirled into a quick shake with half a frozen banana for an ice cream-like texture and a tablespoon of nut butter for satiating healthy fats and some extra protein.
6. Amazing Grass Protein Superfood Protein Powder in Chocolate Peanut Butter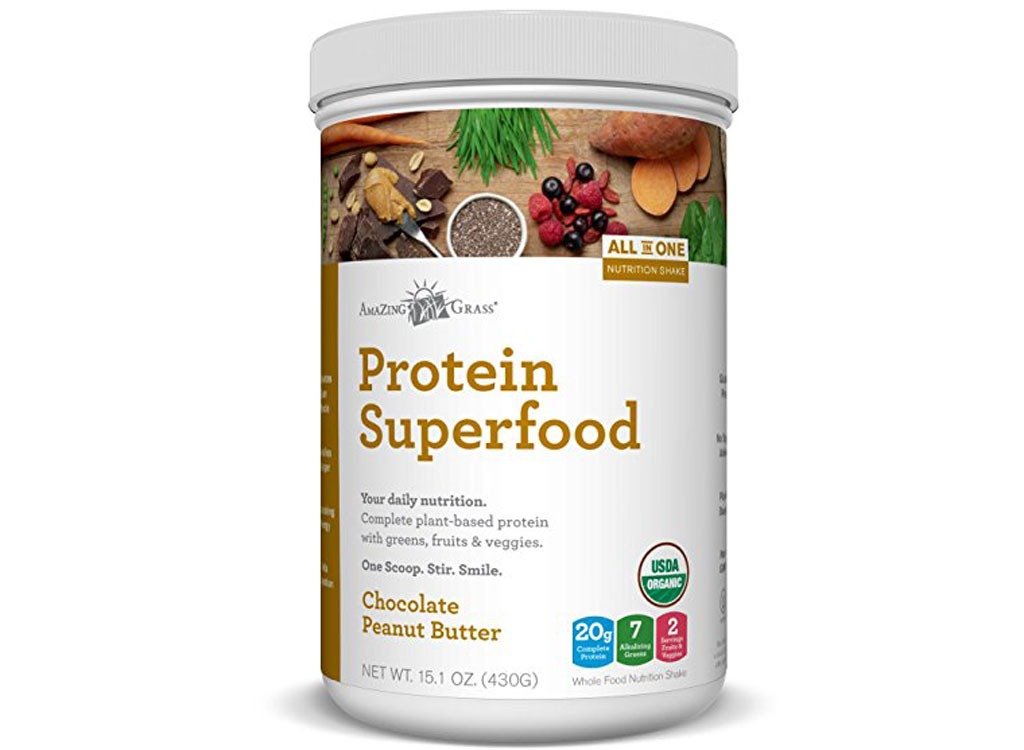 Nutrition per 1 serving, 1 scoop (44 g)
: 190 calories, 7 g fat (1.5 g saturated fat), 340 mg sodium, 11 g carbs (7 g fiber, 4 g sugar), 20 g protein
Protein Source: Organic pea protein, organic hemp protein, organic chia, organic quinoa
This may not be the best powder on the list when it comes to taste, but it certainly is up there with the best for you. This superfood blend packs 20 grams of complete protein as well as two servings of organic fruits and vegetables. The company strives to use non-GMO, kosher, vegan, and gluten-free ingredients only, making their powders as raw as possible.
7. Orgain Organic Protein Plant-Based Powder in Sweet Vanilla Bean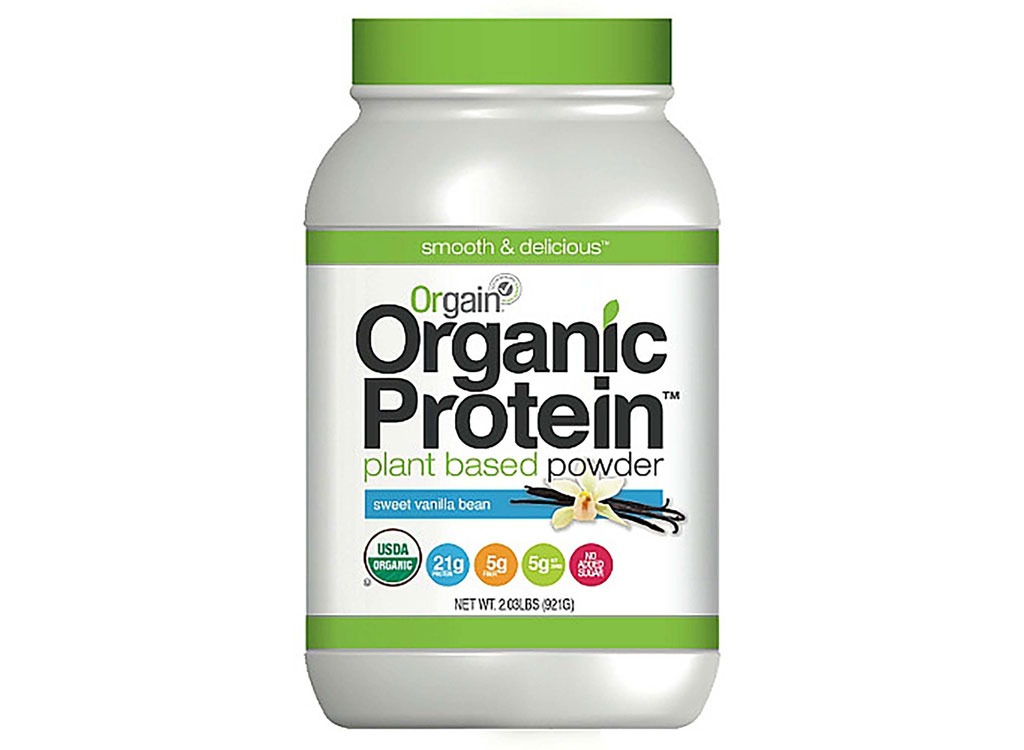 Nutrition per 1 serving, 2 scoops (46 g)
: 150 calories, 4 g fat (0.5 g saturated fat), 180 mg sodium, 15 g carbs (5 g fiber, 0 g sugar), 21 g protein
Protein Source: Organic pea protein, organic brown rice protein, organic chia seed, organic hemp protein
This protein powder is made from some of the highest quality certified organic plant proteins. It is made with no hormones, no antibiotics, no pesticides, and no herbicide residues. The company also eliminates any artificial colors, flavors, or preservatives. And better yet, all ingredients are sourced right in the USA. This powder is loaded with 21 grams of organic protein, 5 grams of belly-filling fiber, and a complete amino acid profile. The texture of this powder is as smooth as pancake batter — and it smells just like it! The flavor, however, is quite strong and sweet—almost too sweet for us—but it's definitely worth a shot if you've got a sweet tooth.
8. Garden of Life Sport Organic Plant-Based Protein Powder in Chocolate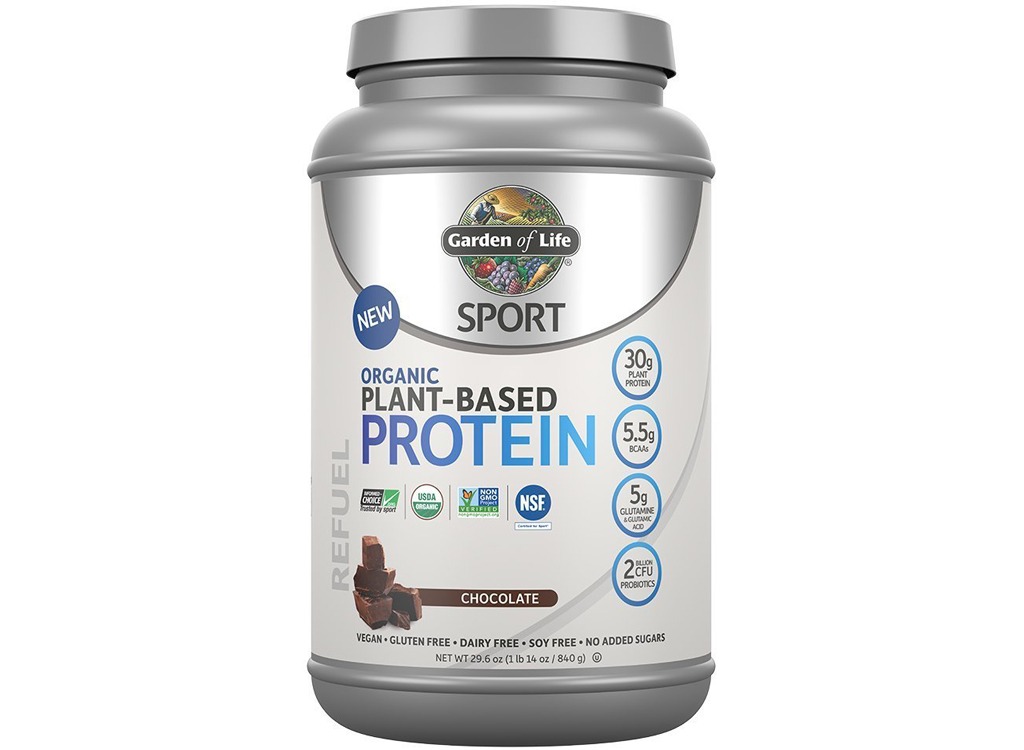 Nutrition per 1 serving, 2 scoops
: 170 calories, 3 g fat (1 g saturated fat), 180 mg sodium, 7 g carbs (1 g fiber, 0 g sugar), 22 g protein
Protein Source: Organic pea protein, organic sprouted navy bean, organic sprouted lentil bean, organic sprouted garbanzo bean, organic cranberry protein (seed)
Designed for an athlete to use post-workout, Garden of Life took the amazing plant-based protein powder game one step further. This powder is NSF Certified for Sport and Informed-Choice for Sport Certified, meaning there are zero banned athletic substances and only whole clean nutrients. Their unique array of protein products delivers a full profile of essential amino acids: 5.5 BCAAs and 5g glutamine, all of which are essential when it comes to cutting down your body's recovery time after exercise and maximizing the benefits from your hard work in the weight room.
9. SunWarrior Classic Plus Protein Powder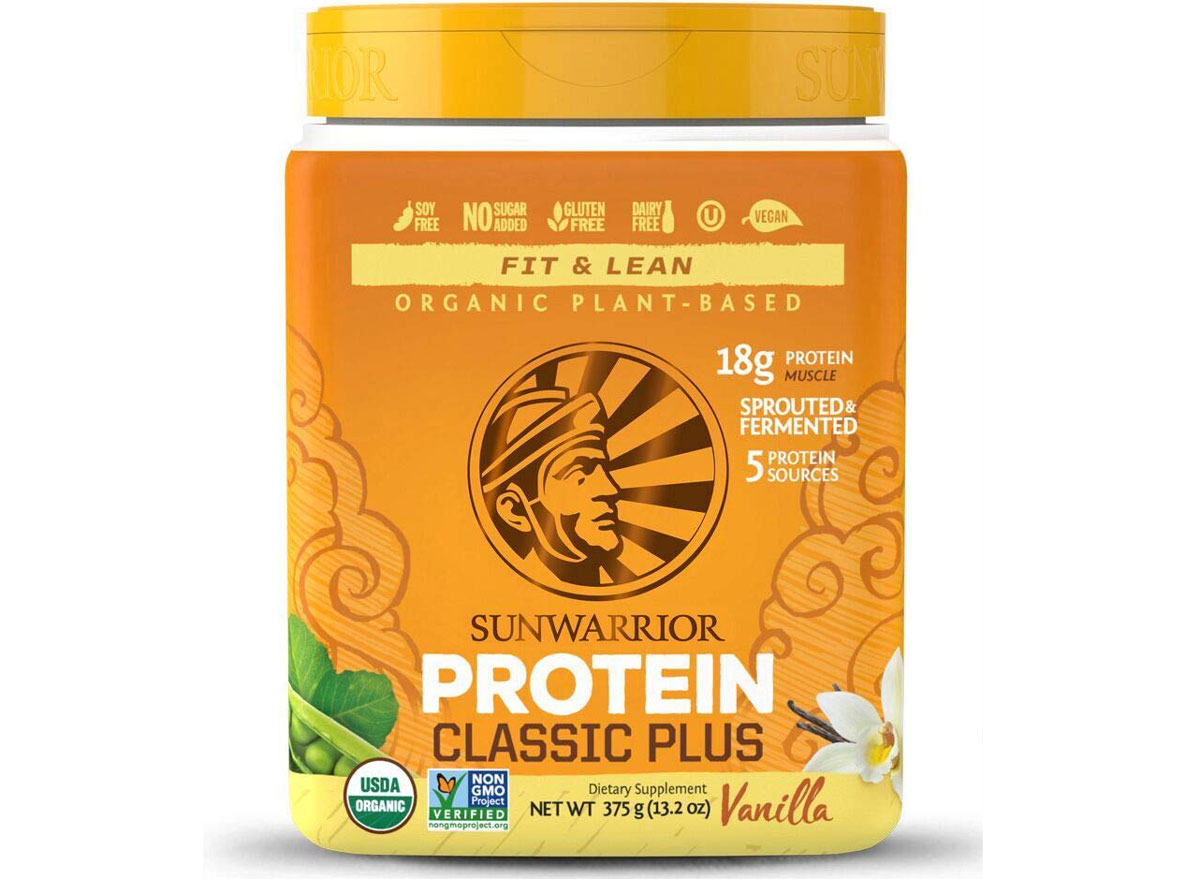 Nutrition per 1 scoop, Vanilla Flavor (25 g)
: 100 calories, 1 g fat (<0.5 g saturated fat), 140 mg sodium, 4 g carbs (2 g fiber, 0 g sugar), 18 g protein
Protein Source: Organic brown rice, organic pea, organic quinoa, organic chia seed, and organic amaranth protein
Sunwarrior earns their claim to fame by using an abundant amount of amino acids. This powder is also free of GMOs, soy, gluten, dairy, and unnecessary calories. For just one scoop of this flavor-packed drink, you get 100 calories and 18 grams of muscle-molding protein.
What type of protein powder is best?
Protein powders come from a variety of sources and are available as a single protein source or as a blend of multiple protein powders. When it comes to which protein powder is best, it depends on your individual nutritional needs.
For example, pea protein powder is particularly high in iron—a nutrient many women are deficient in. At the same time, pea protein powder may cause digestive discomfort in those sensitive to legumes. In this case, one might opt for a pea protein isolate rather than a protein concentrate as isolate protein powders are lower in carbohydrates that often cause sensitivities.
We review the different types of protein powder and include how "digestible" they are. This digestibility is a measure of how easily the body can absorb and utilize the amino acids.
Whey Protein
One of the most common protein sources, whey protein comes from milk. Whey protein is highly digestible and is broken down quickly, which provides a quick dose of amino acids that may help increase muscle mass and strength. Dairy proteins like whey are considered to be "complete" protein sources, meaning they contain all nine essential amino acids.
Casein Protein
Casein is another complete protein found in milk that is also highly digestible. Casein is a slow-digesting protein source which can promote feelings of satiety over a long period of time. Studies show casein protein contains various bioactive peptides, which can provide benefits that range from acting as an antimicrobial to providing immune support.
Egg Protein
Egg-white is a complete protein that is high in quality and easily digested. Because egg white protein powders are low in fat, they are lower in calories than other protein powders, which is a benefit if you're looking to lose weight.
Hemp Protein
Hemp protein is high in anti-inflammatory omega-3s and is often a good or excellent source of fiber, which makes it very satiating. Hemp protein is fairy digestible, but it is not one of the best sources of amino acids as it's low in the essential amino acids lysine and leucine.
Pea Protein
Pea protein powder ranks lower than dairy and soy protein for digestibility measures. It is still a quality source of amino acids but it is low in one essential amino acid, methionine. Pea protein has been linked to promoting feelings of fullness (and weight loss) and may increase muscle growth as effectively as animal-based proteins.
Brown Rice Protein
Brown rice protein is easily digested; however, it is not a considered to be as high quality of a protein source as the other options on this list as it's low in the essential amino acid lysine.
Soy Protein
Soy protein is a high-quality protein that is highly digestible. Soy is considered to be a complete protein, rich is all essential amino acids. Soy protein concentrate can be a good source of fiber.
The Worst Protein Powders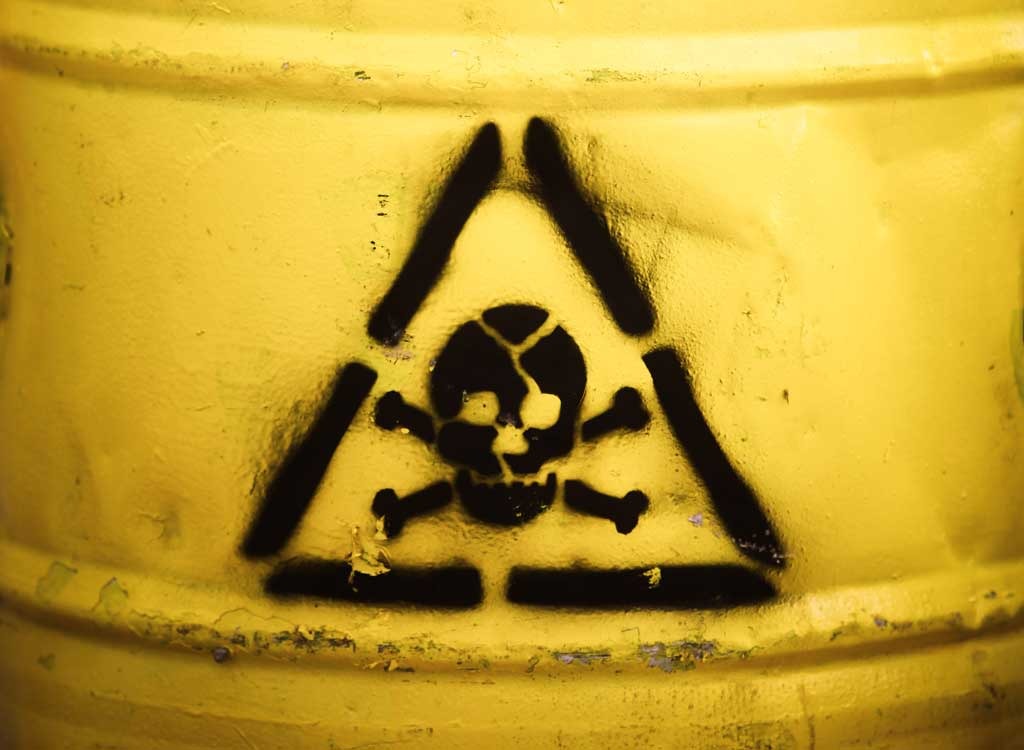 As we mentioned earlier, many protein powder labels read like the stock list of a chemistry lab. But don't let that science mumbo jumbo confuse you. Below we've found some standout examples of what you should avoid when picking out a powder. While these are far from being named the best protein powder, keep in mind that there are many more out there that we weren't able to include.
Eat This, Not That! Tip: You should typically stay away from really cheap powders, undisclosed sources of protein, a lot of sugar, artificial sweeteners, and hydrogenated oils.
1. BSN Syntha-6 Protein Powder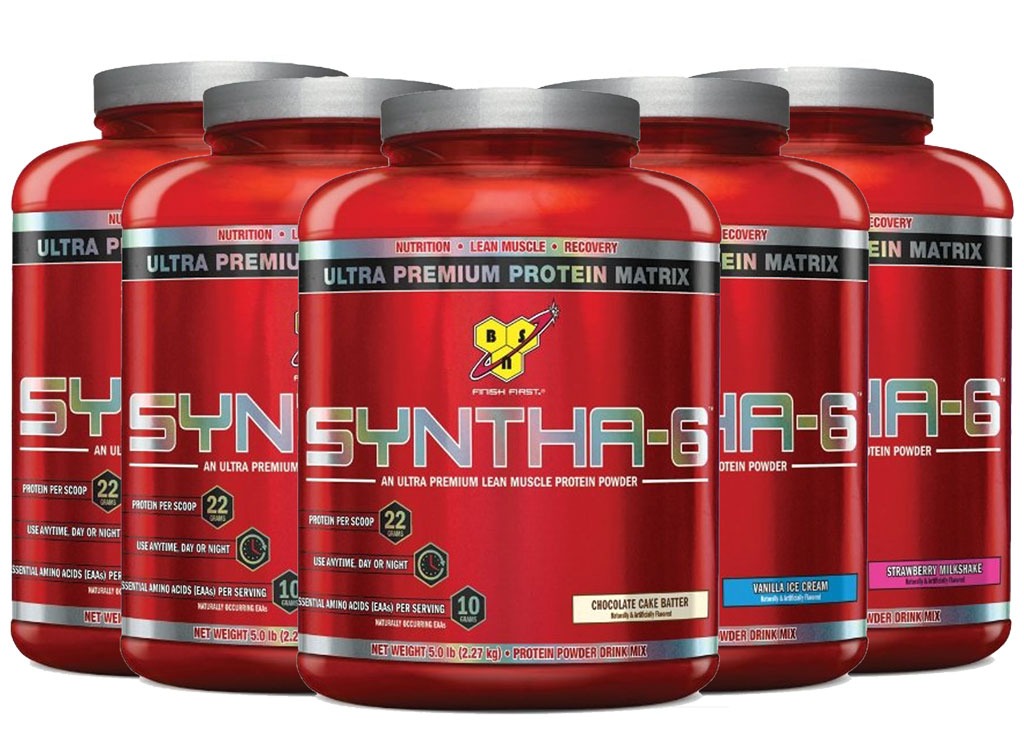 Nutrition per 1 serving, 1 scoop (47 g)
: 200 calories, 6 g fat (2 g saturated fat), 180 mg sodium, 15 g carbs (0 g fiber, 5 g sugar), 22 g protein
Why you should avoid it: It's full of artificial sweeteners.
BSN Syntha-6 Protein might be one of the top-selling whey proteins on Amazon only because people can't stop raving about the taste. While we get that powders can taste chalky and less than pleasant, that doesn't mean you should grab one that's loaded with artificial sweeteners like sucralose and acesulfame potassium. Companies use artificial sweeteners because they are addictive and send a signal to the brain to keep drinking or eating without an off switch—even if they, themselves, don't contain any calories. Julieanna Hever, MS, RD, CPT, explains that "refined and processed sweeteners are unrelenting in their ability to entice you to overeat, and yet don't provide satiation, satiety, or nourishment." A Diabetes Care study found that the deceptively sweet artificial sweeteners trick your metabolism into thinking sugar is on its way, spiking your insulin levels, and shifting the body from a fat-burning to a fat-storing state.
2. Muscle Milk Protein Powder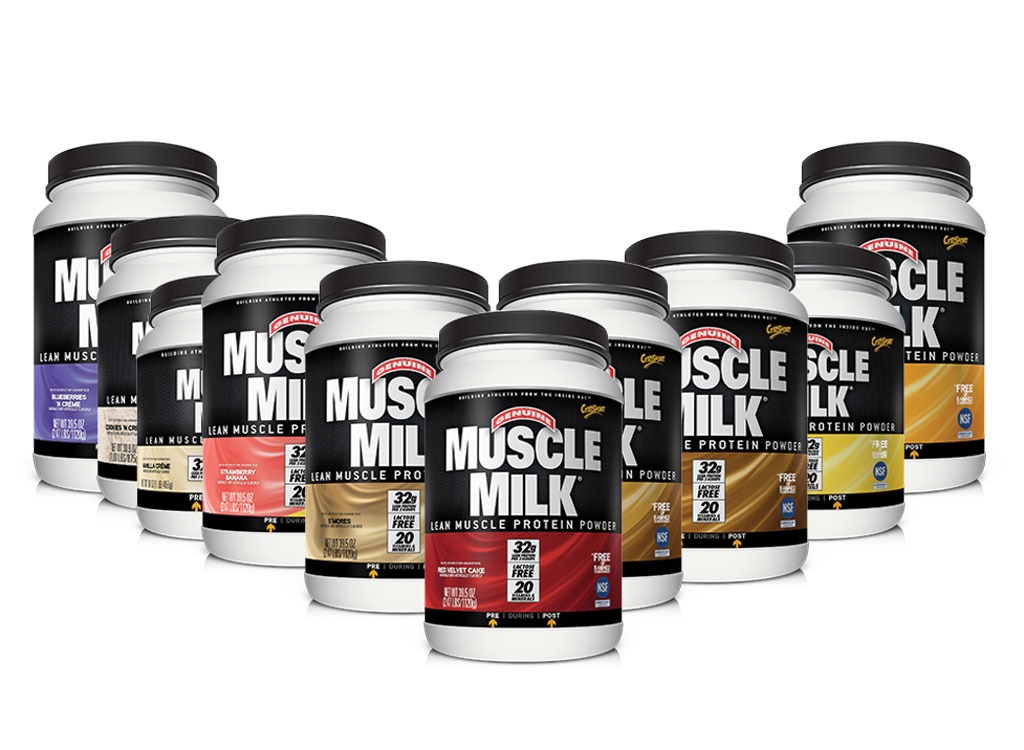 Nutrition per 1 serving, 2 scoops, Chocolate Flavor (70 g)
: 280 calories, 9 g fat (3.5 g saturated fat), 135 mg sodium, 20 g carbs (2 g fiber, 3 g sugar), 32 g protein
Why you should avoid it: It's full of toxic contaminants, chemical additives, and sugar.
Besides the fact that Muscle Milk also adds a slew of sweeteners (maltodextrin, fructose, and sucralose), that might not even be the worst thing about it. According to a 2010 list from Consumer Reports, Muscle Milk was number one on a list of protein-promising powders that had toxic heavy metal contamination from all their chemical additives. They found levels of cadmium, arsenic, mercury, and lead that nearly reached or surpassed the United States Pharmacopeia (USP) daily intake limits. Cadmium raises special concern because it accumulates in and can damage the kidneys, the same organs that can be damaged by excessive protein consumption. There's even more concern in this case, because these toxic heavy metals are found in a product that is marketed for daily use. We'd recommend you put down the Metal Milk.
3. Adaptogen Science Tasty Whey Protein Powder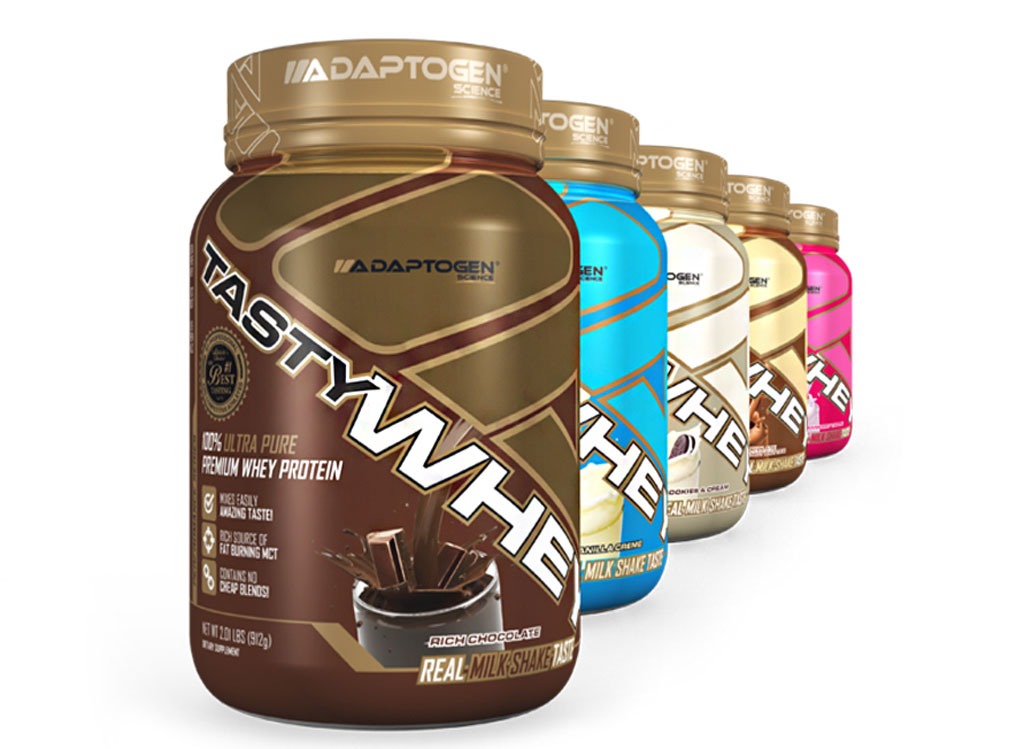 Nutrition per 1 serving, 1 scoop, Chocolate Peanut Butter Flavor (38 g)
: 170 calories, 5.5 g fat (4 g saturated fat), 80 mg sodium, 9 g carbs (< 1 g fiber, 2.5 g sugar), 20 g protein
Why you should avoid it: It contains hydrogenated oils (trans fat).
Adaptogen Science uses partially hydrogenated coconut oil in the form of coconut powder, which also contains corn syrup solids, sugar, soy, and carrageenan. Whether it's partially hydrogenated coconut oil or "hydrogenated whey protein," this ingredient has been heated and hydrogenated at high temperatures to extend its shelf stability. When it's in your body, it creates a rancid oil whose artery-clogging effects cause reduced blood flow, which can impact things like the heart, brain, and sexual function.
4. Quest Protein Powder
Nutrition per 1 serving, 1 scoop, Chocolate Flavor (30 g)
: 110 calories, 1 g fat (0.5 g saturated fat), 150 mg sodium, 3 g carbs (1 g fiber, <1 g sugar), 22 g protein
Why you should avoid it: It's cheap and probably contaminated with heavy metals
We know, we know. Protein powders are expensive—but they are for a reason. The high price tag comes with a high-quality raw protein product, so when manufacturers are able to provide you with an inexpensive product, like Quest, they most likely have to cut costs by using questionable protein suppliers. There's a reason why Quest doesn't provide any information about protein powder sourcing or quality control tests.
You also might also want to avoid Quest for other reasons. Based on results from the Clean Label Project, which tested both whey and plant protein powders for heavy metal contamination, Quest's Chocolate Milkshake Protein Powder was among the bottom five protein powders out of 134 protein powders. Researchers calculated scores by a combination of heavy metal presence, pesticides, contaminants like BPA, and nutrition.
Another thing to be cautious of when buying protein powders is the flavor: Jaclyn Bowen, the executive director of the Clean Label Project, told Consumer Reports that cacao plants are more susceptible to absorbing heavy metals.
5. Swanson GreenFoods Vegan Protein Powder with Probiotics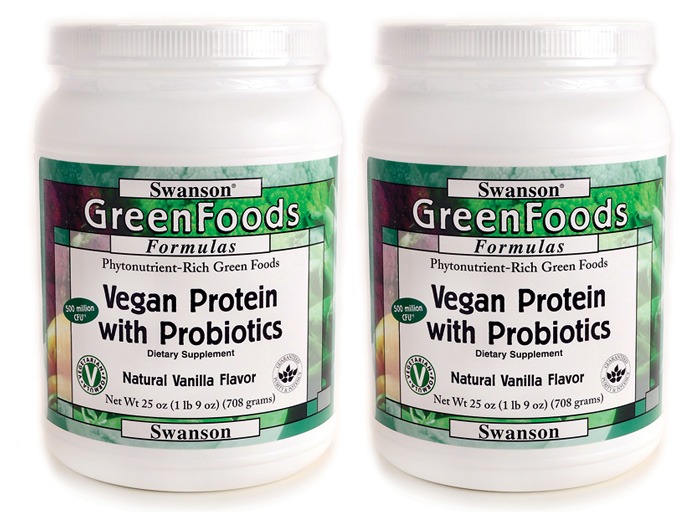 Nutrition per 1 serving, 3 scoops, Natural Vanilla Flavor (47.2 g)
: 190 calories, 1 g fat, 214 mg sodium, 26 g carbs (5 g fiber, 20 g sugar), 18 g protein
Why you should avoid it: It contains a significant amount of added sugar
Even plant-based products are not all good. Swanson combines two strains of bacteria with hemp, rice, and pea protein to create their tub of scoopable nutrition. In theory, this all sounds like a good thing—a terrific two-for-one option for smoothie and protein shake lovers alike—but unfortunately, the makers behind this blend also packed in tons of brown rice syrup solids, which ups the sugar count to a whopping 20 grams in a standard three-scoop serving. Skip it.
RELATED VIDEO: How to Lose Weight With Smoothies
Olivia Tarantino
Olivia Tarantino is the Managing Editor of Eat This, Not That!, specializing in nutrition, health, and food product coverage.
Read more about Olivia
More content from
Groceries