9 Best Protein Powders To Try Now, According to Dietitians
Experts say these protein powders are the healthiest and best-tasting choices you can make.
The product recommendations in this post are recommendations by the writer and/or expert(s) interviewed and do not contain affiliate links. Meaning: If you use these links to buy something, we will not earn a commission.
Let's face it, protein is important. In fact, according to the National Library of Medicine, this nutrient is the building block of life because your body breaks it down into amino acids, and we need a certain amount of amino acids to make new cells, repair old ones, and maintain overall good health. Unfortunately, getting the recommended 10–35% of your calories from protein every day can be a challenge, especially on busy days. This is why using protein shakes or protein powders can be a quick and helpful choice for meeting your nutrient goals.
Consuming protein powder as a supplement can be beneficial for those who are working out, and for those who aren't. A study published in the Journal of the American College of Nutrition found that whey protein supplementation was linked to reduced body weight and fat mass, as well as reduced risk of some cardiovascular disease risk factors, in obese or overweight patients. One meta-analysis review published in the British Medical Journal found that supplementing with protein was also helpful in building more muscle mass in those who performed endurance exercise like weightlifting. While protein powder can provide many health benefits, not all of these are created equal.
When choosing the type you want to try, make sure to look at the ingredients label to see how much added sugar, saturated fat, or sodium is used. You'll also want to decide between a plant-based powder, with the most common type being made from pea protein, or an animal product protein powder, with the most common being made from whey. Sometimes, making these decisions can feel overwhelming, which is why we talked with a few expert dietitians to get their choices for the best protein powder to buy right now. Read on to learn what they chose and why.
Primal Kitchen Primal Fuel Whey Protein Drink Mix
Per scoop
: 90 calories, 4 g fat (4 g saturated fat), 90 mg sodium, 4 g carbs (1 g fiber, 1 g sugar), 10 g protein
"For people who love the taste of vanilla and want the benefits of whey protein powder, this Primal Kitchen Vanilla Coconut Whey Protein powder certainly fits the bill," says Lauren Manaker, MS, RDN, registered dietitian and author of The First Time Mom's Pregnancy Cookbook and Fueling Male Fertility.
Primal Kitchen's products are known for using only a handful of ingredients, which can provide you with peace of mind as you consume. For example, this powder uses only nine ingredients.
"[It] is also paleo-approved, keto-friendly, gluten-free, and made with only 1 gram of sugar per serving," says Manaker.
Now Nutrition Organic Pea Protein
Per 2 scoops
: 80 calories, 1.5 g fat (0 g saturated fat), 230 mg sodium, 1 g carbs (1 g fiber, 0 g sugar), 15 g protein
Finding a delicious, plant-based protein powder that isn't loaded with sugar can be a challenge, but Manaker recommends this Now Nutrition Organic Pea Protein.
"It is a vegan-friendly powder that is made from the humble yellow pea. One serving of this powder provides 15 grams of plant-based protein," says Manaker.
The Now Sports Nutrition line offers a variety of other protein powder options, like pumpkin seed protein, brown rice protein, and protein soy isolate.
Four Sigmatic Plant-Based Protein With Superfoods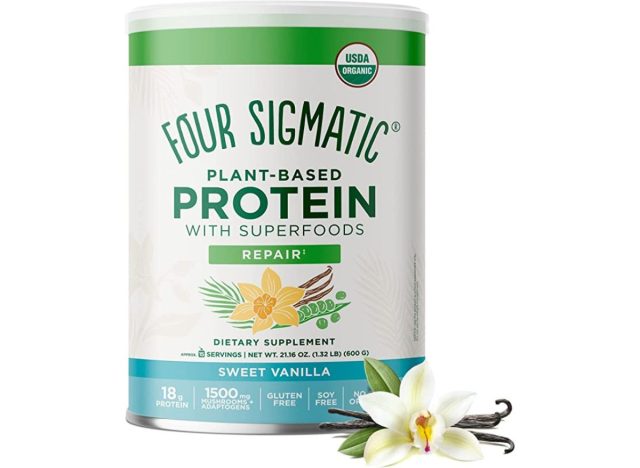 Per scoop
: 120 calories, 2 g fat, 400 mg sodium, 8 g carbs (3 g fiber, 2 g sugar), 18 g protein
A brand mostly known for its mushroom coffees, Four Sigmatic also offers a line of healthy, simple-ingredient protein powders.
"Four Sigmatic offers five different flavors of protein powders that are all delicious and packed with tons of nutrition. One scoop provides 18 grams of protein from vegan sources including pea, hemp, chia, pumpkin, and coconut protein, and it is sweetened with organic maple syrup and monk fruit," says Sydney Greene MS, RDN. "In addition to protein, this protein powder is packed with immune-boosting medicinal mushrooms, such as Chaga, reishi, and turkey tail mushrooms."
If vanilla isn't your thing, you can try chocolate, cafe mocha, peanut butter, creamy cacao, or the unflavored option for a more discreet addition of protein to your meal.
Sprout Living Epic Protein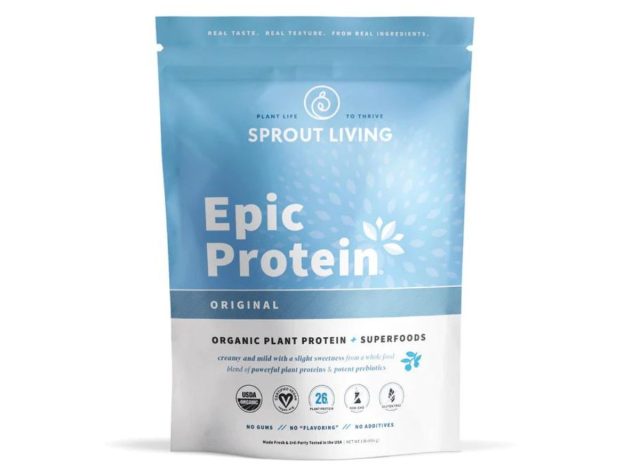 Per 2 scoops
: 130 calories, 3 g fat (0 g saturated fat), 300 mg sodium, 7 g carbs (6 g fiber, 0 g sugar), 26 g protein
"Organic and free of any additives, Sprout Living's Epic Protein Powder is suitable for most dietary needs," says Greene. "One serving provides 26 grams of plant-based protein, six grams of fiber, and six milligrams of iron. This is an awesome, sugar-free, vegan protein powder to add to smoothies or oatmeal."
Research has shown that iron supplementation can help boost workout performance, so a protein powder with this added mineral may be helpful. For example, a study published in the Journal of Nutrition found that iron was useful in enhancing performance for women in "childbearing years."
Be Well Grass-Fed Beef Protein
You may see the label on this protein powder and feel hesitant about consuming "grass-fed beef powder." Thankfully, you'll get none of the beef flavoring, but many of the health benefits that come with it.
"For individuals that eat animal protein, this protein powder is a no-brainer. Thoughtfully crafted without the use of harmful chemicals, one scoop provides 23 grams of protein from grass-fed beef," says Greene. "Made with only one (the unflavored option) or three ingredients (chocolate and vanilla flavors), this protein powder is full of the nutrients you want without any fillers, sugars, or additives."
This powder also fits a paleo, keto, dairy-free, or gluten-free eating pattern, and according to the Be Well By Kelly website, it is "carefully sourced and precisely formulated."
Vital Proteins Vital Performance Recover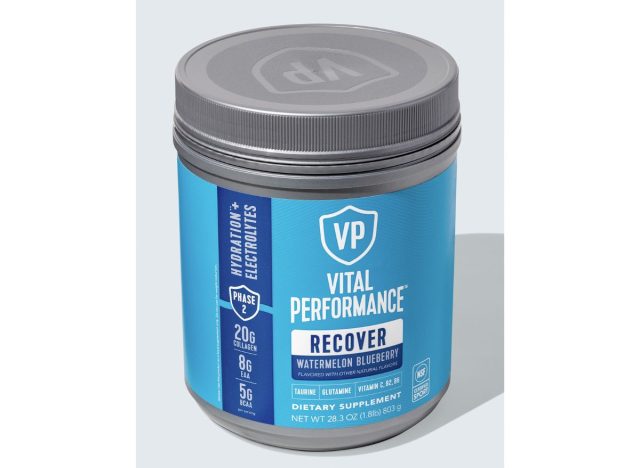 Per 2 scoops
: 100 calories, 6 g carbs (4 g sugar), 18 g protein
"Vital Performance Recover is the best of both worlds in that it provides 20 grams of collagen peptides that support the health of components rich in connective tissue, like muscles, tendons, bones, and joints, as well as 5 grams of branched chain amino acids to help muscle protein synthesis after exercise," says Amy Goodson, MS, RD, CSSD, LD author of The Sports Nutrition Playbook and member of our Expert Medical Board. "It also contains electrolytes, antioxidants that support immune health like vitamin C, zinc, and L-glutamine, and is NSF-certified for sport. With 18 grams of protein per servings, this protein powders hits recovery from all angles."
For reference, if a product is NSF-certified for sport, it means that it doesn't contain any banned substances. Another popular certification that many sports products, like protein powder, will get if it is clean of prohibited substances is the Informed Choice Certification. Looking for protein powders with either of these certifications can help assure you that you're using a clean product.
Dymatize Elite 100% Whey Protein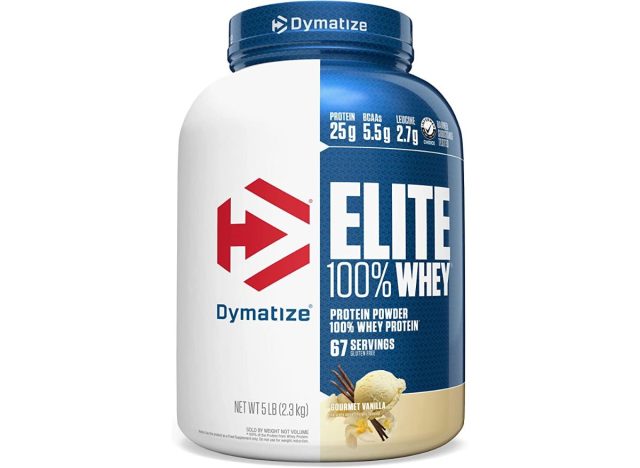 Per scoop
: 140 calories, 3 g fat (1.5 g saturated fat), 95 mg sodium, 2 g carbs (0 g fiber, 2 g sugar), 25 g protein
"Dymatize Elite is a top pick for whey protein powder because it is certified by Informed Choice and contains 25 grams of protein per scoop," says Goodson. "Dymatize also offers an Elite Casein Protein Powder that is ideal for athletes looking to build muscle. Because casein protein digests slower than whey protein, it can help provide a steady stream of amino acids for muscle recovery while you sleep."
If you're looking for a plant-based option, Dymatize offers that as well, and this powder is made from a blend of pea, watermelon seed, brown rice, pumpkin seed, and chickpea protein.
Vega Protein Made Simple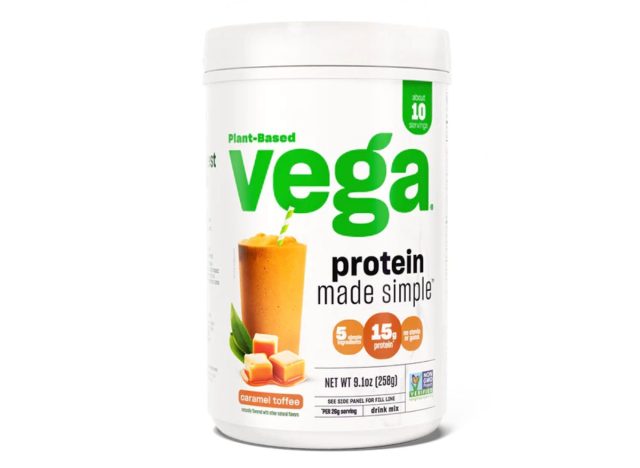 Per 2 scoops
: 110 calories, 2 g fat (1 g saturated fat), 250 mg sodium, 7 g carbs (1 g fiber, 6 g sugar), 15 g protein
Last, but certainly not least, the Vega Protein Made Simple powder is a great choice for those who want a fully vegan and flavor-packed powder to throw into their smoothie.6254a4d1642c605c54bf1cab17d50f1e
"This is a delicious plant based-protein powder with just 4 ingredients and no artificial sweeteners, gums, or sugar alcohols," says Lisa Young, Ph.D., RDN, author of Finally Full, Finally Slim and member of our Medical Expert Board.
The Vega powder offers a variety of flavors, including caramel toffee, strawberry banana, dark chocolate, and vanilla.
Orgain Organic Protein Powder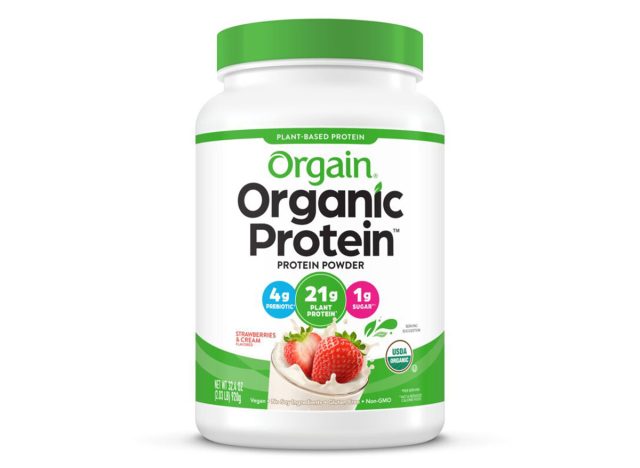 Per 2 scoops
: 180 calories, 5 g fat (1 g saturated fat), 290 mg sodium, 16 g carbs (0 g fiber, 1 g sugar), 21 g protein
"For those that prefer a plant-based protein, Orgain is a great pick," says Goodson.
"It is a little higher in carbohydrates due to plant-based protein typically containing other macronutrients. For example, this blend of pea protein, brown rice protein, and chia seed protein likely accounts for most of the carbohydrates," Goodson continues.
Thankfully, carbohydrates can be helpful to consume after a workout. According to Medicine & Science in Sports & Exercise, carbohydrates and amino acids are beneficial in seeing results and building muscle.
"This powder also contains erythritol, which is a sugar alcohol providing some of the sweetness," explains Goodson. "Because this protein is fairly allergy friendly (no lactose, gluten, vegan, and organic), it likely appeals to a wide group of individuals."
Sources referenced in this article