5 Most Powerful Fried Chicken Chains Right Now
Chicken is still a hot commodity.
The global take-out fried chicken market is expected to grow by $1.92 billion in the next four years according to Reportlinker.com.
And, while the chicken sandwich wars of a few years ago may have subsided, fast-food fried chicken is still a hot commodity as powerful brands like Chick-fil-A and Popeyes battle it out to win over customers.
The following are the 5 most powerful fried chicken brands in fast food, looking to grab their piece of the chicken pie.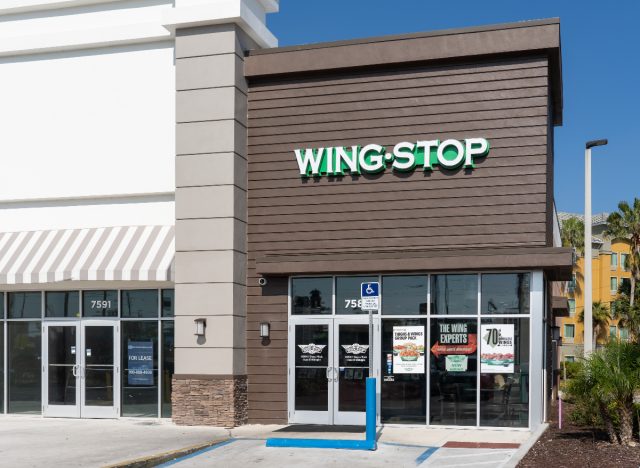 While the pandemic wasn't good news for most restaurants, it proved to be a boon for chicken wing expert WingStop, as the chain saw $2.27 billion in U.S. systemwide sales.
According to QSR Magazine, in 2021, the fast casual's U.S. same-store sales increased 8% over the previous year and 29.4% on a two-year basis, with its average unit volume rising to $1.6 million and its digital sales beyond 60%. Additionally, the brand opened a record-breaking 193 net new stores worldwide, including 171 domestically.
A company spokesperson says that Wingstop is in a "category of one," with an unparalleled guest experience and use of a best-in-class technology platform.
Wingstop differentiates itself from competitors with menu items always "cooked to order and hand sauced-and-tossed in fans' choice of 11 bold, distinctive flavors," says the company.
The chain's menu also features signature sides including fresh-cut, seasoned fries and freshly made ranch and bleu cheese dips. Customer favorites include hot honey wings, wing combo deals and the chain's Cajun corn.
Specializing in a variety of wings from spicy, mango, Cajun, and lemon garlic to various fry sides, drinks and desserts, the chain has taken steps to combat rising chicken costs by implementing price mitigation strategies with its largest poultry suppliers as well as efforts to use more parts of the bird, including the use of thighs with virtual brand Thighstop, as well as the use of breasts with an experimental chicken sandwich that comes in 11 flavors.
Founded in 1994 and headquartered in Dallas, Texas, Wingstop is focused on becoming a Top 10 Global Restaurant Brand and has a strong growth pipeline with 1,858 restaurants open across the globe as of June 2022. The brand believes it can achieve 7,000-plus global restaurants in the near future.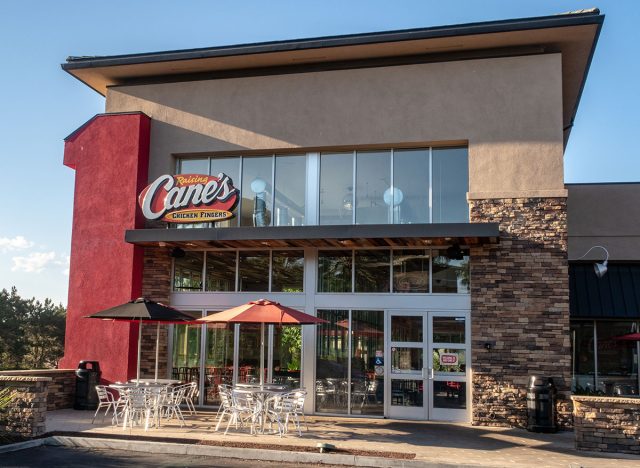 With its crowd-pleasing yet simple menu of chicken fingers, fries, sides, and drinks, Raising Cane's clocked in at a robust U.S. systemwide sales figure of $2.4 billion while also announcing its 600th restaurant opening.
According to QSR Magazine, Raising Cane's team building has been a major part of its expansion strategy with much of its success tied to a Restaurant Partner Program, which launched around the start of the pandemic and helps store managers become operators of company-owned restaurants.
The company also made headlines at the onset of the pandemic by refusing to lay off any of its 23,000 workers.
The brand's March 2022 campaign, one of its biggest, centered on crew appreciation and apparently, its devotion to staff has been paying dividends as the company's nearly $5 million AUV (average unit volume) last year was second only to Chick-fil-A's.
The company has plans to open more than 300 restaurants (most of which are free-standing drive-thru locations) with more than 80% being company-owned.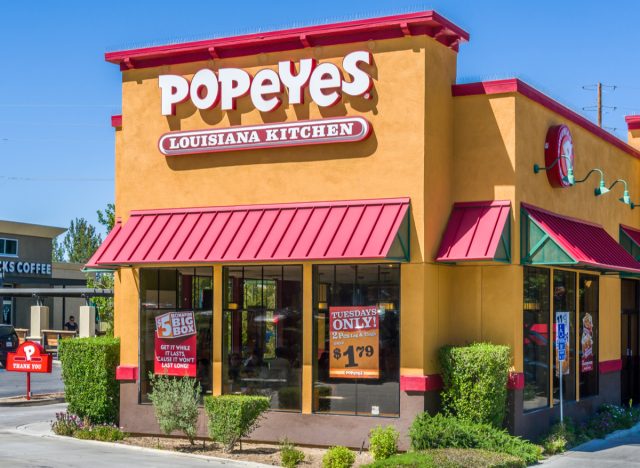 This year marked Popeyes' 50th birthday and the chain is celebrating with strong growth, expanding its footprint and introducing new guests across the country and around the world to its fried chicken with a total of 3,700+ locations globally.
A spokesperson for Restaurant Brands International (RBI), Popeyes parent company, says that in just five years since RBI acquired the chain it has grown from $3 billion in global system-wide sales to $5 billion.
On the strength of its most popular products including its signature and spicy fried chicken, butterfly shrimp, tenders, nuggets, homemade sides, and wildly popular chicken sandwiches, the company recently announced plans to open 200 new restaurants in the U.S. and Canada. Special offers, such as the current 8-piece hushpuppy shrimp dinner for $5 has also helped bolster store traffic.
The company also says more than 50% of its new restaurants will include double drive-thrus to serve increased traffic, boost speed of service, and ultimately further enhance the guest experience.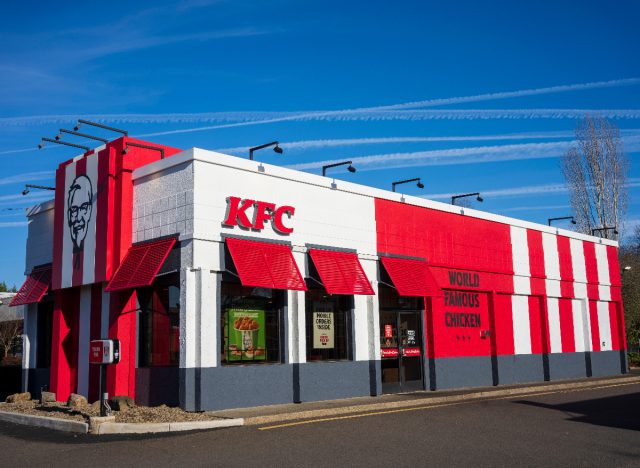 With more than $5.1 billion in U.S. systemwide sales, KFC continues to be a major player in the world of fast-food fried chicken.
In 2021, KFC launched the KFC app in addition to quick pick-up online ordering, making ordering KFC quicker and easier than ever before.
Popular KFC items, such as its bucket meals, have provided families with value-based dinners since 1952 while KFC's value-oriented individual Mac & Cheese Bowls have returned for a limited time for just $5.
And, according to a company spokesperson, KFC has been busy launching menu innovations such as secret recipe fries, KFC sauce, and the KFC chicken sandwich last year. The company says it is also test-marketing KFC's version of fried chicken nuggets.
Along with new products, the company is growing its footprint. "KFC saw net-new unit growth in 2021 for the first time in 17 years and the brand continues to build new restaurants," said a company spokesperson, adding that KFC's Next Generation design concept prioritizes off-premises access to KFC with features like built-in Quick Pick-Up shelving, and dedicated parking for delivery, KFC app, or KFC.com orders.
KFC is the world's second-largest restaurant chain after McDonald's, with 22,621 locations globally in 150 countries.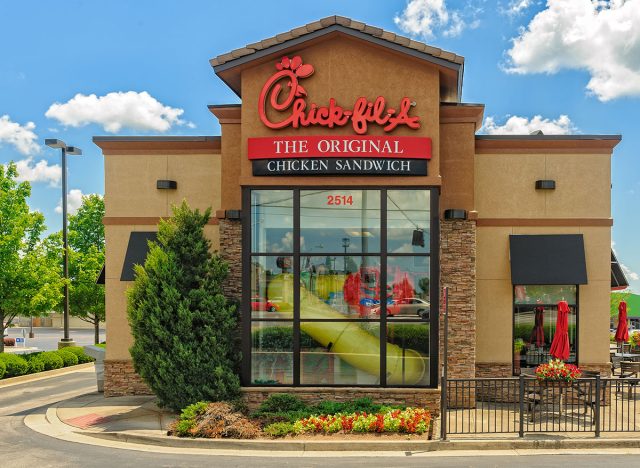 Anyone who happened to drive past a Chick-fil-A in the past few years probably couldn't help but notice the long, snaking drive-thru lines. And now we know that all those lines translated directly to sales as the chain sits comfortably atop the fried chicken heap.6254a4d1642c605c54bf1cab17d50f1e
QSR reported Chick-fil-A's U.S. systemwide sales over the past three years rose from $12.2 to $13.7 to $16.7 billion. In addition, Chick-fil-A's footprint grew by 155 locations stateside in 2021 while revenue climbed to $5.8 billion, well ahead of the $4.3 billion in 2020 and $3.8 billion the year prior.
So, people might wonder exactly what Chick-fil-A is doing to bring in the crowds. The answers, according to a company spokesperson, are multi-faceted, such as the belief that the company is "in the people business, not the chicken business," with all staff members genuinely wanting to have a positive impact on guests.
In addition, the company says it gives guests options such as ordering directly from a team member in the drive-thru or dining in a restaurant. "Our app also has so many ways to order, including curbside pick-up and delivery at many locations across the country," says the spokesperson, adding that "whatever way our guests choose, we want them to have a great experience."
Other things that sets Chick-fil-A apart from its competition include a highly selective franchise ownership process which assures better outcomes for customers as well as financial investments in its staff as well as communities it serves.
But, perhaps most important is its commitment to serving food made with high-quality ingredients, including the original Chick-fil-A Chicken Sandwich made with a real, boneless breast of chicken, no added fillers and pressure cooked in fully refined peanut oil.
The company says it was one of the first in the industry to eliminate chicken raised with antibiotics to ensure high-quality food on the go.
In addition, fresh produce is delivered to Chick-fil-A restaurants up to six times a week for the best quality and flavor.
Founded in 1967, the family-owned chain now has more than 2,700 locations in 47 states including Washington, D.C., and Puerto Rico.
Alan Krawitz
Alan Krawitz is a veteran New York-based journalist with 25 years of experience working for a variety of media outlets including Newsday, Zenger News, and Long Island Press.
Read more about Alan