30 Things to Make with Leftover Turkey
Say "no" to a week filled with typical turkey sandwiches and make some of these mouthwatering dishes with your leftover bird, instead!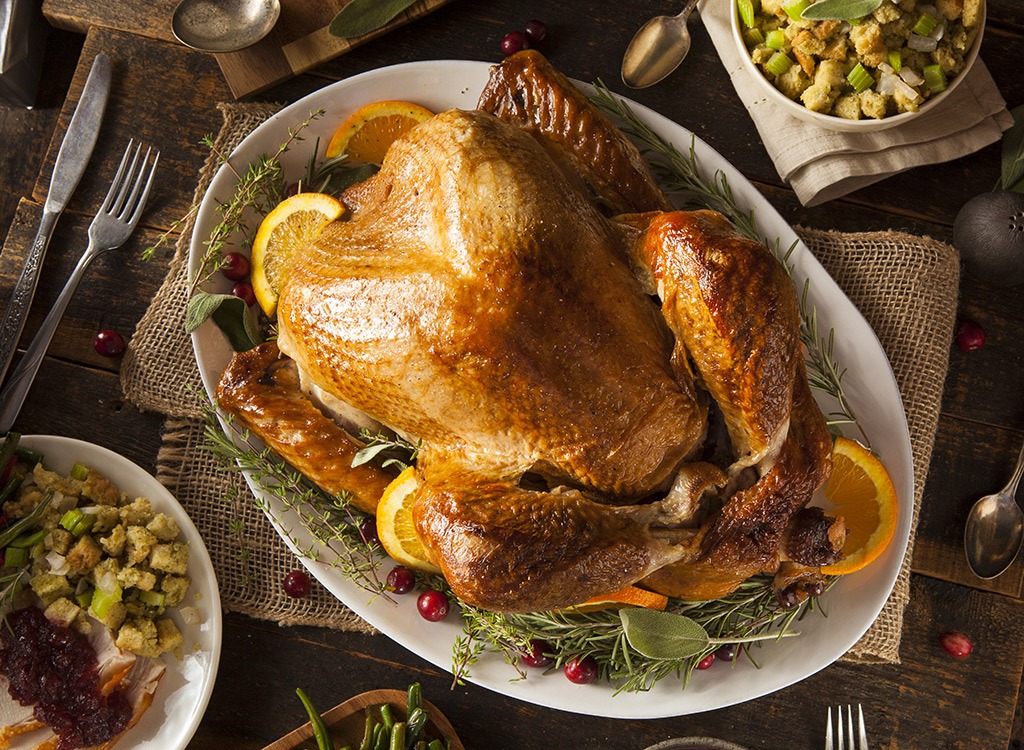 If your family holidays were a sporting event, it would most certainly be a marathon. Unlike Halloween and St. Patty's Day, which are here today and gone tomorrow, certain holiday celebrations—or rather, feastings—can carry on for days. And it's not even because we want it to. Despite the fact that we've all polished off coma-inducing quantities of food on the actual day of celebration, we all somehow manage to get stuck with a week's worth of leftover turkey. That means your meal keeps going and going and going—at least in a culinary sense.
But that doesn't mean that you have to eat boring roast turkey sandwiches for days on end. There are plenty of other—more creative—ways to enjoy your leftover bird. From quesadillas to cous cous, we've got a stack of mouthwatering ideas we know you'll love. The best part? These recipes and ideas can be pulled off year-round―just sub in rotisserie chicken for turkey. And if you like this list, then you'll love our list of 23 Delicious Ideas for Leftover Ham!
Cranberry-Turkey Spinach Salad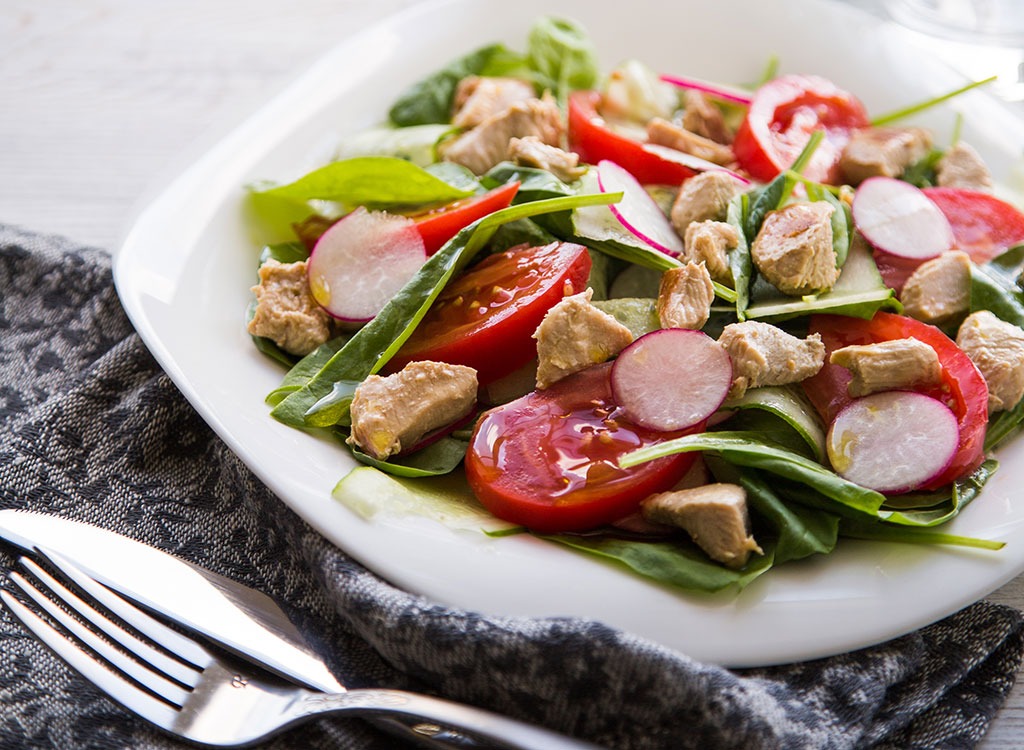 Sick of your go-to sad lunch salad? Combine leftover turkey with salad greens, chopped cucumber, a few tablespoons of chickpeas (one of the 30 Cheap Foods That Uncover Your Abs!), and chopped onion. Toss the mixture with some balsamic and oil and—for an extra dose of festive flavor—spoon some homemade cranberry sauce on top.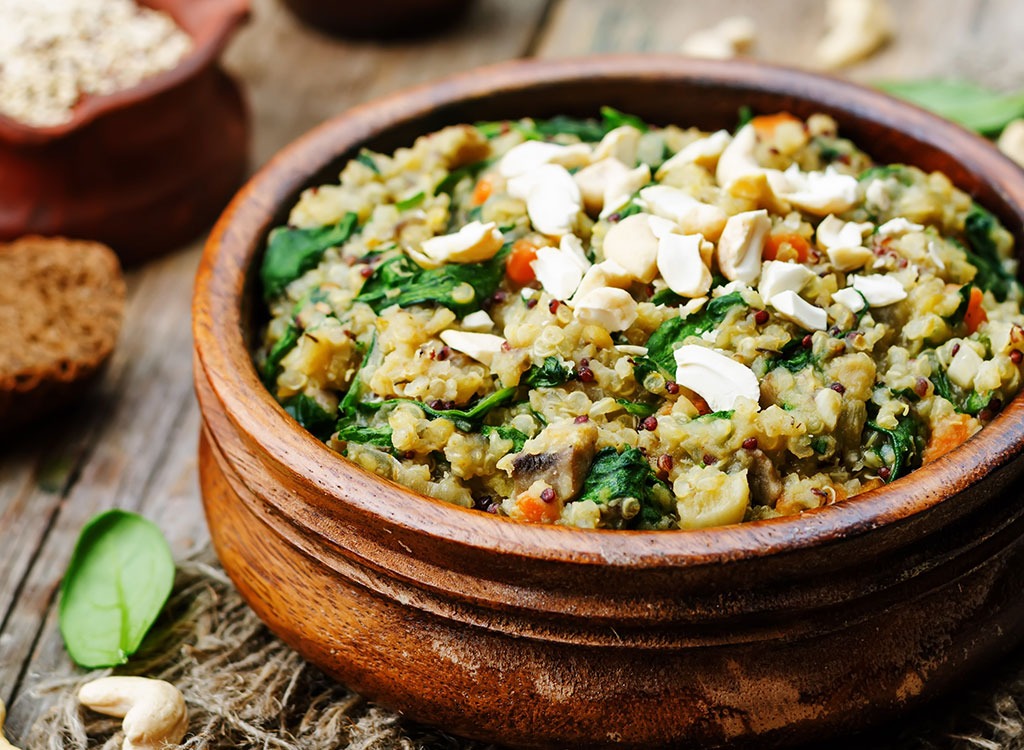 Does Christmas or Thanksgiving typically leave you with a fridge full of leftover mushrooms (which you thought you'd use to make gravy), turkey, and salad scraps? Then this recipe is for you. Toss some sliced mushrooms over high heat in an oiled pan and sauté with some garlic, soy sauce, and rice wine vinegar. Add some leftover sliced turkey to the mix along with some leftover fresh spinach or kale and allow the mixture to get warm. Next, remove the pan from the heat, and combine with some cooked quinoa. Top off the mixture with some of the toasted nuts and enjoy warm. Made too much? This quinoa dish also does well cold, served over a bed of salad greens. For more quinoa in your life, don't miss these 20 Delicious Quinoa Bowls for Breakfast.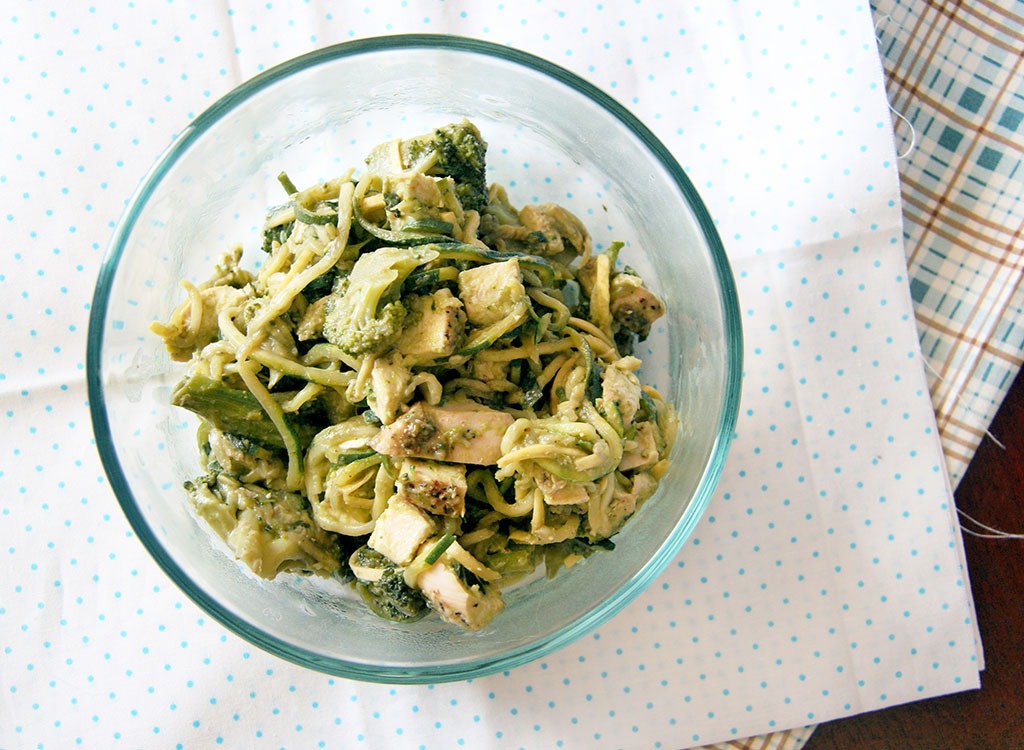 A holiday feast can leave even the most careful dieter feeling stuffed and bloated for days on end. But deflating your food-filled belly doesn't mean you need to give up the dishes you love. Zoodles, or noodles made from zucchini, have taken the healthy-foodie world by storm. And they make the perfect substitute for the carby, floury stuff when your body is in need a light post-festive detox. We love the dish pictured above by Nora, the blogger behind Natural Noshing. Although her recipe calls for zucchini, veggies, avocado, basil, various seasonings, and cooked chicken, turkey can easily be substituted in. Visit her site to get all of the recipe details.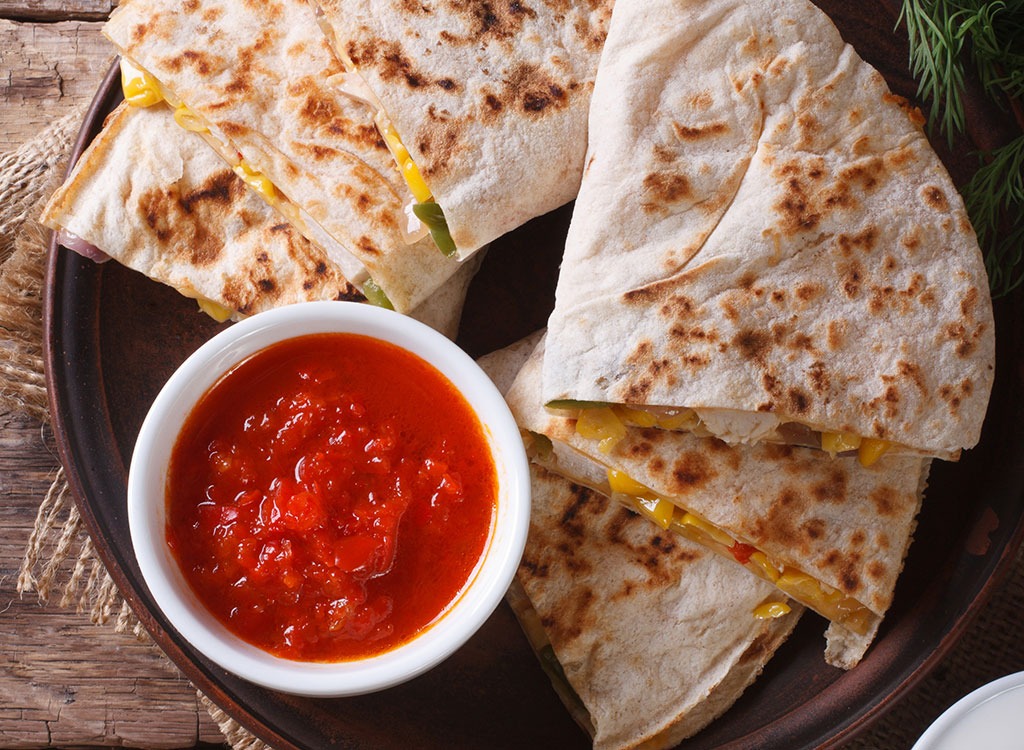 6254a4d1642c605c54bf1cab17d50f1e
Turn a quesadilla appetizer into a main dish with the help of chopped turkey and a lush side salad. Typical Tex-Mex cheeses work fine, but we love the idea of making a fancy quesadilla with the help of mango salsa and Gouda cheese. To shave off the excess calories, opt for corn tortillas over the flour variety. On average, they're 100 calories lighter per pop. Since a quesadilla calls for two, this simple swap could save you up to 200 calories! For even more calorie-saving hacks, check out these 25 Ways to Cut 250 Calories.
Spinach, Turkey & Wild Rice Soup
Combine low-sodium chicken stock with cooked wild rice, diced cooked turkey, chopped carrots, spinach, and your favorite herbs to create a soothing soup you'll want to make over and over, all winter long.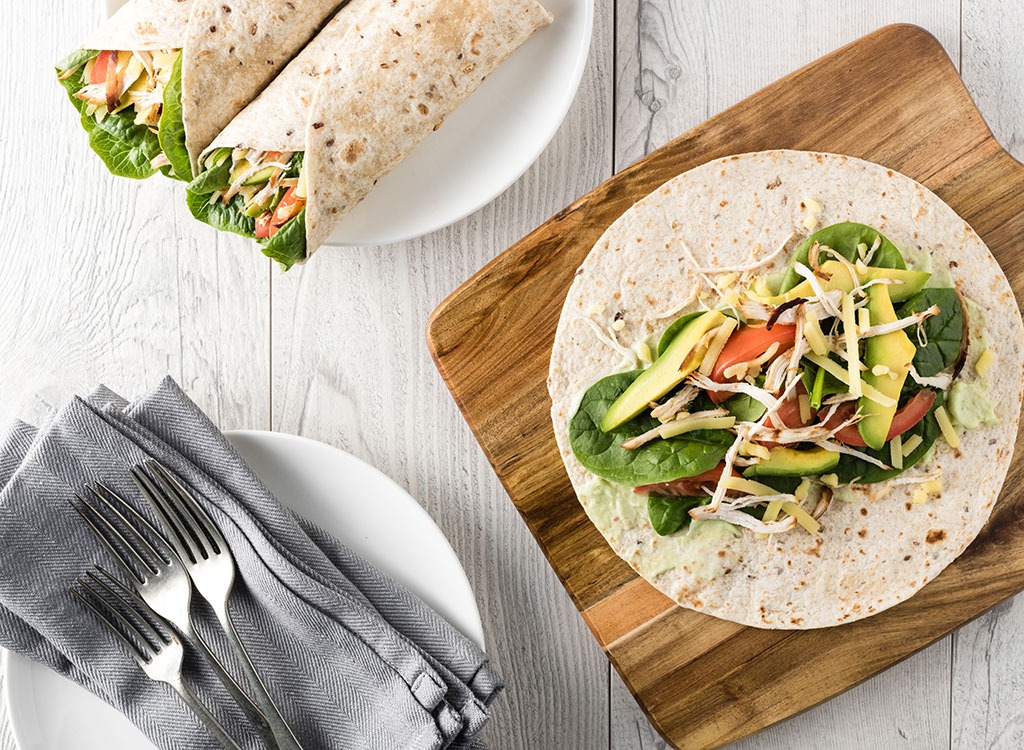 If you're a barbecue chicken fan, there's no reason you wouldn't enjoy turkey slathered in the stuff, too. For a quick and easy post-Turkey Day lunch, smear some low-sugar BBQ sauce (we like Stubb's Original Bar-B-Q Sauce) onto a whole wheat wrap and top with onions, tomato, avocado and sliced, leftover turkey. Speaking of BBQ sauce, familiarize yourself with these 25 Best and Worst Condiments.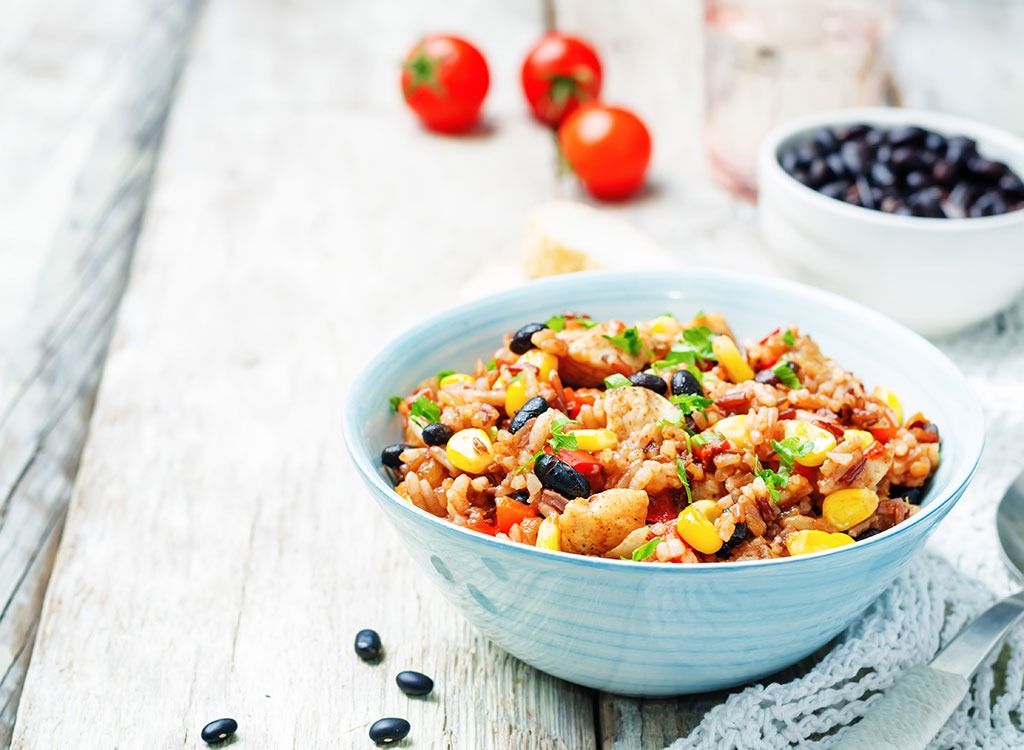 This Mexican rice bowl serves up all the flavors you'll find in a burrito—with a fraction of the carbs and calories. Combine equal parts of cooked brown rice and drained canned black beans (two superb sources of fiber and protein) in a bowl and top with leftover chopped turkey, chopped tomatoes and onion, and a tablespoon or two or guacamole.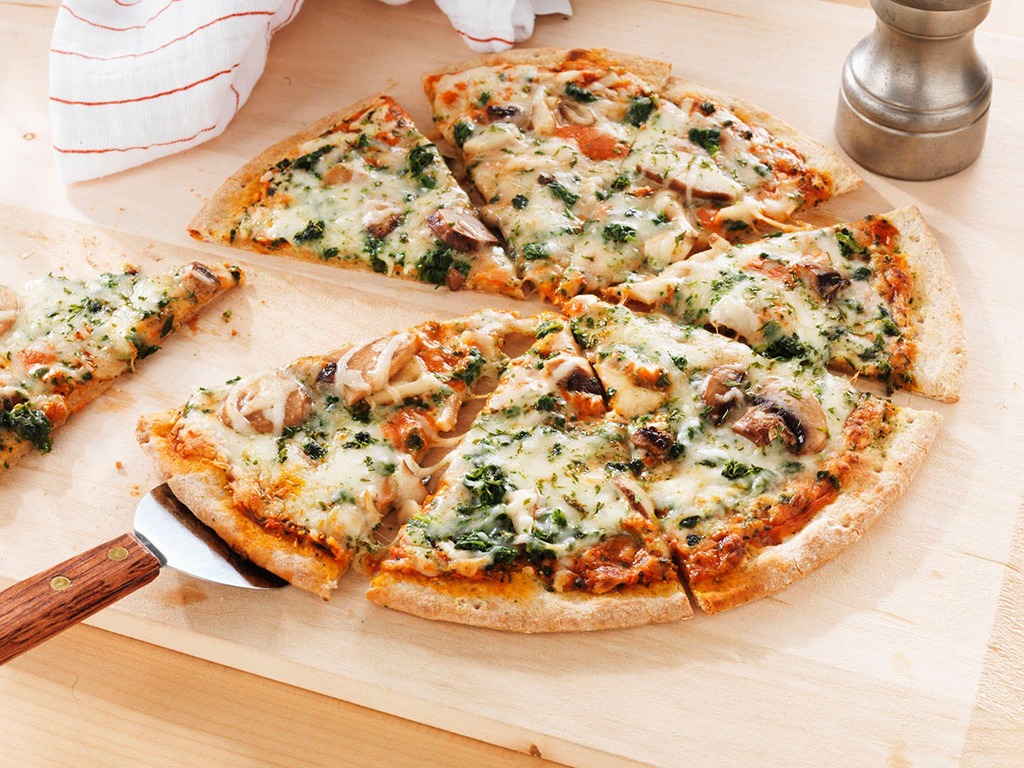 Skeptical of turkey-topped pizza? Don't be! It's surprisingly good. When combined with marinara, shredded fontina cheese, red onion, balsamic vinegar, and prosciutto, and arugula, turkey is a protein-rich topping to be reckoned with.
Turkey & Bacon Grilled Cheese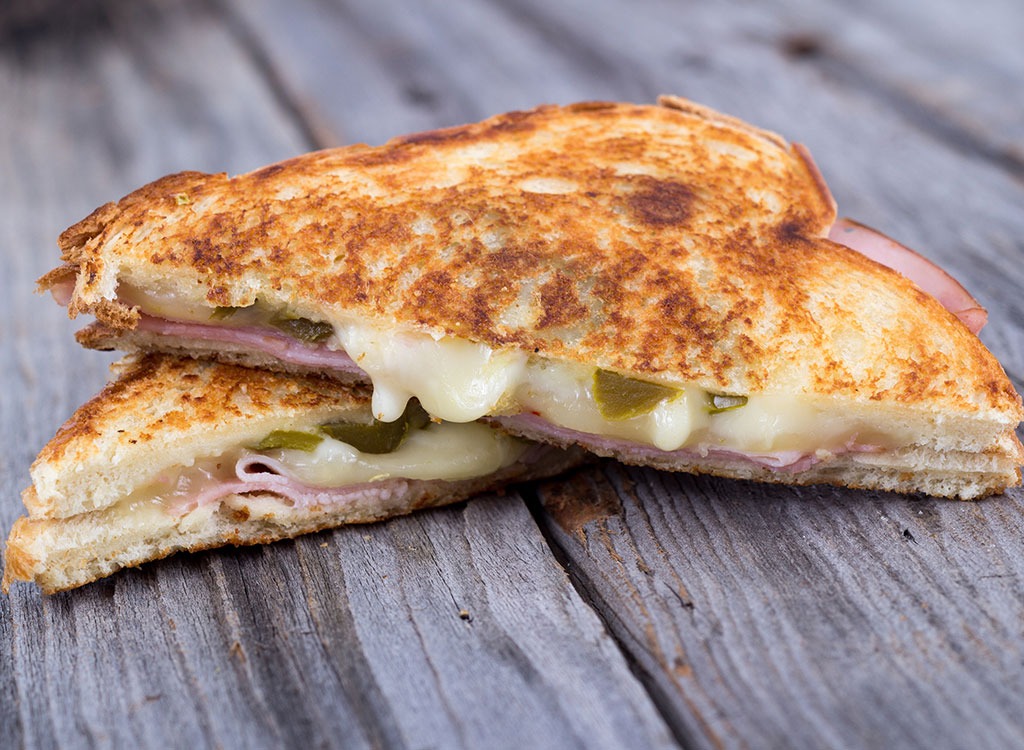 The only thing better than a warm, melty grilled cheese sandwich? An innovative one that's topped with turkey, bacon, and avocado. Yum! For even more cheesy ideas you're sure to love, don't miss these 30 Grilled Cheese Ideas and Tips.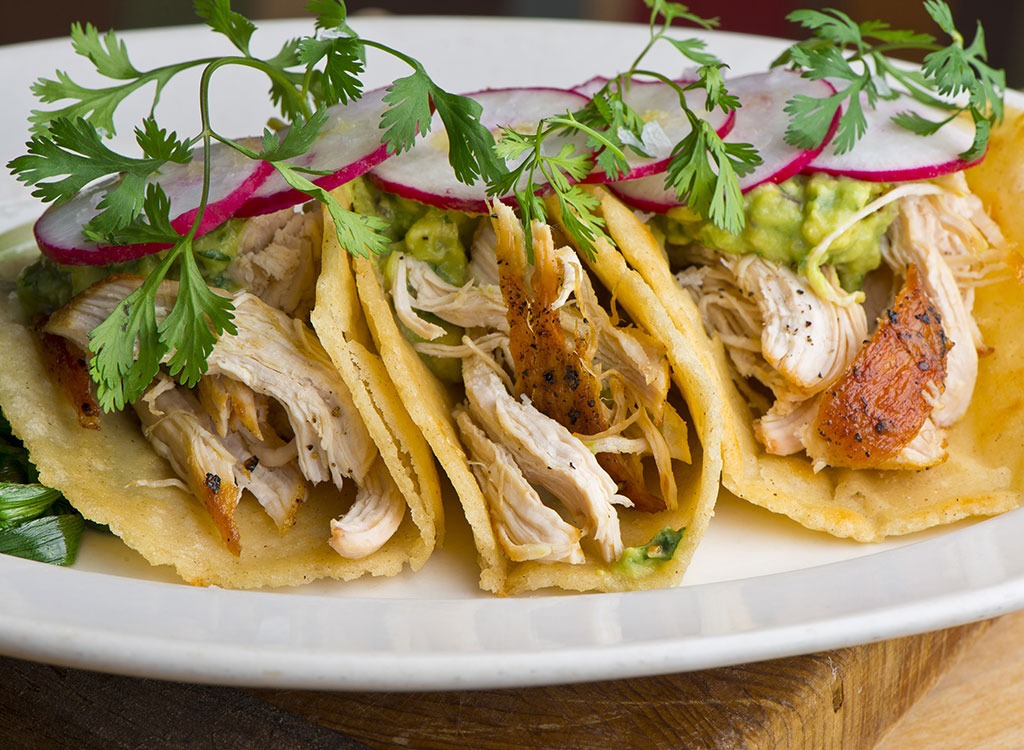 Instead of loading up your tacos with ground beef or pulled pork, fill 'em up with warmed shredded turkey, black beans, chopped radishes, cilantro, cheese, shredded lettuce, and—of course—some salsa and guac!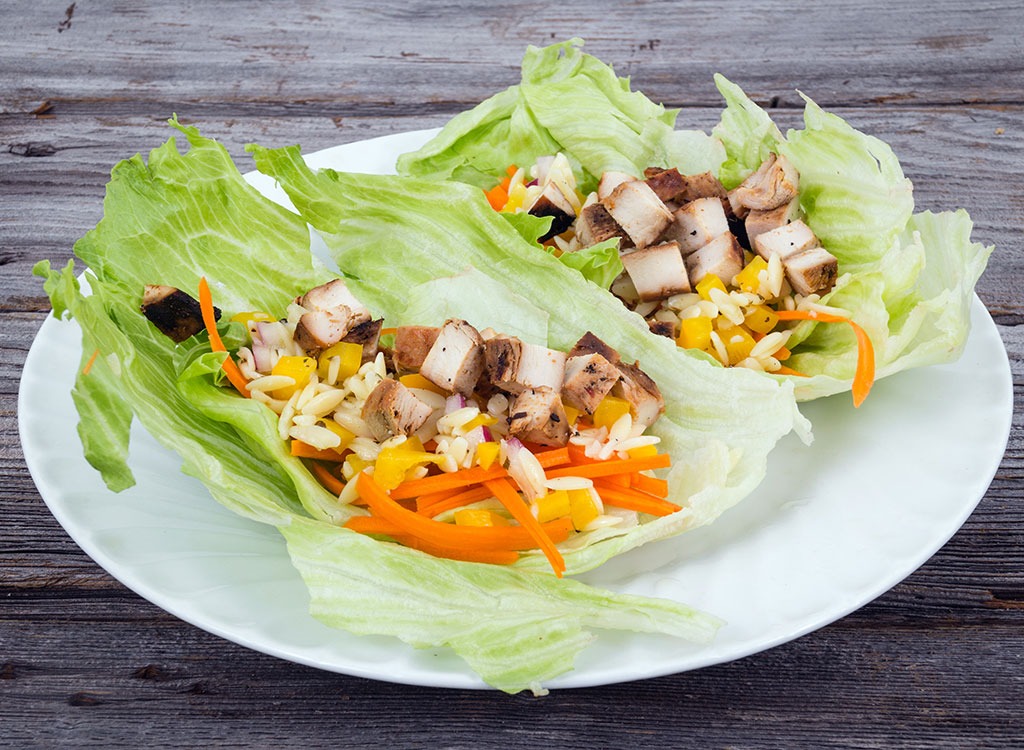 Love the idea of tacos, but not a fan of the carbs? Make a spicy lettuce wrap with big leaves of romaine or iceberg lettuce as the base. Load them up with shredded white-meat turkey, a spoon full of leftover homemade cranberry sauce, and a dollop of adobo or chipotle sauce.
If you have a go-to recipe for chicken or shrimp fried rice, you can easily sub in leftover shredded turkey for the traditional chicken. In need of a go-to recipe base? There are a few great ones (including a low-carb cauliflower rice version!) in our story, 20 Healthy Chinese Food Recipes.
Get a gourmet Italian meal on the table in minutes with the help of your leftover Turkey day bird. While you're preparing whole grain pasta according to the box instructions, sauté some turkey in a pan along with some olive oil, chopped garlic, and mushrooms. Once the pasta is ready, combine with the chicken, drizzle with fresh lemon juice, and top the concoction with minced basil and grated Parmesan cheese. For even more simple ways to create diet-friendly pasta dishes, don't miss our report 40 Ultimate Pasta Tips to Stay Skinny.
Traditionally sloppy Joes are made with ground beef, ketchup, brown sugar, mustard, and some little bits of veggies. In other words, they're far from the picture of health. To make a healthier batch, start by replacing the white bun with a whole grain one. Then, sauté finely chopped onion, bell pepper, and garlic until translucent. Toss in some chopped leftover chicken and equal parts marinara and barbecue sauce. Allow it to cook until the mixture is warm before spooning onto the buns.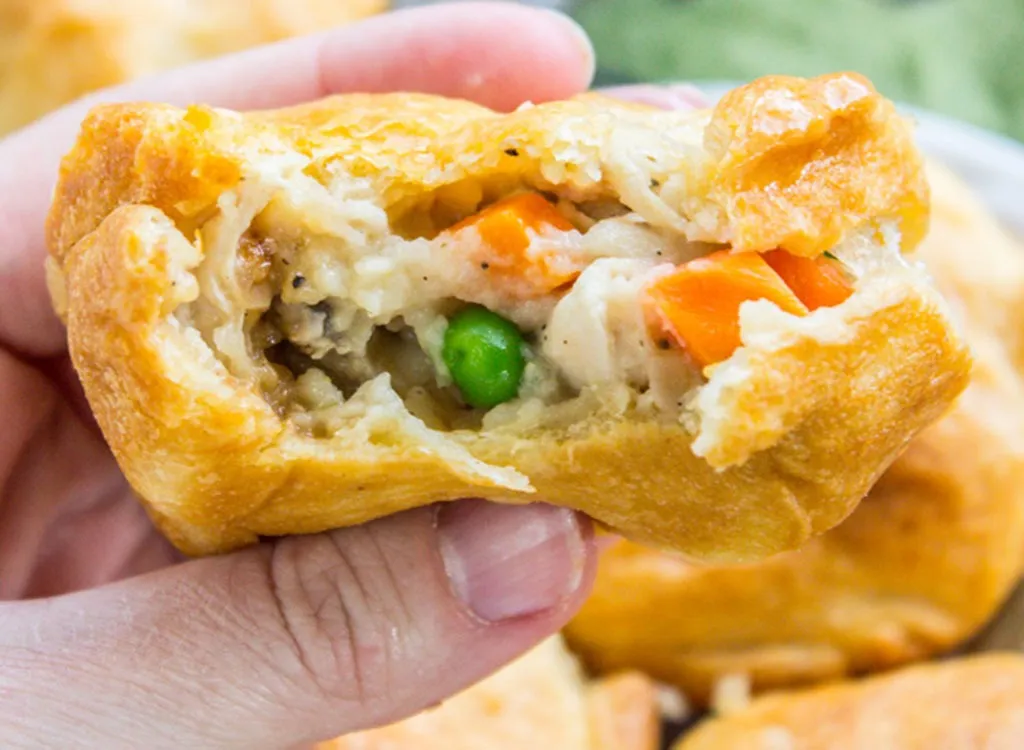 Pot pie is one of the many American comfort foods responsible for our collective health issues. But if you scale down the portion—with the help of a muffin pan—you can indulge your cravings without expanding your waistline. Indulge in one or two minis and round out your meal with a robust salad topped with a vinaigrette dressing. The Food Charlatan has a recipe we can get behind, but it uses chicken. To make it right after your Thanksgiving or Christmas feast, just sub in turkey instead. Since there are so many other yummy things in the mix—onion, chicken broth, carrots, peas—you won't even notice a difference in flavor.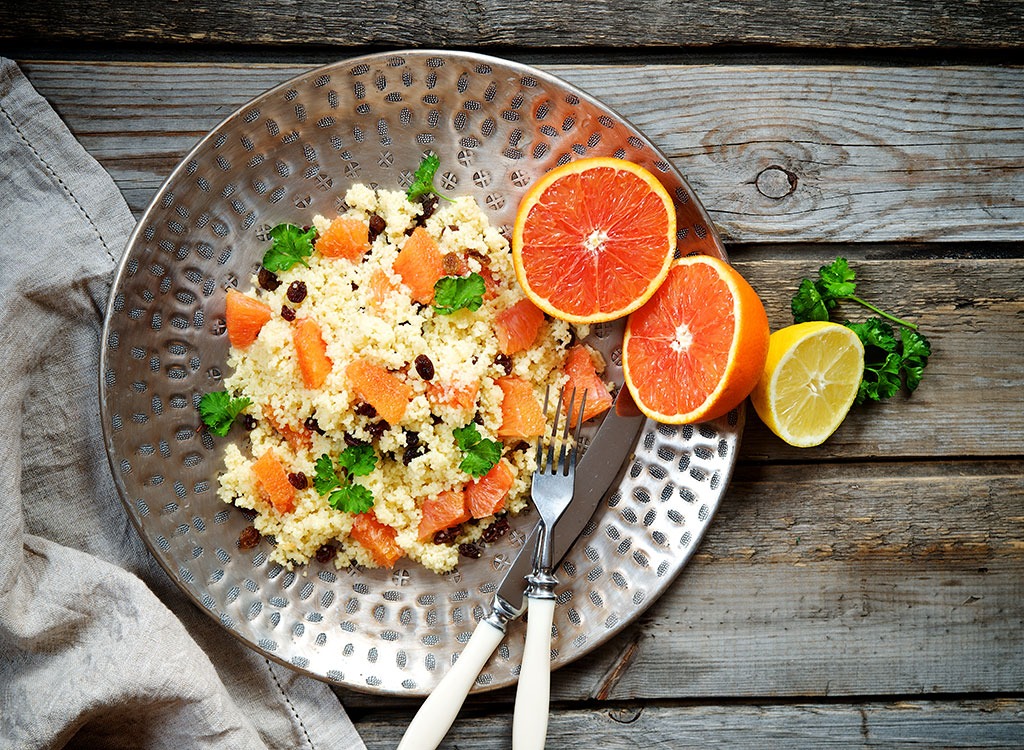 Give leftover turkey new life by combining it with cooked couscous, coarsely chopped pistachios, coarsely chopped oranges, fresh mint leaves, olive oil, red wine vinegar, salt and ground pepper. Enjoy the dish with a side or leftover holiday veggies to sneak in more nutrients and fiber.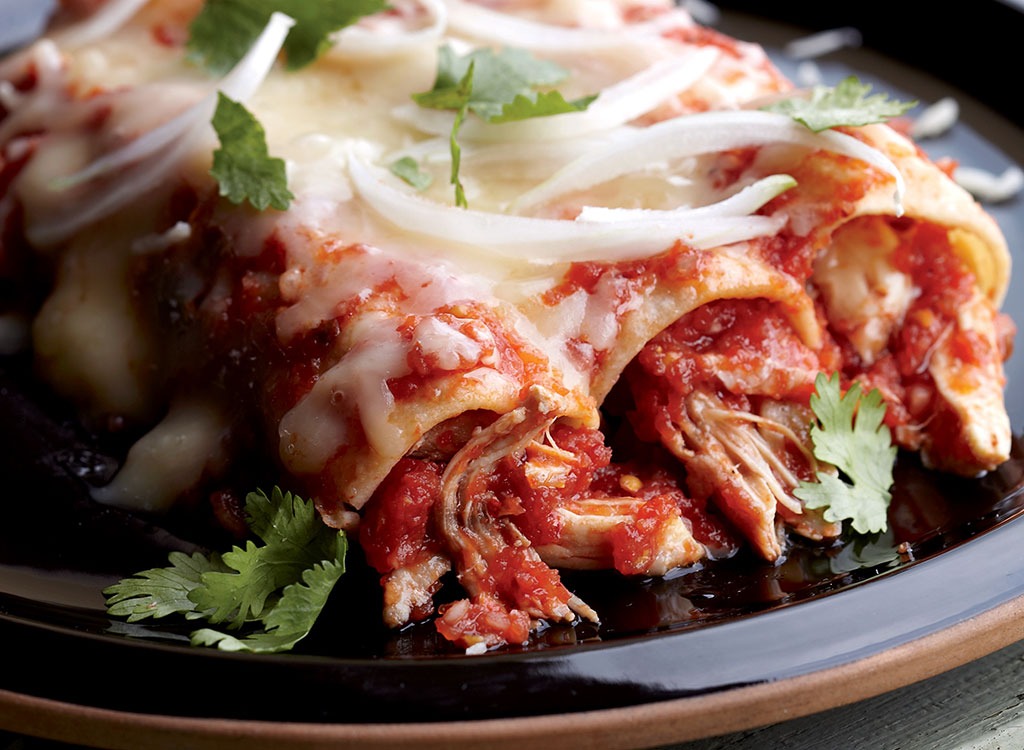 If you're a fan of restaurant enchiladas, why not make a slimmed-down version? Made with lean leftover turkey, veggies, and corn tortillas, it's far more waistline-friendly than anything you'll find at Chili's or your local Tex-Mex spot.
Since soup is rarely part of a family feast, a warm bowl of comforting goodness should be a welcomed reprieve from yet another plate of turkey and stuffing. Throw in your turkey with some tomatoes, chile peppers, tomatoes, onion, garlic, and spices all into a vegetable broth to get something simmering! Just don't toss in any of these 20 Worst Ingredients for Soup!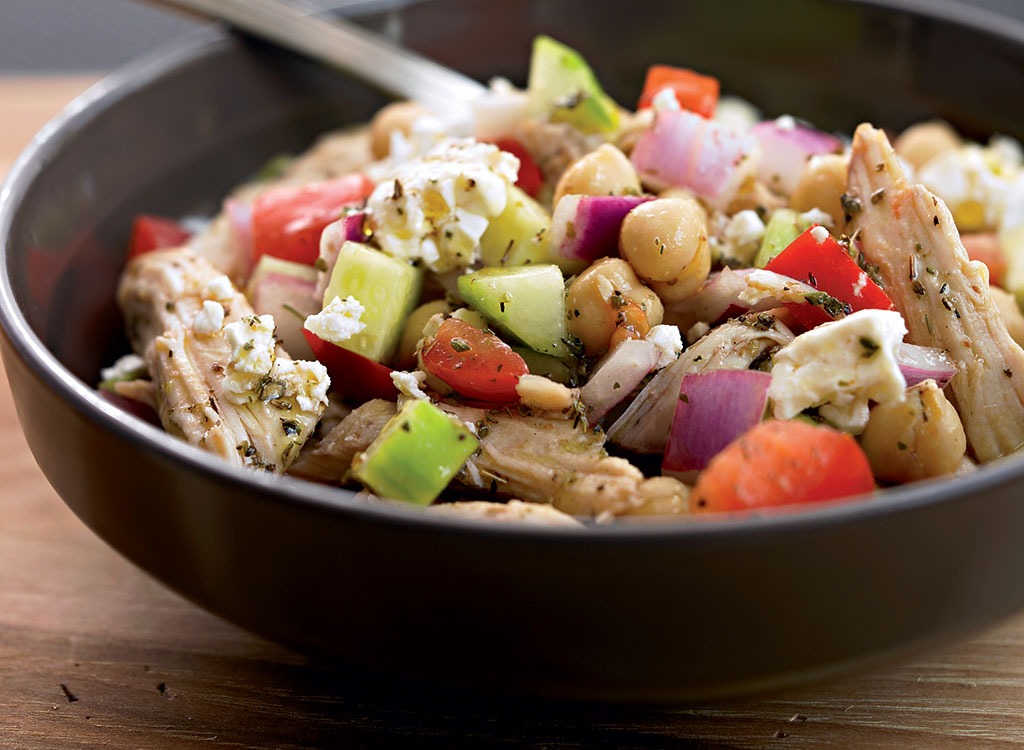 When it comes to good eating, the Greeks have it right. Though the idea of the Mediterranean diet echoes throughout Spain, Italy, and southern France, it's really the Greek culinary ethos that forms the backbone of this fabled eating approach. Healthy fats, lots of vegetables, lean protein—all are cornerstones of their diet, and all are captured in this simple and satisfying chopped salad.
Sesame Noodles with Turkey & Peanuts
Italians might cringe in horror to hear it, but the noodle originally comes from Asia. In 2005, archaeologists discovered what they believe to be the oldest bowl of noodles on record, dating back some 4,000 years. (No word yet on what type of sauce they were dressed with.) The point being that sometimes a box of fettuccine is just as appropriate for an Asian-inspired meal as it is for an Italian repast. Think of this as a salad, with the noodles standing in for lettuce. Add some protein and as many or as few vegetables as you like, and toss the whole package with a light but super flavorful dressing. And if you love to cook Asian-inspired dishes, don't miss our special report, 23 Best & Worst Items in the Asian Food Aisle!
While it's not exactly the most glamorous dish, the humble casserole is one of the fastest, cheapest, and smartest ways to get a healthy, belly-flattening meal on the table. Because it's baked in its own juices or sauce, a casserole doesn't require skanky oils, loads of salt, added sugars, or other kitchen nutrition invaders. Better yet, you just need to make one healthy casserole and, as long as you've got a microwave, the question of what's for dinner is solved for the next several days.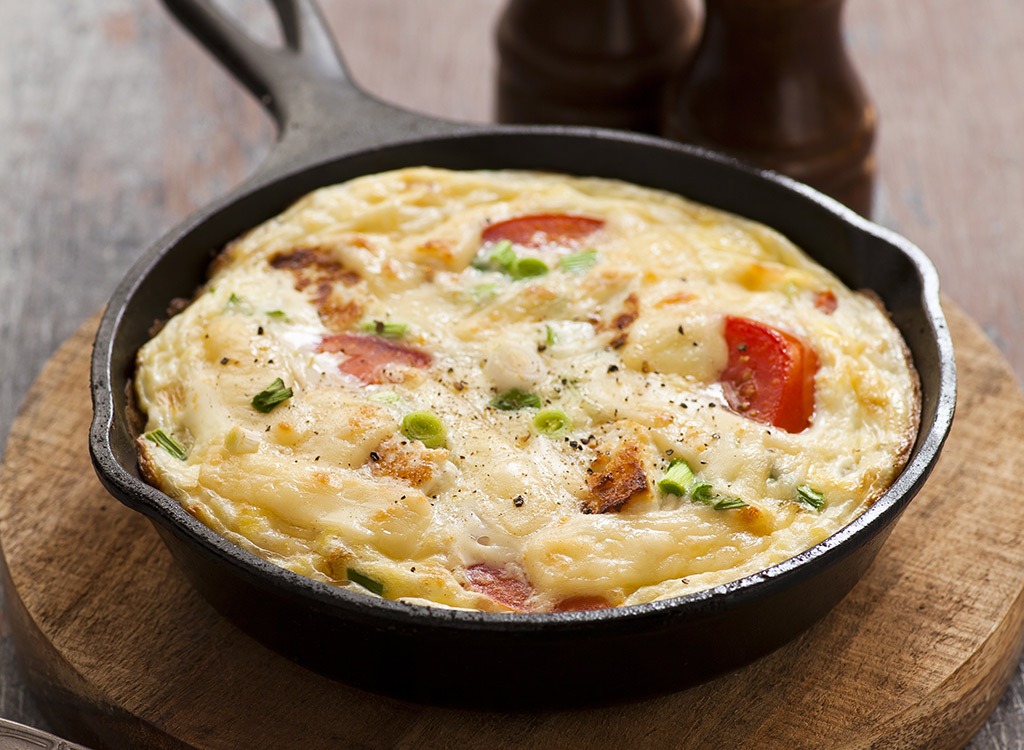 At its core, a frittata is a crustless quiche that's both considerably easier to make and substantially healthier to eat. Make one at the beginning of the week using a host of Turkey Day leftovers, then slice off a wedge each morning for breakfast. You could even stuff a piece between a toasted English muffin for a gourmet breakfast sandwich.
Turkey Hash With Fried Eggs
Instead of feeding your holiday houseguests pastries and pancakes their bodies don't need, use their presence at breakfast the next morning as an excuse to work through all that leftover turkey. A potato- and turkey-based hash is easy to churn out in bulk and can be topped with eggs made however each of your guests prefers. We're partial to runny sunny-side-up eggs, but scrambled or over-easy, works well, too.
Chinese chicken salad is one of the world's ultimate fusion foods. It's an Eastern-inspired dish that was first popularized in the 1980's by Austrian chef, Wolfgang Puck in his restaurant Spago, located in Beverly Hills. Whatever its disparate origins, it's undeniably one of the most popular—and ubiquitous—salads in America, sharing space on menus in four-star restaurants and Wendy's alike. Too bad most versions are nutritional disasters, bogged down by too much dressing and too many fried noodles. By incorporating your leftover turkey meat, you'll stay true to Wolfgang's original inspiration but with about a third of the calories. Score more salad inspo with these 30 Salad Recipes for Weight Loss.
We've never found a nacho worth recommending in the restaurant world. The sad truth is that the tortilla chips are rendered helpless vessels for thousands of calories of cheese, sour cream, and oily ground beef. And besides, who wants to dig through soggy nacho detritus in search of a chip crisp enough to bring from plate to mouth? Use your protein-packed turkey instead and combine with fiber-rich beans, salsa and lime-spiked Greek yogurt (in place of sour cream).
The Waldorf salad first made its debut at the Waldorf-Astoria Hotel in New York City in 1896. Since then, it has remained a classic American dish, but there have been many variants on the original recipe over the last 100-plus years. Simply sub in your leftover turkey for chicken and swap mayonnaise for protein-filled Greek yogurt. Whip up a bash and use to make lunch over the next week.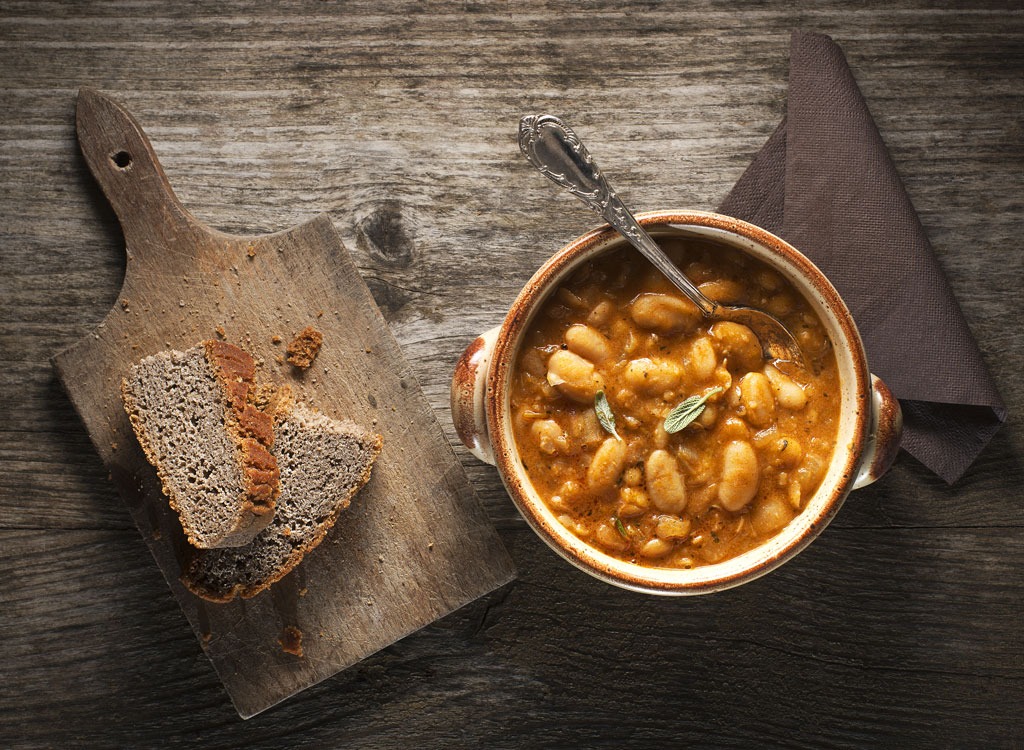 Once synonymous with ground beef—and only ground beef—chili has become more eclectic as of late. Make sure to use low-sodium diced tomatoes, plenty of kidney beans, and a whole onion—plus a firestarter like a poblano pepper!—to amp up the flavor.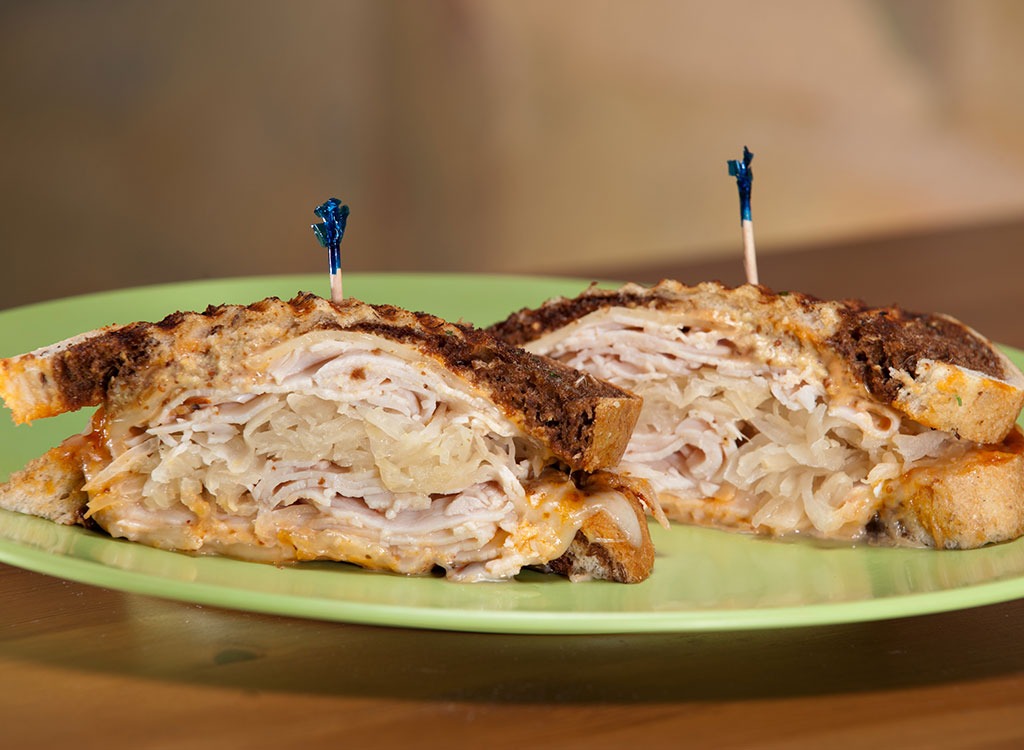 As much as we love pastrami's peppery taste, the deli meat isn't exactly a flat-belly food. Use turkey instead, topped with Swiss cheese, and spread your rye slices with a hearty portion of sauerkraut (one of these 18 Probiotic Foods for a Healthy Gut)!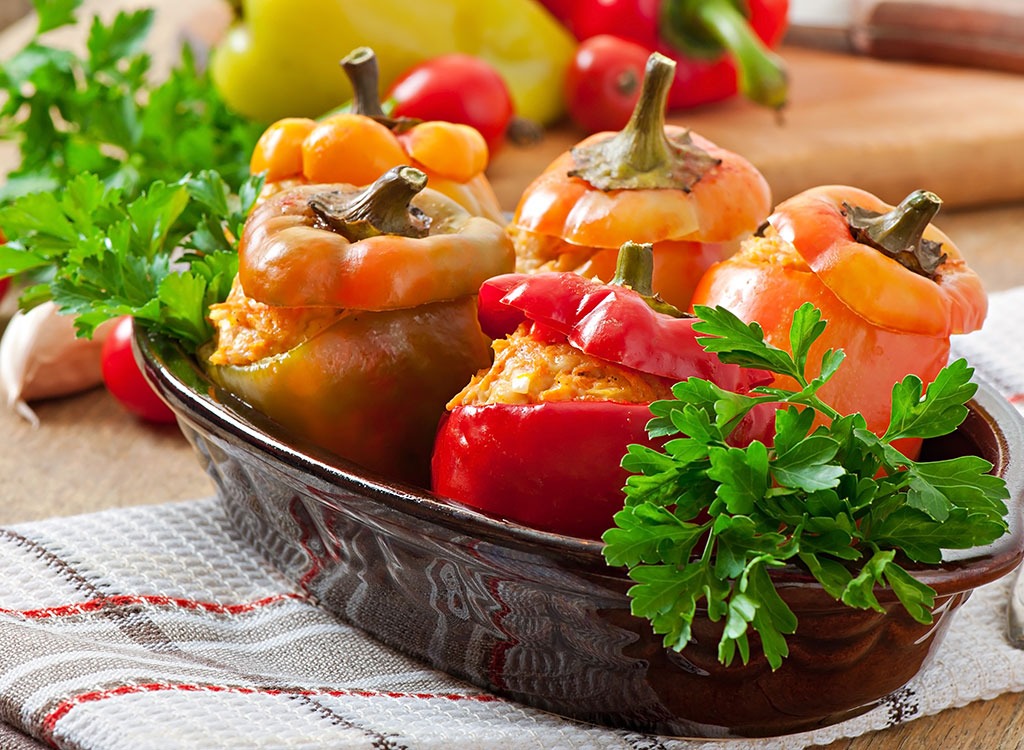 Peppers are overflowing with protein and fiber, making the perfect base for wholesome additions like turkey and calcium-rich cheese. You can even use your leftover stuffing, too! Looking for even more healthy and simple recipes? Check out these 20 Lazy Dinner Recipes for Weight Loss.
Turkey Green Lentil Lasagna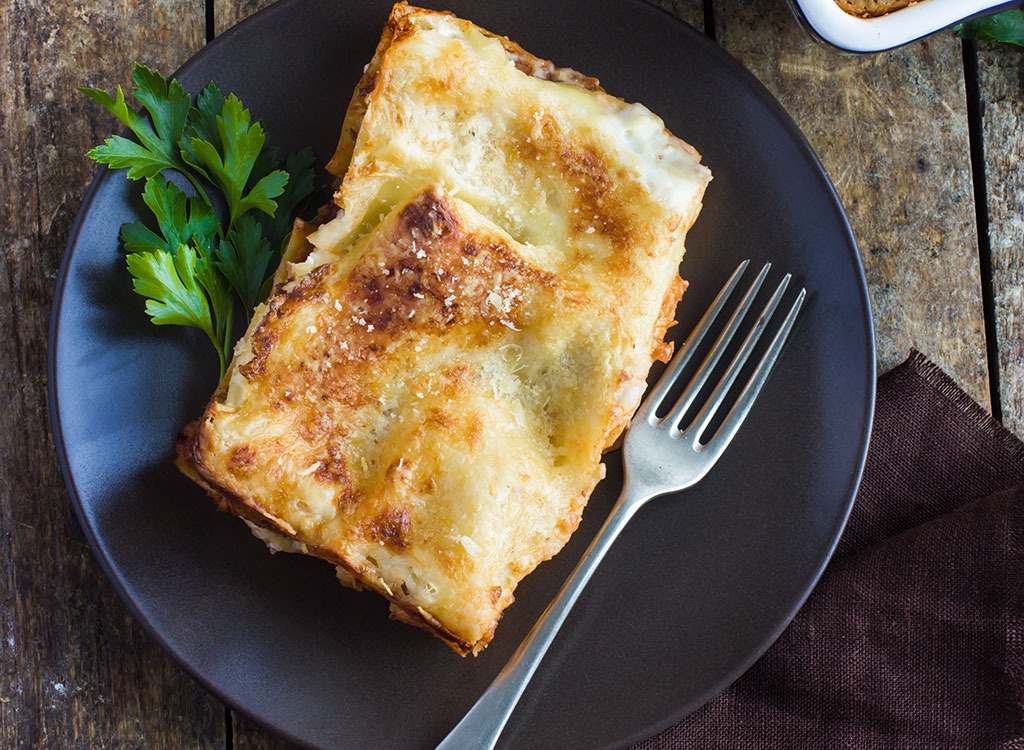 We love Explore Cuisine's lentil flour-based, gluten-free lasagna strips (buy them online here) because you don't have to boil it in water to cook it before layering it in the baking dish. Just take it out of the box as is, and layer it with sliced vegetables and protein along with sauce and cheese. For best results, you'll want to start and end this process with plenty of sauce, as it helps to infuse moisture into the lasagne strips. You can use any veggies and cheeses you see fit but mushrooms and onion pair particularly well with roasted turkey.