8 Budget-Friendly Reasons to Start Shopping at Lidl
Move over Trader Joe's, this new German grocery is all about high-quality, half-price items.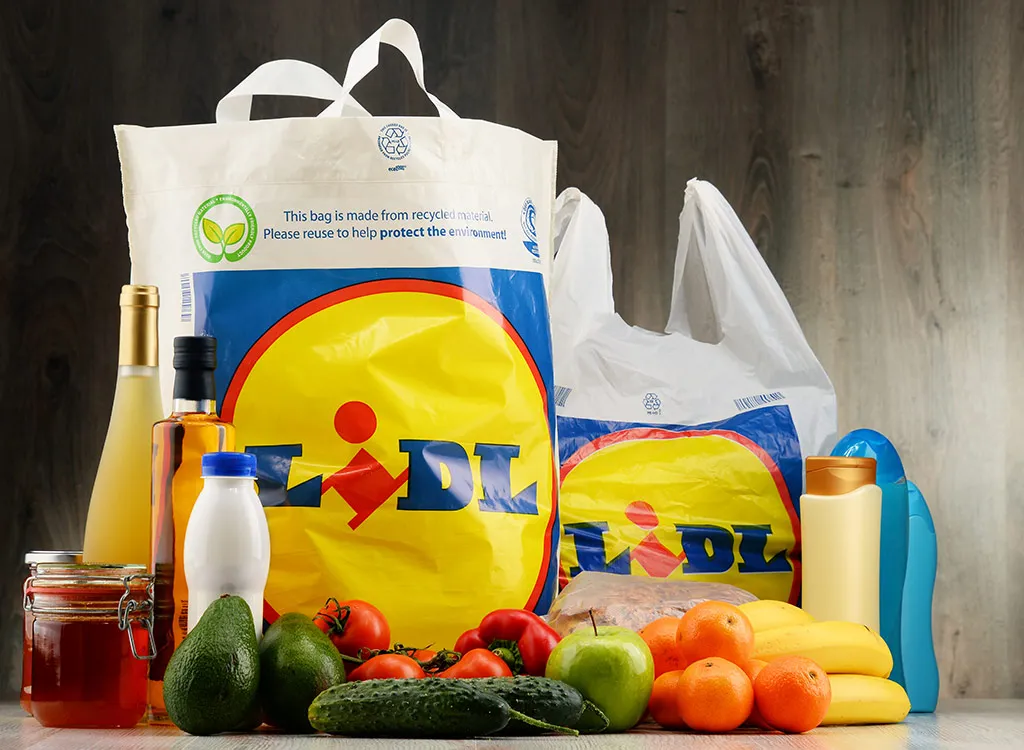 What makes a great grocery store to you? Is it convenience? Low prices? A wide variety of niche items? No matter what you're into, there's a supermarket for everyone. It can be hard to decide your favorite between the likes of Kroger, Trader Joe's and Whole Foods, but there's a new foodie on the block that's about to give grocery stores a run for their money (literally) and may steal the number one spot in your heart.
Enter Lidl (pronounced LEE-dil). The German grocery store made its U.S. debut in 2017, adding to its more than 10,000 stores worldwide. While the U.S. stores currently reside along the mid-Atlantic East coast, Lidl execs say they plan to expand across the country in the next few years. Like Trader Joe's, they mostly carry their own brand of products — at half the price of other groceries on the market.
While Lidl's grocery stores are small, they include a huge variety of items at incredibly low prices. Think $1.89 for a gallon of milk and 89 cents for a pineapple. Since the store plans to open more than 300 locations across the U.S. by 2020, it's time to learn the shopping secrets this supermarket has to offer. Whether you're already filling your cart with Lidl products or are prepping for the store's arrival in your city, shop around with these money-saving tips. For more ways to save big while food shopping, don't miss our 46 Best Supermarket Shopping Tips Ever.
It's Easy to Save
Lidl takes couponing to a new level. They make it super simple for customers by highlighting new leaflet deals two weeks in advance and placing the deals front and center in the store's entrance and exit. When you walk in, you can grab the current coupon to use for shopping convenience. On the way out, you get the deals for the following week. The Lidl coupons (also found online) feature discounted items including produce, meat, baked goods and more. New deals are set each week, running from Thursday through Wednesday.6254a4d1642c605c54bf1cab17d50f1e
Orange Signs = Additional Savings
In addition to the coupons, Lidl highlights additional markdowns and limited-time offers with bright orange signs amid the aisles. Unlike other grocery stores that make it hard to differentiate prices (discount and regular) for the same product, Lidl places low prices above products — not below. You can't miss 'em!
They Live for the Private Label
About 90 percent of Lidl's shelves are stocked with its private-label products. According to a press release, the brand items are developed and rigorously tested by Lidl's expert buyers. They take quality assurance seriously: Only items rated as good or better are allowed on Lidl's shelves. And they pride themselves on selling their private-label products at a cheap price. Think Trader Joe's, but even cheaper, like chicken breasts for $2.29 a pound and $3 hummus.
Returns Are a Breeze
If you don't end up liking a Lidl-brand item, you can simply take it back for a full refund — just keep your receipt! So if you want to try a new dip but aren't sure you'll love it, there's no harm in giving it a go. Other grocery stores also offer this option, but it's still a plus that helps you save at this German joint.
A Lidl in Your 'Hood Means Low Prices Everywhere
A recent study from the University of North Carolina's Kenan-Flagler School of Business found that grocery prices are significantly lower in markets where Lidl is present — up to a whopping 55 percent lower on average for individual products. Basically, you can save big even if you're not at Lidl just by shopping in stores in close proximity to it. Lidl prices will be the lowest, but even if you shop at the Walmart down the road, you'll find cheaper products, thanks to a little Lidl competition.
They're BYOB
Bring your own bag, that is. Lidl wants you to shrink your carbon footprint by reducing plastic consumption, but it also prefers you bring your own reusable totes to avoid driving up grocery prices to produce more plastic bags. The company believes shoppers should only pay for what's in their cart, so BYOB is highly encouraged as a way to keep prices low.
Their Wine Is Unbeatable
Thought 2-Buck Chuck from TJ's was a good deal? You haven't met Lidl yet. The store offers about 120 bottles of private label wine, expertly curated by a "Master of Wine," according to a press release. Since opening last year, the brand has won over 200 awards for its vinos. The wine is almost always included in the weekly coupons, so the award-winning bottles usually wind up ringing in at under $3. Cheers!
There's a Surprise Section
Every Lidl store is built with the same layout to help you find your grocery list items with ease, but that doesn't mean they don't like to mix things up. Each location also features a "surprise" section stacked with all weekly promotional items.  The surprises section has a weekly set of themed items at promotional prices, according to PennyHoarder. These items are only available while supplies last, but you can preview them by looking at the "Nonfood Weekly" leaflet online. Popular surprise items during the U.S. grand opening included a full-size kettle charcoal grill for $19.99 and a pressure washer for $99.