18 Amazing Trader Joe's Shopping Tips to Know
Here are some insider shopping tips to make the most of your trip to TJ's.
Walking into Trader Joe's for the first time can be a little bit like diving into the deep end of a swimming pool. Before you know it, you're in over your head and totally submerged in two-buck Chuck. Instead of swimming to the sidelines or bothering an over-eager shopper and asking for help, we're here to give you all the Trader Joe's shopping tips you need to know and make the most of your next visit.
Whether it's your first time shopping in the land of Hawaiian shirts or you're a TJ's veteran, we have rounded up the essential Trader Joe's shopping tips you need to know about this chain. Get ready to maximize your savings, pick out the most nutritionally-beneficial products, and walk out feeling like you own the place.
If you're looking to deepen your knowledge of the popular grocery store, be sure to check out these facts about Trader Joe's you probably didn't know.
Bring your own bag to win bucks.
Bringing your own bag at Trader Joe's can pay off big time. Shoppers who use their own bag and spend at least $25 are entered into a weekly raffle where winners receive a variety of rewards, including $25 gift cards to the store. Since many of Trader Joe's products are budget-friendly to begin with, $25 off may put a sizeable dent in your grocery bill.
Use the Fearless Flyer as your guide.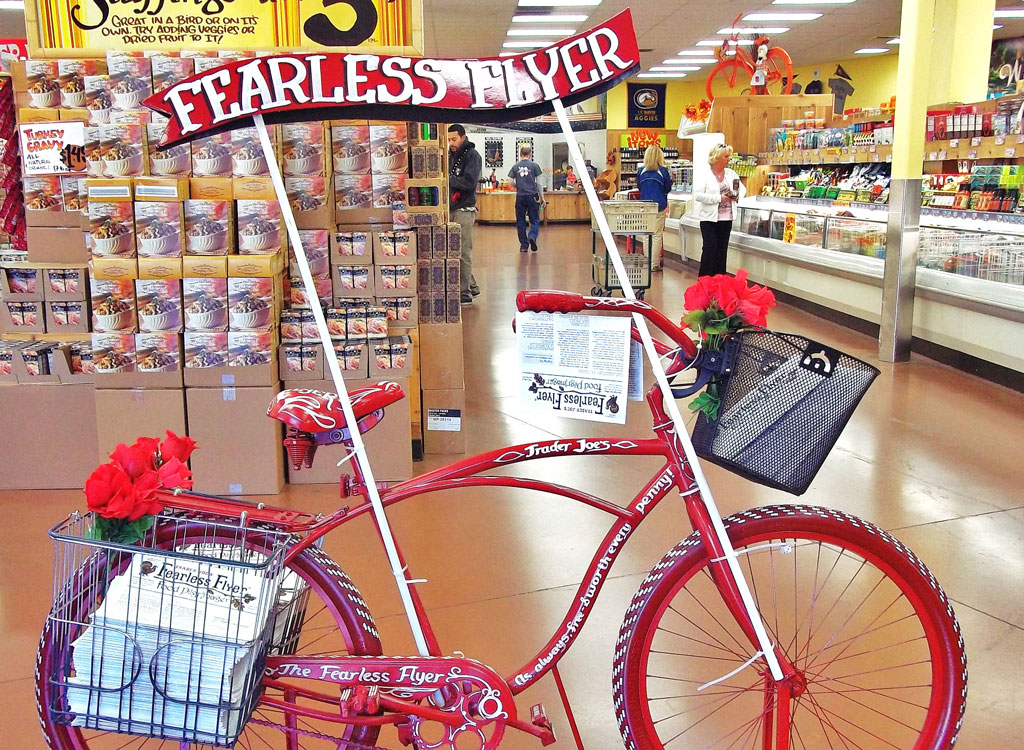 If you have a hard time keeping up with all of Trader Joe's seasonal products, you're not alone. Lucky for limited edition-loving customers, Trader Joe's creates a catalog of sorts to keep everyone in the loop about the specialty products currently on their shelves. You can grab a Fearless Flyer at your local Trader Joe's or check it out online in order to get an idea of the products you can expect to find during your next visit. While many of the items on the Flyer err on the decadent side, by taking a peek at them in advance you can decide which products you want to splurge on and eliminate the temptation for last minute, impulse buys.
You can ask to sample any product.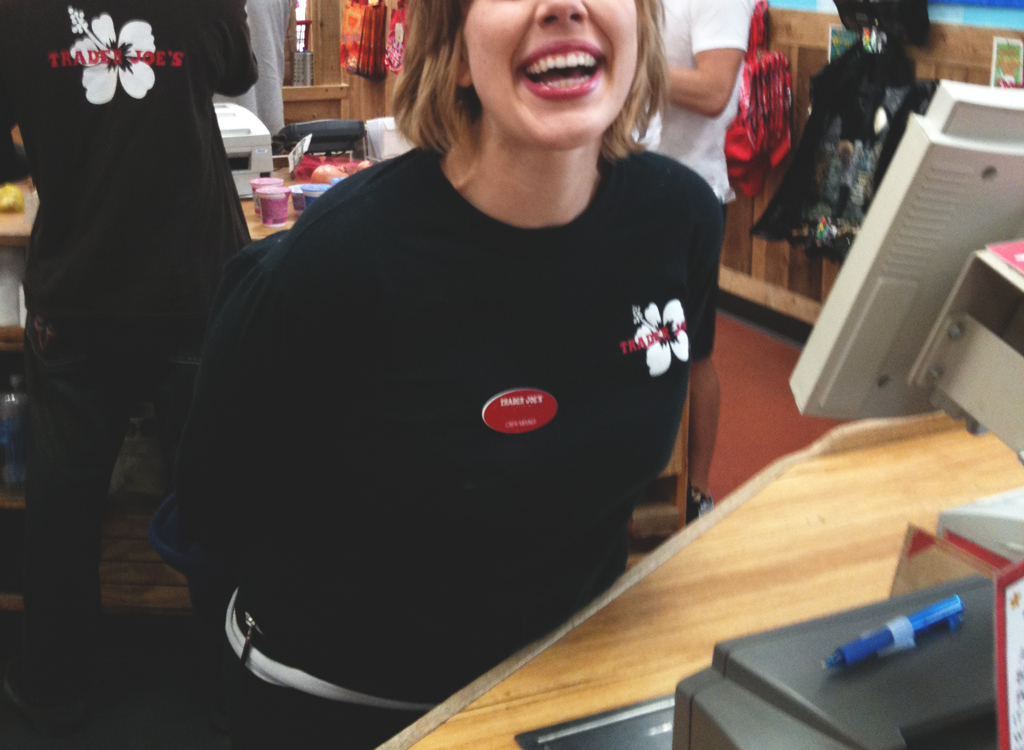 Trader Joe's has a very open sampling policy. If there's a product you want to try before buying, pull over a store employee in order to get the chance to sample it yourself.
Try their free samples.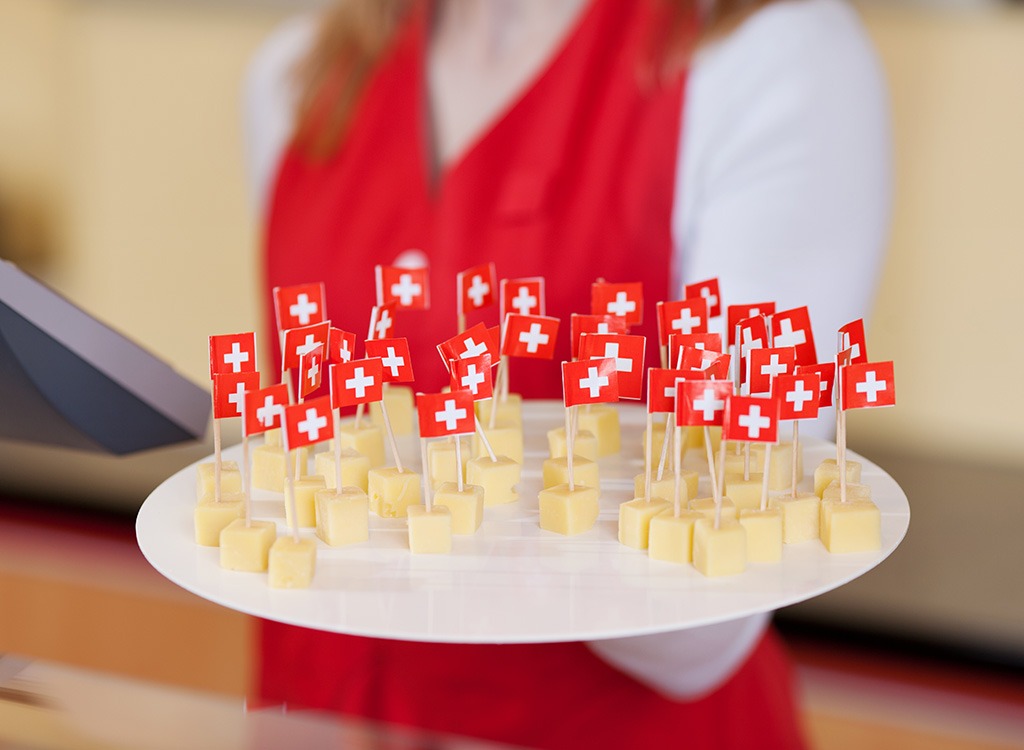 Speaking of samples, a TJ's employee is typically cooking up some sort of free sample at their sample station. There are sample stations that feature bite-size portions of private label products in every store location. Check them out for meal inspiration as well as to get a chance to try something new before you buy it.
You can use manufacturer's coupons.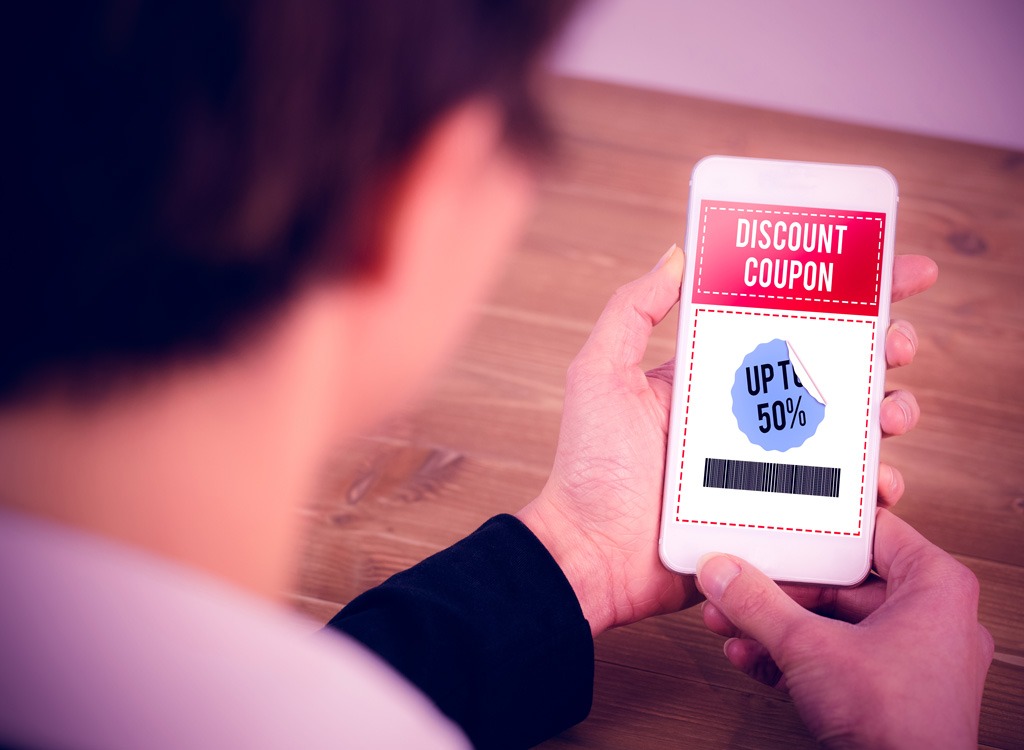 While Trader Joe's does not offer sales or discounts on its private label products, penny-pinching shoppers can look for and use manufacturer's coupons at Trader Joe's. If you have coupons for brands like Kashi, Fage, or Annie's—all of which Trader Joe's sells—do not be afraid to use them in the store.
Many TJ's private label items are replicas of your favorite brands.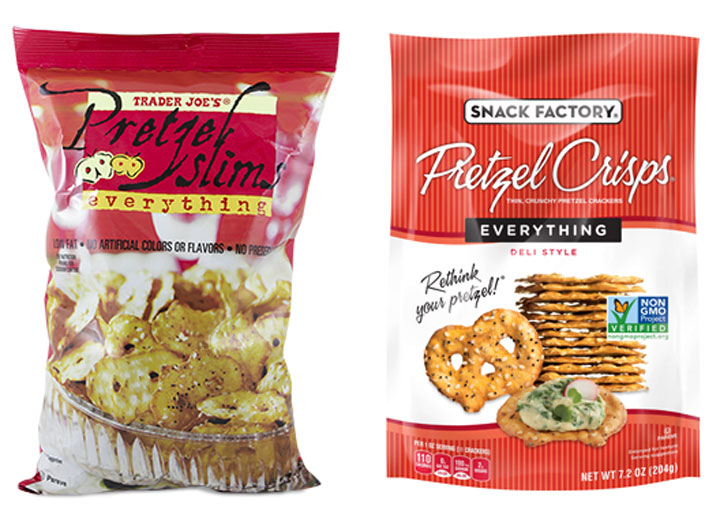 Many of Trader Joe's own products are either near-replicas of your favorite brand-label goods—or, even crazier, actually made by the big brands themselves! "The California-based Trader Joe's orders most of its products from third-party manufacturers (including giants like PepsiCo. and Snyder's-Lance), which agree to sell some of their items under the Trader Joe's label," as reported by Eater. Although suppliers aren't allowed to say they supply Trader Joe's products, Eater was able to guess which TJ items were supplied by name brand companies through a little digging. For example, Trader Joe's Pretzel Slims have nearly the exact same ingredient list as Snack Factory's Pretzel Crisps. Their pita chips are just like Stacy's pita chips, the mango smoothie ingredients are a spitting image of Naked's mango smoothie, and you might not be able to differentiate their Smart Puffs from Pirate's Booty. The point is? You can get the taste you've come to love at a bargain if you shop at TJ's.
Private label reigns supreme.
Speaking of TJ's private label, it's part of what sets Trader Joe's apart from other grocery chains, and it has something of a cult-favorite status amongst shoppers. Many of the items that line Trader Joe's shelves are private label, although some feature inventive names such as Trader Ming's for Asian food or Trader Jacques' for items with a French flair. All the specialty and seasonal goods Trader Joe's is known for come from their private label, and many of the store's best price deals can be found here. While items like Trader Joe's famous Speculoos cookie butter aren't exactly diet-friendly, other branded products are healthy enough to be mealtime staples.
Know when to shop.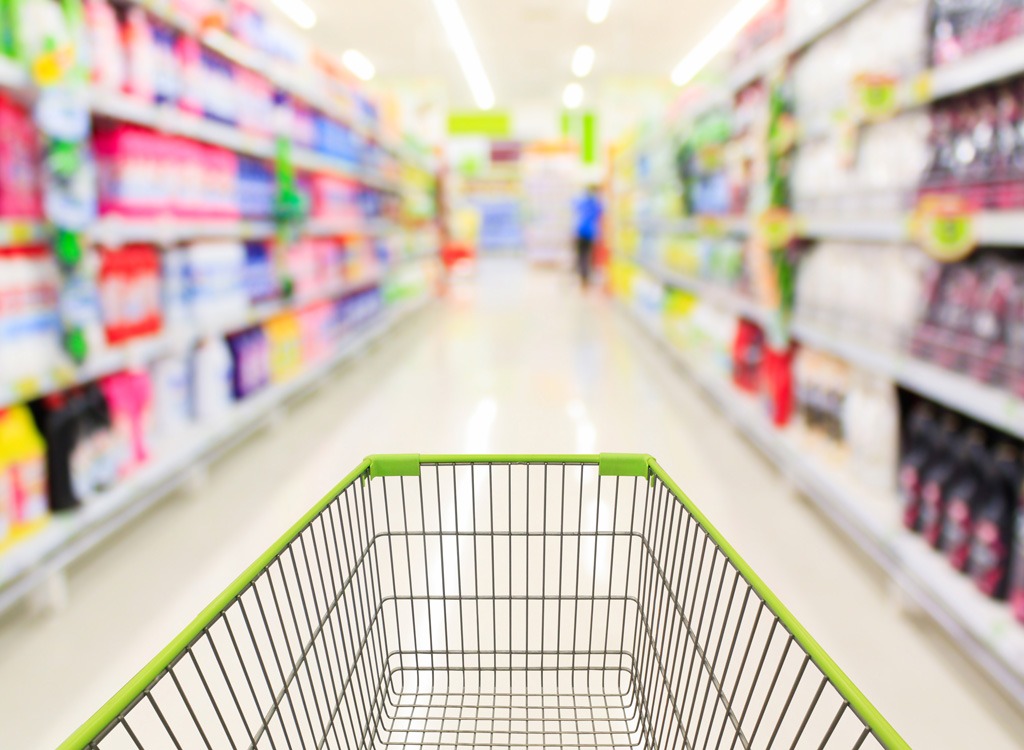 Given Trader Joe's cheap prices and one-of-a-kind product offerings, it's no wonder the store is frequently crowded. If you are looking to beat the crowds, try to shop at different times to get a sense of when peak hours are at the location closest to you. Want some safe, low-traffic times? Many Reddit users suggest stopping by Trader Joes between 8 a.m. and 10 a.m. on weekdays or swinging by on Friday nights if you're looking to shop in peace.
Stock up on seasonals when you can.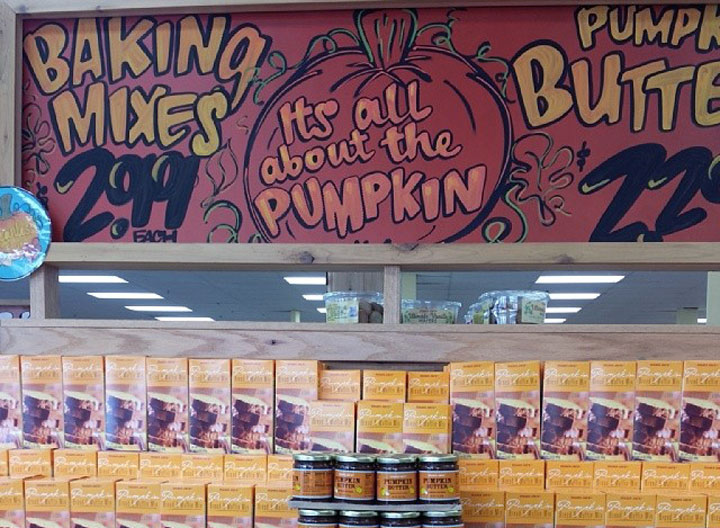 Not all of Trader Joe's products take up permanent residence on store shelves. Trader Joe's frequently introduces new products, particularly as the seasons change, and eliminates other items in order to make space. If you can't get enough of the pumpkin-flavored goodies the store sells during the fall, be sure to buy them in bulk because come spring, they may no longer be available.
Keep an eye out for contests.
Bringing your own bag isn't the only way you can attempt to win a free gift card. Trader Joe's occasionally holds contests and awards that shoppers can participate in. Keep tabs on Trader Joe's website to learn about naming competitions for new products or the chance to vote for your favorite private label food. Contest winners are usually handsomely rewarded with Trader Joe's gift cards and of course, major bragging rights.
Returns are a non-issue.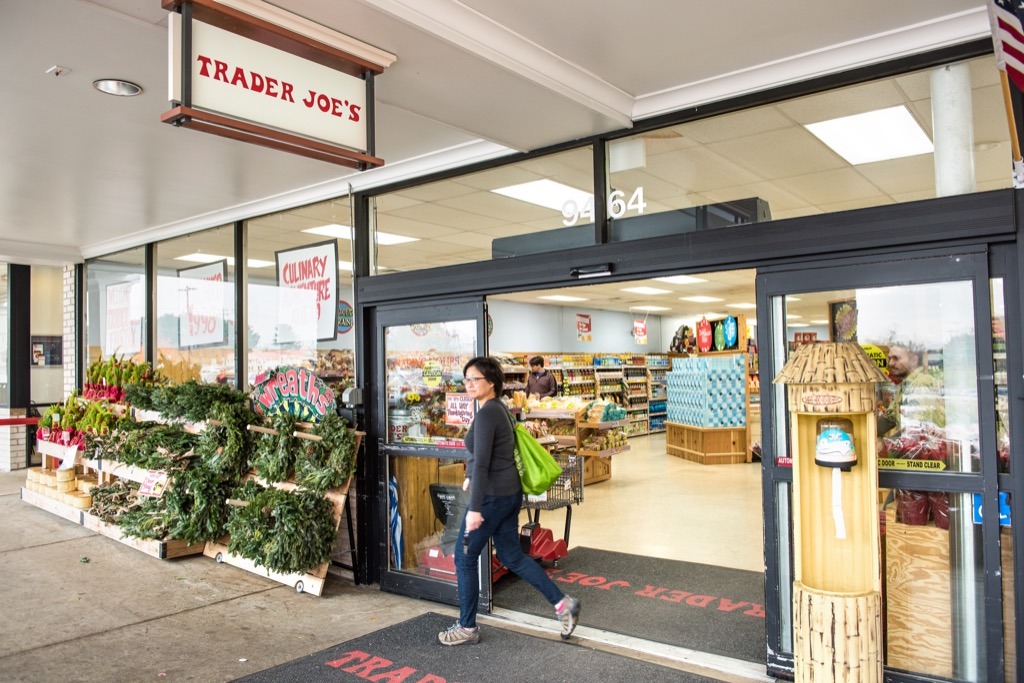 If you're an indecisive shopper, Trader Joe's may be the store for you. In addition to the brand's generous sampling policy, Trader Joe's also boasts one of the most lenient sets of rules regarding returns. Customers who dislike any of the products they purchase are entitled to a full refund, even if they return an opened package.
Most produce is prepackaged.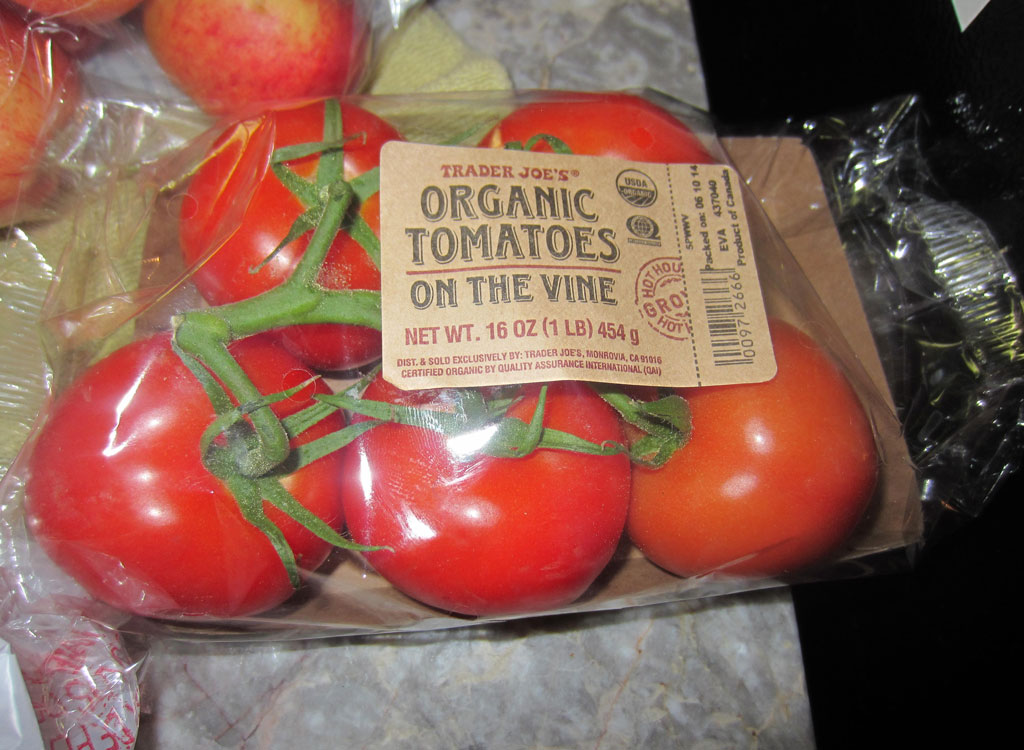 Trader Joe's is filled with plenty of inventive products and an overwhelming amount of options, but it may not be the best place to shop for fruits and veggies. Most of the produce you will find at Trader Joe's is pre-packaged, which can make it hard to buy exactly the amount of fruits and veggies you are looking for. However, if you don't mind buying your apples in sets of six and the extra packaging that comes with it, many of Trader Joe's produce offerings are incredibly affordable. If you want to make sure your Trader Joe's haul is weight-loss friendly, take a peek at The Best New Trader Joe's Products for Weight Loss.
Their bananas are a great deal.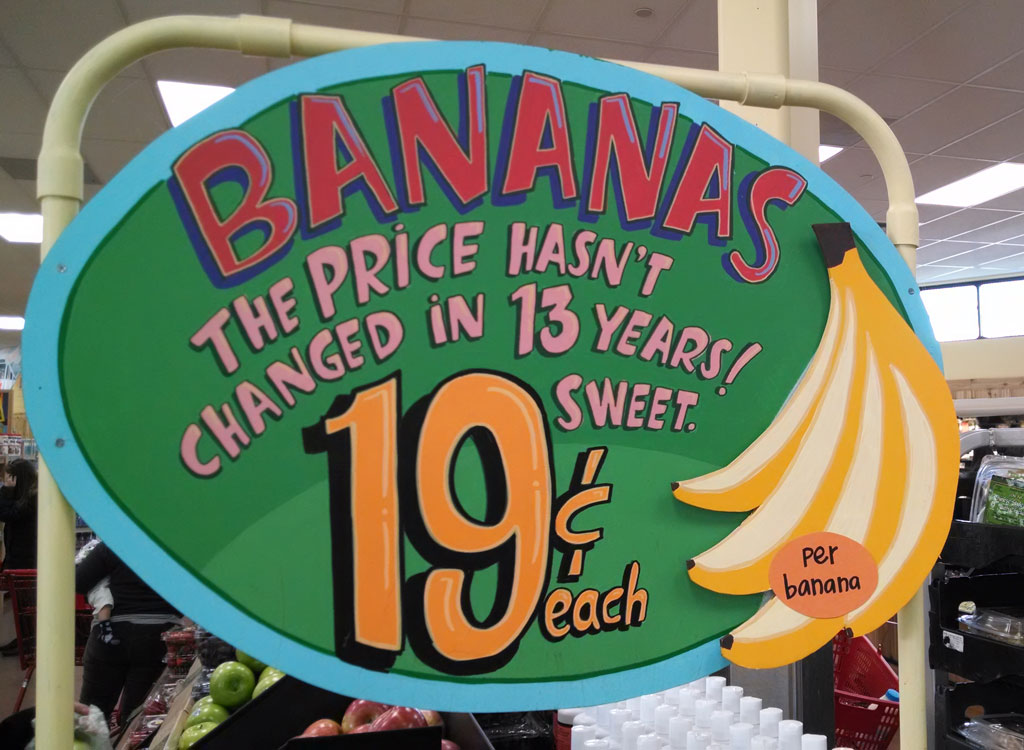 6254a4d1642c605c54bf1cab17d50f1e
Speaking of incredibly affordable produce, the bananas are famously just 19 cents a piece!
They have really high food standards.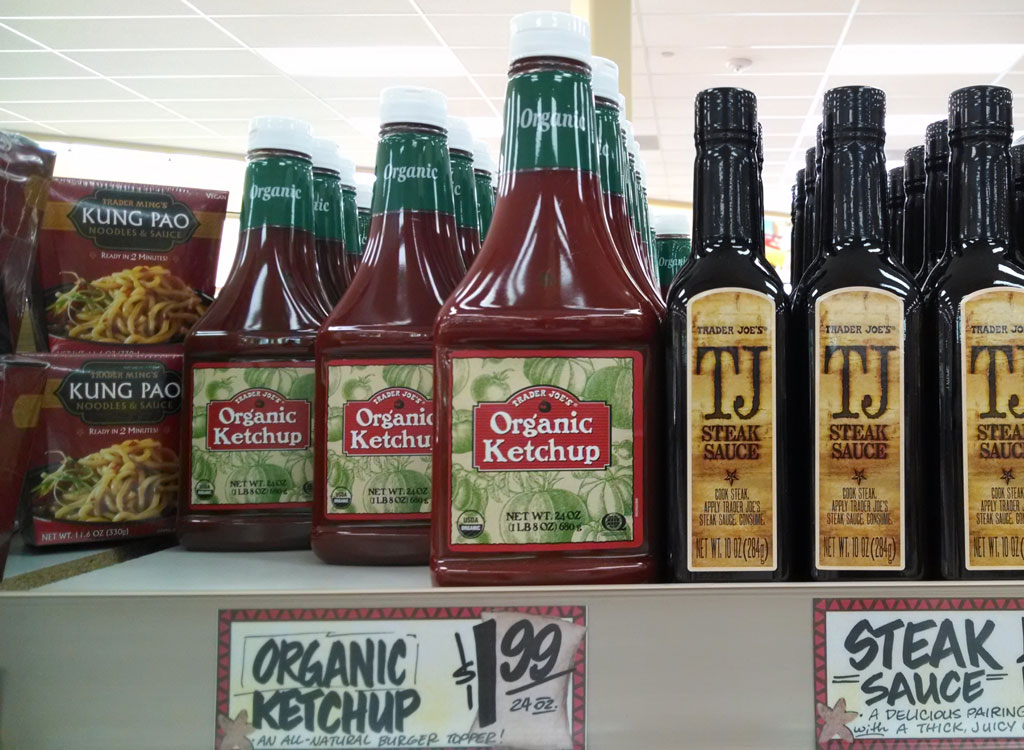 Just because you're getting a bargain when you shop at Trader Joe's doesn't mean you're shortchanging your health. Although they don't outright advertise these redeeming qualities, the discount supermarket develops their products to fit high nutritional standards. Every product is free of artificial flavors, artificial preservatives, artificial colors, MSG, added trans fats, dairy ingredients from cows injected with rBST hormones, and genetically modified ingredients (GMO-free). They also have been offering organic products since the 1970s and many of them are priced comparably to their conventional counterparts. These high standards make Trader Joe's products an impressive nutritionally-redeeming alternative to pricier specialty stores.
Trader Joe's pre-made products are great recipe shortcuts.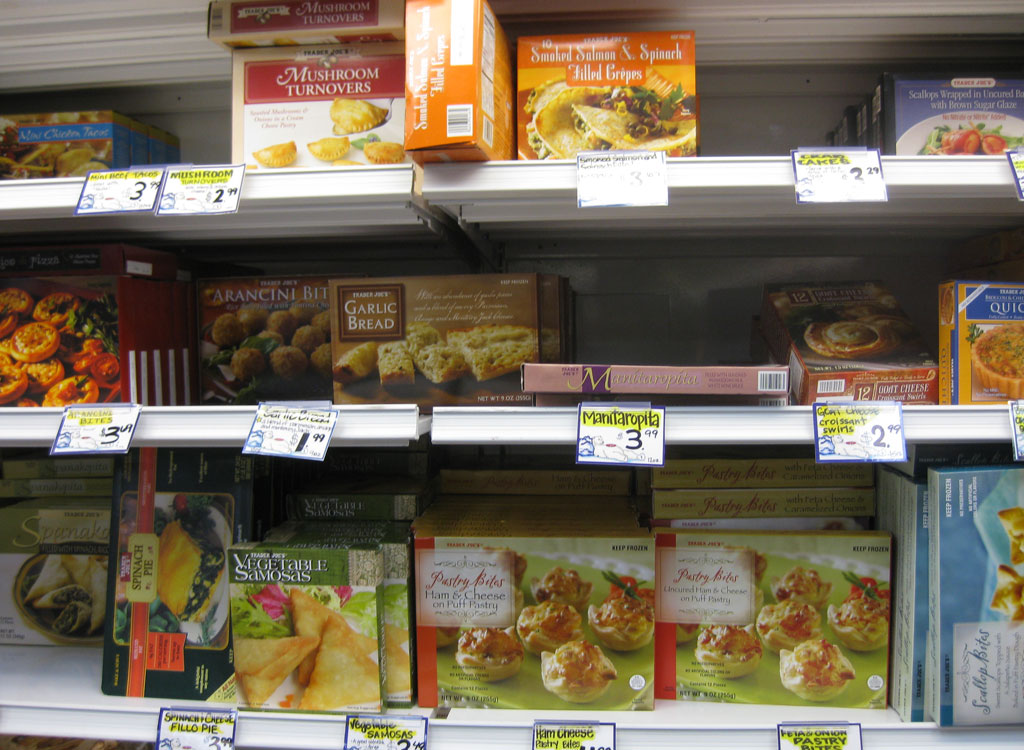 TJ's has an impressive amount of prepared foods that can be heated up and ready to eat in a matter of minutes. Trader Joe's ready-made salads, marinated meats, frozen dinners, and jarred sauces will all help you go from pantry to plate in minutes. Looking for inspiration? We've got it right here with these 20 Must-Buy Trader Joe's Products For Quicker Dinners.
They also offer low-cost lunches.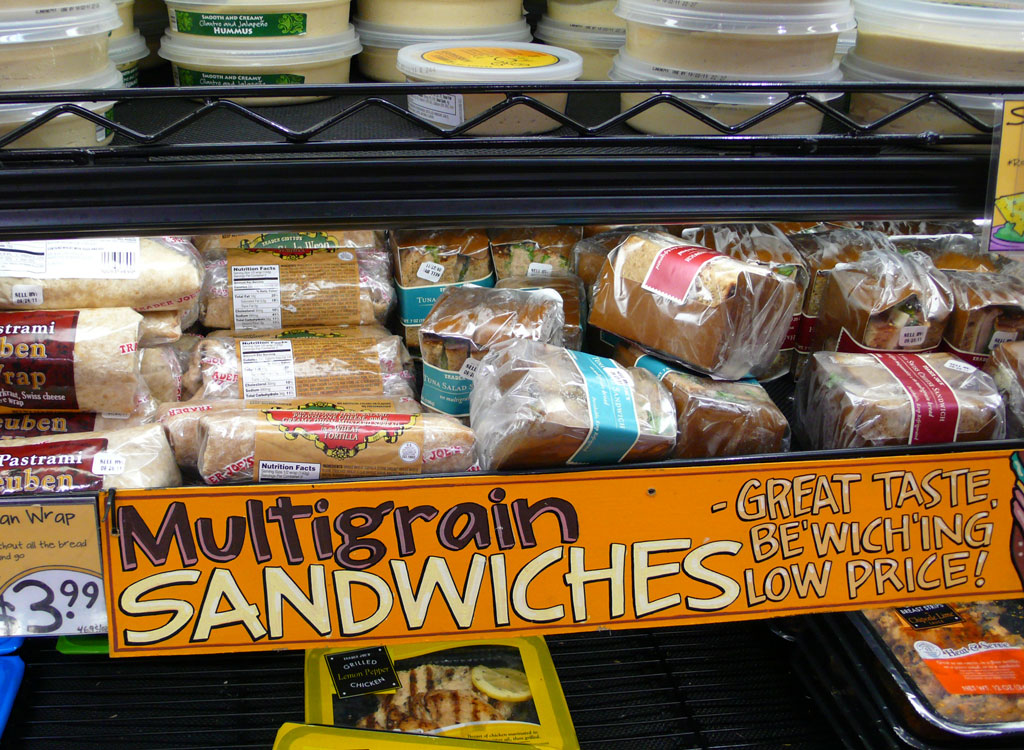 Need a sandwich, salad, or soup in a pinch and don't want to make a fuss about cooking? Trader Joe's has your pack with regional pre-made products that are ready to eat whenever you're hungry.
You can (and should) pick up a cheap bottle of wine.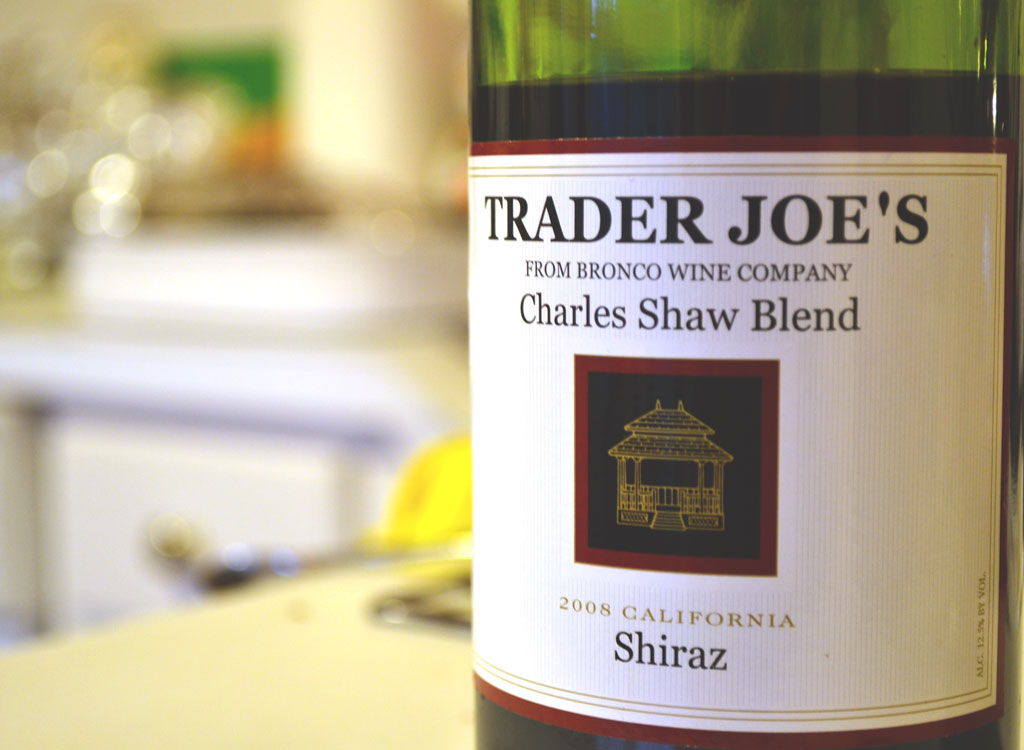 Trader Joe's is also known for its budget-friendly Charles Shaw wine, which also goes by "Two Buck Chuck." While the wine initially retailed for $1.99—where it earned the two buck nickname—the supermarket recently raised the price to $2.99. So, while it's closer to three-buck chuck, it's still in that two-dollar range.
Don't let the cheap price tag mislead you into thinking the product is subpar. Charles Shaw's wines have won countless awards: In 2004, a 2002 Charles Shaw Shiraz won a prestigious double gold medal at the 28th Annual International Eastern Wine Competition, and in 2007, the Charles Shaw 2005 Chardonnay was voted the best-tasting California Chardonnay at the California State Fair Commercial Wine Competition. Starting in May 2018, TJ's began offering organic wine options for just $3.99 a bottle.
You may not be able to find what you're looking for.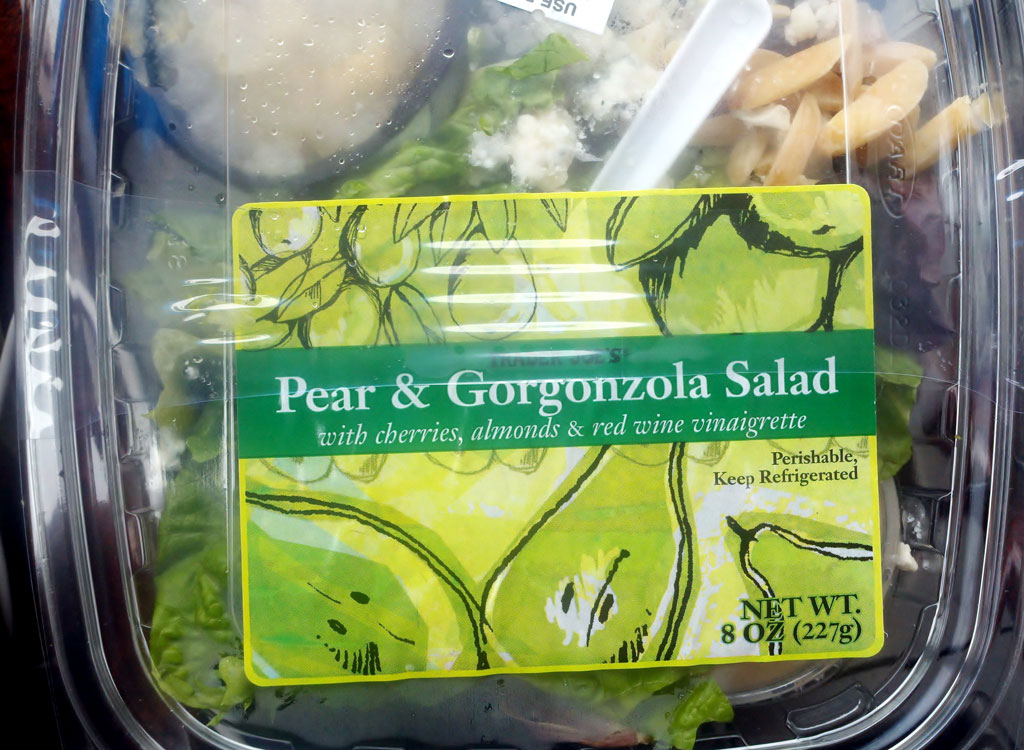 Did you see an amazing Trader Joe's product on an Instagram page or blog? Unfortunately, you may not be able to locate it at a TJ's by you. According to the grocery chain, "For freshly-prepared items, like deli, bakery, dairy and juice, we try to source goods as close to our stores as we can. As a result, there can be variations in recipes and prices. Then there is the other stuff: state laws, taxes, deposit requirements and our distribution costs can also influence how products get priced, depending on location."