8 Light Beers That Use the Highest Quality Ingredients
These beers may be lighter in calories and carbs, but they deliver on flavor and quality.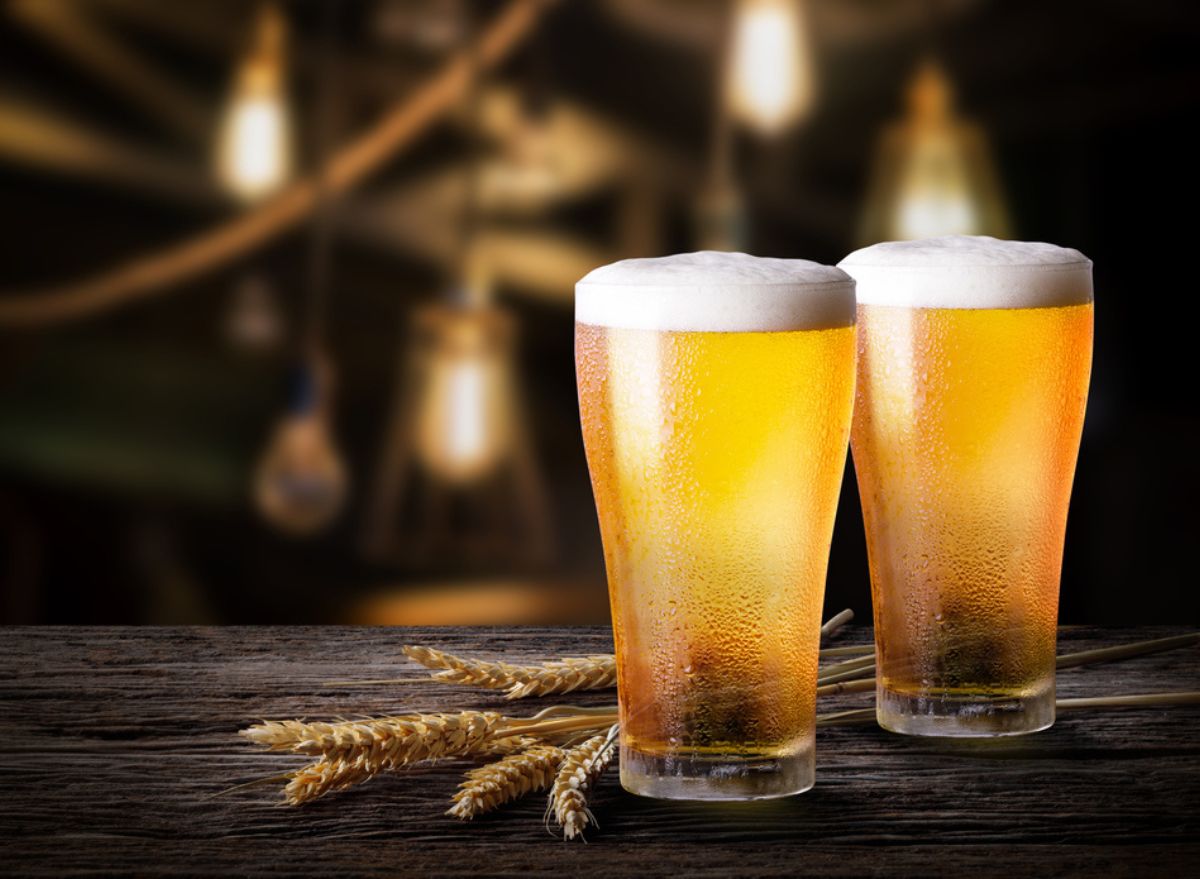 Light beer has been brewed in America since the later years of the 1960s, per VinePair, and it went mainstream in the early 1970s with the advent of Miller Lite, still a top-selling beer today. But do Miller Lite, Coors Light, and Bud Light sell so well because they are good beers, or because they are cheap and easily palatable brews? The answer is… cheap and palatable, sorry to say. Good light beers do exist, but they can be hard to find. How are you sort the lower quality cheap light brews from the genuinely well-made and tasty light beers with the highest quality ingredients?
"The short answer is, it's hard to tell a light beer's quality by its ingredients because the ingredients are not listed on the label!" says Stephanie Nelson, MS, RD, who is also MyFitnessPal's in-house nutrition expert and nutrition scientist, who adds: "This is because alcoholic beverages are regulated by the Alcohol and Tobacco Tax and Trade Bureau, and not the FDA. However, you can make some assumptions about a beer's quality without the ingredients label."
"All beer contains 4 core ingredients: water, grain, yeast, and hops. Each ingredient can vary in quality depending on where it's sourced, how it's grown, and how it's processed," Nelson explains. "However, it's thought that mass-produced beers don't have the highest quality ingredients. If you want a high-quality light beer, consider a beer made by a smaller brewery because they produce on a smaller scale. Or, do a deep dive to find out the specific ingredients in your favorite light beer to learn more about its quality."
Don't worry, we did that deep dive for you! Here are eight light beers that are heavy on quality. Plus, come back and read about the 8 Light Beers That Use the Lowest Quality Ingredients.
Dogfish Head Slightly Mighty IPA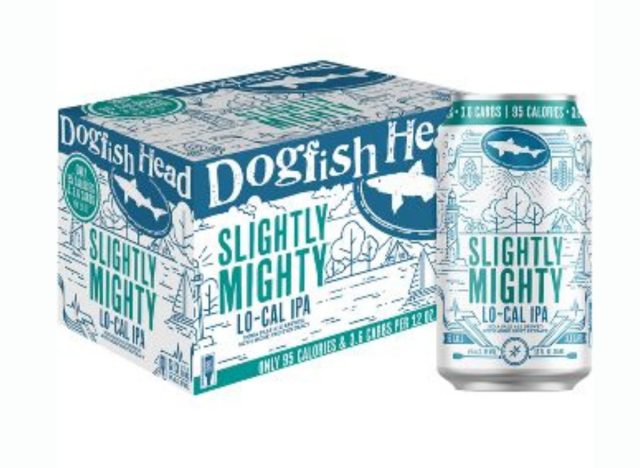 From a brewery that wrote the book on IPA (OK, technically founder and head brewer Sam Calagione's books are Extreme Brewing and Brewing Up a Business) comes this seriously flavorful yet impressively low-calorie beer. Slightly Mighty IPA has only 95 calories per 12-ounce serving and just 3.6 grams of carbs. Yet it rates at 30 IBUs (International Bitterness Units – Bud Light rates at 10, for reference) and has a full flavor and impressive hop profile balanced by decent malt with a light sweetness.
Yuengling Light Lager
Yuengling's Light Lager is an impressive light beer in that it really does taste very much like the flagship beer of the brewery (America's oldest, FYI), namely Yuengling Lager, albeit in a lighter form. The beer is brewed with water, caramel malts, Cascade and Cluster hops, yeast, and corn grits, so it does have added cereals, but it does not have high fructose corn syrup or sugars directly added.
Stone Levitation Amber Ale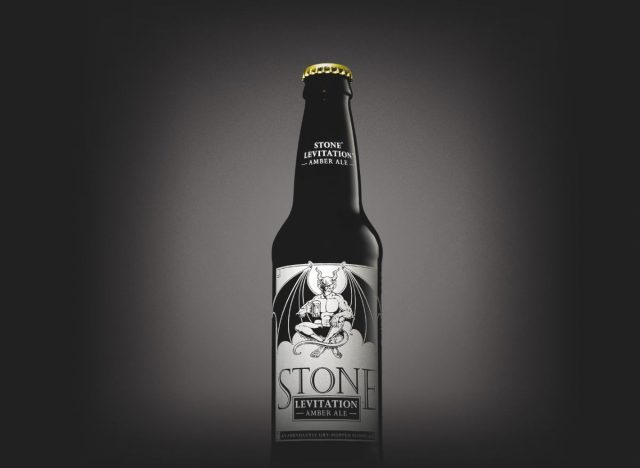 This ale rates at an impressively bitter 45 IBUs, yet that hop presence is well-balanced by major maltiness. To take a sip or two, you would not know that the beer has a mere 4.4% alcohol by volume, nor that it rates at a modest 132 calories per 12-ounce serving. That's less than the 140 calories you'd get in a can of Coke of the same size.
Kona Light Blonde Ale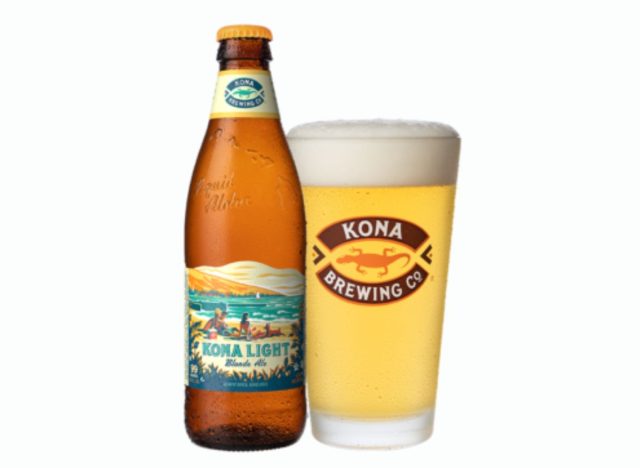 This light, pale yellow ale may look like any of the many low-quality, low-taste American beers when you pour it out into the glass but… it's not. It has a crisp but pronounced hop flavor thanks to a blend of Millennium, Mosaic, and Amarillo hops and it has a balanced malt profile thanks to a Pale Malt and Caramel Malt grain bill. And it has just 99 calories per serving. Plus, it won our light beer taste test.
Athletic Brewing Lite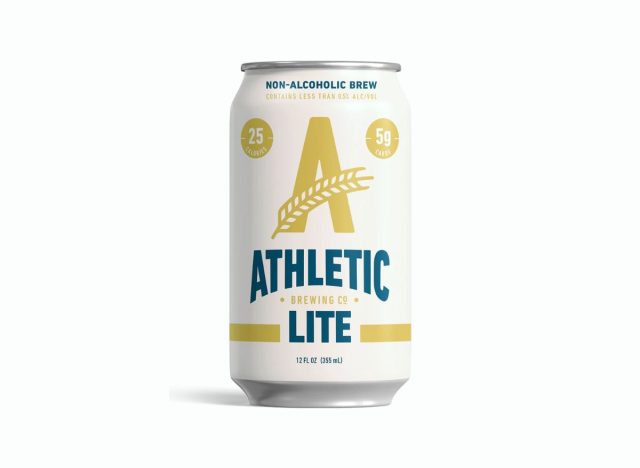 Beer doesn't really get any lighter than this. Athletic Brewing, a pioneering all-NA (nonalcoholic) brewery's Lite beer rates at a mere 25 calories and less than 0.5% ABV, yet it clocks in at 20 IBUs and genuinely tastes like beer. Because it is, just without the booze. It's made from water, organic malt, organic rice, organic wheat, hops, and yeast.6254a4d1642c605c54bf1cab17d50f1e
Lagunitas Daytime IPA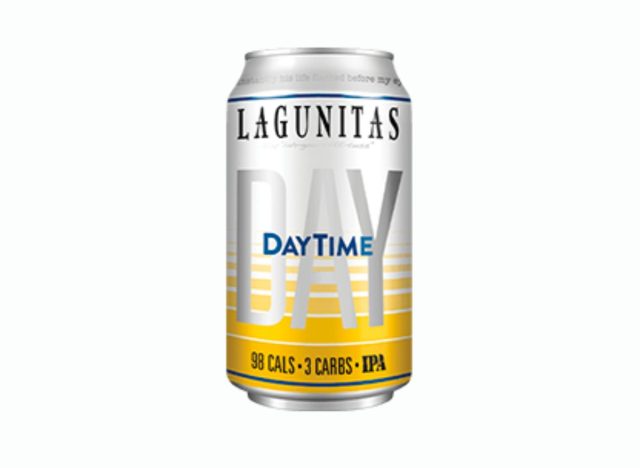 A perfect session beer if ever one was brewed (and many have been, of course), Daytime IPA from Lagunitas has just 98 calories and three carbs per 12-ounce serving, and just 4% ABV. It has a mildly sweet malt taste that is braced by lots of hops.
Societe Light Beer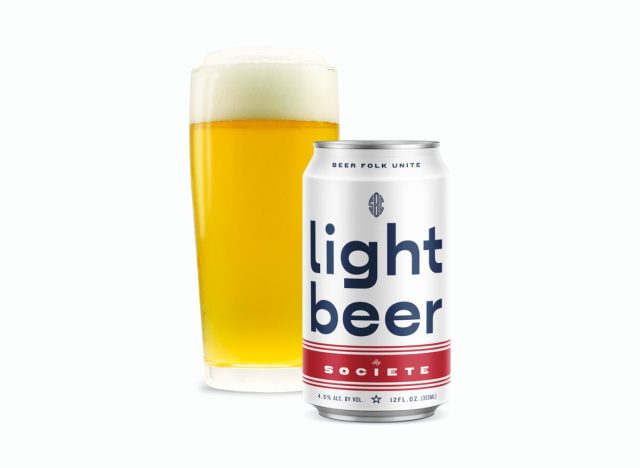 If you close your eyes and imagine what a basic beer tastes like, it's probably something just like the ironically named Light Beer from Societe Brewing Company. A classic American-style lager (which really means German-style lager, if you trace the history), this is a crisp, balanced, 4.5% ABV beer that's perfect for warm summer days, cool autumn afternoon cookouts, or for the fireside at a campsite.
Great Lakes Crushworthy Lo-Cal Citrus Wheat
Great Lakes Brewing Company put their heart on their sleeve with the name of their Crushworthy Lo-Cal Citrus Wheat beer, but hey, it is indeed a low-calorie citrus-flavored wheat beer, so why not? At 105 calories, 4% ABV, and just 10 IBUs, it's an easy-to-sip but also an easy-to-pair beer that's great with tangy foods like cheeses or lighter proteins like white fish.
Steven John
Steven John is a freelancer writer for
Eat This, Not That!
based just outside New York City.
Read more about Steven