We Tested 5 Low-Calorie Ice Creams, And This Is The Best!
I scream, you scream, we all scream for low-cal ice cream!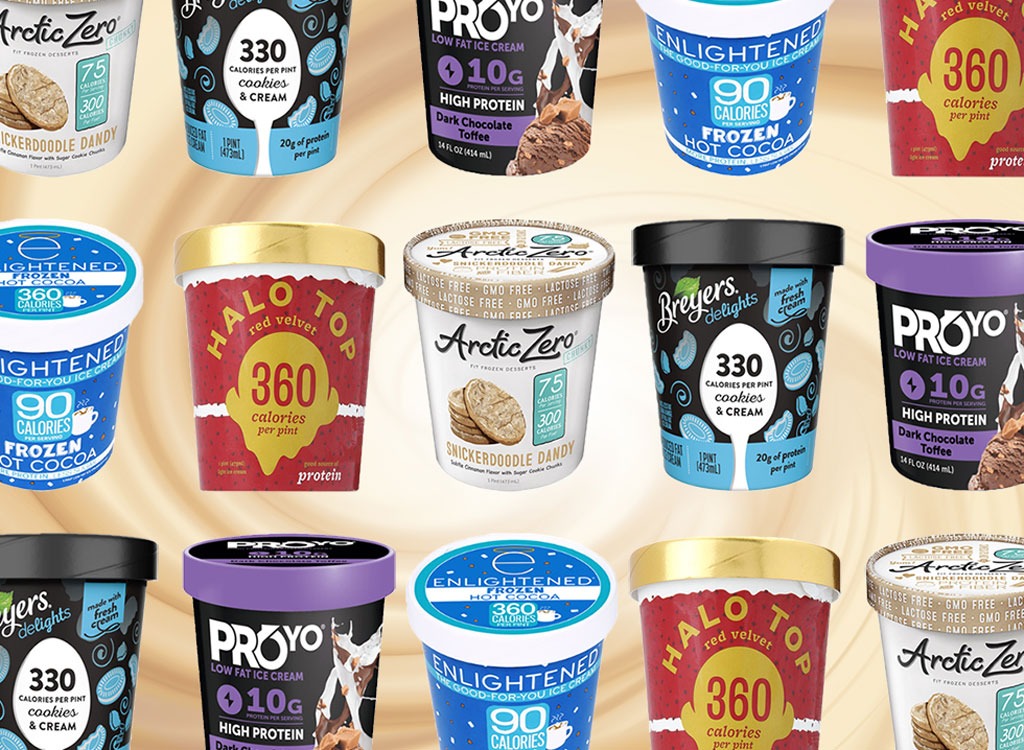 Finally, the food gods above (or just customer-favorable competition) have blessed us with the ability to devour every last bit of a pint of ice cream without costing us our hard-earned bikini bodies. Yes, delicious, low-calorie ice cream exists—and replacing the original belly-busting dessert for a lighter, high-protein pint just might be the easiest way to satiate that nagging sweet tooth and lose weight fast.
Taking on the role of our top taste tester at Eat This, Not That!, I had the pleasure to taste these seemingly heaven-sent treats. We let each pint thaw for about 20 minutes (to reach full flavor potential) and then indulged in five popular brands and graded them based on Nutrition, Clean Ingredients, Appearance & Consistency, and Taste (duh!). Read on to find out which pint deserves to be devoured and which aren't as up to par.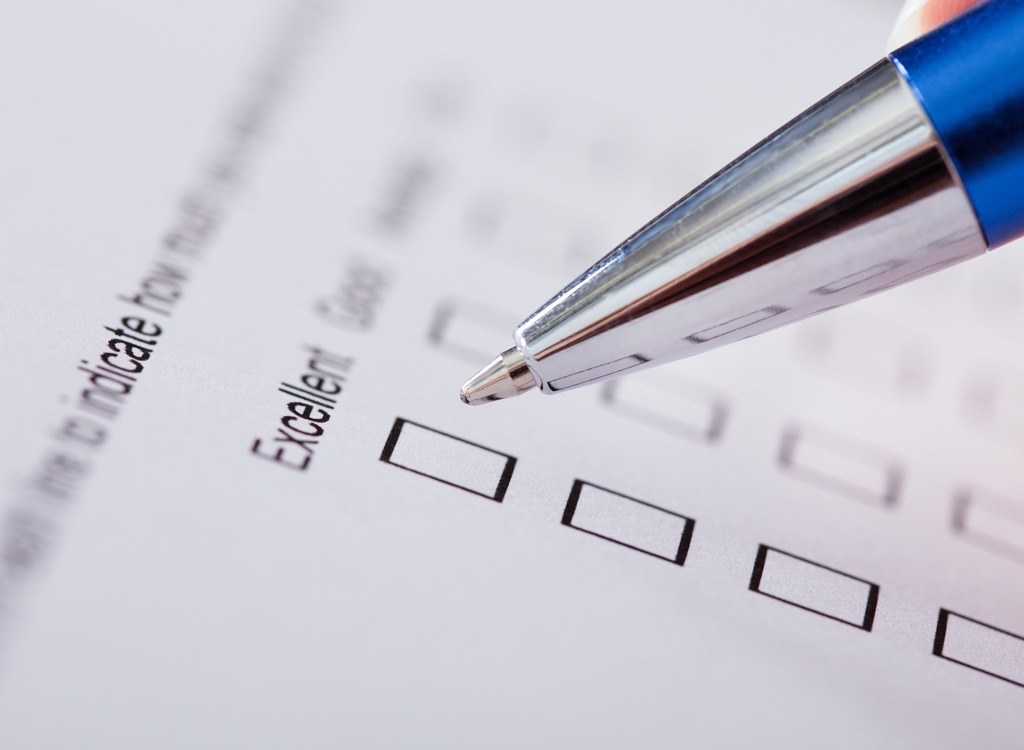 Here are the four metrics we used to determine each ice cream's final grade.
Nutrition
Does one pint have more protein or fat than the other? Does one serving pack in more sugar than a donut? We'll decode the nutritionals and help you bypass the less favorable stuff.
Clean Ingredients
Additives are always a no-no in our book. We want clean, unadulterated ice cream for all!
Appearance & Consistency
Ice cream should be thick, creamy, and melt in your mouth. But if it's icy, gritty or chalky—or worse, contains artificial dyes—you're obviously better off skipping the stuff.
Taste
Let's face it, the real reason we indulge in the stuff is because our taste buds ordered us to do so. A delicious ice cream is the foundation of an expected experience—good nutritionals are the cherry on top.
Arctic Zero Snickerdoodle Dandy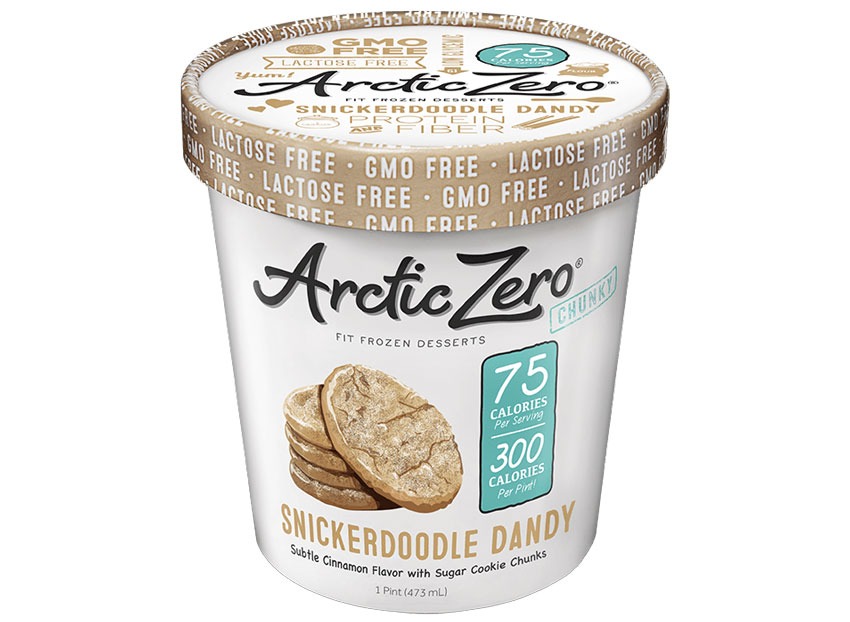 Nutrition per 1/2 cup: 75 calories, 1.5 g fat (0 g saturated fat), 135 mg sodium, 11 g carbs (3 g fiber, 8 g sugar), 3 g protein
Ingredients: Purified Water, Whey Protein Concentrate (Milk), Organic Cane Sugar, Chicory Root, Sugarcane Fiber, Snickerdoodle Cookie [Sugar, Unenriched Wheat Flour, Butter (Cream, Salt), Pasteurized Eggs, Water, Cinnamon, Natural Flavor, Baking Soda, Salt], Guar Gum, Xanthan Gum, Natural Flavors, Cinnamon, Sea Salt, Monk Fruit Concentrate.
Appearance & Consistency: Right off the bat, I noticed that the contents in the tub lacked both color and scent albeit a neutral cream hue and almost undetectable cinnamon scent. Upon tasting a spoonful, Arctic Zero was runny rather than rich.
Taste: As its brand name suggests, this frozen treat tasted like close to nothing. Spiced snickerdoodle cookie? Uhm, where?
Eat This, Not That! Verdict:
The first clue that I wasn't gonna become the self-proclaimed biggest fan of this "frozen dessert" is in the first ingredient: water. Real ice cream boasts stuff like milk and cream as its primary component—and since this doesn't contain 10 percent or more of dairy milk fat, Arctic Zero can't legally label its treat "ice cream." Womp womp. Given the less-than-impressive taste and icy texture, Arctic Zero gets our cold shoulder.
Proyo Dark Chocolate Toffee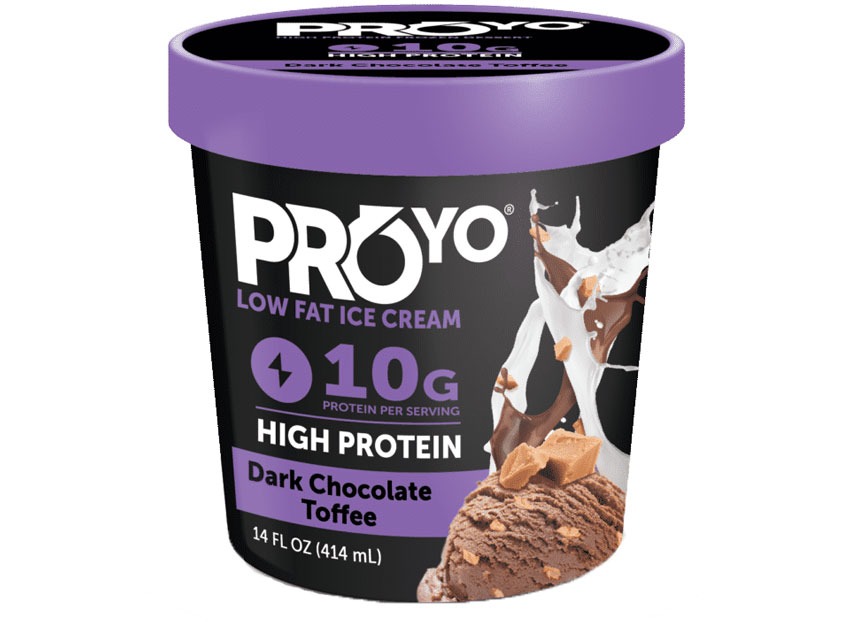 Nutrition per 1/2 cup: 120 calories, 1 g fat (0 g saturated fat), 90 mg sodium, 18 g carbs (3 g fiber, 9 g sugar), 10 g protein
Ingredients: Skim Milk, Whole Milk, Whey Protein Concentrate, Xylitol (Natural Sweetener), Inulin, Sugar, Toffee (Cane Sugar, Butter [Cream, Salt], Inulin, Coconut Oil, Brown Sugar, Almonds, Natural Flavor, Salt, Sunflower Lecithin), Cocoa Processed with Alkali, Dark Chocolate Syrup (Sugar, Water, Cocoa Processed with Alkali, Chocolate Liquor, Citric Acid), Natural Flavors.
Appearance & Consistency: Proyo's texture resembled more of a light frozen yogurt rather than a rich and silky ice cream. It seemed thinned out and slightly icy.
Taste: Proyo went too far deeming this treat's flavor as dark chocolate. Any potential cocoa flavor notes were highly camouflaged by the stronger artificial caramel-toffee taste. The xylitol and protein powder aftertaste made our taste buds squirm even after washing the stuff down with water.
Eat This, Not That! Verdict:
The best part about this ice cream is the whopping 10 grams of protein per serving, but other than that, it falls short of winning our seal of approval. Lacking the full-bodied ice cream texture we know and love, this stuff should probably take a pointer from its name and rebrand itself as froyo instead.
Enlightened Frozen Hot Cocoa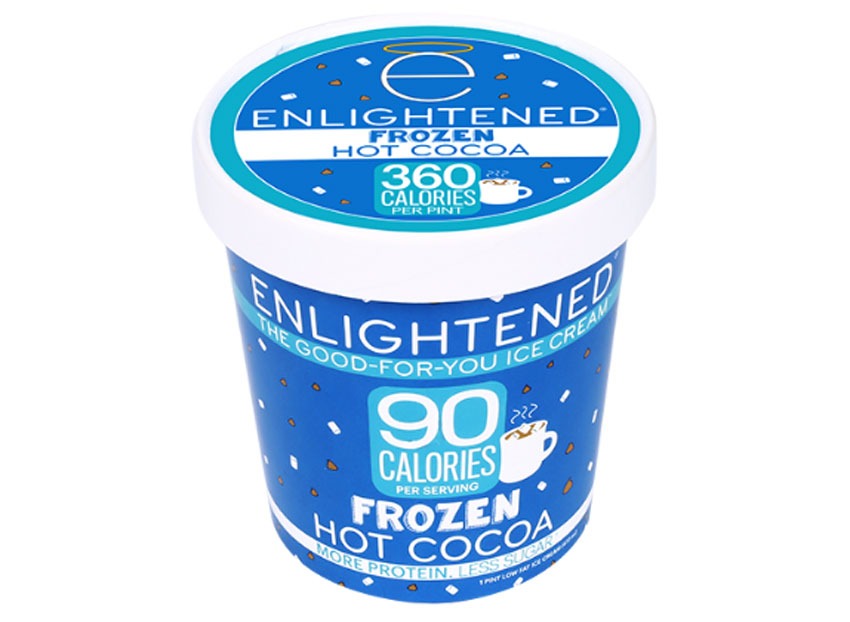 Nutrition per 1/2 cup: 90 calories, 2.5 g fat (2 g saturated fat), 18 g carbs (5 g fiber, 6 g sugar), 7 g protein
Ingredients: Skim Milk, Milk Protein Isolate, Erythritol (Natural Sweetener), Non-GMO Soluble Corn Fiber, Dutched Cocoa, Cream, Cane Sugar, Contains 2% or Less of: Vegetable Glycerin, Coconut Oil, Carob Gum, Guar Gum, Ghee, Natural Flavor, Monk Fruit Extract, Pectin, Corn Starch, Titanium Dioxide, Salt, Disodium Phosphate, Citric Acid, Soy Lecithin.
Appearance & Consistency: Imagine preparing your favorite hot cocoa, twirling some marshmallows into the chocolatey mix, and then popping it in the freezer. This is it.
Taste: When ooey gooey 'mallows meet creamy cocoa, how can we resist? This stuff was super sweet, but given the nostalgic flavor, we get it. This summery take on a wintry comfort classic is definitely one you'll want to devour.
Eat This, Not That! Verdict:
This Fudgesicle-meets-Fluff treat scored an A in the taste and texture departments but failed to snag a spot on our Top 2 due to its heartbreaking inclusion of titanium dioxide, a shady whitening agent.
Breyers Delights Cookies & Cream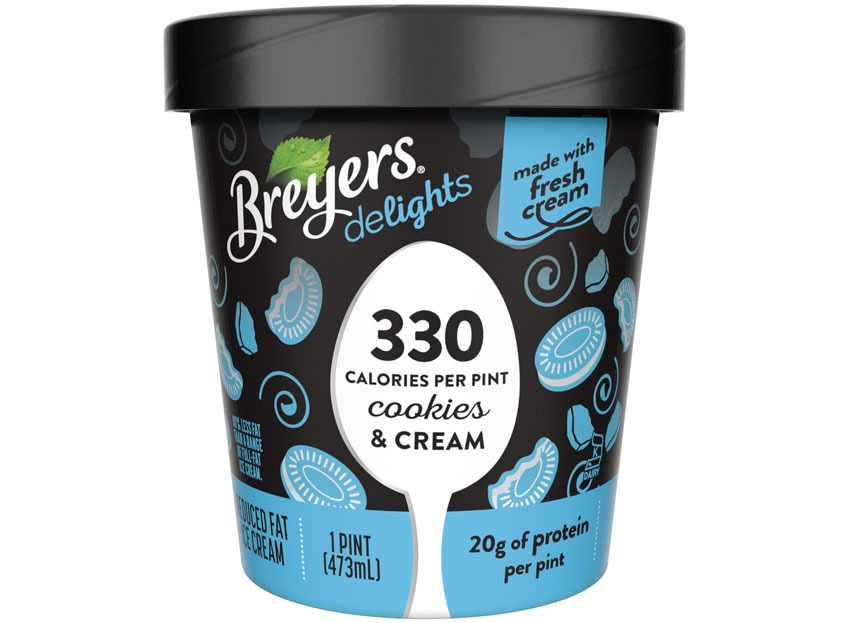 Nutrition per 1/2 cup: 82 calories, 2.25 g fat (1.5 g saturated fat), 65 mg sodium, 18.25 g carbs (< 1 g fiber, 6.75 g sugar), 5 g protein
Ingredients: Skim Milk, Soluble Corn Fiber, Erythritol, Milk Protein Concentrate, Sugar, Cream, Wheat Flour, Less Than 2% Of Palm And Palm Kernel Oil, Dutched Cocoa (Processed with Alkali), Vegetable Gums (Guar, Carob Bean), Natural Flavor, Salt, Sodium Bicarbonate, Soy Lecithin, Reb A (Stevia Leaf Extract), Vitamin A Palmitate.
Appearance & Consistency: This low-cal rendition of my personal fav original Breyers flavor looks exactly like its full-fat version, albeit being adorned with tiny moon craters on the pint's surface. We noticed ample cookie chunks peeking through lush vanilla cream.
Taste: I really couldn't tell the difference between Breyers Delights and the full-fat Oreo Blasts. This one's rich, perfectly sweet, and 100 percent satisfying—which made it that much harder to practice restraint.
Eat This, Not That! Verdict:
Bursting with abundant crunch and swoon-worthy silkiness, this one just screams "yum!" The black and white speckled stuff wasn't overwhelmingly sweet and hit the nail on the head with its cookie to cream ratio. Dismayingly, this treat may be a little too good to be true: Breyers packs in palm oil and alkalized cocoa—processed chocolate that's substantially stripped of its antioxidants.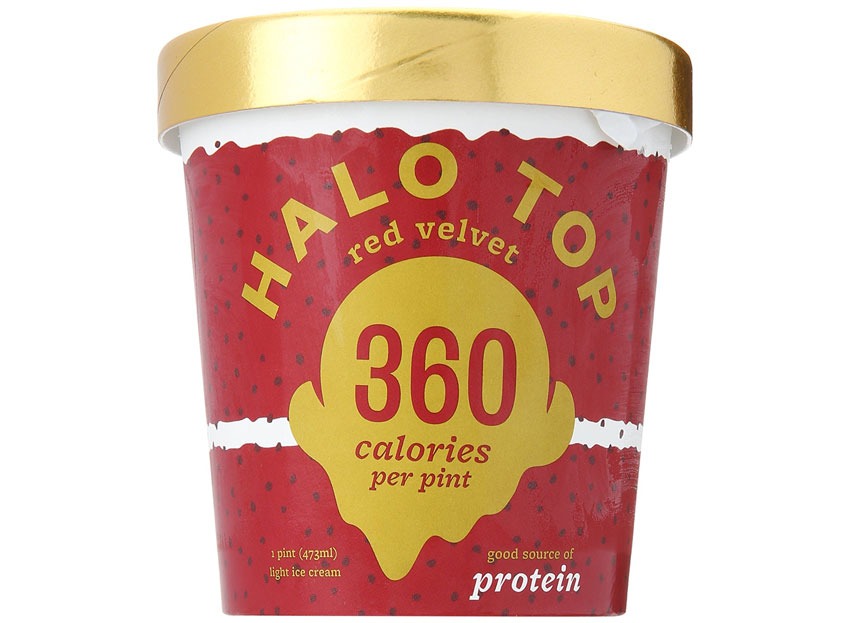 6254a4d1642c605c54bf1cab17d50f1e
Nutrition per 1/2 cup: 90 calories, 3 g fat (1 g saturated fat), 120 mg sodium, 16 g carbs (3 g fiber, 7 g sugar), 5 g protein
Ingredients: Milk and Cream, Eggs, Erythritol, Milk Protein Concentrate, Brownie Dough (Flour [Wheat], Sugar, Butter, Cocoa [Processed with Alkali], Soybean Oil, White Rice Flour, Vanilla Extract, Organic Soy Lecithin, Salt), Organic Cane Sugar, Prebiotic Fiber, High Fat Cocoa, Vegetable Glycerin, Sea Salt, Natural Flavors, Organic Carob Gum, Organic Guar Gum, Organic Stevia.
Appearance & Consistency: We expected the signature rosy pink color, but were beyond delighted that Halo Top surprised us with chewy brownie bits to round out the velvety red velvet ice cream. Plus, HT doesn't seem to think patience is a virtue; it melted faster than most, so you'll get to spoon it in a jiffy.
Taste: The sprinkled-in brownie bits added a world of depth to this sweetly satisfying treat. What's more, the sweeteners' usually funky aftertaste didn't make a cameo, and we just couldn't get enough. Teeny tiny disclaimer: this flavor converted me to a red velvet lover, so proceed with caution.
Eat This, Not That! Verdict:
Halo Top's winning cake-inspired ice cream literally lets you have your cake and eat it, too. It's indulgent and bursting with flavor—everything we want and need from ice cream, minus the unnecessary belly-ballooning calories and fat (not to mention, an added punch of protein and fiber!). Getting over a breakup? With this pick, you can shovel the entire pint down and still rock that revenge body. (Cue that catchy Hilary Duff song: this is what dreeeeams are made of.)
April Benshosan
April is a born-and-raised Brooklynite who has a passion for all things health, wellness, and tastebud-related.
Read more about April