5 Delicious Dessert Recipes from Maria Menounos
Our favorite Greek goddess, Maria Menounos, shares her secret recipes for healthy, simple, and tasty desserts.
The greatest gift you can give your children is the gift of knowing how to eat well. Maria Menounos—journalist, TV reality star, and best-selling author—is proof of that. The star famously dropped 40 pounds to get into her now-renowned bikini shape, and she thanks her mother, Litsa, for teaching her how to cook healthfully and simply. The newest entry into her best-selling healthy living book series is The EveryGirl's Cookbook, and its mission is to share the Menounos family health and weight-loss wisdom with the world.
"My goal is to teach you how to cook unique and delicious recipes that, for the most part, are fast, healthy, simple and uncomplicated," Maria writes. Most of the recipes in her new book are particularly health-conscious—inspired by her father, Costas, who eats a strict diet in order to manage his type I diabetes. "[My mother] refused to let his dietary needs and her time and budgetary limits stop her from cooking amazing meals."
That said, you gotta live, and so we asked the TV star to share some of her most delicious dessert recipes and ideas.
Find more great desserts—as well as healthy, simple and delicious takes on everyday meals—in The EveryGirl's Guide to Cooking (Zinc Ink, 2016).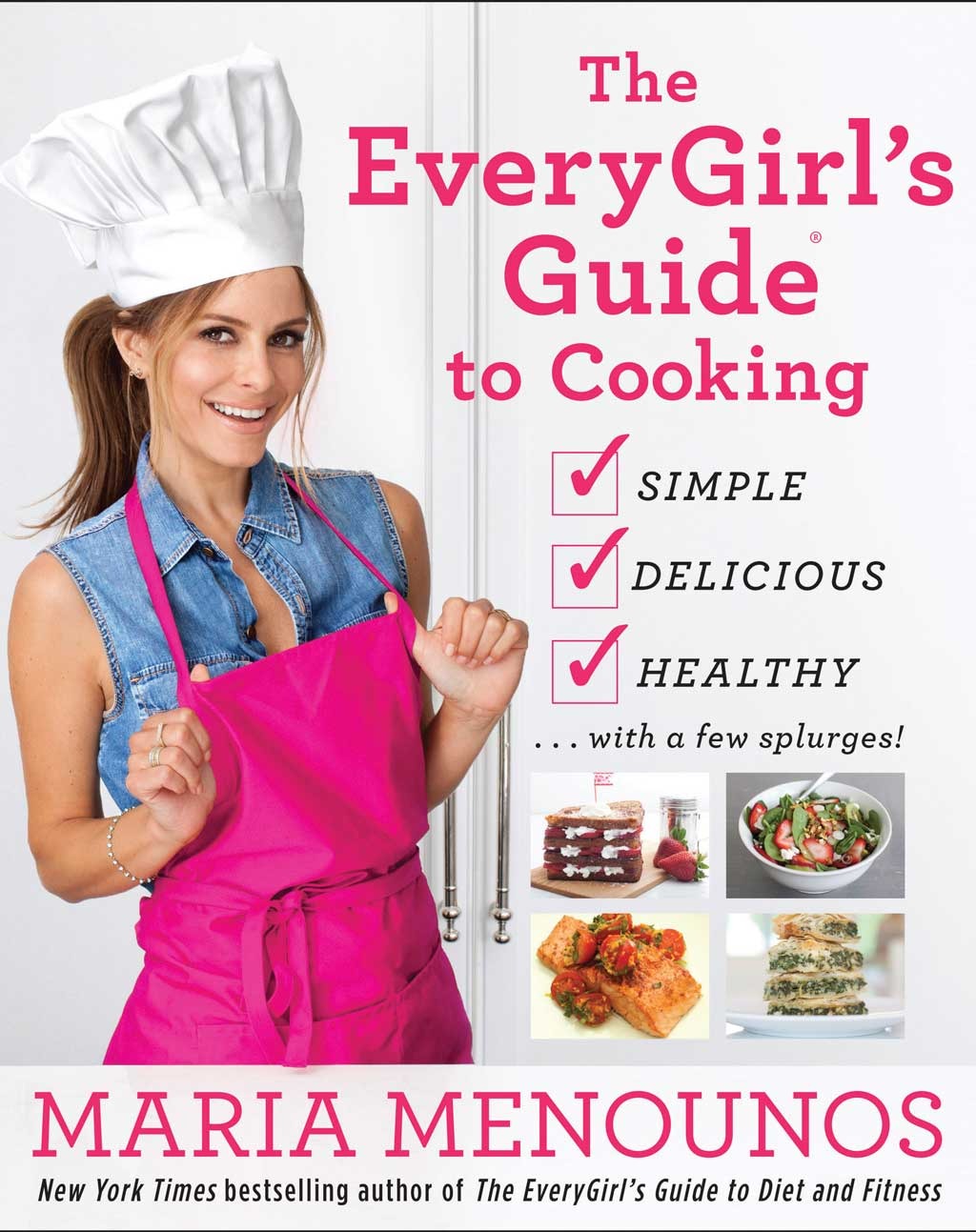 I tend to eat dessert only when I'm entertaining, and even then I usually make so many appetizers and dinner items that there isn't much room for dessert. But who can say no to an oatmeal chocolate chip cookie? Especially when I time them perfectly to come out of the oven so people can eat them while they are hot. There are some other great desserts in The EveryGirl's Guide to Life as well as The EveryGirl's Guide to Diet and Fitness…including some lower-calorie, guilt-free alternatives.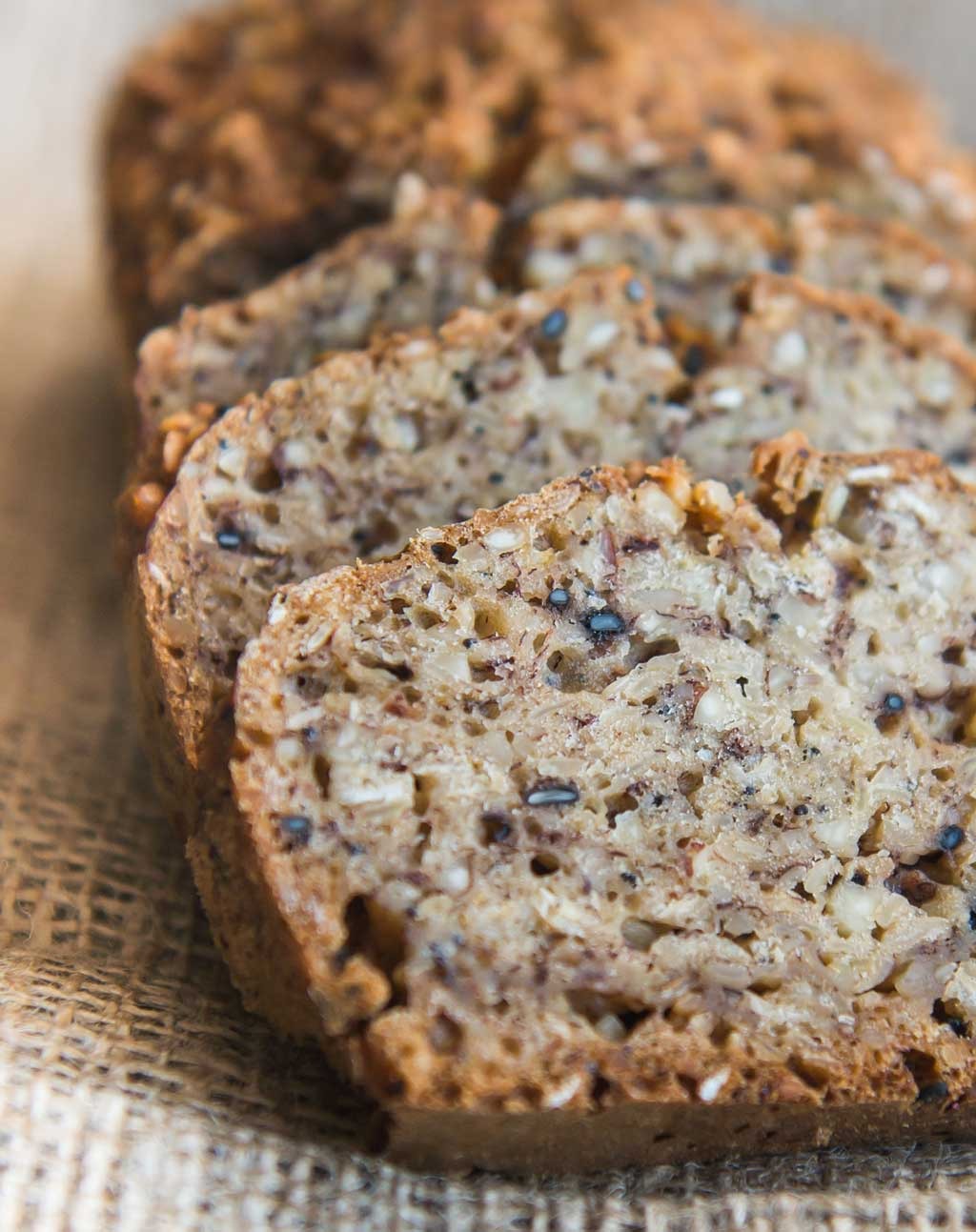 You might think of banana bread as a breakfast treat, but it also hits the spot at the end of the evening meal, so don't toss those black bananas! Turn them into the most moist banana bread you will ever meet. The riper the bananas, the better the flavor.
2 cups all-purpose flour, plus extra for the pan
1 1/2 tsp baking soda
Pinch of salt
8 Tbsp (1 stick) unsalted butter, at room temperature, plus extra for the pan
1 cup granulated sugar
2 large eggs
1 teaspoon vanilla extract
6 ripe bananas, mashed
1 cup chopped walnuts
Preheat the oven to 325ºF. Butter and lightly flour a 9-inch loaf pan.
In a bowl, whisk the flour, baking soda, and salt until combined.
In a large bowl (using an electric mixer, if desired), beat the butter and sugar until combined. Beat in the eggs and vanilla, then the mashed bananas, leaving some chunky banana pieces.
Fold in the flour mixture just until combined. Fold in the walnuts.
Scoop the batter into the prepared pan. Bake for 50 minutes to 1 hour, until a toothpick inserted into the bread comes out with a few moist crumbs.
Transfer to a wire rack to cool for 10 minutes. Run a knife around the bread in the pan; carefully remove from the pan. Let cool completely on a wire rack.
EveryGirl Tips:
For ease in blending, make sure your butter is at room temperature. After you've dropped the sticks into the mixing bowl, use
the buttery stick wrappers to grease the loaf pan.
Baking time will vary with the type of fruit used. Apples and pears take longer to cook than peaches.
Add vanilla ice cream or Cool Whip on top. Yum!
Oatmeal Chocolate Chip Cookies with Toasted Pecans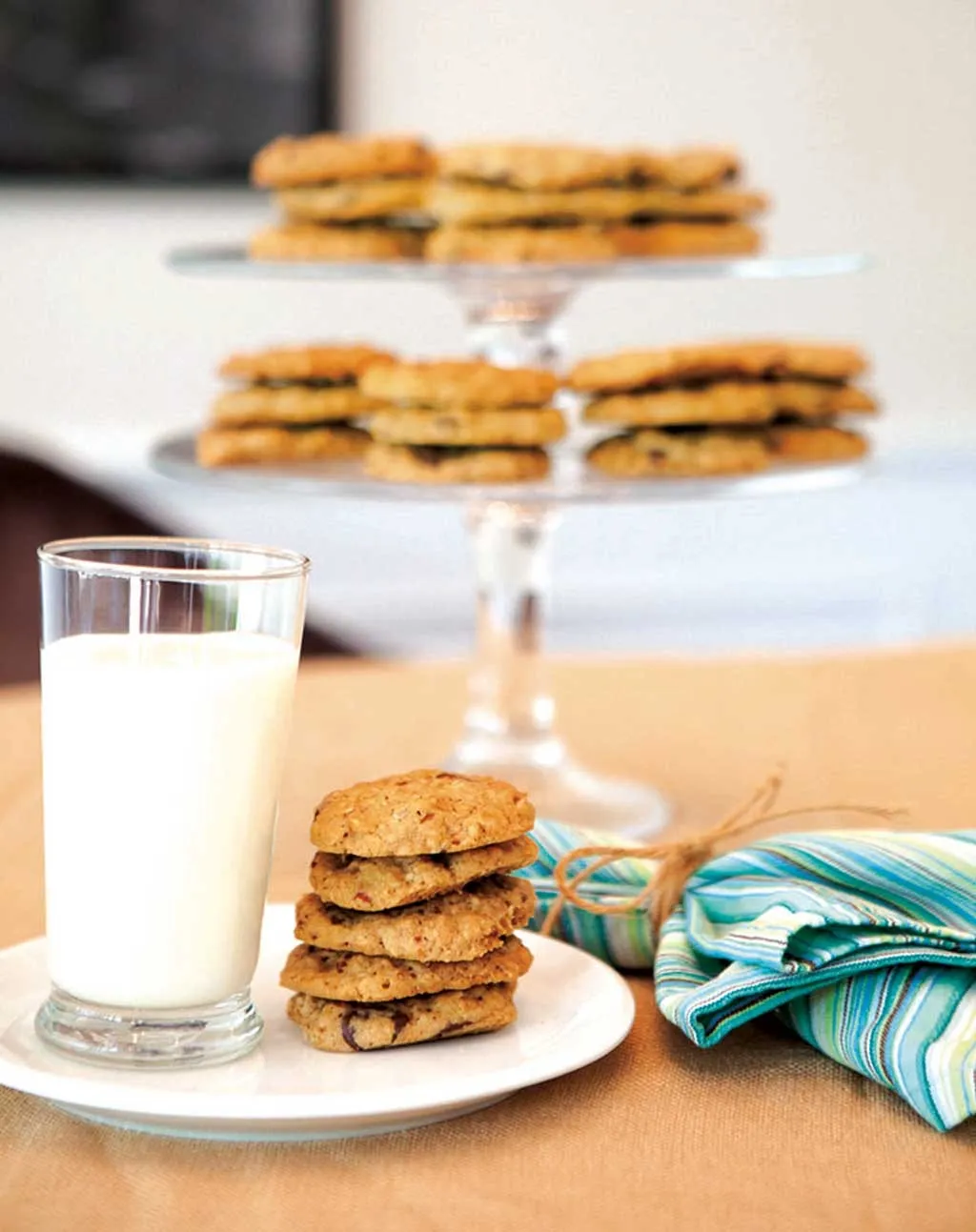 Guests love it when you serve these cookies fresh out of the oven—hot and melty! If you're making them for yourself, make sure to eat one that way, too (and then save the rest for later).
1 cup pecans
1 3/4 cups all-purpose flour
1 tsp baking soda
1 tsp salt
1/2 tsp baking powder
1 cup (2 sticks) unsalted butter, cool, but not cold
1 cup brown sugar
1/2 cup granulated sugar
1 whole egg and 1 egg yolk
1 tsp pure vanilla extract
2 cups old-fashioned oats or quick oatmeal
1 1/2cups semisweet chocolate chips or chunks
1/2 cup shredded unsweetened or sweetened coconut
Preheat the oven to 350°F.
Spread the pecans in a single layer on a rimmed baking sheet. Toast for 8 minutes, or until lightly brown around the edges. Let cool; coarsely chop.
In a large bowl, combine the flour, baking soda, salt, and baking powder.
In a large bowl with an electric mixer, cream the butter and both sugars until fluffy. Reduce the speed and add the egg and yolk, one at a time, beating well after each addition. Beat in the vanilla. Gradually add the flour mixture, beating until just incorporated.
Using a spatula, fold in the oats, chocolate, coconut, and toasted pecans until just combined.
Line baking sheets with parchment paper or nonstick liner, or lightly coat with cooking spray. Drop the dough in rounded tablespoons onto the prepared sheets about 3 inches apart. Bake one sheet at a time, for 12 to 14 minutes, until golden around the edges, but still a little wet-looking in the middle.
Transfer the sheet to a wire rack and let cool for 5 minutes. Using a spatula, transfer the cookies to a rack to cool completely.
EveryGirl Tips:
You can make the dough a few days in advance—it will keep in the refrigerator until you are ready to bake.
If you want cookies that are crisp on the outside and
chewy on the inside, make sure to undercook them a little bit.
If you have a food processor, make the dough in that; it will make the cookies more "fluffy."
Chocolate-Covered Strawberries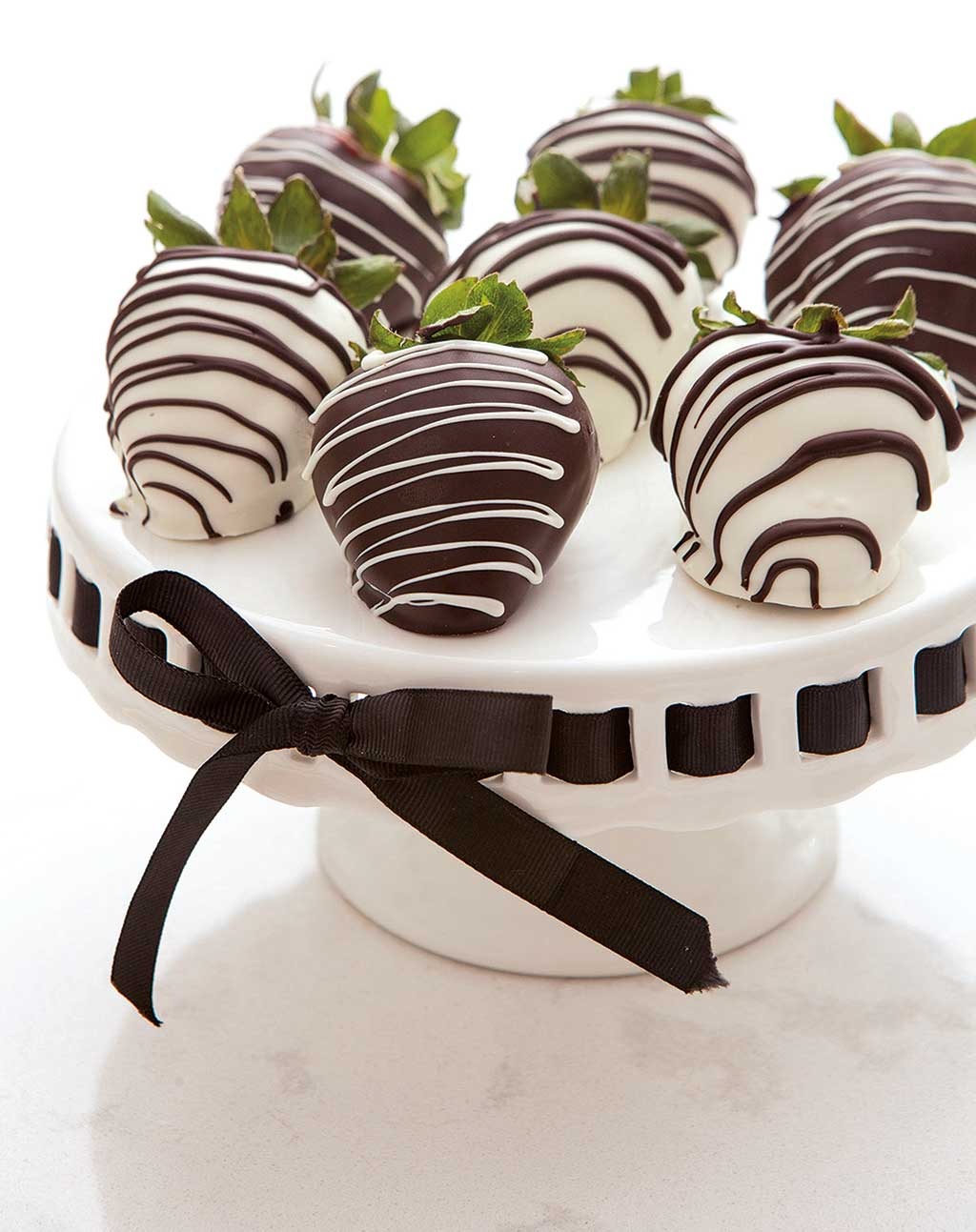 You can buy chocolate-dipped strawberries perfect and pretty at the store, or you can have fun with it and make them yourself. I think the imperfect homemade version is more special! Have fun with the designs; that's the point of making them yourself. I like to try and make them look like my guests so they can try and guess which is theirs. (Psst! Strawberries are #8 on the Eat This, Not That! guide to 15 Most Antioxidant-Packed Fruits & Veggies—Ranked!
4 oz dark chocolate chips
2 oz white chocolate chips
12 strawberries
Powdered sugar
Large-grain sugar crystals, any color
Place the chocolate in two separate glass bowls and microwave in 30-second intervals, until melted, stirring in between.
Holding a strawberry by the stem end, dip in the dark chocolate, letting the excess chocolate drip back into the bowl.
Transfer each dipped berry onto a baking sheet lined with wax or parchment paper and allow the chocolate to harden. As you set each berry down, slide it half an inch to the side to prevent chocolate from clumping under the berry.
Drizzle the melted white chocolate back and forth over the berries. Repeat with remaining berries. Before the chocolate sets, sprinkle one side, or the pointed ends, with powdered sugar or large-grain sugar.
EveryGirl Tips:
Make these sweet treats look professional by adding a drizzle of white chocolate or a sprinkle of sparkle sugar.
This works for any fruit or even pretzels!
Anytime Oatmeal Fruit Crumble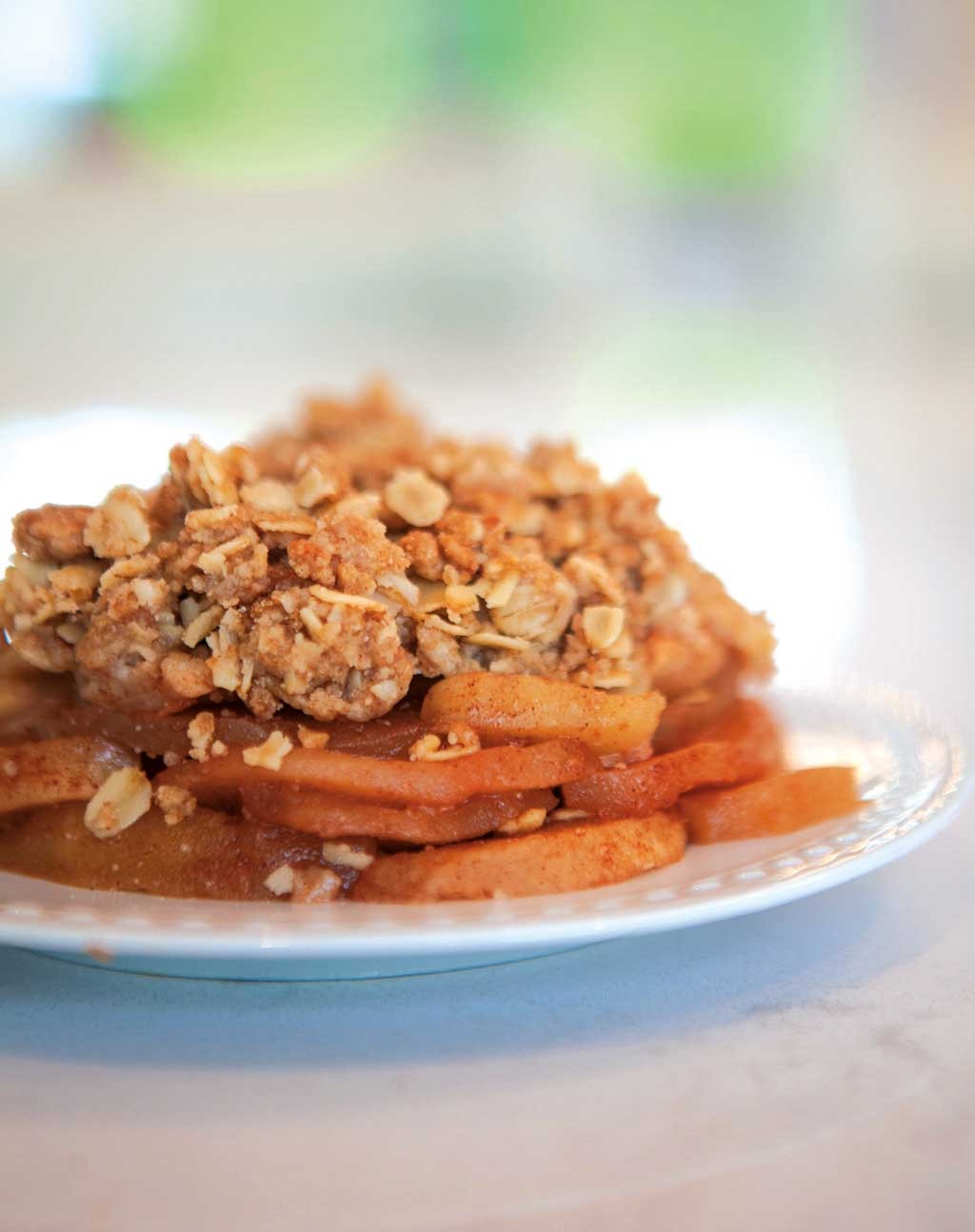 Here's another dessert made up of ingredients more traditionally used at breakfast time. I say mix and match!
4 cups thinly sliced peeled fruit, such as apples, pears, or peaches
3 Tbsp granulated sugar
1/2 tsp cinnamon Crumble
1 cup all-purpose flour
1 cup quick or old-fashioned oatmeal
1/2 cup brown sugar
1/2 tsp cinnamon
1/4 tsp salt
8 Tbsp (1 stick) unsalted butter, melted
Preheat the oven to 350ºF.
In a large bowl, toss the sliced fruit with the sugar and cinnamon. Pour the fruit into a pie pan.
For the crumble: In the same bowl (no need to wash), combine the flour, oatmeal, brown sugar, cinnamon, and salt. Fold in the melted butter until the mixture forms moist clumps.
Sprinkle the crumble mixture over the fruit. Bake for 45 minutes, or until the topping is golden and the fruit is bubbling.
Greek Yogurt Strawberry Sundae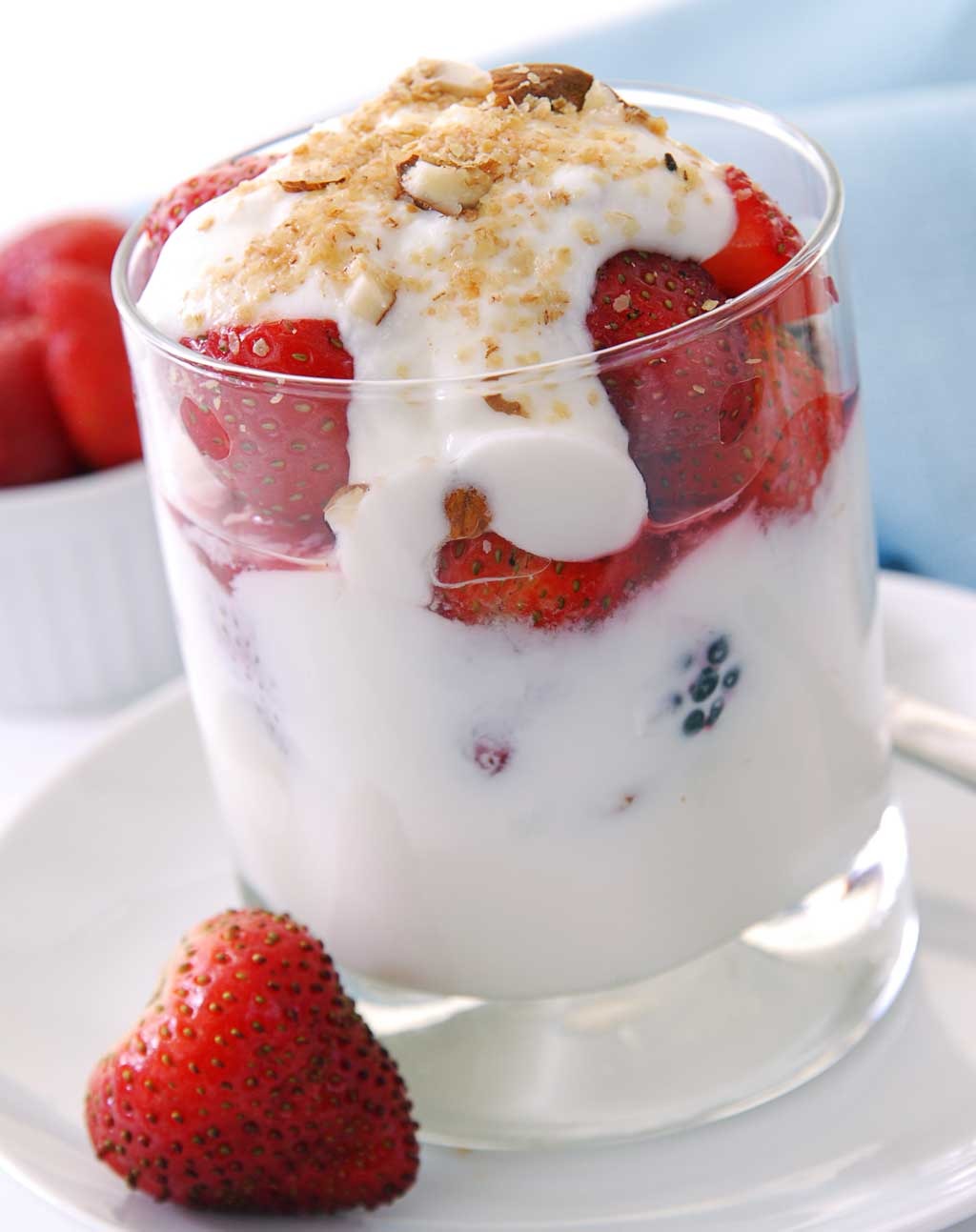 Greek yogurt is thick and rich and just like ice cream if you serve it up ice cold.
1/2 cup plain nonfat Greek yogurt
2 tsp honey
3 strawberries, sliced
2 Tbsp chopped almonds
In a serving bowl, stir the yogurt and honey. Top with the strawberries and almonds.
EveryGirl Tip:
Substitute agave for the honey or a different fruit or nut; whatever you have on hand!
7 Sneaky Ways to Make Dessert Healthier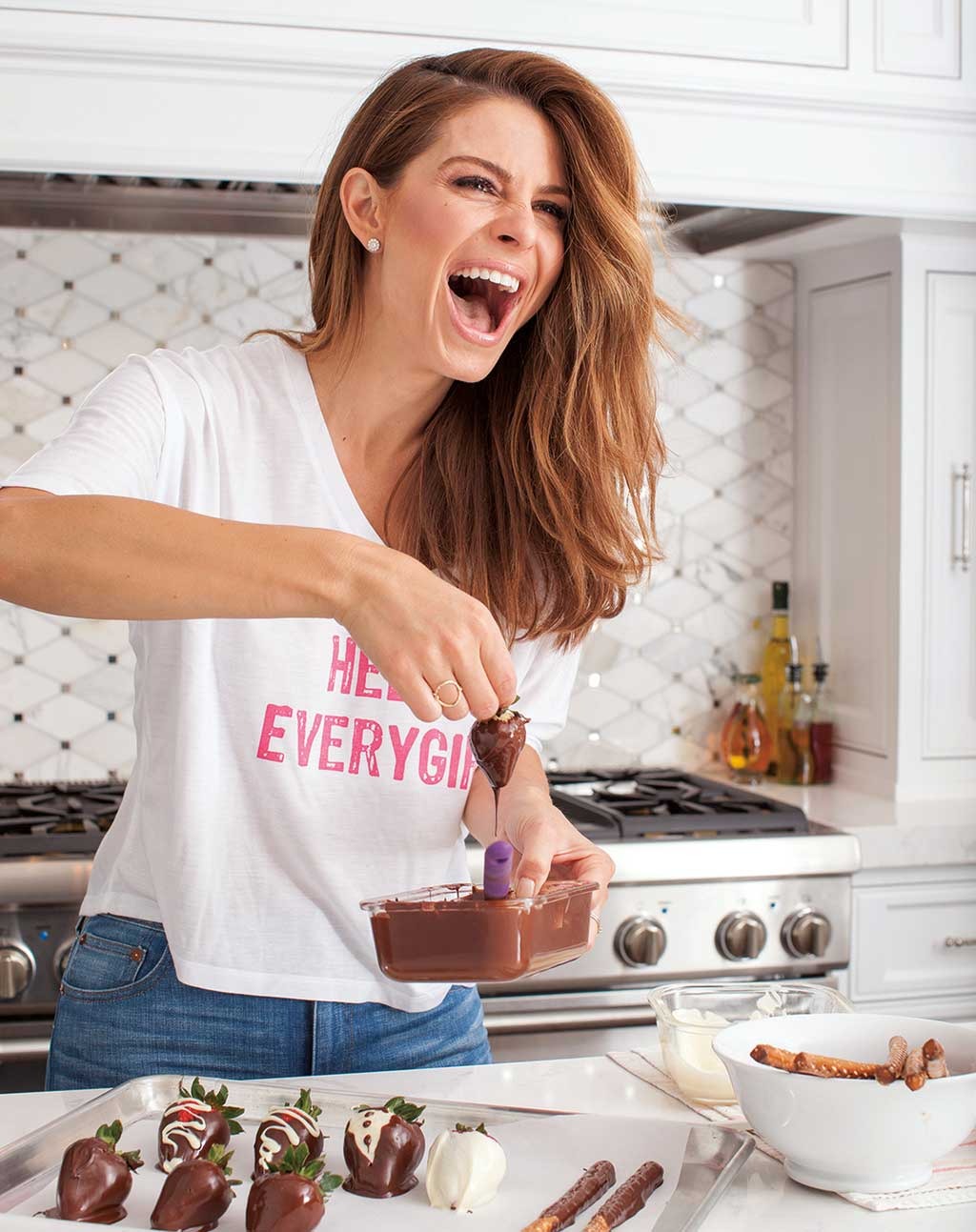 Like bad boys, good bread, and the music of Katy Perry, dessert is an empty promise that's bad for you, but oh-so-hard to resist. Just one whiff and we're reeled in like the first time we heard "Teenage Dream." So let's forget about the diet advice to skip dessert. It would be great if it happened, but it ain't gonna happen. So how do we turn dessert into something that's just as much of an indulgence, but far less of a dietary sin? Here are seven simple strategies you can employ to make the deliciously sinful a little more nutritionally righteous. And speaking of hacks, don't miss these 1-Minute Dinner Hacks That Save Tons of Time!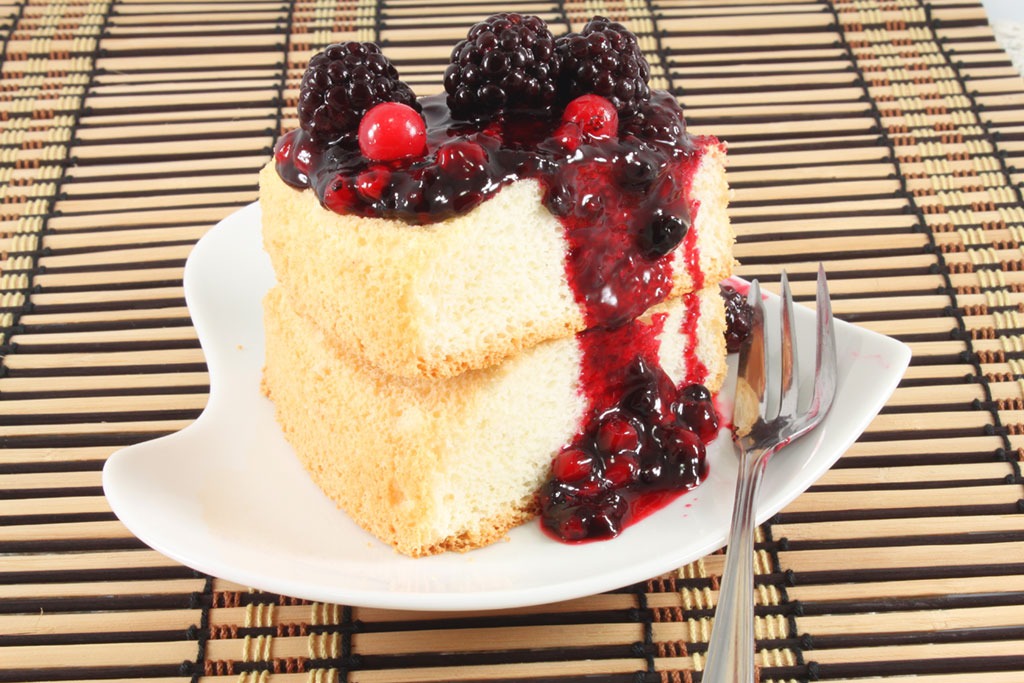 6254a4d1642c605c54bf1cab17d50f1e
To help control the calories you take in from a slice of cheesecake, tell the waiter NOT to top it with berries and a sprig of mint. According to a study published in the Journal of Consumer Research, people tend to subconsciously subtract calories from a dessert when it's topped with something "healthy," and then eat more of it! Beware of the health halo when indulging in dessert, and remember that adding food to your plate—even if it's healthy—never subtracts calories.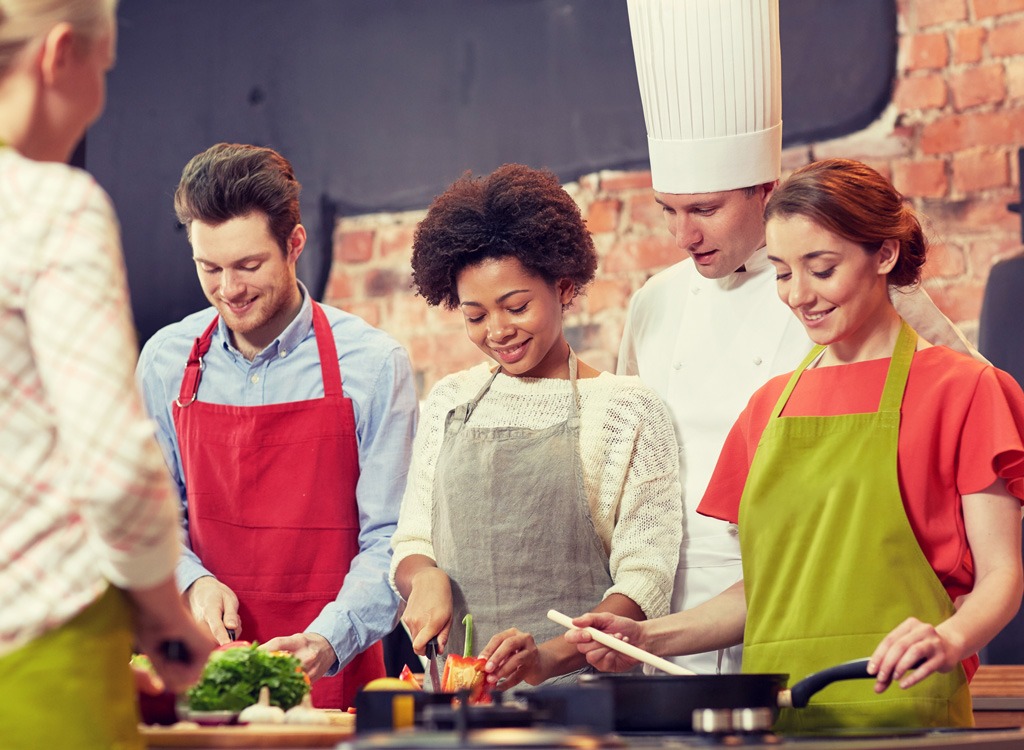 Playing Betty Crocker may enhance the pleasure you get from the finished product, leading you to absorb fewer calories. Pleasure, according to research published in the journal Trends in Endocrinology and Metabolism, catalyzes the relaxation response, promoting parasympathetic and digestive activities. In other words, you'll metabolize dessert faster if you really, really enjoy eating it. A study published in the journal Psychological Science found people who prepared themselves a glass of lemonade reported the drink far tastier than those who watched someone else whisk together the same recipe. Get more metabolism tricks and tips with these 55 Best-Ever Ways to Boost Your Metabolism!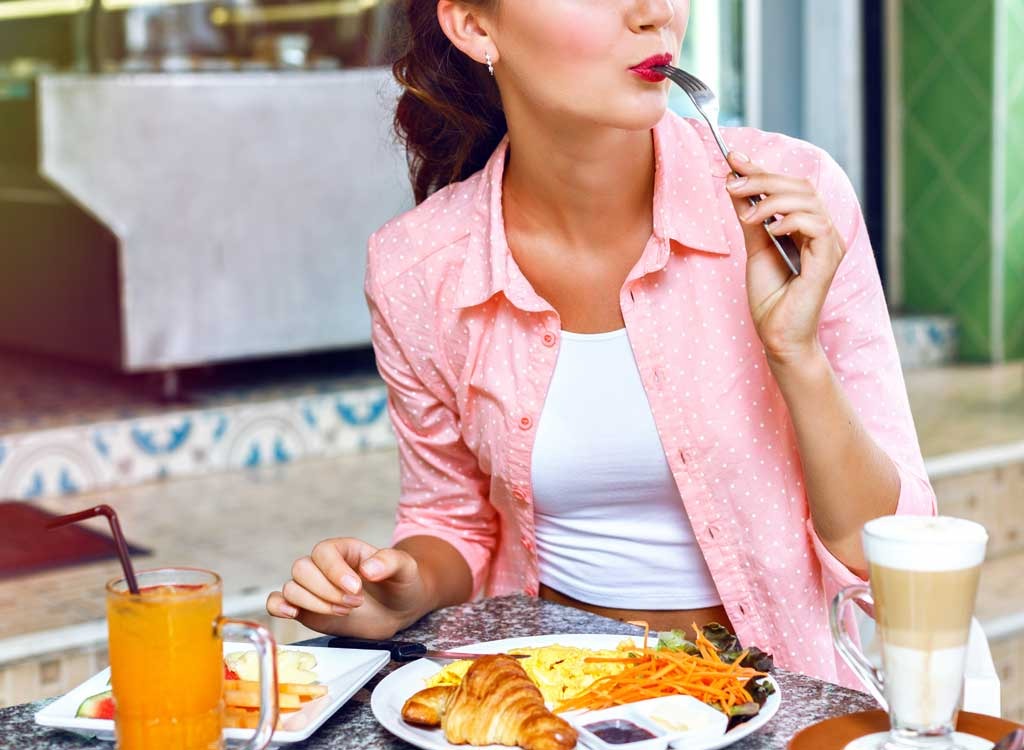 New research suggests including dessert with breakfast may help keep hunger hormones low, suppress cravings and maintain weight loss. A recent study found obese participants who ate a large breakfast that included a dessert lost 15 pounds over the course of 16 weeks; participants who ate a small, no-dessert breakfast gained an average of 24 pounds.
While the smell of a rich dessert can make your mouth water—warm apple pie, anyone? —the aroma may help you eat less too. A study in the journal Flavour found participants ate significantly less of a dessert that smelled strongly of vanilla than a mildly scented variety. Keep your slim efforts going with these 20 Ways to Lose Weight Forever!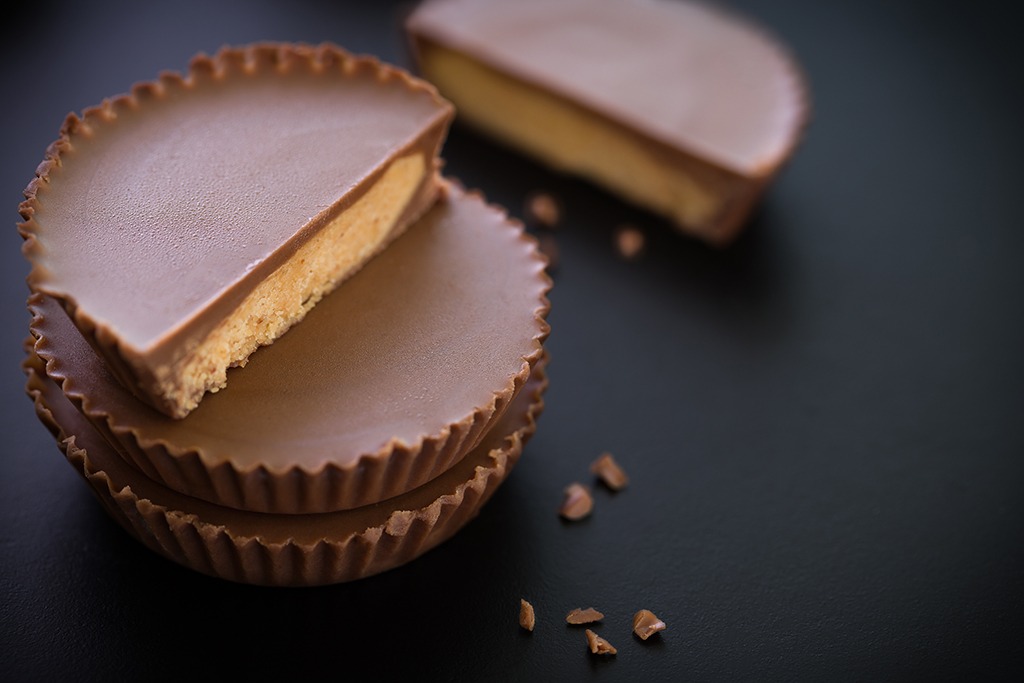 There's no wrong way to eat a Reese's—as long as you have a way that's yours. In one study, participants were asked to eat a chocolate bar. Half were assigned a particular breaking and unwrapping ritual while the others just ate the bar informally. On average, the ceremonious eaters found the candy to be more enjoyable and even more flavorful.
Nix the Barefoot Contessa
Eating in front of the television is hardly ever a good idea, especially if what's airing is food-related, researchers say. A study in the journal Appetite randomized dieters to watch a cooking or nature television show while presented with an array of treats. People who watched the cooking program ate 34 percent more candy than the nature watchers.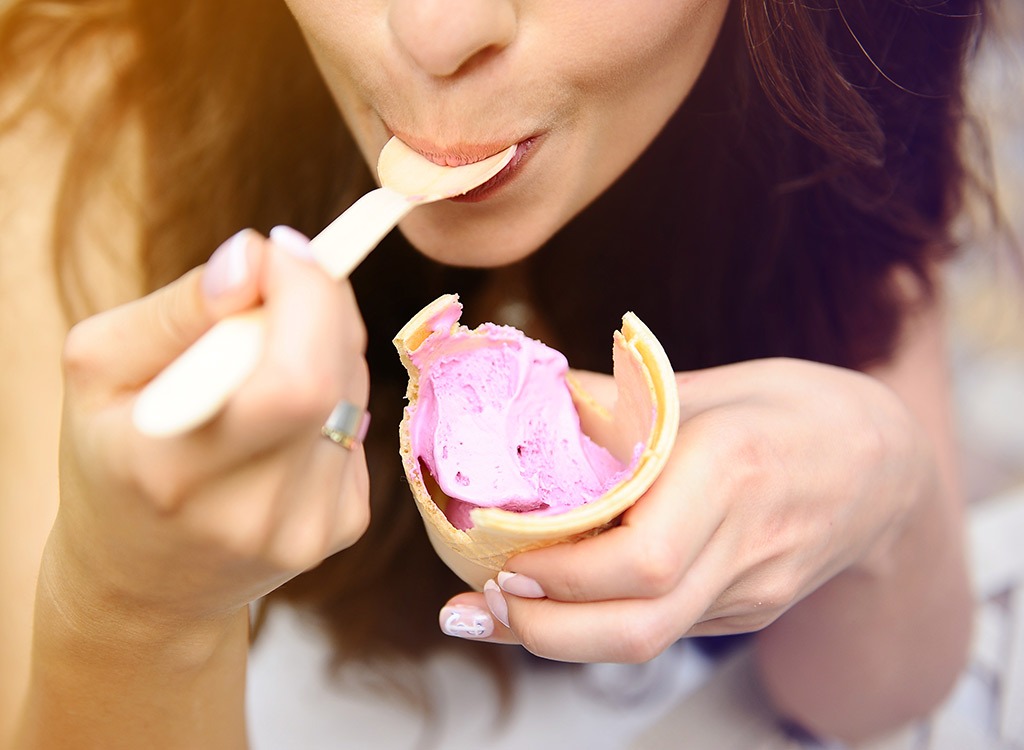 Right into the trash. The only thing worse for your waistline than a big slice of cake is a big slice of cake with a side of guilt. A study in the journal Appetite found people with a weight-loss goal who associated chocolate cake with feeling guilty about not being able to stop sugar cravings were less successful at losing weight compared with those who associated the indulgence with celebration. So enjoy your cake; it's good for you.
Eat This, Not That!
Inspired by The New York Times best-selling book series, Eat This, Not That! is a brand that's comprised of an award-winning team of journalists and board-certified experts, doctors, nutritionists, chefs, personal trainers, and dietitians who work together to bring you accurate, timely, informative, and actionable content on food, nutrition, dieting, weight loss, health, wellness, and more.
Read more about Eat This