McDonald's Isn't Fooling Anyone With Its Latest Item Discontinuation
The McRib is embarking on yet another "Farewell Tour"—and we have a hard time believing it.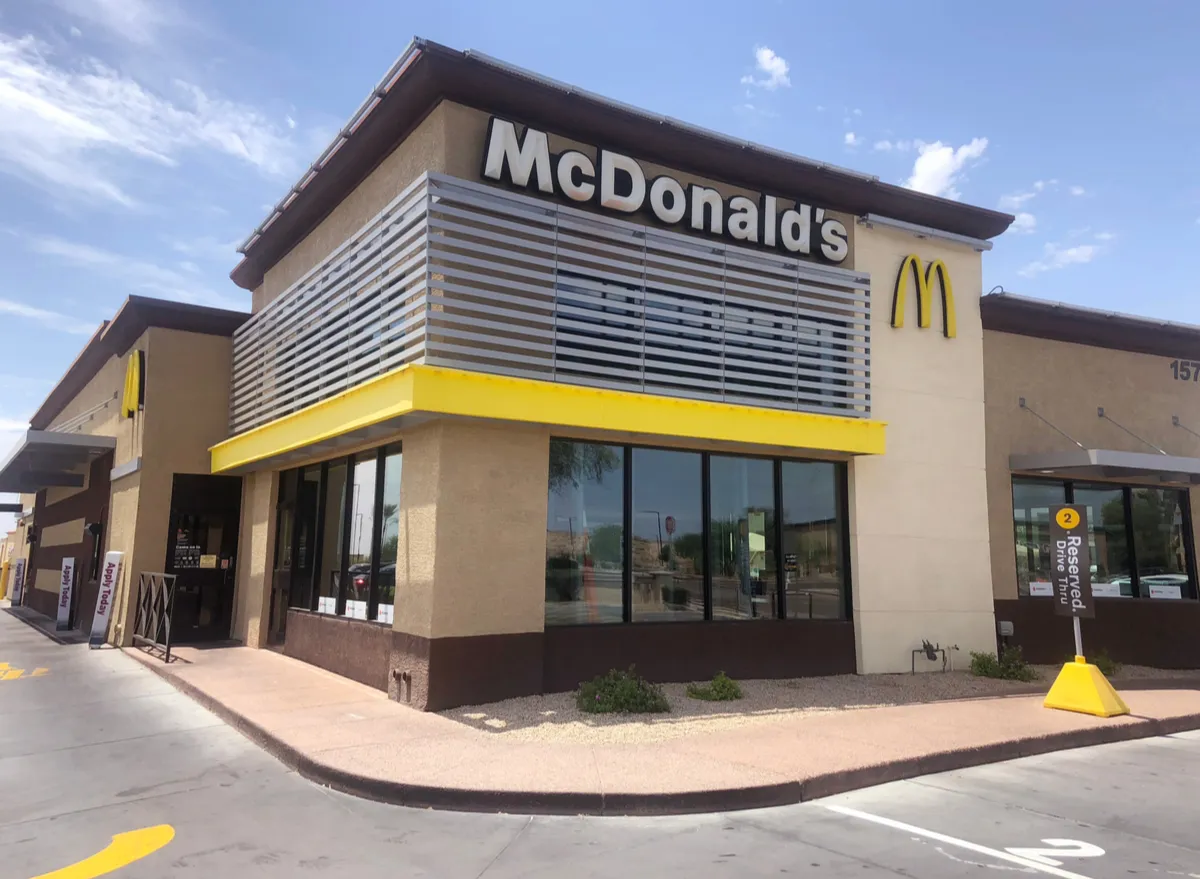 How does the old saying go? Fool me once, shame on you. Fool me twice, shame on me. This is exactly how many of us are feeling regarding McDonald's major news about retiring the McRib—we simply have a hard time believing it's true.
Earlier this week, Mickey D's announced that the McRib, the elusive seasonal boneless BBQ pork sandwich, was embarking on a "Farewell Tour." Starting October 31, the item will be available nationwide once again, but for the last time. As soon as the news of this development surfaced, fans began doubting its veracity.
And there's good reason for skepticism. The Golden Arches' latest attempt to capitalize on nostalgia and manufactured scarcity feels more like a Groundhog Day scenario than an Earth-shattering announcement, because the chain has "said goodbye" to the seasonal item several times before.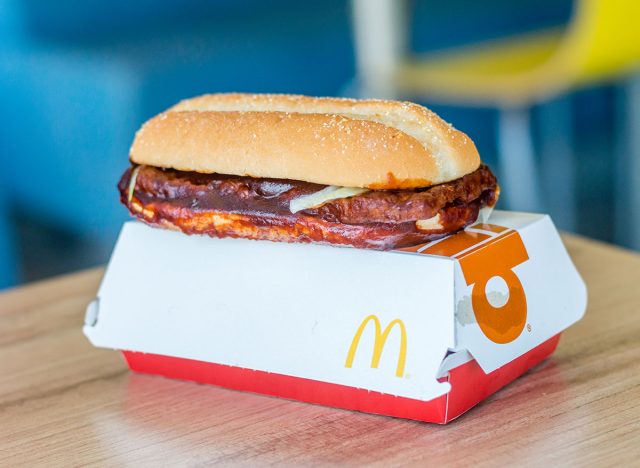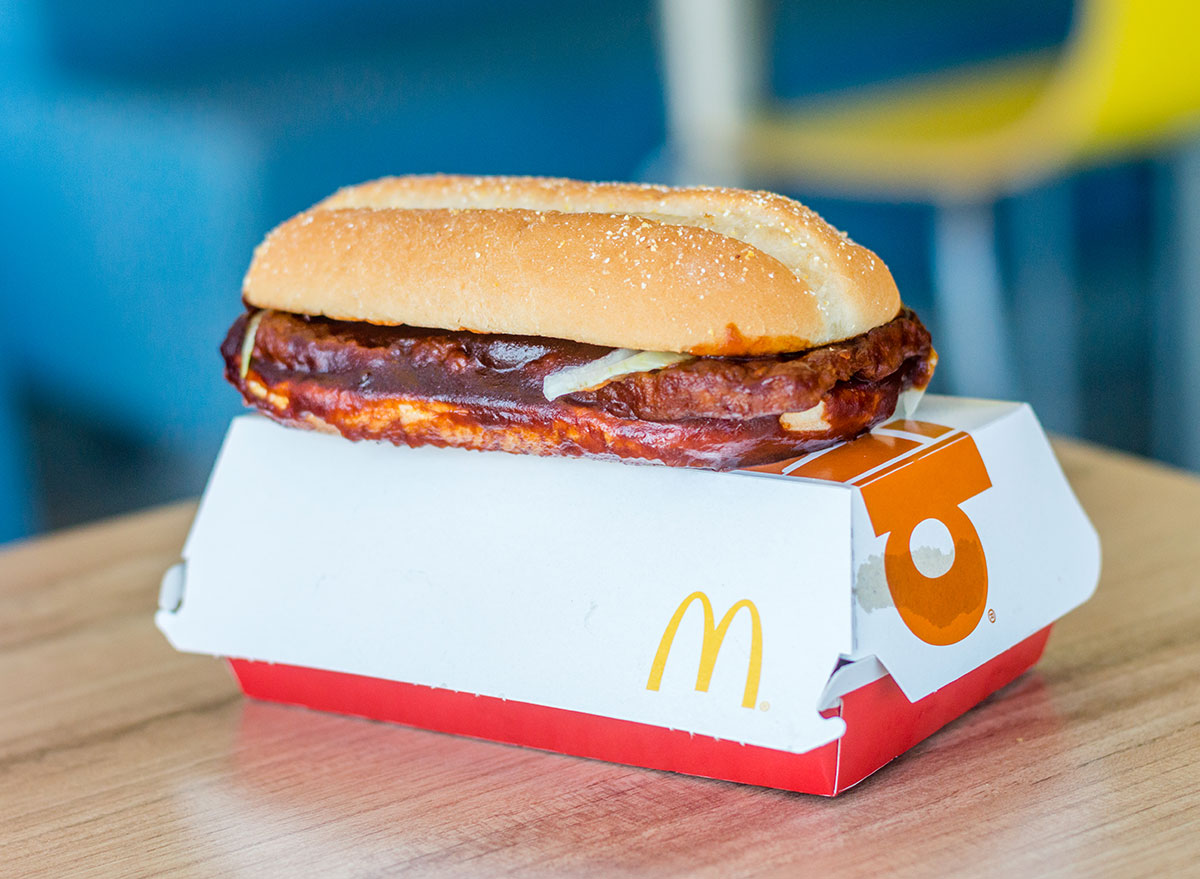 First launched in 1980, the McRib became something of a fast-food icon, especially because it was pulled from menus only four years later and turned into a seasonal event. Then in 2005, Mickey D's announced the very first McRib Farewell Tour, however stating the sandwich could return if fans were vocal enough. And sure enough, just one year later, it was back and doing Farewell Tour II. Talk about a tease!6254a4d1642c605c54bf1cab17d50f1e
"There was such a huge show of support for the McRib last year that we decided to bring it back," Jerome Elenez, a regional marketing director for McDonald's, said of the sketchy move in 2006. "We are excited to promote the 'McRib Farewell Tour II' and give our loyal McRib customers one last chance to enjoy the savory sandwich."
You'll never guess what happened in 2007: Another McRib Farewell Tour! By the time the boneless BBQ pork sandwich was brought back in 2010 and 2011, McDonald's had decided to go with different marketing tactics altogether—ones centered around the storied history of the item.
Fast forward and the McRib has headlined McDonald's fall menu for the past three years straight. If anything, this most recent return feels like just another visit.
"McDonald's is leaning hard on the scarcity marketing tactics right now," Vanderbilt University marketing professor Kelly Goldsmith told CNBC. "We see it with the McRib, we see it with their adult Happy Meals which had limited-edition toys. McDonald's is putting scarcity marketing everywhere they possibly can."
Strangely enough, McDonald's itself doesn't seem to believe the McRib is going away for good. Despite announcing the Farewell Tour 2022, Mickey D's gave itself some wiggle room.
"Like any true farewell tour, we're hoping this isn't a 'goodbye' but a 'see you later.' Because as our McRib stans have experienced time and time again: you never know when—or if—the McRib is coming back," the company said in a press release.
If you're looking to go all in on the McRib nostalgia this year, the chain is ready to indulge you. Starting on November 4 at 11 a.m. ET, McDonald's will be launching a limited-edition collection of art, clothing, and memorabilia merch featuring the sandwich. You'll be able to shop for the items here.
Of course, it is possible that McDonald's is being sincere here. Maybe this year really is the end of the McRib—and maybe it's time we finally put it to rest.
John Anderer
John Anderer is a writer who specializes in science, health, and lifestyle topics.
Read more about John