The One Menu Item You Should Never Order At Chick-fil-A
The worst item on the Chick-fil-A menu is probably not what you'd expect.
Every time we're near a Chick-Fil-A my friend, Jordan, insists on going. Turns out, she's not alone. Like most Americans, Jordan finds the restaurant chain's offerings delicious.
Placing first in the American Customer Satisfaction Index Restaurant Report, Chick-Fil-A strives to remain on the healthy side of the fast food industry. They eradicated artery-clogging trans fats back in 2008 and currently offer a wide variety of healthy options such as grilled chicken nuggets and even yogurt parfaits.
But don't be fooled — the calorie, sodium, fat-filled options still exist. What's worse, these waist-widening picks are not where you'd expect. Lurking between the waffle fries and fried chicken sandwiches, the worst menu item to order at Chick-fil-A is sure to shock you. It sure shocked us.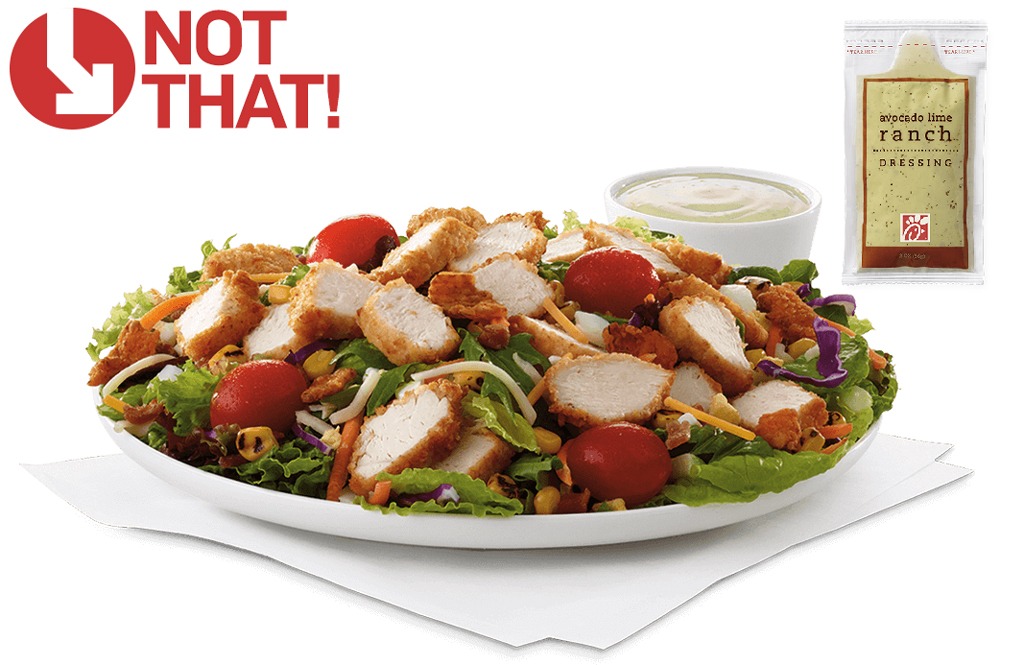 6254a4d1642c605c54bf1cab17d50f1e
Chick-fil-A Cobb Salad with Avocado Lime Ranch dressing
740 calories, 54 g fat (12 g saturated fat), 1,890 mg sodium, 25 g carbs (5 g fiber, 8 g sugar), 40 g protein
A salad? Yep. Salads can become junk foods in the blink of an eye thanks to dousing healthy greens in globs of fat and calorie-laden dressings. Just take a look at these 20 Worst Restaurant Salads in America.
The salad's sodium content is only a small bag of pretzels shy of reaching your entire day's recommended intake of the nutrient — that's 2,300 milligrams. Sodium is a known catalyst of the development of heart disease and hypertension.
But wait, it gets worse. To add some protein, Chick-Fil-A tosses their nuggets on top. These bad boys are loaded with MSG (a chemical salt used to rev your appetite and make foods more addictive), artificial coloring, and fried with dimethylpolysiloxane: a silicone-based antifoaming agent, also found in Silly Putty and shampoo. Wondering why it's in this "salad"? So are we.
Simply put, a salad should be filled with ingredients you can pronounce, keeping them clean, simple, and easy to digest.
But the one thing that cements this salad's place on the "Worst" list? The Avocado Lime Ranch Dressing. With soybean oil as a leading agent, you can bet that the 32 grams of fat this dressing contains are the reason why the small packet climbs up to 310 calories. (And, by the way, that's as many calories as a Chick-fil-A Grilled Chicken Sandwich!)
At Eat This, Not That!, we disapprove of soybean oil as it's loaded with excessive amounts of omega-6 fatty acids. Though we need some omega-6s from time to time, research shows that high intake of this inflammatory fat can increase your appetite and slow the rate at which your body burns fat, leading to major weight gain!
Need more convincing that this is a no-go? Check this out: Eating this salad would be like…
Eating the fat equivalent of: 182 Cheez-It crackers
Eating the sodium equivalent of: 4.5 bags of Cheetos Puffs
These numbers just don't represent what our leafy greens should. So next time, skip the Cobb, and try the Grilled Market Salad.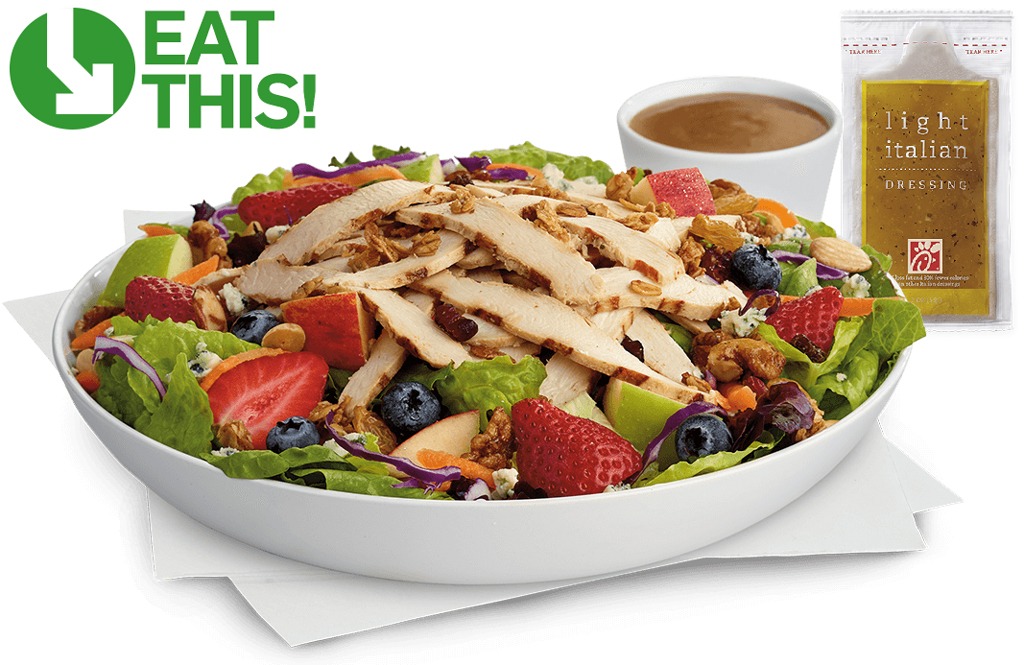 Chick-fil-A Grilled Market Salad with Light Italian Dressing
225 calories, 7.5 g fat (2.5 g saturated fat), 1,120 mg sodium, 18 g carbs (4 g fiber, 10 g sugar), 25 g protein
With nearly one-third of the calories, the Grilled Market Salad is the way to go. To start, Chick-Fil-A A's grilled chicken is protein-filled, low in sugar and low in calories. They're even made from whole breast filets. To make this dish even better, the array of vitamin-packed toppings add in some of our favorite superfoods like antioxidant-rich blueberries and strawberries.
Dying for a sandwich? Go for the Grilled Chicken option.
At 310 calories and 29 grams of protein, this is a great pick for those keeping an eye on their weight and health.
Stacked in a multigrain bun and with layers of color from tomatoes and lettuce, you can't go wrong. Protein-packed and low calorie, this fast food option blows its competitors out of the water. In fact, it ranks as one of the best sandwiches in our exclusive report 28 Fast-Food Chicken Sandwiches—Ranked!
Is it lunch time yet?!