A Tasty Grilled Mexican-Style Corn Recipe
It's so good, you'll forget you're actually eating a vegetable.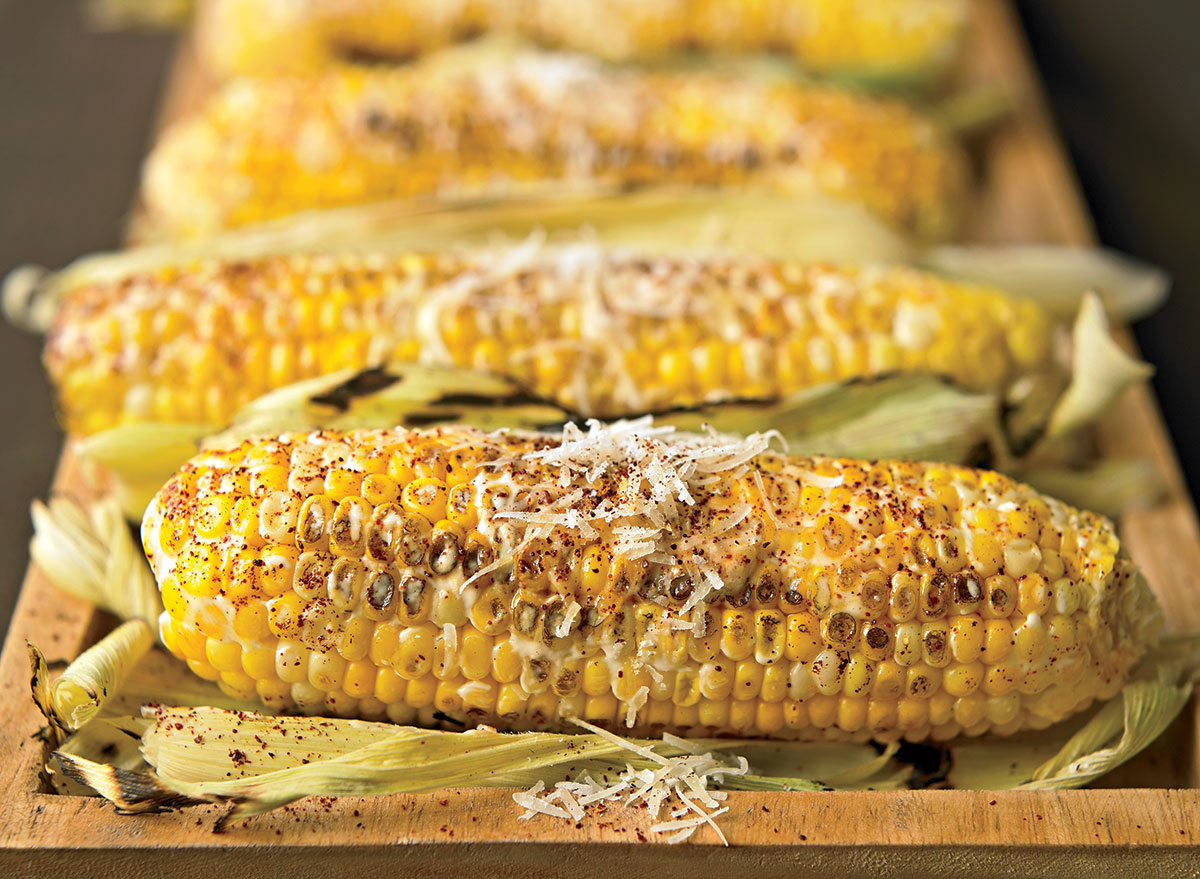 In this recipe, we recreate how corn is served on the streets of Mexico in your own home. This Mexican-style corn is robed in a thin sheen of mayo (instead of butter) and topped with a sprinkling of chili powder and cheese just like it is done traditionally. However, if you'd like to cut out some of the added calories, feel free to use lime juice and chili powder alone, as they'll still offer a vast improvement over standard boiled corn. But trust us, once you try the full package, you'll have a hard time eating it any other way. It makes for a great summer treat or as a side dish to an outdoor picnic (or indoor for that matter). Plus, it's so tasty, you (and any finicky eaters you know) may not even notice that you're technically eating a vegetable…
Nutrition: 210 calories, 9 g fat (2 g saturated), 430 mg sodium
Serves 4
You'll Need
4 ears of corn, husked
1 tsp salt
2 Tbsp mayonnaise
Juice of 1 lime
1⁄2 Tbsp chili powder
Finely grated Parmesan
How to Make It
Heat a grill until hot. While the grill is warming up, bring a pot of water to a boil.
Add the corn and salt. Boil for 5 to 7 minutes, until the corn until slightly tender, but not cooked all the way through.
Drain the corn and transfer to the grill; lightly char the kernels.
Mix the mayonnaise and lime juice.
Remove the corn from the grill, paint with a bit of the citrus mayonnaise, then dust with chili powder and Parmesan.
Eat This Tip
Grilled corn is one of life's simple pleasures, and super easy to do, too. That is, if you have access to an open fire pit or outdoor grill. If you live in an apartment and have little access to outdoor space, let alone the zoning permits to grill your dinner outside, not to worry; we have other options for you! All you need is a flat cast iron pan and a stove top. For the added visual effect, you can opt for one with grilling ridges to give your corn the look of having been through an open flame.
Love this recipe? Subscribe to our Eat This, Not That! magazine for even more at-home cooking and healthy eating ideas.6254a4d1642c605c54bf1cab17d50f1e