8 Microwave Popcorn Brands Made With the Lowest Quality Ingredients
Quick and easy, but far from ideal.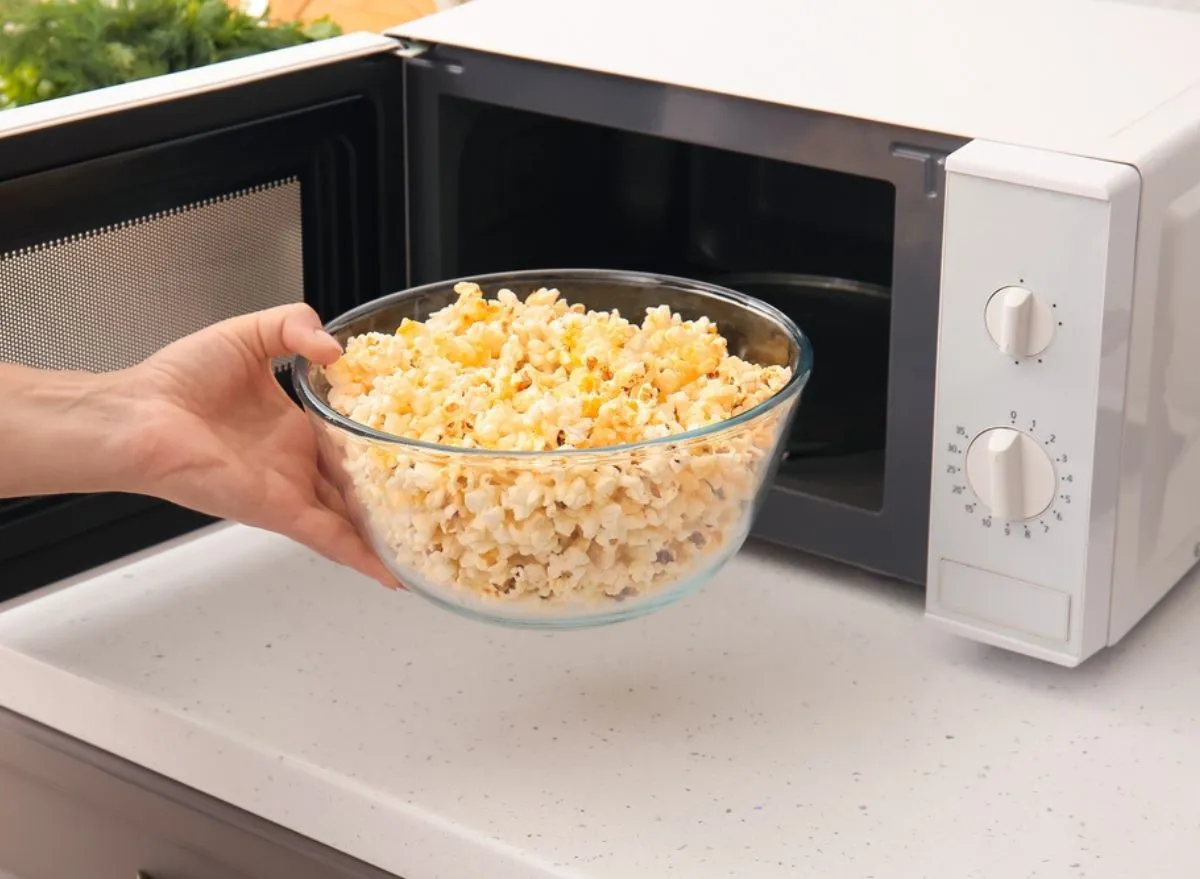 This post contains affiliate links. If you use these links to buy something, we may earn a commission.
While some variations of popcorn have been eaten for millennia, the microwave popcorn we take for granted today has only been around since the 1980s, according to Popcorn.org. The problem is we really shouldn't take this ubiquitous snack stuff without that proverbial grain of salt, because many microwave popcorns are a desultory snack choice in terms of nutrition and some are made with the lowest quality ingredients.
First, let's set a baseline here before we get into the unsavory details, because popcorn can indeed be a healthy snack, but only when it's kept as simple—and natural—as possible. For some informed perspective, we talked to Toby Amidor, MS, RD, CDN, FAND award-winning nutrition expert and Wall Street Journal best-selling author of The Family Immunity Cookbook. "If you look at freshly popped popcorn kernels, there are about 30 calories per cup," she told ETNT, adding: "When you start adding butter, palm oil, and salt, the calories, saturated fat, and sodium content goes up."
What to watch out for when shopping for this classic snack? "If you're looking to purchase healthier microwave popcorn," Amidor said, "your best bet is to compare labels to see which has less calories, sodium, and saturated fat per serving. Palm oil is an ingredient many companies who make microwave popcorn use. Although the 2020-2025 dietary guidelines for Americans say that palm oil is considered saturated fat, you can make room in the diet for up to 10% of your total daily calories from saturated fat. If you make your microwave popcorn a once-in-a-while snack—remember popcorn is a whole grain—it is okay to have a small amount of palm oil or salt, but just eat it once in a while and opt for freshly popped kernels on more occasions."
In other words, watch out when it comes to these eight microwave popcorns that are made with the lowest quality ingredients.
Pop-Secret Sweet 'n Crunchy Caramel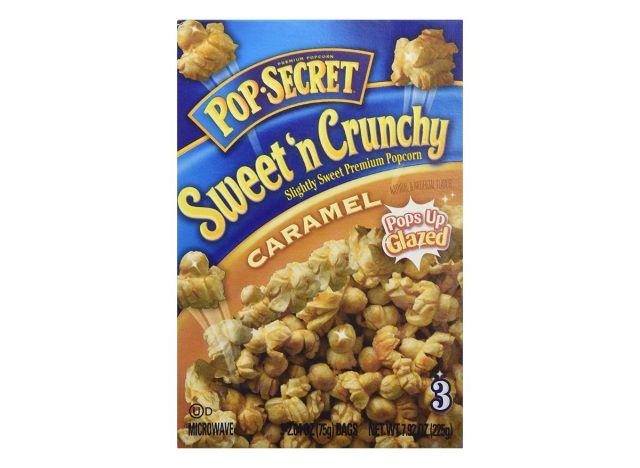 This sweet, sugary-tasting popcorn is not technically sugary at all—it gets its sweetness from the artificial sweetener sucralose, which is often known by the brand name Splenda, and which many people try to avoid, per Healthline. The popcorn also includes three artificial coloring agents that many people pass on: Yellow 5 Lake, Yellow 6 Lake, and Blue 2 Lake.
Pop Weaver Microwave Popcorn Extra Butter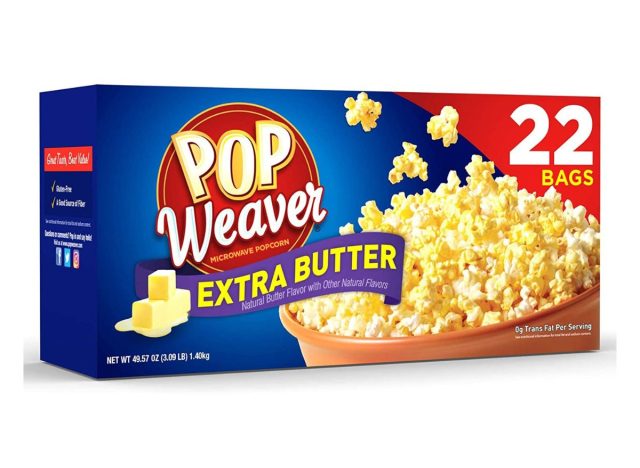 With extra butter flavor so too comes extra fat. This Pop Weaver popcorn has 17 grams of fat per bag, which is nearly a quarter of what someone on a 2,000-calorie daily diet should have in an entire day. It also has eight grams of saturated fat per bag, putting it at 40% of the daily total noted by RD Toby Amidor.
Cousin Willie's Cinnamon Toast Microwave Popcorn
Granted, this is a popular popcorn with a taste many customers rave about, but it should still be only an occasional treat given the ingredients used to get that taste. This Cinnamon Toast popcorn is made with the preservative soy lecithin and the sweetener sucralose along with the undisclosed "natural and artificial flavors" and the ever-present popcorn, palm oil, and salt. Also, there's some beta carotene for coloring.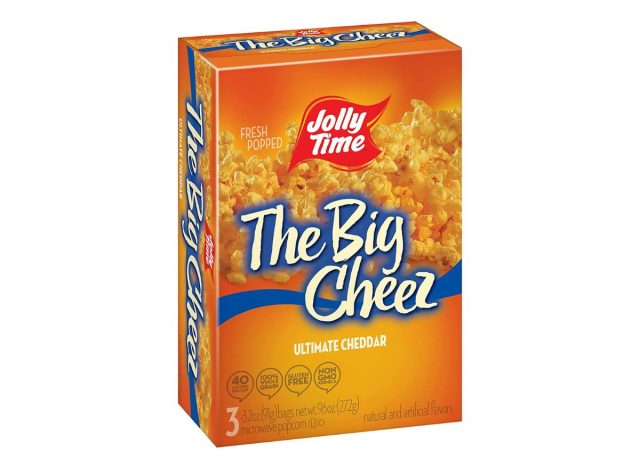 Let's be honest: when a microwave popcorn has a name like "The Big Cheez," it's hardly a surprise that some of its ingredients are a pretty big problem. In this case, at issue are the "partially hydrogenated soybean and/or cottonseed oil," the soy lecithin, and the mystery "spices and coloring." Also, the popcorn is made with MSG, but FYI monosodium glutamate is not considered nearly as harmful as it once was, per the Cleveland Clinic.
Pop-Secret Sweet 'n Crunchy Kettle Corn
Here is yet another sweet, glazed-style popcorn that gets its sweetness and mouthfeel largely "thanks" to ingredients to which you're well-advised to say "no thanks." Those include the sugar alternatives isomalt and sucralose, the preservatives TBHQ (AKA Tertiary butylhydroquinone, per Healthline) and soy lecithin, plus the usual ingredients you expect but may not love, like palm oil and salt.
Spontaneous Combustion Ghost Pepper Popcorn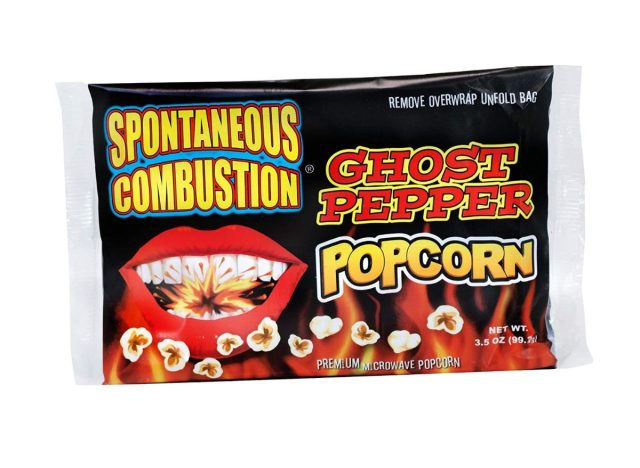 This super spicy popcorn is meant to be as much a practical joke as it is an actual snack—the brand owns as much in its own product copy. But the joke may be on the consumer in another way, what with the large amounts of oils and fats here. Also note that the ghost pepper used to add the spice can become aerosolized during the microwaving and creates a risk of inflammation and irritation to the eyes, nose, mouth, and throat.6254a4d1642c605c54bf1cab17d50f1e
Act II Llama Party Cotton Candy Popcorn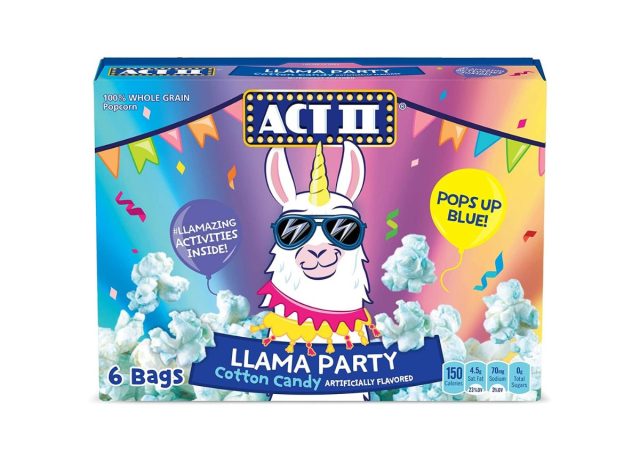 This popcorn "pops up blue" and is cotton candy-flavored, so let's not be shocked when we read the ingredients. Those are, in full: popping corn, palm oil, salt, artificial flavor, sucralose, Blue 1 Lake, TBHC, and citric acid. Not good stuff, most of it.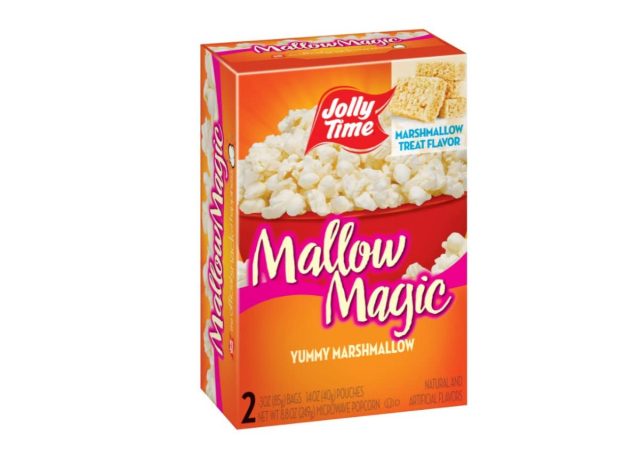 This "yummy marshmallow" popcorn gets its marshmallow flavor not from the ingredients found in the popcorn bag itself, but from a marshmallow topping, you squeeze over the popcorn using included pouches of the stuff. So, essentially, you get a basic popcorn, and then you slather it in sugar and artificial flavoring ingredients.
Steven John
Steven John is a freelancer writer for
Eat This, Not That!
based just outside New York City.
Read more about Steven