Misty Copeland's Top Healthy Eating Hacks
From constant plane rides to nine-hour dance classes, this ballerina makes sure her diet is always on pointe.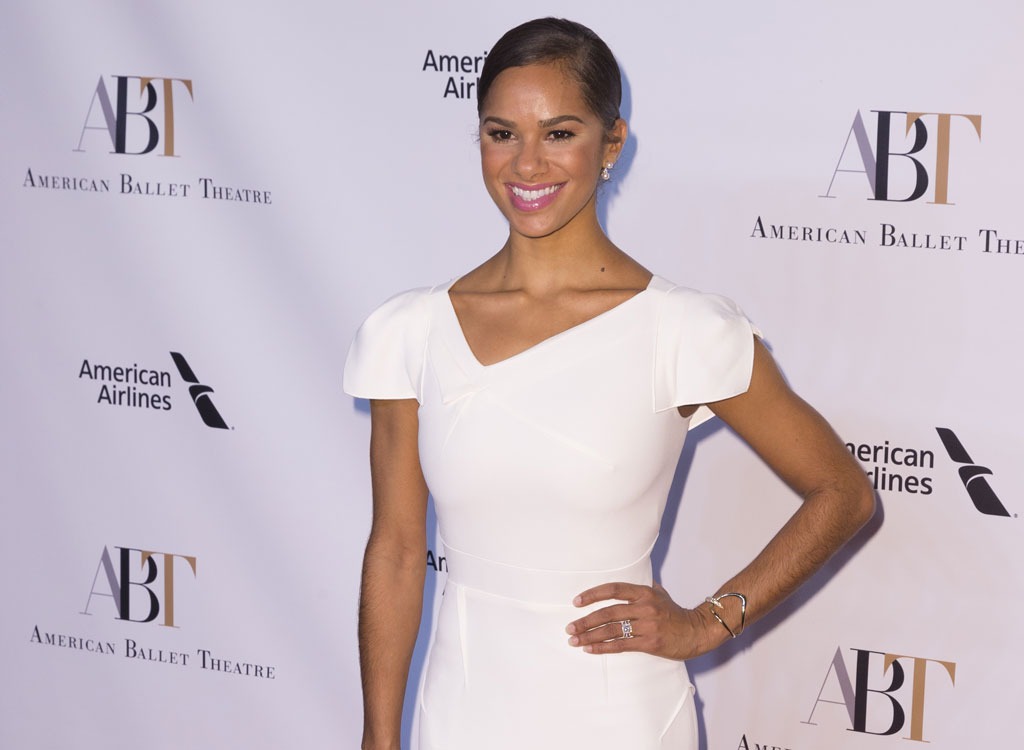 As the first African American female principal dancer at the American Ballet Theatre and the spokeswoman for Under Armour, Misty Copeland understands that food is meant to fuel the body. But it wasn't always that way. Before the ballerina was a superstar soloist, she suffered from anxiety and struggled with binge eating disorder, regularly devouring a dozen Krispy Kreme donuts in a single sitting. Over time, however, Copeland learned to take criticism constructively and discovered how to love her body and take care of it properly so it can do what it does best and enjoys most: dance.
Here, we share Copeland's foolproof hacks that help keep her body lean, strong, and energized for anything that pirouettes her way! Read on to nab her surprisingly simple—and actionable—tips so you can lose belly fat and get the body you've always wanted.
Don't Deprive Yourself
"It's not about dieting or depriving. I create healthy versions of my favorite foods," Copeland recently told Self magazine. Whether she's whipping up an herb-smeared whole wheat pita with provolone and avocado or ordering in from her favorite Japanese spot, Copeland makes sure that the foods she chooses fuel her body. But, just like the rest of us, this all-star athlete gets cravings, too. So when her sweet tooth kicks in, she indulges in a muffin with black coffee for breakfast or banana pudding and peanut butter cookies for dessert. "All in moderation!" she vows.
Have a Go-To Healthy Order
Whenever Copeland doesn't have time to cook, she loves ordering sushi via Seamless. She chooses Eat This, Not That!-approved options like the spicy tuna roll and a side salad. In fact, the dancer follows a pescatarian diet that's rich in protein and healthy fats. "I feel like my body has just adjusted well to not having chicken or red meat or pork," she revealed to Self. "I have more energy without it." So when she cooks at home, she opts for scrumptious sounding recipes like baked salmon with quinoa and a Sriracha marinade. Yum! 6254a4d1642c605c54bf1cab17d50f1e
Cook More Often Than Not
Although the ballerina is a devoted Seamless fan (because it's fast, easy, and allows her to choose from plenty of healthy options), Copeland loves to cook—and not only because it's actually a ton of fun. "It's nice to know what's in your food. You know what you're eating," she shared in a recent interview. So roll up your sleeves and get grilling! And to ensure the meal you're cooking is a healthy one, be sure to avoid these 8 Cooking Mistakes That Make You Fat.
Listen to Your Body
Copeland pays extra attention to how different foods affect her mood and performance. "I just try to listen what my body needs, and it changes all the time. Last season, I craved more protein. Sometimes I need to hydrate more. It's all about listening to your body and responding to that," she explained to NY Magazine. She also practices mindful eating, so that means she keeps her portions in check, doesn't eat when she isn't hungry, and puts her fork down when she's full. If you especially struggle with these mindful mantras, check out these 25 Ways to Turn Off the Chatter in Your Head About Food.
Keep Healthy Snacks on Hand
Whether she's on a plane to Seattle or China, the ballerina makes sure to pack some energy-boosting snacks to keep on her toes—literally. Nuts, fruits, yogurt, and crackers are just some of her go-tos. For more portable treats that won't compromise your weight loss goals, check out these 12 Homemade Granola Bar Recipes You'll Adore.
Stay Hydrated
"Most people don't drink enough fluids. I mix Pedialyte with water. It's a quick way to hydrate when you're sweating a lot," she revealed in a recent interview. In fact, while the feeling of dehydration often goes unnoticed, failing to nourish your body with the liquid it's most comprised of can lead to some serious problems such as weight gain and wrinkly skin! And that's just a pint-sized peek into What Happens to Your Body When You Stop Drinking Water.
April Benshosan
April is a born-and-raised Brooklynite who has a passion for all things health, wellness, and tastebud-related.
Read more about April