12 Homemade Granola Bar Recipes You'll Adore
Confession: I have a slight obsession with homemade granola bars.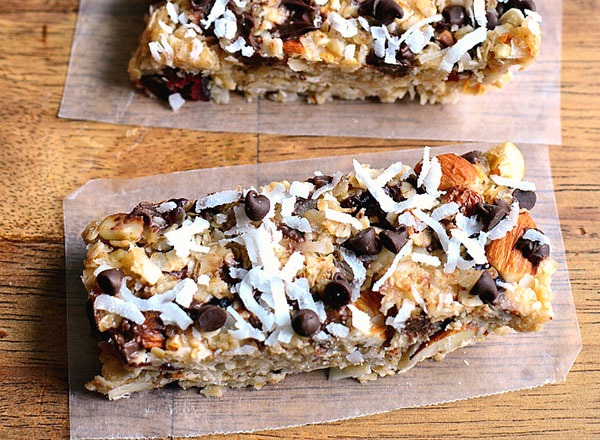 If you're like most of us, weekday mornings consist of hitting snooze and then sorrowfully dumping our coffees halfway through because we gotta dash out the door. Not to mention skipping breakfast because, let's be real, ain't nobody got time for that. But rushing out the door shouldn't mean you have to be hungry and running on empty—or even worse, grabbing some packaged, processed mutant snack that your conscience will mourn seconds after you hangrily devour it. (Psst! That candy bar masquerading under a healthy-sounding "energy bar" label is most likely infested with added or artificial sweeteners and harmful additives!) Thankfully, that's where homemade granola bars come to the rescue.
Filled with everything wholesome from nuts and seeds to fruit and honey—basically all the good stuff that will slim your tummy—DIY granola bars are light years better than their manufactured mates. Homemade granola bars aren't only super simple to make, they're also perfect for easily enjoying on the go for those times your stomach starts sounding more like a hungry bear. That's why we've curated a list of some of our favorite granola bars that will get you obsessed with them, too. Find your new favorite and be sure to bookmark these 25 Recipes for Energy Bites That Live Up to the Hype, too!
Mango & Coconut Granola Bars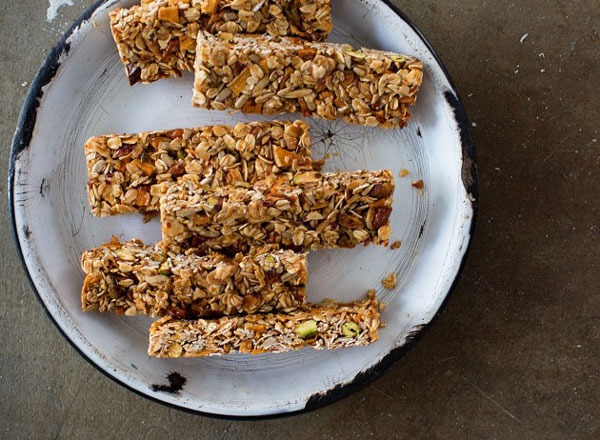 Serves: 20
Nutrition: 138 calories, 6.2 g fat (1.6 g saturated), 144 mg sodium, 19.4 g carbs, 2.1 g fiber, 9.6 g sugar, 3.2 g protein
Combining protein-packed pistachios and almonds with dried mango and coconut shreds, this granola bar sounds like fruity heaven, especially with only 138 calories. Instead of filling your little one's lunchbox with additives and refined sugars, opt for this delish bar. Yummy snacks that taste good and are better for you? We're total fans of that.
Get the recipe from Bakers Royale.
Mostly Raw Curry Sunflower Oat Energy Bars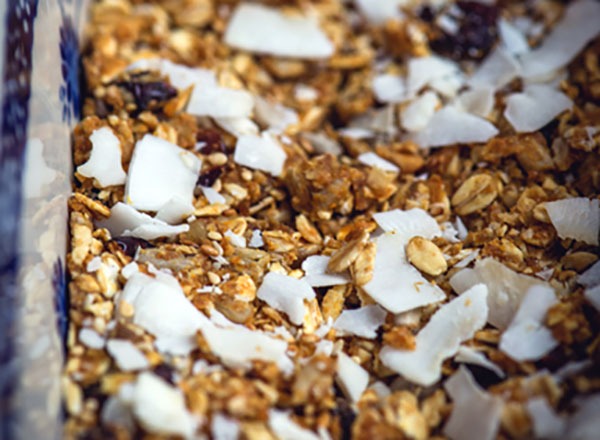 curry sunflower oat
energy bars'>
Serves: 14
Nutrition: 176 calories, 12.5 g fat (3.8 g saturated), 87 mg sodium, 12.6 g carbs, 2.8 g fiber, 5.1 g sugar, 6 g protein
Robust ingredients like aromatic curry and syrupy dates pack a ton of flavor into these little bars. Not to mention, grabbing one of these low carb snacks will keep you satiated enough to resist those frosted donuts your coworker left on the break table.
Get the recipe from Food, Fitness, Fresh Air.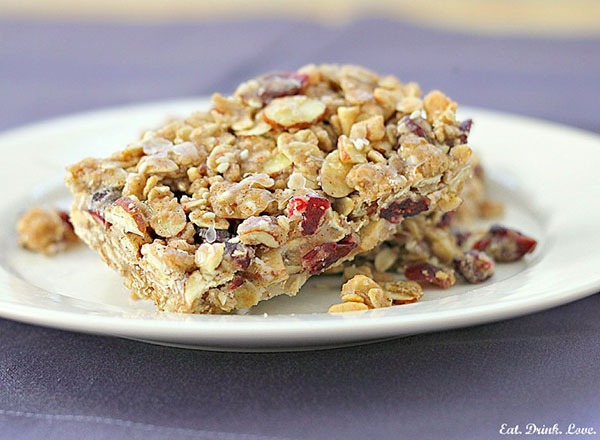 6254a4d1642c605c54bf1cab17d50f1e
Serves: 12
Nutrition: 135 calories, 6.9 g fat (3.4 g saturated),67 mg sodium, 16.3 g carbs, 2.2 g fiber, 6.3 g sugar, 2.8 g protein
Forget those way-too-crunchy processed bars you almost chipped your tooth biting into (we're looking at you, Nature Valley) and pack one of these natural chewy snacks to beat the afternoon slump. "The body spends a lot of time trying to figure out what's what and then breaking down all these foreign
, which can zap your energy. Since our body is not able to do what it should be doing, there is a lot of energy wasted," explains Isabel Smith, MS, RD, CDN. Count on these
oat
bars to replenish your energy levels.
Get the recipe from Eat. Drink. Love..
Cinnamon Raisin Oatmeal Protein Bars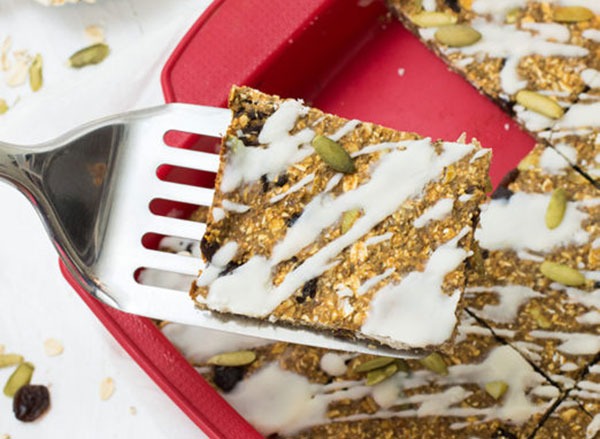 Serves: 10
Nutrition: 140 calories, 3.8 g fat (0.6 g saturated), 13 mg sodium, 20.9 g carbs, 4.2 g fiber, 5.7 g sugar, 8.2 g protein
Rather than pausing your morning commute to pick up a calorie-laden cinnamon raisin bagel slathered with cream cheese, bake these delectable bars for breakfast instead. They'll satisfy any cookie craving you've got and are perfect for vegan and gluten free foodies. Boasting 8 grams of the muscle-building macro, this high protein snack is definitely one you'll want to throw into your gym bag for when the post-workout hunger hits.
Get the recipe from Pancake Warriors.
No-Bake Tropical Granola Bars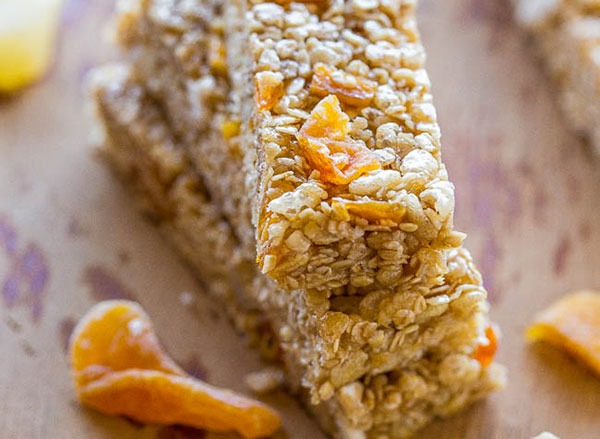 Serves: 15
Nutrition: 152 calories, 3.8 g fat (2.1 g saturated), 74 mg sodium, 27.6 g carbs, 2.3 g fiber, 15.1 g sugar, 2.2 g protein (calculated without brown sugar)
Biting into one of these is about as close as you can get to escaping to a faraway island when it's freezing out. But while daydreaming of a vacation in the midst of a busy weekday morning sounds as farfetched as actually planning one, whipping up these bars will only cost you about a half hour. Made up of tropical pineapple, mango, coconut, and mandarins, these bars might just hold us over until spring break. And we omitted the brown sugar because we think these fruits can satisfy even the sweetest tooth.
Get the recipe from Averie Cooks.
Toasted Quinoa, Dried Fig & Dark Chocolate Nut Free Granola Bars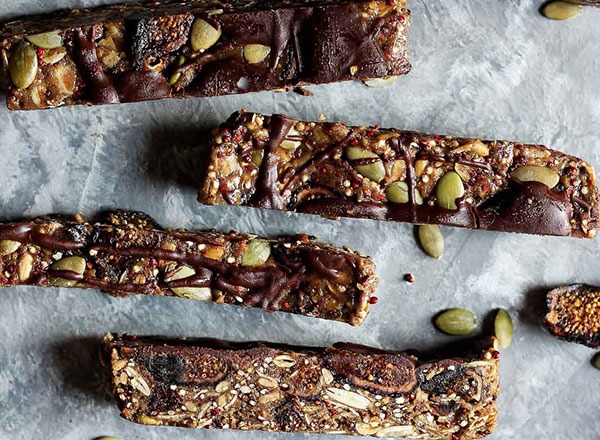 Serves: 15
Nutrition: 152 calories, 7 g fat (0.9 g saturated), 86 mg sodium, 20 g carbs, 2.2 g fiber, 9.8 g sugar, 4.3 g protein
Although its title might be a mouthful, you definitely won't have any trouble scarfing down one of these bad boys. Jam-packed with superfoods like quinoa, black figs, and chia seeds, they're as pretty to stare at as they are nutritious. As an added bonus, they're high in teeth- and bone-protecting phosphorous and energy-boosting vitamin B6.
Get the recipe from Ambitious Kitchen.
Dark Chocolate Peanut Butter "Granola" Bars
Serves: 20
Nutrition: 165 calories, 13.7 g fat (3.6 saturated), 16 mg sodium, 9.5 g carbs, 2.1 g fiber, 6.3 g sugar, 3.6 g protein (calculated with 1/4 cup peanut butter)
Skip the sugary Reese's cups and opt for one of these über yummy granola bars that are way more nutritious than their confectioned candy cousins. This pick packs a medley of raw honey, heart-healthy coconut oil, natural peanut butter, and antioxidant-full 80% cacao dark chocolate—which is linked to boosting weight loss and improving cognition.
Get the recipe from Against All Grain.
Apricot & Cashew Energy Bars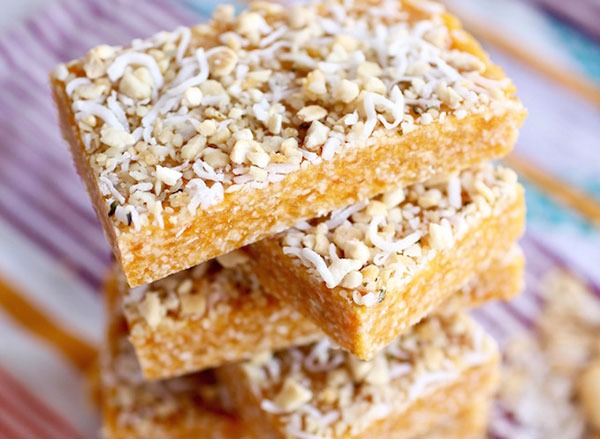 energy bars'>
Serves: 12
Nutrition: 111 calories, 6.6 g fat (3.1 g saturated), 44 mg sodium, 11.7 g carbs, 1.6 g fiber, 1.8 g sugar, 2.6 g protein
Super low in sugar and baked with chock full of good-for-you ingredients, like energy-boosting Turkish apricots, this bar is definitely one you'll want to bookmark. It's free of any added sugars and nasty preservatives you're bound to find in its packaged counterparts. Speaking of gross grab-and-go options, steer clear from these Worst Energy Bars For Weight Loss
Get the recipe from Nutritionist in the Kitch.
Sunflower Seed Butter Granola Bars With Chocolate Drizzle
Serves: 16
Nutrition: 159 calories, 6.1 g fat (1.6 g saturated), 62 mg sodium, 23.9 g carbs, 1.9 g fiber, 8 g sugar, 3.6 g protein
We love these bold bars because, hey, who isn't obsessed with anything chocolate-drizzled? Warm vanilla and cinnamon notes mesh with the velvety sunflower seed butter and tacky dates. Nope, not like the awkward kind you still laugh about with your girlfriends, but rather the pleasant Medjool kind.
Get the recipe from Averie Cooks.
Chocolate Chip Banana Bread Energy Bars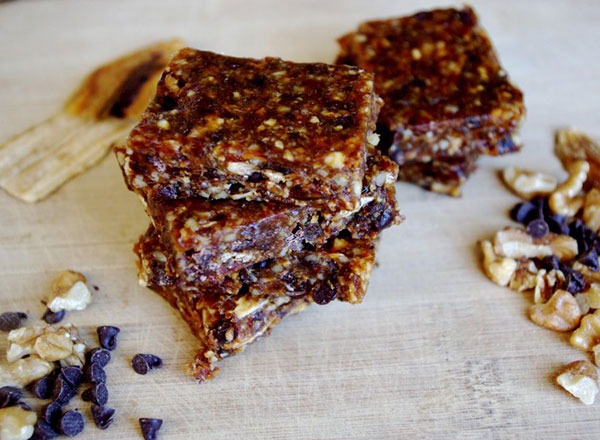 Serves: 12
Nutrition: 123 calories, 6.9 g fat (0.8 saturated) 1 mg sodium, 15.3 g carbs, 2.1 g fiber, 11.6 g sugar, 3.1 g protein
Since most banana bread recipes call for enough butter to satisfy Paula Deen, we decided to stick with this healthy four-ingredient alternative instead. These bars fuse crunchy omega-3-packed walnuts, dehydrated banana, dates, and dark chocolate chips for a sweet-tooth-satisfying snack minus the dreaded sugar crash.
Get the recipe from Nutritionist in the Kitch
No-Bake Cranberry Almond Joy Granola Bars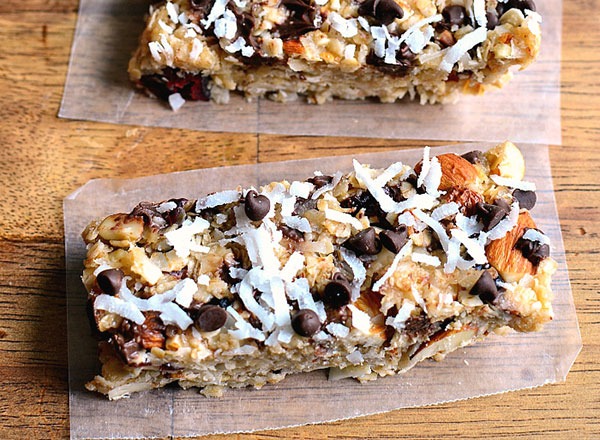 Serves: 18
Nutrition: 143 calories, 8.4 g fat (4.7 saturated), 4 mg sodium, 15.5 g carbs, 2.2 g fiber, 7.7 g sugar, 2.7 g protein
Looking for a sweet treat that won't chastise you with guilt? The search ends here with these decadent granola bars that are the perfect antidote to diet-sabotaging Halloween goodies. The raw almonds provide L-arginine that, according to the Journal of the International Society of Sports Nutrition, can actually help you burn more fat and carbs during your workout. And the smart addition of cranberries packs in UTI-fighting phytochemicals and a lovely crimson color. We're totally on board with that.
Get the recipe from Lemon Tree Dwelling
Chewy Coconut Cashew Almond Granola Bars
Serves: 16
Nutrition: serves: 141 calories, 6.8 g fat (2.5 g saturated), 38 mg sodium, 18.8 g carbs, 1.9 g fiber, 9.6 g sugar, 2.8 g protein
As their name suggests, these bars are chewy; so if you're more of a crunchy fan, amp up their bite factor by popping them in the oven for about 10-15 minutes. Chia seeds provide extra crunch power while the texturized coconut shreds add flaky flavor.
Get the recipe from Ambitious Kitchen
April Benshosan
April is a born-and-raised Brooklynite who has a passion for all things health, wellness, and tastebud-related.
Read more about April