10 Most Expensive Burgers at Popular Fast-Food Chains
The Dollar Menu has left the building.
The most expensive burger on the very first McDonald's menu, the Tempting Cheeseburger, sold for just 19 cents in 1940. When we check out what the price of a 19-cent burger then would be today adjusted for inflation, we get $4.06, via the U.S. Inflation Calculator. That, however, is way less than the most expensive fast-food burgers cost these days, but more than a simple McDonald's cheeseburger costs.
In fact, that's not even half the price of many of these burgers. Why have many fast-food burgers gotten so expensive these days?  It's most likely a multi-pronged cause, involving greater ingredient and labor costs, the recent hike in inflation, and the fact that many companies are passing costs onto buyers instead of incurring losses. It all adds up to higher menu prices, especially when you go for these most expensive fast-food burgers. Here's a look at the most expensive burger at every popular fast-food spot. (Exact prices will vary by location.)
Smashburger Double Smoked Bacon Brisket Burger — $14.69
If you really want to spend almost $15 on a burger, Smashburger is the place to go. The chain's Double Smoked Bacon Brisket Burger costs $14.69 at its base. This creation from Smashburger is a meat-lovers fantasy. The Double Smoked Bacon Brisket Burger features two Angus beef patties, layered with brisket which has been smoked for 10 hours, bacon, and aged cheddar cheese. If you want to go even bigger, it can be upgraded with mac and cheese, avocado, a fried egg, and much more.
Shake Shack Shake Stack — $12.79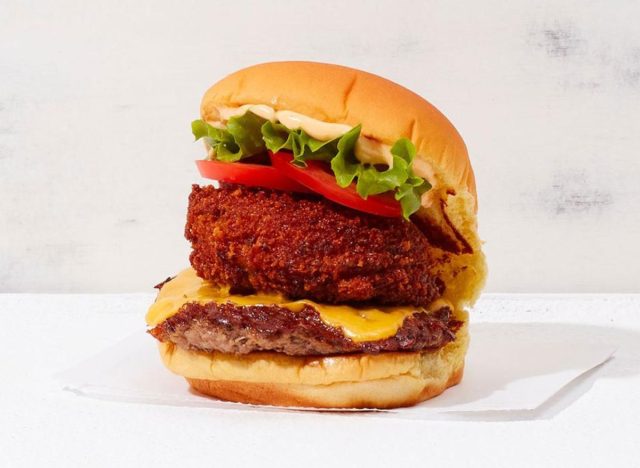 Just barely edging out Five Guys' most expensive burger—as in by a mere 10 cents—this mighty burger from Shake Shack costs $12.79. The Shake Stack is really two burgers in one, though, with a beef cheeseburger topped with a 'Shroom Burger. And, yes, it's even more expensive than the new truffle burgers.6254a4d1642c605c54bf1cab17d50f1e
Five Guys Bacon Cheeseburger — $12.69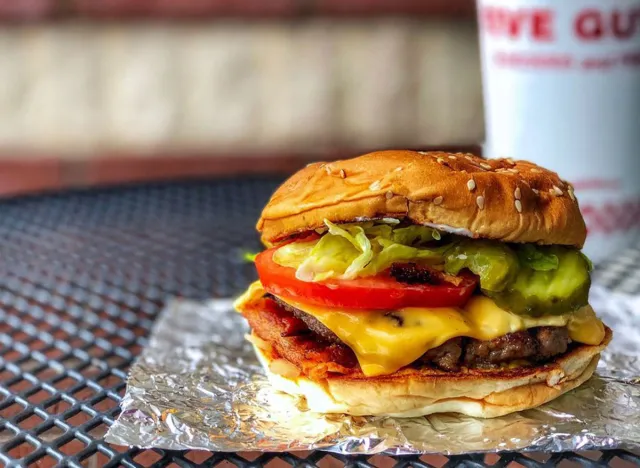 When you pay $8.19 for what a chain calls its "Little Hamburger," you can rest assured the priciest burger is going to be expensive indeed. And at $12.69, Five Guys' Bacon Cheeseburger is definitely that. FYI, this burger comes with two patties by default. If you want one, order the cheaper Little Bacon Cheeseburger.
McDonald's Quarter Pounder with Cheese Bacon — $9.59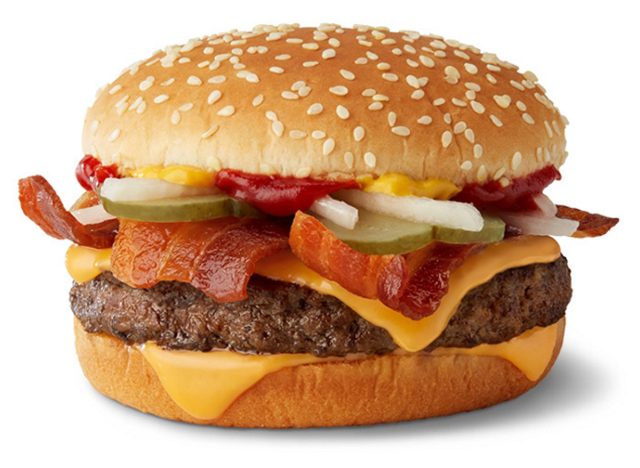 No, no typos here, this pricey burger is indeed called the Quarter Pounder with Cheese Bacon, not "with Cheese and Bacon." In many locations, it goes for a hefty $9.59 right now. Once the home of the 15-cent hamburger, McDonald's customers have been complaining that the once-discount fast-food icon is just too expensive to eat at without app deals.
Burger King Bacon King — $9.19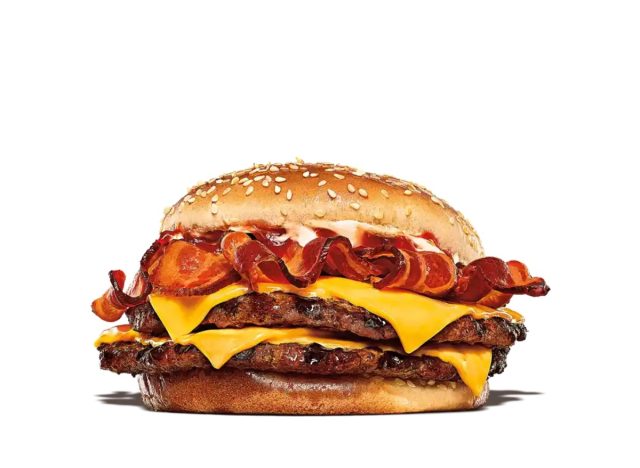 So, it's actually a tie-over at BK for the most expensive burger, as both the Triple Whopper and the Bacon King burgers cost $10.19. The Bacon King is more bang for the buck, calorically speaking, with 1,202 calories to the Triple Whopper's 1,169.
Wendy's Big Bacon Classic Triple — $8.99
This behemoth of a burger is the priciest on Wendy's menu at present, but at least you'll get your money's worth. This burger has three-quarters of a pound of fresh, never-frozen beef, Applewood smoked bacon, American cheese, and a bunch of fresh toppings. A Big Bacon Classic Triple has 1,220 calories, also known as well over half the calories an average adult needs in a given day. So maybe try a Double first to see if that satisfies you.
Carl's Jr. Guacamole Bacon Angus Burger — $8.79
This mouthful of a burger packs on the ingredients, like guac, bacon, cheese, lettuce, tomato, onion, and more. It's a pricey burger, but a well-appointed one. Want to make it a combo? That will kick the cost up a fair amount to $12.98.
Whataburger Triple Meat — $7.79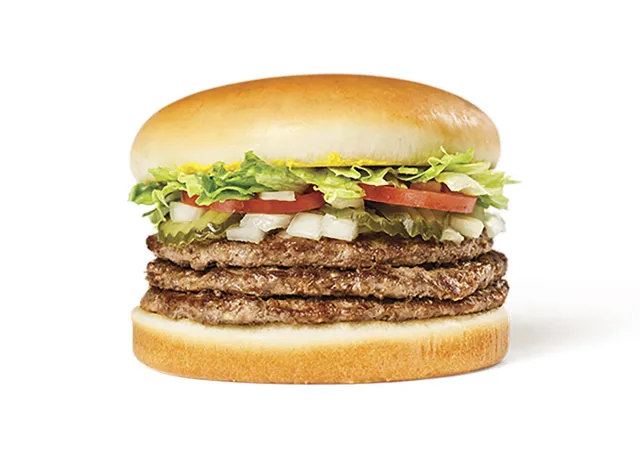 The Triple Meat Whataburger is a decent price for a most expensive burger at $7.79. However, if you want the whole meal, that kicks things up to $10.79, plus it adds 885 calories, so maybe stick to the burger.
slidetitle num="9"]Jack in the Box Bacon Ultimate Cheeseburger — $7.29[/slidetitle]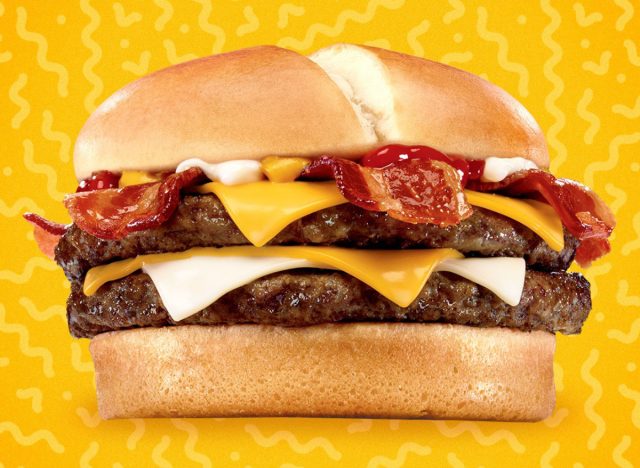 Paying $7.29 is not a bad price for a burger loaded with two patties, bacon, two kinds of cheese, and sauces, and with several optional toppings at no extra cost. Now, are the two tacos for 99 cents still a better deal? Sure.
In-n-Out 4X4 — $5.50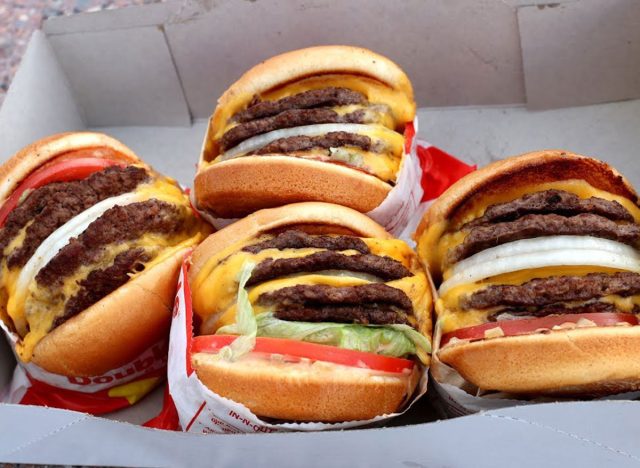 Prices at In-n-Out Burger are actually quite affordable even with some recent hikes. The most expensive burger on the menu is the "Not So Secret Menu" choice called the 4X4 and sometimes known as the Quad. It costs $5.50, which is quite good for a burger that has four patties, four slices of cheese, and toppings. Now if only the chain would hurry up and expand across the country!
Steven John
Steven John is a freelancer writer for
Eat This, Not That!
based just outside New York City.
Read more about Steven