The Best & Worst Menu Items at Smashburger
A registered dietitian analyzes the menu so you know exactly what to order and what to stay away from.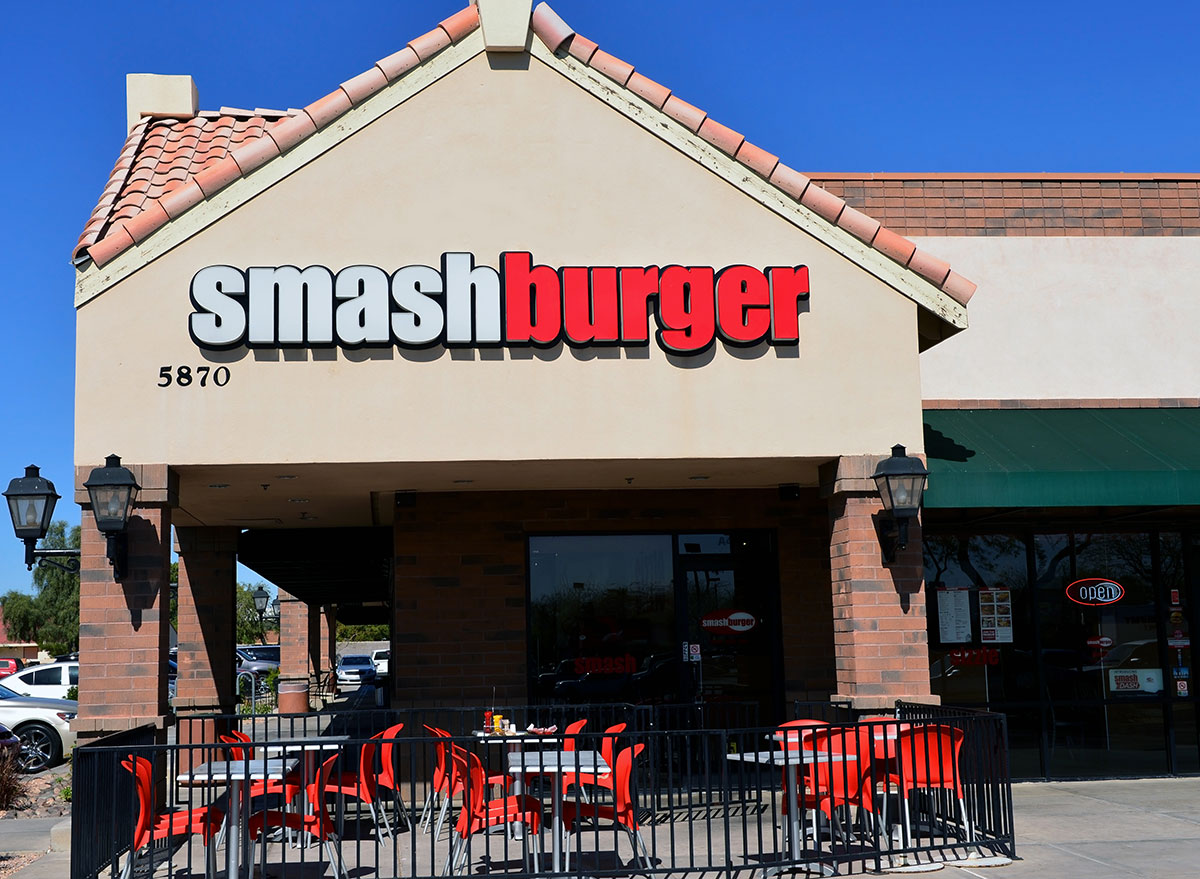 If you're in the mood for a juicy and delicious burger, there's no place quite like Smashburger. The popular American fast-casual chain serves up some of the tastiest patties in the world, and luckily, the menu has a wide variety of food options and is totally customizable—there's truly something for everyone!
That said, we checked in with Cynthia Lanzillotto, RD, CDN in New York City, to educate us on some of the best and worst items available at Smashburger. The picks include some of the yummiest variations of burgers, milkshakes, and salads, focusing on which items are the best for you nutritionally-speaking, and which menu items you should stay far away from. This handy list is sure to help you make better decisions while dining at the restaurant.
Here are the worst and best items you can order from the Smashburger menu.
Signatures
Best: Grilled Chicken Classic Smash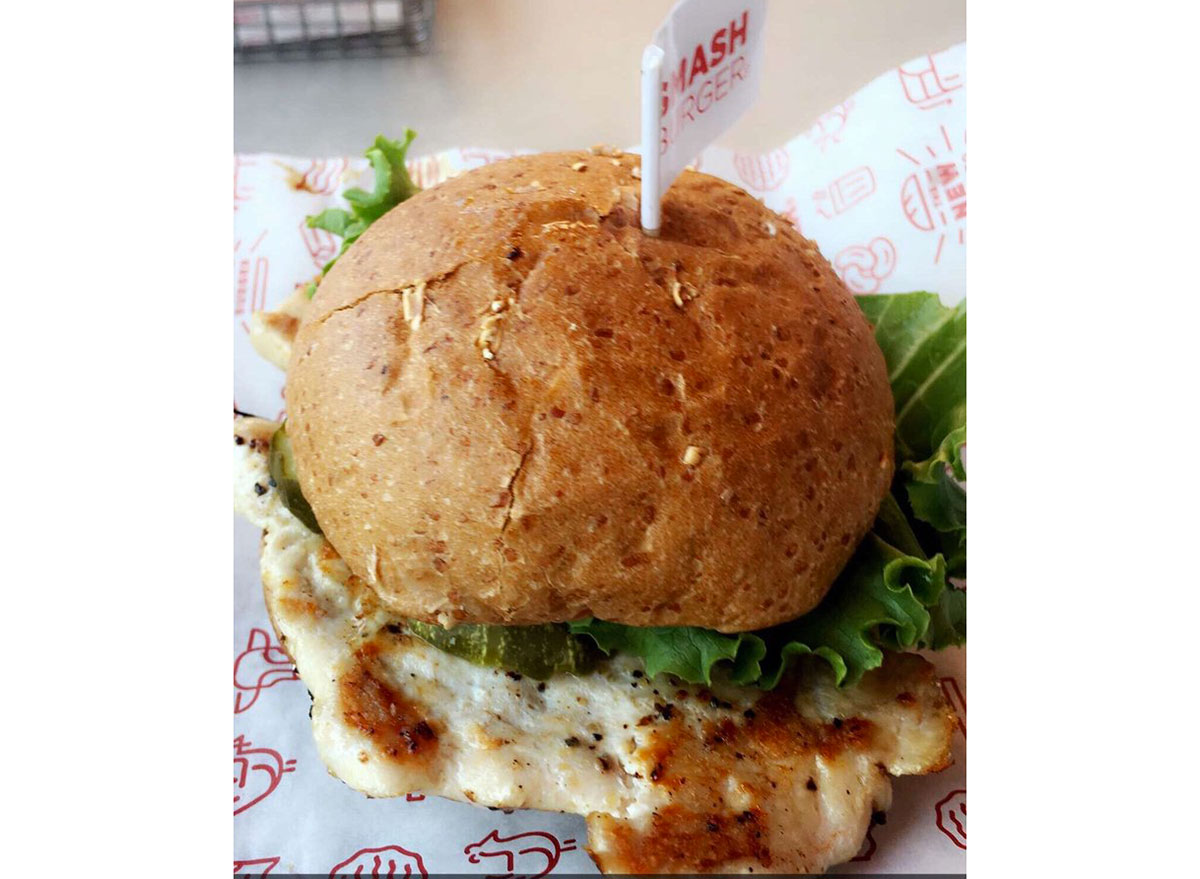 Per 1 sandwich
: 390 calories, 20 g fat (7 g saturated fat, 0 g trans fat), 1,150 mg sodium, 29 g carbs (2 g fiber, 3 g sugar), 31 g protein
Instead of a ground beef patty, the grilled chicken option on a multigrain bun is a better choice. "It is low in calories and saturated fat, and it also gives you a significant source of protein, which should have you feeling full and satisfied," Lanzillotto says.
Best: Black Bean Classic Smash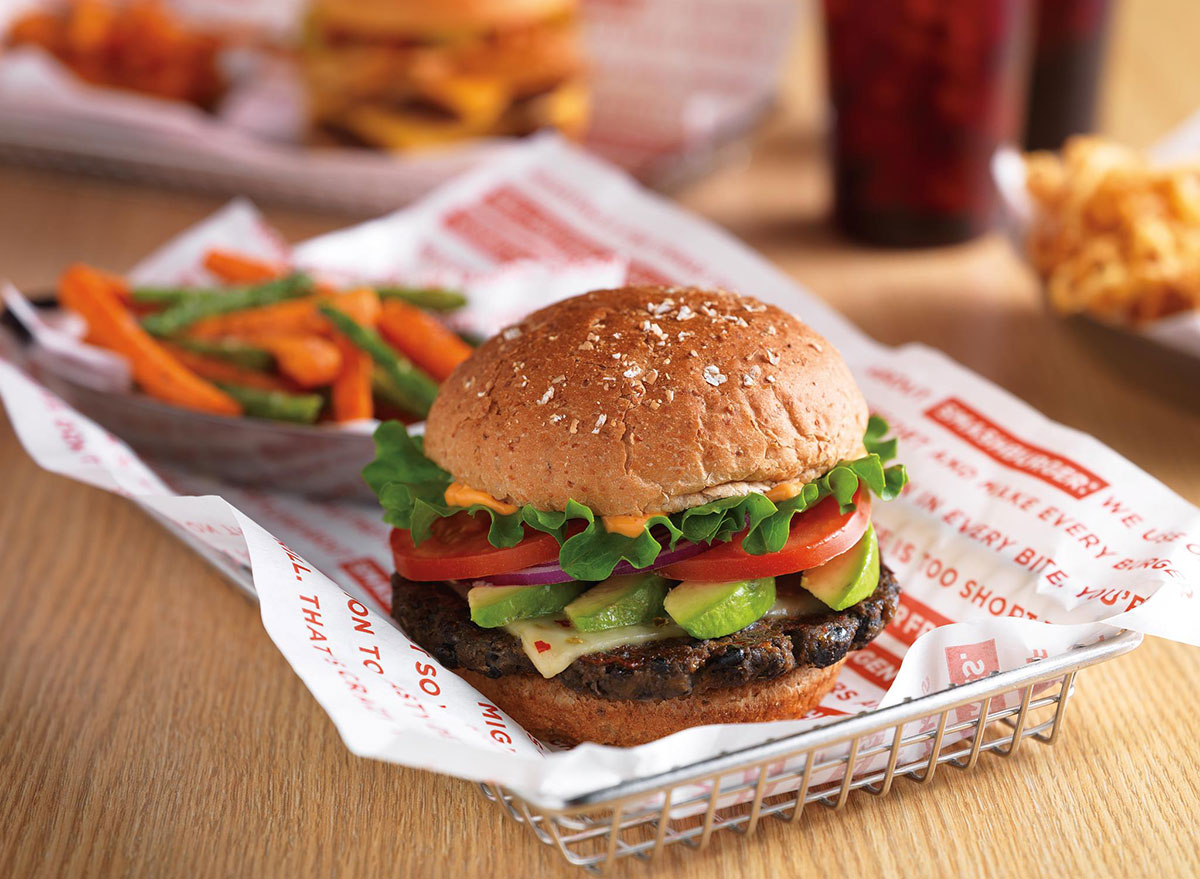 Per 1 burger
: 130 calories, 20 g fat (7 g saturated fat, 0 g trans fat), 1,720 mg sodium, 55 g carbs (7 g fiber, 8 g sugar), 16 g protein
This is another option that's low in saturated fat and calories, but high in fiber, which is beneficial, according to Lanzillotto.
"Per the Academy of Nutrition & Dietetics, women should aim for 25 grams of fiber per day and men about 38 grams," she says. But it's important to note that this option is still high in sodium.
"Currently, the Academy of Nutrition and Dietetics recommends no more than 2,300 milligrams of sodium for the entire day, so this signature item would provide three-fourths of the average person's sodium intake for the day," she says.
Worst: Big BBQ Bacon and Cheddar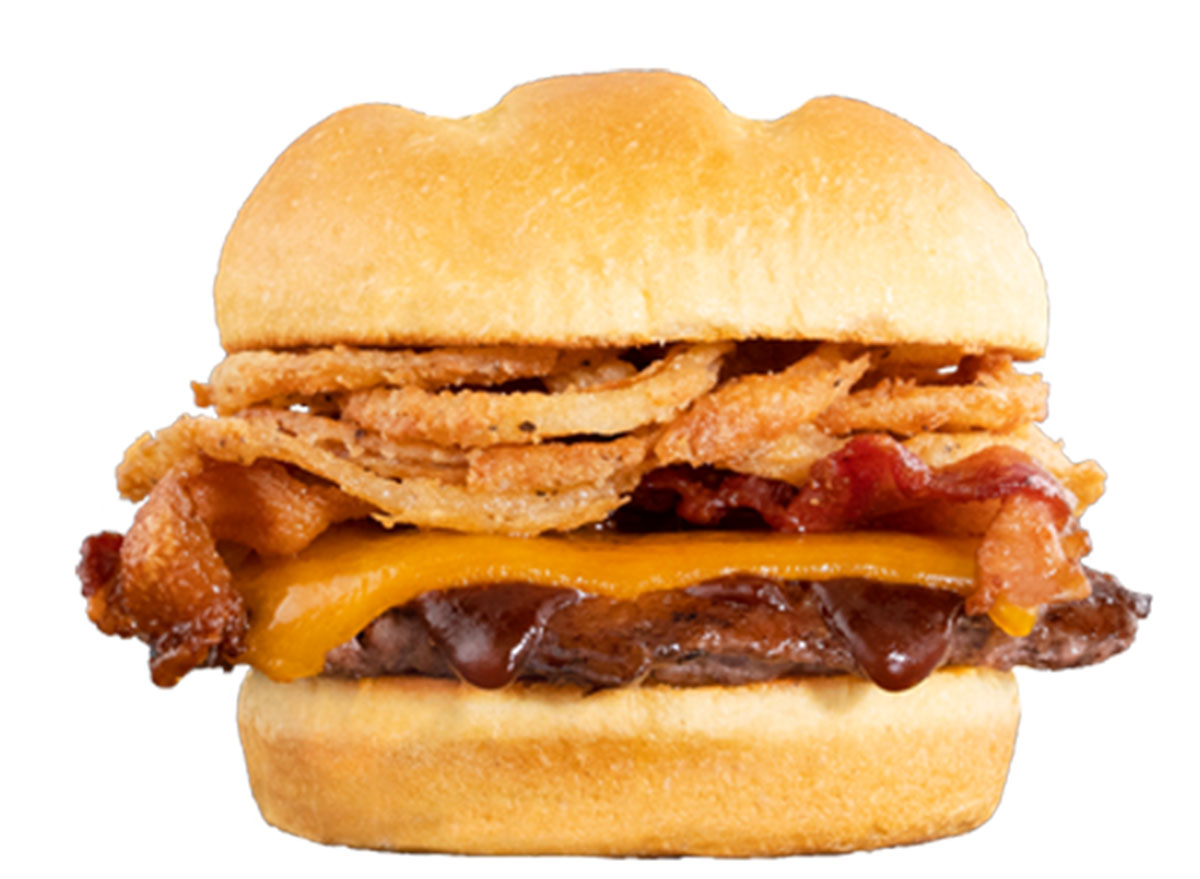 Per 1 burger
: 830 calories, 55 g fat (22 g saturated fat, 2 g trans fat), 1,720 mg sodium, 43 g carbs (3 g fiber, 10 g sugar), 44 g protein
While a ground beef burger smothered in BBQ sauce, bacon, haystack onions, and cheddar cheese sounds scrumptious, it's important to keep in mind ordering one of these burgers means you'll be consuming a high amount of saturated fat.
"The American Heart Association (AHA) recommends no more than 5-6 percent of your daily calories coming from saturated fat. For example, if you take the average 2,000 calories per day diet, you would want to consume no more than 13 grams of saturated fat per day. This is because diets high in saturated fat may increase your cholesterol in the blood and can lead to heart disease and stroke," Lanzillotto says. "So this signature item is already above the recommended saturated fat intake for the entire day!"
Worst: Big Truffle Mushroom Swiss
Per 1 burger
: 750 calories, 53 g fat (19 g saturated fat, 2 g trans fat), 1,230 mg sodium, 27 g carbs (3 g fiber, 2 g sugar), 43 g protein
You may think you're doing yourself a favor by picking a burger with sautéed crimini mushrooms, but the combination of the patty, truffle mayo, and bun makes this one of the unhealthiest options due to the high amount of trans fat.
"The problem with this man-made fat is that research shows these fats can increase your LDL or 'bad'' cholesterol and decrease your HDL of 'good' cholesterol," she said. "Per the AHA, intakes of trans fat can increase your risk of heart disease, stroke, and type 2 diabetes."
Salads
Per 1 salad
: 490 calories, 39 g fat (12 g saturated fat, 0 g trans fat), 1,240 mg sodium, 19 g carbs (3 g fiber, 13 g sugar), 19 g protein
The Classic Cobb, which is tossed with fresh greens, blue cheese, sharp cheddar, fried egg, applewood smoked bacon, tomatoes, and onions, typically comes with ranch dressing, but it's best to choose balsamic vinaigrette for a smarter option.
"This salad is lower in calories compared to other items on the menu," Lanzilloto says. "And it has approximately half of the sodium compared to the only other salad on the menu, the BBQ Ranch with Chipotle Mayo."
Worst: BBQ Ranch With Chipotle Mayo
Per 1 salad
: 1,040 calories, 92 g fat (20 g saturated fat, 0 g trans fat), 2,215 mg sodium, 40 g carbs (4 g fiber, 23 g sugar), 12 g protein
You're better off getting a burger over this high-calorie salad. And if you choose to get the salad, you should consider opting out of the Chipotle Mayo dressing.6254a4d1642c605c54bf1cab17d50f1e
"This salad is one of the highest calorie options on the menu, with half of the calories coming from the dressing alone," Lanzillotto says. "Calories aside, this salad also contains approximately 2,215 milligrams of sodium, which is close to about one teaspoon of table salt."
Signature Sides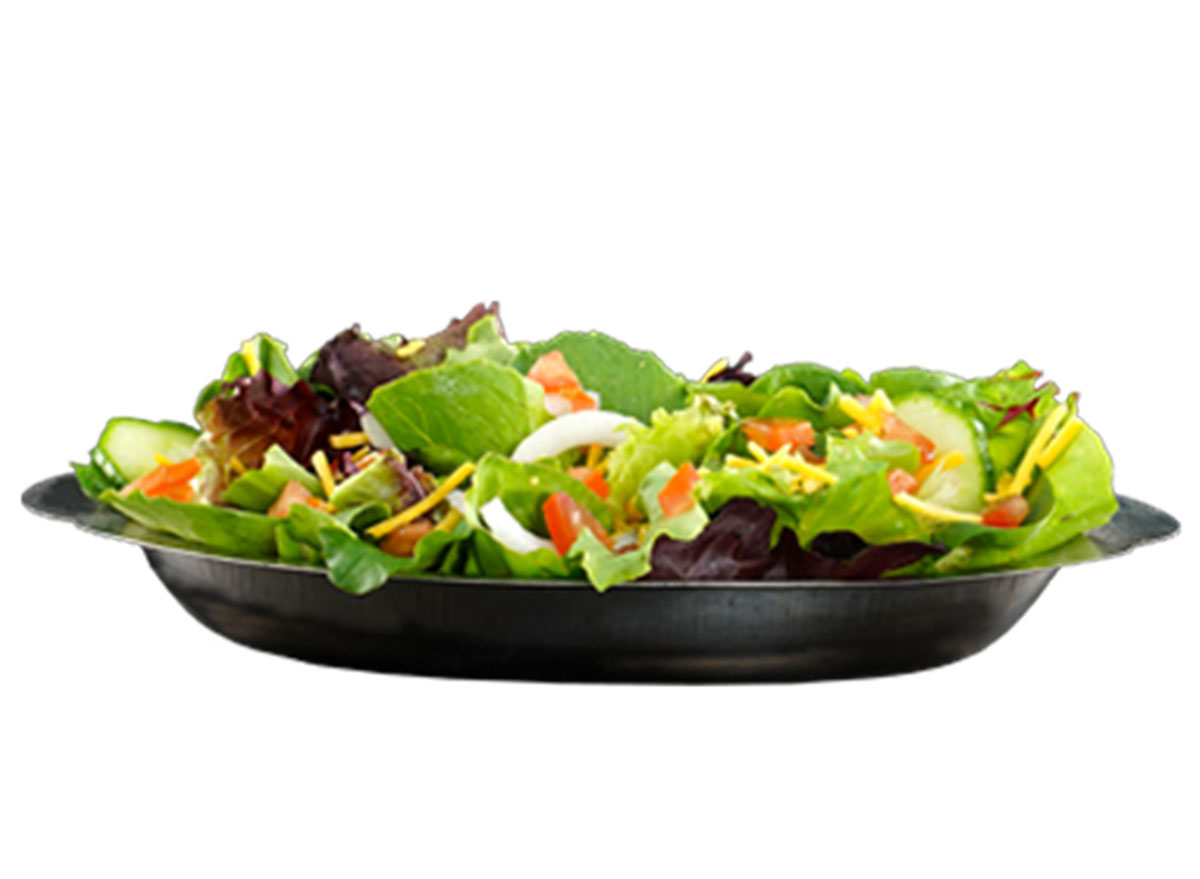 Per 1 salad
: 40 calories, 3 g fat (2 g saturated fat, 0 g trans fat), 70 mg sodium, 3 g carbs (1 g fiber, 1 g sugar), 3 g protein
A bare side salad is low in calories and a healthy choice, but it's important to be careful about what dressing you choose to toss it in. "Most of my concern would come from the saturated fat, sugar, and salt intake of the dressing you are using," Lanzillotto says. "A helpful tip would be to order the dressing on the side and apply per your preference."
Out of their chipotle mayo, ranch, and balsamic vinaigrette choices, the balsamic vinaigrette is the best option.
Per 1 serving
: 300 calories, 15 g fat (0 g saturated fat, 8 g trans fat), 3,150 mg sodium, 30 g carbs (0 g fiber, 0 g sugar), 7 g protein
While pickles by themselves are often a smart option for a snack despite the high sodium, fried pickles are quite the opposite.
"One serving of these pickles contains 3,150 milligrams of sodium, which is 850 milligrams higher than the recommendations for the entire day," she says. And to make matters worse, you're looking at even more sodium if you add a dipping sauce on the side.
Milkshakes
Best: Peanut Butter Milkshake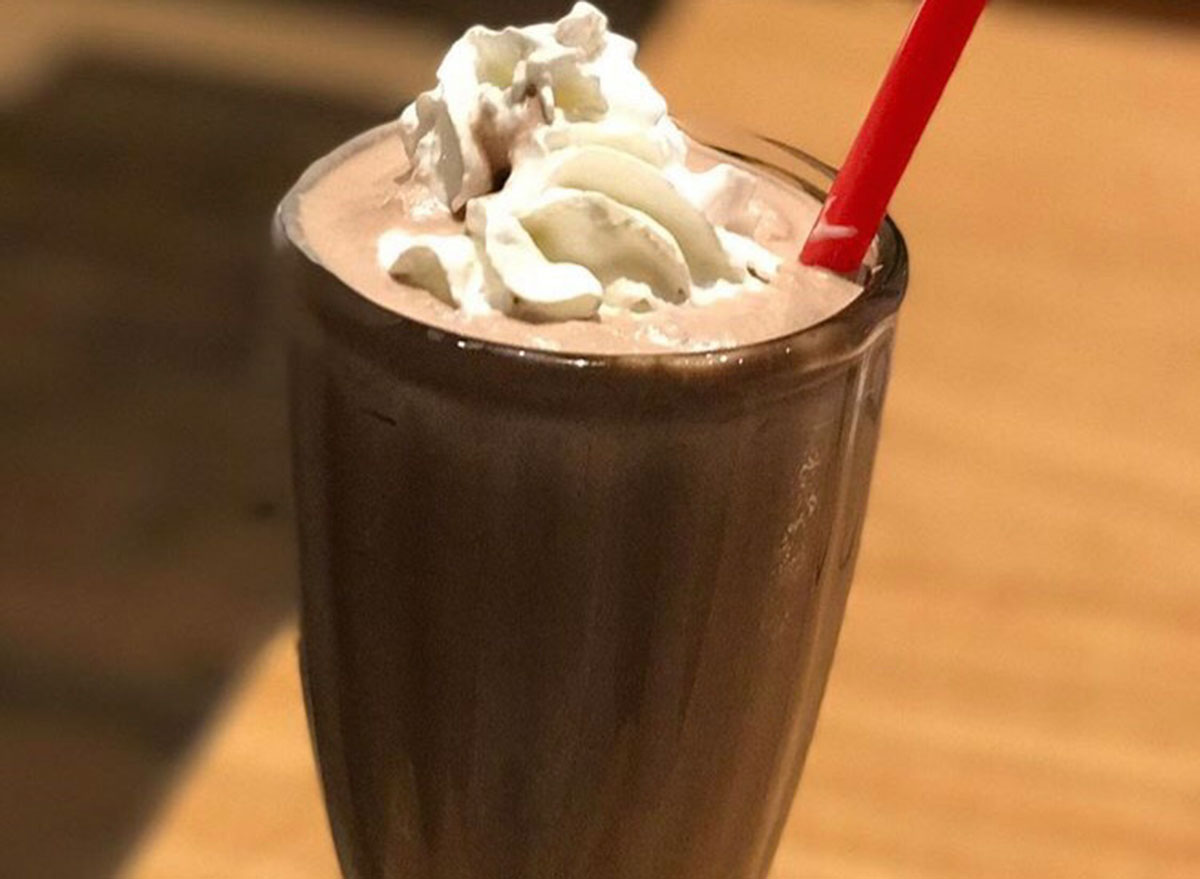 Per 1 shake
: 880 calories, 62 g fat (30 g saturated fat, 2 g trans fat), 270 mg sodium, 62 g carbs (1 g fiber, 56 g sugar), 18 g protein
The Strawberry Milkshake is the lowest in calories on the menu, but that doesn't mean it's the best option for you. You might be surprised to find out that the best option is actually peanut butter and chocolate.
"The Reese's Peanut Butter Milkshake has the lowest amount of sugar and highest protein content," Lanzillotto says. "Keep in mind this milkshake still contains approximately 56 grams of sugar, or about 14 teaspoons."
Milkshakes are always a true indulgence, so that's something to keep in mind if you're ordering one.
Per 1 shake
: 890 calories, 54 g fat (30 g saturated fat, 2 g trans fat), 310 mg sodium, 78 g carbs (1 g fiber, 66 g sugar), 15 g protein
A creamy milkshake with our favorite childhood cookie sounds delicious, but it's important to note how bad one of these shakes actually is for you.
"This milkshake contains 30 grams of saturated fat, which is more than the BBQ Chipotle Bacon Burger," Lanzillotto says. "You would be consuming a similar nutrition profile relating to the calories and saturated fat of two regular classic smash burgers." And all for one sweet treat that is meant to be a drink alongside your main meal!
Samantha Faragalli Younghans