8 Worst Yogurts for Weight Loss
Thanks to decades of smart marketing, we've been conditioned to believe that all yogurts are healthy—so much so that many of us don't bother examining the nutrition labels anymore.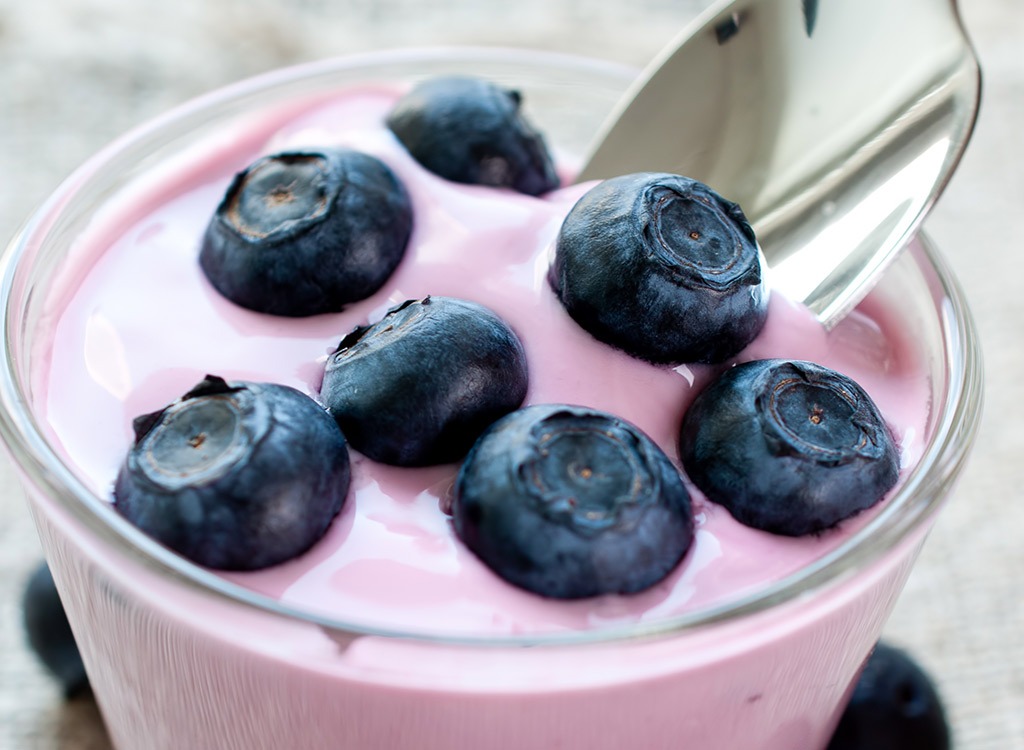 That's like going on a blind date without Googling the person first—not a smart move. Especially if you want to lose weight. In its simplest form, yogurt is packed with health-boosting nutrients like protein, probiotics and calcium, and is comprised solely of milk and live active cultures. However, the bulk of the containers for sale today are not the healthy two-ingredient varieties. Along with a laundry list of ingredients, most of them are filled with added sugars, excess calories and the same health-harming chemicals most often associated with processed junk food.
To help you stear clear of dietary landmines that can sabotage your weight loss efforts and derail your quest for better health, we found the very worst yogurt picks on supermarket shelves. The eight containers below all range in size, but have one thing in common: gram for gram they have more sugar and calories than the other containers sold at your grocery store. Consider this your official "do not eat" list and refer back whenever you're thinking of picking up a new, unfamiliar tub to see if it ranks — if it does, put it back and pick up one of our best yogurt options for weight loss instead.
Not That!
Dannon Fruit on the Bottom Cherry, 1 container 6 oz
| | |
| --- | --- |
| Calories | 150 |
| Fat | 1.5 g |
| Saturated Fat | 1 g |
| Carbs | 29 g |
| Sugar | 24 g |
Starting your day off with this yogurt is the sugar equivalent of downing a package of Twix—and if you take time to examine the nutrition label, it's easy to see why it's so sweet. Sugar is the second ingredient listed on the label, right after reduced-fat milk, a clear indication that the white stuff makes up a bulk of the recipe. Steer clear of this container to keep you blood sugar—and energy levels—stable long after you put spoon to mouth.
Not That!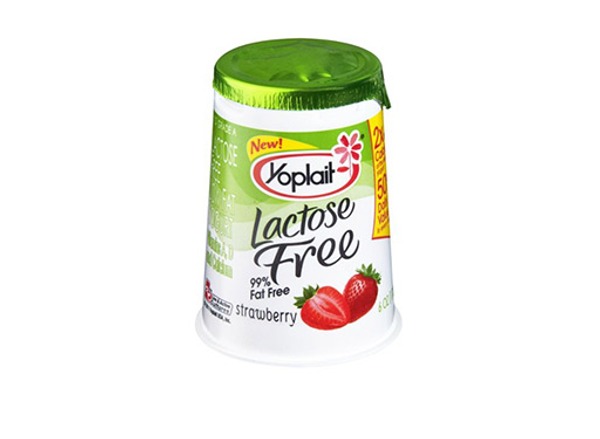 Yoplait Lactose-Free Strawberry, 1 container (170 g, 6 oz)
| | |
| --- | --- |
| Calories | 170 |
| Fat | 1.5 g |
| Saturated Fat | 1 g |
| Carbs | 33 g |
| Sugar | 26 g |
Lactose-free yogurt may be kinder to your belly in terms of gas and bloating, but Yoplait's strawberry variety won't do your waistline any favors. Its measly five grams of protein don't do much to offset the six and a half teaspoons of sugar the makers managed to cram into this container.
Not That!
Yoplait Thick & Creamy Key Lime Pie (170 g, 6 oz)
| | |
| --- | --- |
| Calories | 180 |
| Fat | 2.5 g |
| Saturated Fat | 1.5 g |
| Carbs | 31 g |
| Sugar | 28 g |
Not only is this key lime-flavored breakfast blunder brimming with more sugar than four Chips Ahoy! Chewy cookies, it's also filled with aspartame. Because this artificial sweetener is so much sweeter than real sugar, it dulls the taste buds. This ups the odds you'll crave even sweeter unhealthy foods, which can lead to weight gain. But that's not all. This yogurt is also made with other health-harming chemicals. To give the yogurt its signature green color, Yoplait blends two artificial coloring agents, Yellow No. 5 (a coloring that's already banned in Norway and Sweden) and Blue No. 1. Yellow No. 5 has been shown to promote Attention Deficit Disorder (ADD) in children, while the blue dye has been found to be toxic to animals—which means it may also be harmful to humans.6254a4d1642c605c54bf1cab17d50f1e
Not That!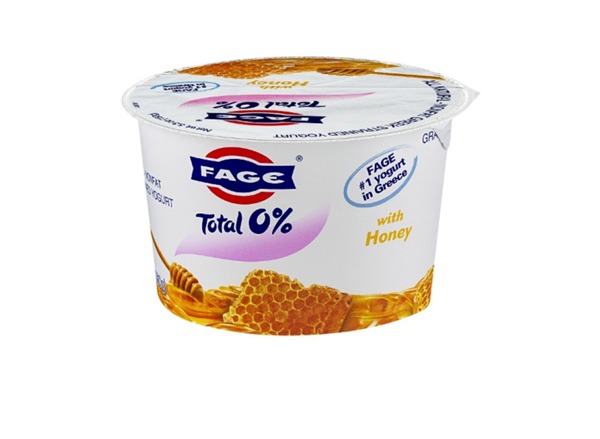 Fage Total 0% with Honey, 1 container (150 g, 5.3 oz)
| | |
| --- | --- |
| Calories | 170 |
| Fat | 0 g |
| Saturated Fat | 0 g |
| Carbs | 30 g |
| Sugar | 29 g |
Made from just three wholesome ingredients — skim milk, live active cultures and honey — Fage's Honey yogurt is considered to be a "clean" packaged food. But don't like that fool you into thinking it's a healthy pick—especially if you polish off all of the honey that comes in the package. Sure, it's a natural source of sugar, but eating too much of it can still contribute to weight gain, just like refined sugar and high-fructose corn syrup.
Not That!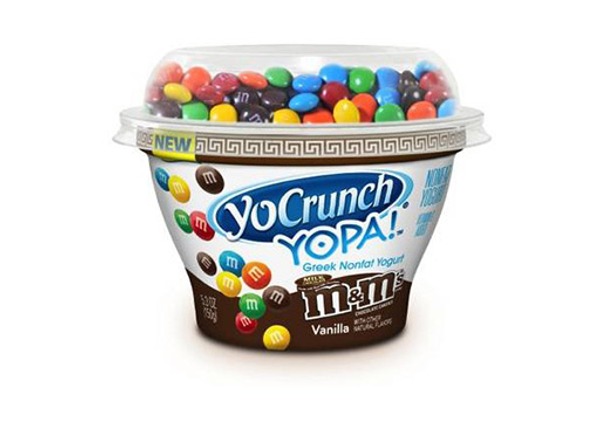 YoCrunch Yopa! Greek Nonfat Vanilla Yogurt with M&M's, 1 container (150 g, 5.3 oz)
| | |
| --- | --- |
| Calories | 190 |
| Fat | 4 g |
| Saturated Fat | 2.5 g |
| Carbs | 28 g |
| Sugar | 26 g |
For 26 grams of sugar, you can eat a rich slice of chocolate cake or one of these Greek yogurt containers sprinkled with mini M&Ms. If you ask us, the choice is a no brainer; we're going with the cake. In addition to the high calorie and sugar count, YoCrunch manages to shove ten different chemically produced dyes in the container—ick! If you want to add a dessert-topped yogurt to your weekly repertoire, opt for the YoCrunch Low-Fat Vanilla Yogurt with Chips Ahoy Cookie Pieces. It saves you 10 grams of sugar and 70 calories.
Not That!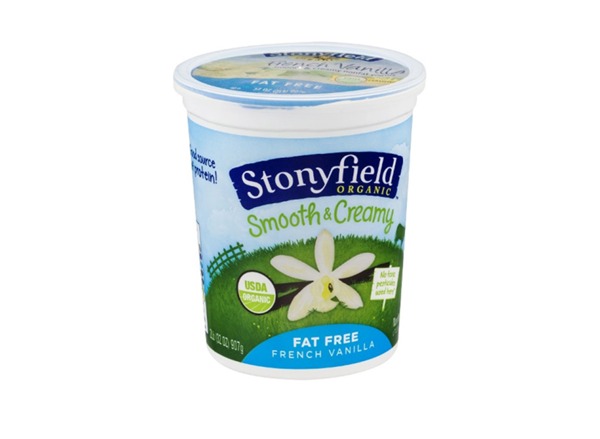 Stonyfield Organic Smooth & Creamy French Vanilla, 1 container (170 g, 6 oz)
| | |
| --- | --- |
| Calories | 230 |
| Fat | 8 g |
| Saturated Fat | 4.5 g |
| Carbs | 31 g |
| Sugar | 30 g |
Sure, it's organic and carries a short ingredient list, but this yogurt is still one of the most caloric, sugar-filled containers in the grocery store. In fact, it has the sugar equivalent of three Original Glazed Krispy Kreme Doughnuts, which no one trying to lose weight would dare down for breakfast.
Not That!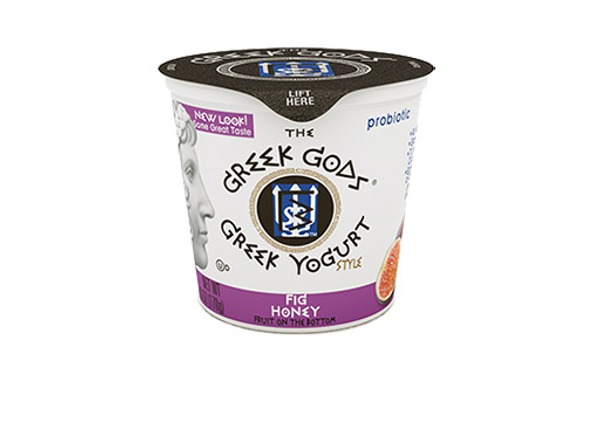 Greek Gods Greek Yogurt Fig Honey, 1 container (170 g, 6 oz)
| | |
| --- | --- |
| Calories | 240 |
| Fat | 9 g |
| Saturated Fat | 7 g |
| Carbs | 29 g |
| Sugar | 27 g |
Greek Gods are often depicted as muscular, trim and fit—everything modern day dieters aim to be. But, sorry to say, eating this yogurt won't help you look that way any sooner. You may think this creamy treat is a healthy pick because sugar isn't listed as an ingredient on the nutrition panel, but the fig concentrate, evaporated cane syrup, fig paste and honey powder used in the place of white sugar contribute a whopping 45 percent of the container's calories (and more than half the day's sugar)! Remember: At the end of the day, natural sources of sugar are still sugars, and eating too much of the stuff can contribute to weight gain.
Not That!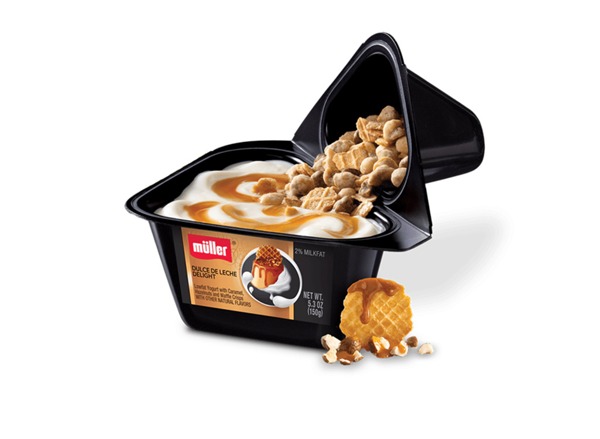 Müller Dulce De Leche Delight, 1 container (150 g, 5.3 oz)
| | |
| --- | --- |
| Calories | 220 |
| Fat | 6 g |
| Saturated Fat | 3 g |
| Carbs | 32 g |
| Sugar | 27 g |
Topping our list of the Worst Yogurts for Weight Loss is Müller Dulce De Leche Delight. One container of the stuff carries 27 grams of health-harming sugar—that's about what you'd find in a Butterfinger bar or 27 Eggo Homestyle Waffles—and you wouldn't eat down either of those as a "healthy snack," would you? Didn't think so. This is a definite Not That!
Dana Leigh Smith
Dana has written for Women's Health, Prevention, Reader's Digest, and countless other publications.
Read more
More content from
Groceries