10 Exciting New Menu Items at Your Favorite Steakhouse Chains
And sorry, Texas Roadhouse fans, but nothing new there!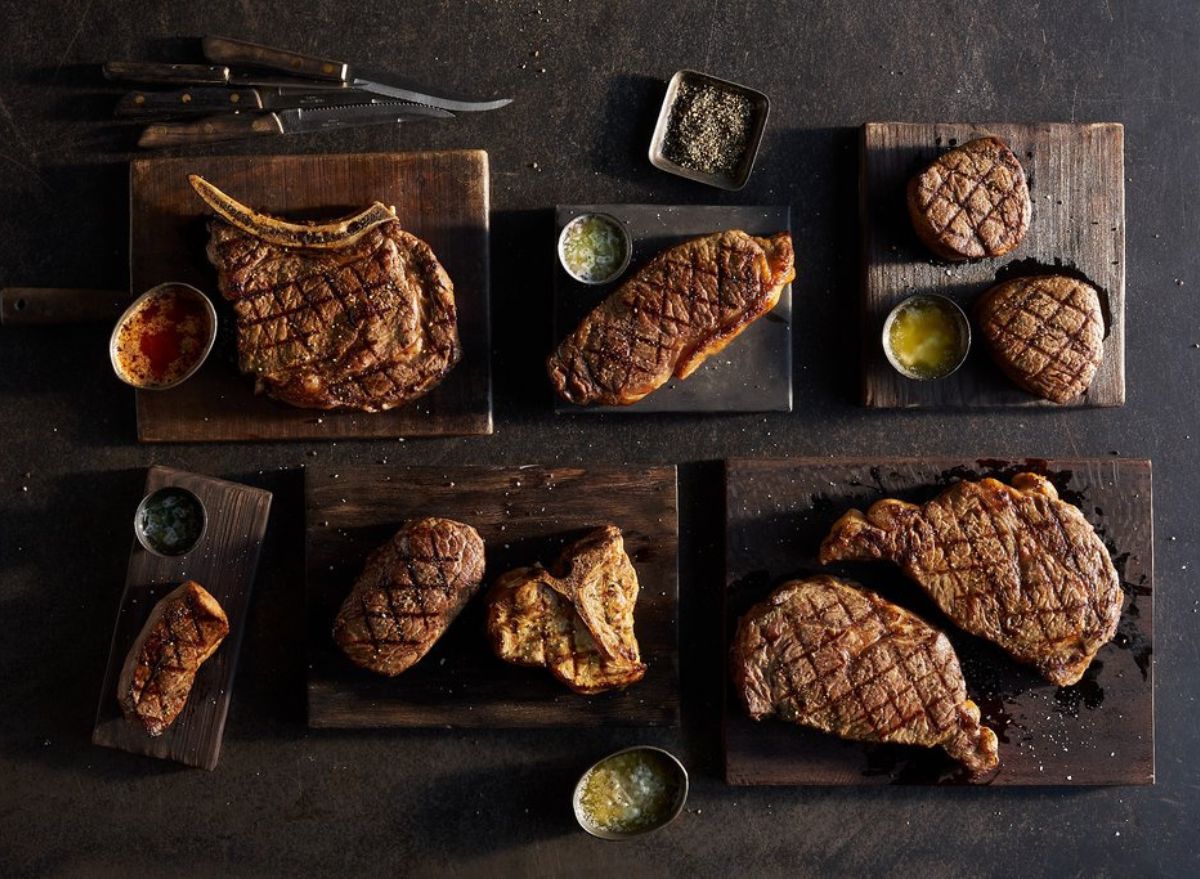 It seems that all steakhouse menus feature many of the same items: various cuts of steak, fall-off-the-bone ribs, a few chicken options, some very large salads, and lots of beer and cocktails. Plus, you can usually find a calorie-laden, onion-centric or cheesy appetizer to two and some wildly decadent desserts. While some steakhouse chains have a few signature dishes you won't find elsewhere, there's not a world of variety from one restaurant's menu to that of its competitor. That's why it's exciting when steakhouses release new items.
What you usually don't find at steakhouse chains is a lot of variety from one week to the next. Steakhouse menus tend to stay fixed for long periods of time—especially Texas Roadhouse which is notorious for its consistent menu. While that's great because you can count on your favorite eats, sometimes it's nice to have a few different options. If new options are what you're after, then you'll be in good hands at these popular steakhouse chains right now, because new eats (and sweets) are on the menu.
Outback Steakhouse — Aussie Chook Ribs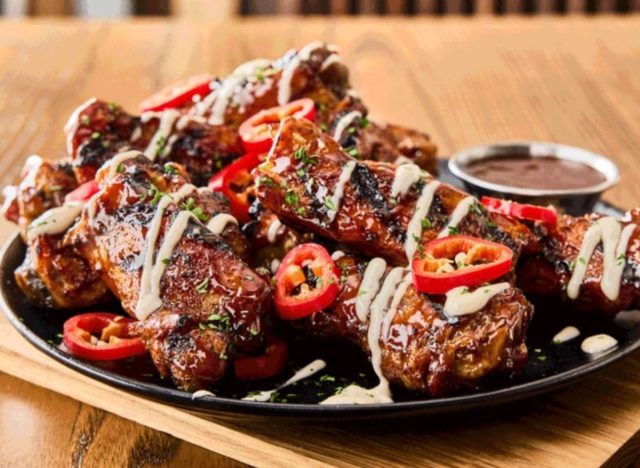 Added to the Outback menu for a limited time only, these tender, smoky ribs come from a source that might surprise you: chickens. Outback's Aussie Chook Ribs are made using slow-cooked chicken ribs that are marinated with an aioli sauce, topped with mild chiles, and served with BBQ sauce.6254a4d1642c605c54bf1cab17d50f1e
Black Angus — Steak & Seafood Trio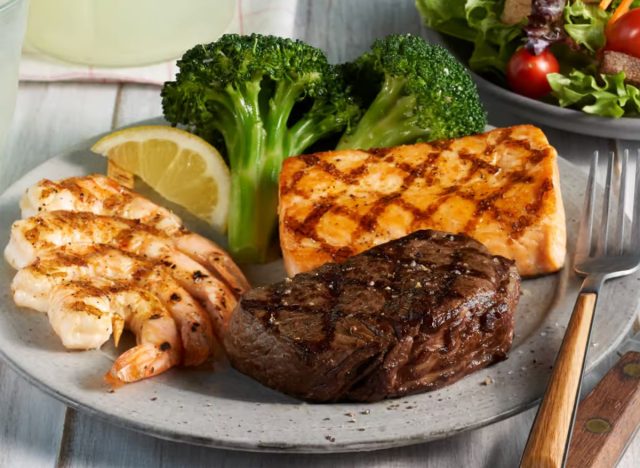 When one type of protein just won't do for your entrée choice, try the limited-time Steak & Seafood Trio that just joined the Black Angus Steakhouse menu. The meal consists of a cut of steak and one of two seafood options, those being crispy shrimp, grilled salmon, or fire-grilled shrimp. And you get two sides, too.
Claim Jumper — New Lunch Menu
Lunch is back on the menu at Claim Jumper Steakhouse & Bar. Now available every day of the week from 11 a.m. until 2 p.m. Claim Jumper diners can enjoy things like Chicken Pot Pie, Fish Tacos, and Shrimp Fresca Pasta, and most lunch entrees are priced well below what you'll pay for a meal at dinner.
Saltgrass Steakhouse — Brad's BBQ Sundae
If you're in Houston any time between now and March 19th, you can be one of the first to try the newest menu item at Saltgrass Steakhouse: Brad's BBQ Sundae. That's because this new menu item is first being trotted out at the Saltgrass booth at the three-week-long Houston Livestock Show & Rodeo at the NGR Park.
Longhorn Steakhouse – Fire-Grilled Corn on the Cob
What makes corn taste better than ever? Fire. This is why Longhorn Steakhouse fans will be happy the chain has added Fire-Grilled Corn on the Cob that's topped with house-made crema and Parmesan cheese to the menu. But per a PR representative, this is a limited-time-only offering, so don't wait too long to try it.
Outback Steakhouse – Crab-Topped Barramundi
What's better than a big fillet of whitefish? A big slab of whitefish topped with crab meat and lemon butter, of course. Outback's new (and limited time) seafood entrée delivers big time in the flavor department, especially as it comes with seasoned rice and fresh veggies, too.
Black Angus Steakhouse – Food Flights
If you like to have your meat sampler style, then Black Angus has got something you need to try — or a few things, actually. The steakhouse is now offering a New York Steak Flavor Flight and a Seafood Flight. The former comes with three pieces of New York Strip Steak each with a different topper (bleu cheese, raclette cheese, and sauteed mushrooms and onions), while the latter comes with shrimp cooked three different ways.
LongHorn Steakhouse – Parmesan Crusted Spinach Dip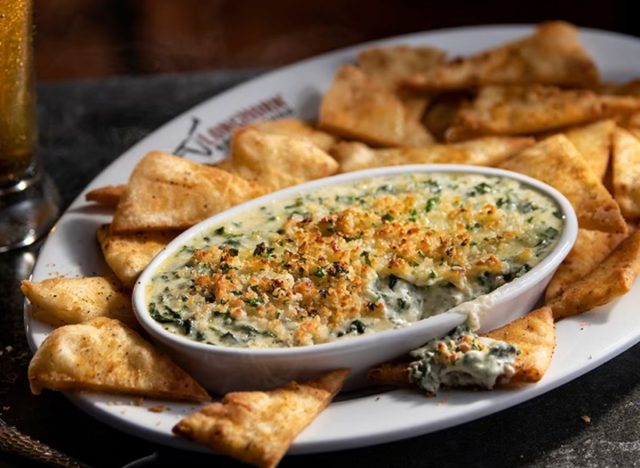 If you were looking for one truly tasty (albeit truly high in sodium) starter, then you found it with this Parmesan Crusted Spinach Dip from LongHorn. Rich in flavor and served with thick flatbread crisps, it's a fine dish to get you ready for the main course. And to get you thirsty, too.
Outback Steakhouse – Tasmanian Chili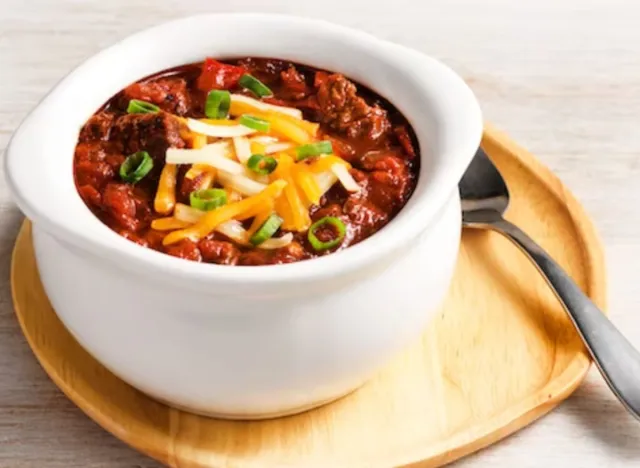 If you prefer your beef in bowl form instead of steak form, then this spicy new offering from Outback is a fine choice. Described on the chain's site as "spicy, all steak, no beans," it's a meaty chili that can be served with cheese and green onions and comes in a smaller cup or a larger bowl.
Outback Steakhouse — Tim Tam Brownie Cake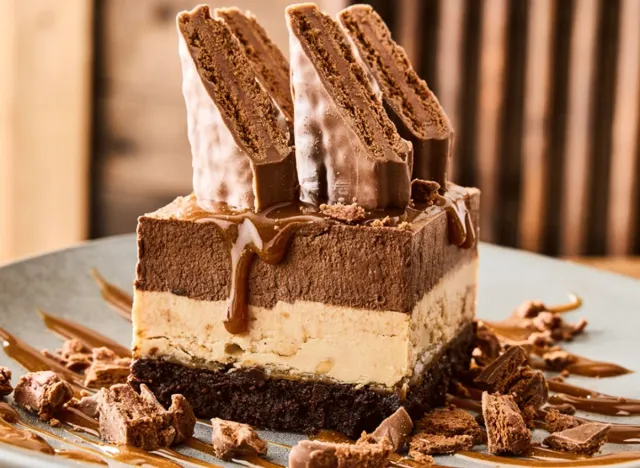 As you can surely tell by now, Outback is hitting it pretty hard with new menu items right now. This one is a sugar and calorie bomb, but as a once in a while only treat, why not enjoy it? The Tim Tam Brownie Cake features a Chocolate Thunder Brownie topped with peanut butter, chocolate mousse, and caramel sauce.
Steven John
Steven John is a freelancer writer for
Eat This, Not That!
based just outside New York City.
Read more about Steven