5 New Seasoning Blends in Stores Now, Including Trader Joe's Sriracha
Trader Joe's, Costco, and others are shaking things up with new and innovative spice blends.
Back in 2017, Trader Joe's discovered a winning formula: take every flavor that makes up the classic everything bagel—poppy seeds, sesame seeds, dried onion, dried garlic, and sea salt—then bottle it up and sell it for $1.99 a pop.
The resulting Everything But The Bagel Seasoning Blend became a sensation, popularized by numerous Instagrammers sprinkling it on everything from eggs to avocado toast.
Soon the popular seasoning blend spurred other new products, too. Trader Joe's now sells a whole line of Everything But The Bagel-seasoned items, including chips, crackers, nuts, and smoked salmon.
The specialty retailer also keeps coming up with new seasoning blends all the time, ranging from traditional za'atar to more inventive, contemporary flavors like pickle, ranch and "cheesy."
Trader Joe's isn't the only grocer shaking things up with new and innovative spice blends these days, either. Costco and Sam's Club have also launched some intriguing new seasonings recently.
Here are five new flavorful powders that you might just want to sprinkle on almost everything.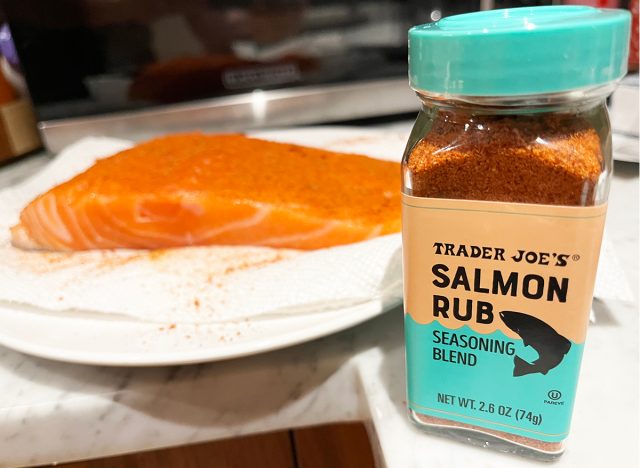 Instagram's @traderjoeslist discovered this fish-focused blend in early December, and fans have been raving ever since. One Redditor this month called it "perfect" and posted a photo of a beautifully crusted oven-roasted filet made with the rub. Another gushed, "I love it so much. It's smoky and sweet without being over the top."
Made with brown sugar, smoked paprika, dried thyme, salt, and pepper, the rub comes with important instructions: "coat well… before cooking." This reporter failed too do so, sprinkling it on much too lightly the first time. The flavor really came through with a heavier coat. A 2.6-ounce jar at Trader Joe's costs $2.99. "I payed[sic] $15 for a salmon rub with the exact ingredients!" one commenter noted on Instagram. "Definitely a better deal at Trader Joe's."
Kirkland Signature Sriracha Seasoning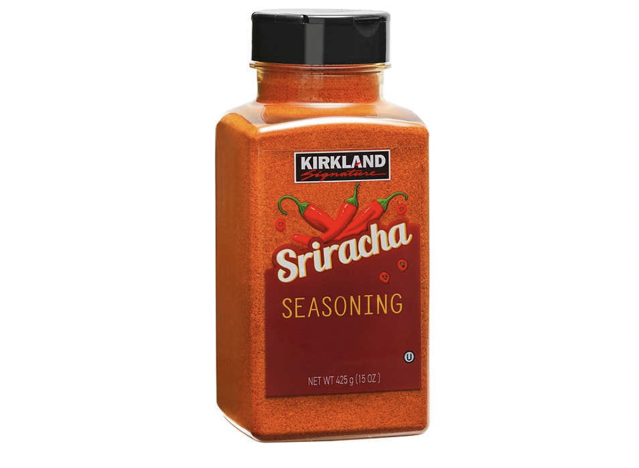 Costco debuted this Asian-style spice blend in January under its private label Kirkland Signature. Ingredients include "sriracha chili sauce powder," which probably explains why it tastes so similar to the stuff in the actual squeeze bottle. The hefty 15-ounce container costs $8.69 online, but can be found as low as $6.99 at your local warehouse. Instagram's @costcohiddengems recommends the "garlicky zesty spice" for all sorts of dishes, including eggs, soups, and pastas: "It's not too spicy and is super versatile." One Reddit poster advised to sprinkle it on your oatmeal in the mornings: "Try it. It's good."
Trader Joe's Sriracha Sprinkle
Not to be outdone, Trader Joe's also came out with its own powdered version of the popular chili sauce in February, priced at $2.99. Garlic is the first listed ingredient—and it shows. Paprika and cayenne pepper, meanwhile, bring up the heat. "The spice level is a 7/10," noted Instagram's @traderjoesobsessed, vowing to add the "awesome" sprinkles to ramen, eggs, fries, and fried rice. Other commenters suggested adding the spicy topping to popcorn, roasted vegetables, and deviled eggs.
Trader Joe's Ketchup Flavored Sprinkle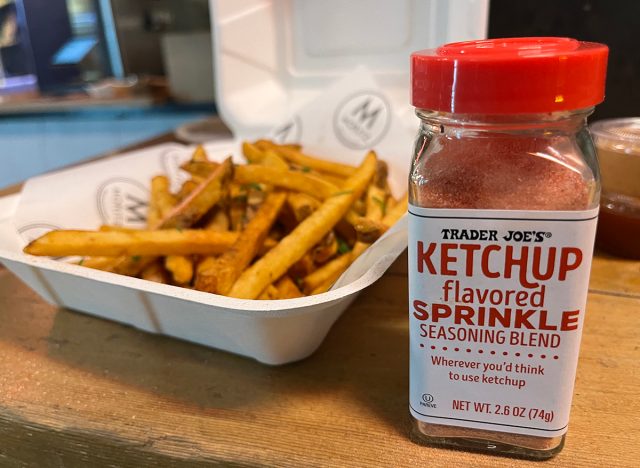 Launched in January, Trader Joe's Ketchup Flavored Sprinkle Seasoning Blend is a sweet, tomato powder-based mix to use "wherever you'd think to use ketchup," the label says, which obviously includes "potatoes in any form," among other things. One Redditor used the seasoning to make DIY ketchup-flavored potato chips, which are hugely popular in Canada and can be expensive to import. Another self-described "big fan" wrote that a heaping tablespoon added "something special" to a recent party dip: "I've used it multiple times in random things and it's great!"6254a4d1642c605c54bf1cab17d50f1e
Girl Scouts Thin Mints Seasoning Blend
Instagrammer @SamsClubMembers just spotted this new twist on the popular Girl Scouts Cookie flavor, sold exclusively at the Walmart-owned warehouse club for $5.98. Commenters quickly riffed on all the possibilities, from sprinkling on ice cream and cheesecake to coffee and hot cocoa. "Hot chocolate will definitely be slamming this Christmas," wrote one. Ingredients include cane sugar, cocoa powder, and yes, finely ground cookie crumbs.