19 Best Trader Joe's Foods To Liven Up Your Charcuterie Board
Bored with the usual board fare? Trader Joe's has some unique items to round out your party platter.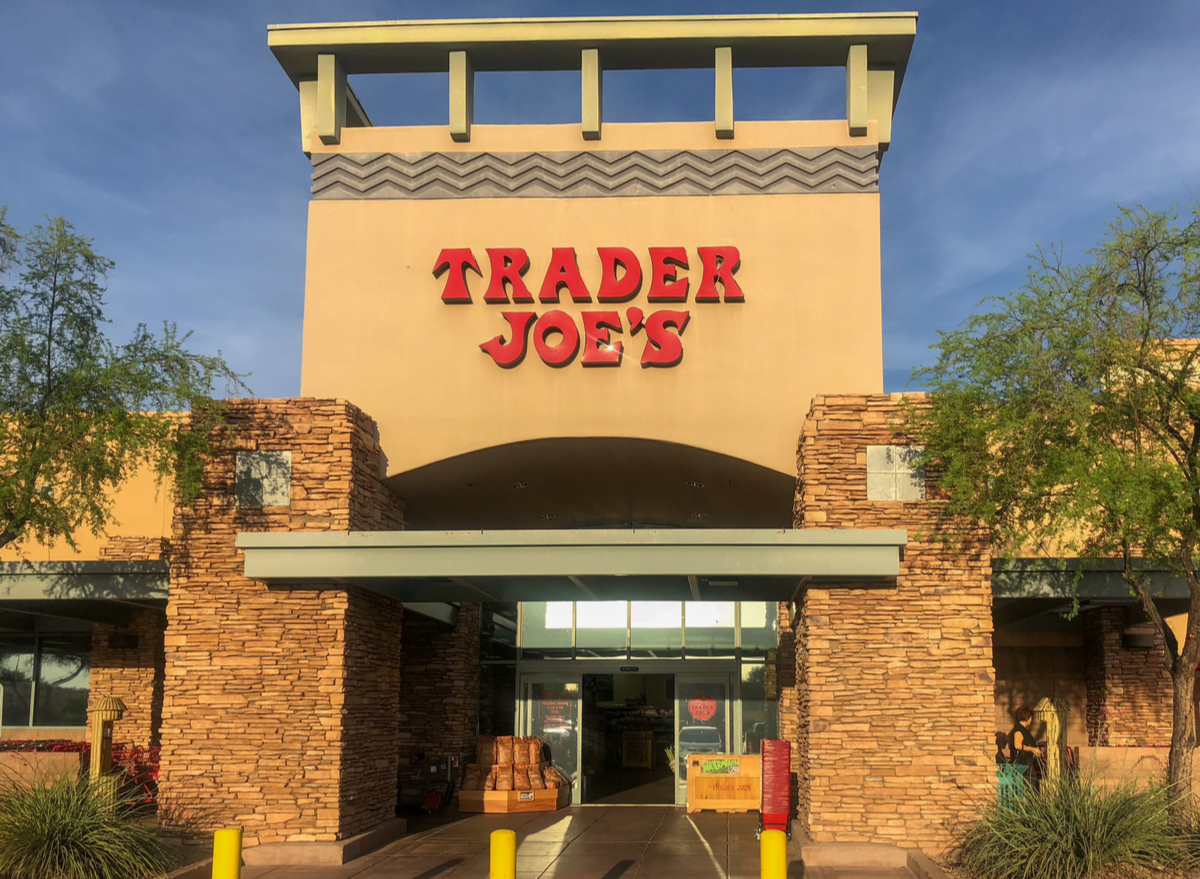 The product recommendations in this post are recommendations by the writer and/or expert(s) interviewed and do not contain affiliate links. Meaning: If you use these links to buy something, we will not earn a commission.
What would your social gathering be without an eye-catching spread of delectable snacks? A charcuterie board is a classic move that allows your party guests to graze the food station while mingling at the same time. Plus, it's easy to replenish throughout the hustle and bustle of hosting others. 
While there's nothing especially new about the concept—Americans have been putting out planks of meats, cheeses, fruits, nuts, and other finger foods for years now—these slats topped with snacks are only rising in popularity.
The National Restaurant Association recently named the charcuterie board one of the hottest menu trends of 2023, and home-based gourmands keep coming up with trendy new twists on the plentiful platters, like breakfast boards and butter boards.
As simple and versatile as it seems, it's also really easy to grow bored of the usual board fare. That's why you should shop for your next spread at a specialty grocer like Trader Joe's, which not only stocks many fine and affordable cheese and charcuterie staples but also offers a lot of unique accoutrements that you cannot find anywhere else.
When it's time to plan your next party assortment, consider picking up some of these quality items from your nearest Trader Joe's.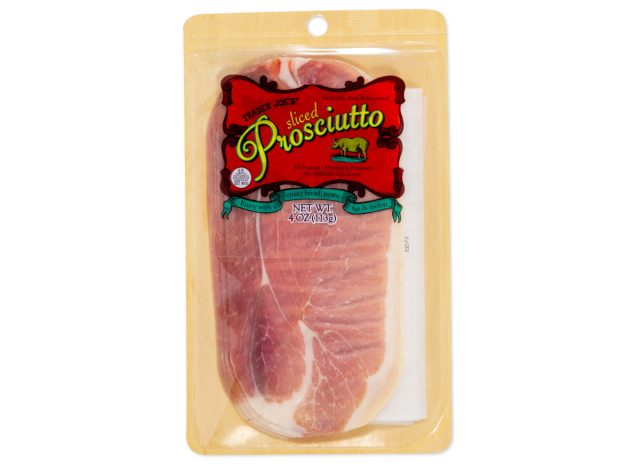 No respectable charcuterie spread is complete without some slices of good-quality prosciutto. Trader Joe's Sliced Prosciutto is cured in the traditional Italian style and aged for 10-12 years by an award-winning U.S.-based salumeri. It's extremely tasty with pears, figs, or melon, and can be fashioned into flowery shapes as a fun, Instagram-worthy decoration for your board. Priced at just $3.99 for a four-ounce serving, it's also a much better deal than the kinds you find at other stores.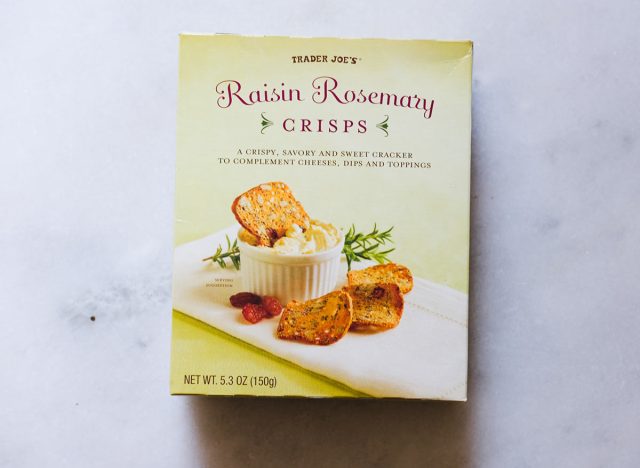 These Raisin Rosemary Crisps are a must-have, and they're available both in stores for $3.99  and via Amazon. The crackers are perfectly crisp, seasoned, and slightly sweet. "One million/ten, best crackers ever," one enthusiast wrote on Trader Joe's Reviews, while another said, "If you use these to scoop the honey goat cheese…Omg." The grocery chain also offers Fig & Olive Crisps, which we think are just as delicious—so maybe you should grab both boxes.
Toscano Cheese with Black Pepper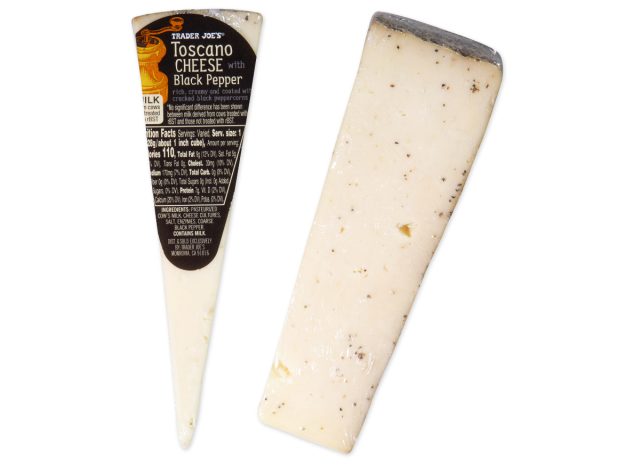 Priced at $10.99 per pound, Trader Joe's Toscano Cheese with Black Pepper is the perfect mild addition to any appetizer plate. According to the retailer's website, the cheese is hand-rubbed with freshly cracked black pepper (think cacio e pepe, but in a solid, sliceable cheese form). One commenter on Trader Joe's Reviews raved, "I do not have the words to adequately describe how much I love this cheese! Part cheddar, part parmesan, part Monterey jack…All Flavor!"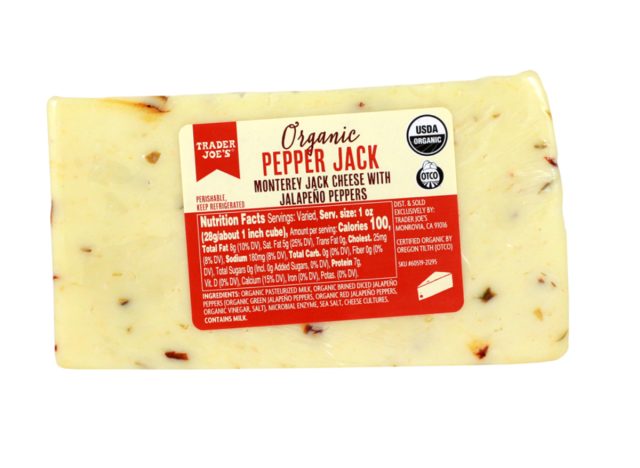 For those who like a spicy kick, pepper jack is a great inclusion to any charcuterie board, and tastes especially good with less flavorful crackers. Trader Joe's Organic Pepper Jack is made  with jalapeño peppers, but is not overpowering in heat. Priced at $7.99 per pound, this cheese may be harder to find than most, so make sure to check ahead before taking an unnecessary trip to your nearest location.
Everything but the Bagel Seasoned Crackers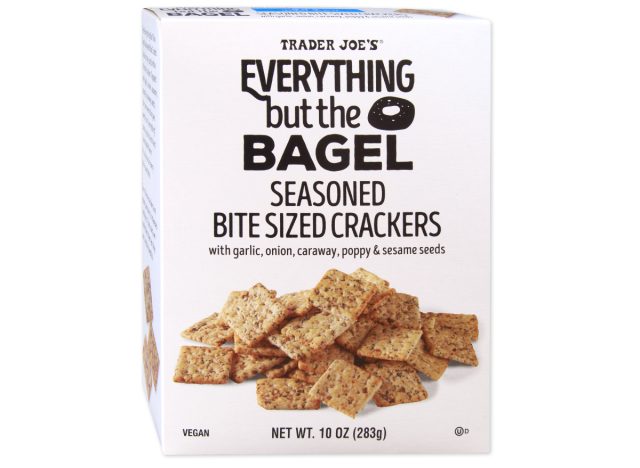 Remember the wildly popular Everything but the Bagel seasoning at Trader Joe's? Well that's pretty much what these are—just in cracker form. The Everything but the Bagel Seasoned Crackers are a delicious addition to a charcuterie board and may be especially favored by garlic enthusiasts. The crackers sell for only $2.99, and are seasoned with garlic, onion, poppy seeds, sesame seeds, and caraway (which adds a nutty flavor).
Unexpected Cheddar Cheese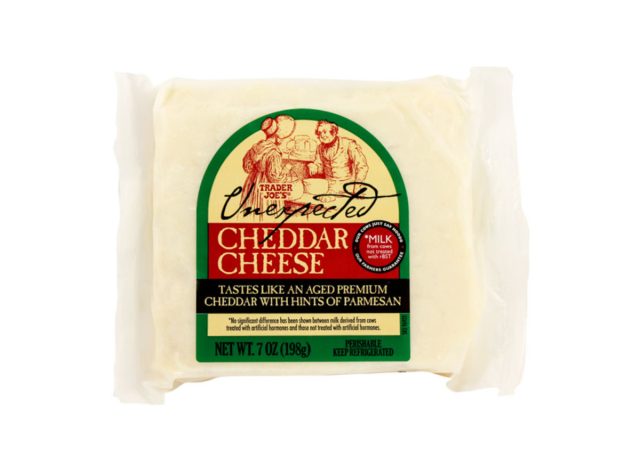 Trader Joe's Unexpected Cheddar Cheese has received some high praise from customers in the past, with a low price of $3.99 per pound. The dairy item won the 13th annual Customer Choice Awards and is a mix of aged cheddar and parmesan. Trust us: if you're looking for a classic and devour-worthy cheese to be the star of your charcuterie board, the Unexpected Cheddar Cheese is it.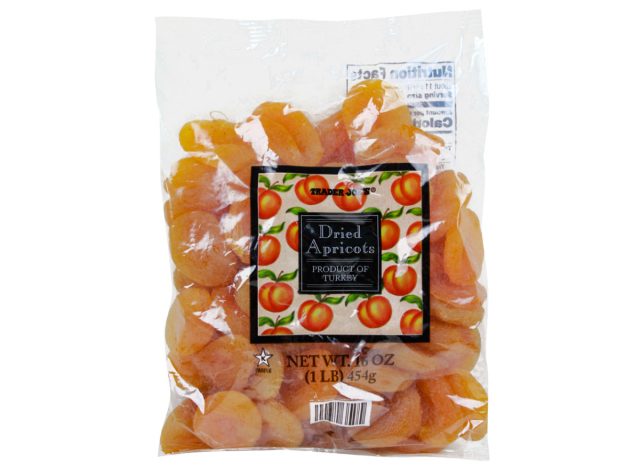 Dried apricots are not only an aesthetically pleasing addition to your picture-perfect charcuterie board, but they are also wonderfully sweet and can help offset the savory taste of more traditional cheese board fare. If your local Trader Joe's has run out of the Turkish treats, you can also purchase a bag on Amazon for $11.99 per pound.6254a4d1642c605c54bf1cab17d50f1e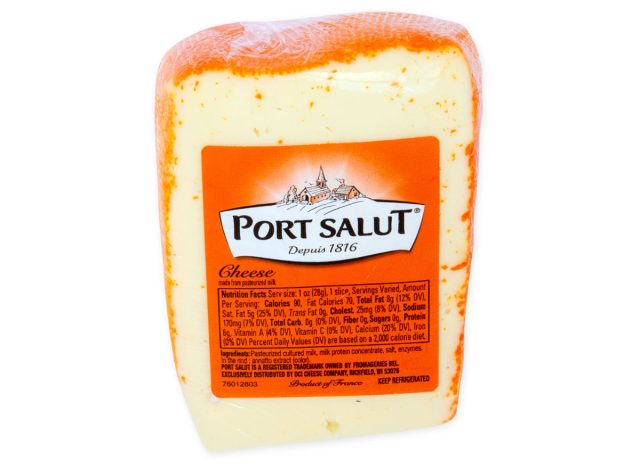 For any party guests who are particularly picky about lots of herbs and spices in their food, Port Salut cheese is the prime solution. The semi-soft dairy item is made in France and pairs especially well with those Trader Joe's Everything but the Bagel Seasoned Crackers or Raisin Rosemary Crisps. You must always have a mild yet creamy cheese to layer with those jams, meats, crackers, and fruit for a successful spread!
Salame di Parma Mild Salami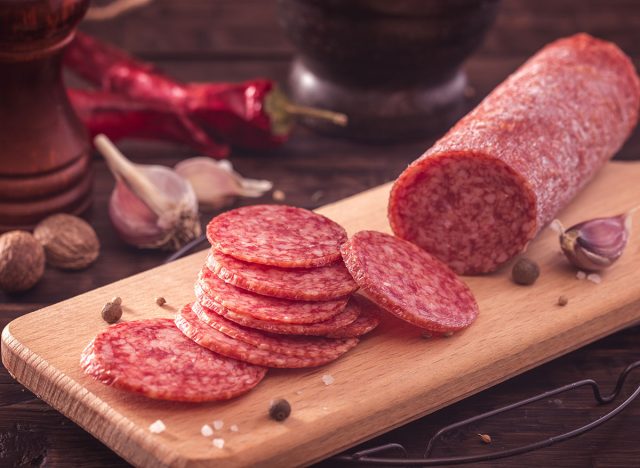 Trader Joe's Salame di Parma Mild Salami is imported from Parma, Italy—which is really all we needed to know to be convinced of purchasing it. The grocery chain's pork product has no nitrates or nitrites added, and is a nice variation from the classic prosciutto. While the popular salame di parma mild salami sells for $5.99, there is another Truffle Salami that customers tend to enjoy as well, although it's a seasonal product and may be harder to find.
Honey Wheat Pretzel Sticks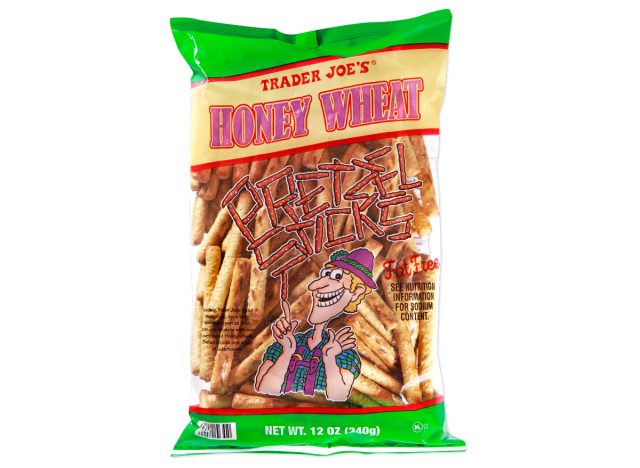 Honey is one of those flavors that you can't go wrong with—especially when it comes to a board full of cheese. Trader Joe's Honey Wheat Pretzel Sticks are fun to snack on and can easily be squeezed between the foods of your charcuterie assortment. These snacks are fat-free and supply a hint of honey that is just sweet enough, unlike regular pretzels which are just plain salty.
Dark Chocolate Mini Pretzels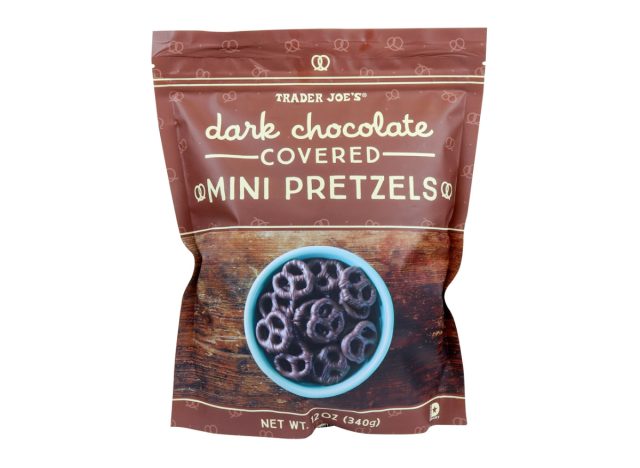 Take it from us: you always need a bit of chocolate to add some sweetness to your spread. Trader Joe's Dark Chocolate Covered Mini Pretzels are an ideal choice. The grocery chain offers a milk chocolate version, too—although we strongly recommend the dark chocolate as better pairing with cheese and meat. These often sell-out quickly in the store, so if you strike out, you can also find both flavors via Amazon.
50% Less Salt Roasted & Salted Peanuts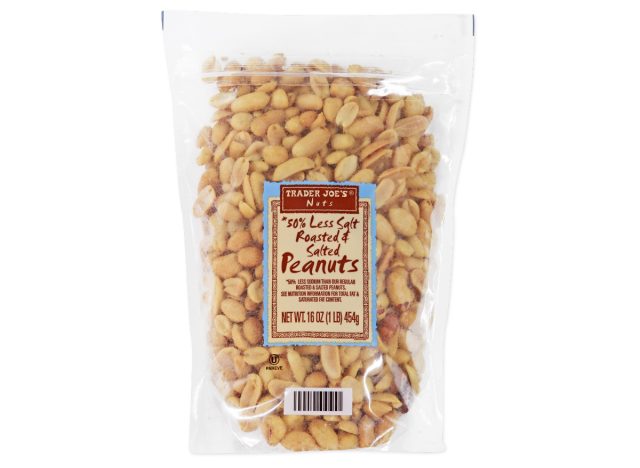 If your board is still looking a little sparse, a good trick is to fill any gaps with nuts. Trader Joe's 50% Less Salt Roasted & Salted Peanuts are a good choice for $2.99. These are innately salty, but not so salty that it ruins the flavor of your charcuterie goodies. This snack option is satisfyingly crunchy and extremely tasty with those aforementioned dark chocolate mini pretzels.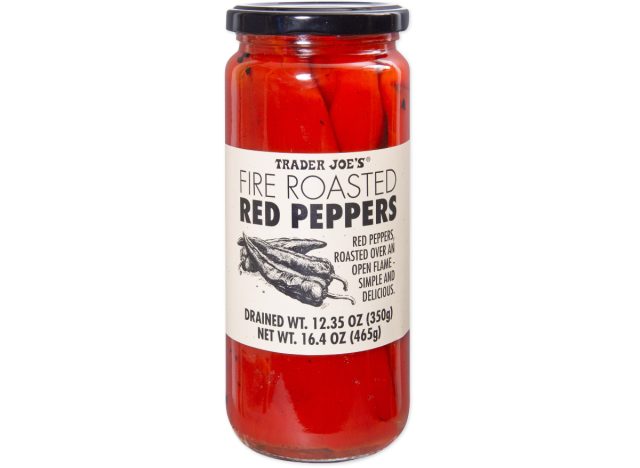 Don't overlook Trader Joe's Fire Roasted Red Peppers, which make a great addition to round out your charcuterie board for just $2.99. Pickled with sea salt and red wine vinegar, these peppers go great with a mild cheese, zesty cracker, and prosciutto. Plus, if you have some left over, the peppers are incredible on sandwiches the next day.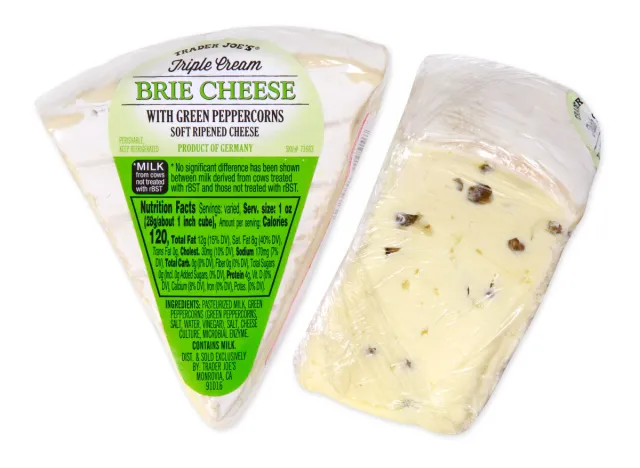 There is nothing that will ever convince us that brie isn't the superior cheese. It's pairs with anything—a baguette, strawberry jam, apricot jam, or various kinds of salumi. Trader Joe's offers an overwhelming assortment of the cheese, with options like a Triple Cream Brie Cheese with Green Peppercorns, Double Cream Brie, to a Triple Creme German Brie with Wild Mushrooms. We'll let you decide which dairy variation suits your fancy.
Organic Apricot Preserves
With every cheese and cracker, there should be a layer of preserves. Priced at $4.29, Trader Joe's Organic Apricot Preserves can be scooped into mini glass bowls and placed onto a charcuterie board with a small spoon for optimal enjoyment. Because these are preserves—not a jam—there are whole pieces of the fruit present, making for a chunkier texture.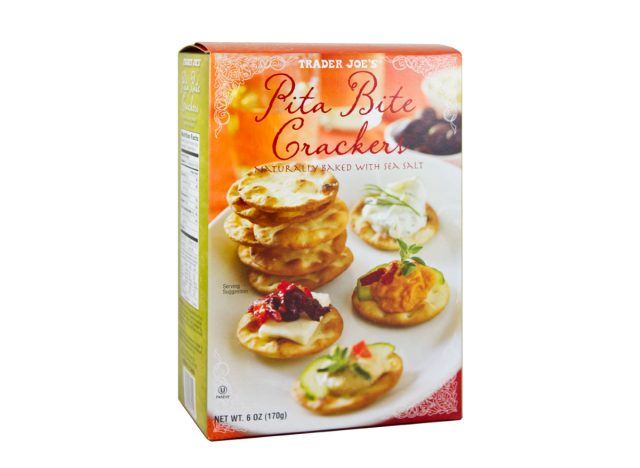 Naturally baked crackers with sea salt? Count us in. Trader Joe's Pita Bite Crackers, available in stores and also on Amazon, are exactly what you need to take your charcuterie board from good to great. The crisps are not only mild with a salty flavoring, but they are also mild enough to pair well with any of your favorite cheeses or meats.
Roasted and Salted Marcona Almonds with Rosemary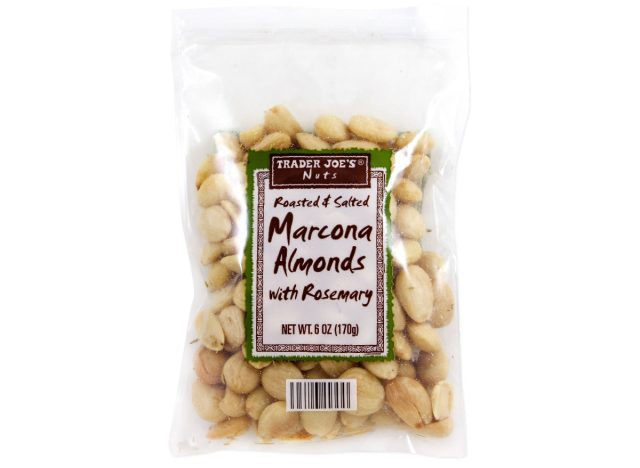 Amazon reviewers are raving about Trader Joe's Roasted and Salted Marcona Almonds with Rosemary. One wrote, "They are so good and so addictive and I can't find anything like them anywhere else," while another claimed the nuts are "delicious and well-priced." The roasted nuts contain a wasabi seasoning with soy sauce to elevate your charcuterie board from regular almonds. What's the one caveat, you ask? Reviewers are saying that the bag is cheaper in stores than on Amazon, but are often difficult to find.
Any pickle lovers out there? Cornichons, aka miniature pickled cucumbers, are a fun acidic addition to any charcuterie board. According to Well Get the Food, Trader Joe's sells cornichons by the jar for about $3.50, although we have yet to spot them. These would be a great pop of green to your board—just make sure to separate them from the cheese (in a small bowl) so that the flavor doesn't seep into your other decadent grocery grabs!
Creamy Toscano Cheese Soaked in Syrah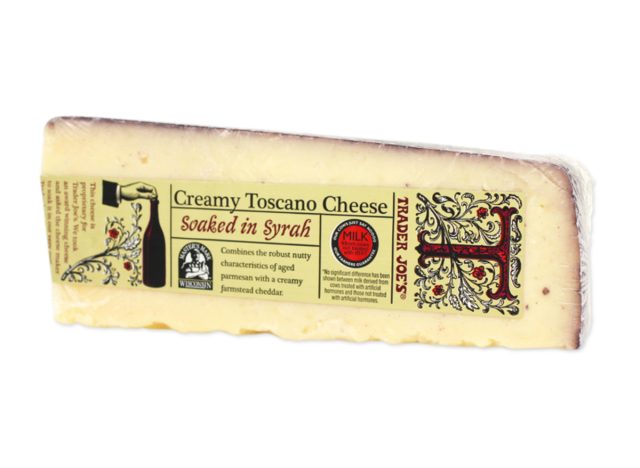 Last on your grocery list, but certainly not least, is Trader Joe's Creamy Toscano Cheese Soaked in Syrah, priced at $10.99 per pound. This hard dairy milk cheese is perfect for fans of parmesan and cheddar, not to mention dry red wine. You can actually taste the wine in every rich and creamy bite.
Olivia Bria
Olivia has a bachelor's degree in communications and political science from the University of Connecticut. She is a foodie, traveler, journalist, and celebrity interviewer.
Read more about Olivia