8 Additional Infants Have Been Sickened By This Recalled Product
One lawyer says the FDA had prior information about an outbreak at the manufacturing facility.
A devastating recall on infant formula has now claimed the lives of two babies—and at least eight additional children have been sickened by the recalled products, according to a new report by CBS News.
Last month, Abbott Nutrition issued a voluntary recall of three of its products: Similac, Alimentum , and EleCare, manufactured in Sturgis, Michigan. The Food and Drug Administration (FDA) warned last week that the powdered baby formula may be linked to at least five infant illnesses, including possibly two deaths.
The FDA reported that five infants who consumed the formula contracted either Salmonella or Cronobacter, which can cause sepsis or meningitis. Now, a lawyer who is representing affected families told CBS News that the FDA had prior information about an outbreak of Cronobacter at the manufacturing facility—but didn't recall any items.
"We have information suggesting that as early as September of 2021, there were complaints to the FDA about an outbreak of foodborne pathogen Cronobacter at the facility in Sturgis, Michigan," lawyer Scott Schlesinger told CBS News. "And so, when you have these kinds of outbreaks, you need a trusted manufacturer that consumers depend upon to act rapidly, responsibly, not to dither."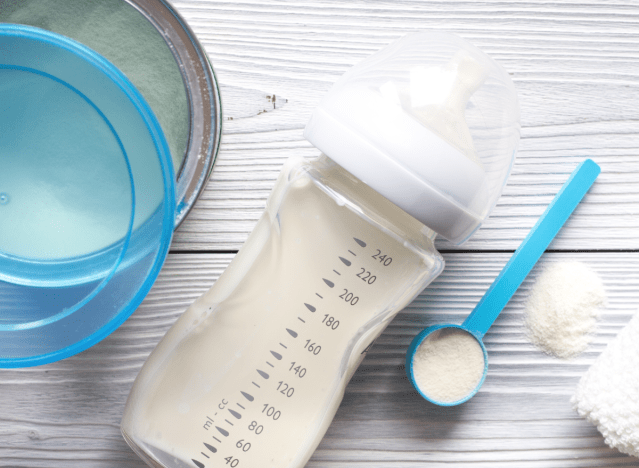 Related: 6 Things You'll See at Costco This Year6254a4d1642c605c54bf1cab17d50f1e
Schlesinger and his law firm have filed a class-action complaint against the brand. He's so far representing eight families with babies who have allegedly consumed Abbott products that are not included in the FDA's case count, he told CBS.
"Unfortunately, we often do find that there were shortcuts, there was carelessness, there was oversight, there was inadequate assessment of the food safety," Schlesinger said. "And that's how things get out into the public, and it's the consumers that pay the price."
During an FDA inspection of the Sturgis plant in September, the agency issued five citations,  including improper maintenance of a building used to produce and package infant formula and inadequate handwashing.
The FDA found "several positive Cronobacter results" from environmental samples during another inspection. An FDA review of Abbott's internal documents also indicated that the company previously destroyed formula due to this. The FDA's deputy commissioner said the agency continues to investigate complaints.
Abbott has set up a web page where you can check if your powder formula's lot number is included in the recall. Consumers can get more information at www.similacrecall.com on how to obtain a refund or replacement, or call Similac customer service at 1-800-986-8540.
Despite infant formula shortages, the FDA has ramped up efforts with other formula makers to ensure people can find alternatives. Some grocery stores have been bare-shelved as parents and caregivers scramble to find a different formula.
"As Abbott Nutrition was initiating its recall, the FDA intensified outreach to other infant formula manufacturers to inquire about their capacity and potential impacts," the FDA said in a press release. "We will continue discussion with Abbott Nutrition and other infant formula manufacturers and consider all tools available to support the supply of infant formula products."
Kristen Warfield
Kristen Warfield is a graduate of SUNY New Paltz's journalism program in the Hudson Valley region of New York.
Read more about Kristen