ALDI Just Added These 11 New Low-Cost Snacks to Shelves
Here are the newest and cheapest finds this week at the low-cost grocery chain.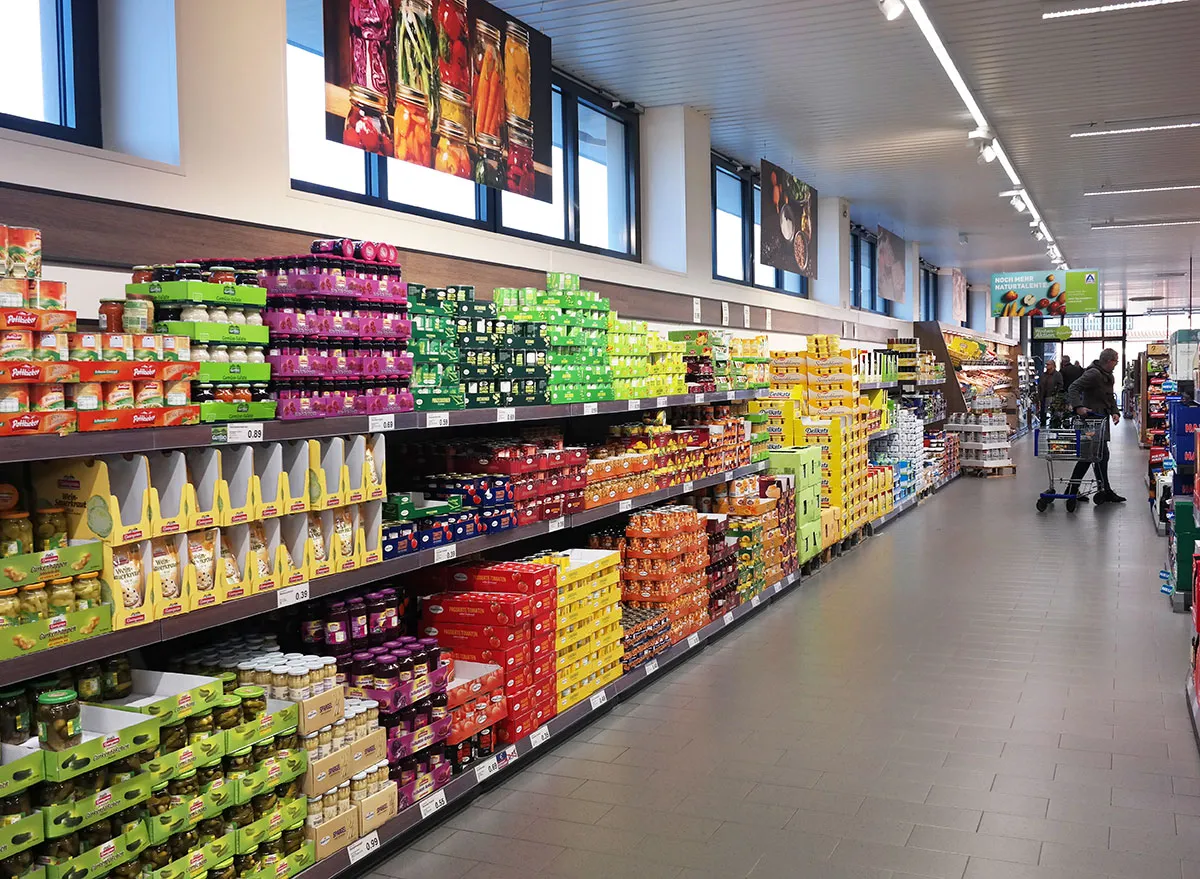 ALDI isn't just known for quarter-unlocking shopping carts or reusable shopping bags. The grocery store chain has a reputation for carrying a wide variety of both familiar and exclusive snacks, frozen items, home goods, and more that appeal to shoppers of all kinds at lower prices than competitors.
Though it's common to see items disappear and reappear on ALDI's shelves, the store has added a new lineup of snacks that are ready for in-store and online purchase as of Nov. 3 in this week's ALDI Finds. Check out these 11 items to see what can satisfy your most recent cravings.
Related: 25 Healthiest Snacks You Can Buy at ALDI
Nestle Pumpkin Spice Morsels & More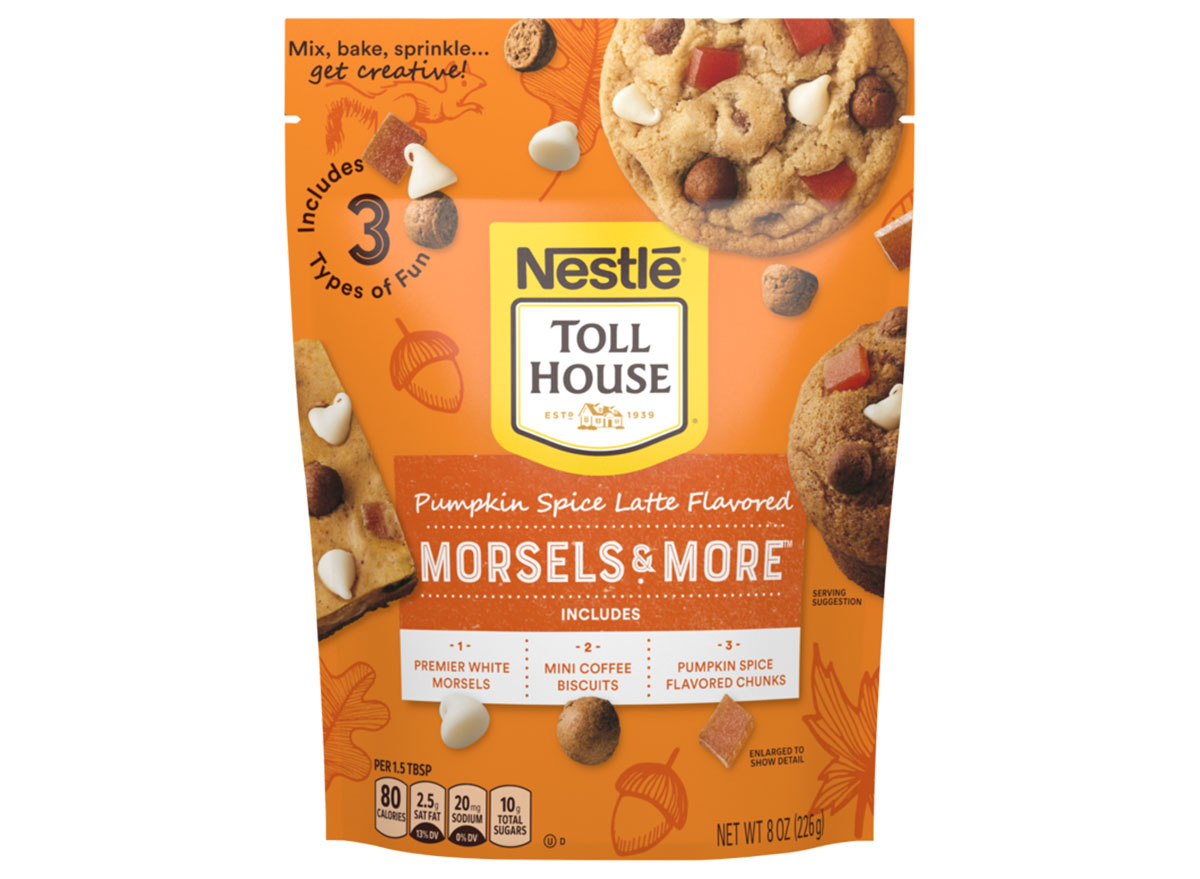 If you're still celebrating pumpkin spice season and not transitioning to Holiday flavors just yet, this medley of pumpkin spice-flavored bites is perfect (and cheap!). Inside the bag includes Premier White Morsels, Mini Coffee Biscuits, and Pumpkin Spice Flavored Chunks. You can mix it, bake it, or simply sprinkle it on top of your favorite yummy dessert. At just 80 calories per serving, this 8-ounce bag retails for $3.48.
Suntree Fall Trail Mix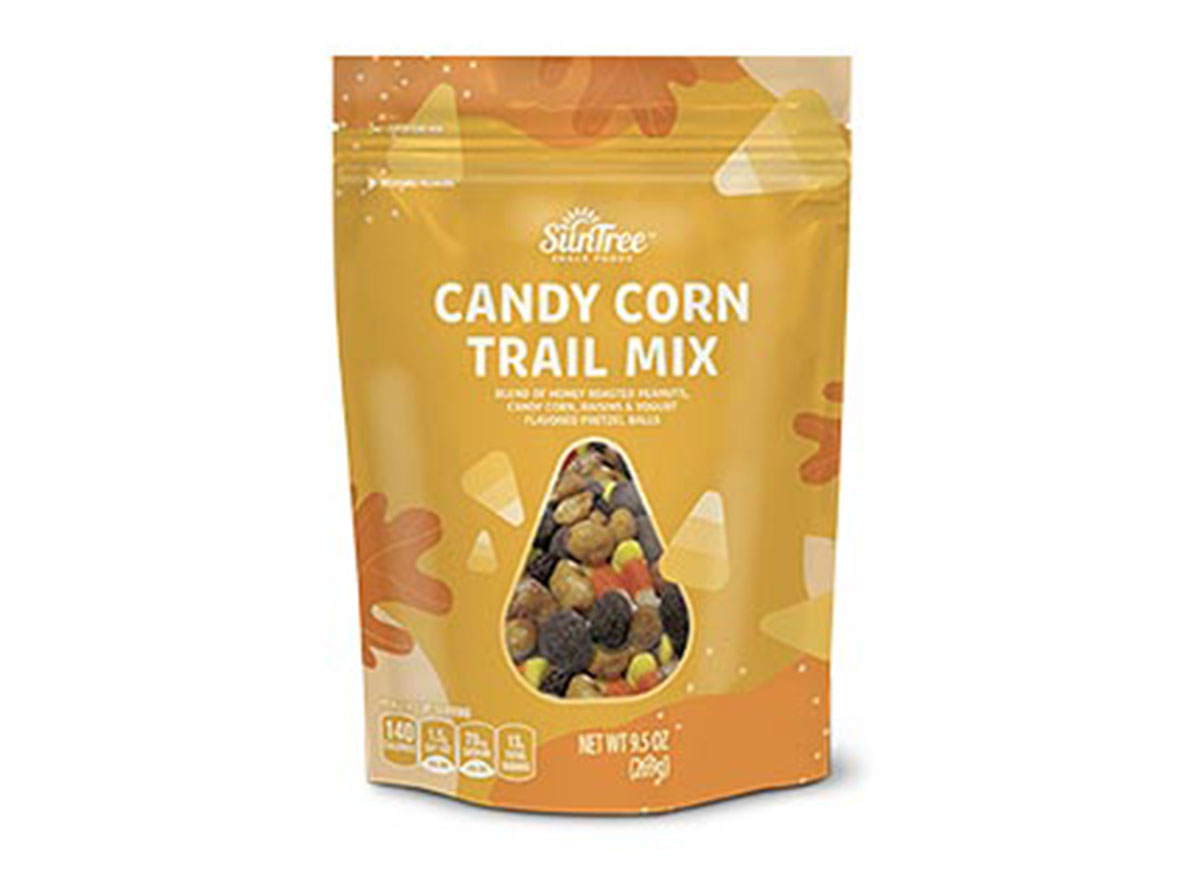 A new take on a traditional snack, this product contains an assortment of nuts, dried fruit, and of course, candy corn.
Love trail mix but not a fan of candy corn? Not to worry! Other flavors are also available, including Caramel Apple and Pumpkin Spice. ALDI offers these 8-9.5 ounce bags for just under $3.50.
Related: To get all the latest grocery store news delivered right to your email inbox every day, sign up for our newsletter!
Nabisco Party-Size Ritz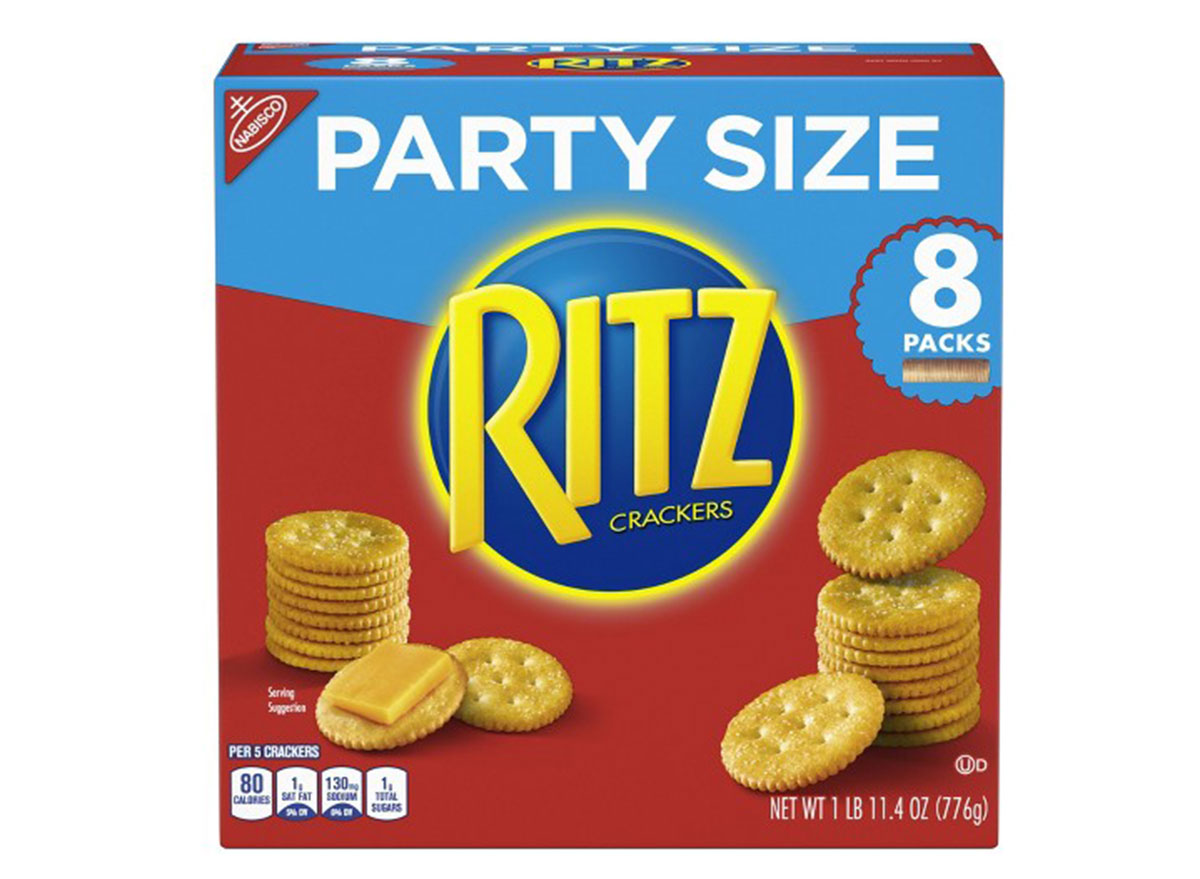 Why get a regular size, when you can get a party size! Ritz crackers are there for any occasion, and ALDI just made feeding a crowd or stocking up cheaper than ever. Though often eaten alone, these crackers can be paired with soups, cheeses, or any holiday festivities like RITZ Peanut Butter Spiders. This 1-pound package of party-size crackers is available for $4.55.
Bake Shop Pumpkin or Snickerdoodle Cookies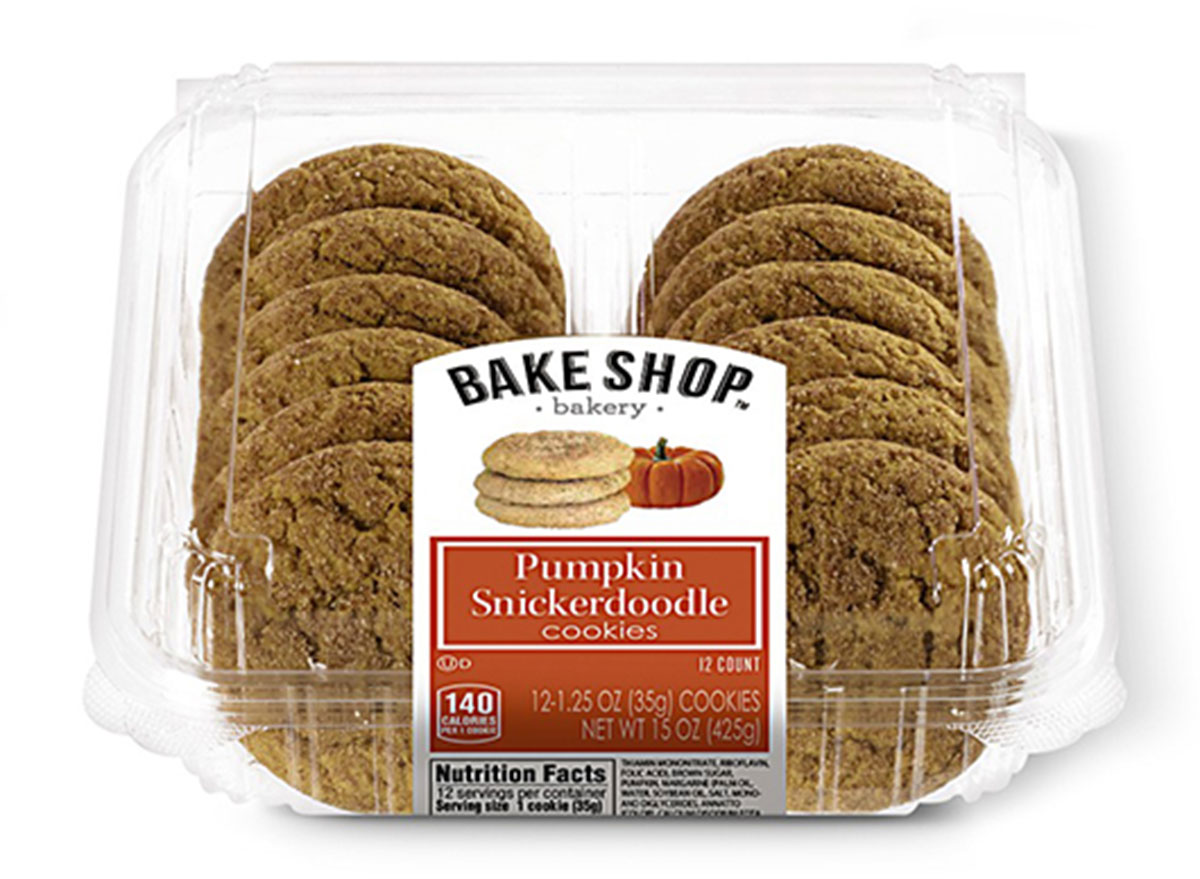 Pumpkin spice season strikes again with yet another sweet treat. With their festive flavors, these are perfect for those looking to indulge a bit for the holidays and feature flavors of the autumn season, like pumpkin and snickerdoodle. This pack of 12 cookies sits at 140 calories for one serving (which is one cookie) and is now available at ALDI stores. The chain is selling these treats for just under $3 per pack.6254a4d1642c605c54bf1cab17d50f1e
Related: 12 Quick and Healthy Recipes That Star Canned Pumpkin
YoCrunch Snickers and Twix Yogurt Multipack
It's hard enough to resist Twix and Snickers, but when paired with yogurt, you can't go wrong! This vanilla yogurt is topped with bite-sized Snickers or Twix pieces, making the perfect snack to satisfy your chocolate cravings. This combination is now available at the grocery store chain for $4.99.
Chobani Hero Batch Greek Yogurt
Chobani has been known to wow us with its many delectable flavors. This version contains vanilla Greek yogurt along with mixed berries on the bottom, including blueberries, strawberries, and raspberries, and is a great protein-filled snack. Plus, because it's a "Hero Batch", Chobani donates 10¢ for every 4-pack sold to Operation HomeFront, which supports military families. ALDI offers this pack for $3.49.
Related: The #1 Best Yogurt for a Healthy Gut, Say Dietitians
Shamrock Pecan Pie Egg Nog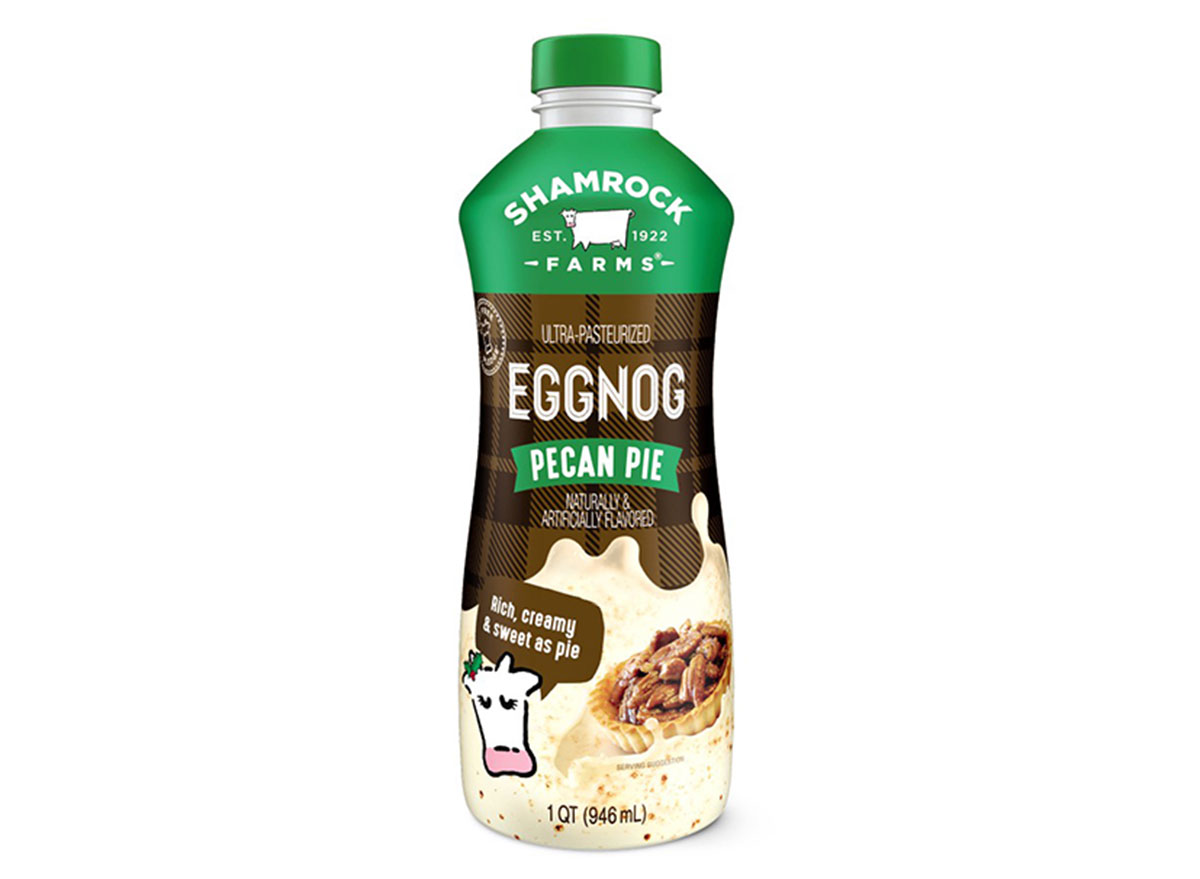 There are more seasonal snack surprises up ALDI's sleeve in this week's ALDI Finds. This creative pecan pie-flavored eggnog can spark curiosity in just about anyone at any time of the day. You can get this 32-ounce bottle now for just $3.49.
Bake Shop Pumpkin Mini Tarts
For those who can't choose between pumpkin or pecan flavors, look no further! Shoppers can get the best of both worlds with these mini-tarts. Whether eaten alone or paired with whipped cream, this versatile snack is perfect for those looking to satisfy that sweet tooth. Both holiday staple flavors are available at ALDI for $5.49 each.
Related: 8 Recipes That Will Make Your Apple Picking Trip Actually Worth It
Specially Selected All Butter Croissants
Made with real butter, croissants are a staple in the culinary universe and beloved across the globe. This rich, flaky pastry can be enjoyed at any time and has now made its way to the ALDI shelves. To take them from your pantry to Paris, ALDI suggests that you "Place [them] on a baking tray on the middle shelf of a preheated oven for the time specified." The Specially Selected All Butter Croissants come in a pack of four and retail for $3.49 each.
Mama Cozzi's Pizza Kitchen Cheddar Biscuits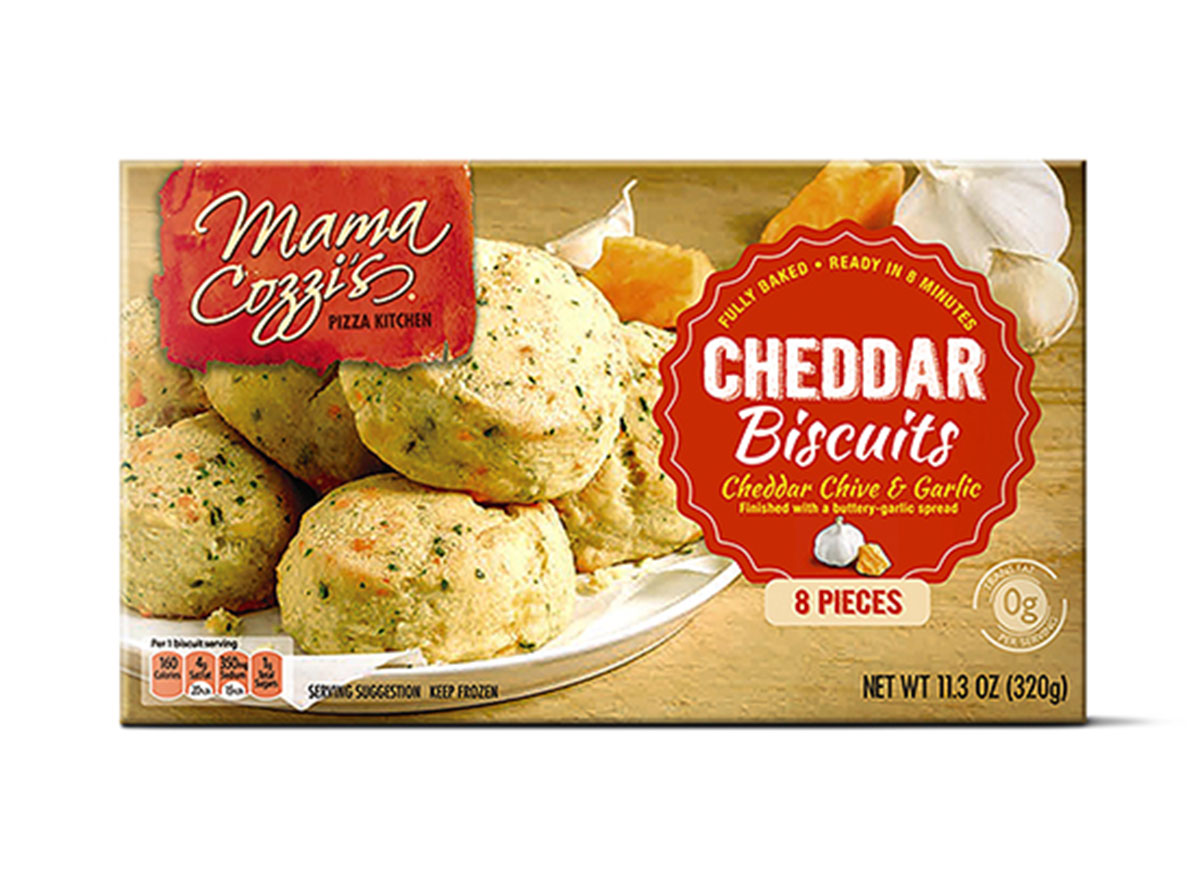 Warm biscuits are a staple side for a meal, but also work as a quick snack, and these will be making their way to a store near you sooner than you need to heat them up. Found in the frozen foods section of ALDI, this pack of biscuits comes in the Cheddar Chive and Garlic flavor, and according to the box, is "finished with a buttery garlic spread." This pack of 8 is offered at ALDI for just $2.89 at 160 calories per serving—which is one biscuit.
Related: 8 Iconic Restaurant Breads and Biscuits, Ranked by Nutrition
Specialty Selected Garlic Cheese Flatbread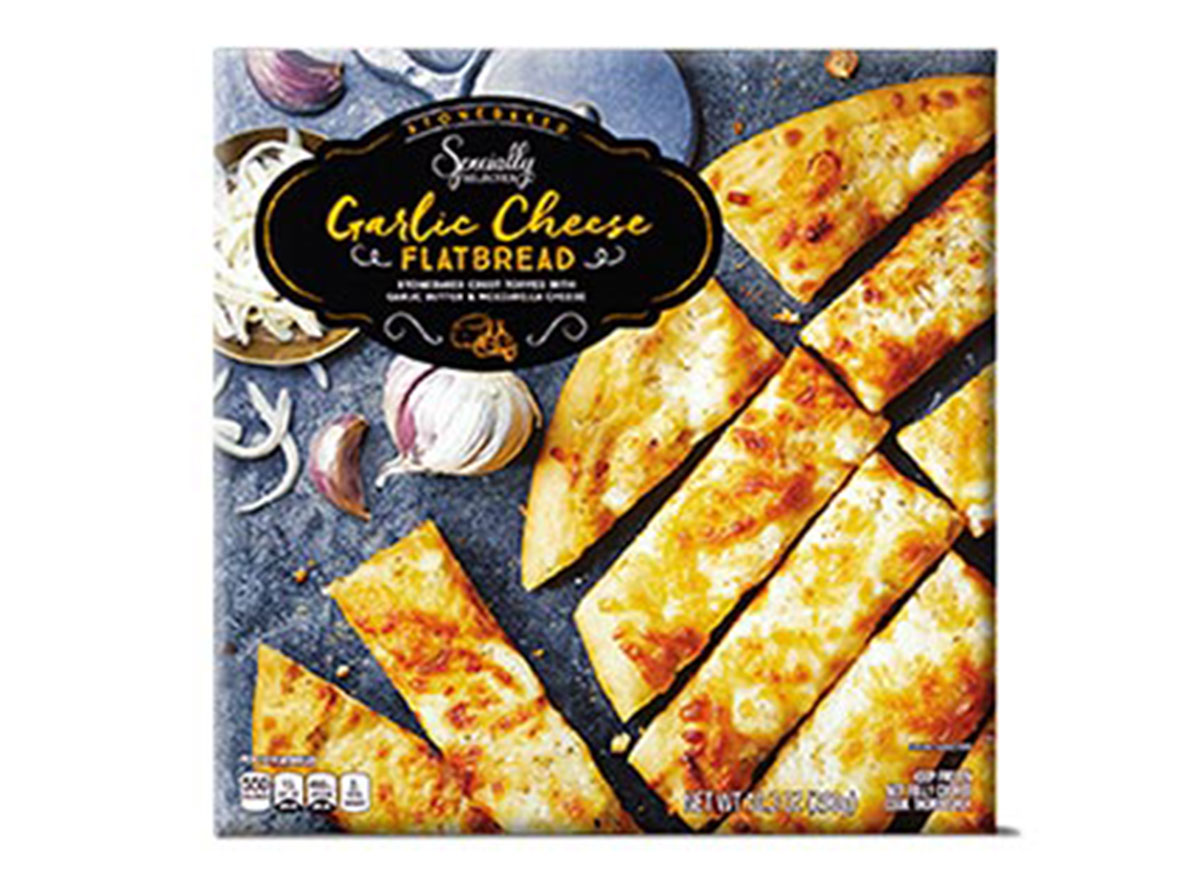 Last but certainly not least on the list of new ALDI snacks, is the Specialty Selected Garlic Cheese Flatbread. It's one thing to enjoy flatbread, but it's another thing to pair it with comfort flavors that make for the perfect trifecta! Who doesn't love the warm combination of flatbread, topped with cheese and garlic flavoring? This is the perfect treat for entertaining, or just to snack on alone. This 9.9-ounce box is available at ALDI stores for $2.29.
For more info about what's happening at the ALDI near you, read these next:
These Beloved Holiday Wines at ALDI Are Cheaper Than Ever
Alex Perry
Alex Perry is a writer with Eat This, Not That! She graduated with a master's degree in broadcast journalism from Northwestern University, where she experienced all the amazing things Chicago has to offer.
Read more about Alex