The Best And Worst New Trader Joe's Items—Ranked By A Dietitian!
Here's what to buy and skip at the beloved grocery store.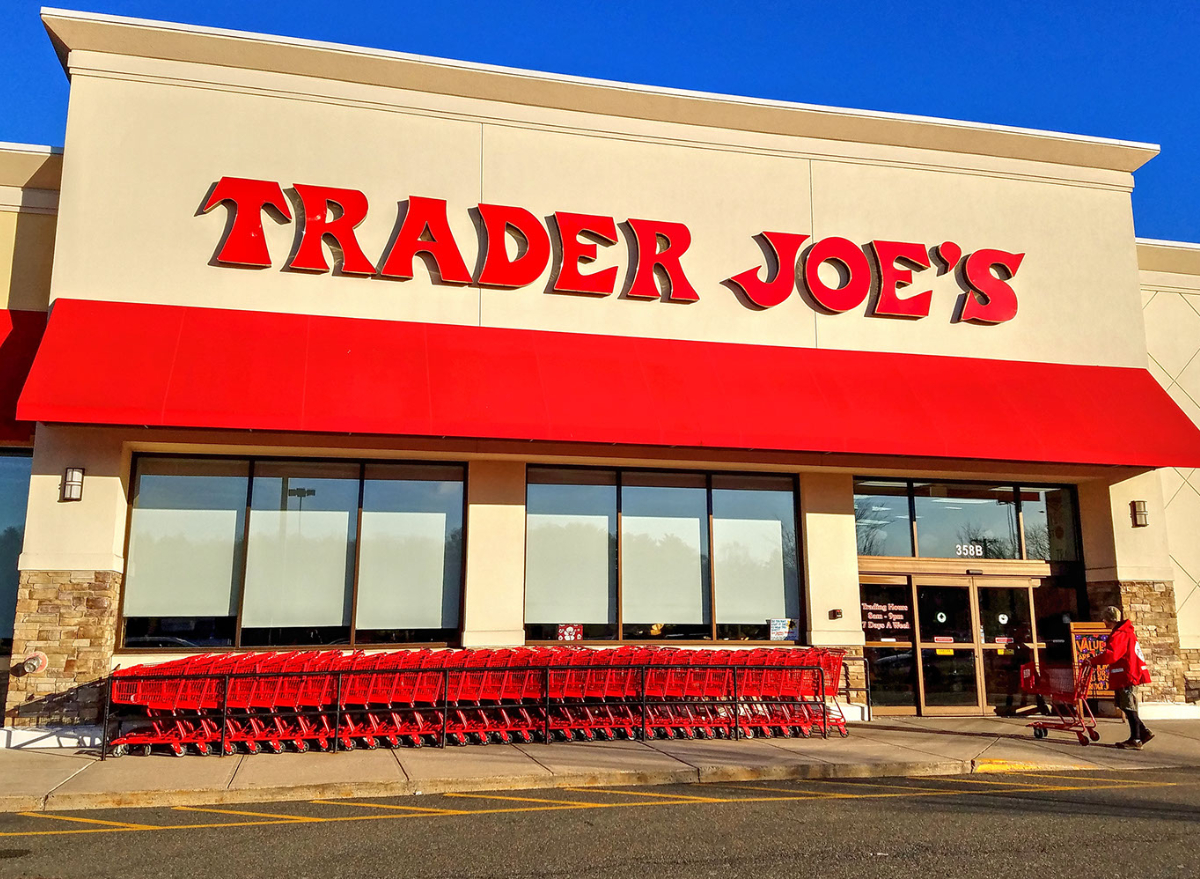 With thousands of products already on its shelves and new ones rolling out every month, Trader Joe's makes it incredibly easy to find something different every time you visit (good luck trying to keep your list of favorites updated!). This month, in particular, the beloved grocery store chain has everything from a new sauce to cookies, protein bars, and other staple foods. But, just because these Trader Joe's finds are newcomers doesn't mean they are actually good for you.
Toby Amidor, MS, RD, CDN, FAND, award-winning nutrition expert and author of the upcoming book, The Family Immunity Cookbook: 101 Easy Recipes to Boost Health, and a member of our Medical Expert Board, took a look at all seven of the new items TJ's has on shelves to analyze their nutritional info. She even ranked them from worst to best!
Read on below to find out exactly which new Trader Joe's items you should try or skip. And for more on what you should be eating these days, here are The 7 Healthiest Foods to Eat Right Now.
The Worst: Chocolate Covered Wafer Cookie with Peanut Butter Filling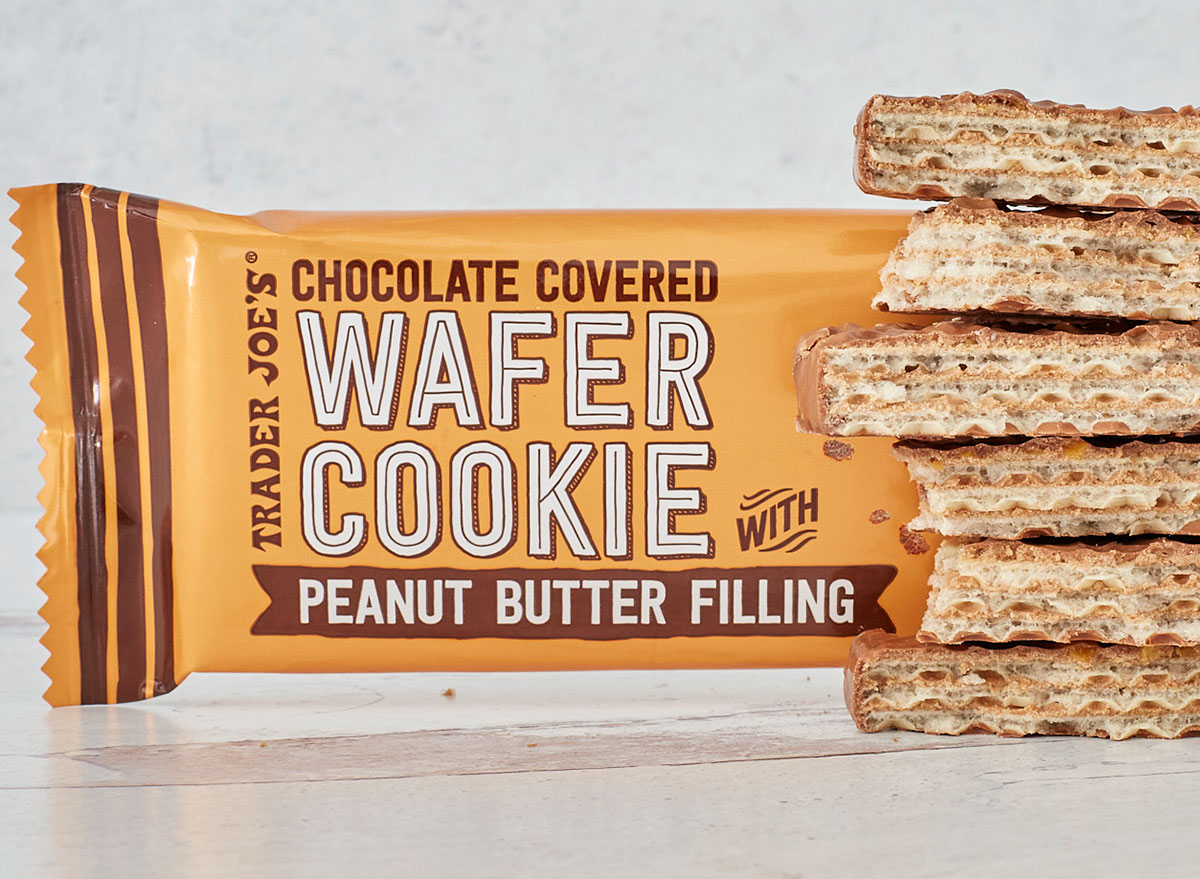 Any combo of peanut butter and chocolate sounds like a dream, but the Chocolate Covered Wafer Cookies with Peanut Butter Filling is high in calories and fat.6254a4d1642c605c54bf1cab17d50f1e
"With 350 calories per bar and a whopping 45% the recommended daily amount of saturated fat and 34% the recommended daily amount of added sugars this treat is surely at the bottom of the healthy list," Amidor says. "If you must have it, divide it into smaller pieces and indulge on a piece when you feel the need."
Related: To get all the latest Trader Joe's News Delivered right to your email inbox every day, sign up for our newsletter!
Portuguese Custard Tarts
These tarts are a typical baked good—made with butter, sugar, and flour. While it's a tried-and-true trio of ingredients, it makes for a hefty dessert, and even though these tarts are small, you need to watch how many you eat, Amidor suggests.
"A serving size of 4 tarts is 130 calories but provides 18% of the daily recommended amount of saturated fat and 42% of the recommended daily amount of added sugars," she says. "This truly is a dessert and should only be consumed on occasion."
For more on unhealthy treats, here are The Worst Foods You Should Never Have for Dessert.
Cajun Alfredo Pasta Sauce
A simple turn of the jar reveals everything you need to know about this new Trader Joe's item. The two of the top ingredients are heavy cream and butter—both full of saturated fats that can lead to higher levels of bad cholesterol, according to The American Heart Association.
"With saturated fat at 15% of the daily recommended amount for a ¼ cup portion (and you will pour more than that much on your pasta)—this is certainly a calorie and saturated fat-filled food that you can skip," Amidor emphasizes, adding that you can swap this one out for "a plain TJ's tomato sauce or use heart healthy olive oil and herbs to top your pasta."
Chewy Chocolate & Peanut Butter Protein Bars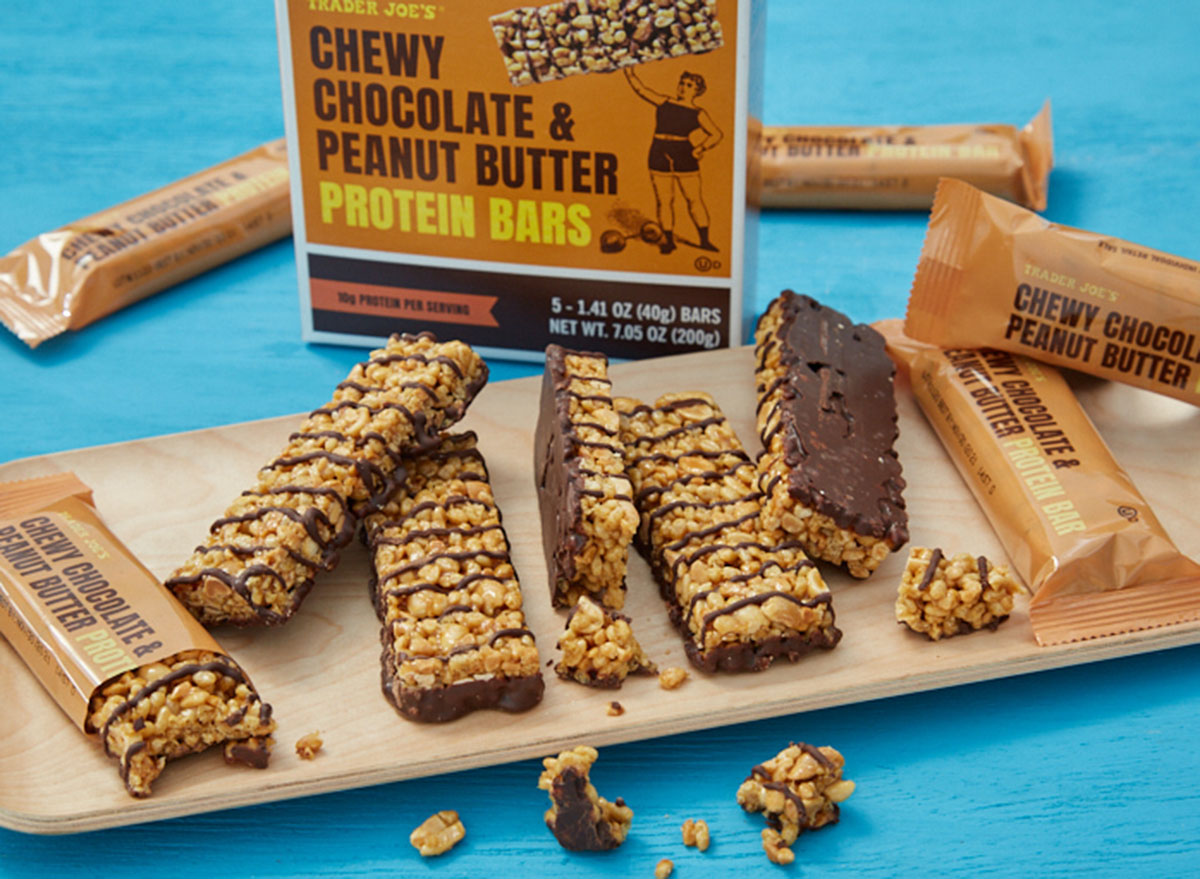 Protein Bars have become synonymous with "healthy," but that isn't the case here, Amidor says. They have around 200 calories each, which is similar to other bars on grocery store shelves, but there is added saturated fat and sugar that total almost 15% of the daily recommended value—a number most Americans go over every day, she says. There aren't too many vitamins and minerals in these bars, but it is a good source of fiber, which helps land it in the middle of the pack.
Thai Style Green Chili Sauce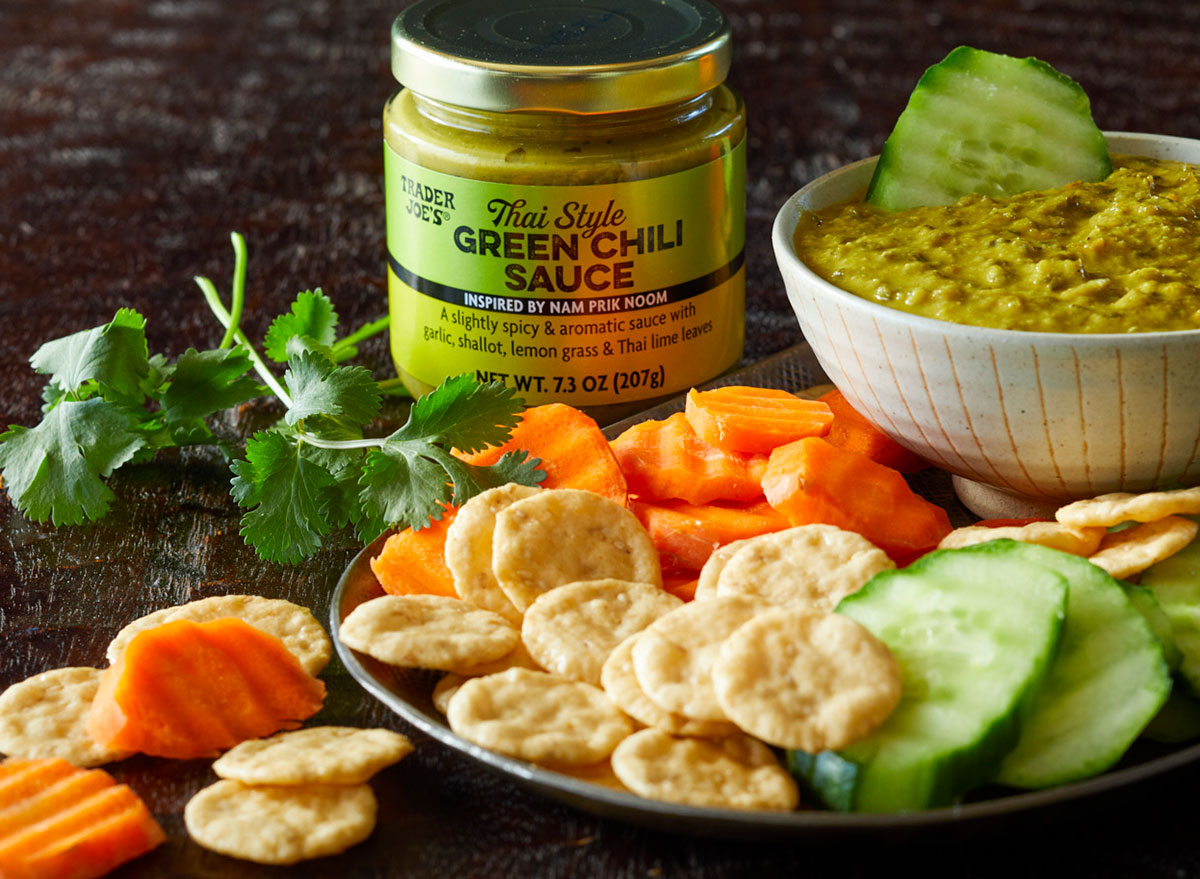 "This condiment made with green chili peppers has minimal added sugars and saturated fat but does have some sodium," Amidor says. "It's a nice way to add flavor to chicken, fish, or meat with 2 tablespoons per serving, providing 90 calories."
The peppers are also anti-inflammatory thanks to capsaicin, which can help reduce the risk of heart disease. But that's not all it does. "In addition, capsaicin has been shown to increase your metabolism for a short time (i.e. 20-30 minutes) after eating."
Related: Diet Habits That Are Increasing Your Risk of Stroke, According to Science 
Tanzania Gombe Reserve Small Lot Coffee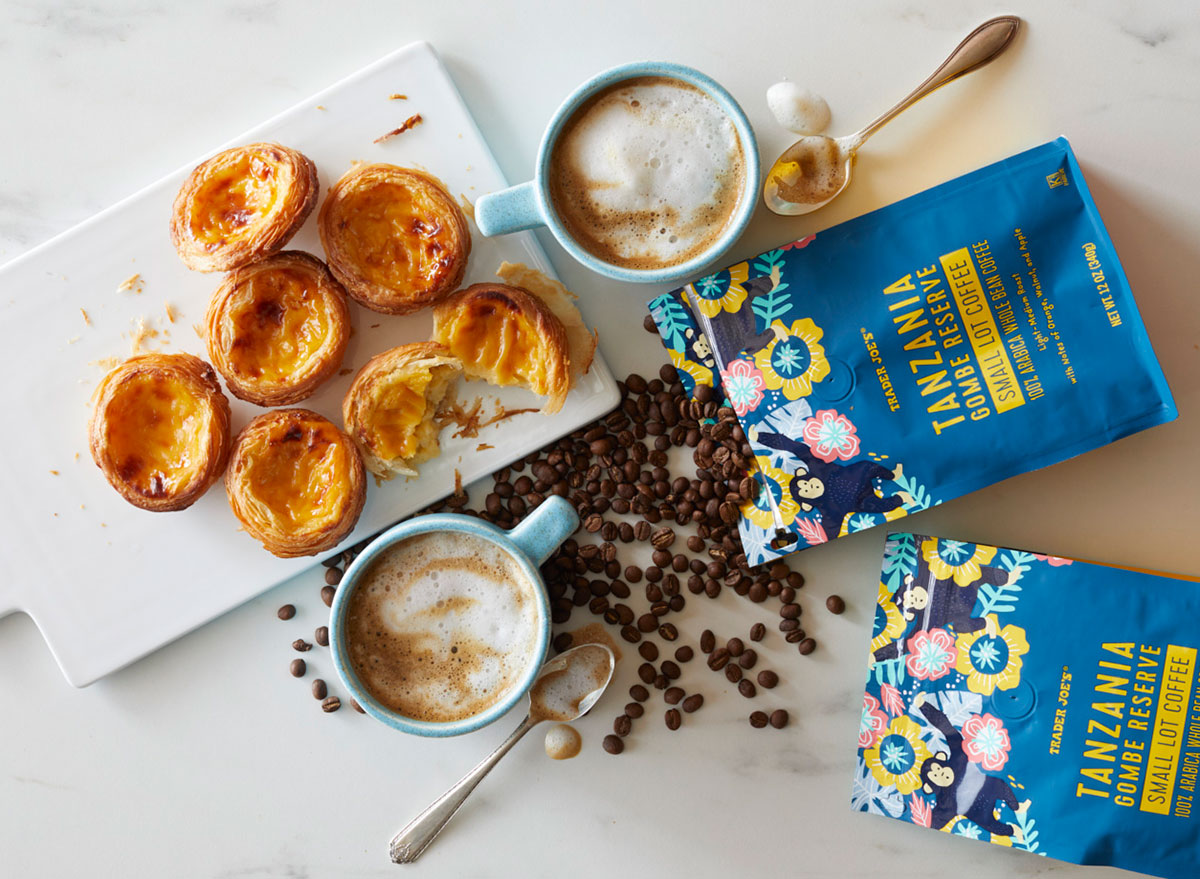 The bag of Tanzania Gombe Reserve Small Lot Coffee is the second healthiest new item at Trader Joe's, Amidor says, because it's simply coffee! "The FDA recommends no more than 300 mg of caffeine per day which is a maximum of about 3 (8-fluid ounce) cups," she says, adding that "What you put in your coffee also matters—add coconut milk, heavy cream, loads of added sugar— and it can sabotage the healthfulness of the plain cup of Joe."
But you don't just have to drink it—Amidor says "You can use a pinch to add flavor to chocolate dishes like brownies or you can brew up a cup or two of coffee with it."
For more on what happens when you drink a cup, here are the Surprising Effects Coffee Has on Your Brain, New Study Says.
The Best: Matcha Green Tea Japanese Noodles
Have a cup of tea and eat it too, thanks to the healthiest new item at Trader Joe's. The Matcha Green Tea Japanese Noodles are made with wheat, buckwheat, and green tea, and are high in magnesium, fiber, and the "antioxidant rutin, which has been shown to help lower cholesterol and may also help strengthen small blood vessels (which can benefit your heart health)," Amidor says.
The addition of green tea provides "a touch of caffeine and polyphenols, which are powerful antioxidants that can help fight disease," she says. "It also provides vitamin C, energy-boosting B-vitamins, and vitamin E." But, since they are noodles, there is only a hint of these in your bowl. If you want to get the full effect, Amidor says a cup of tea is the way to go.
For more info about why you should brew some right now, here's What Happens To Your Body When You Drink Green Tea.
Amanda McDonald
Amanda has a master's degree in journalism from Northwestern University and a bachelor's degree in digital journalism from Loyola University Chicago.
Read more about Amanda