20 Best Trader Joe's Finds Under $5
Pick these up next time you hit the budget-friendly grocery store.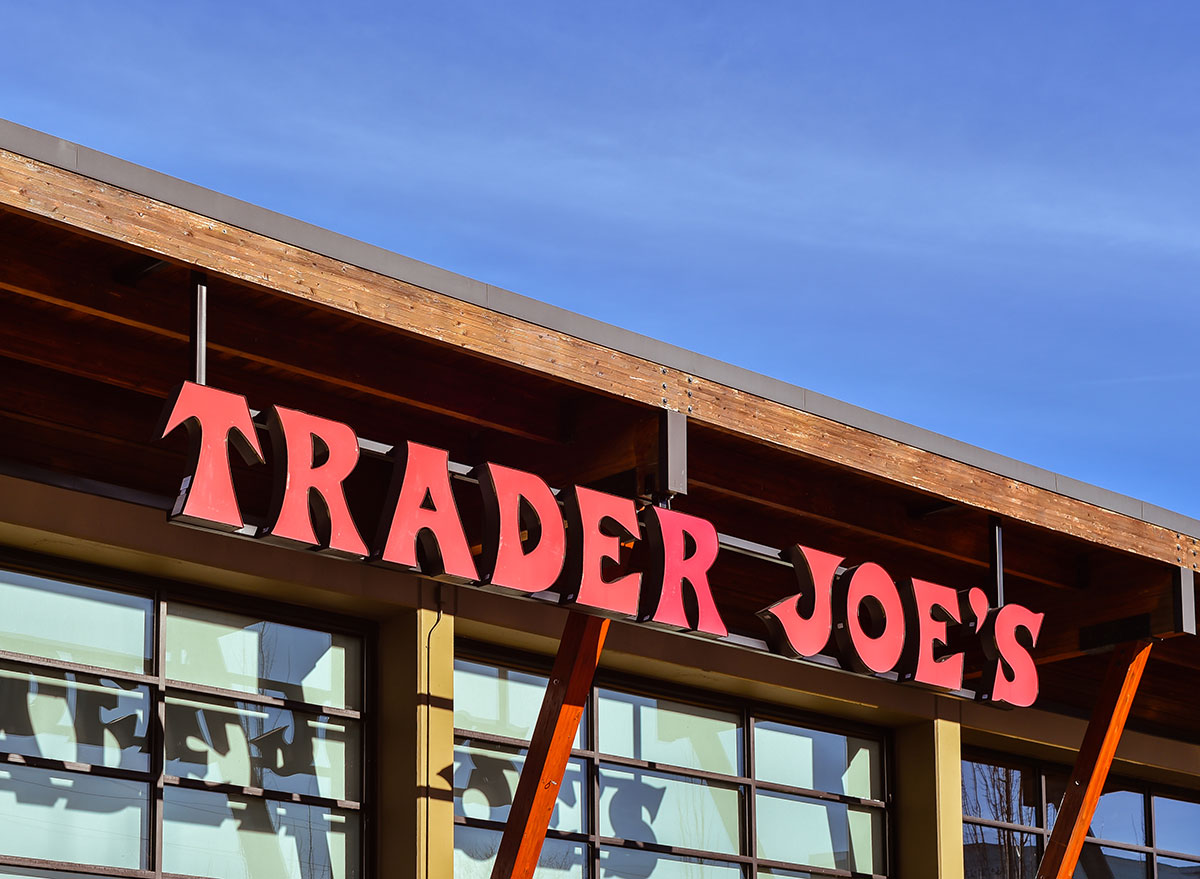 There's so much to love about Trader Joe's. The Hawaiian shirts. The free samples. The creative packaging. The too-good-to-be-true deals on healthy must-haves. And while TJ's carries a bunch of food under its own house brand, the beloved grocery store chain also sells some familiar name-brand items. But not everything at TJ's is healthy—we're looking at you, cookie butter.
Luckily, there are plenty of healthy TJ's staples that will keep you on track and under budget. That's why we rounded up some of our favorite Trader Joe's finds for less than $5. From fresh produce to frozen food to olive oil, the bargains at TJ's makes eating healthy cheap and easy. Take this list with you next time you go grocery shopping, and you'll be set! And for more, don't miss these 15 Classic American Desserts That Deserve a Comeback.
Produce
2-Pound Bag of Mandarins, $2.99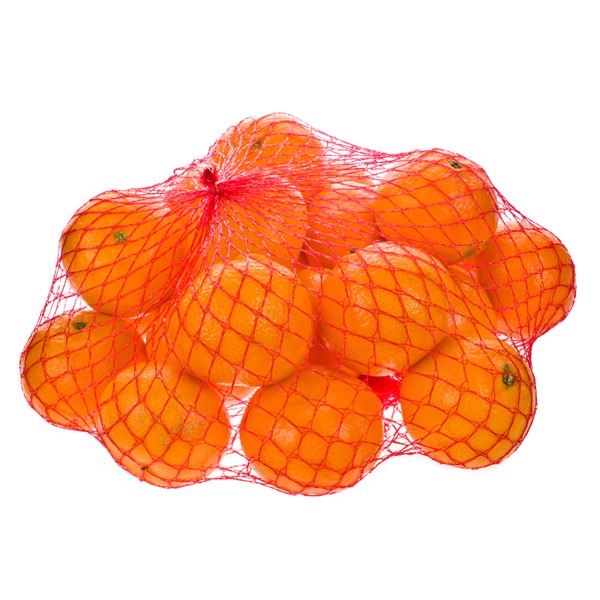 These mandarin oranges, or tangerines, are a steal at just $3 for a giant 2-pound bag. Stock up for an extra dose of vitamin C, and keep these within reach in your kitchen (think: in a bowl on your counter) so you always have a healthy snack on hand.
Organic Tuscan Kale, $2.29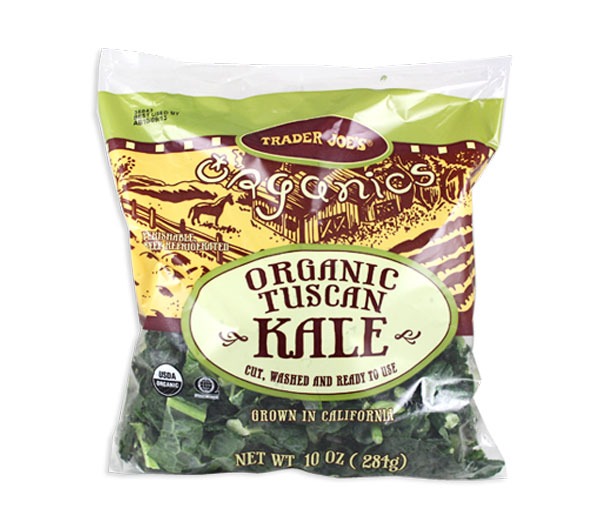 Kale is such a versatile superfood, and TJ's makes it easy to pick up the nutrient-packed leafy green. Toss this veggie into your smoothie, sauté it with some fresh garlic, or roast up your own kale chips. For more inspiration, check out our 20 Tips for How to Cook Kale.
Riced Cauliflower, $2.49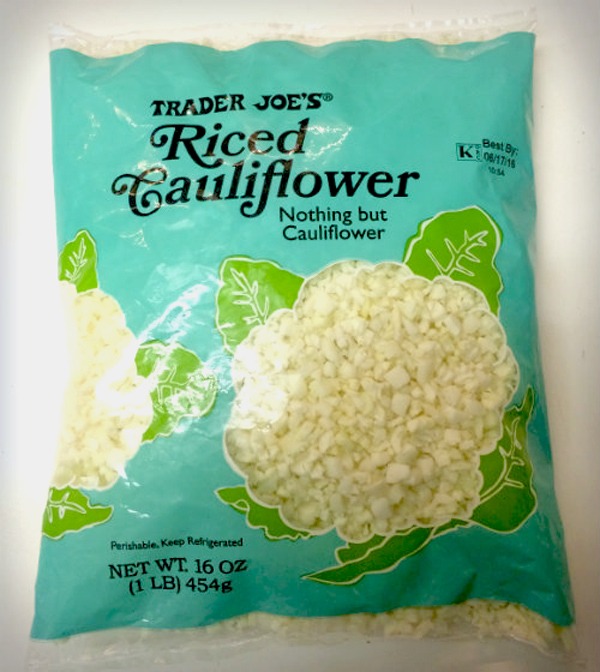 This bagged cauliflower rice makes low-carb cooking a breeze. Found in the produce section, cauliflower rice is a much easier alternative than putting a head of cauliflower in your food processor and making your own. Use is in place of regular rice to cut back on carbs and up your veggie intake.
Bread & Grains
Food for Life Ezekiel 4:9 Bread, $4.49
People are obsessed with Ezekiel bread, and it's easy to see why: The sprouted whole-grain bread is packed with filling fiber and doesn't have any added sugar. Pick some up in the bread section.
Organic Tricolor Quinoa, $3.99
Quinoa is an Eat This, Not That! favorite, thanks to its nutritional profile packed with fiber and protein. It's an excellent replacement for rice in your favorite starchy dishes, and this tricolor variety is a great deal. At just $4, a little goes a long way, so make it in place of your traditional refined carbs like white rice or potatoes.
Frozen Food
Organic Mixed Berry Blend, $3.49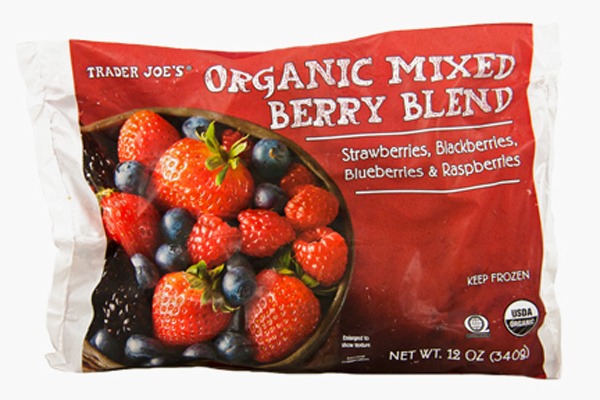 TJ's has so much delicious frozen produce, it's hard to narrow down the best. These organic mixed berries are favorites because berries are some of the most pesticide-ridden fruits, and the affordable organic option makes them a healthy choice. Plus, this blend of strawberries, blackberries, blueberries, and raspberries is easy to toss into your favorite smoothie or overnight oats.
Frozen Brussels Sprouts, $0.99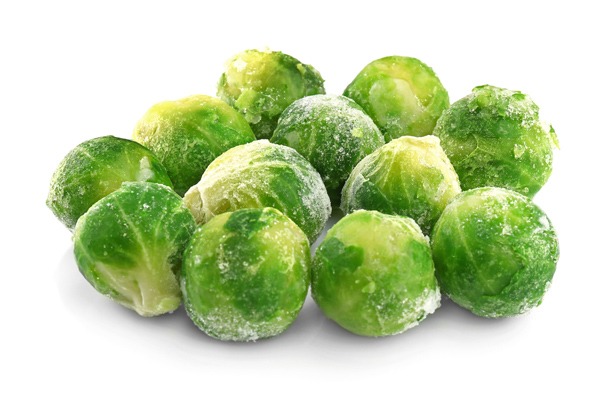 Brussels sprouts are one of the healthiest veggies, thanks to their fiber content and detox properties. Although TJs has sprouts in the fresh and bagged produce section, skip straight over to the frozen foods and stock up. At just 99 cents a bag, you can't beat the bargain!
Chile Lime Chicken Burgers, $3.49 for 4
These chicken burgers are a great freezer staple for those nights when you don't know what to eat and don't want to spend hours in the kitchen. The ingredients list is clean: white and dark meat chicken, onions, bell peppers, garlic, cilantro, salt, lime juice, and red pepper flakes. With so much protein and no sugar, it's definitely an Eat This!
Meat & Dairy
All-Natural Ground Chicken, $3.49 for 1 pound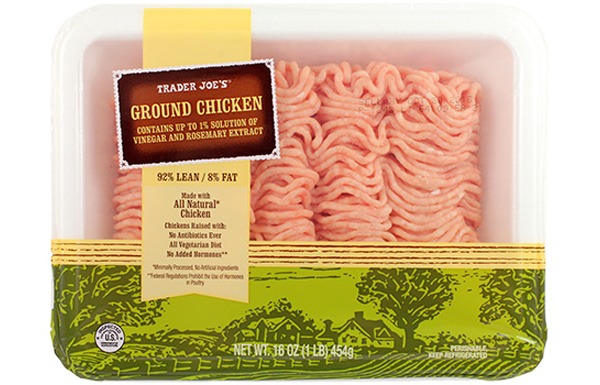 Whip up some healthy chili or chicken tacos with a package of all-natural ground chicken. At less than $4 a pound, it's a steal that will feed the whole family.
Light String Cheese, $3.49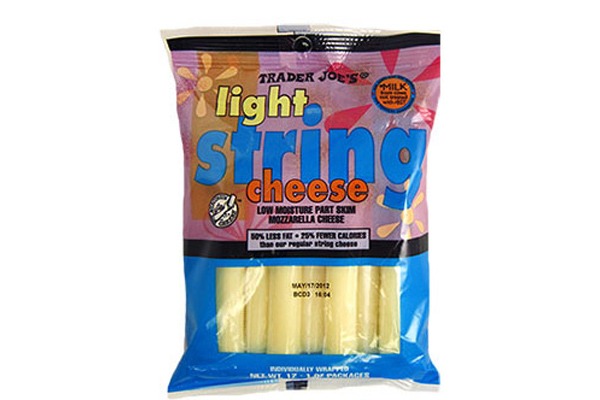 6254a4d1642c605c54bf1cab17d50f1e
String cheese is one of our 50 Best Snacks for Weight Loss, and the TJ's light version mimics some of the healthiest name-brand varieties. At just 60 calories a stick, it packs a protein punch with eight grams. Pair it with an apple for a filling afternoon snack.
Sweet Italian Style Chicken Sausage, $3.99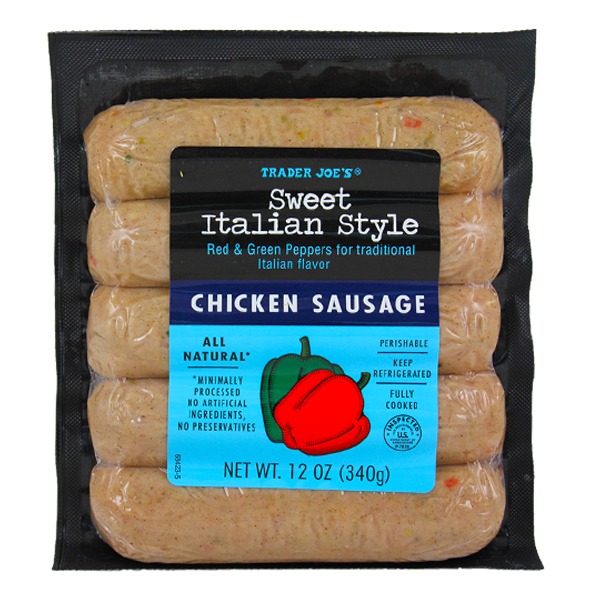 Like the chile-lime chicken burgers, these chicken sausage links are convenient for when you're in a meal pinch and not sure what to make. At just 100 calories a link with 11 grams of protein, they're a healthier alternative to traditional hot dogs at your next cookout.
Nonfat Plain Greek Yogurt, $4.99 for 32 ounces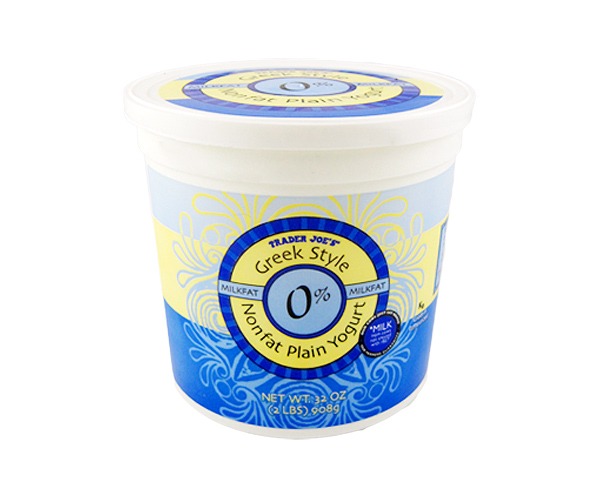 Greek yogurt is one of the best foods for weight loss, thanks to its filling fiber and high protein concentration. Trader Joe's offers up its nonfat version in big 32-ounce tubs, which saves you money in the long run. Top it with your favorite berries or nuts for a satisfying breakfast.
Condiments
Creamy Salted Peanut Butter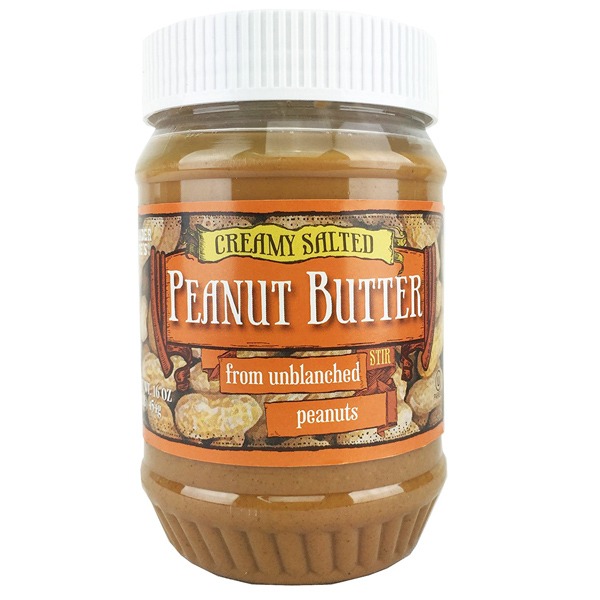 Price at most stores: $2.29
Peanut butter is not only delicious, but it's also packed with a ton of health benefits. As a food that can help you feel fuller and lose weight, it's a steal at TJ's for less than $2.50. Plus, the ingredients are plain and simple: dry-roasted peanuts and salt.
Salsa Verde, $1.99
Salsa verde packs more of a punch than traditional red salsa, and the TJ's-branded salsa pairs nicely with the store's plantain chips. At just $1.99 a jar, it's the perfect topping for taco night.
Avocado's Number Guacamole, $3.99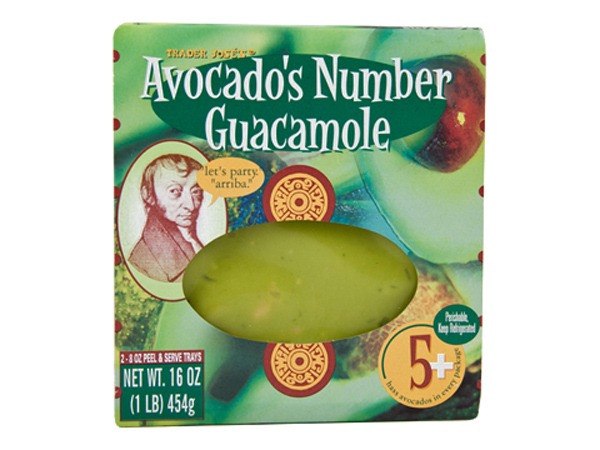 TJ's guacamole is a delicious must-have for all avocado lovers. Packed with heart-healthy fats, this guac uses only simple ingredients: avocados, jalapeño purée (white vinegar and jalapeño peppers), dehydrated onion, salt, and granulated garlic.
Pantry Staples
Spanish Organic Extra Virgin Garlic Flavored Olive Oil, $3.99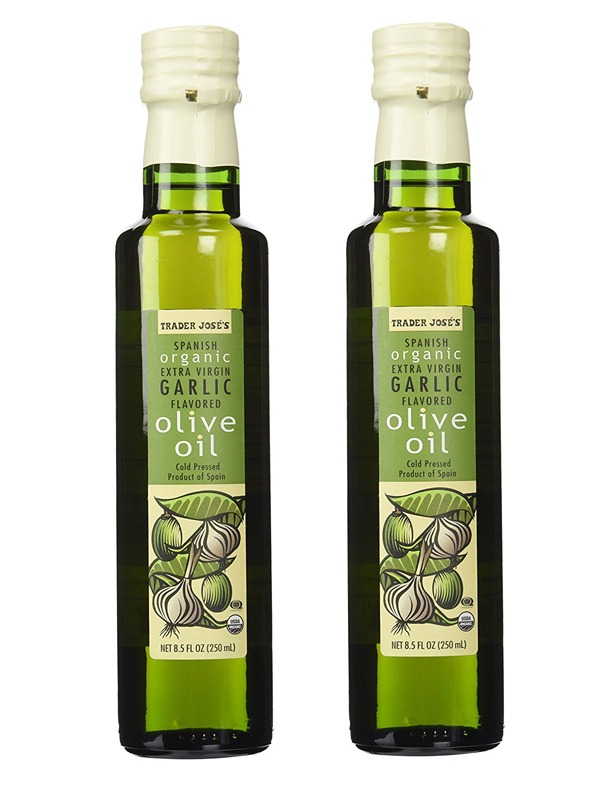 Olive oil is full of heart-healthy fats, and this garlic-flavored version is perfect to add a little kick to your roasted veggies or homemade salad dressings. At just $4 a bottle, it's a total steal.
Blue Diamond Unsweetened Vanilla Almond Milk, $1.99
This dairy milk alternative is a popular brand-name item you can find at Trader Joe's. At just 30 calories a serving and no added sugars, it's the perfect base for your smoothies or creamer for your coffee.
Roasted Plantain Chips, $1.79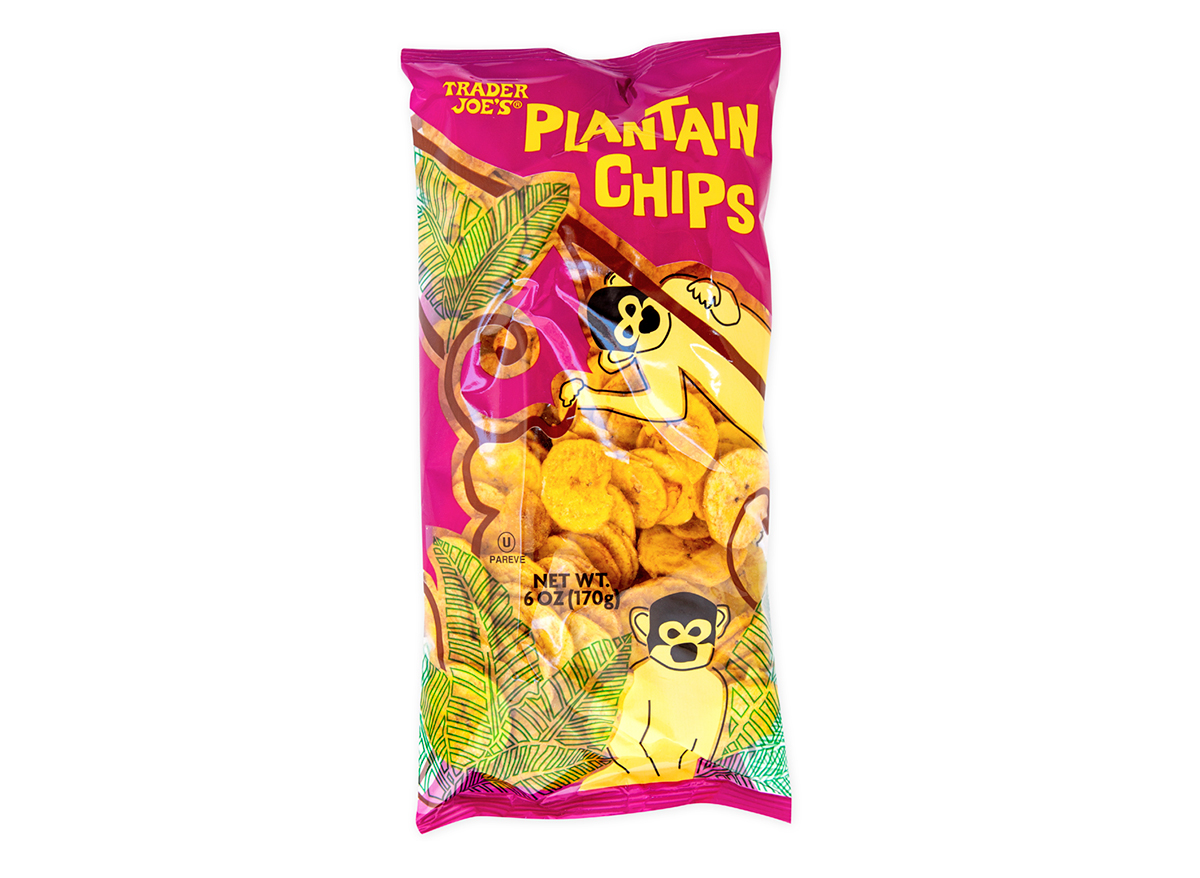 If you need something salty to fill your snack craving, grab a bag of these roasted plantain chips. Although they have six grams of fat, they're a generous serving of 20 chips. Plus, they're a cleaner alternative to processed tortilla chips.
Booze & Dessert
Charles Shaw Wine, $2.99
Trader Joe's is known for its beloved three-buck chuck, and the name says it all. At under $5, it's totally a bargain, and wine has proven antioxidant and anti-aging benefits. Grab a bottle, and drink responsibly.
Dark Chocolate Lovers Chocolate Bar, $1.49
Dark chocolate is one of our 40 Best-Ever Fat-Burning Foods, thanks to its concentration of antioxidants and gut-healthy compounds. And the darker, the better. One square of this 85% cocoa bar is a healthy way to feed your sweet tooth.