The 5 Best Anti-Aging Smoothies You Can Drink, Say Dietitians
These delicious concoctions will help you look and feel your best.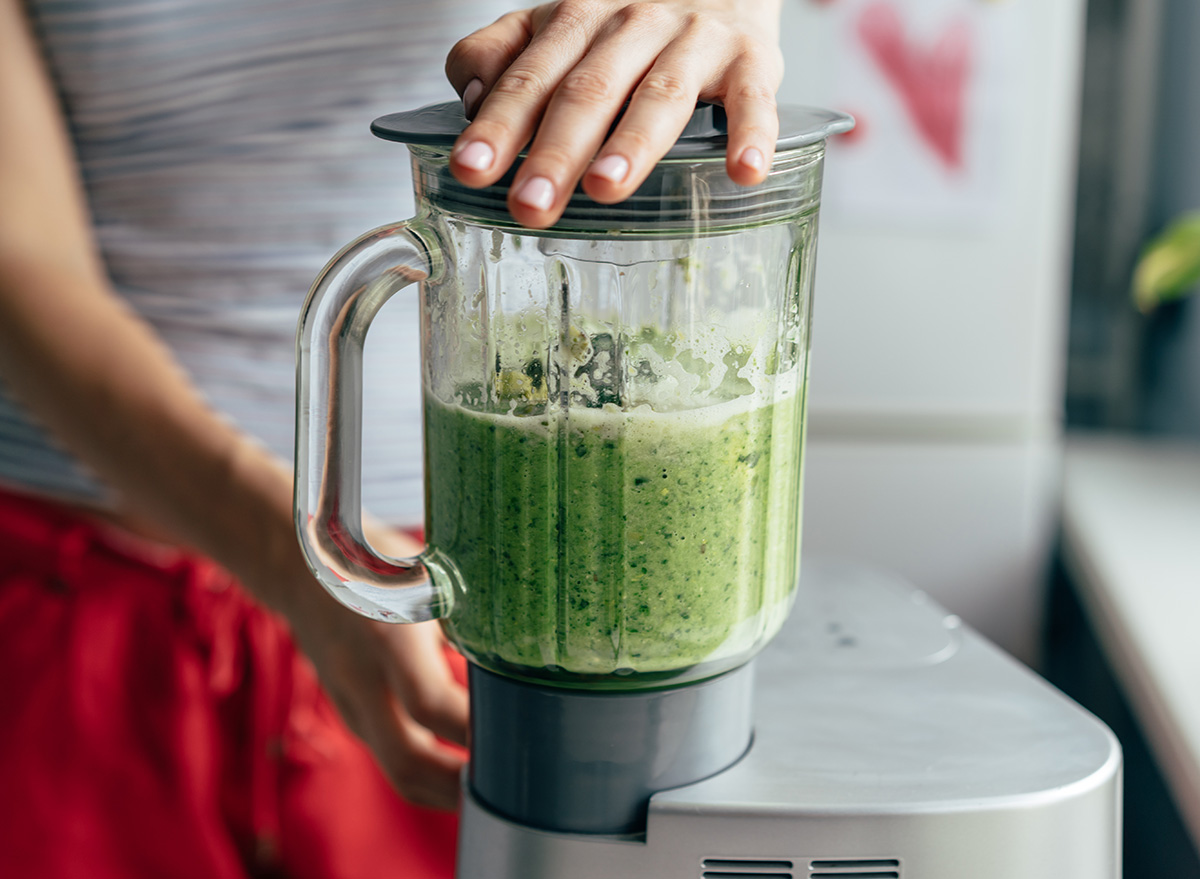 Smoothies are a great way to enjoy a tasty treat while also packing in some needed nutrients which can be beneficial in a wide variety of ways. If you include the right ingredients when you blend up a delicious drink, smoothies may just help smoothen out the effects of aging.
"Smoothies are a great option for those that are looking to nourish themselves with a nutrient-dense meal or snack that supports them feeling and looking youthful," says Kara Landau, a registered dietitian and the founder of Uplift Food. "They also offer a great vehicle to incorporate a range of diverse antioxidant-packed, gut-healthy nutrients that support healthy skin, nails, hair, and overall liveliness."
Shena Jaramillo, MS, RD, also says that "smoothies are a good way to get in vitamin E, vitamin C, and omega-3 fatty acids, which all carry anti-inflammatory properties which can help you feel better and reduce the impacts of aging." Your daily drink can also feature fruits, vegetables, and other ingredients that may boast free-radical scavengers, which can help to keep you in peak condition.
So, what are the best anti-aging smoothies, according to the experts? Read on to find out. And next, don't miss The Best Way to Keep Your Memory Sharp As You Age.
Gut-Healthy Prebiotic Fiber Green Smoothie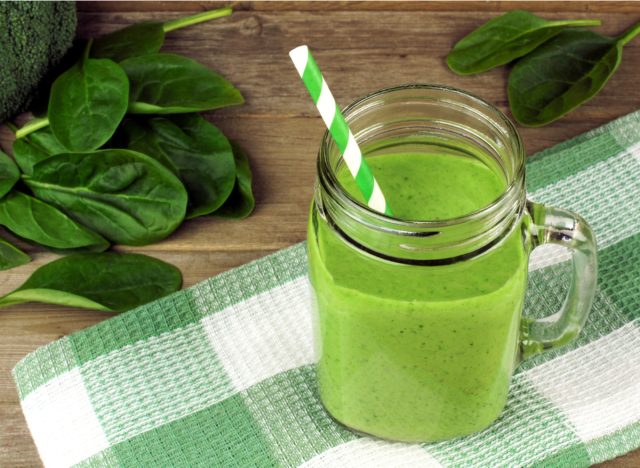 Want a nutritious way to start the day? Landau suggests a gut-healthy prebiotic fiber green smoothie for breakfast which "is packed with antioxidants, fiber, and prebiotics to nourish your body from the inside out."
Related: Sign up for our newsletter for the latest health and fitness news!
Prebiotic Fiber Salted Dark Chocolate Almond Butter Shake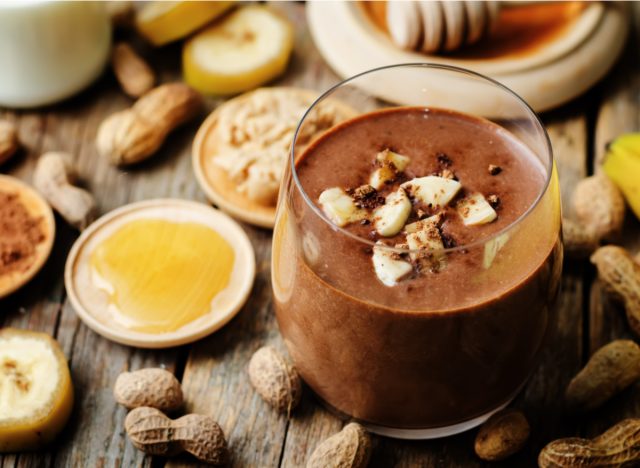 Later in the day, Landau says that you might want to enjoy a "mouth-watering antioxidant, prebiotic, and probiotic-packed dark chocolate and almond butter smoothie … not just because it tastes decadent and feels like an indulgence, but also because of the nutrient-packed benefits of all the prebiotics, fiber, cacao, collagen, yogurt, and more."
Landau says this smooth can help you achieve glowing skin, healthy digestion, and overall feelings of wellness.
Related: The #1 Best Smoothie to Drink, Says Dietitian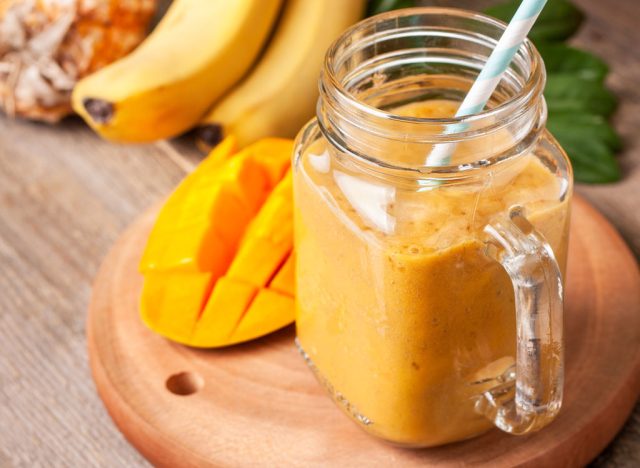 Jaramillo recommends a vegan tropical smoothie that includes body-boosting ingredients like almond milk, tofu, frozen banana, frozen strawberry, frozen mango, and hemp seeds. While it's another drink that you might want to enjoy in the morning, it would also be a refreshing treat at any time of day!
Related: The Best Smoothie Combos for Faster Weight Loss
Tropical Delight Smoothie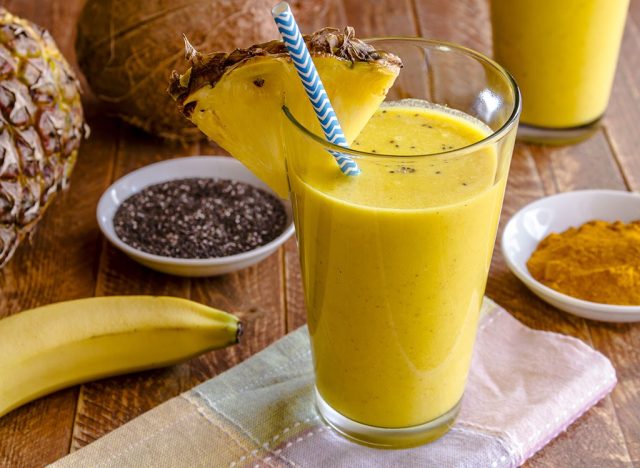 Danielle Edenworth of HealthyLand, a health and fitness expert with a focus on nutrition and general well-being, offers her recipe for "a tropical delight."
All you need to do is "blend half a pineapple, two small mangoes, two kiwis, one handful of flaxseeds, one cup freshly squeezed orange juice, or 1-1/2 cups water and 2–3 ice cubes. Toss extra ice to make it slushier. This recipe makes two refreshing smoothie glasses."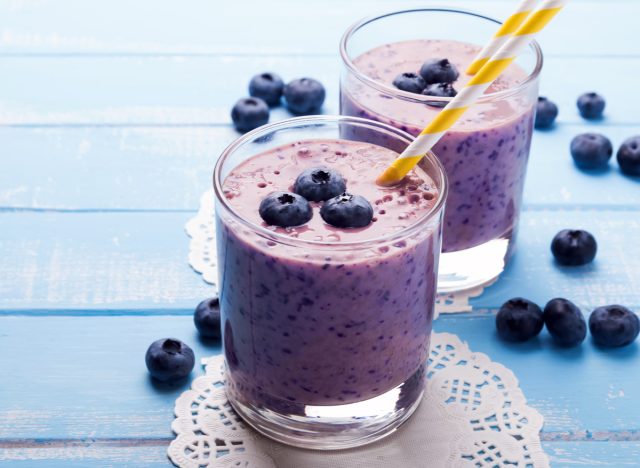 Eleana Kaidanian, RD, CDN, CPT-WFS, dietitian, and owner of Long Island Nutritionist, a private virtual practice based in New York, also has a recipe for Eat This, Not That!6254a4d1642c605c54bf1cab17d50f1e
For one serving, blend:
1/2 cup of unsweetened plant-based milk of your choice (try vanilla almond milk)
1/3 cup frozen raspberries
1/3 cup frozen blackberries
half a medium banana
1 tsp of honey (optional)
1 scoop of collagen peptides
To find more delicious and beneficial smoothie recipes, be sure to check out The 25 Best-Ever Weight Loss Smoothies.
Desirée O
Desirée O is a freelance writer who covers lifestyle, food, and nutrition news among other topics.
Read more about Desirée